Mloukhiya is one of my top 3 favourite foods of all time – it's spicy, garlicky, coriandery and lemony all at the same time. We have to bring back bags of them in our suitcases from Lebanon, which takes up all our luggage space and makes everything smell but is totally worth it. The Jute leaves have a distinct flavour of their own and are more robust in texture than spinach, the nearest flavour I can liken them too is okra, which is also gelatinous in texture, but even then it's not the same. Mloukhiya travelled through to the Levant area from Africa; the Egyptians have a soup version and the Palestinains make it too, but this is how we make it in Lebanon.
The actual Jute leaf is purchased dried and you will have to sort through them to take out any odd bits or flowering tips. Kilos of mloukhiya leaves are sold in Lebanese markets depending on how well they have been sorted. A roughly cleaned bag will set you back 25,000 Lebanese Lira (£13) but you will still have to sort through it again just to make sure. After you blanche the leaves, you will need to compress a ball of the leaves in your hands and give it a thoroughly good squeeze. My mum does this three times to get most of the stickiness out of the leaves. Once you prepare the leaves it's pretty much a straight forward stew. You can prepare the chicken stock from my recipe here. You might want to add some extra chicken meat to the stock so you will have enough to lace through the final dish. Although, you might never actually make mloukhiya anytime soon, you still need to know about it because it literally translates as 'food of the kings', and you wouldn't want to miss out on that would you?!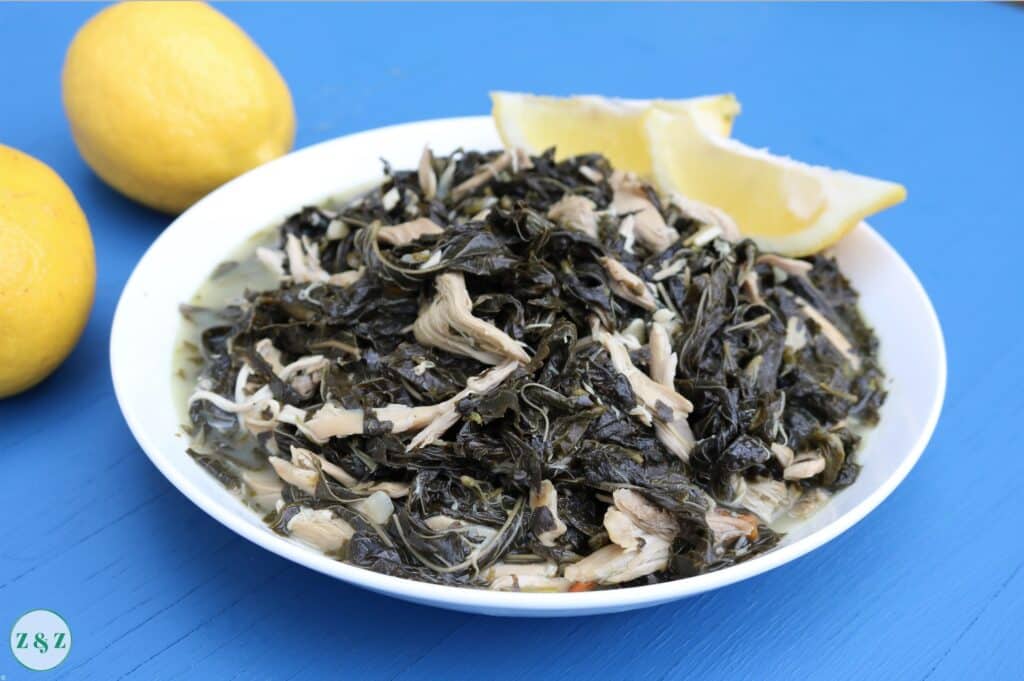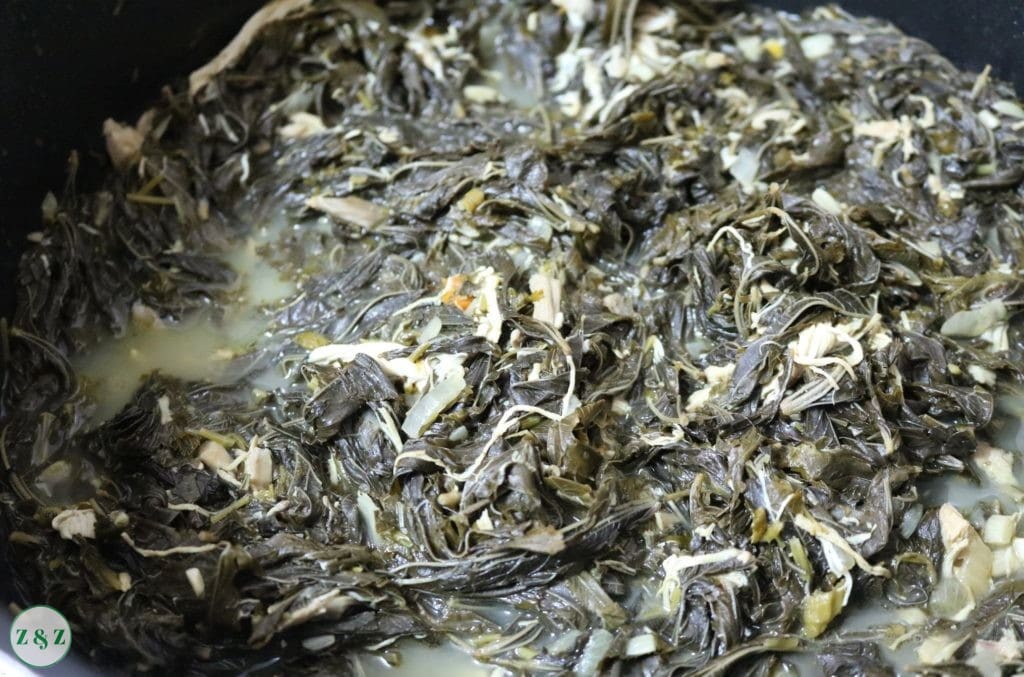 Lebanese Mloukhiya (Jute leave Stew)
Ingredients
400g whole, dried Mloukhiyeh leaves
100g of fresh coriander leaves or a large bunch
1 chicken, quartered or 6 chicken thighs
2 litres of water
2 bay leaves
1 cinnamon stick
6 peppercorns
1 cracked nutmeg
5 cloves
3 cardamom pods
1 tbsp of butter
Vegetable oil
2 large onions
2 bulbs of garlic
2 green chillis
1 tbsp ground coriander
3 lemons
Salt and pepper
Method
Make the chicken stock in advance by flash frying the chicken in a drizzle of regular olive oil on high heat for around 5 minutes until golden.
Transfer the chicken to a large stock pot and add the bay leaves, cinnamon stick, peppercorns, nutmeg, cloves, cardamom pods, 1 tablespoon of salt and one whole peeled onion. Bring to the boil and simmer on low heat for one hour.
Once done remove the chicken flesh off the bone and set aside. Strain the liquid with a fine sieve to achieve a clear stock.
Meanwhile prepare the mloukhiya leaves by sorting through them removing any flowering heads or anything irregular. Blanche in hot water with one roughly chopped lemon for a few minutes and drain.
Once the leaves have cooled slightly, take batches in your hand, twist and squeeze out the slimy residue. Repeat 3 times until you have squeezed out most but not all of the residue.
Blot with kitchen towels to remove excess water and lightly fry small batches in a drizzle of vegetable oil on medium heat
In a large pot, finely chop the remaining onion and sauté lightly in the butter until translucent
Peel the garlic bulbs and roughly chop. Add to the onions and sauté together on a low heat being careful not to burn the garlic
Finely chop the green chillis and the coriander. Add to the pot along with the dried coriander
Sauté everything for a few minutes before adding the fried mloukhiya. Sauté everything for another 5-10 minutes
Add enough chicken stock to cover and the juice of 1 lemon. Simmer on low heat for another half an hour then add 1 tbsp of salt and 1 tsp of pepper
After 10 minutes add the juice of 2 lemons, taste the sauce and adjust as necessary. Turn the heat off after 5 more minutes
Serve with plain or vermicelli rice.