Asparagus with ground meat and flaked almonds is a brilliant side dish to have, especially as we are coming up to the holidays.
It only takes ten minutes to make and I can snack on plate of this very happily. If you want, you can top it with a fried egg and turn it into brunch.
You can use either ground beef or lamb, or even both together in a 50:50 ratio as I frequently do, such as in my kibbeh or rekakat lahme recipes.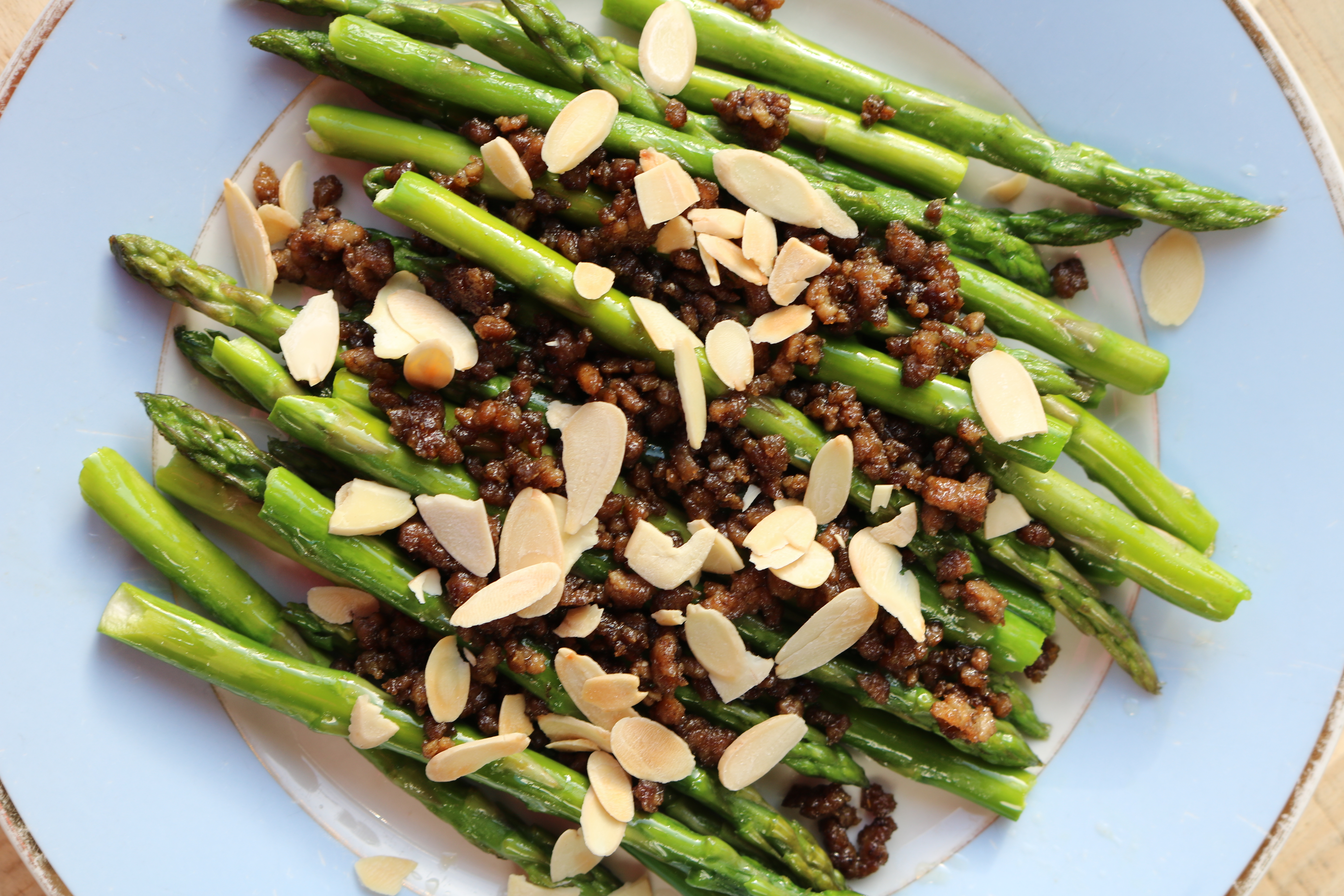 I know many people prefer ground beef for these types of dishes but I grew up in 90s UK where there was mad cow disease so am forever partial to lamb.
Jump to:
Ingredients
Asparagus are generally available throughout the year. They are at their prime around spring time.
Snap off the gnarly bits of the stalk simply by bending the bottom and it will break off naturally.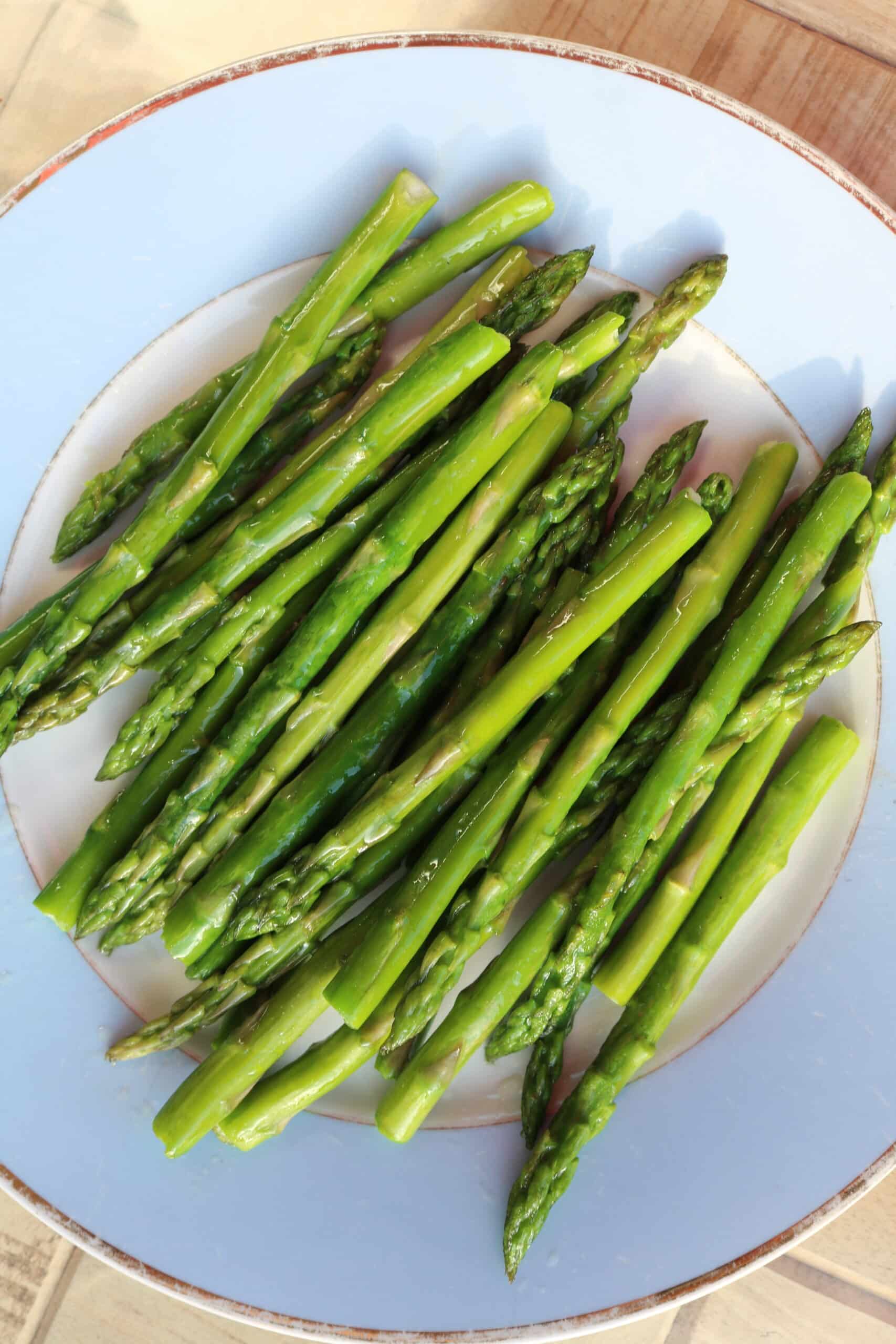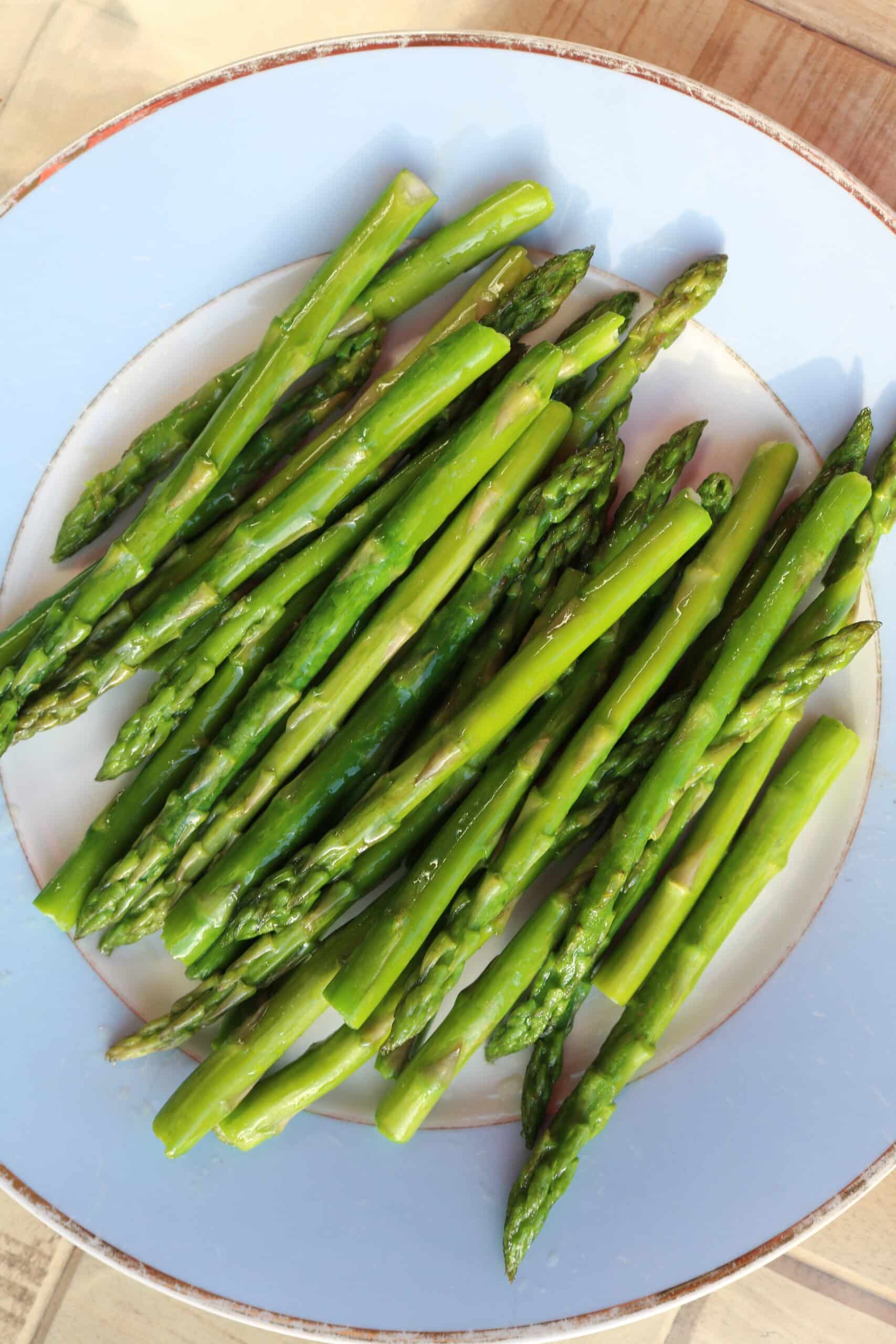 You will need only these three ingredients for this super simple dish:
flaked almonds - they are much easier to crunch than whole almonds
ground meat (or mince meat as we say in the UK)
asparagus - look for a vibrant green bunch
See recipe card for quantities.
Instructions
As with many dishes it's always a good idea to work backwards....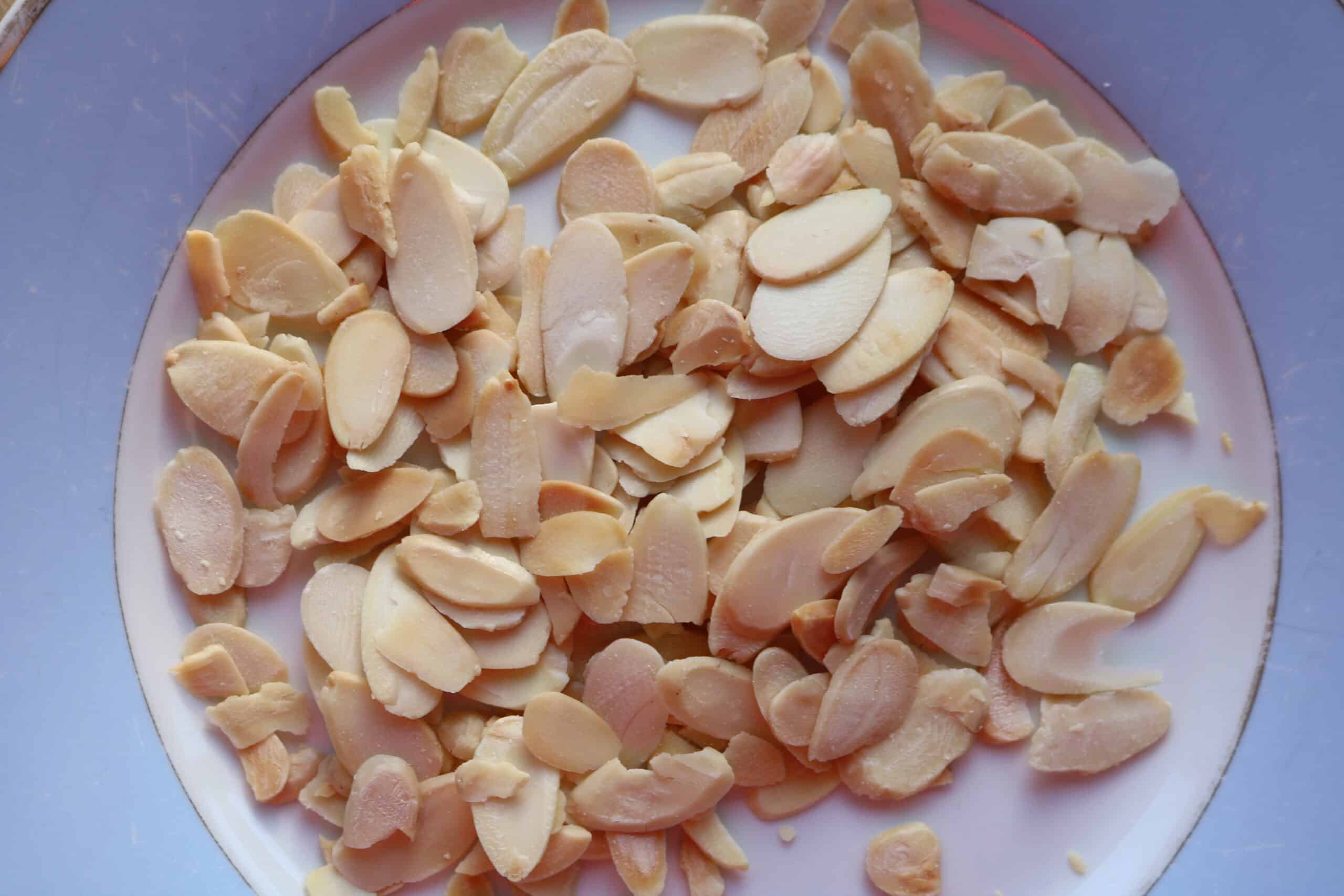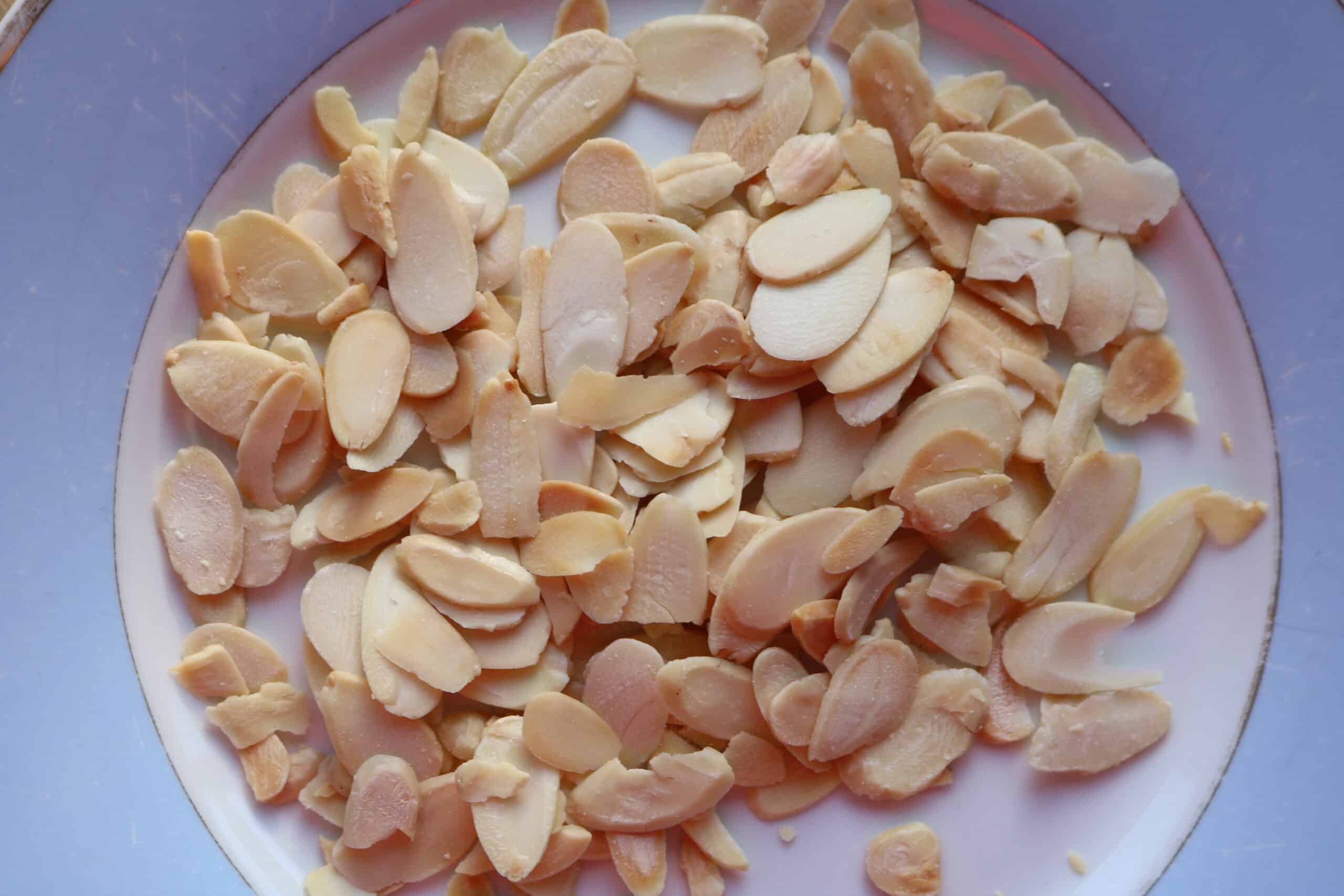 Lightly toast the flaked almonds until golden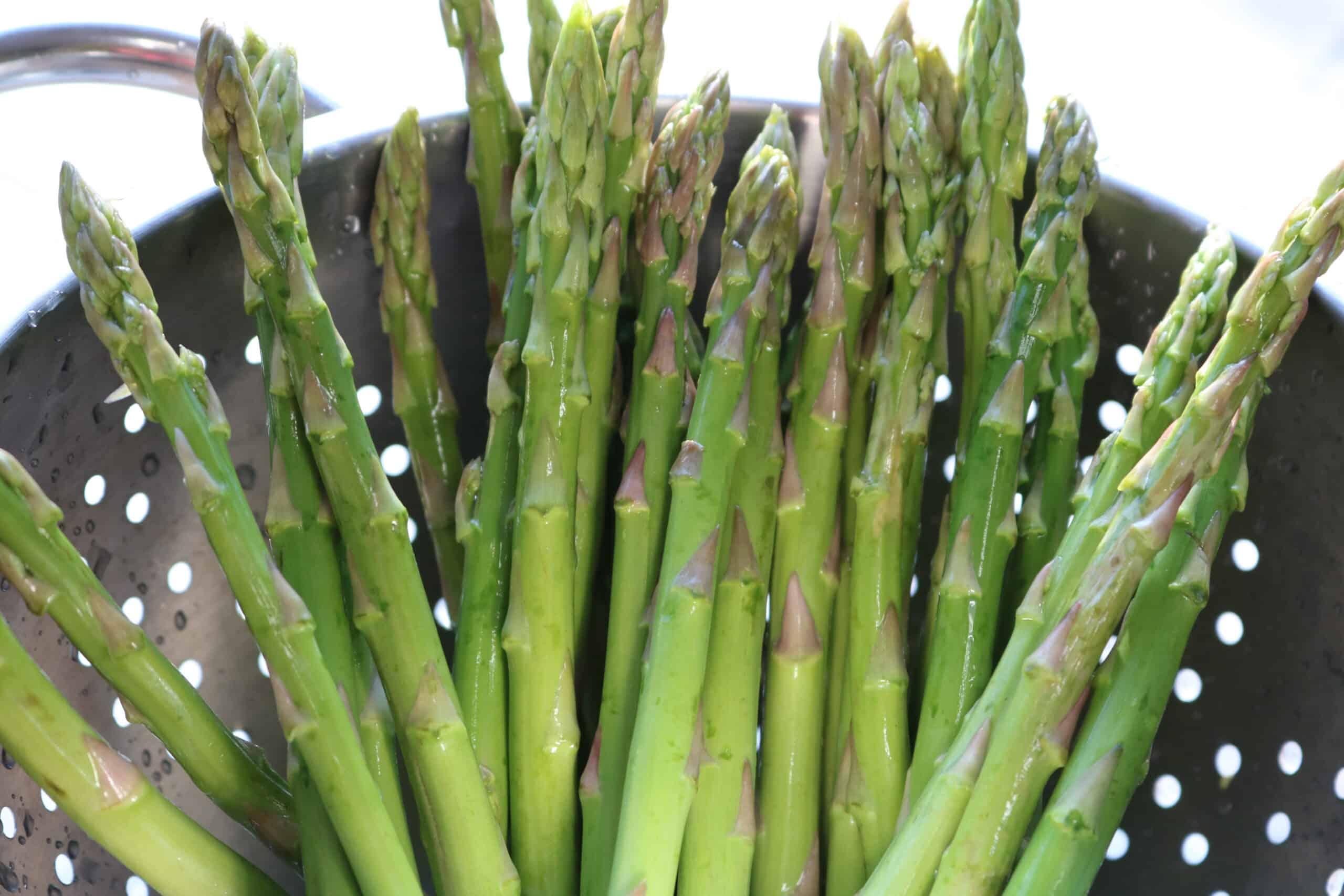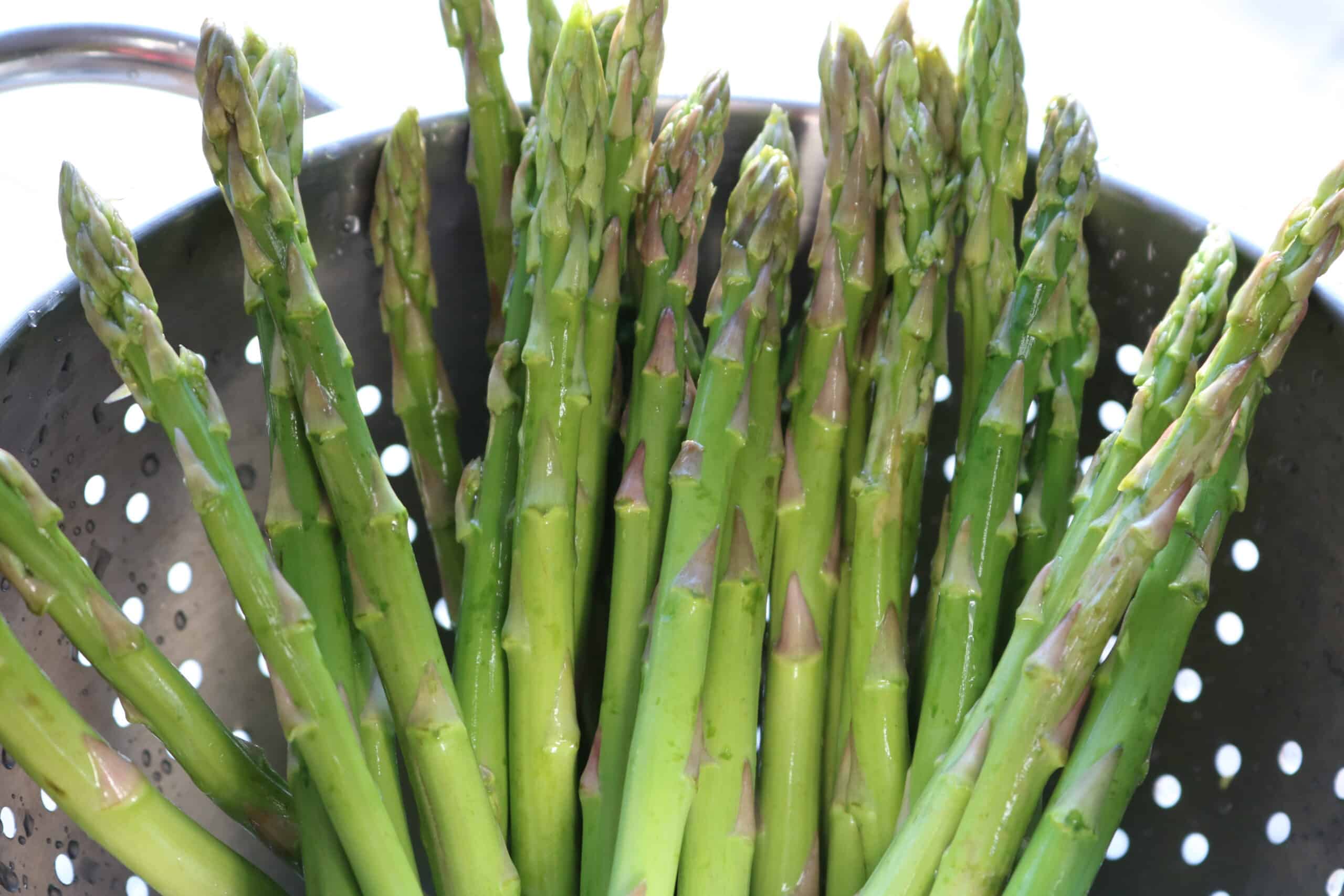 Wash and break off the asparagus ends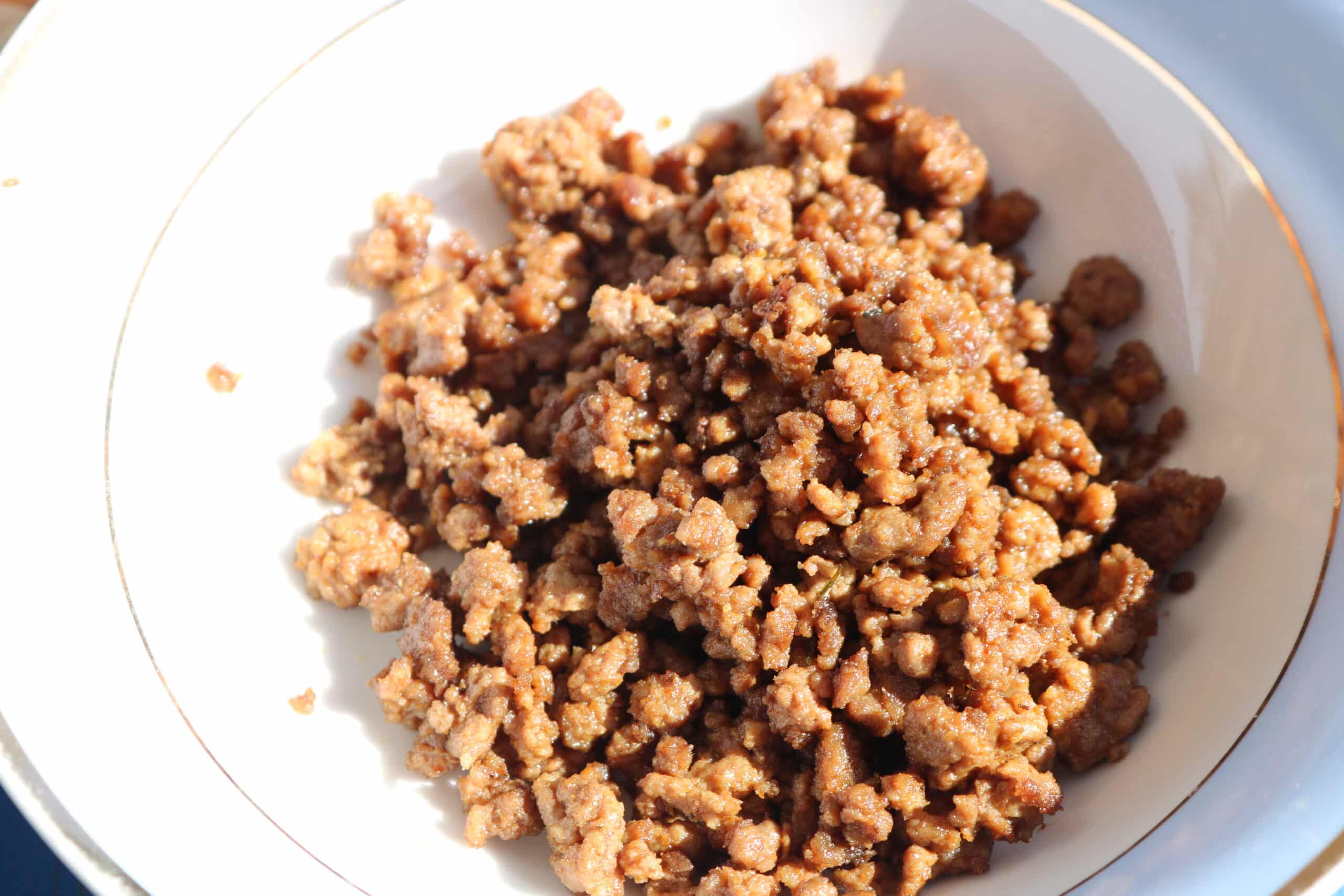 Cook the ground meat down with a few spices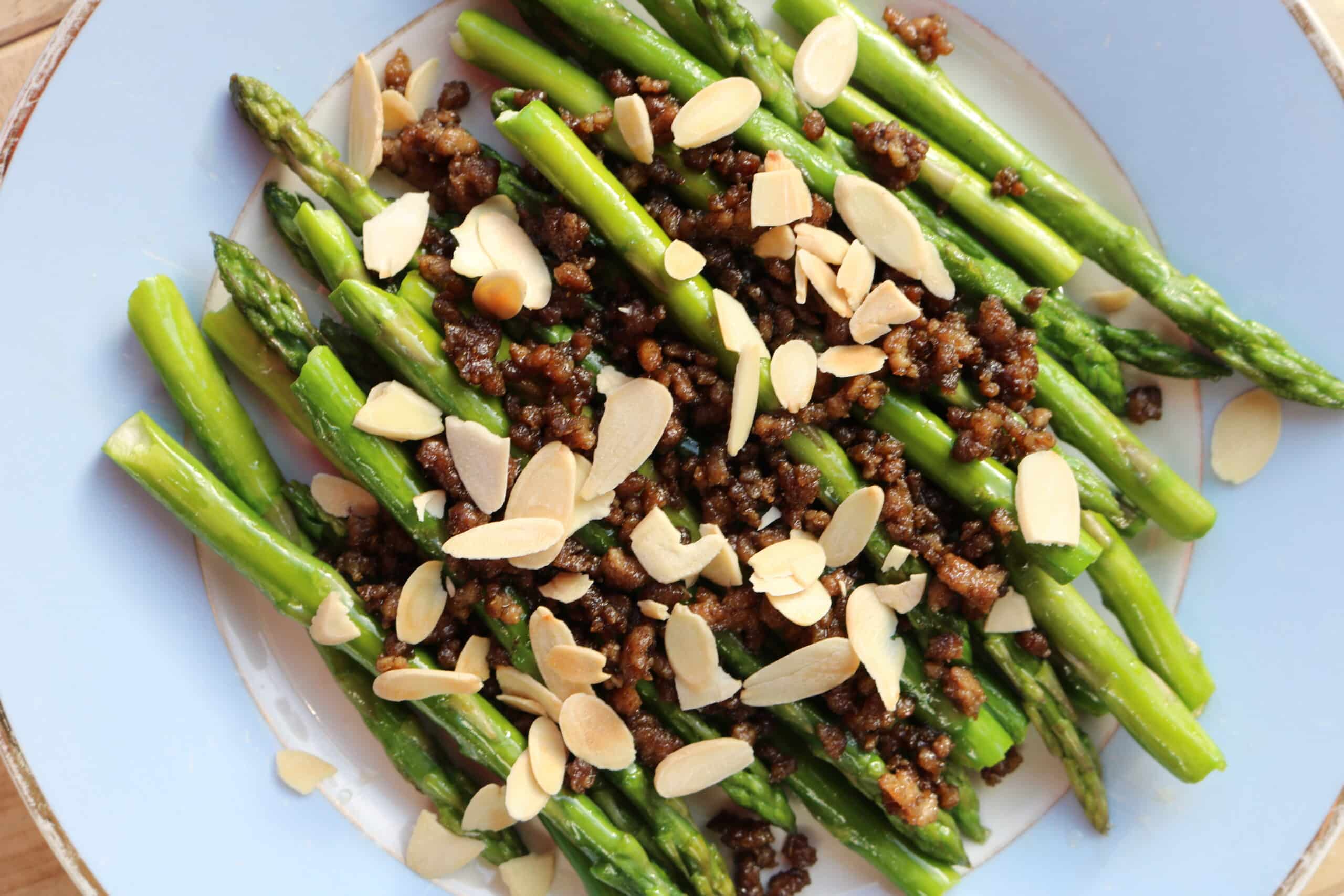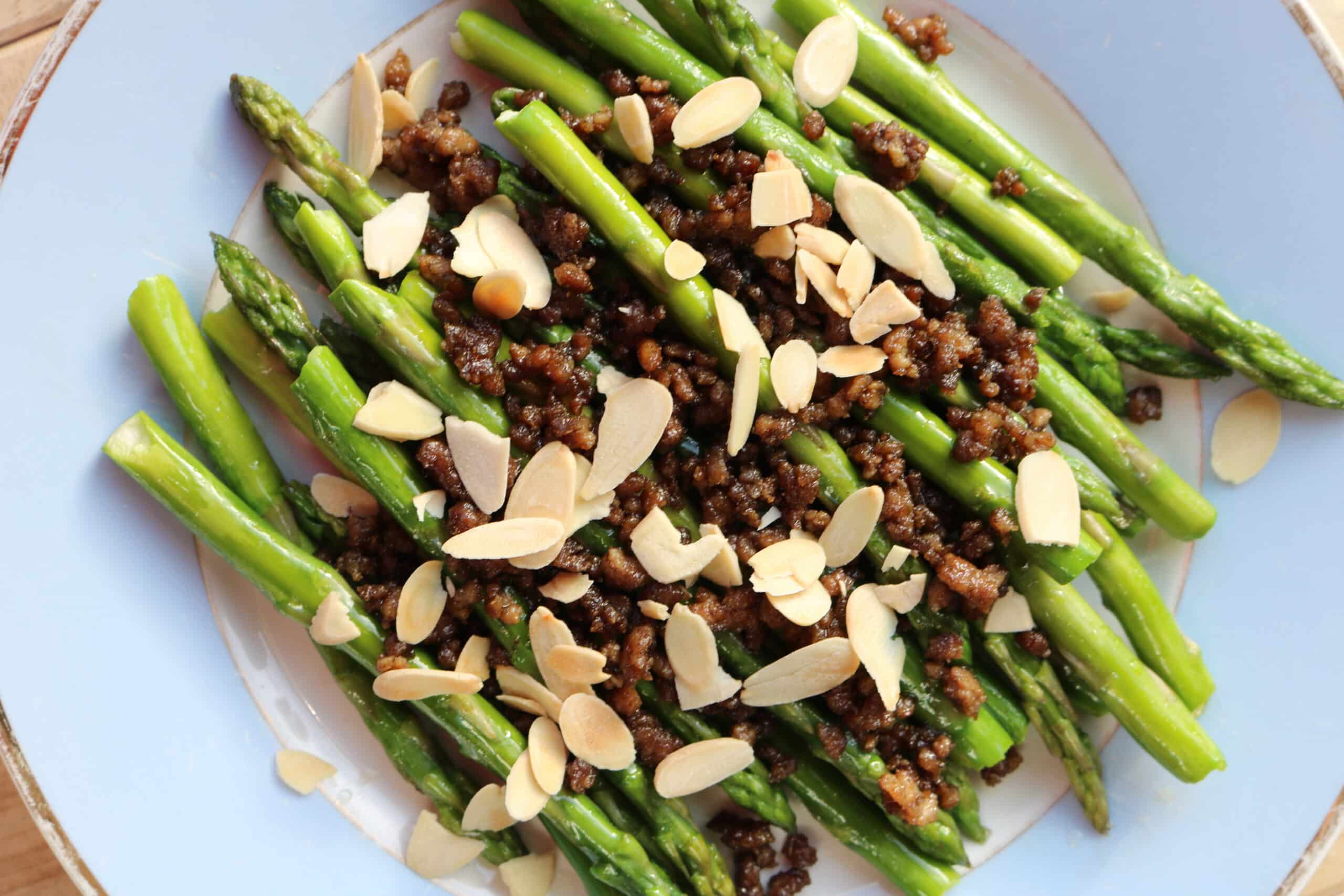 Once you've griddled the asparagus, sprinkle on the meat and almonds
Variations
This recipe works well as a concept as it has freshness from the asparagus, umami from the meat and texture from the nuts. You can easily translate it with these variations:
Green beans - swap the asparagus for fine green beans
Pine nuts - replace the flaked almonds with toasted pine nuts
Lentils - Instead for the meat, use well cooked lentils for a veggie option
Spicy - sprinkle on a few red chilli flakes for a little heat
Top tip
Getting the balance between overcooking the asparagus and undercooking it means you have to watch it carefully and taste one before you turn off the heat.
It shouldn't take more than 5 minutes max to cook the asparagus so they wilt a little but still have some bite to them.
Don't look away from the flaked almonds when you are toasting them, suddenly they will turn very brown if you are not careful.
When i'm browning the meat I break it down well with the back of a wooden spoon to get it to a nice fine consistency. I don't appreciate mince meat that is too clumpy.
If i'm making this at home i'll use the same pan to cook the meat and asparagus in, however if i'm making a fancy girly brunch I will cook the meat in a separate pan and the asparagus in another to avoid it looking messy.
This dish can be served at room temperature making it a perfect side for when you have fifty million things to do in the kitchen.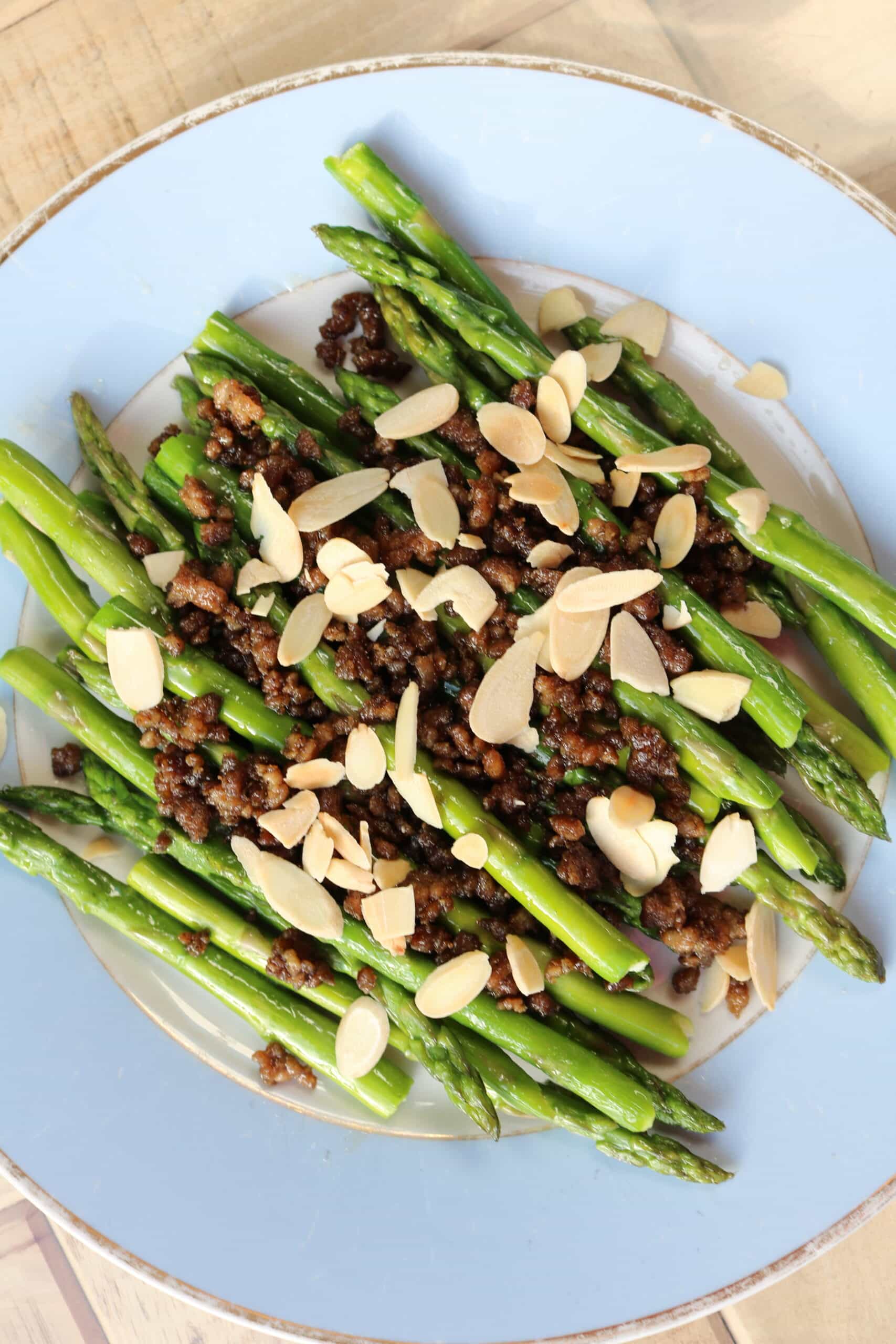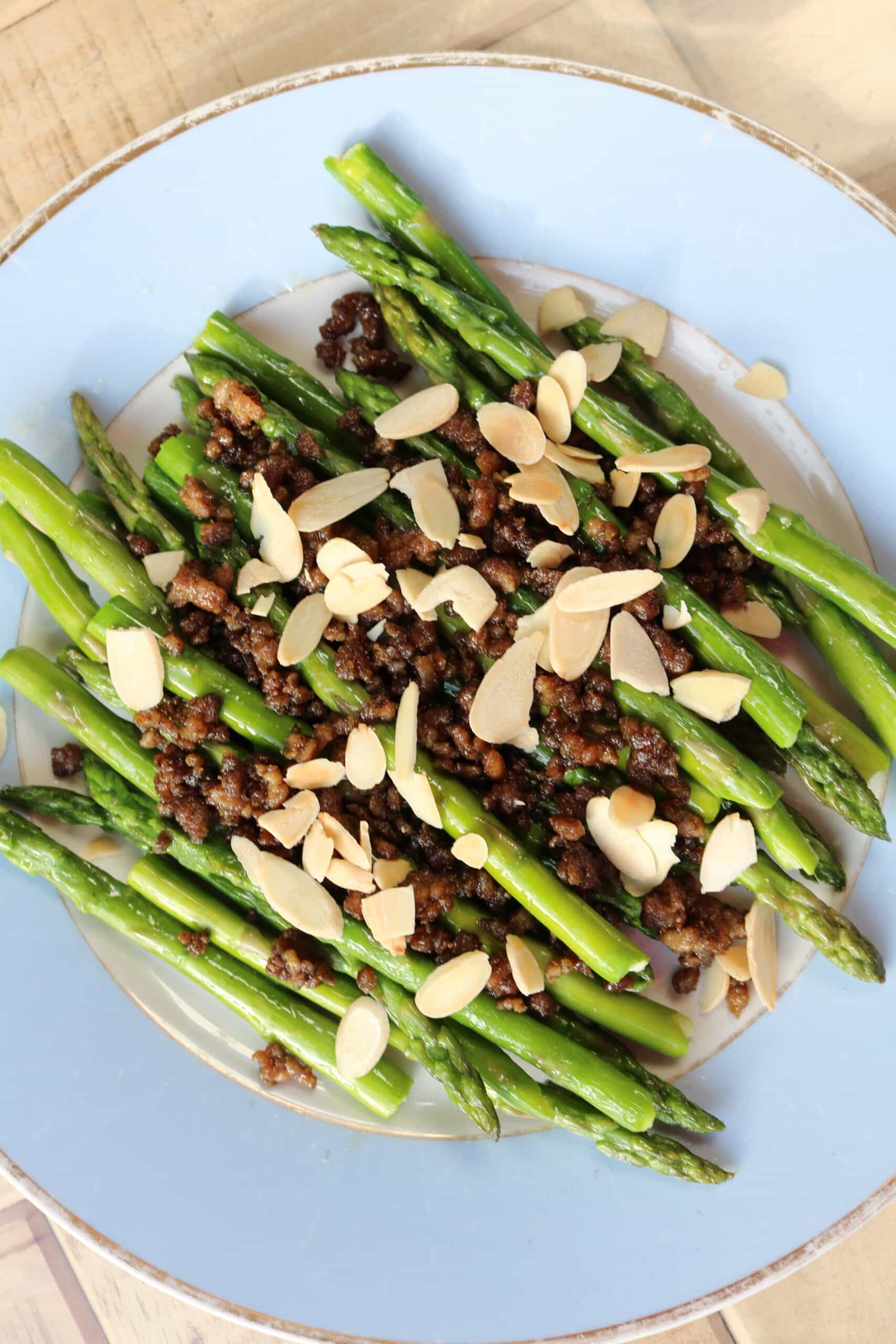 📖 Recipe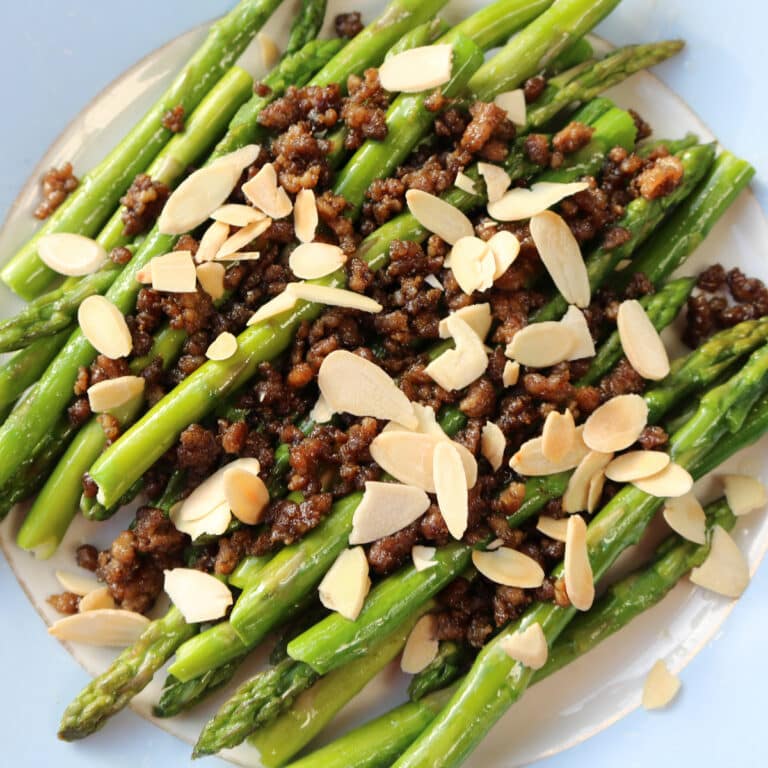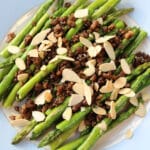 Asparagus with meat and almonds
Griddled asparagus with ground meat and flaked almonds
Ingredients
Bunch of asparagus

500g

½

cup

flaked almonds

2

tablespoon

ground beef or lamb

or mix of both

¼

teaspoon

7 spice

Sprinkle of salt
Instructions
In a non stick pan, lightly toast the flaked almonds until golden. Remove from pan and set aside

In the same pan, brown the ground beef/lamb and add a sprinkle of salt and the 7 spice. Pat down with the back of the wooden spoon until well done. Taste and adjust seasoning as necessary. Set aside

Wash the asparagus and snap off the ends where they break off naturally. Griddle in another pan with a drizzle of mild olive oil for around 5 minutes

Transfer the asparagus to a plate, sprinkle on the ground meat and top with flaked almonds.
If you make any of our recipes let us know how it went by giving us a star rating below.
Check out our Youtube page for full video tutorials, our Facebook group to discuss Lebanese cooking, as well as our tiktok page for quick tips.
You may also like these recipes from the collection: