Okra in tomato sauce is a great little dish to master especially if you are starting out learning to cook.
It was one of the first dishes I made when i left home and I still make it to this day exactly the same way.
The wonderful thing about this dish is that you can make it from frozen and store cupboard ingredients.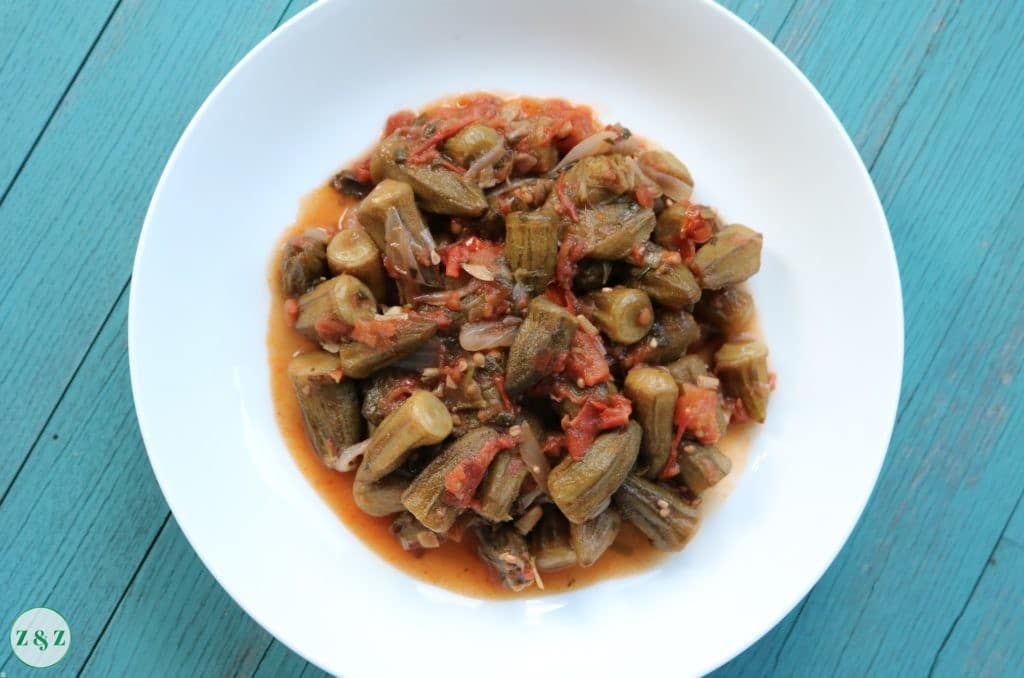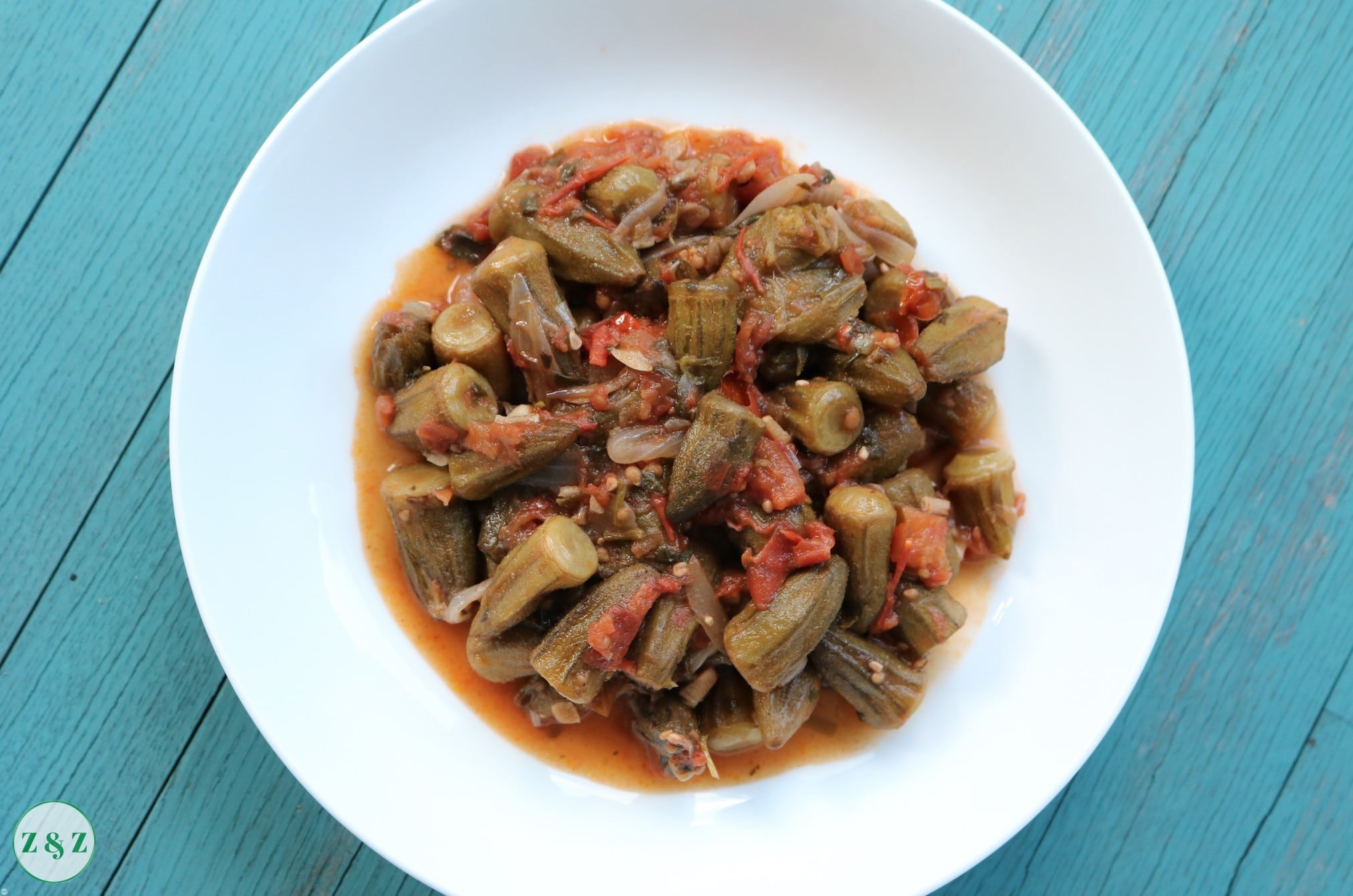 The best seasonal okra can be found in September but I feel it tastes almost as good when you use frozen as it's a stew and doesn't demand the same level of freshness.
The tomatoes
My recipe uses fresh tomatoes which give the best flavour.
If your tomatoes are not that tomatoey then add a spoon of tomato concentrate and some water which will enhance the flavour.
You can also use canned chopped tomatoes when out of season and this is perfectly fine.
Canned tomatoes are some of the best preserved vegetables and all the best chefs and home cooks rely on them.
The okra
You can use any type of okra really.
There are lots of different types of okra such as the long lady finger types or the small button ones, so you may need to adjust the cooking time slightly to cater for this.
I like baby okra as it is slightly sweeter and it's not too hard to find either.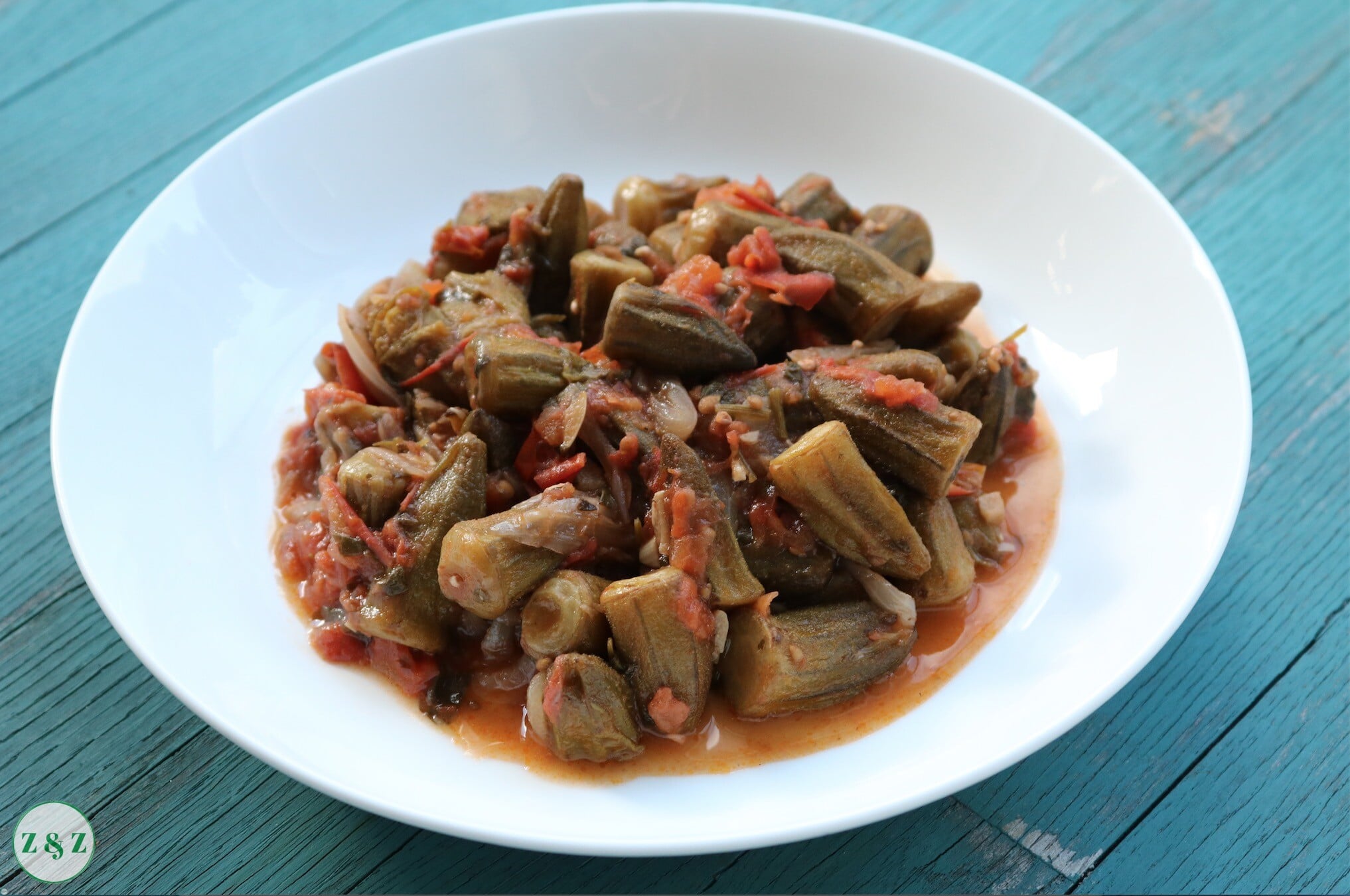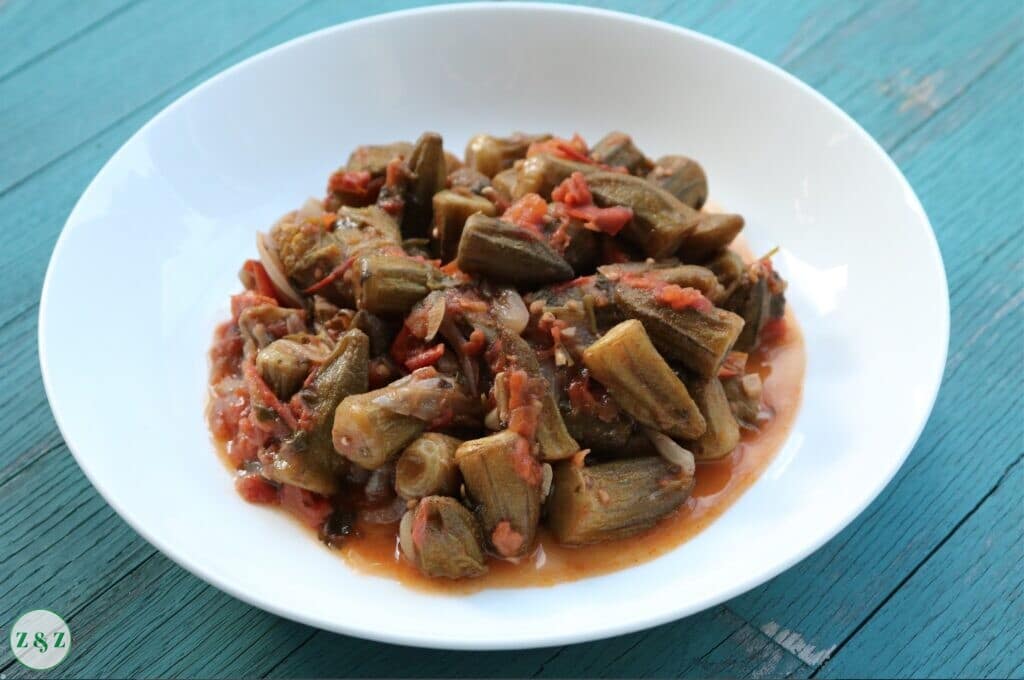 Variations
You can also make a meat version of this by adding little pieces of fillet lamb or beef which you have sautéed beforehand so as not to get a boiled taste, and cook along with the sauce for half an hour or so.
The extra ingredient you will need is fresh cilantro (coriander) and it is usually served with rice.
The spices
Black pepper is the only ground spice you will need.
I have also added a dash of pomegranate molasses at the end and a hint of chilli which I feel really elevates it.
Try it with and without the pomegranate molasses and you will see the difference it makes.
Top tips
When making any stew, you must try and cook out the onion properly and not rush this phase.
Lots of people don't take their time over the onions as they don't consider it to be a main part of the dish but this is your flavour base so if you have time sauté the onions on low heat until caramelised which gives it the delicious factor people can't figure out.
Also, be careful not to burn the garlic. When you add the chopped garlic cloves, lower the heat and after a minute or two add the okra.
Health benefits
Okra is a highly nutritious food full of fibre and folates, especially good for pregnant women.
Okra is also good at helping your body regulate blood sugar levels and has anti-cancer properties.
Even though this dish seems to use a lot of olive oil, it is still a healthy alternative to fried or processed foods.
Olive oil is rich in good fats and antioxidants which can help in the fight against strokes and heart disease.
It has been part of the Mediterranean diet for centuries and this is one of the best ways to prepare vegetables in.
Serving suggestions
As with many Lebanese dishes, this dish is usually served with fresh warm flatbreads although it can also be eaten with rice.
Stews such as these taste even better the next day and can even be eaten cold on a warm summer's day.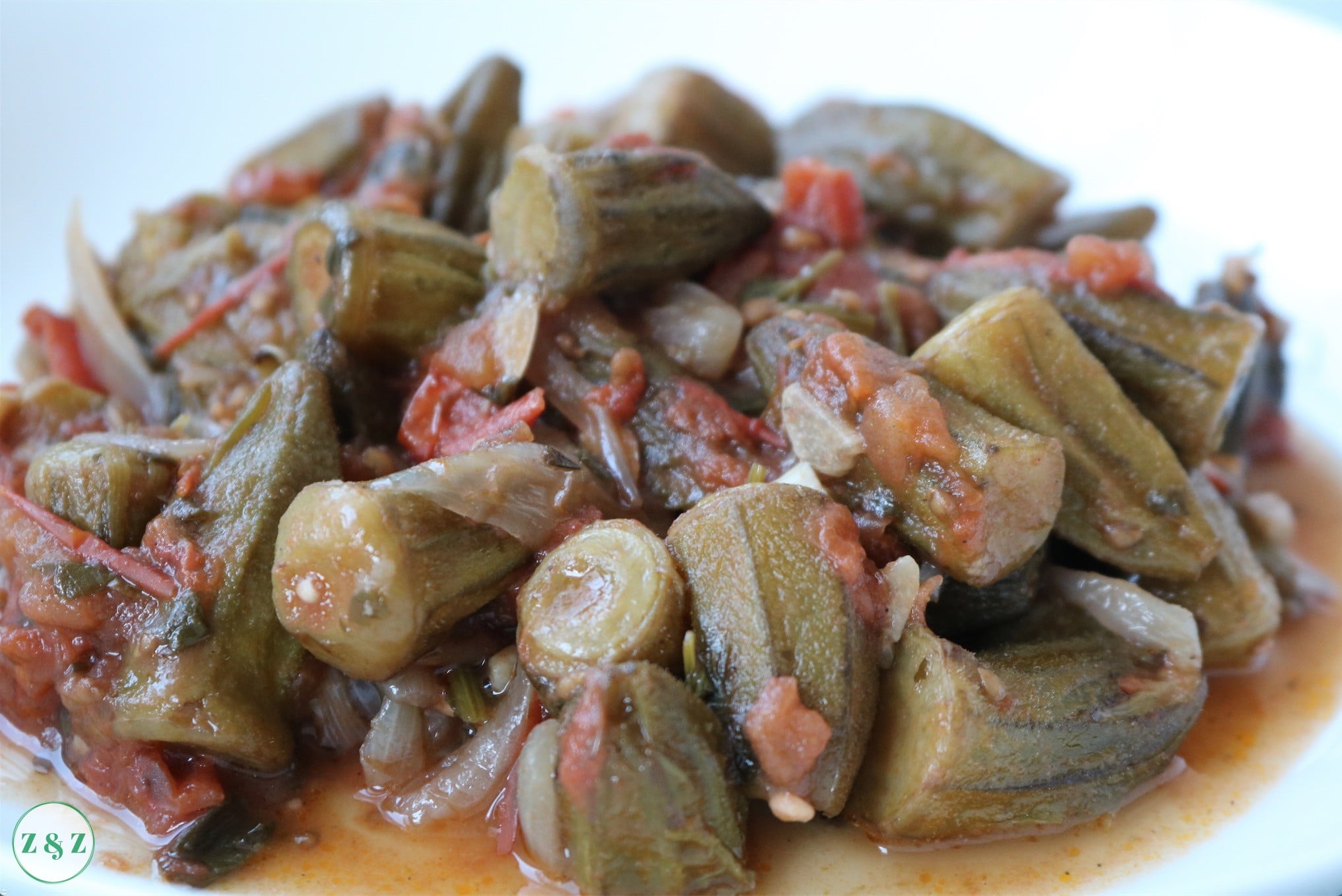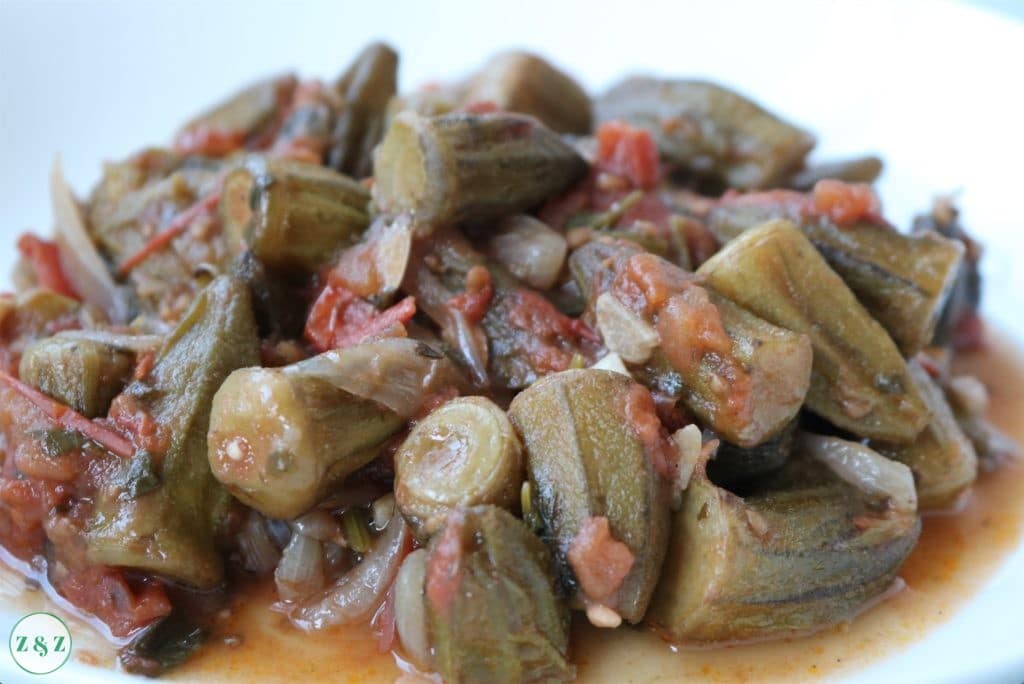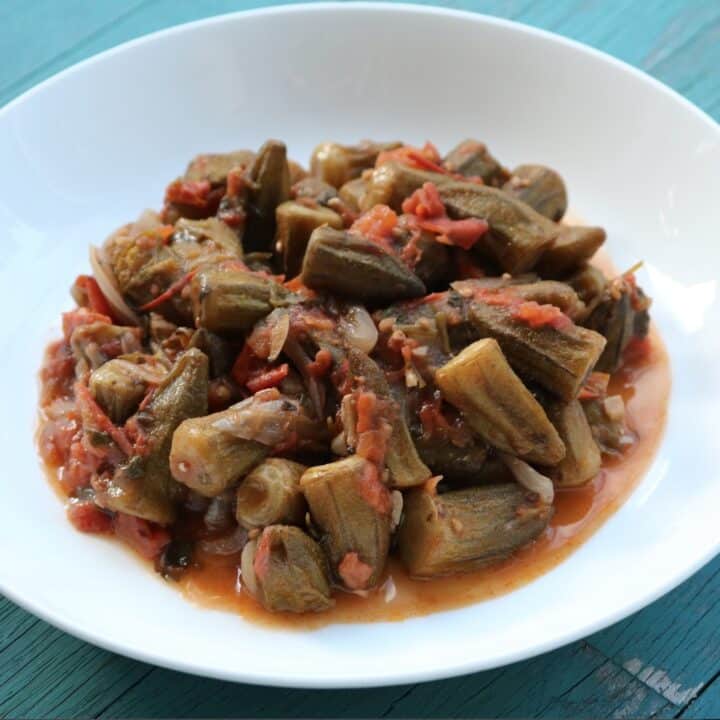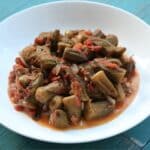 Okra In Tomato Sauce (Bamia b'zeit)
Okra stewed in a rich tomato sauce
Ingredients
1

large onion

sliced into thin strips

2-3

garlic cloves

chopped

Regular olive oil

Okra

fresh or frozen bag approx 300g

4

tomatoes

chopped or 1 can of chopped tomatoes

¼

teaspoon

black pepper

2

teaspoon

salt

approx

1

tablespoon

pomegranate molasses

½

green chilli

finely chopped (optional)
Instructions
Slice the onion into thin strips and sauté in a drizzle of regular olive oil until golden

Add the garlic and sauté for another few minutes on low heat

Add the okra and a few drizzles of regular olive oil (approx 4-5 tbsp) and turn up the heat to medium high

Sauté the okra for around ten minutes until it is half cooked and vibrant green

Add the chopped tomatoes along with the salt and pepper and simmer for around 30-40 minutes

Five minutes before you turn off the heat ad the pomegranate molasses and optional chilli

Taste and adjust the salt if necessary

Serve with warm flat breads
If you make any of our recipes let us know how it went by giving us a star rating below.
We have a lively Facebook group where we post frequent recipes and discuss Lebanese cooking in general, as well as a handy Pinterest page where you can save all of your favourite Zaatar and Zaytoun recipes!
You might also like these other recipes from the Zaatar and Zaytoun collection: