There are two types of people in the world; those who eat chicken livers and those who don't. I fall in to the latter category and avoid anything offal-ish by a mile.
As a child my mum used to make us Sawdeh (chicken livers) and I remember mildly enjoying the taste but as I grew up the idea didn't sit well with me at all.
However recently, following the birth of my second son which caused me a few complications and my iron levels to drop, I have been forced to eat chicken livers again by my mum and husband, despite my lengthy protests.
I then rediscovered why people eat this for breakfast and concluded 'it wasn't so bad'.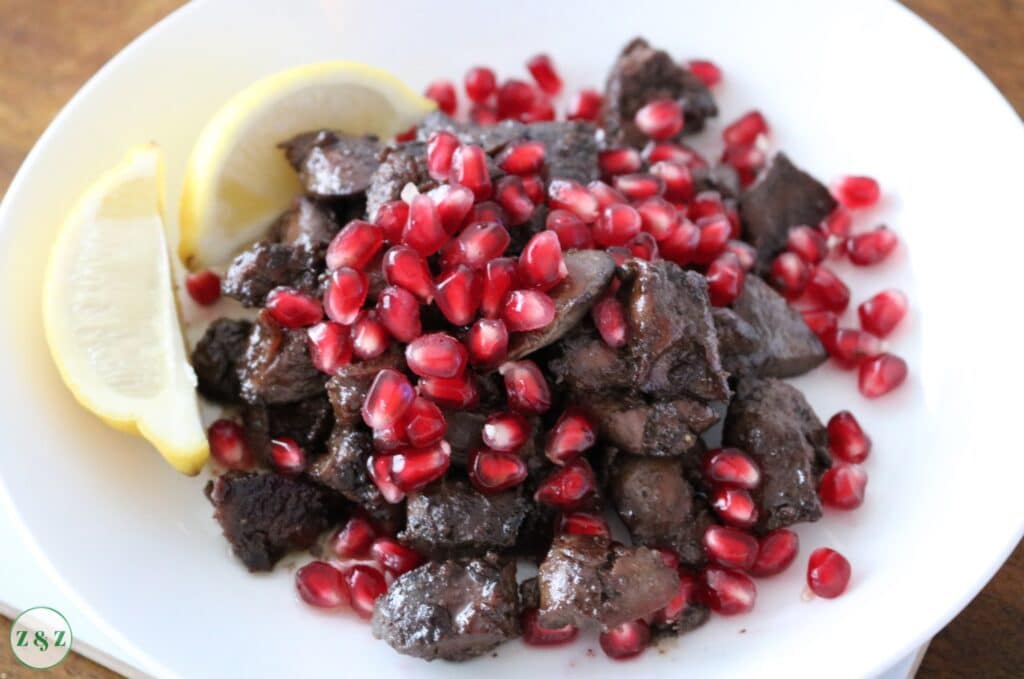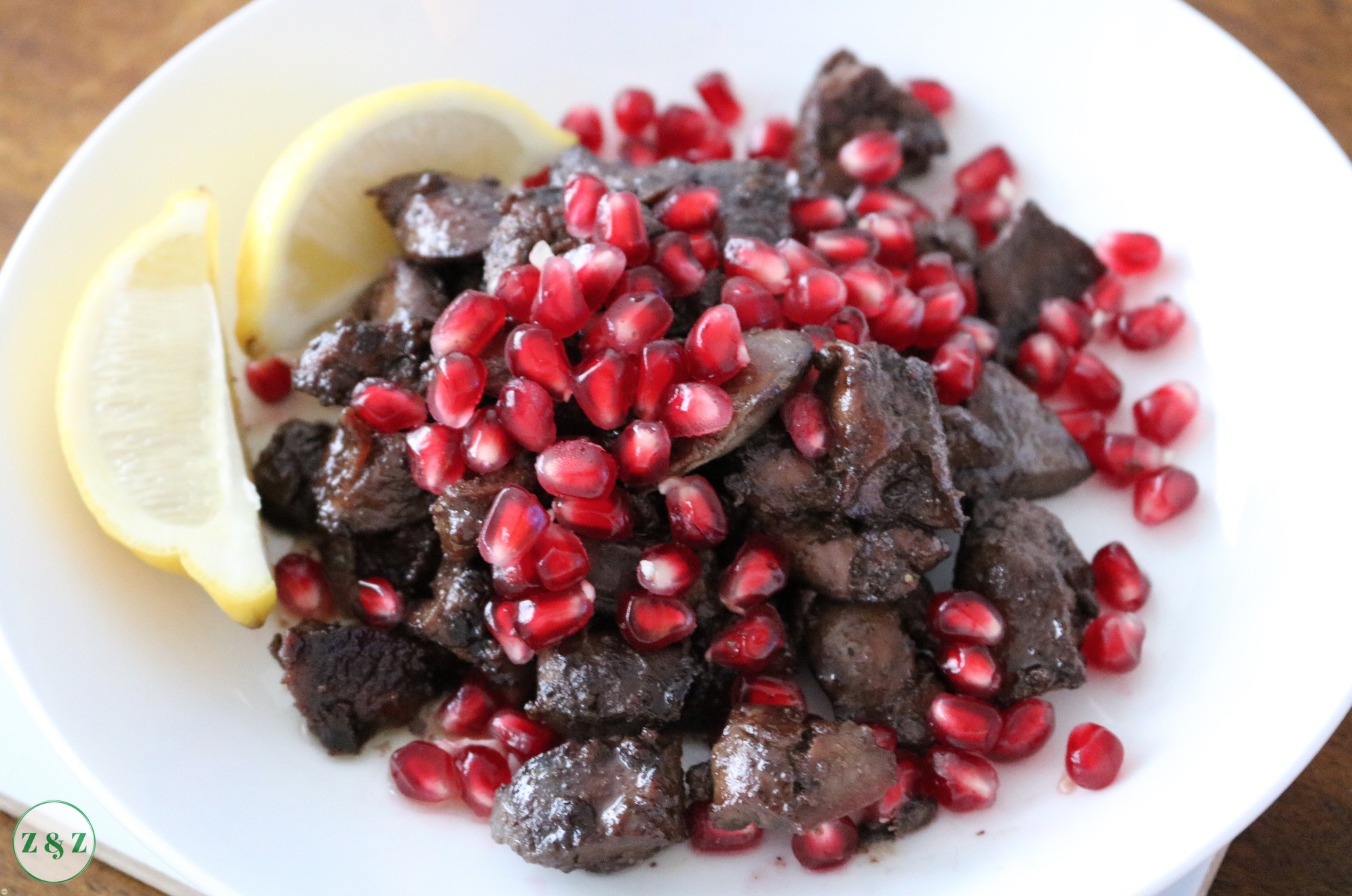 Livers
Supposedly chicken or lamb livers are very good for you and have lots of iron and Vitamin B12.
They are also a rich store of folates which are important for pregnant women or those who have just given birth.
My mum said that in Lebanon it is customary to get chicken or lamb livers for new mothers and cook it with lots of garlic which also helps the milk supply.
Basically it's really good for you especially if you need a health boost.
Find yourself a good butcher who will clean it for you so you don't have to make a mess. Don't be shy to ask them to take off any bits you don't like as that is what they are there for and it's all part of the service.
You can buy it in the supermarket too but you should always try and source a good butcher for these things so you can be sure how fresh it is.
Ideally you want it the same day or one day old as it will taste better.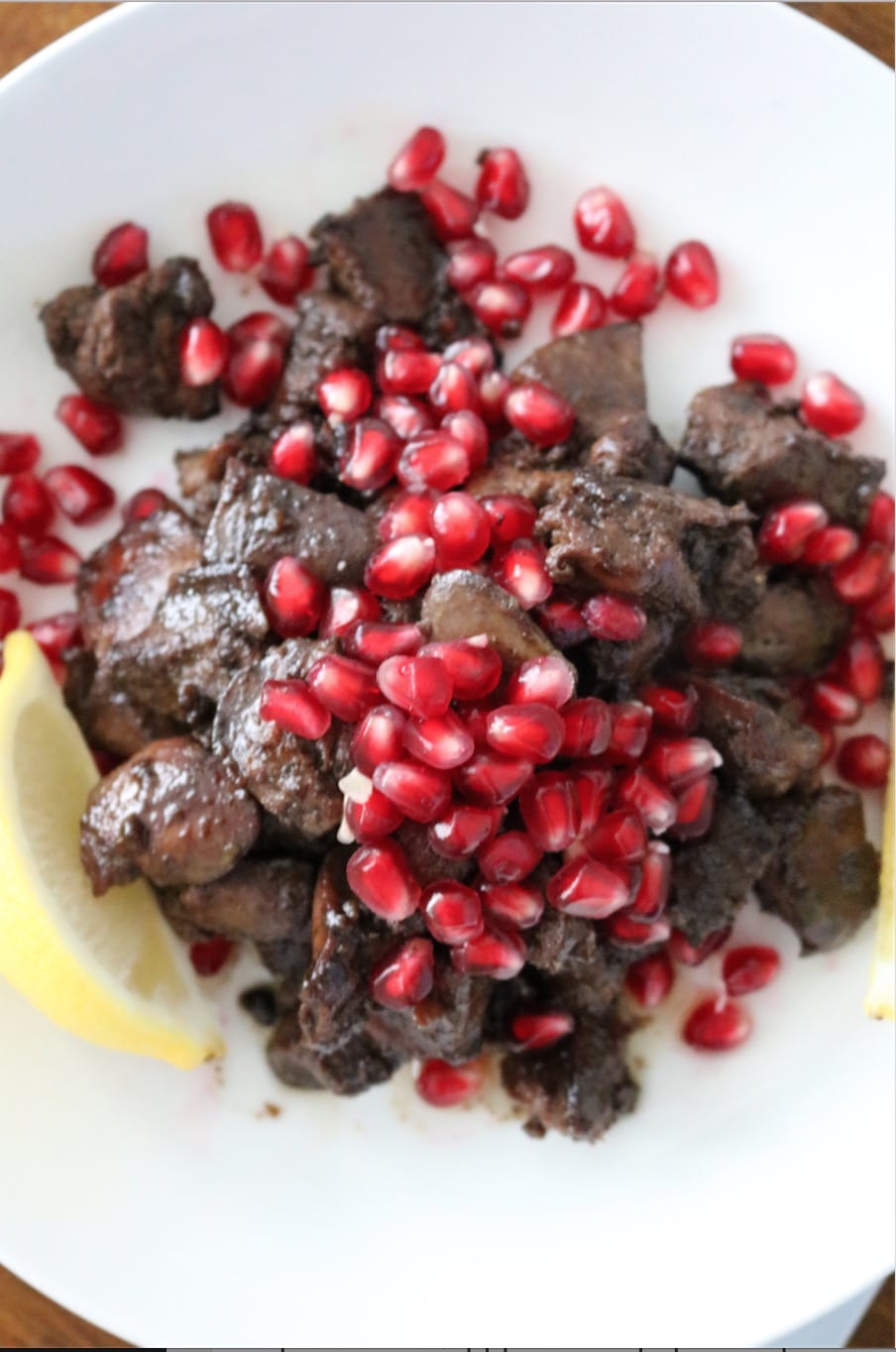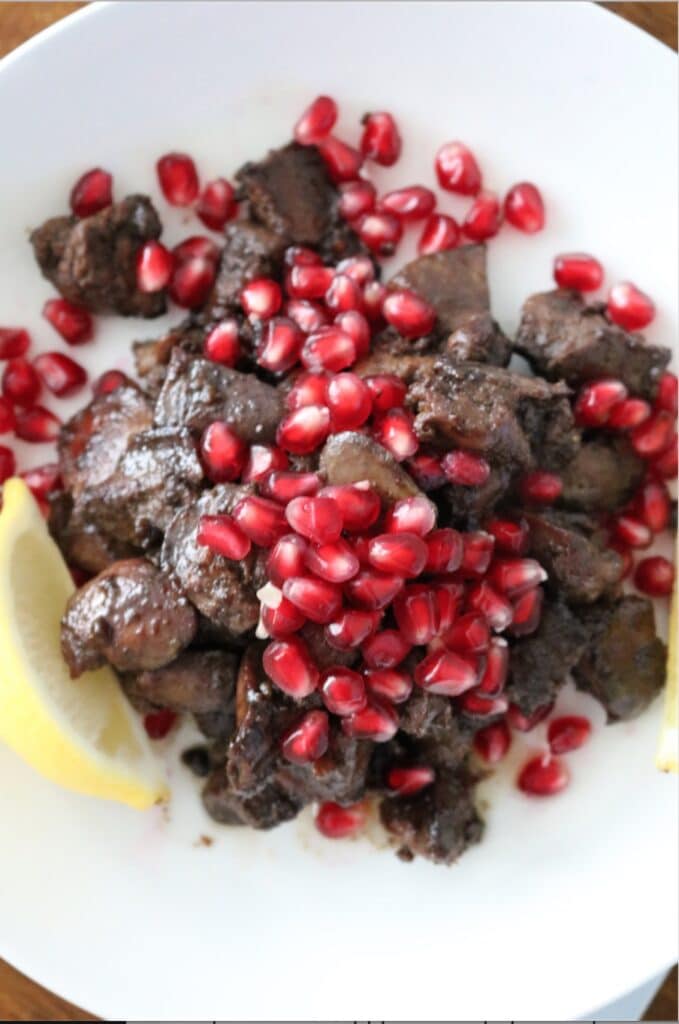 Pomegranate Molasses
Hopefully you live in good range of a Middle Eastern store. There are different types of pomegranate molasses and I prefer the sharper ones to the sweeter varieties. Try a few until you fine THE ONE.
You can also get pomegranate molasses in some fancy supermarkets these days under speciality ingredients section. Though usually they are far more expensive and sometimes a bit old as no one buys them.
Alternatively you could ask your Lebanese friend to smuggle you back some high quality pomegranate molasses from the motherland.
Make sure they tape it up with lots of packaging as it will stain all of your clothes should it unfortunately spill (i'm talking from experience here haha).
Top tips
Make sure you don't burn the garlic. If you do it will ruin the whole taste and you will be thinking why isn't this delicious. For that reason we gently fry the garlic just so it sizzles a bit and before the colour turns so no longer than 2 minutes.
THEN when set aside the garlic we turn up the heat as you want to flash fry the chicken livers. If the heat is low then they will boil and that won't taste great either.
If the chicken livers produce alot of liquid drain them half way through frying and this will reduce boiled taste even more.
Did I mention I can't stand boiled meat taste it's the worst.
Serving suggestions
When I have to eat it I do so with with lots and lots of lemon and extra pomegranate molasses to dip in. A sprinkle of pomegranate seeds also makes it more palatable.
Apparently people in Lebanon go crazy over it and it's really expensive, whereas here in London it's really cheap compared to other cuts of meat.
This recipe was actually cooked by my husband (sawdeh expert) and though I will never be one of those people who love and crave it, this is by far the best recipe you will find on it so if you're a chicken liver lover rejoice!...and if you can't stand it then maybe perhaps you might be converted some day.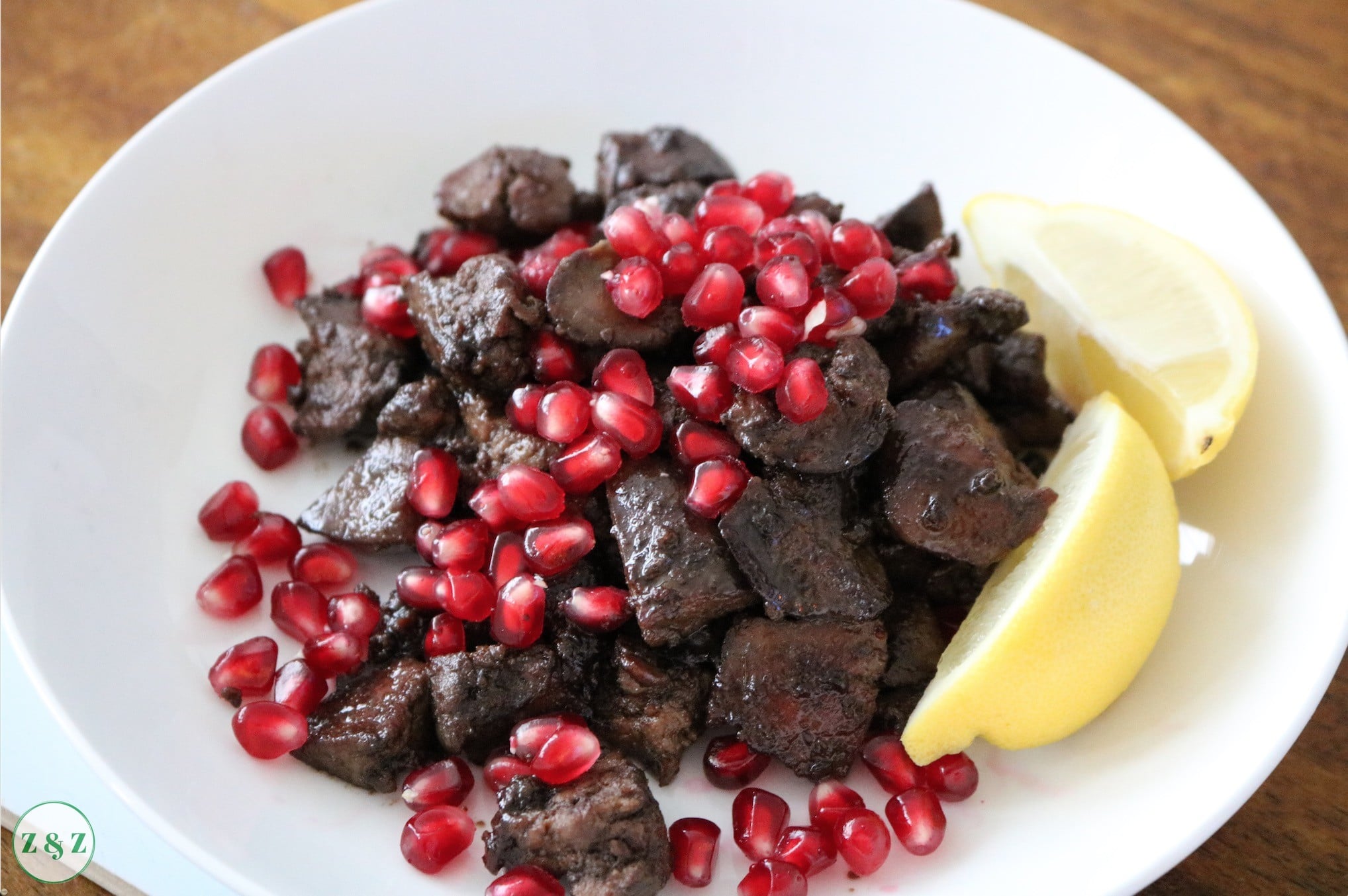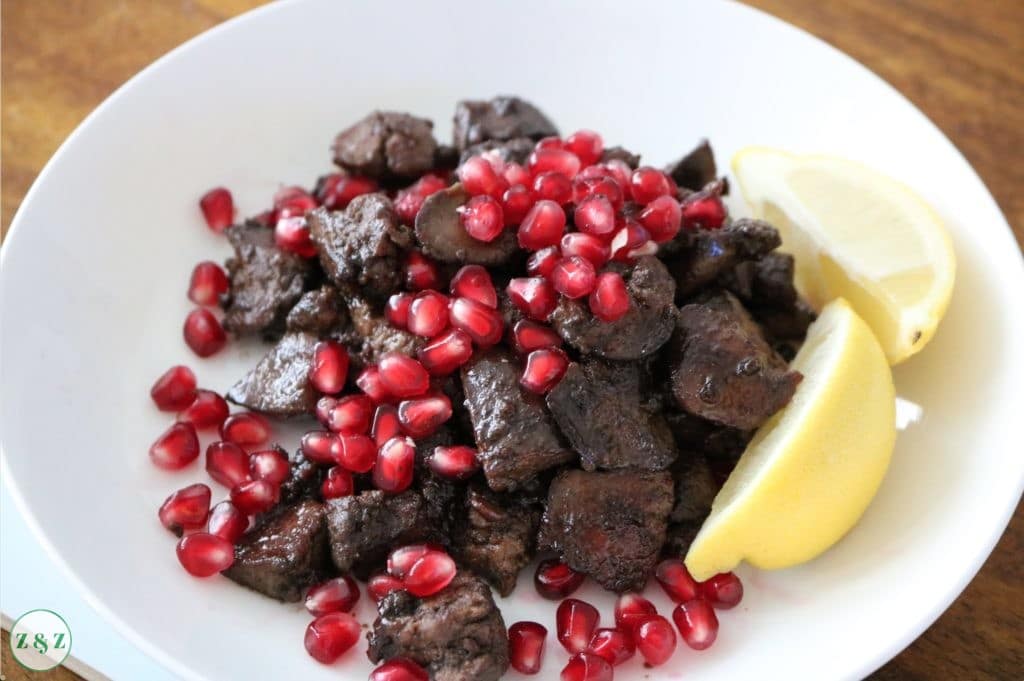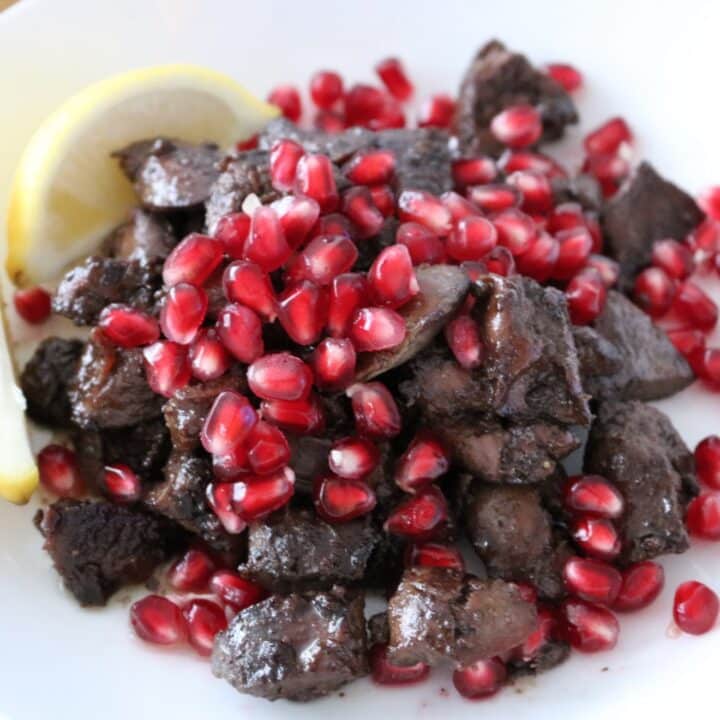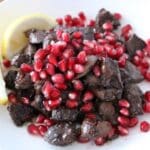 Chicken Livers in Pomegranate Molasses (Sawdet Djaj b Rub Ruman)
Subtly spiced livers with garlic, lemon and pomegranate molasses
Ingredients
Approx 300g of cleaned chicken livers

2-3

garlic cloves

3

tablespoon

of regular cooking olive oil or vegetable oil

3

tablespoon

of pomegranate molasses

1

lemon

Pinch

of sumac

optional

Salt and black pepper to taste
Instructions
Cut the cleaned chicken livers into small bitesize pieces

Add the garlic to a pan with regular olive oil and gently heat until very slightly golden - DO NOT BURN. Then remove and set aside

Turn up the heat and add another drizzle of regular olive oil. Add the chicken livers and fry off for about five minutes. Drain any excess liquid in the sink

Add a drizzle of pomegranate molasses and fry for another 2 minutes. Lower the heat

Re-add the garlic and a good sprinkle of salt, sumac and black pepper. Cook for another minute

Serve with a side of lemon and more pomegranate molasses if desired. Garnish with optional pomegranate seeds

Eat with fresh bread for either breakfast or as part of a mezze
Recipe Video
Recipe Notes
This recipe can also be used for lamb livers.
If you make any of our recipes let us know how it went by giving us a star rating below.
We have a lively Facebook group where we post frequent recipes and discuss Lebanese cooking in general, as well as a handy Pinterest page where you can save all of your favourite Zaatar and Zaytoun recipes!
You might also like these other recipe from the Zaatar and Zaytoun collection: