Summer's coming and we can all do with some quick chicken recipes that require minimum effort and taste amazing.
My sticky chicken drumsticks with pomegranate molasses certainly qualify and will soon become a regular at your table.
Jump to:
Ingredients
Pomegranate molasses (or rub ruman as it is known in Lebanon) is made from reducing the juice of pomegranates with some sugar. It is easily available in most shops these days and can even be brought online.
Good pomegranate molasses is dark and thick and oozes out of the bottle slowly. I prefer ones that lean on the sour side though some do have sweeter notes in them.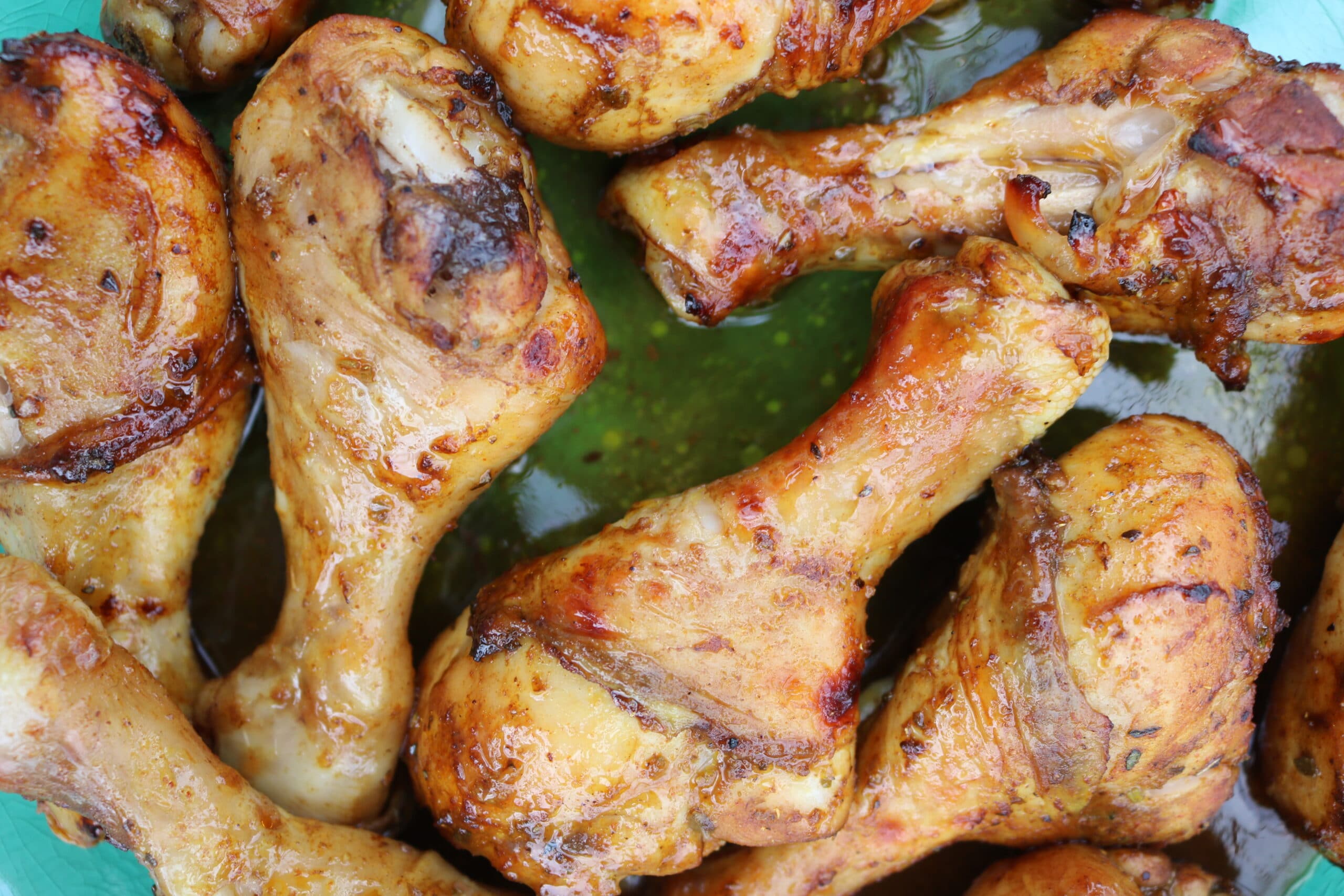 When you find your perfect brand of pomegranate molasses you will just know, like true love it cannot be explained in mere words.
The main ingredients for this dish are
Pomegranate molasses
Spices
Chicken
My other secret ingredient for this marinade is a little soy sauce to balance out the sourness with a little saltiness. You didn't see that one coming did you!
Instructions
So as with any marinade, ideally you want all the flavours to sing and dance together for at least 24 hours. If not then at least a good few hours.
If you just do one hour it won't have time to soak into the flesh of the chicken and the end result will not be as stunning.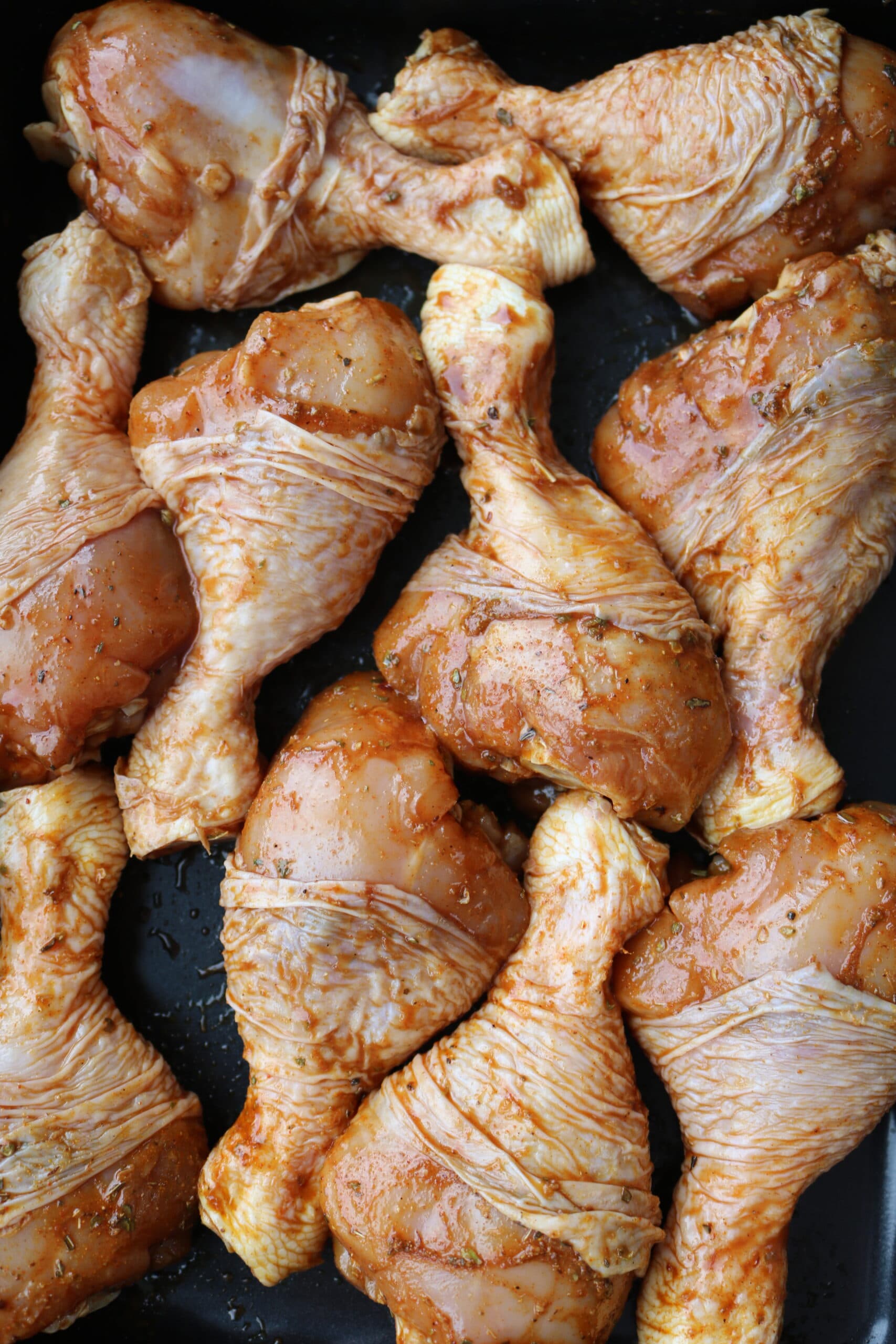 I usually like to cook chicken on with the skin as it keeps the flesh moist and prevents it from drying out in the oven.
When rubbing in the marinade, peel back the skin and make sure you get some marinade underneath.
Variations
Marinades are just guides, you can adjust some of the spices to your liking. Usually this means increasing a ¼ teaspoon to ½ so don't go too wild.
You can make variations of the same dish by changing a few things round to emphasise an aspect of the dish. For example:
Spicy - add ¼ teaspoon of chilli powder or some of your favourite hot sauce for an extra kick.
Sticky - add a tablespoon of honey to make it extra sticky
Child friendly - Instead of using drumsticks, most kids prefer chicken breast. Just don't dry out the chicken when baking.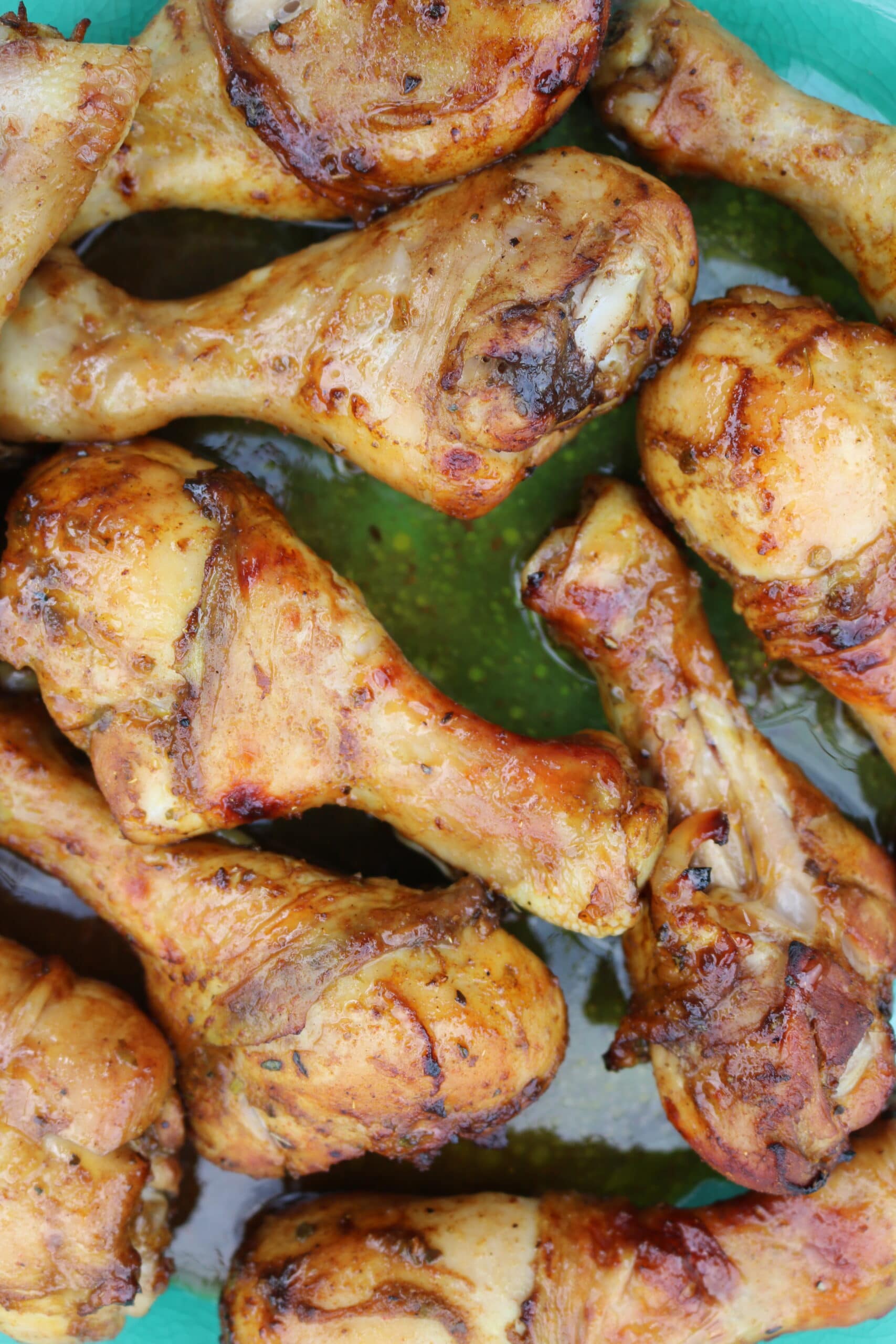 Equipment
I used a non stick pan to bake the chicken in. You can use any sized bakeware that means there is enough space for all the chicken to sit in comfortably.
If you crowd the chicken too much it will boil and not have enough space to crisp up, so use two pans if you have to.
Storage
You can store any cooked chicken in the fridge up to 3 days.
If you know you've made too much chicken, it's always better to freeze before you cook it and it will easily store in the freezer for up to 6 months.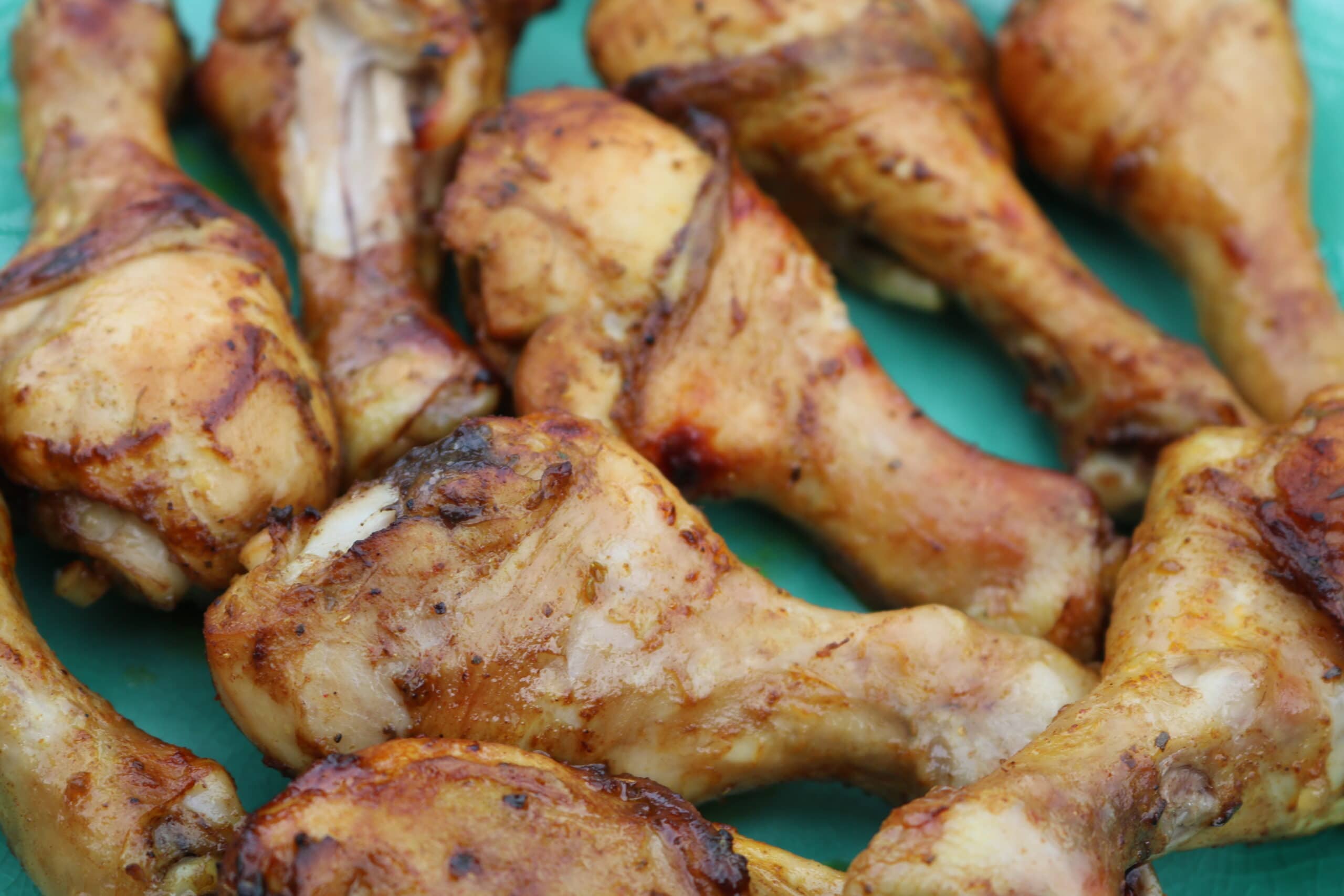 Top tip
Although I have baked this recipe meaning it's on the healthy side, you can also use the exact same recipe to grill on the barbecue.
My favourite way to eat these is with some homemade fries and salad like fattoush. What else could you want on a lazy summer day.
📖 Recipe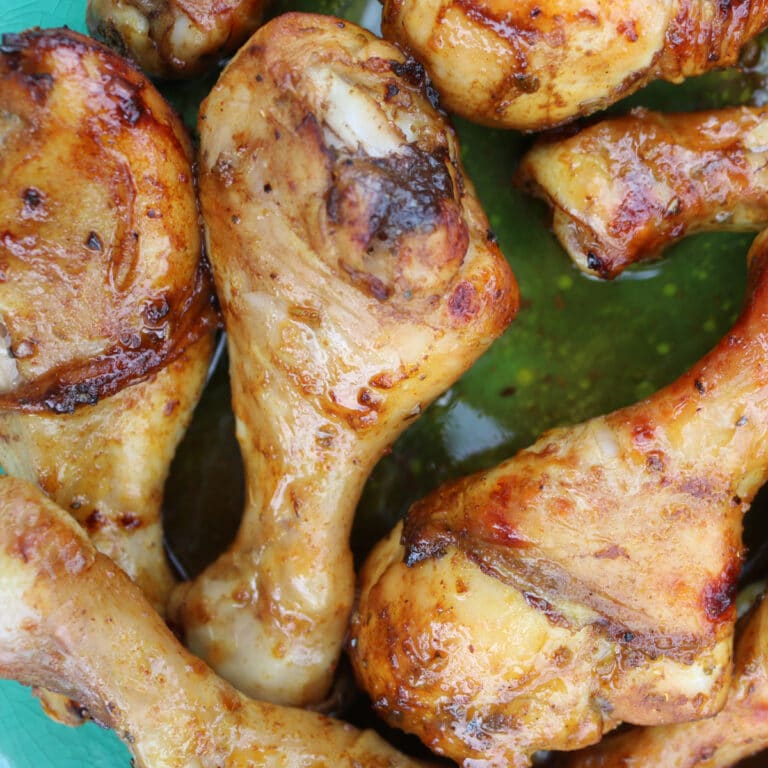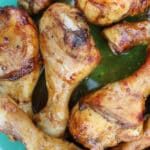 Chicken with Pomegranate Molasses
Baked Sticky chicken drumsticks
Ingredients
1

kg

chicken drumsticks

approx 8

2

tablespoon

pomegranate molasses

1

tablespoon

soy sauce

2

tablespoon

regular olive oil

(drizzle)

½

teaspoon

salt

¼

teaspoon

garlic powder

¼

teaspoon

turmeric

¼

teaspoon

paprika

¼

teaspoon

7 spice

¼

teaspoon

dried oregano
Instructions
In a large mixing bowl, add all the ingredients except the chicken and stir well.

Then add the washed chicken and rub the mixture well with your hand, peeling back any skin and making sure there is marinade underneath.

Cover with cling film and refrigerate overnight, ideally for 24 hours

Takeout the chicken at least half an hour before cooking to bring up to room temperature. Preheat the oven to 180c/350f.

Add the chicken to a non stick baking tin and bake for 30 minutes turning the drumsticks halfway through.
Recipe Notes
Instead of baking you can also grill the chicken on the BBQ.
If you make any of our recipes let us know how it went by giving us a star rating below.
We have a lively Facebook group where we post frequent recipes and discuss Lebanese cooking in general, as well as a handy Pinterest page where you can save all of your favourite Zaatar and Zaytoun recipes.
You might also like these other recipes from the Zaatar and Zaytoun collection: