Doesn't everyone you know have a secret lemonade recipe up their sleeve? Well guess what, we have one too and we will also boldly claim ours is the best. Test it and see.
My mum's lemonade is so good because it's not too sweet and not too bitter. Perfectly balanced and refreshing for hot summer days.
The key to this is soaking the lemons you've just juiced in with the liquid for a good few hours to really develop that lemony flavour.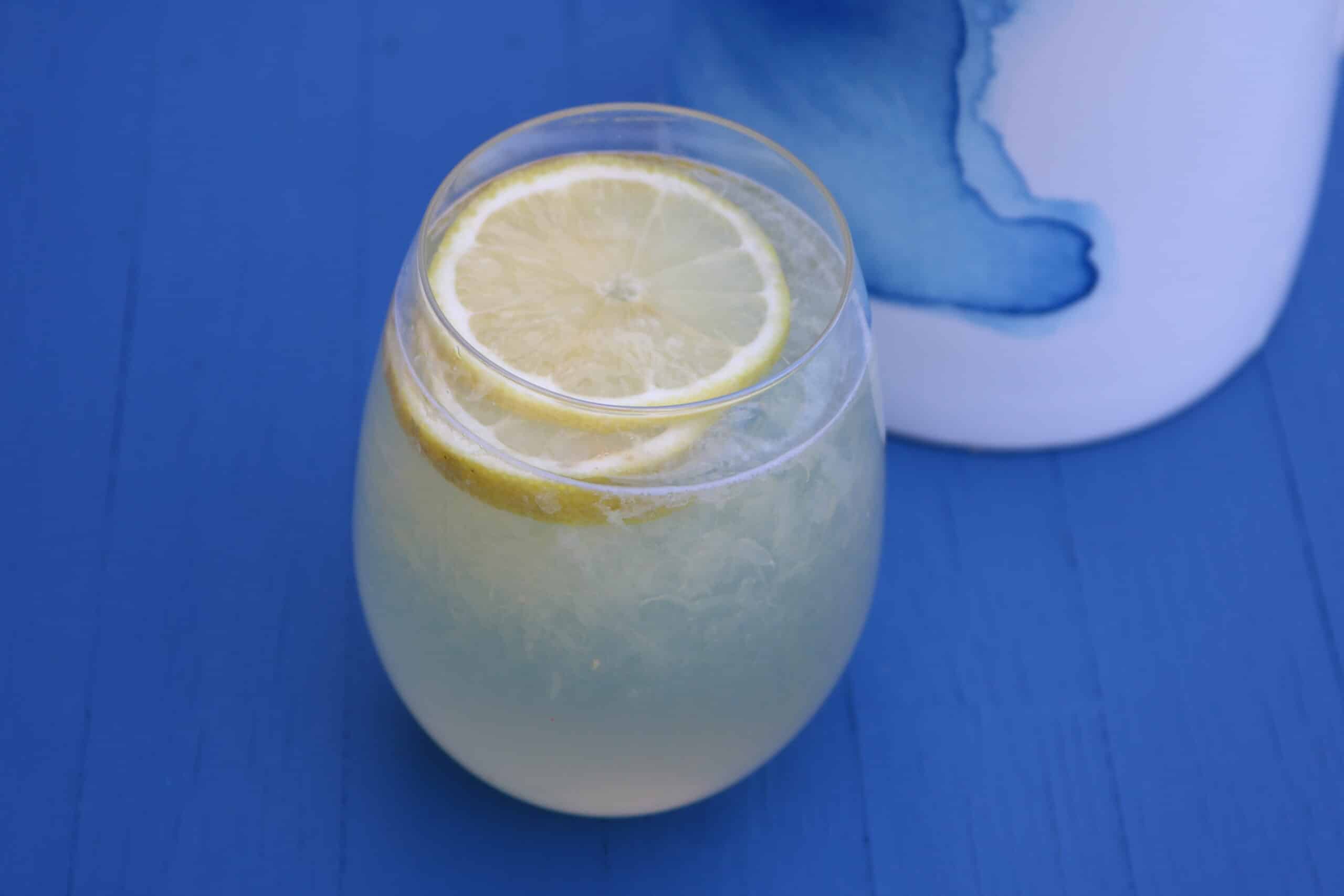 Lebanese people love lemons so much we eat them whole.
When I was younger me and my cousins used to climb my teta's lemon tree in her orchard and pick the plumpest juiciest lemons you can imagine.
Then we'd peel and cut the lemon up into wedges, sprinkle a little salt and devour them. My mouth literally waters just thinking about it.
Jump to:
The Lemons
Your lemonade will only be as good as your lemons! So really invest in some organic unwaxed lemons if you can.
You can tell if a lemon is good by holding it, a smooth supply surface that's vibrant will always be a good sign.
If you don't care what other shoppers think, smell the lemon too and if you can get a scent of the fruit inside then it means it's bursting with flavour.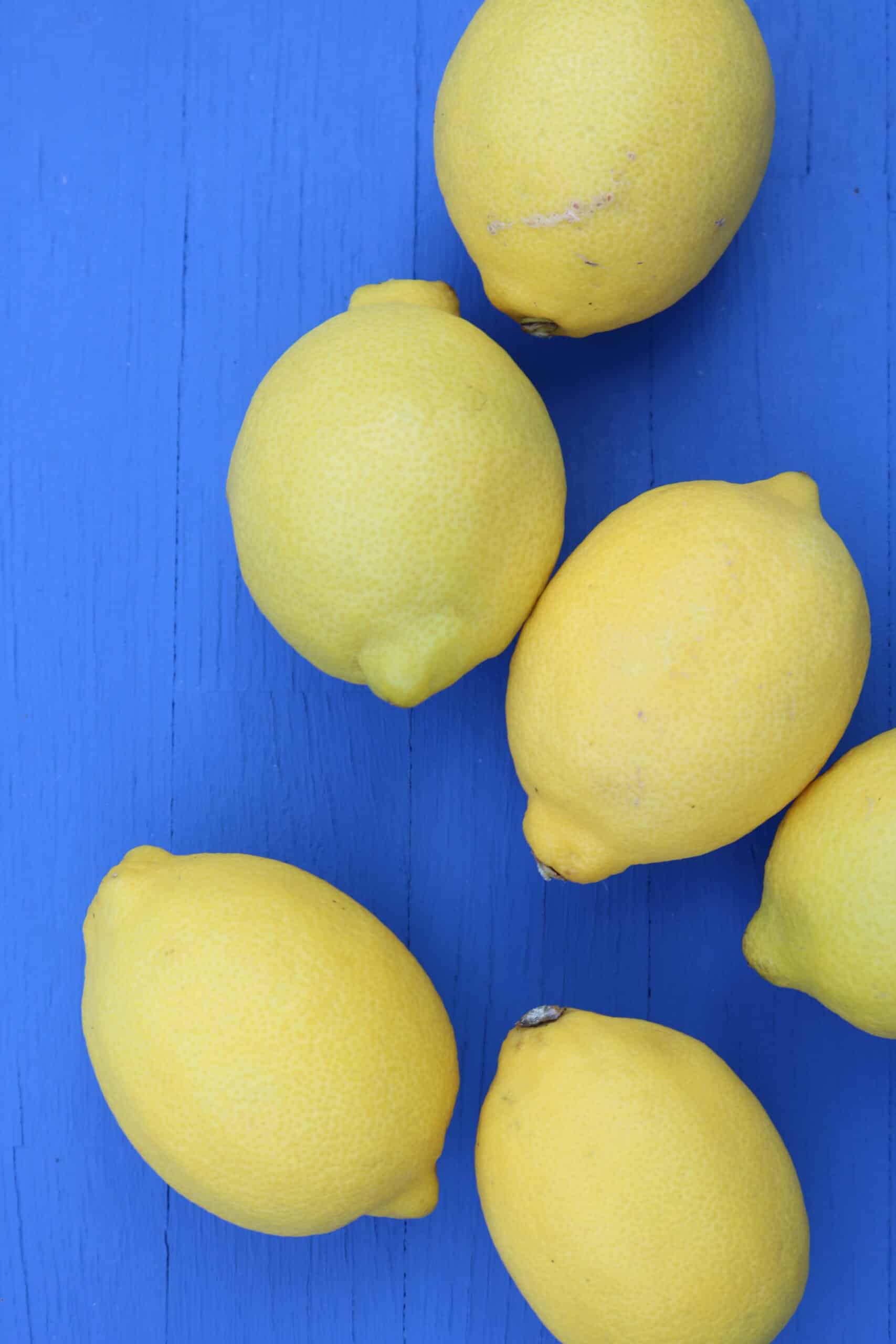 The other ingredients are just sugar and water, and a teeny tiny pinch of salt.
Top Tips
Now some people insist you roll the lemons and others you zest them beforehand. I don't think it super necessary if the lemons are fresh and juice easily.
Roll them if they are a bit rigid to loosen the juices. I love lemon zest in my recipes but this time I prefer to use the leftover lemon halves instead.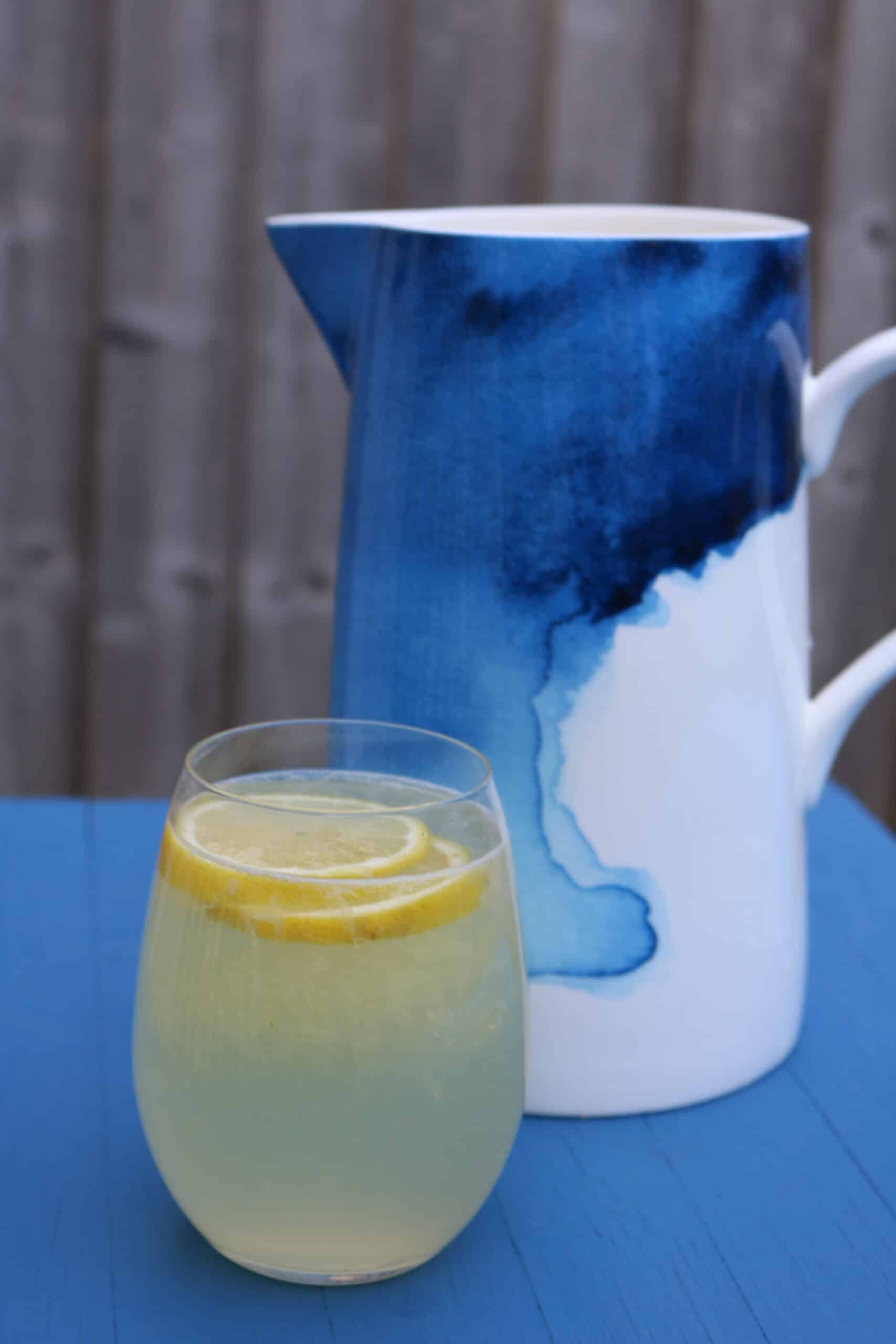 You will need to make a simple syrup with sugar and water. This is literally so easy and is done in a few minutes making sure the sugar is dissolved with the water so it's not grainy.
Always always always taste your lemonade before serving it and adjust the amount of water or sugar.
Variations
Even though lemons are my best friends, I like to make variations from time to time as follows:
Limes - replace 1-2 lemons with limes if you want to change it up.
Sparkling water - If you like things fizzy, substitute some or all of the water with sparkling.
Herbs - Basil and mint will complement the lemons nicely. Add a small handful.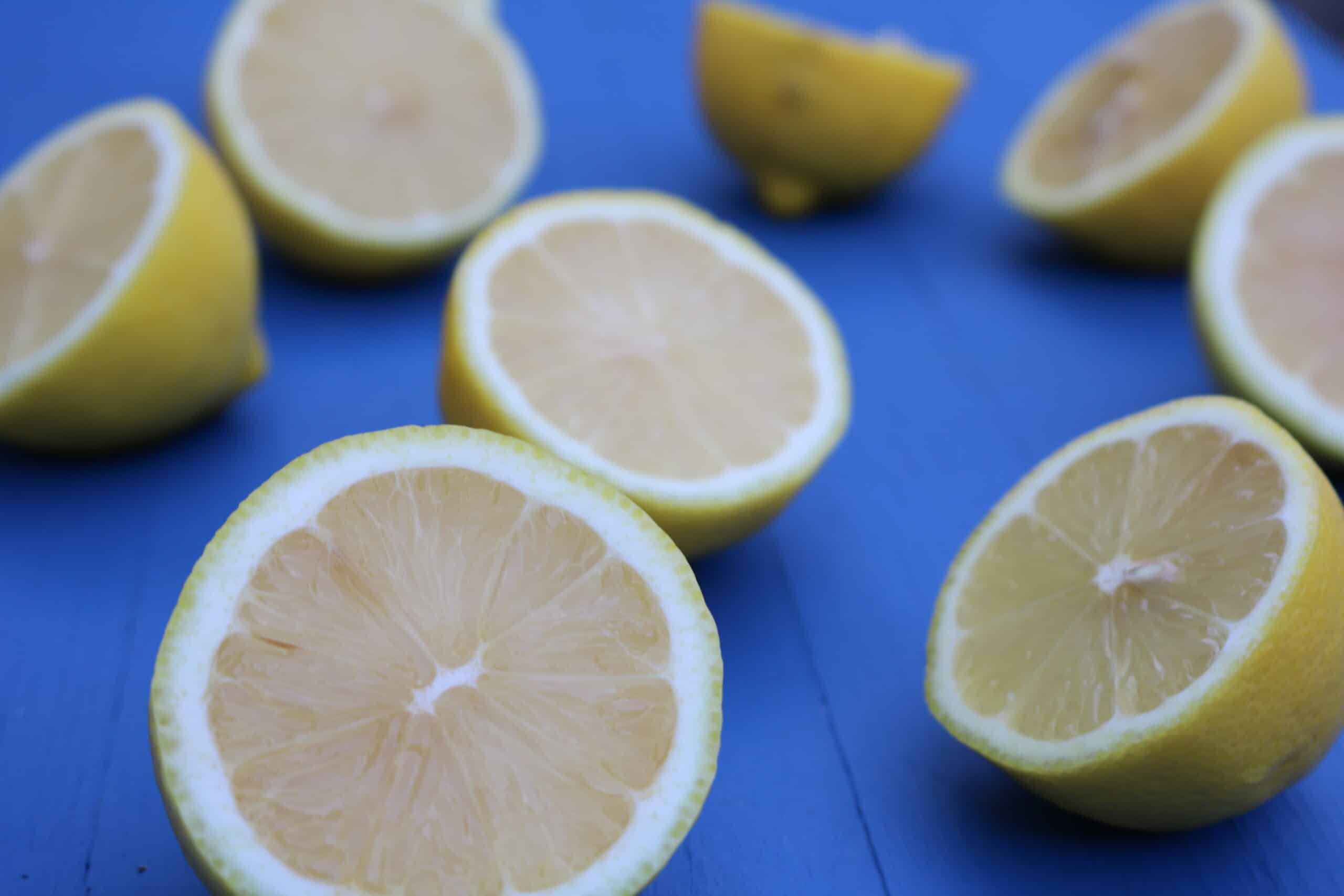 Equipment
You will need a nice big jug or pilcher (what's the difference?!) to simmer all those lemons in.
I don't think using an electric juicer is necessary, a good old hand lemon juicer will work if you put some muscles in.
Storage
If you have some lemonade left over, sieve the juice out and store in the fridge for up to three days.
If you leave in the lemon halves overnight you might find it's a little too bitter.
📖 Recipe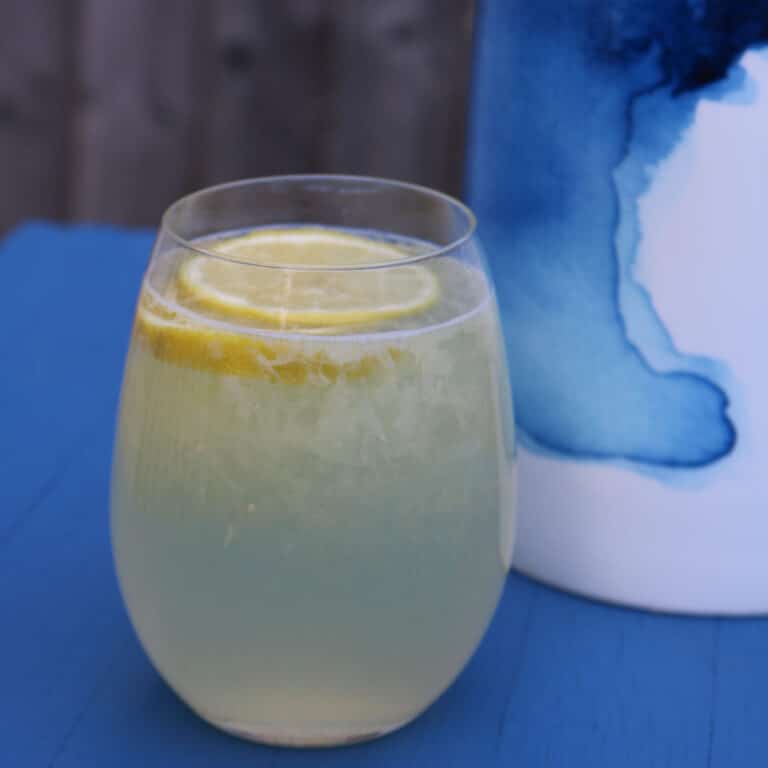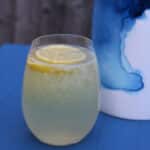 Best Homemade Lemonade
Secret recipe for the absolute best homemade lemonade
Ingredients
5

medium lemons

4

cups

of water

1

cup

of simple syrup

(1 cup water + 1 cup sugar)

tiny pinch of salt
Instructions
To make the simple syrup, dissolve 1 cup of sugar and 1 cup of water in a small saucepan over medium heat for up to five minutes until all of the sugar has dissolved. Set aside to cool

Wash your lemons well and cut into halves. Squeeze the lemon juice and add to a large jug

Then add the lemon halves along with the cold water, pinch of salt and simple syrup to the jug and stir well

Taste a little of the lemonade and adjust with extra water, lemon juice or sugar as necessary

Chill for around 3-5 hours before serving.
Recipe Notes
Garnish with extra lemon slices if desired
If you make any of our recipes let us know how it went by giving us a star rating below.
We have a lively Facebook group where we post frequent recipes and discuss Lebanese cooking in general, as well as a handy Pinterest page where you can save all of your favourite Zaatar and Zaytoun recipes.
You might also like these other recipes from the Zaatar and Zaytoun collection: