When you try to explain what znoud el sit are to people who don't know - cream filled filo pastry rolls which are then deep fried - they usually gasp in shock 😱 or have love eyes 😍and then you add the bit about dousing them in sugar syrup and it's usually too much.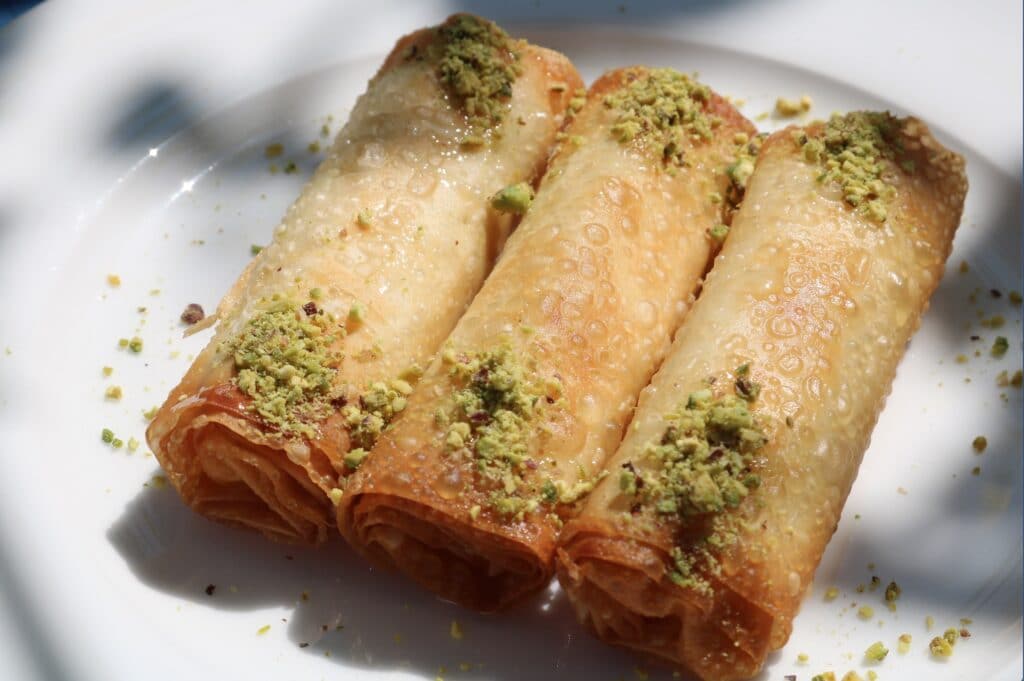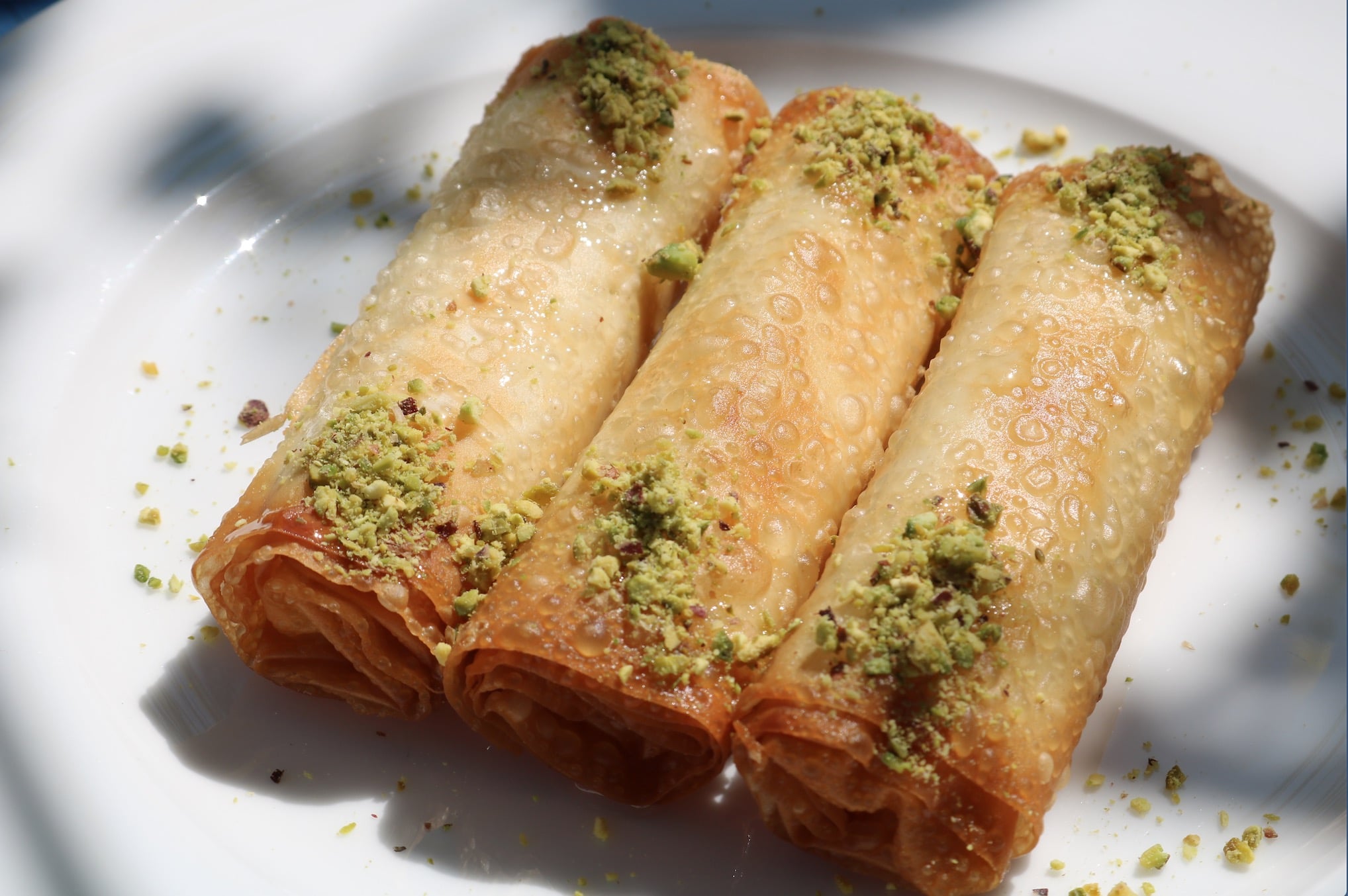 Znoud el sit (which translate to ladies fingers) are very popular during Ramadan for exactly that reason, they are a quick pick me up and you can rarely just have one.
There's something about warm thickened cream encased in pastry that knocks away your self control.
I use filo pastry (or phyllo if you're in the States) and cut the sheets into thirds which you can overlap in a cross shape to give double support.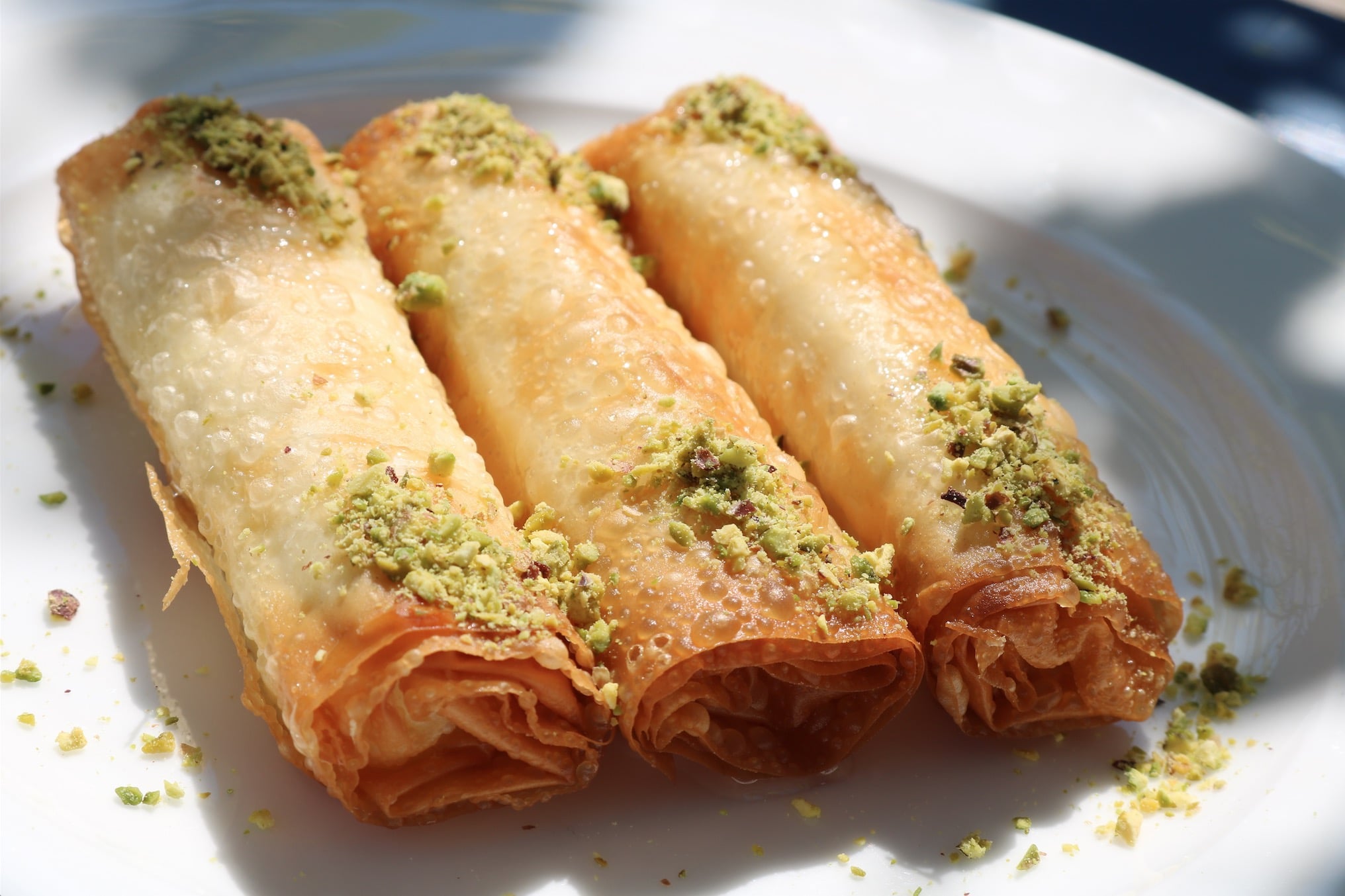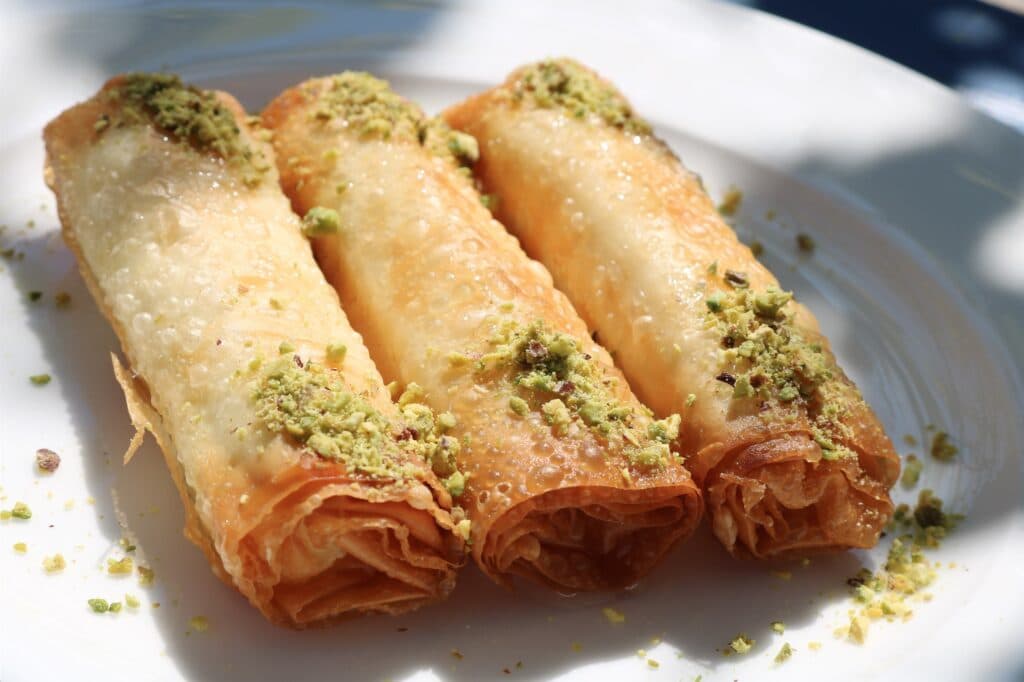 You don't want the cream to burst open or the znoud will become very oily and it won't look too pretty.
When you fry them you want the oil to be hot enough but not too much or they will burn quickly.
They only take a minute or so on each side and they're done. Add a little syrup while they are still warm but don't soak them or they will become sickly sweet.
You can always top them up later if you have a sweet tooth.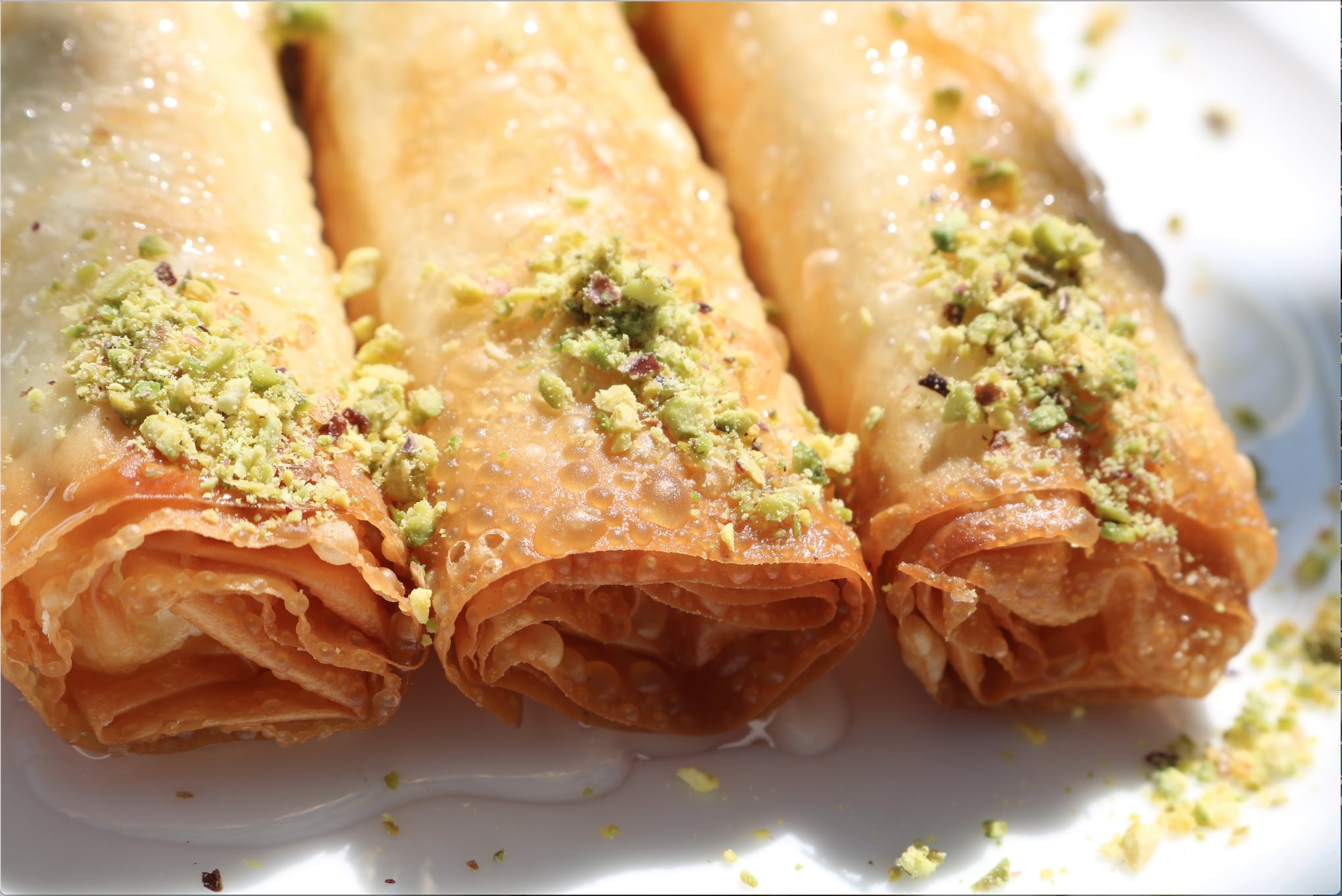 The cream is made in a similar way as you would prepare for atayef b ashta (cream filled pancakes).
I find the the best ratio of milk to cream is 50:50 though you can use less cream if you're trying to make them healthier.
But seriously why bother because this dessert is not pretending. As always sprinkle with some crushed pistachios and indulge in the decadence without regret.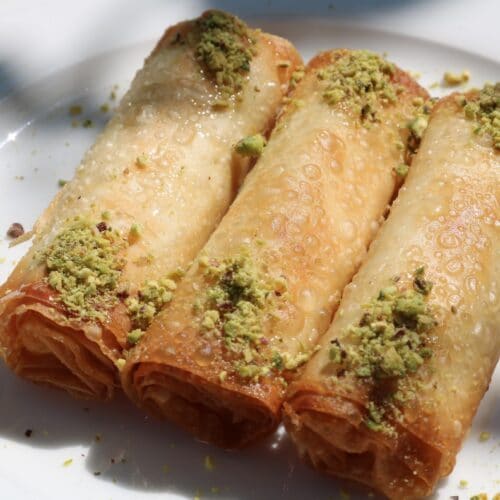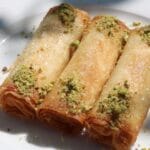 Znoud el Sit (Ladies fingers)
Lebanese cream filled filo rolls
Ingredients
250

g

ready rolled filo pastry

2

tablespoon

of melted butter

Vegetable oil for frying

Crushed pistachios
For the Clotted Cream (ashta)
300

ml

double cream

300

ml

full fat milk

5

tablespoon

cornstarch

3

tablespoon

sugar

½

teaspoon

orange blossom water
For the Orange Blossom Syrup
½

cup

water

1

cup

sugar

1

tablespoon

lemon juice

Small sprinkling of salt

1

teaspoon

orange blossom water
Instructions
To make the Clotted Cream (ashta)
In a saucepan, add the cream, milk, cornflour and sugar. Whisk well before you turn on the heat. Once combined keep stirring on a medium low heat until the mixture begins to thicken. Add the orange blossom and continue to stir on low heat for another 15 seconds or so. Set side to cool
To make the Orange Blossom Syrup
Add the water, sugar, salt and lemon juice to a saucepan, stir until the sugar is dissolved and bring to the boil on a medium high heat. Then add the orange blossom and reduce to a simmer for about five minutes. Set aside to cool
To assemble the Znoud el Sit
If your filo pastry is square, divide into thirds with a sharp knife to get rectangular strips. Cover the pastry with a muslin tablecloth so they won't dry.

On a flat surface, lay out one pastry strip vertically and two thirds of the way down, lay another horizontally to form a cross shape

Add two tablespoons of cooled clotted cream and bring in the horizontal sides, then roll up to the top, brushing some melted butter before you seal

Cover the rolled up znoud with a muslin towel as you go along

Heat some vegetable oil in a deep pan, line a plate with kitchen towels to drain

Test the oil by putting in a tiny piece of filo pastry when it floats to top it is ready

Deep fry the znoud until golden for a minute or so turning as you go along. Transfer to the kitchen towel lined plate to drain

Assemble the fried znoud in a serving platter. Drizzle on a little orange blossom syrup and sprinkle with crushed pistachios

Serve either warm or cold
Recipe Notes
Cornstarch is known as cornflour in the UK and is used to thicken sauces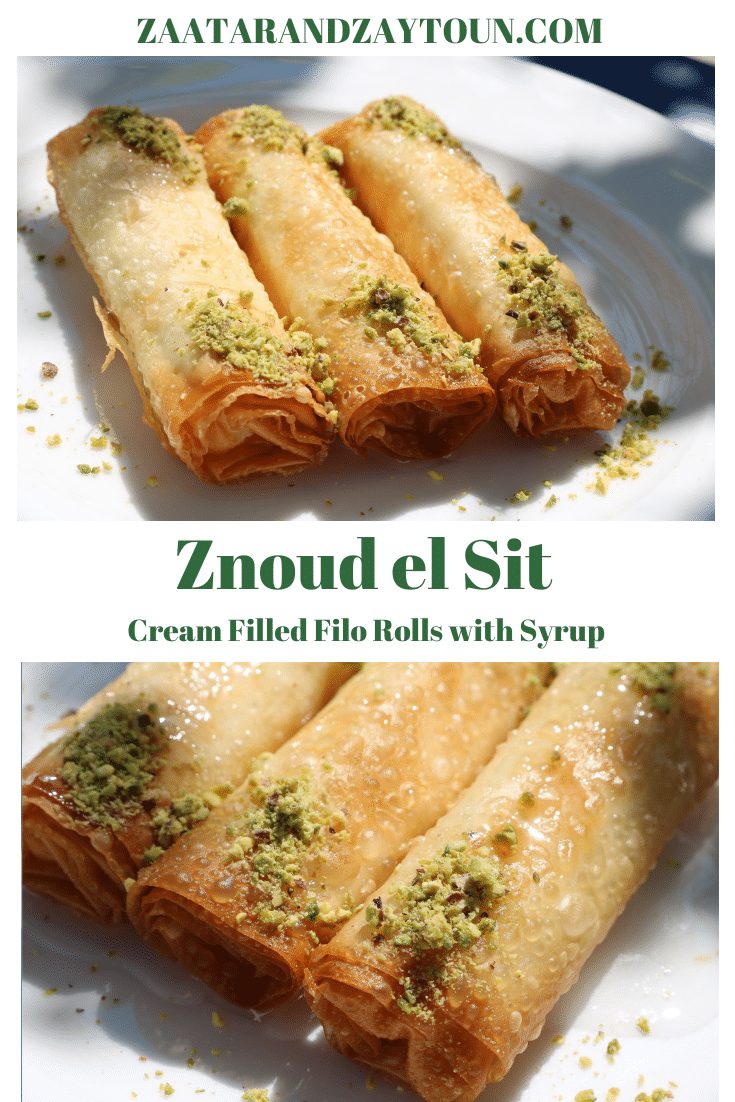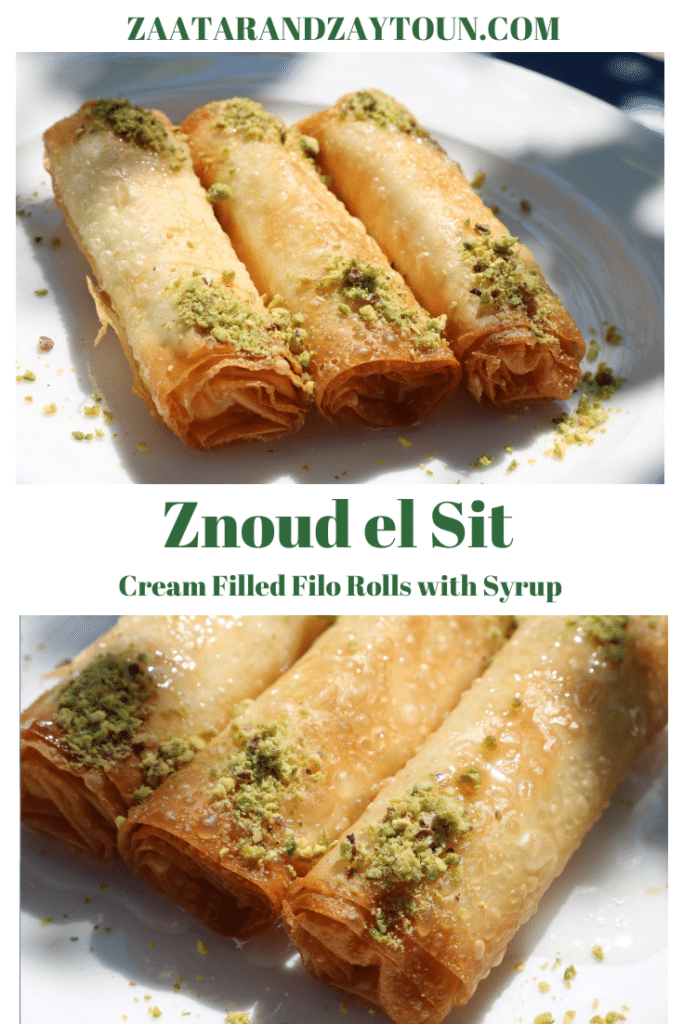 You may also like these recipes from the Zaatar and Zaytoun collection: