Lebanese cheese manakish are so gooey and dreamy I always burn the roof of my mouth as I can't wait to long to devour them.
Cheese manakish can of course be eaten on their own and are divine, but can also handle being paired with other strong flavours.
My favourite combination of manakish ever is cheese and zaatar together so you get the sharp zaatar with the creamy cheese, resulting in perfect balance in the universe.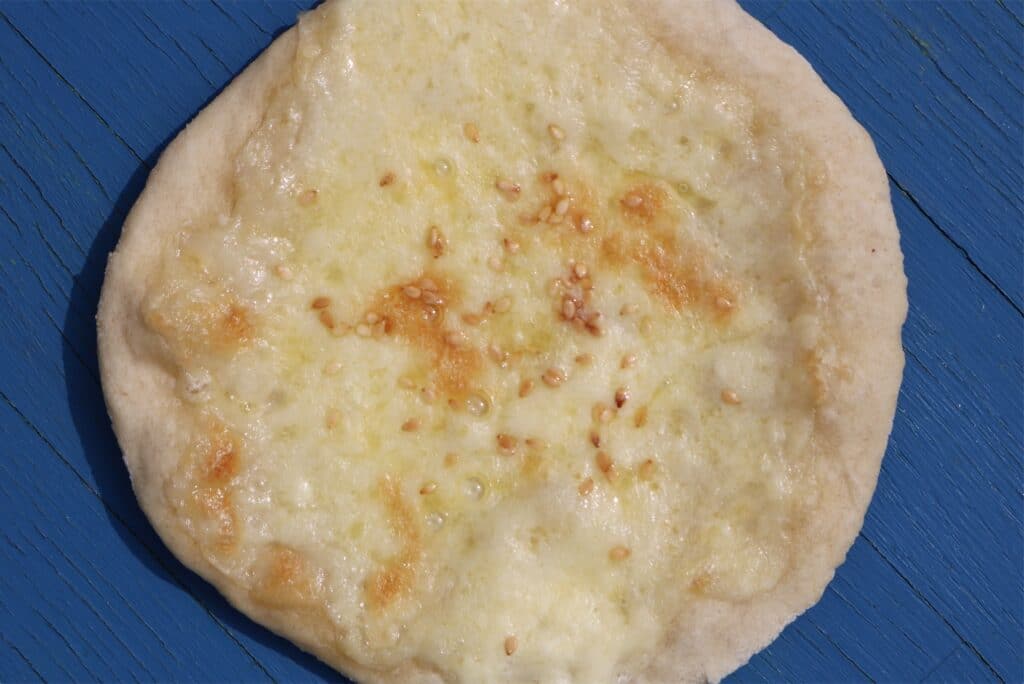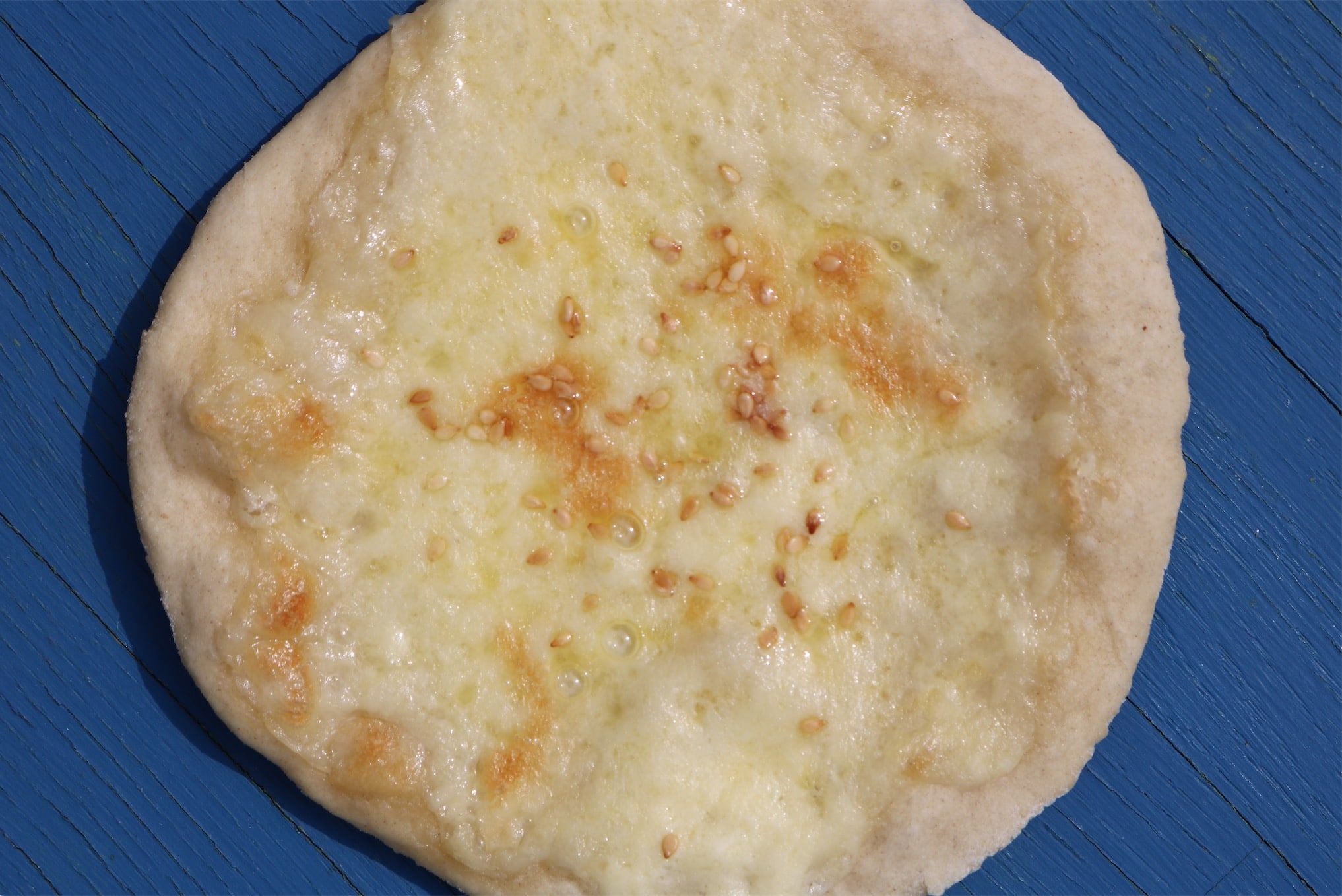 Jump to:
You can also have cheese and sujuk (spicy sausage) which if you are very lucky and live near a Lebanese deli they can provide you with lots of freshly made gourmet sujuk sausages.
I've even seen people pair cheese with spinach and onions, so really there are no limits.
I've added a little sesame seed for some extra texture and nuttiness and also because it makes my pictures look pretty haha.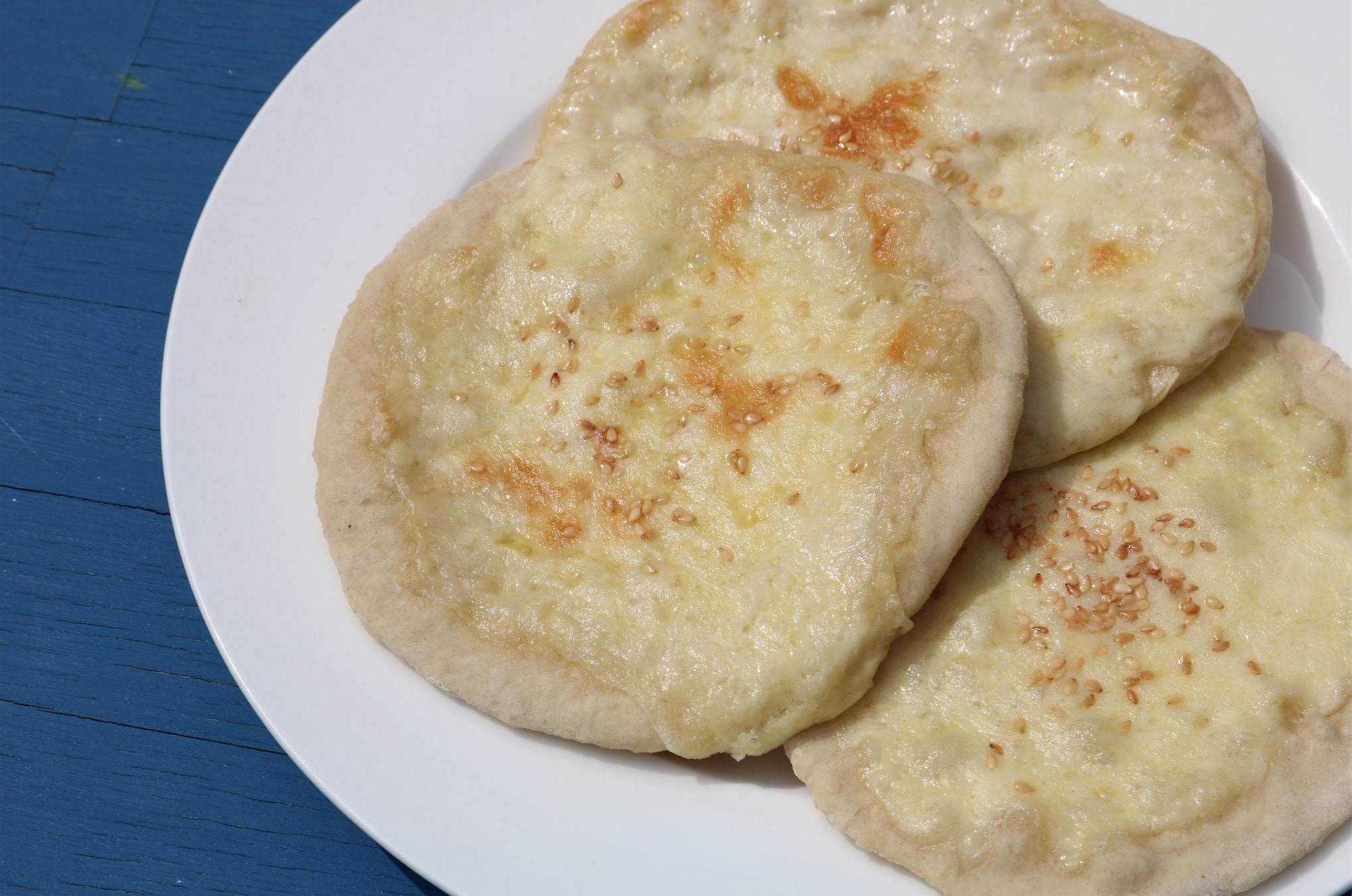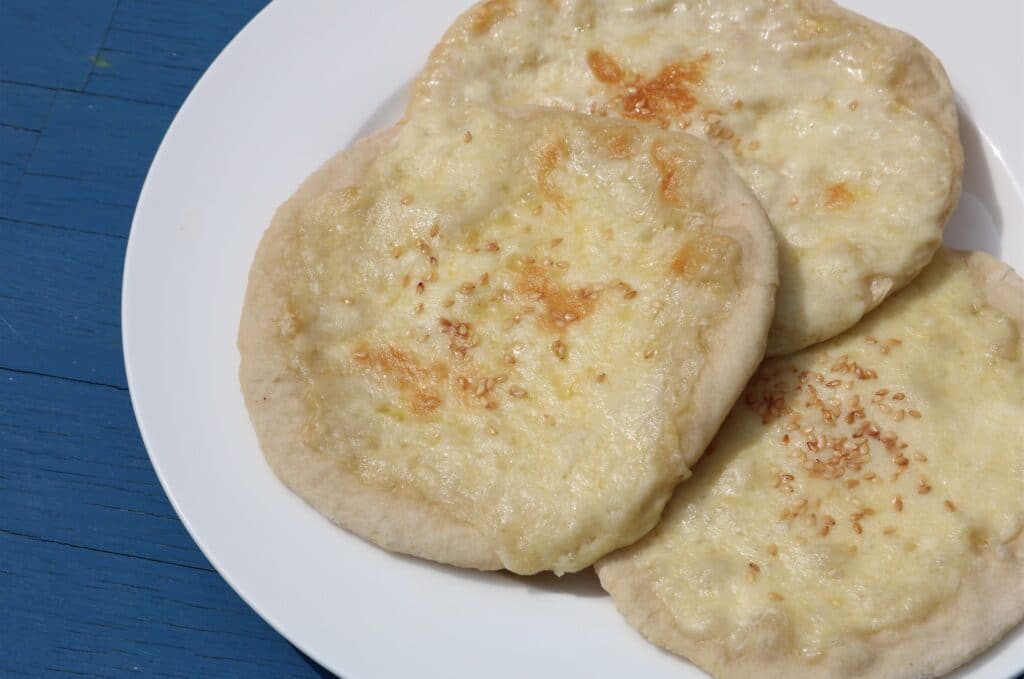 🧀 The Cheese
The traditional cheese used for Manakish in Lebanon is Akkawi cheese. I can only describe it as a creamier halloumi if you have never tried it before.
These days, you can find Akkawi cheese in most Middle Eastern grocery stores and i've heard you can even order it online.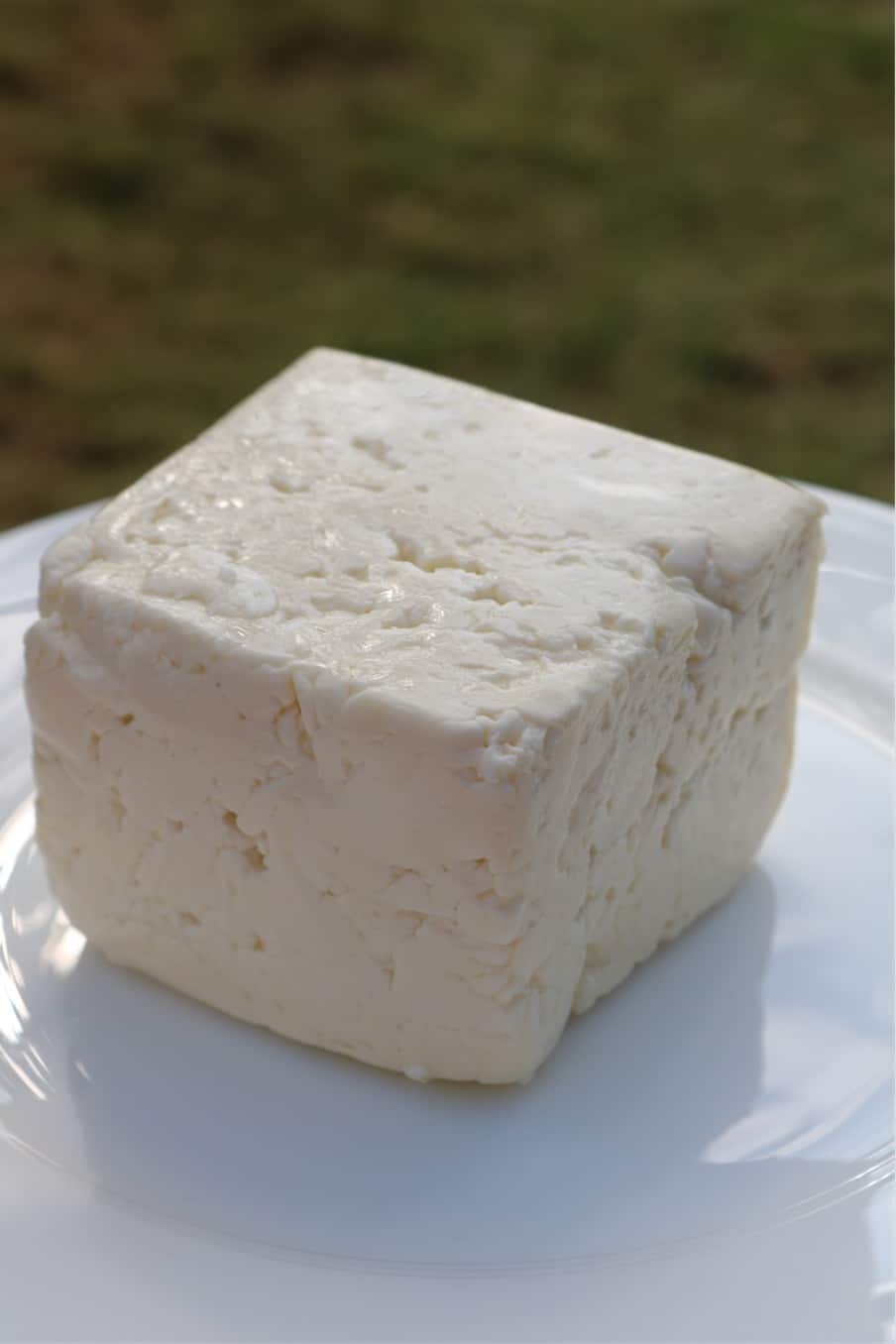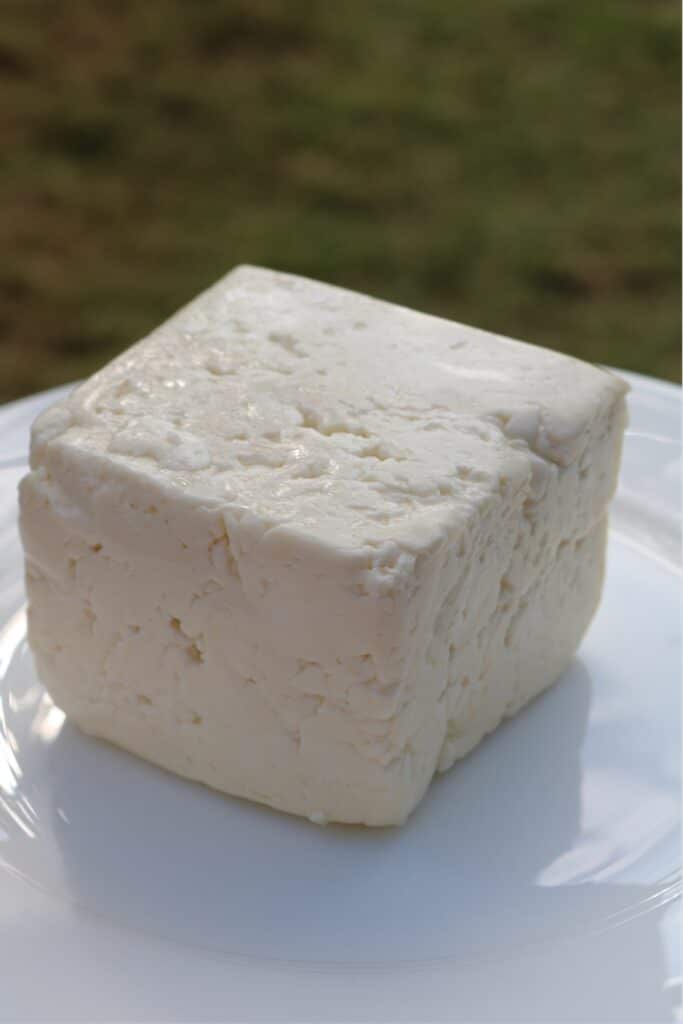 The wonderful thing about Akkawi cheese is that it can handle very high heat and doesn't burn too quickly in comparison to other cheeses.
As Akkawi cheese is salty, it needs to be soaked in water for around 4 hours before, although if you grate it then you can soak it for less provided you change the water several times.
It's ok if the cheese seeps some moisture as you are cooking it, you can blot out any extra moisture with some kitchen towel.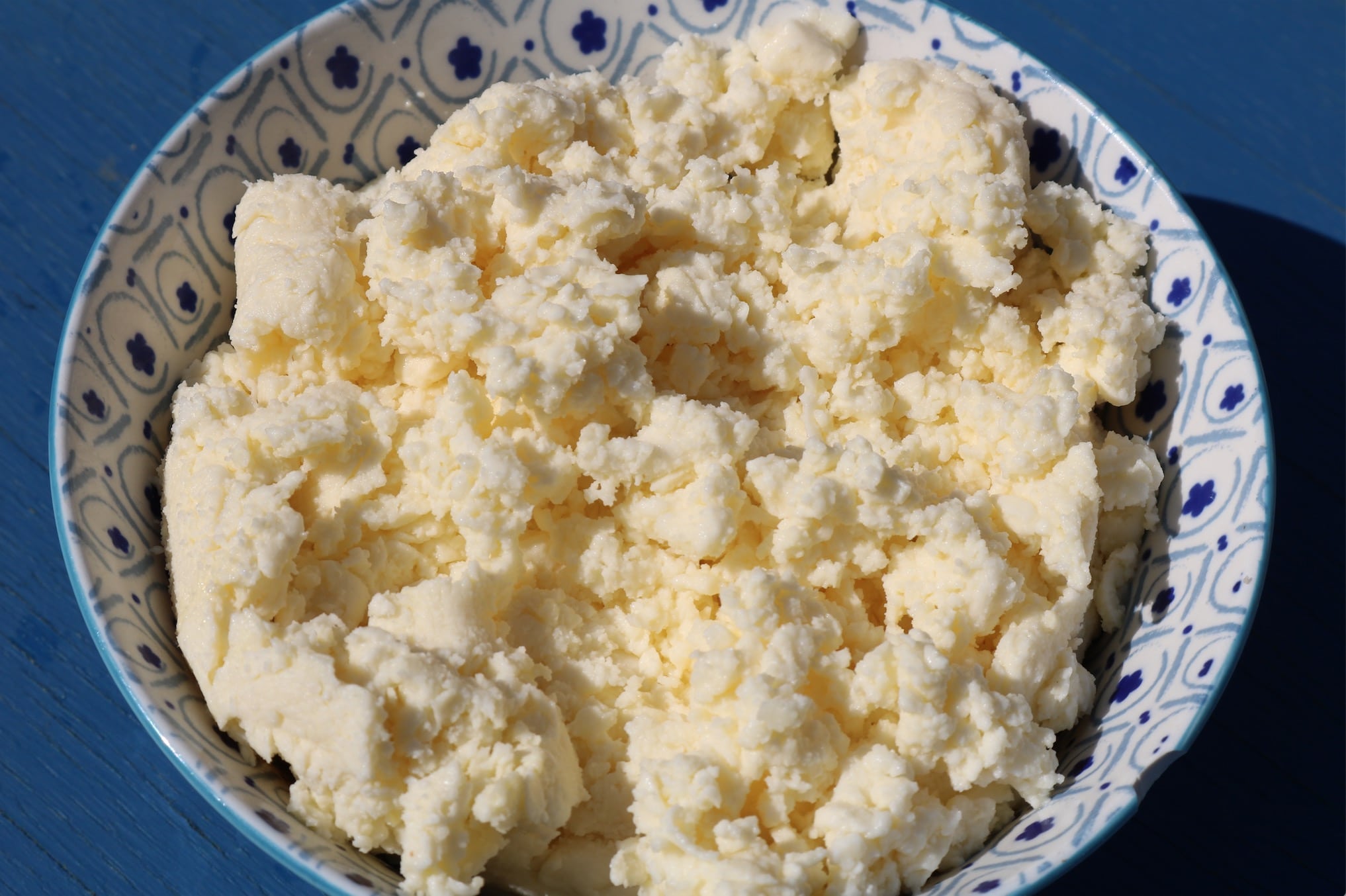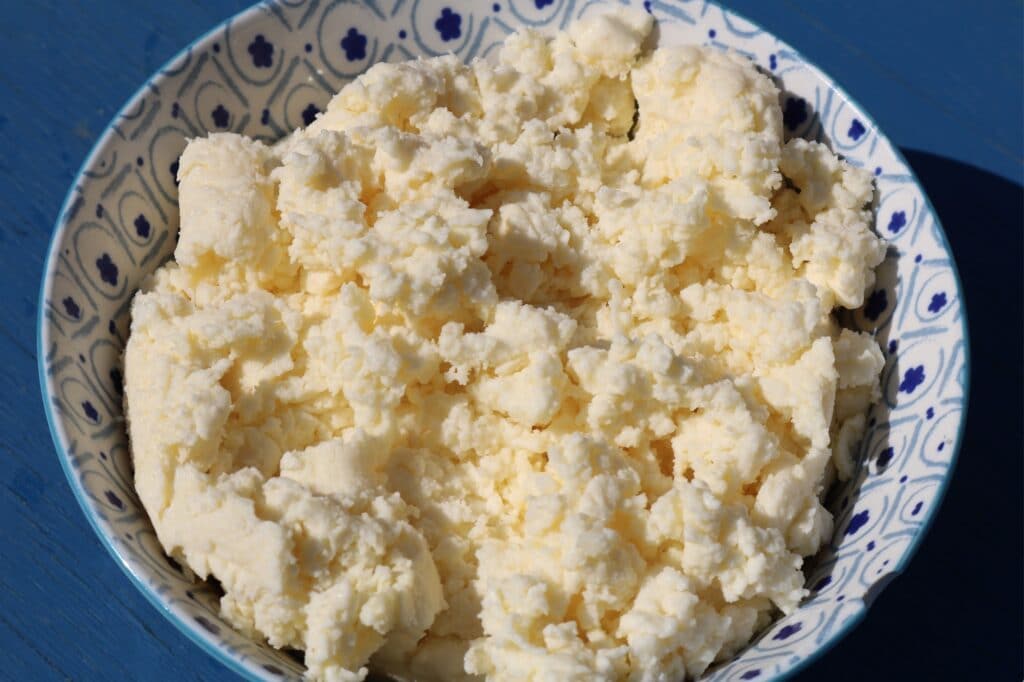 Just before I add the cheese I brush the dough with a tiny bit of oil.
I do this because I see the bakeries do it in Lebanon 😂 though I think it is to make a barrier between the cheese and the dough so it won't be soggy.
🍕 The Dough
We have a basic manakish dough recipe on the site but will provide it again for you here so you don't have to inconveniently click here there everywhere.
Manakish dough is meant to be rolled out much thinner than a pizza dough so in that way it is much closer to a flatbread than a deep pan pizza.
When making the dough trust your instinct and add water or flour incrementally if you feel it is too dry or wet.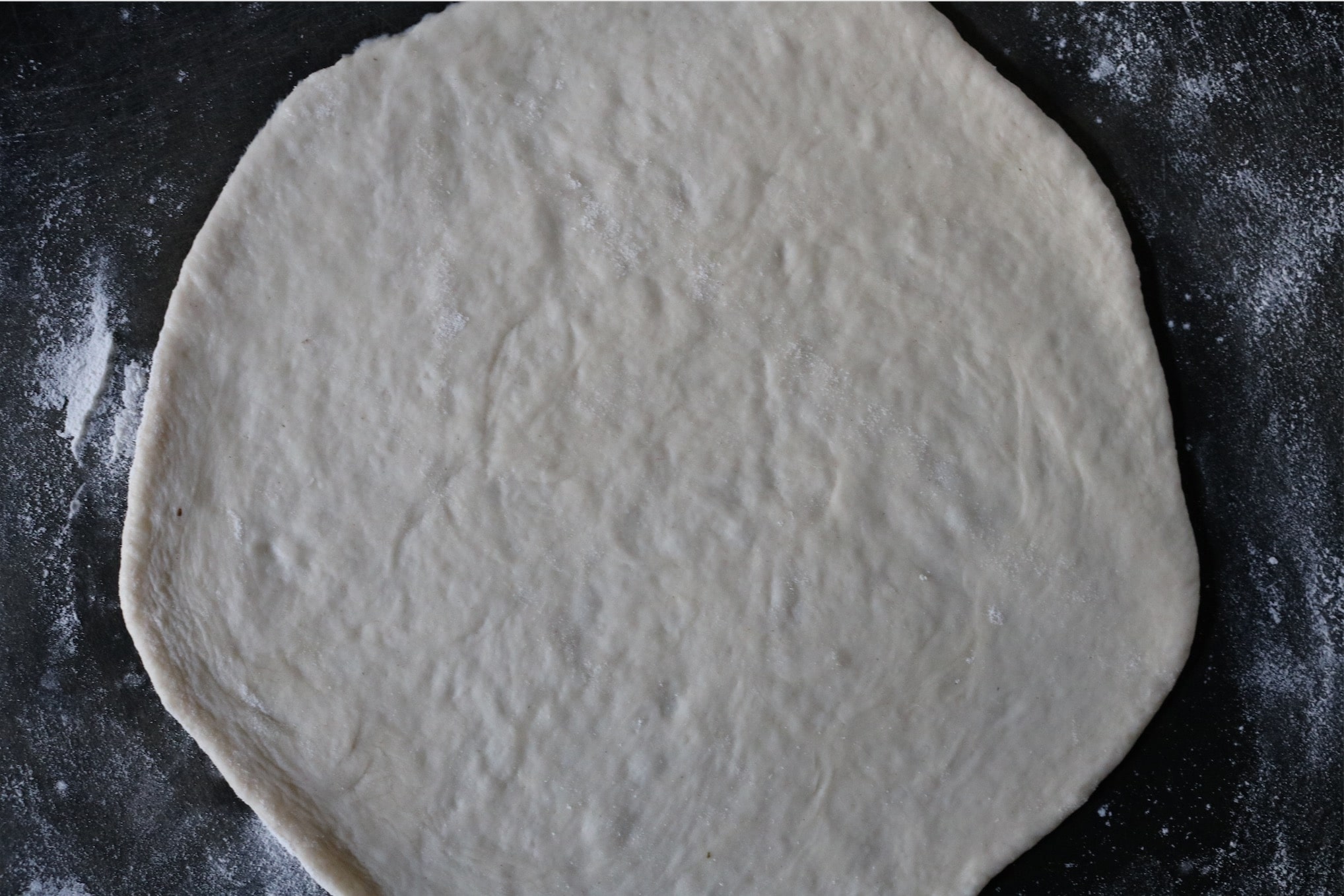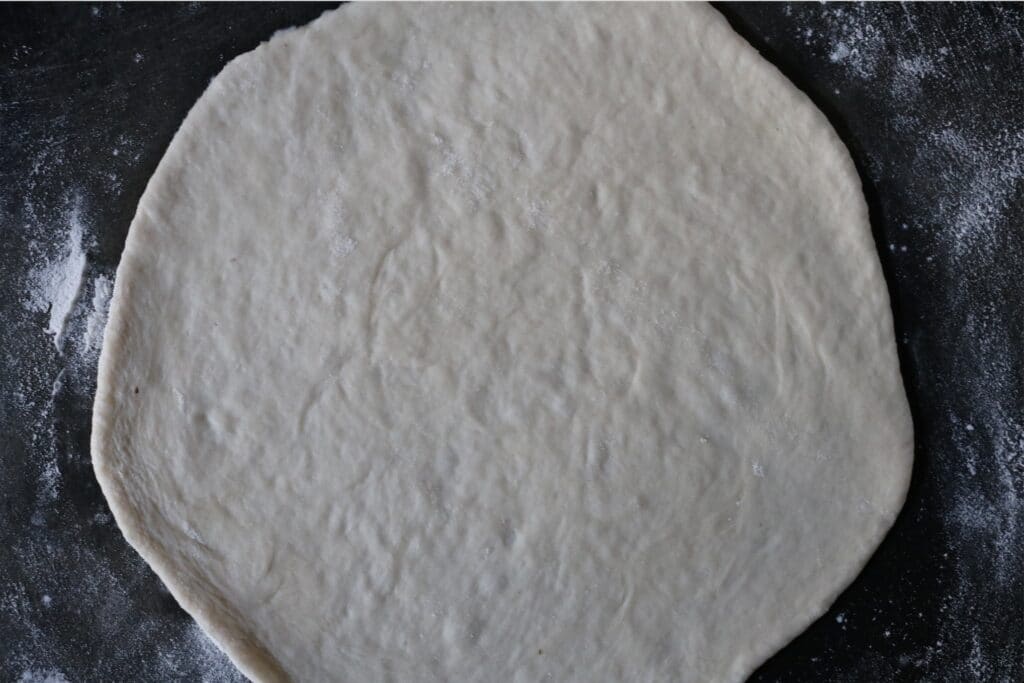 I prefer using dried active yeast though of course you can use fresh yeast. If you want to use fresh yeast simply double the amount of dry active yeast.
My top tips for making dough are to use very lukewarm water that you would be happy giving to a child to drink. 38C is the optimum temperature and anything much hotter will kill the yeast.
💭 Top Tips
So. Here's the thing.
If I was one of those food bloggers who just want to reassure you that everything's easy then I would say put it in the oven and it will come out fine.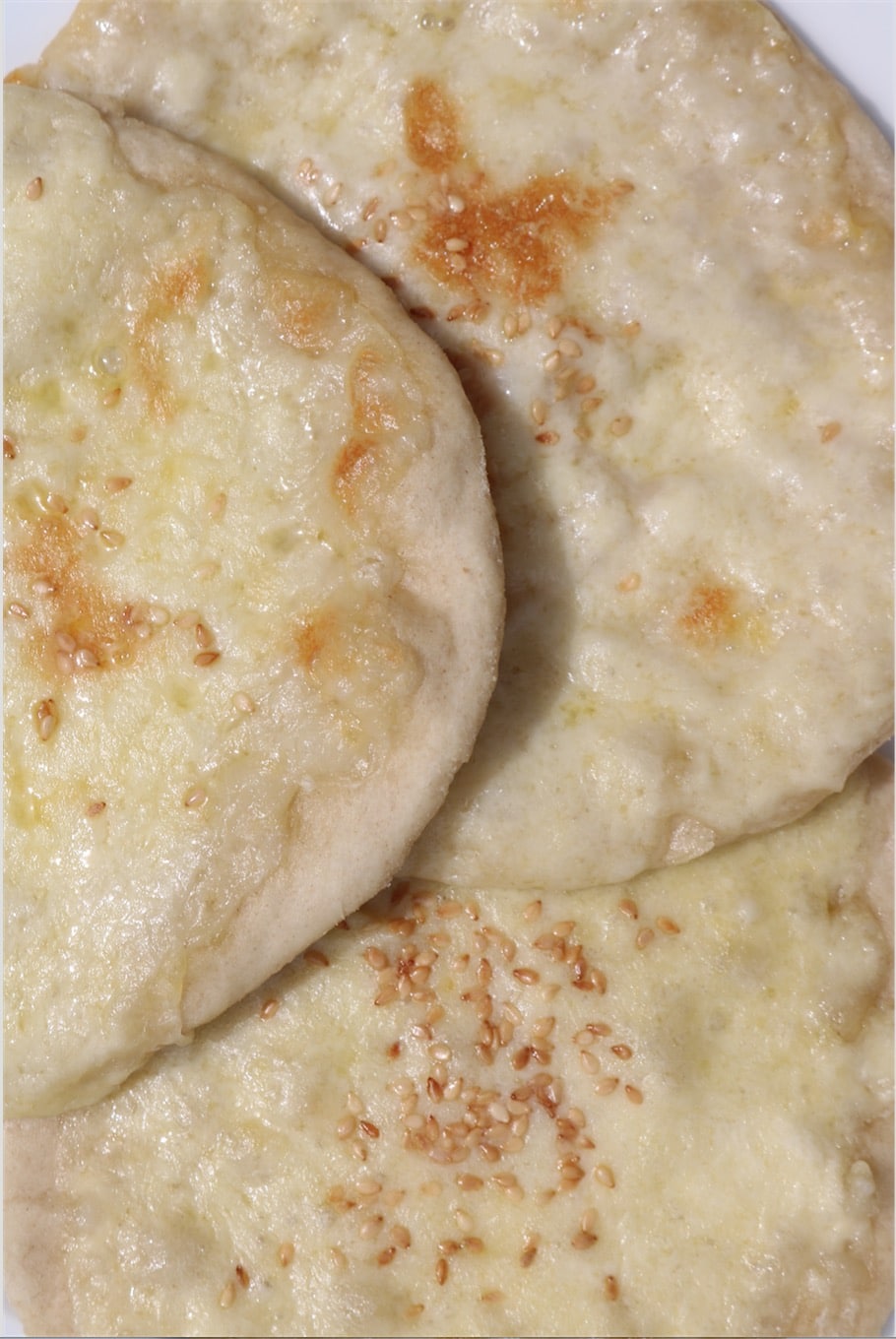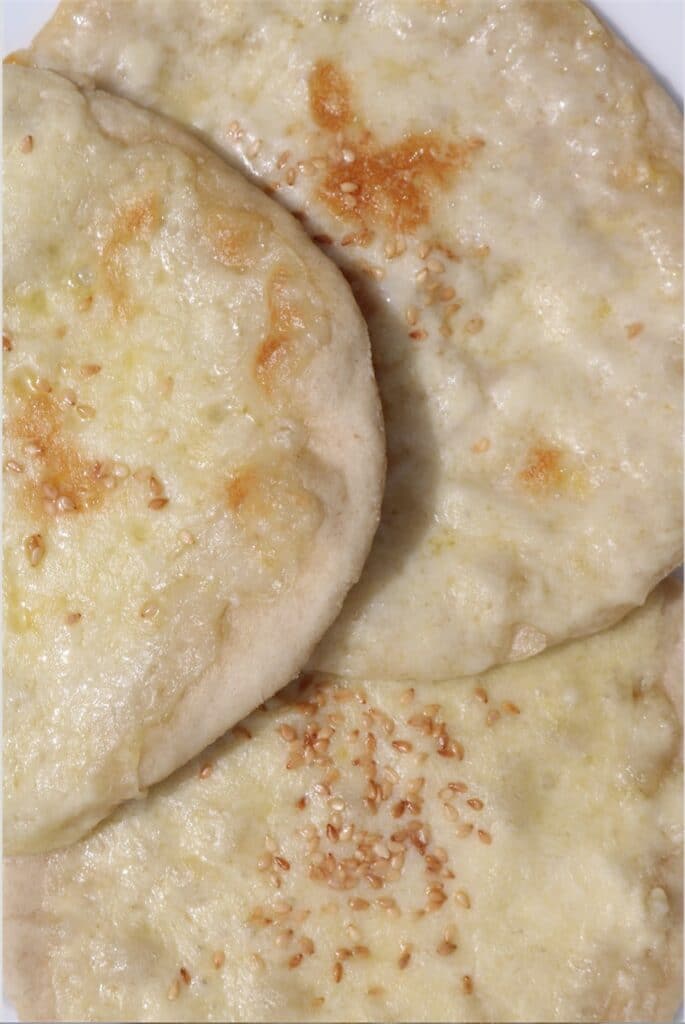 However, I've found when I put the cheese manakish in the oven they can come out quite dry and plasticky, especially in fan ovens.
Therefore I would strongly recommend the stove + broiler (grill) method which involves cooking the bottom of the cheese manakish on a very hot pan on the stove.
Then transferring the half done manoushe (singular of manakish) to the broiler (or grill as we say in Europe) and finishing it off there so thecheese bubbles and melts and doesn't dry at all.
My final tip is to lightly dimple the manakish with three of your fingers outstretched so the dough won't puff too much and the cheese won't ooze out of the side.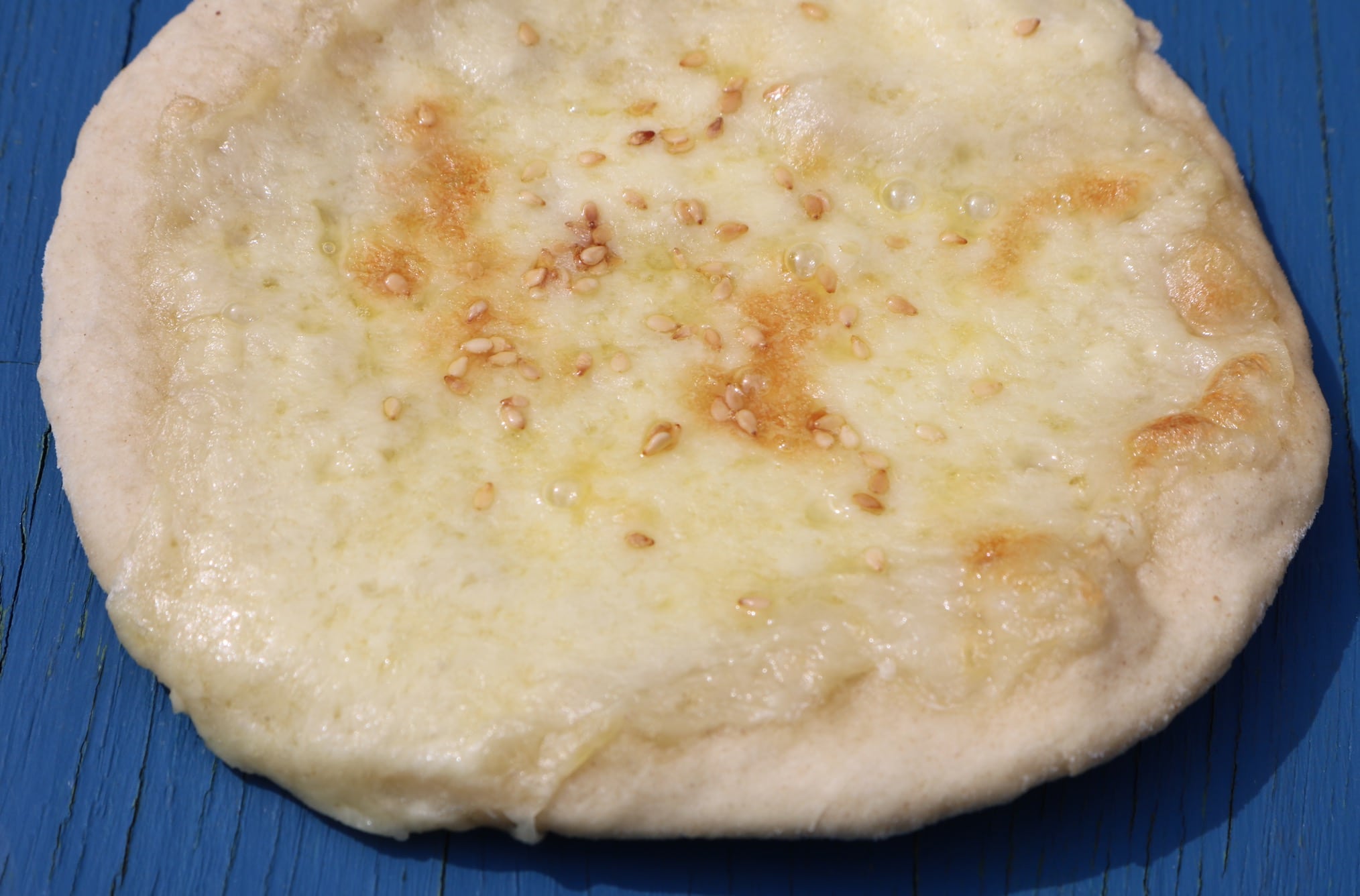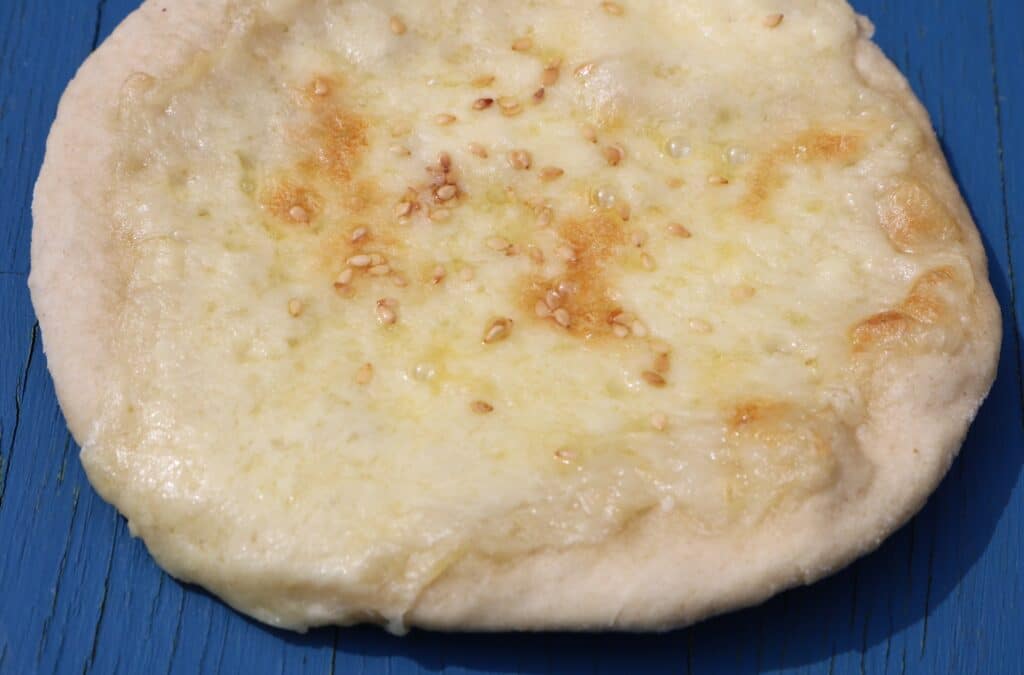 ✅ Substitutions
If you can't find akkawi cheese then the next best thing is the Turkish Kashkawan which is more of a hard cheese but melts beautifully too.
And if you can't find that then I would suggest Halloumi or Mozzarella (the cucina type) mixed with either Gouda or Emmental.
📖 Recipe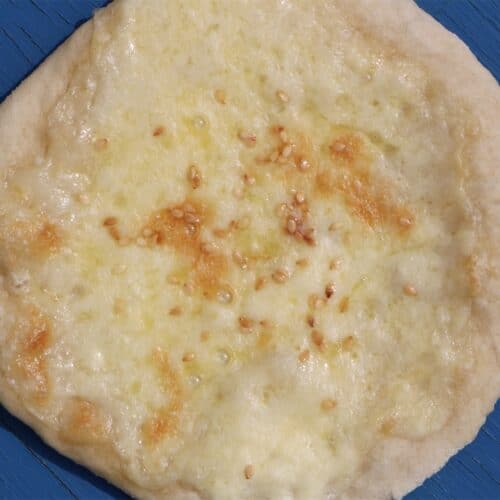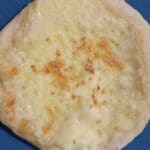 Cheese manakish
Oozy gooey melty cheese manakish
Ingredients
500

g

Akkawi cheese

3

cups

bread flour

1

cup

of lukewarm water

1

tablespoon

of dried active yeast

1

teaspoon

of salt

½

teaspoon

of sugar

4

tablespoon

regular olive oil

¼

cup

vegetable oil

for brushing
Instructions
To prepare the cheese
Grate the Akkawi cheese and soak it in a bowl of water for around 4 hours, changing the water several times.

Then squeeze out the extra moisture with your hands. Set aside
To make the Dough
Add the sugar to the luke warm water along with the dried active yeast and stir well until it dissolves. Leave for 10-15 minutes allowing the yeast to bubble

In a large bowl, add the salt and flour, oil and yeast liquid and bring together until you have a smooth ball.

If the dough is too dry add a little water 1 tablespoon at a time until it comes together. Adjust with more flour if it is too sticky

Then turn out into a floured surface and knead for 5-10 minutes so the dough springs back slightly when you poke it

If you are using a stand mixer, knead the dough for approximately 8 minutes

Place the kneaded dough ball into a large bowl and cover with cling film or a damp cloth. Leave to rise for at least 2 hours or until doubled in size
To make the manakish
Heat a wide non stick pan on the stove on medium. Set your broiler (grill) on medium high heat

Roll out a small handful of dough approximately 3-5mm thick and transfer to the hot pan

Brush on a little vegetable oil and add a fair amount of cheese spreading it with your hands and leaving a small margin.

Lightly dimple the surface with three outstretched fingers a few times

After the bottom of the cheese manakish has cooked for a 2-3 minutes, transfer the pan to the broiler (grill) and cook from above until golden for another 4-5 minutes.
If you make any of our recipes let us know how it went by giving us a star rating below.
We have a lively Facebook group where we post frequent recipes and discuss Lebanese cooking in general, as well as a handy Pinterest page where you can save all of your favourite Zaatar and Zaytoun recipes!
You might also like these other recipes from the Zaatar and Zaytoun collection: