Manakish memories
Lebanese Bakeries or 'furuns' as we know them are my happy place. What can be better than the smell of freshly baked manakish topped with zaatar, kishik, meat, or cheese?
The answer to that is nothing. Nothing can comfort your soul or satisfy your grumpy morning self than some delicious manakish.
For a long time, the only time I would eat manakish would be at summer times in Lebanon.
My teta would send me and cousin to get the family breakfast with little tubs of zaatar or kishik and we would wait in the morning chaos of the Furun until the Furun-Man decided it was our turn.
Sometimes this would be quick and sometimes this seemed to take ages, whereby I would observe the simple unpretentious decor of the Furun with its concrete walls and floors, efficiently organised worktops and neatly stacked rows of floury wooden planks.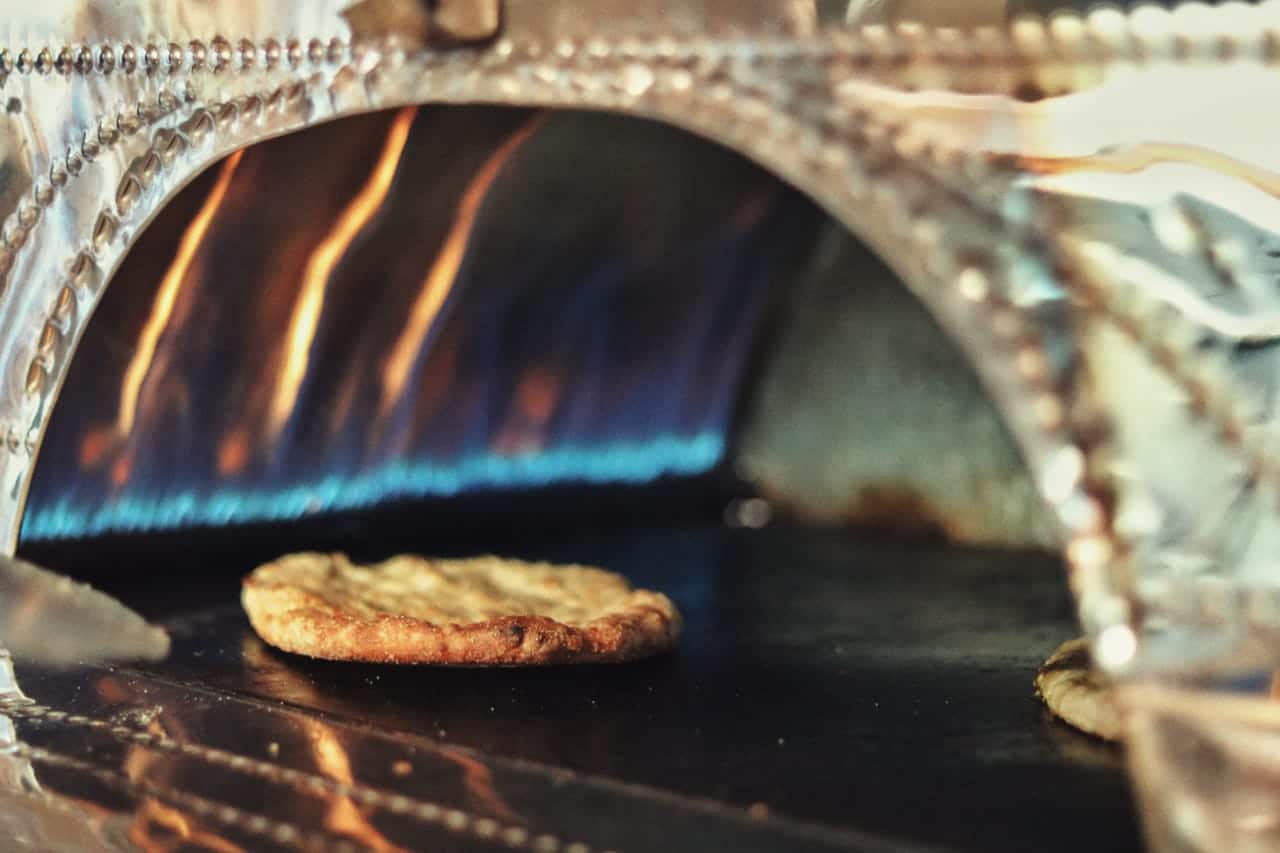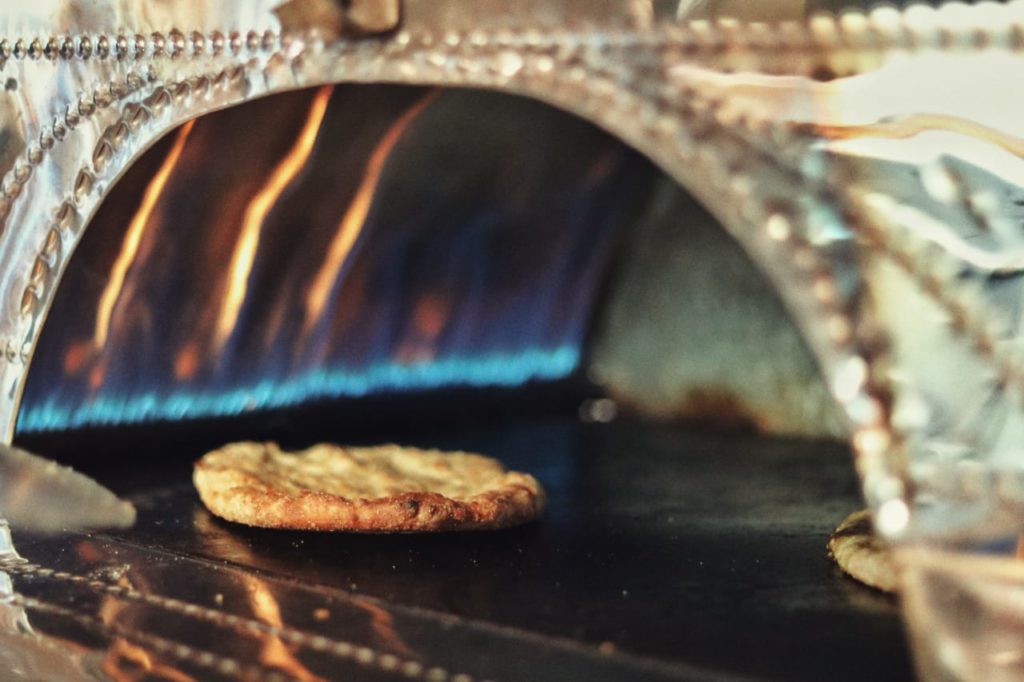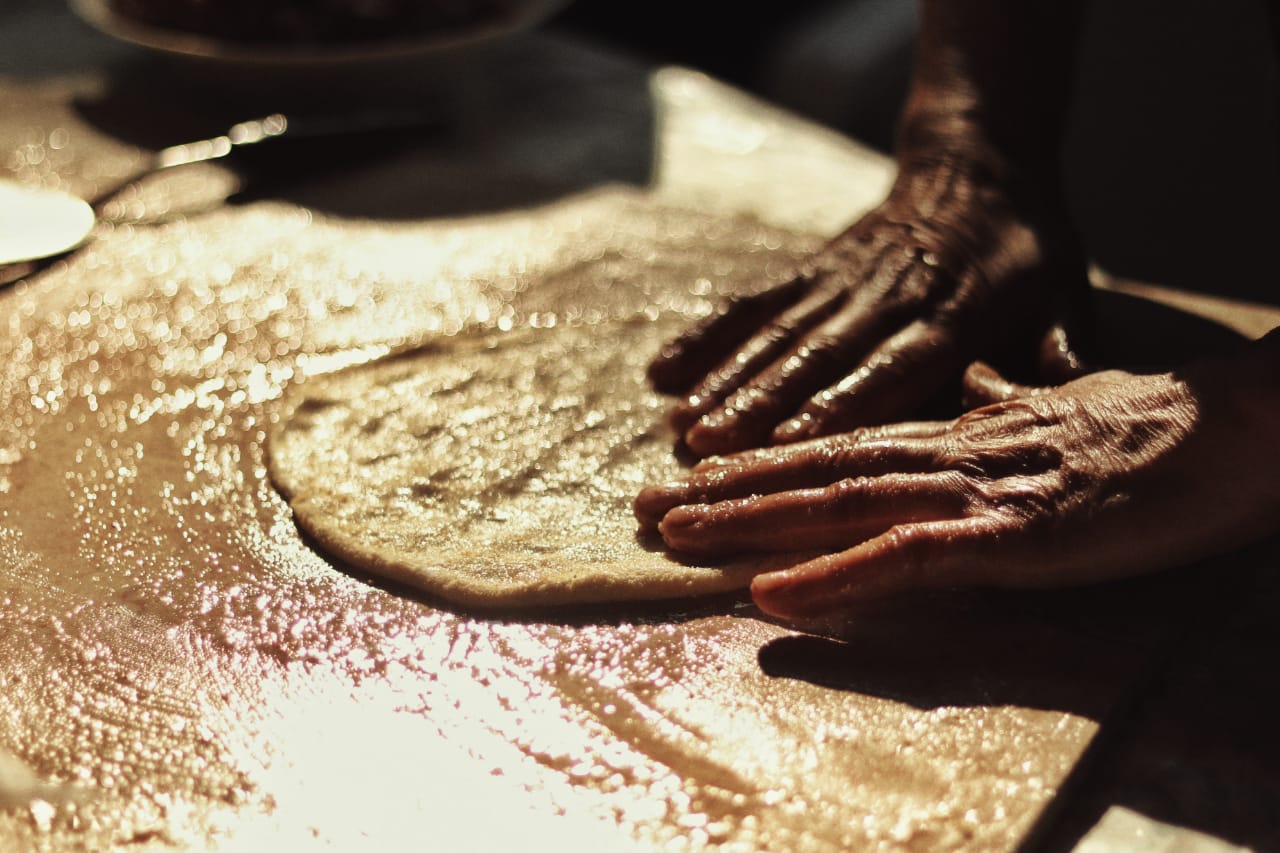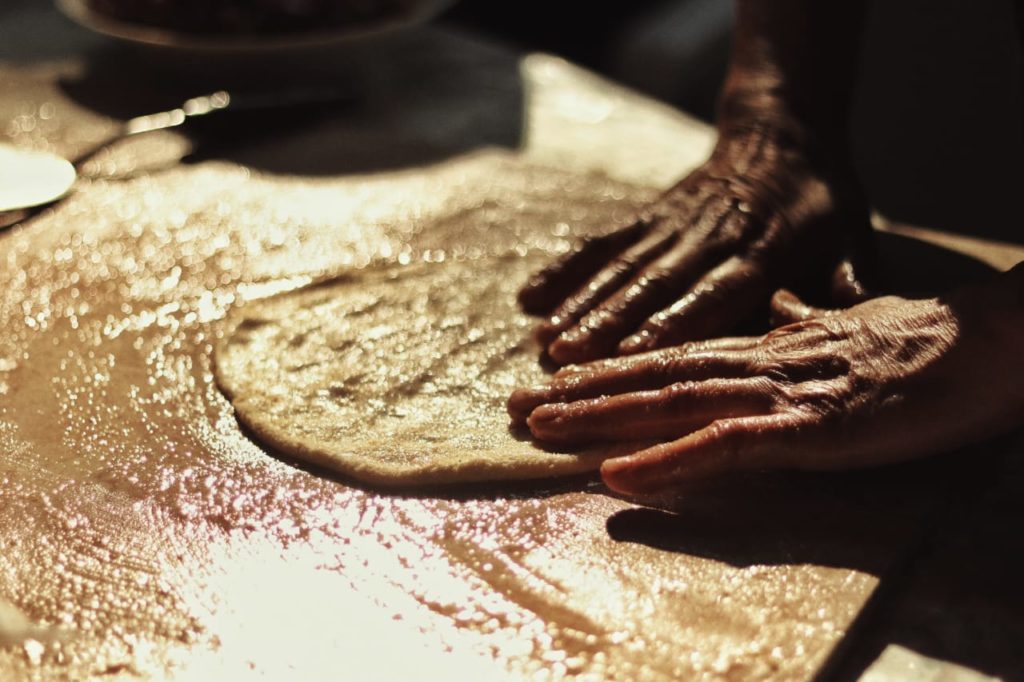 I loved how the Furun-Man's son methodically turned out circlular manakish dough balls from a magical machine to make them flat. He would handle them with such vigour but with such care at the same time, never deforming them.
Then he would slap on our fillings perfectly in the middle and dimple the dough with his fingers with nimble speed.
I was always amazed how he transferred them from the wooden panels to the oven without ruining them, and I'd always try and peek in the oven to see them bubble up, before suddenly they would emerge, hot and blistered and golden.
Once they cooled slightly, my cousin used to chime in sometimes with the folding of the manakish in half and work out how many Lebanese Lire was owed to the bad tempered Furun-Man.
One time he told us off for lingering in the wrong place causing me to burst into tears whereas my cousin just shrugged off his harsh ways. Ages ago they used to wrap the finished manakish in newspaper eventually replacing them with thin plain paper to stop them sticking.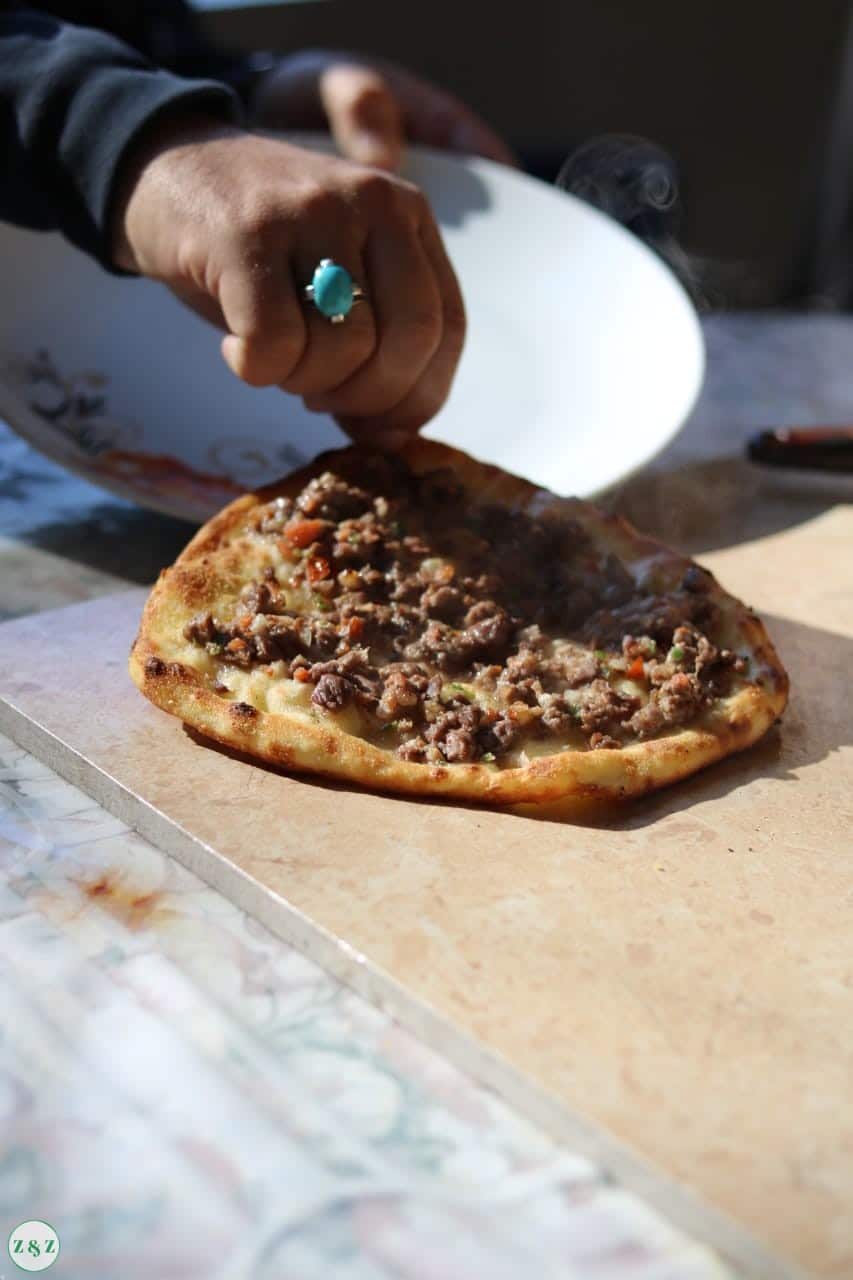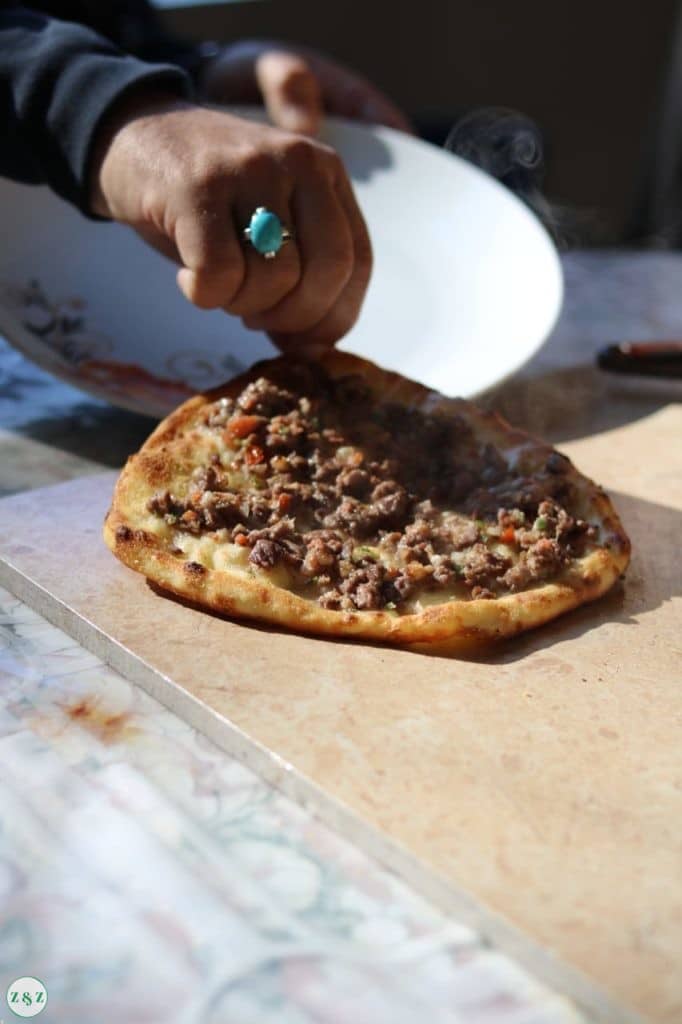 I'd help my cousin carry the bags of hot manakish two minutes down the uneven road and couldn't wait to get home as they bumped along our hurried legs.
By the time we got to teta's house, the breakfast spread (usually on the floor) was all ready and laden with lebneh, pickles, radishes, tomatoes and herbs.
And of course lots of tea which the children were allowed to dunk their manakeesh in.
I'd often bite into the manakish too soon and burn the top of my mouth, but I didn't care, because it was so yummy and like nothing else that I soon forgot about the moody Furun-Man and ate half a cheese, half a zaatar and some of the meat one too please, chatting away with my cousins, ready for the long day of play ahead.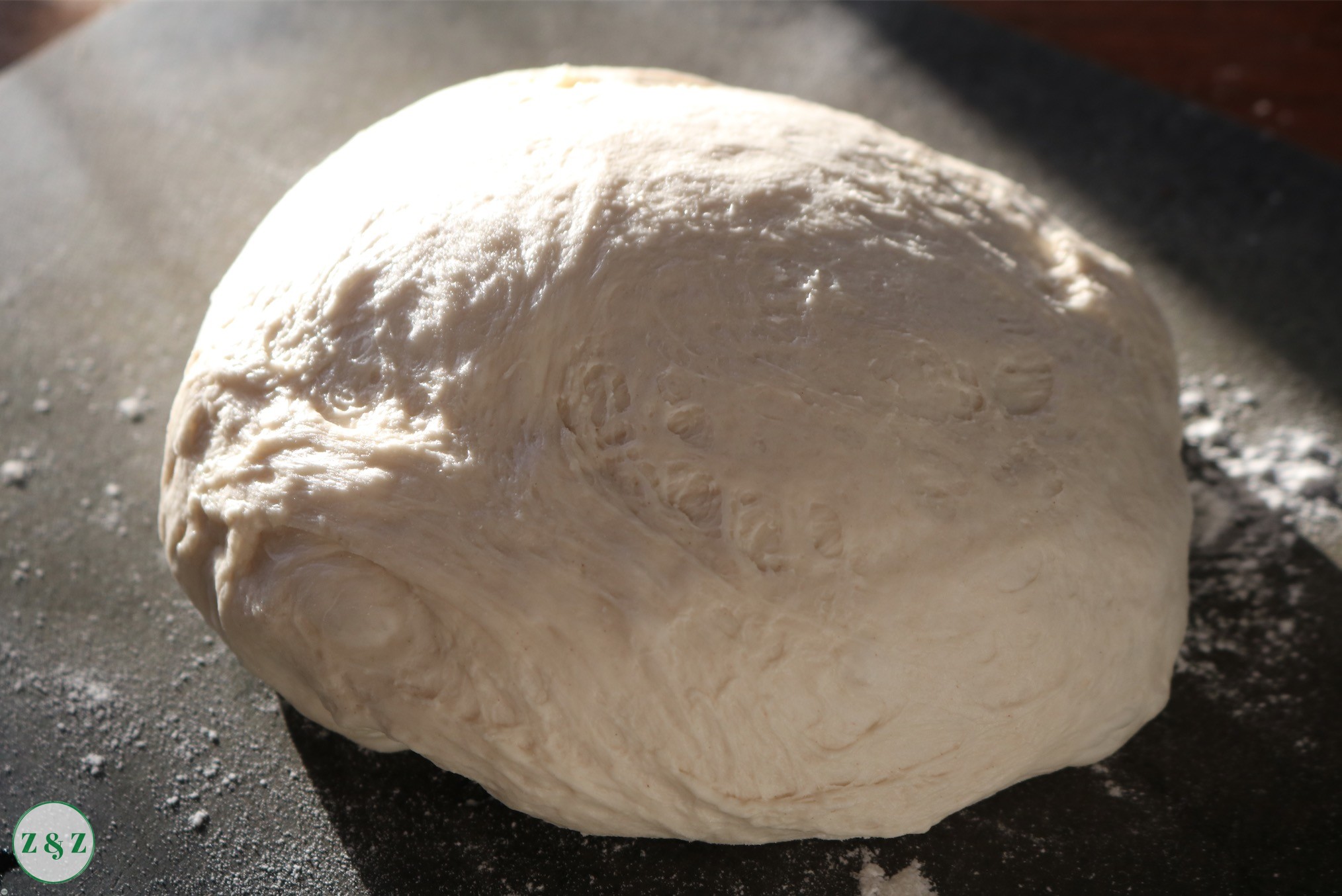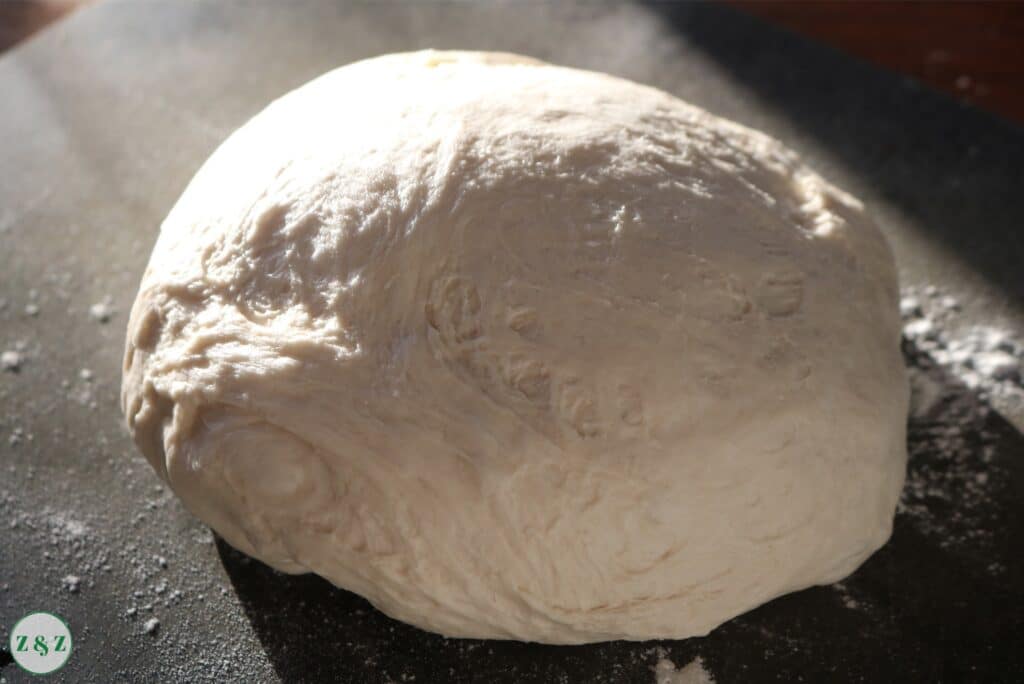 The dough
You should knead the dough quite vigorously for around ten minutes if you are doing it by hand.
Stand mixers will require about 8 minutes and the fastest option is the dough blade on a food processor which only needs 1 minute as it goes really fast.
You are looking for a smooth ball that bounces back when you poke it. If you poke the dough and the indent stays the same you will probably need to knead it a bit more.
Top tips
Check your yeast isn't out of date. Many people overlook this and can't think why their dough isn't rising properly.
Make sure you haven't killed the yeast by placing it in water that is too hot.
Many people underestimate how lukewarm the water should be. I add ⅕ of boiling water to a cup and the rest cold water from the tap.
It should be only slightly warm but obviously not cold or the yeast won't be activated either.
Also, if you add the yeast directly to salt it will also kill it.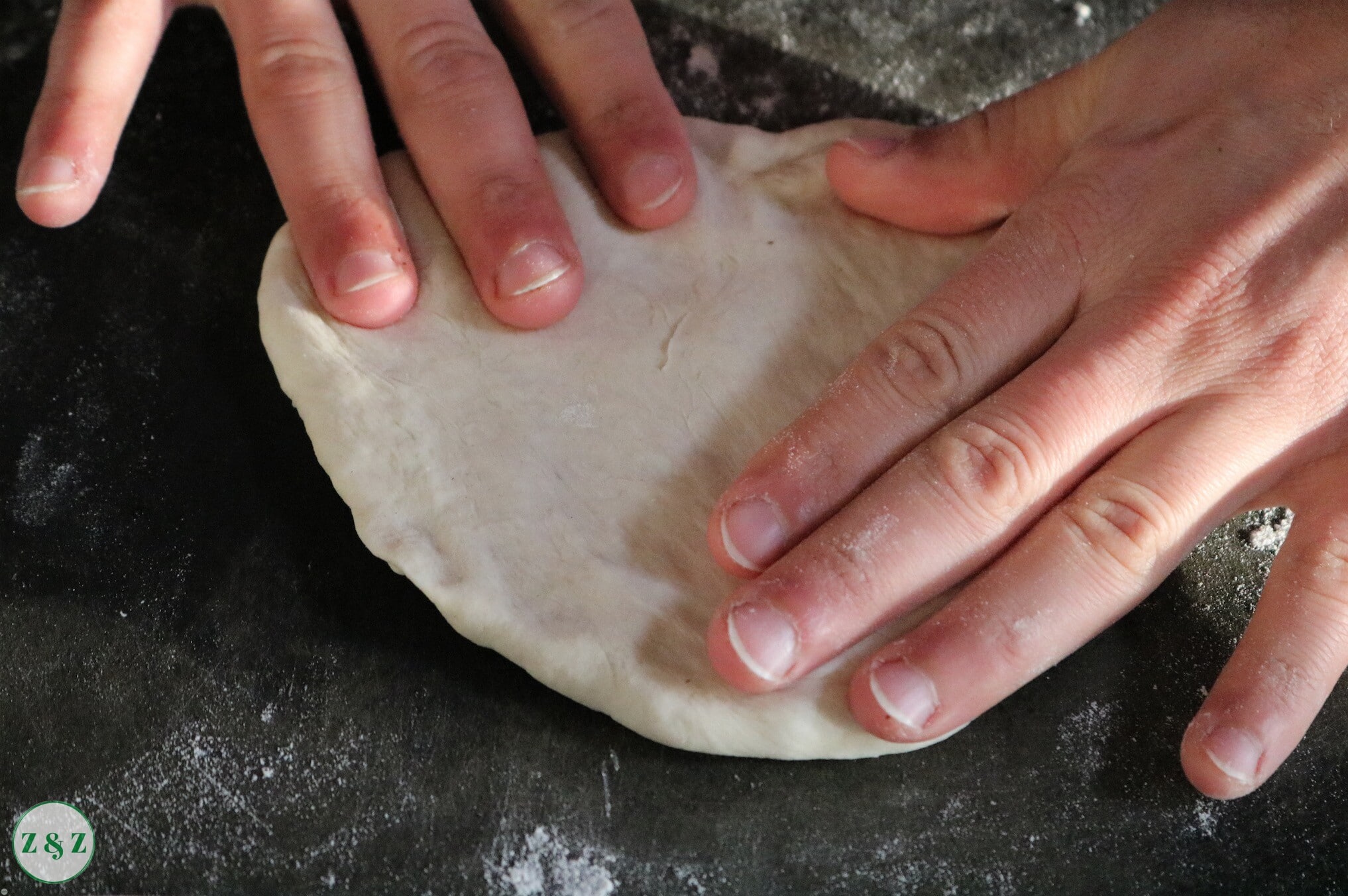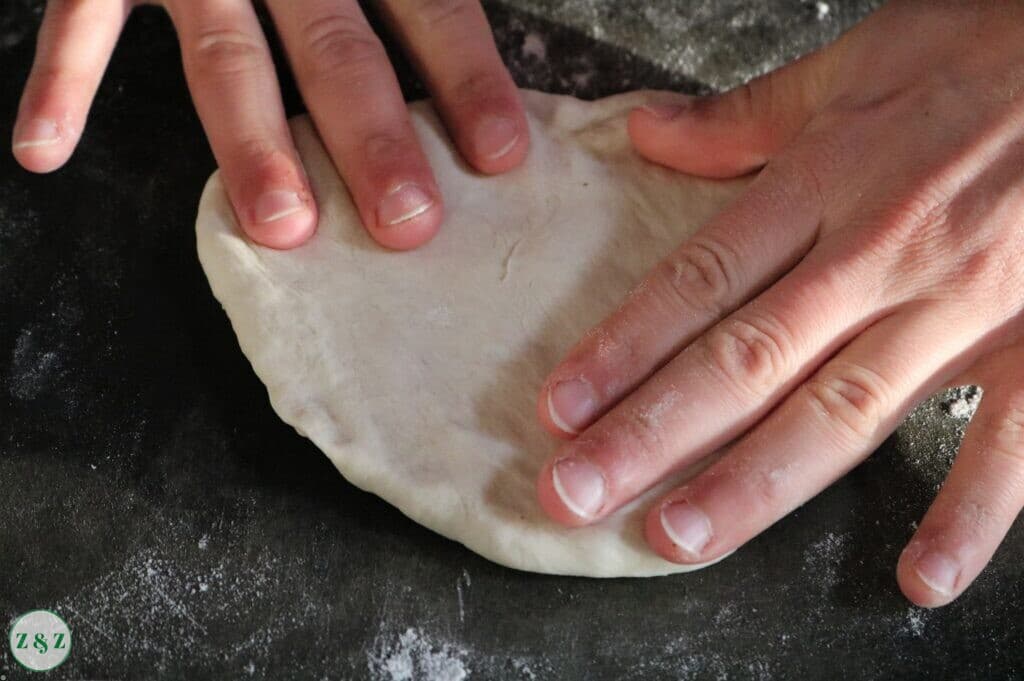 The next thing to check is that your conditions are warm enough for the dough to rise. If your kitchen is cold, turn your oven on the lowest setting for about ten minutes then turn it off. Place a damp cloth over your bowl of dough and let it rise for about 2 hours.
If it is a warm day you can place the dough outside to prove. You are looking for the dough to double in volume.
Adjusting the dough
Different types of flour absorb water differently. So if your dough is too wet or dry, add either a little flour or water accordingly.
Don't get too excited and add heaps of flour or too much water. Add a tablespoon of each at a time and knead until you have a smooth texture.
You will know if it is too sticky as it clings to your hands in clumps and if it is too hard to work it is too dry.
If you are using a machine for your dough, you will know when it's ready when it forms a ball. If it is too dry it will be crumbly.
Don't be scared to adjust the dough and use your instinct to know when it's done. You will get better at recognising when the manakish dough is ready by smelling, touching and feeling it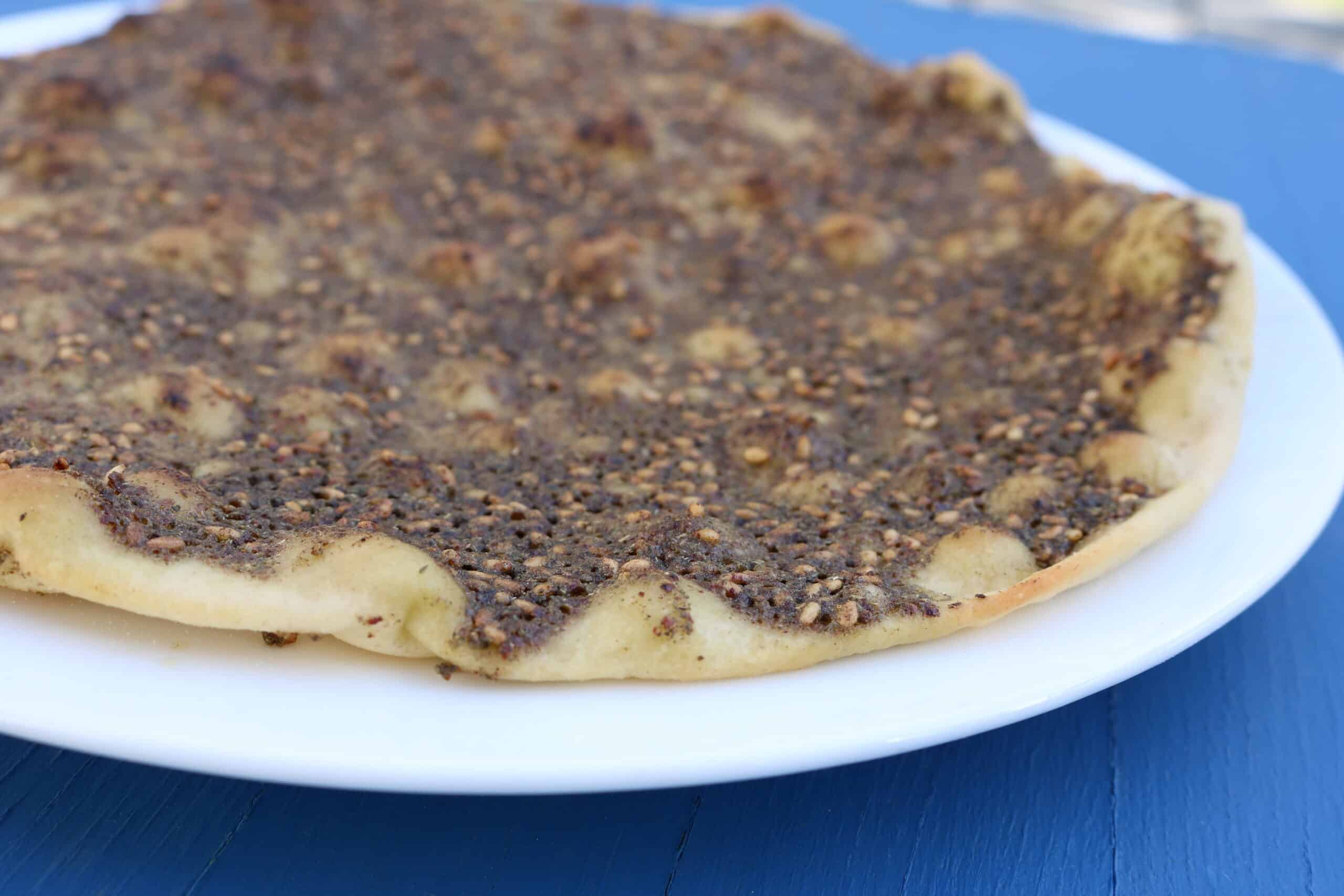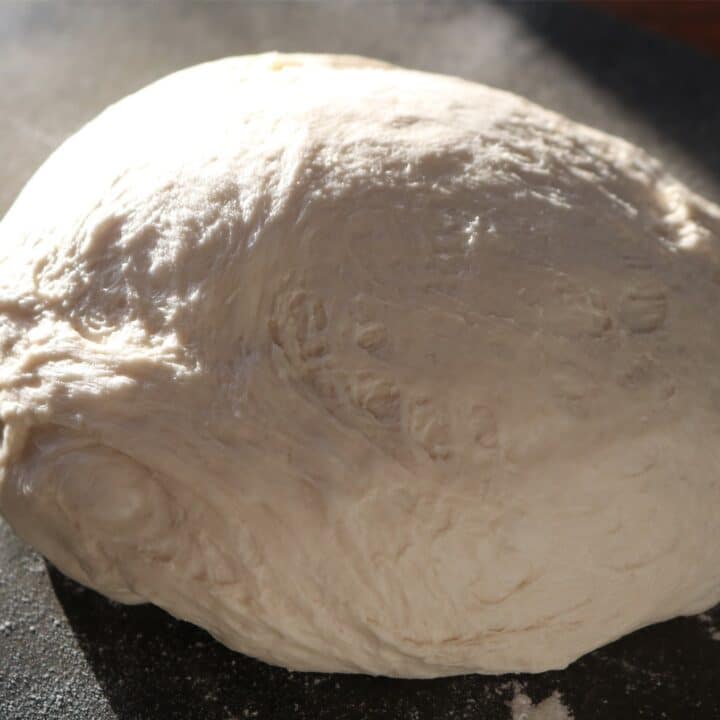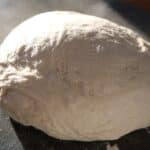 Lebanese Manakish Dough Recipe
Authentic Lebanese dough recipe for manakish with zaatar topping
Ingredients
For the dough
3

cups

bread flour

1

cup

of lukewarm water

1

tablespoon

of dried active yeast

1

teaspoon

of salt

½

teaspoon

of sugar

3

tablespoon

regular olive oil or vegetable oil
For a Zaatar topping
2

tablespoon

zaatar blend

½ cup

regular olive oil
Instructions
In a bowl test if the water is just about lukewarm with your finger, if it is too hot it will kill the yeast. Adjust with cold water if necessary

Add the sugar to the water along with the yeast and stir well until it dissolves Leave for 15 minutes allowing the yeast to ferment and bubble

In a large bowl, add the salt and flour, oil followed by the yeast liquid and bring together. To knead by hand, turn out onto a floured surface and knead well for 10 minutes. If you are using a stand mixer, knead for 8 minutes on the lowest setting, and if you are using a food processor knead for 1 minute using a dough blade

Place the kneaded dough ball into a large mixing bowl and cover with cling film or damp tea cloth, leave to rise for around 2 hours or until doubled in size. If the room is cold, turn on the oven on at the lowest setting then turn OFF and transfer the dough to prove inside

When the dough has risen, with floured hands knock back the dough and shape into a ball. Divide into 8 sections or according to the size desired

For a zataar topping, stir 2 tablespons of zaatar mixture with ½ cup of regular olive oil until you have medium consistency

Turn on the oven on the highest setting (usually 230°C/450 F)

Roll out a small dough ball on a floured surface so it is quite thin (approx 5-10mm)

Transfer to a non stick baking tray, spoon on the zaatar mixture leaving a small margin around the edges and dimple the surface lightly with your fingers

Bake for 10 minutes, turning half way if necessary to get an even bake

Serve with a plate of pickles, tomatoes, mint and radishes
Recipe Video
If you make any of our recipes, give us a star rating at the bottom of the page.
We have a lively Facebook group where we post frequent recipes and discuss Lebanese cooking in general, as well as a handy Pinterest page where you can save all of your favourite Zaatar and Zaytoun recipes.
Other Recipes you might also like from our Zaatar and Zaytoun archives include: