Chicken fatteh was made for party people and everyone knows the Lebanese use any excuse to throw a party. Once you prepare all the elements, you just have to pull together a crowd and bring it all together.
What is fatteh?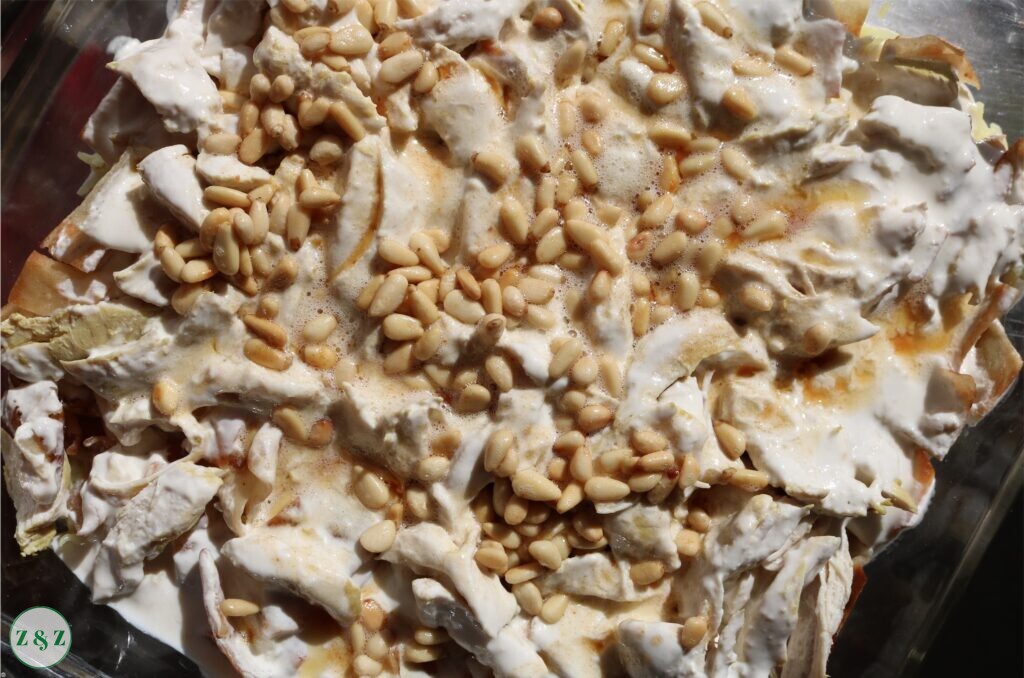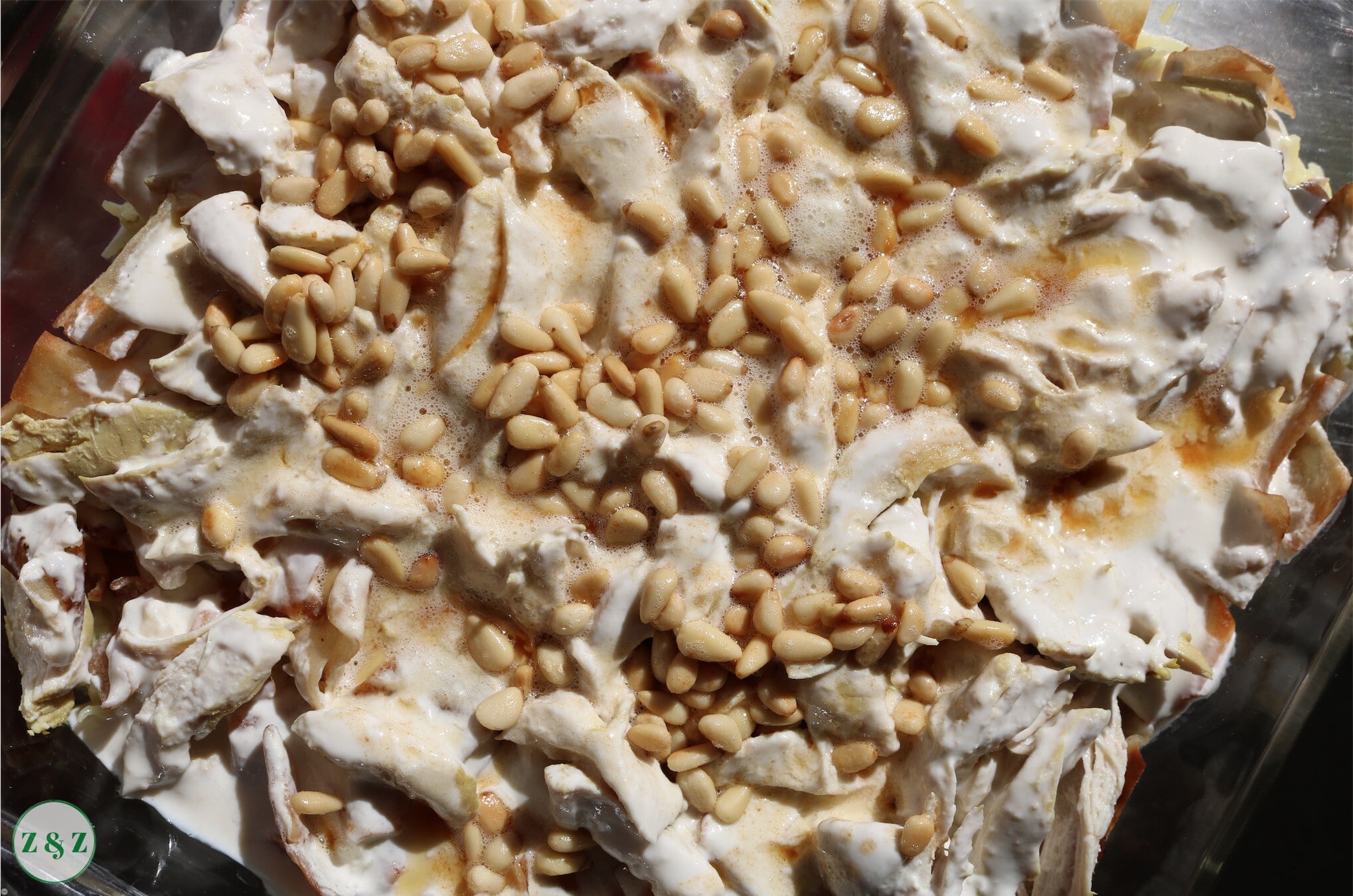 Fatteh is a bread based dish that can be made with chickpeas, eggplant or even mince meat, finished with a garlicky yoghurty tahini sauce.
This layered dish has lots of textures and complementary flavours. The chicken version is my favourite as it warms you up and reassures you that everything will be ok.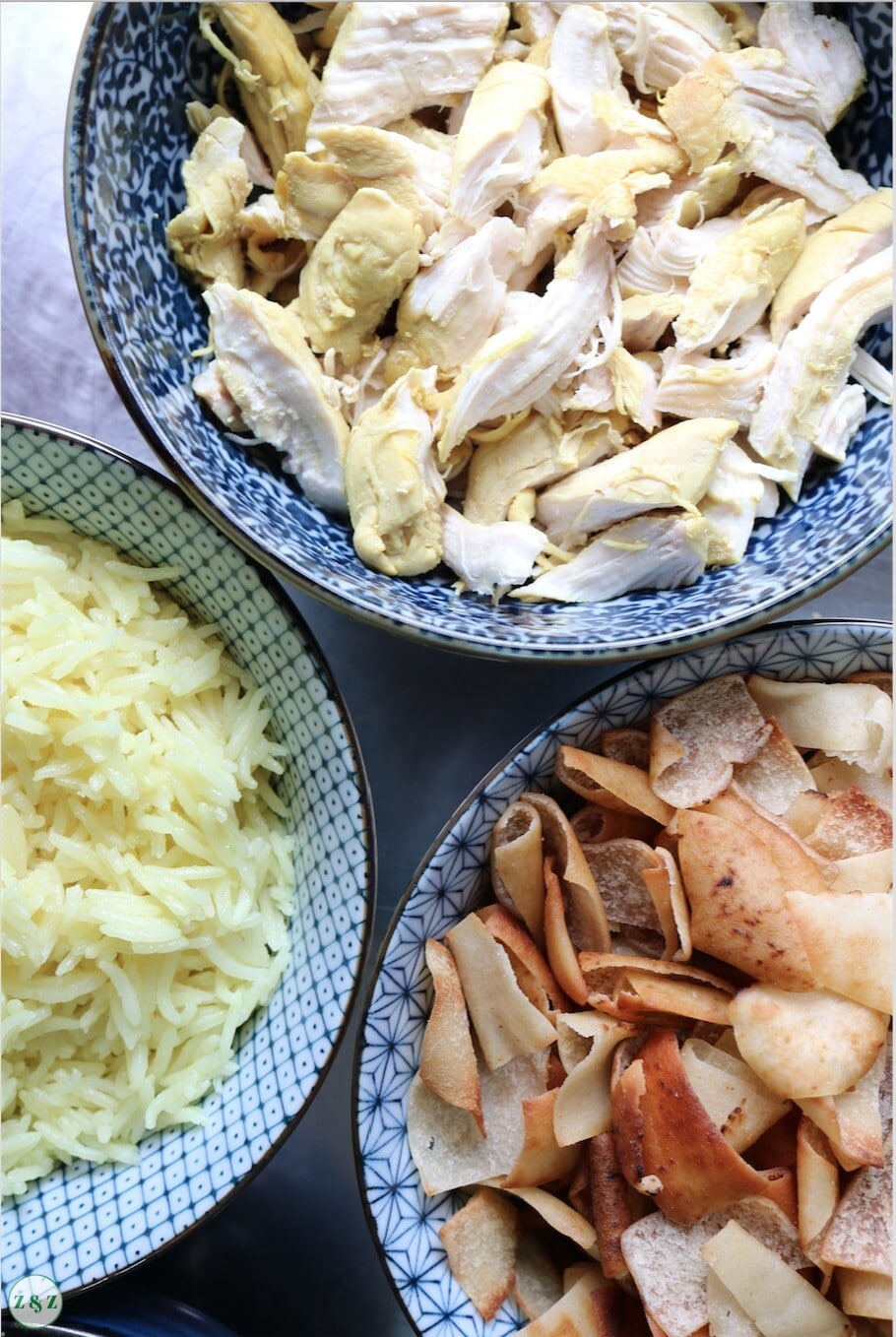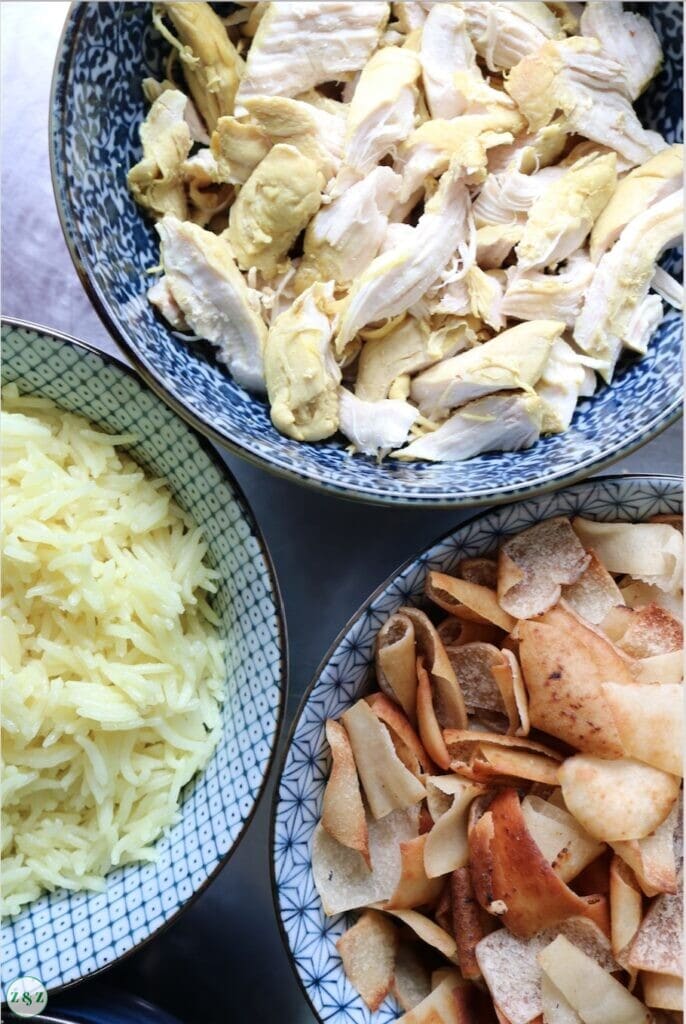 There are special fatteh shops specialising in all the different varieties in Beirut, making it popular for brunch.
These Fatteh shops make me a very happy person indeed and if you do go to Lebanon you must seek them out. It will change your life in ways you didn't know.
The bread
As fatteh was traditionally made with leftover pieces of bread, using stale bread one or two days too old will do just fine.
The crunchy bread is what gives fatteh it's identity. If you don't include the bread then it loses it's texture and soul in the process.
You must only add the sauce on top of the bread when everyone has sat down to eat. Otherwise the bread will become soggy and sad.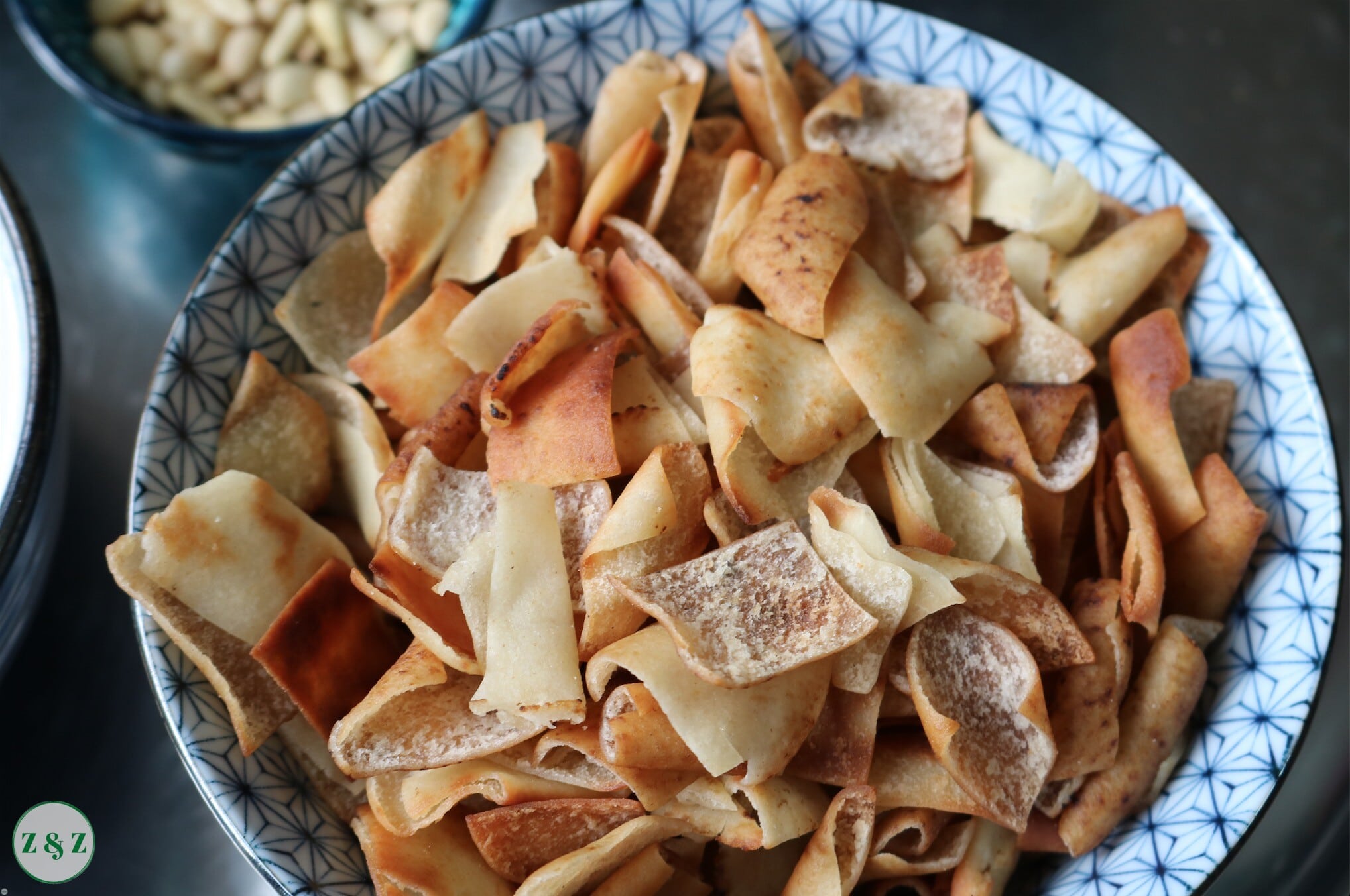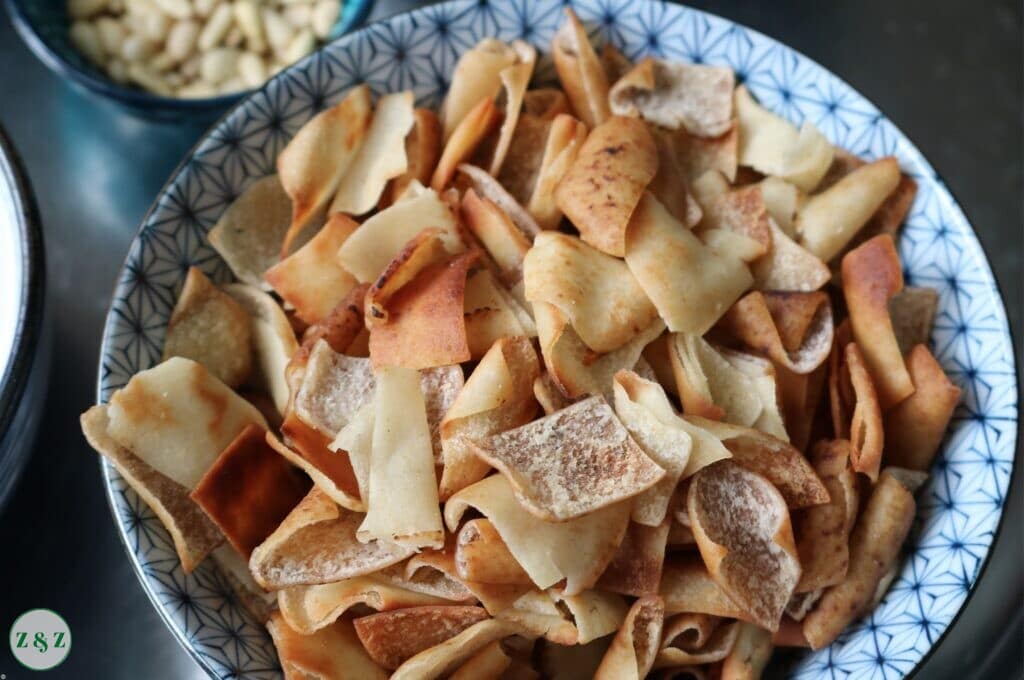 Thin Lebanese flatbreads (found in your local Middle Eastern grocery stores) are better to use than pita, which are thicker and absorb more oil.
If you do use pita bread then try and get the thinnest ones available.
You can either fry the flat breads, or as my mum figured out; sauté them in some oil until they become crunchy.
If you bake them, make sure you spray enough oil on so they go crispy. Soft bread will not stand up to the other elements so don't be afraid to use a little oil when necessary.
The chicken
The best thing about chicken fatteh is that you can use leftover roast chicken to make a completely different meal.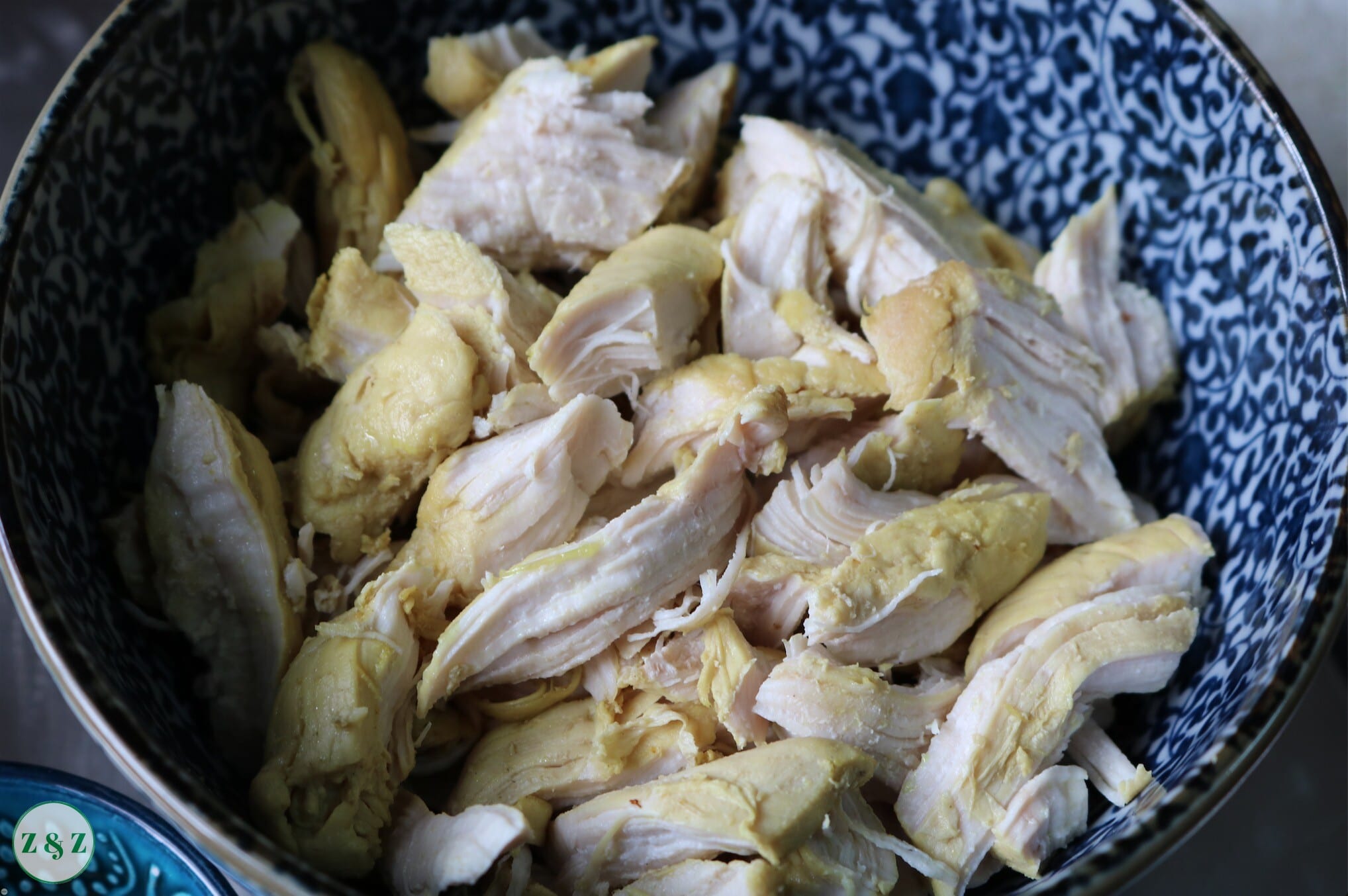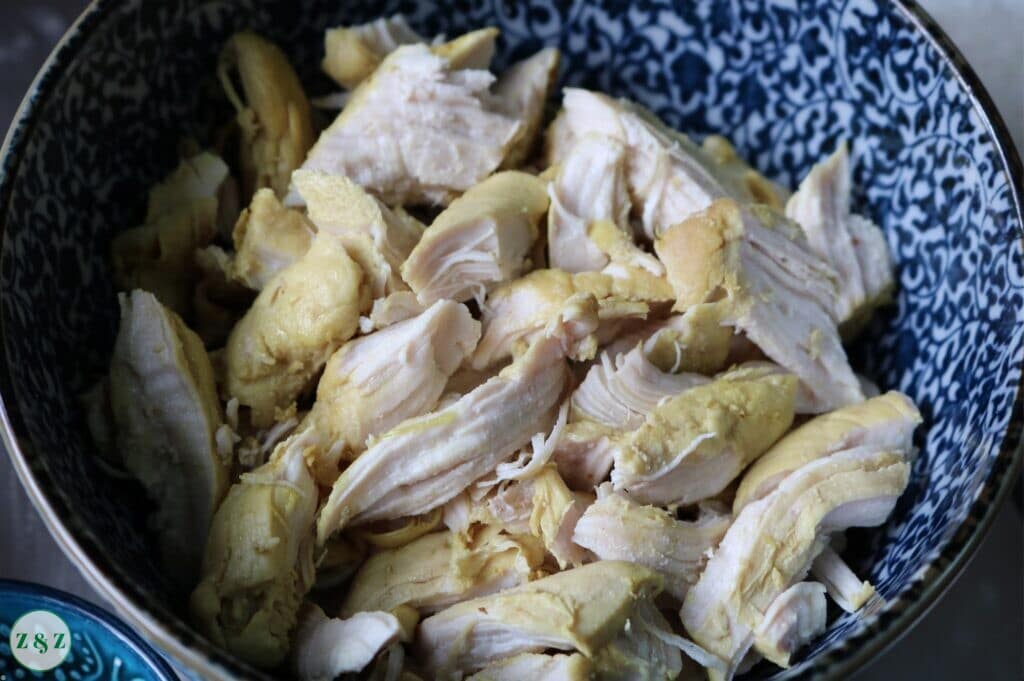 I have given instructions teaching how to make it from scratch as you can use the chicken stock to cook the rice.
The chicken stock is good for loosening the yoghurt tahini sauce and adds extra flavour.
I have used chicken breast as it's fast to cook and easy to shred. If you are a strict 'thigh' person then cook the chicken a little longer.
I always flash fry the chicken on high heat first then drop it in the water to braise as this makes for tastier chicken. Yes i'm extra like that but these little things make the difference.
The rice
As i've mentioned, cooking the rice in the chicken stock makes for more flavourful fatteh and extra chicken flavour.
I've used basmati rice as it doesn't clump together. Short grain varieties of rice tend to be more sticky so take that into consideration.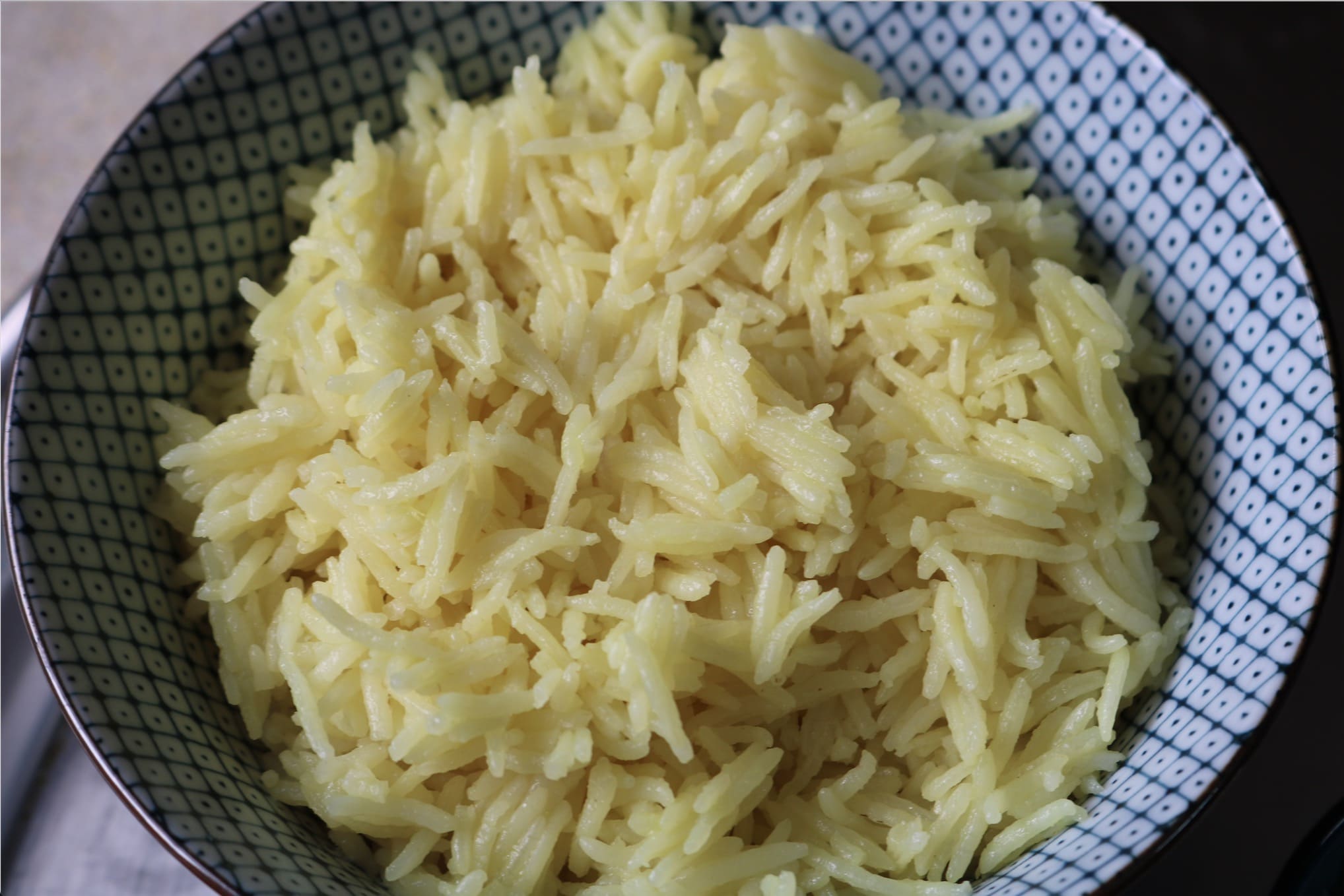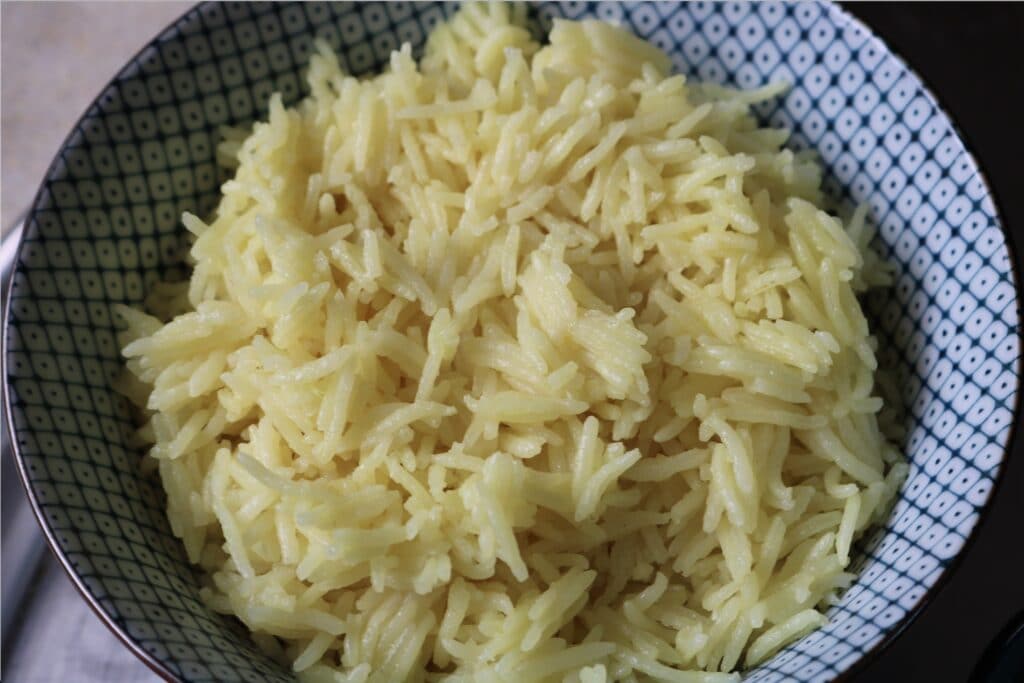 Not everyone uses rice in their chicken fatteh but I think it's worth it as it gives the chicken fatteh a more interesting overall texture.
The yoghurt tahini sauce
The sauce is what brings out the best of all the other elements. It needs to be zingy and bright and definitely not bla.
I've used a whole lemon to keep things zesty though this will depend on how big or juicy your lemon is. Do not be afraid to add extra lemon to the sauce if it is still lacking.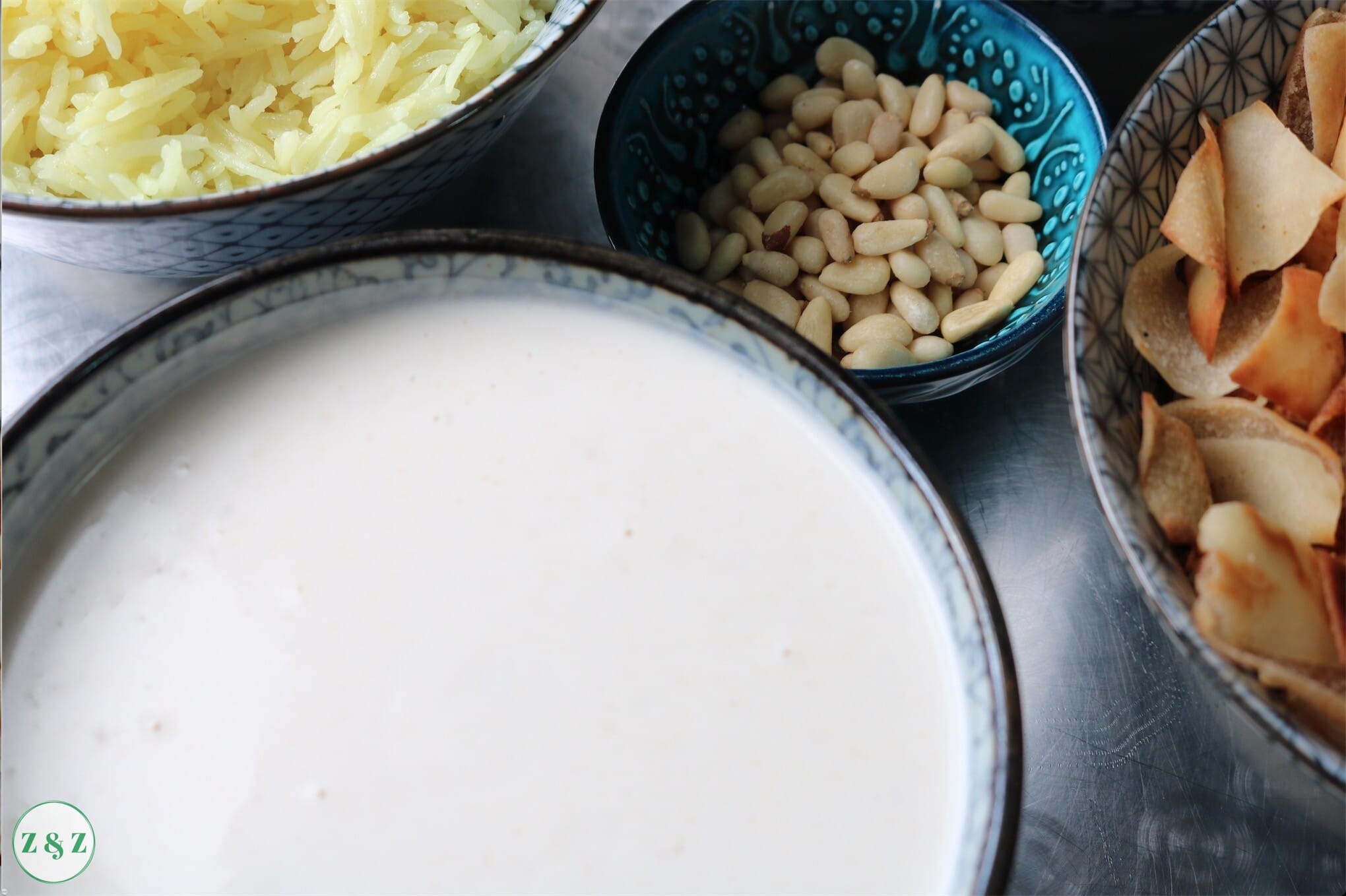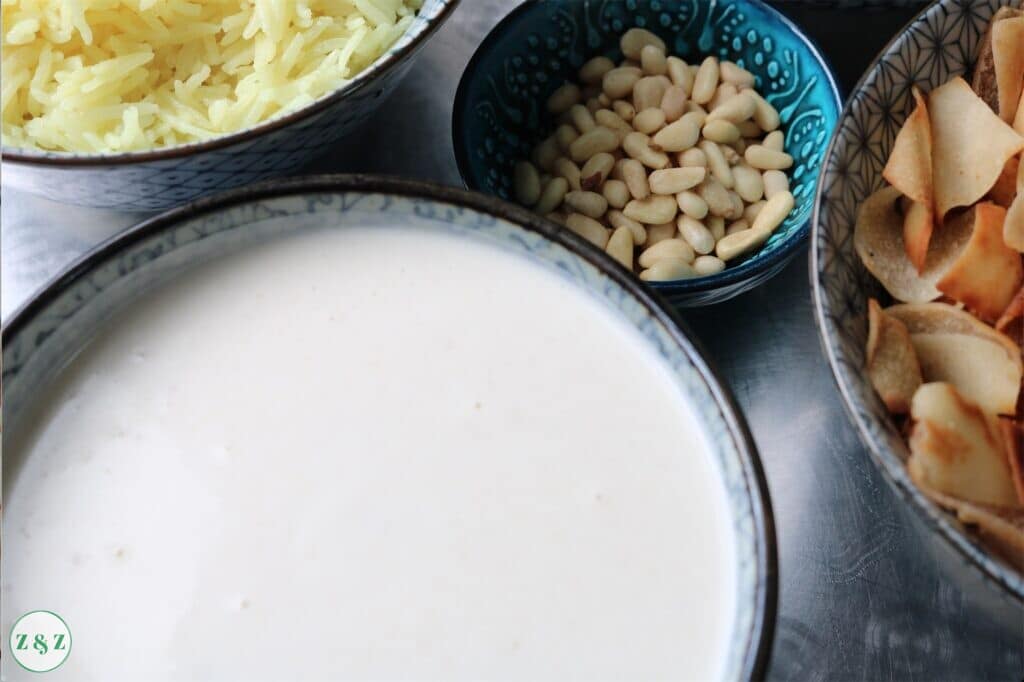 I've used 1-2 garlic cloves. Whilst I love garlic, I don't want this to become a garlic show and so have held back.
The garlic should be dancing in the background definitely not the main diva.
The tahini will give the yoghurt sauce a nice earthiness to balance all the lemon. Always shake your tahini jar.
The plain yoghurt will hold together and hug all the other ingredients. If you find the final sauce is too thick loosen it with a few spoons of chicken stock or water.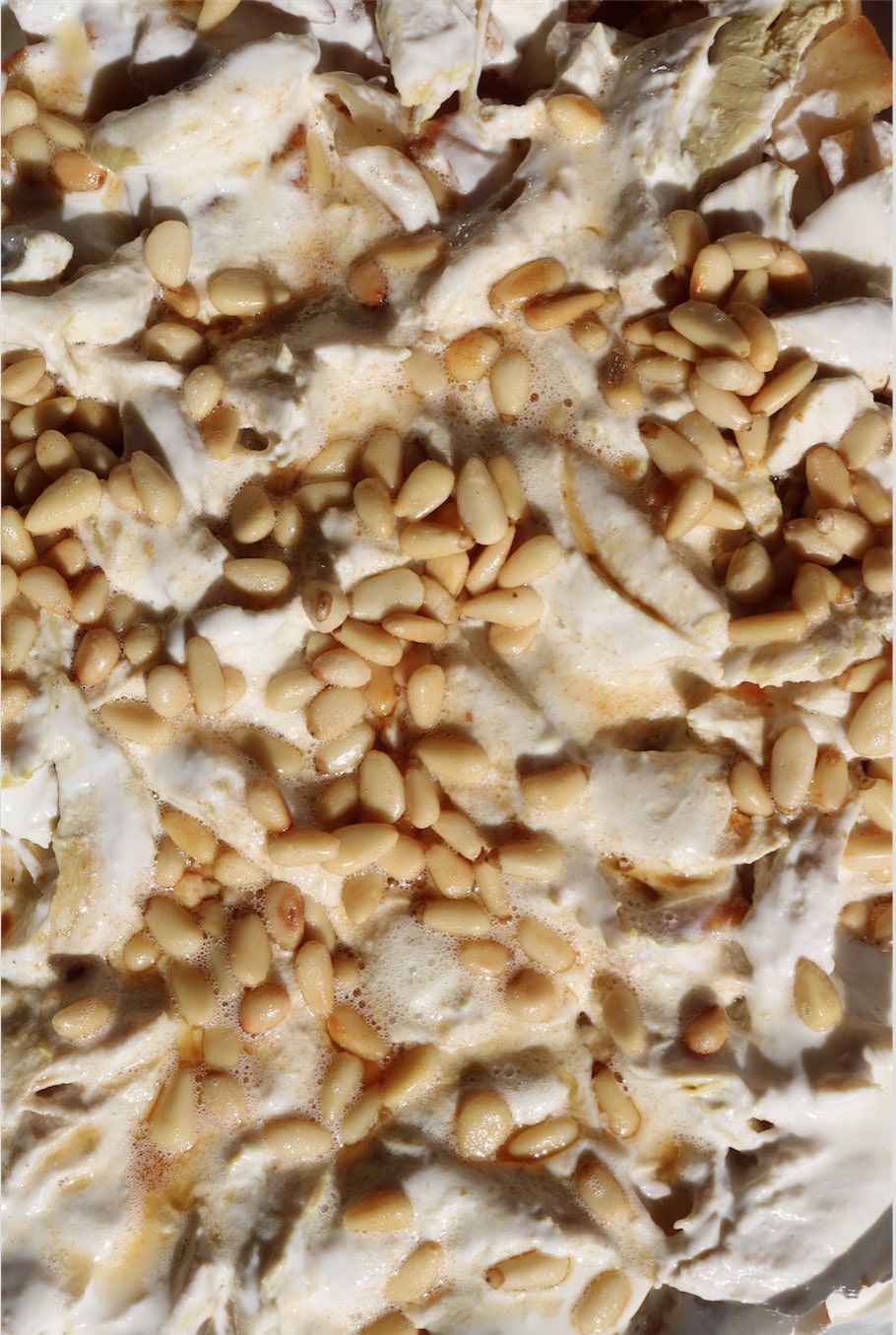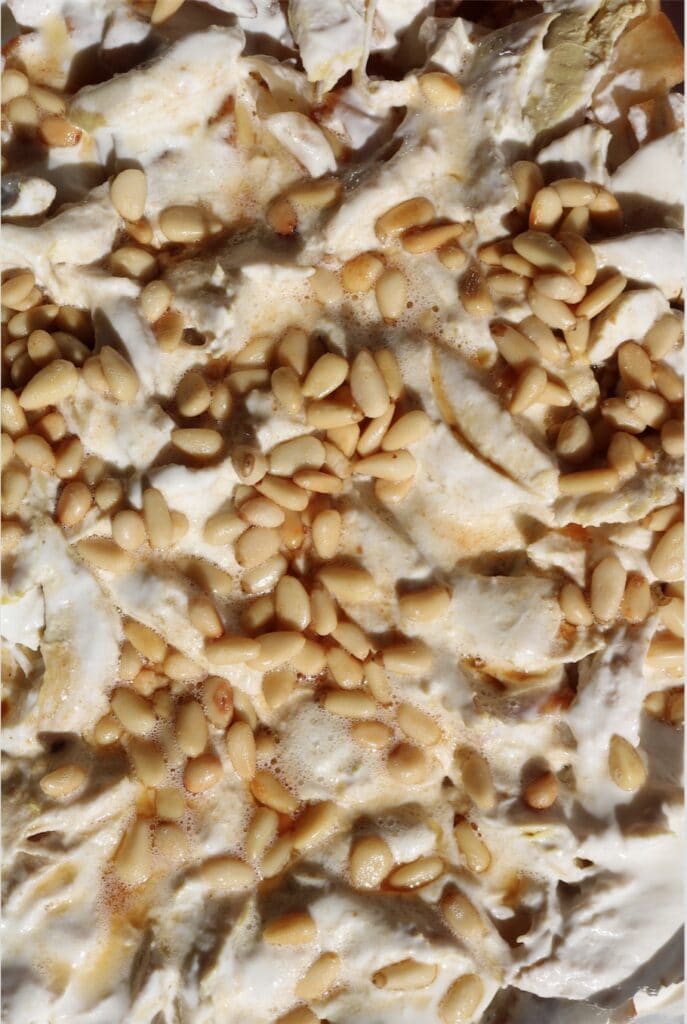 The brown butter and pine nuts
Now here is the final hurrah. Once you have everyone thinking that the fatteh is ready you will have to warn them of one final element.
The pine nuts are toasted in brown butter which you will drizzle on top at the end to spectacular applause.
You can toast the pine nuts separately and brown the butter on it's own if you can't handle multitasking.
Do not take your eye off the butter which you will need to heat on low until it starts to froth. You can swirl it to see if it has browned. Make sure you do not burn it.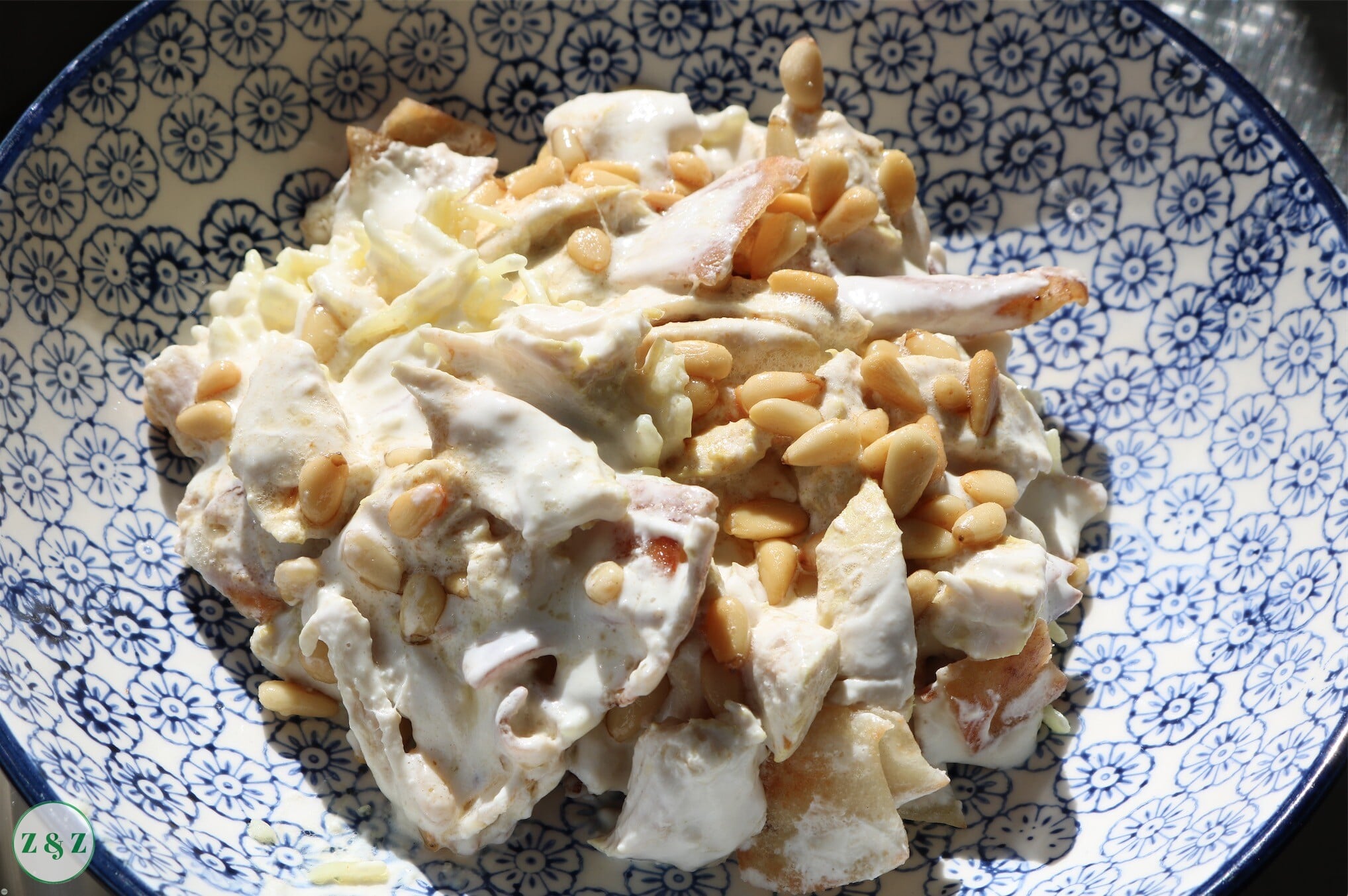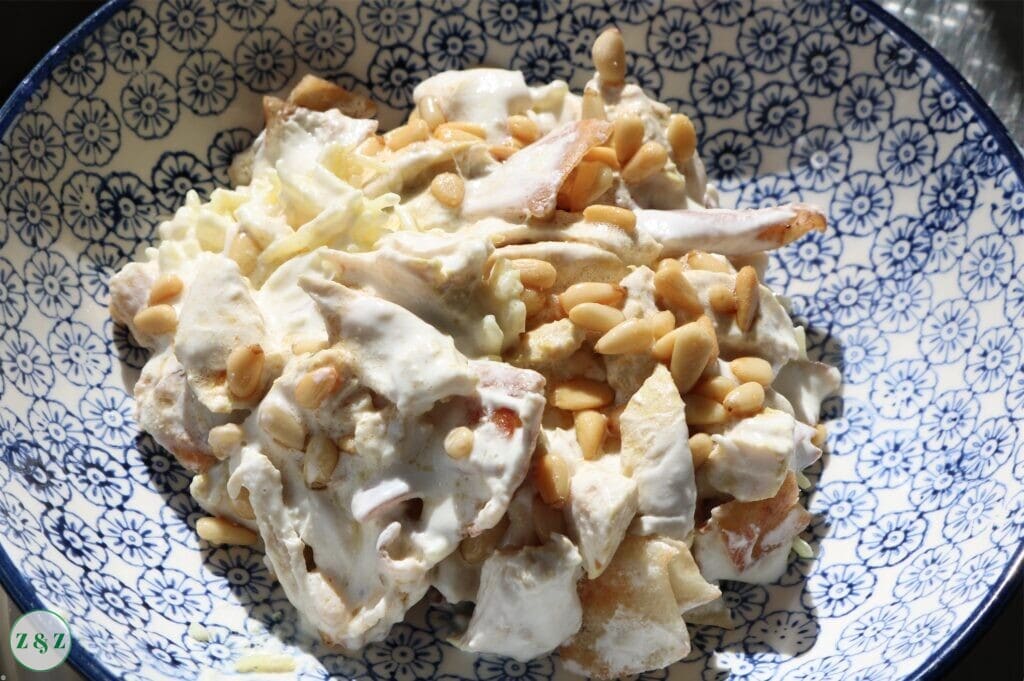 Tips on making the best chicken fatteh
Fatteh should be eaten warm so if you have prepared the chicken, stock and rice the day before, heat them up a little before assembling.
You can prepare the bread beforehand but keep in a airtight bag or box to avoid going soft.
As the butter and pine nuts are added near the end, start browning about ten minutes before serving.
Make sure you have everyone at the table before you add the sauce on top as the bread will start to soften immediately.
Chicken fatteh is a fun food so don't fret if you don't get it perfect first time, you will develop a routine and then conjure this most magical of dishes without hesitation or fuss in no time.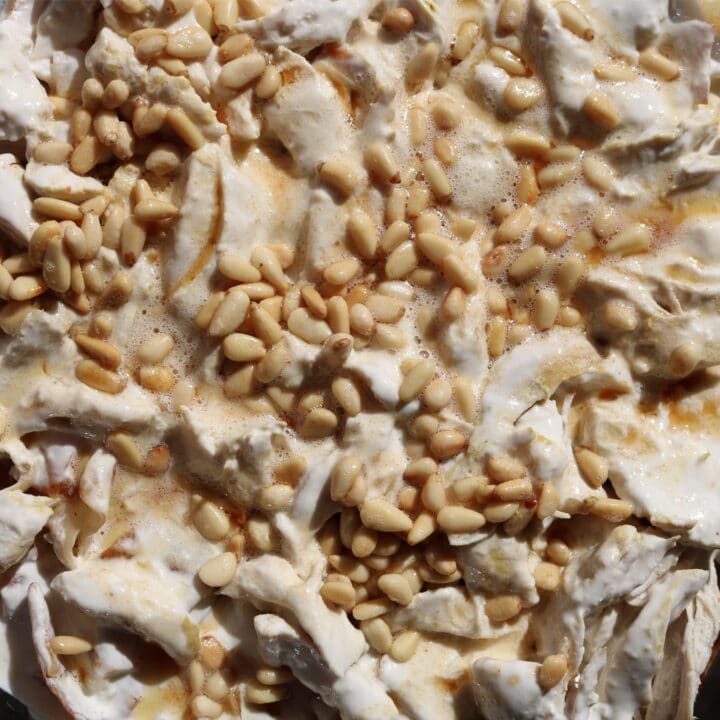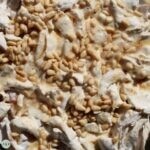 Chicken Fatteh (Fattet Djaj)
Layered chicken dish with crispy bread, rice, yoghurt tahini sauce, pine nuts and brown butter.
Ingredients
For the chicken stock and rice
2

large chicken breasts

approx 500g

4

cups

of water

1

onion

1

bay leaf

1

small cinamon stick

5-7

peppercorns

3

cardamom pods

3

cloves

¼

teaspoon

turmeric

1

teaspoon

salt approx

1

cup

basmati rice
For the bread
2

large Lebanese flatbreads

approx 2-3 cups when fried

Vegetable oil for frying
For the yoghurt sauce
2.5

cups

plain yoghurt

3

tablespoon

tahini

1

lemon

juiced

1-2

garlic cloves

crushed

¼

teaspoon

salt
For the brown butter and pine nuts
¼

cup

butter

¼

cup

pine nuts
Instructions
To prepare the chicken and rice
Flash fry the chicken breasts on high heat in a non stick pan until slightly golden on the outside, around 5 minutes

Transfer to a pot with the bay leaf, cinnamon stick, peppercorns, cloves, cardamom pods, turmeric and salt along with the 4 cups of water

Bring to the boil then simmer for around 25 minutes and set aside

Shred the chicken breasts and set aside

Drain the chicken stock through a fine sieve and set aside.

Meanwhile wash the rice for a few minutes until the running water becomes clear

In a medium pot, sauté the rice in a tablespoon of vegetable oil for a few minutes then add 1.5 cups of chicken stock and simmer for fifteen minutes
To prepare the bread
Chop the flatbreads into small squares around an inch wide or so.

Deep fry them in hot vegetable oil until golden and crunchy. Drain on a kitchen towel lined plate and set aside

Alternatively, sauté the bread in a non stick pan with a few tablespoons of oil until golden, adding a little more oil if necessary to make them crunchy
To make the sauce
In a pestle ad mortar crush the garlic well

In a bowl, mix the yoghurt, lemon juice, tahini, crushed garlic clove and salt together. Taste to adjust the seasoning and add some chicken stock to loosen if necessary.
To assemble the fatteh
In a small pot, add the butter and pine nuts on low heat, keeping an eye on it until it starts to froth and brown

In a large serving dish, spoon the rice out at the base.

Then add the flat bread croutons, then the shredded chicken

Just as the brown butter starts to froth, swirl to check it has browned then turn off the heat

Add the yoghurt tahini sauce over the chicken, then drizzle the brown butter and pine nut on top

Serve immediately
Recipe Notes
You can also use leftover roast chicken or a rotisserie chicken.
The sauce should be a similar consistency to pancake batter. Loosen with water if you don't have chicken stock.
You can also use cashew nuts in addition to pine nuts.
If you make any of our recipes let us know how it went by giving us a star rating below.
We have a lively Facebook group where we post frequent recipes and discuss Lebanese cooking in general, as well as a handy Pinterest page where you can save all of your favourite Zaatar and Zaytoun recipes!
You might also like these recipe from the Zaatar and Zaytoun collection: