Fatteh is the king of Lebanese breakfasts. You know its a special occasion when your mum tells you to get the bread ready in the morning, usually for a visiting VIP or family gathering.
In Lebanon, people go to special fatteh shops that are experts in the art of the bready goodness.
Though essentially a dish made with leftover stale bread, mastering all the elements will mean you can whip up a wonderful plate of fatteh Lebanese style in no time.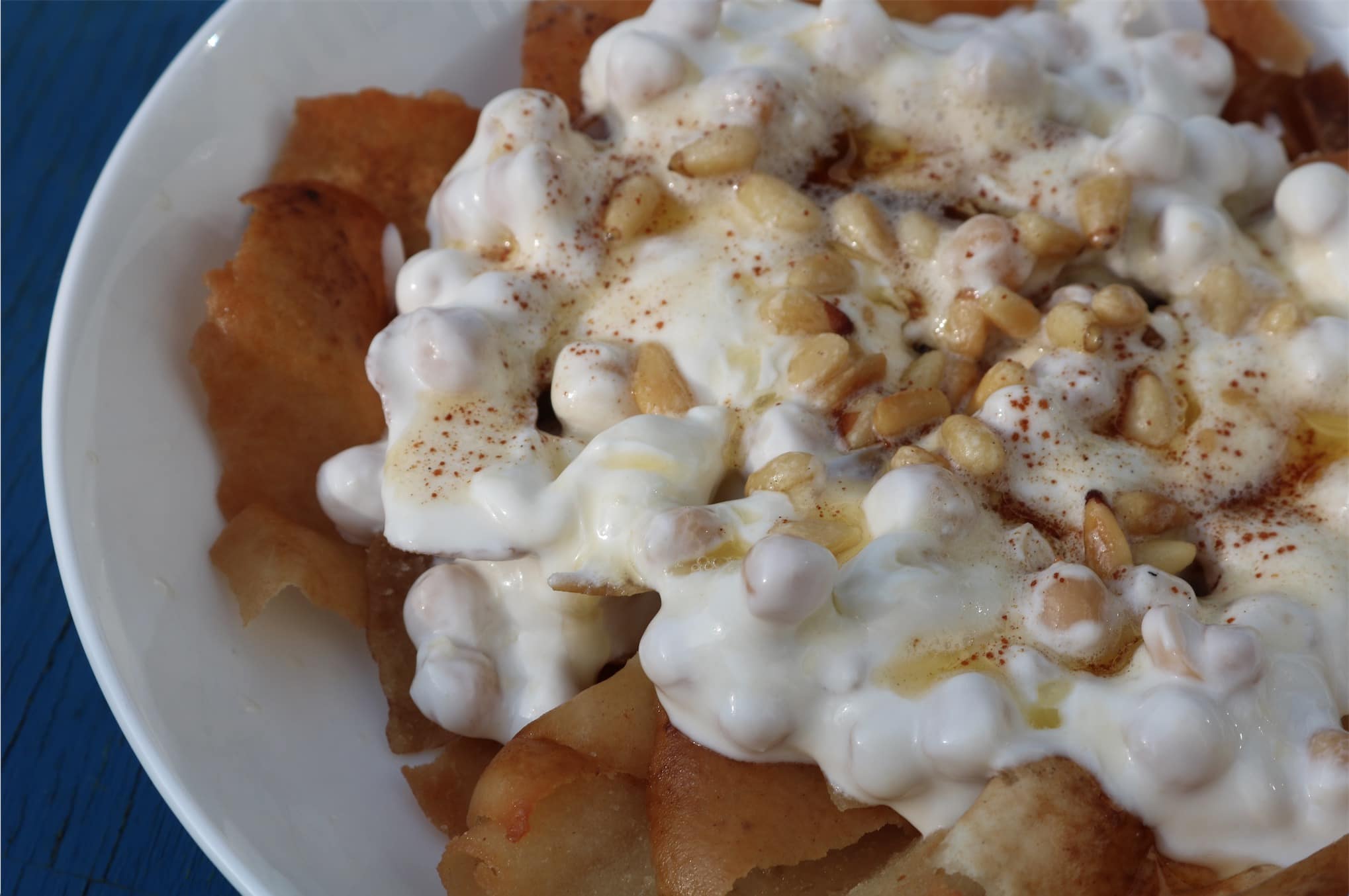 Jump to:
What is fatteh?
Fatteh is a bread based dish usually served at breakfast. The bread is broken up into pieces (where the word fatteh comes from) and toasted or fried.
It is then covered with a yoghurt based sauce and combined with chickpeas, chicken, meat or eggplant to make different versions of fatteh.
Chicken fatteh uses a good chicken stock to make the sauce and if you are making the meat version you can use either mince or little pieces of fried fillet.
You can add a little of the oil you fried the meat in over the top instead of the butter.
This recipe is the easy version of vegetarian chickpea fatteh though you can add any pre-cooked chicken if you like to make it more substantial.
Once you know the basic steps you can swap ingredients in and out as you fancy.
The bread
If you want to be healthier you can bake the bread in the oven but it is definitely more yummy when fried.
You could brush some bread with regular olive oil and toast it until golden but make sure you keep watching it so it doesn't catch at the edges.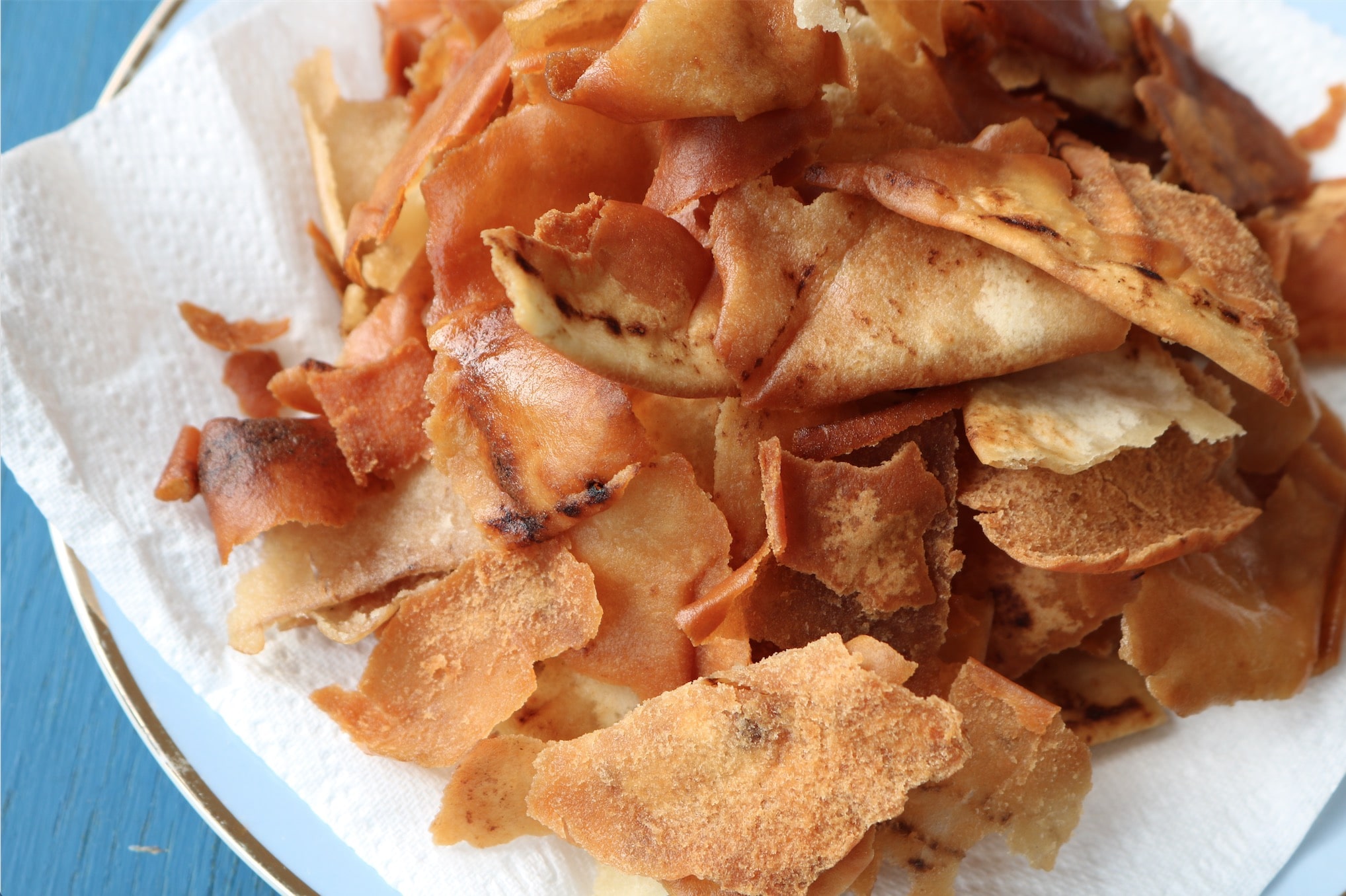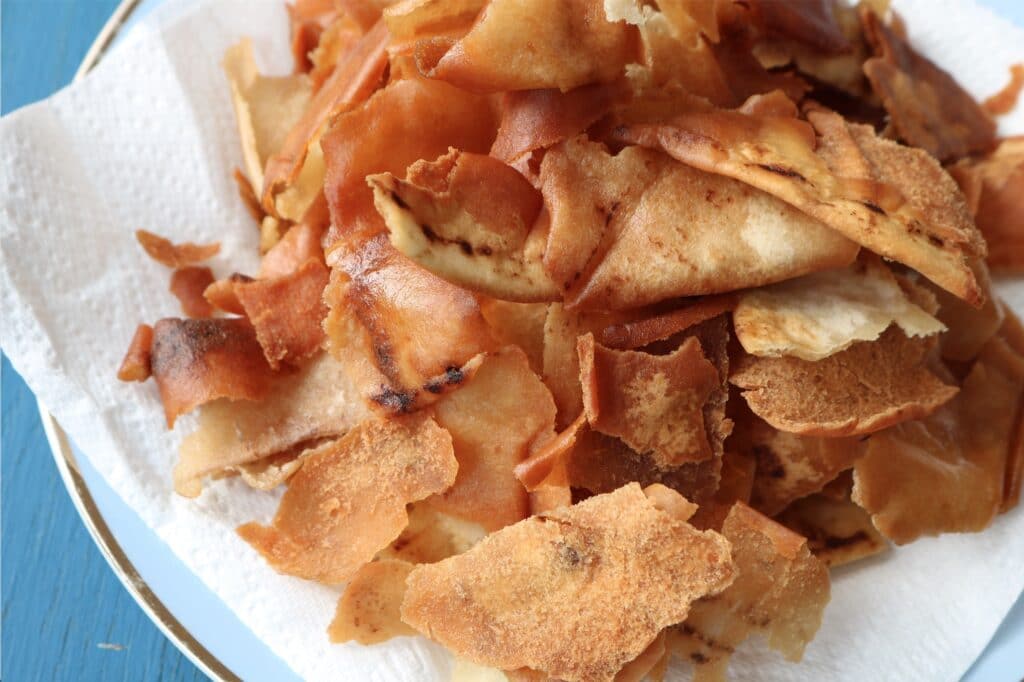 I like to use Lebanese flatbreads though you could also use pitta breads, making sure to separate the two halves so it won't be too thick.
The chickpeas
I also think it's perfectly ok to use chickpeas from a can as I don't have time in the morning to cook chickpeas for hours.
Make sure you don't drain the chickpea water as you need it to loosen the yoghurt sauce and add an extra chickpea flavour.
If you have lots of time or are making a very large batch for then you can soak the chickpeas and cook them beforehand and the chickpea water will taste more 'chickpea-ish' and have extra flavour.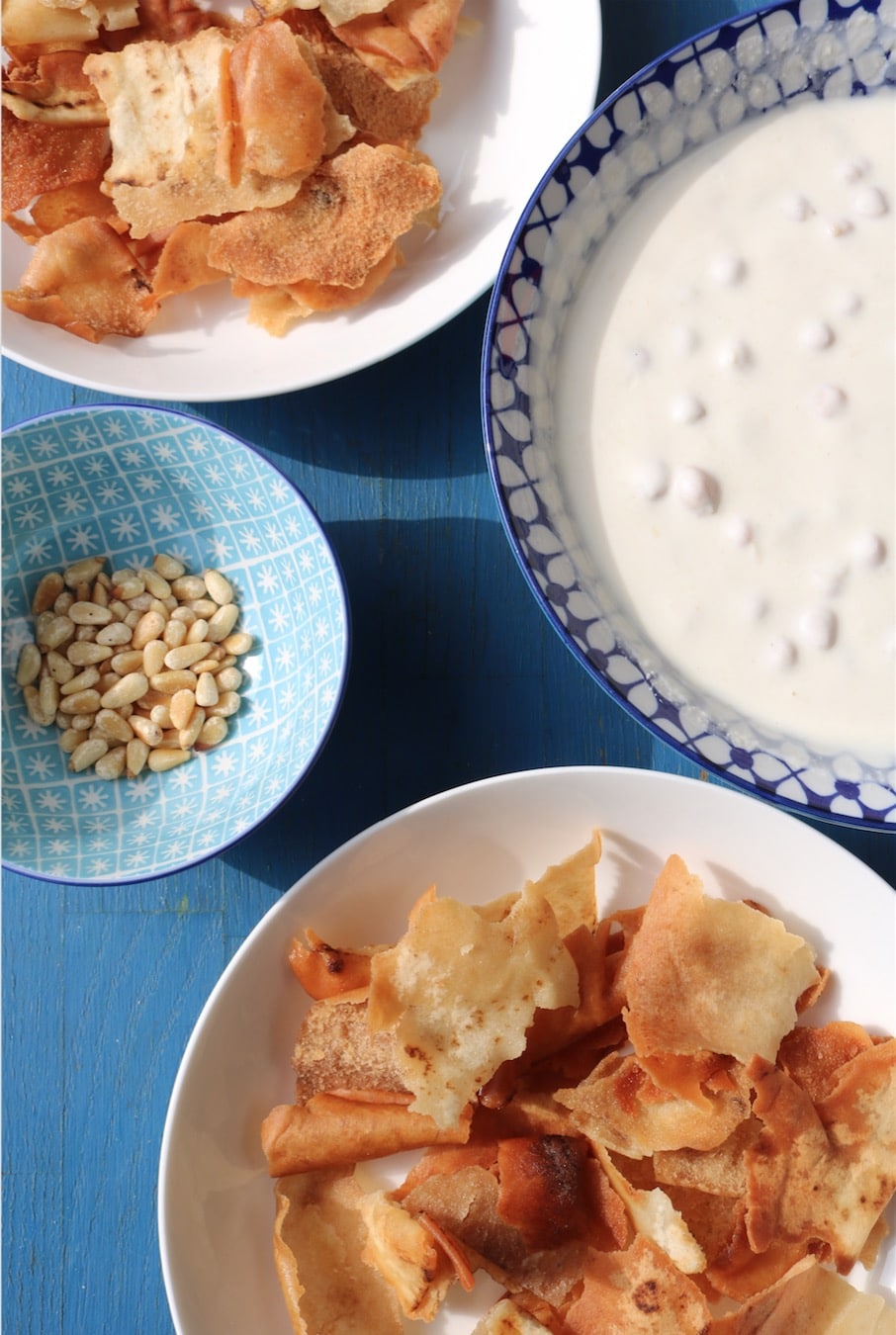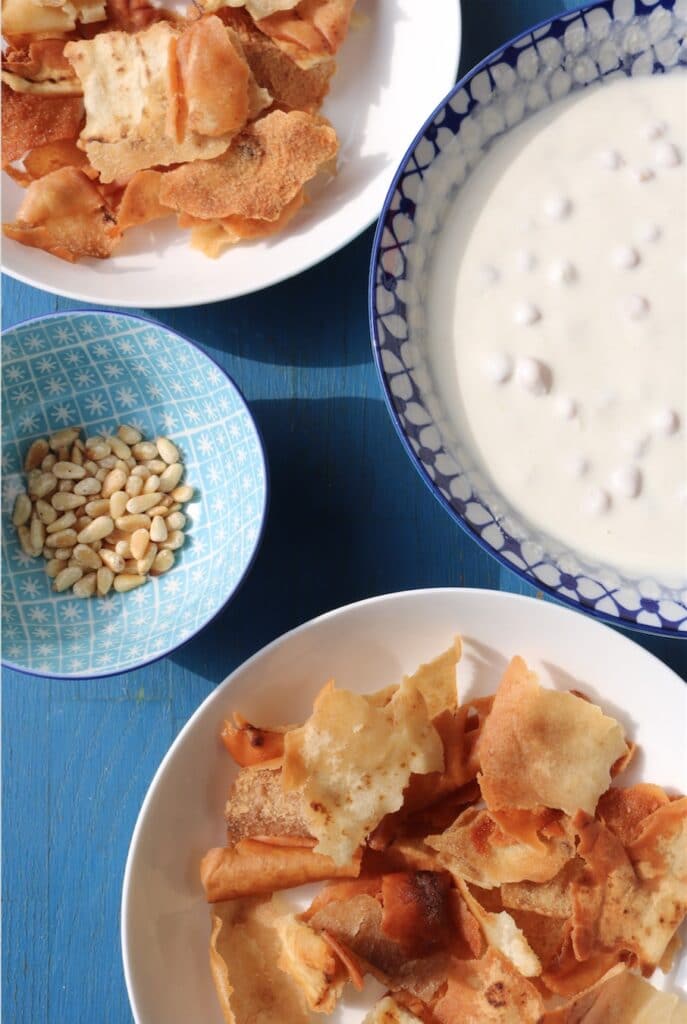 The butter
The butter should be heated on low until it starts to foam and turn brown, but be careful not to burn it.
I love it when you pour the butter on at the end and it sizzles with the yoghurt sauce.
Top tips
Don't mix everything together until everybody has woken up and is at the table. If you call people to eat and they are late it ruins the fatteh as it can become quite soggy quite quickly.
You can toast or fry the bread a day or two ahead an keep it in and airtight container. I would also toast the nuts early to get that stage out of the way too.
You can also reserve some chickpea water and extra yoghurt sauce at the table if people want to add to their plates.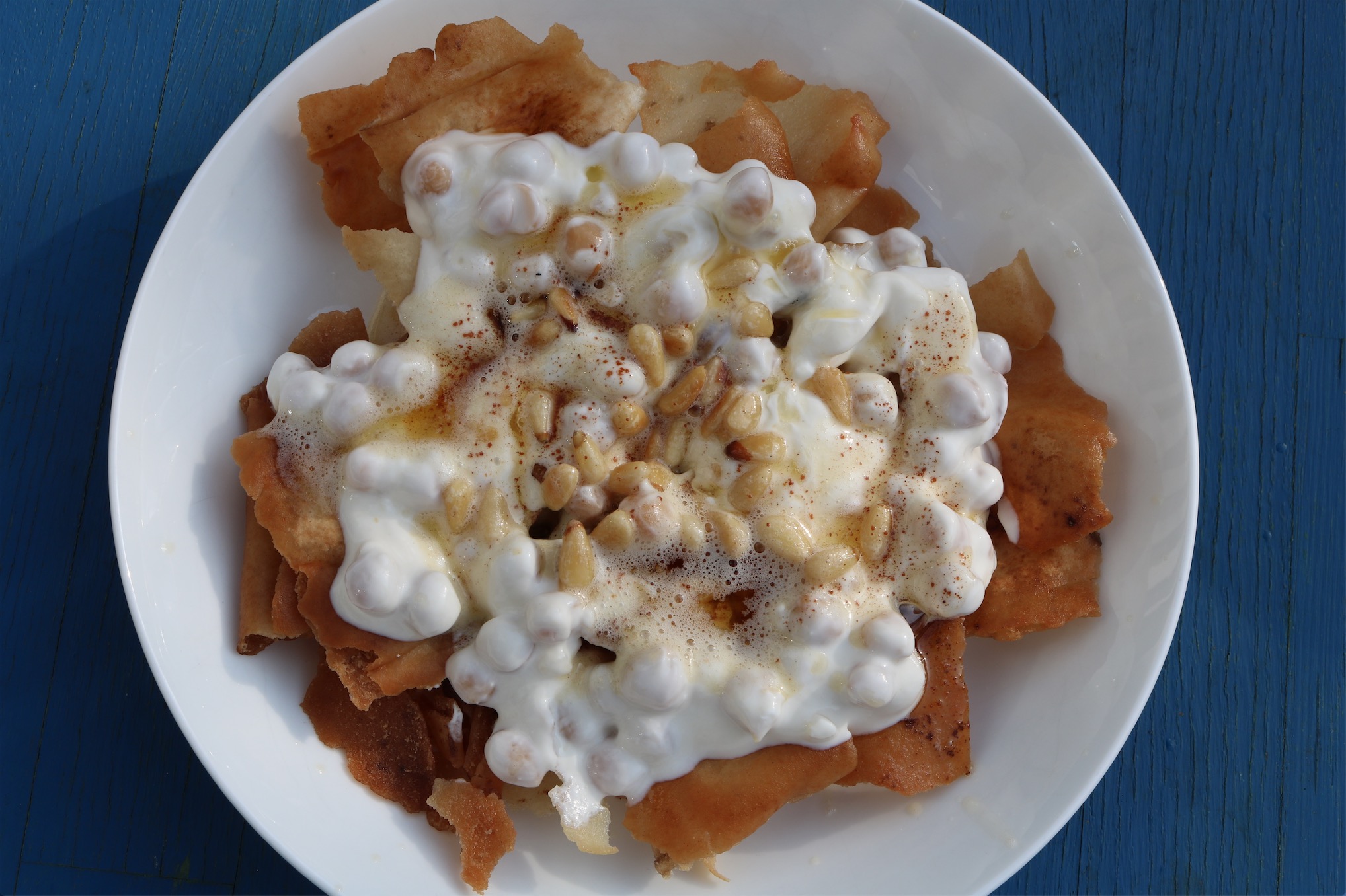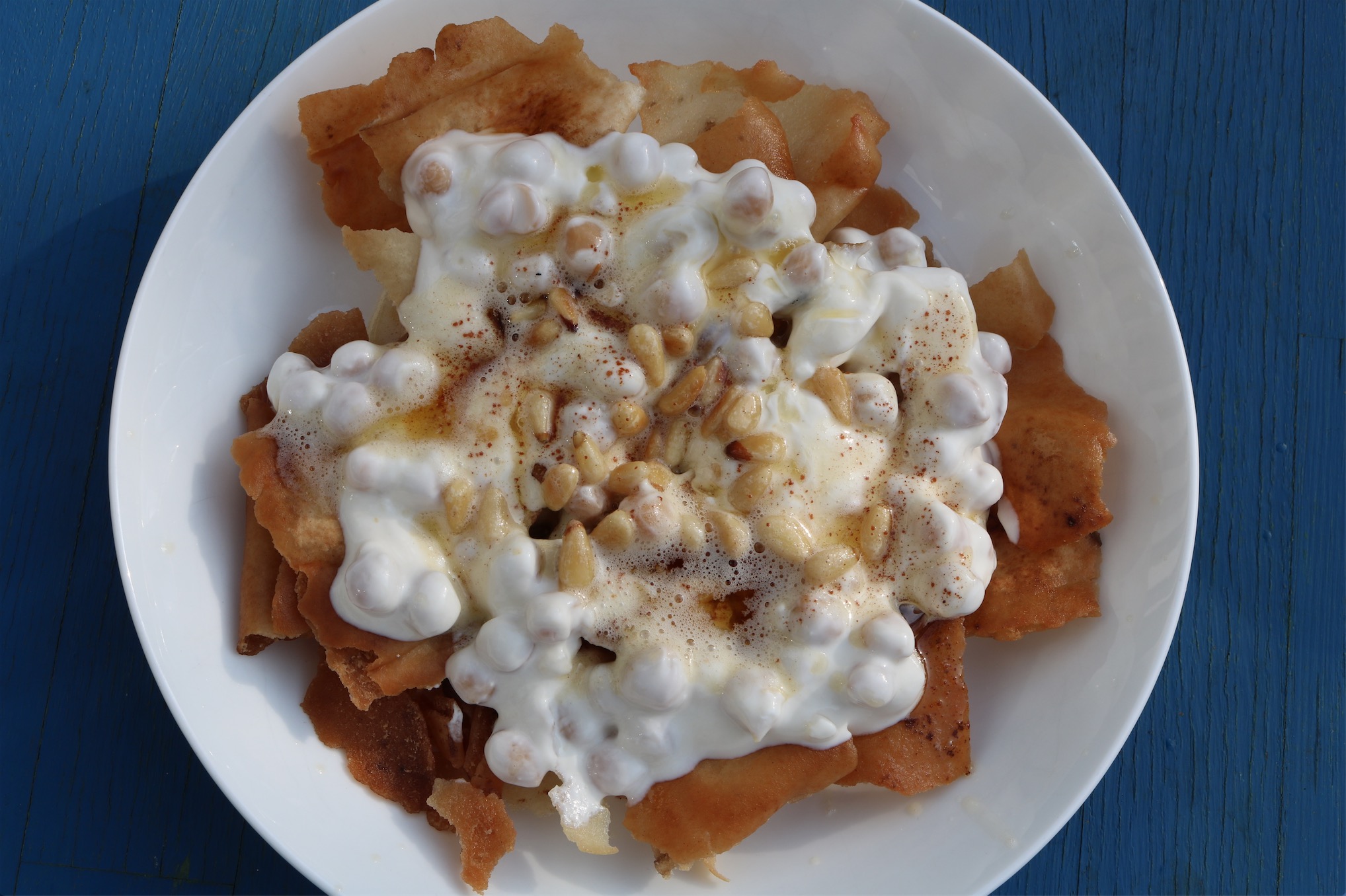 Final touches
The pine nut garnish adds another dimension to it so make sure you toast them beforehand until golden.
In this case, a final squeeze of lemon and sprinkle of salt will finish off your fatteh nicely.
This easy Lebanese fatteh is so substantial, I find myself having a later lunch which makes it a perfect brunch option.
Once you make it, you'll find you may start inviting people over just to have an excuse to make this crowd pleasing dish.
📖 Recipe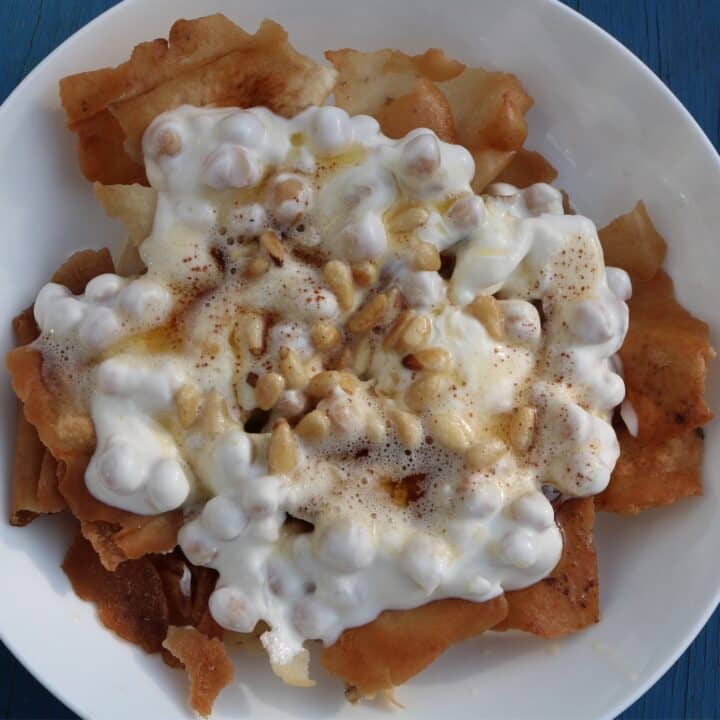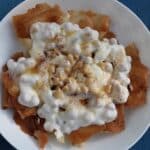 Easy Lebanese Fatteh with chickpeas
Fried bread, chickpeas in a garlic tahini yoghurt sauce
Ingredients
2

Lebanese flat breads

large

Vegetable oil for frying

1

can chickpeas

with water retained

3

cups

plain yoghurt

Juice of ½ lemon

1-2

garlic cloves

2

tablespoon

tahini

Handful pine nuts

3

tablespoon

butter

1

teaspoon

salt
Instructions
Tear the Lebanese flatbreads into bite size pieces and deep fry until just golden, avoiding browning them too much. Drain on kitchen towel and set aside

Toast the pine nuts in a heavy non stick pan until golden, set aside

In a pot, heat the chickpeas with their water, topping up with boiling water if necessary so they are covered by at least an inch for around 5 minutes

In a wide mixing bowl, crush the garlic cloves with the salt

Add the yoghurt, lemon and tahini as well as the chickpeas with a slotted spoon

Stir well, taste and if necessary adjust the lemon/salt or add a few tablespoons of the water to loosen the sauce

Heat the butter in a small pot on low heat until it starts to foam and turn golden brown. Turn off the heat and set aside

You are now ready to assemble your fatteh. Prepare a large serving plate or individual plates and add the bread croutons as a base

Ladel on some of the yoghurt tahini chickpea sauce on top

Scatter with pine nuts and drizzle on the brown butter

Serve immediately
Recipe Video
If you make any of our recipes let us know how it went by giving us a star rating below.
We have a lively Facebook group where we post frequent recipes and discuss Lebanese cooking in general, as well as a handy Pinterest page where you can save all of your favourite Zaatar and Zaytoun recipes!
You might also like these other recipes from the Zaatar and Zaytoun collection: