My easy Lebanese lamb kebabs take just minutes to prepare and are so delicious you'll be dreaming about the next one before you've even finished eating the first one.
The secret ingredient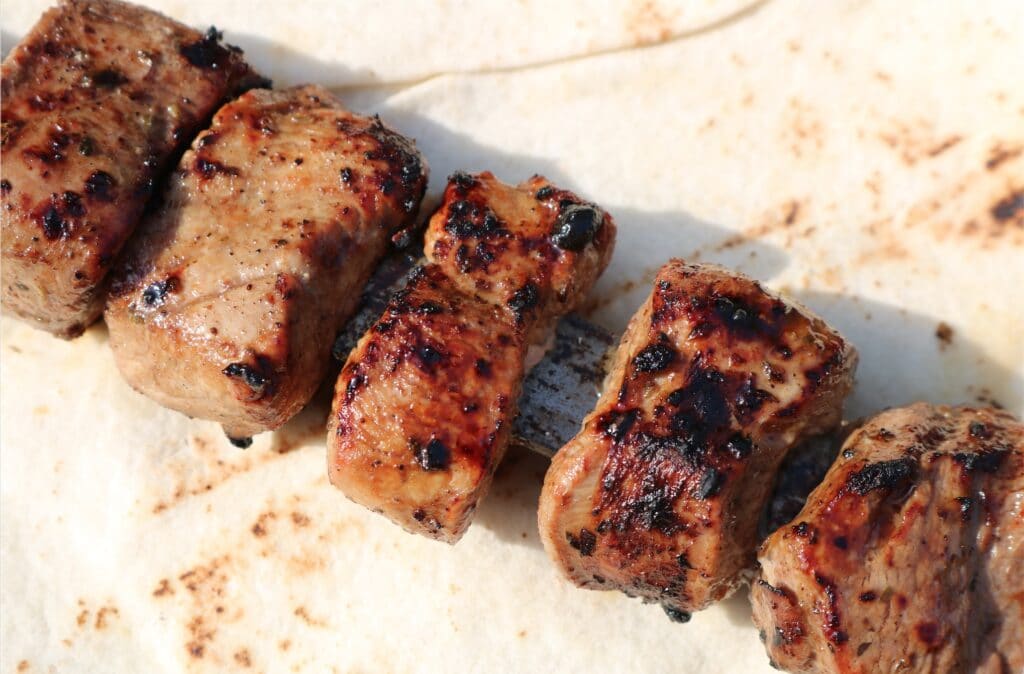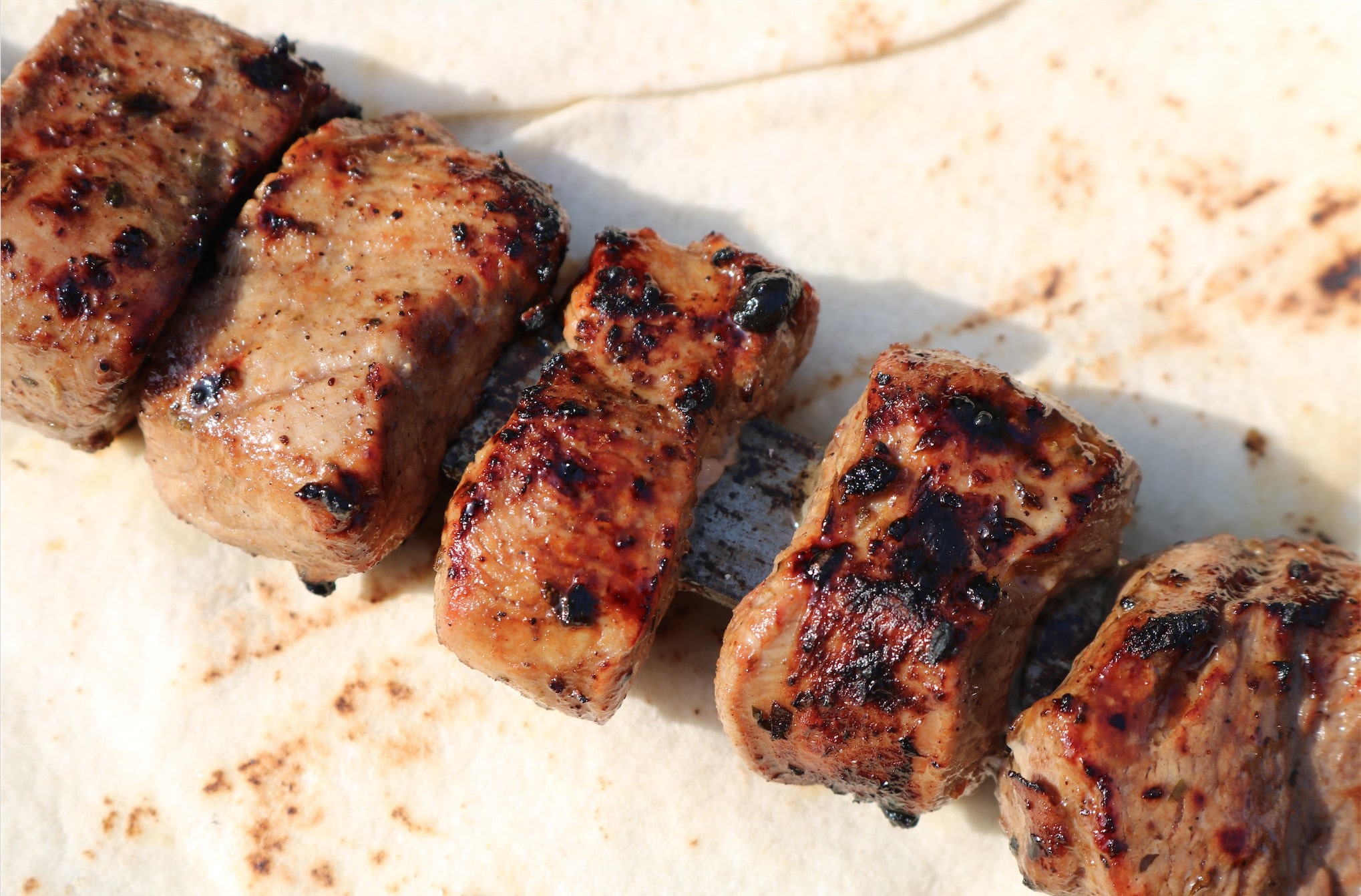 As you've probably guessed from reading my blog i'm not one to keep secret ingredients to myself.
I believe in sharing good food even if I don't always get credited (hashtag sadface) because leading a delicious life is a human right.
And the secret ingredient in this recipe is .........drumroll please........pomegranate molasses!
Yes pomegranate molasses loves meat and a good drizzle in this marinade will uplift the lamb without destroying it.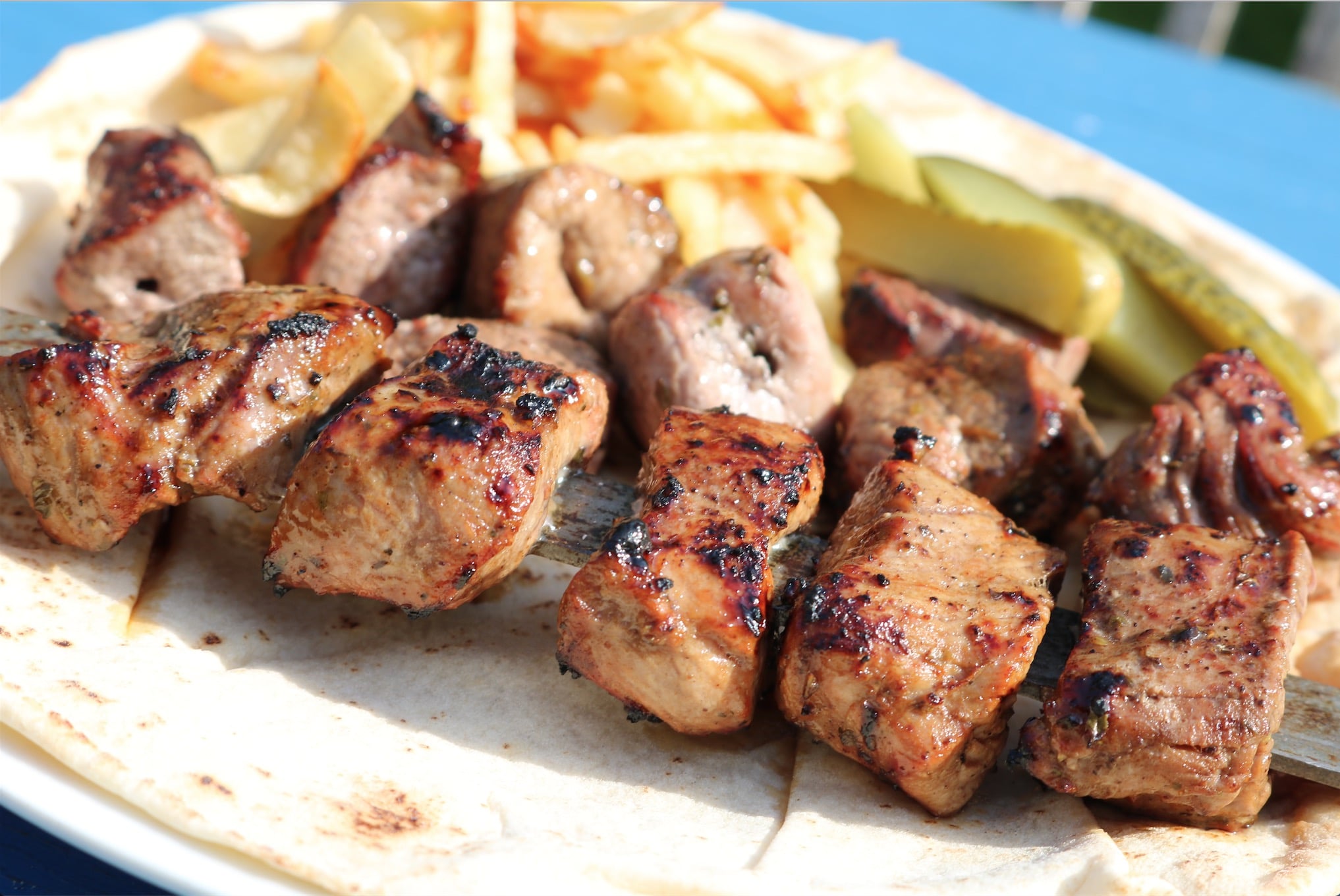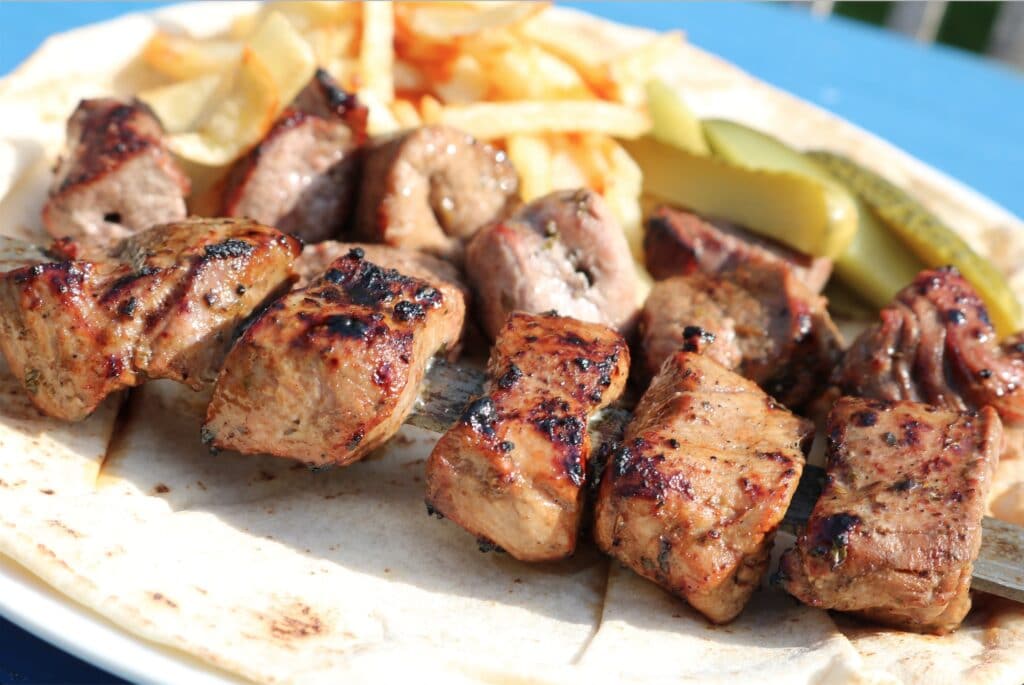 The other easy ingredients
Whereas chicken marinades allow for lots of different flavours to add depth, lamb or meat in general doesn't really need that much to make it sing.
The only other ingredients you need are dried oregano, salt, a little regular olive oil (suitable for cooking) and black pepper.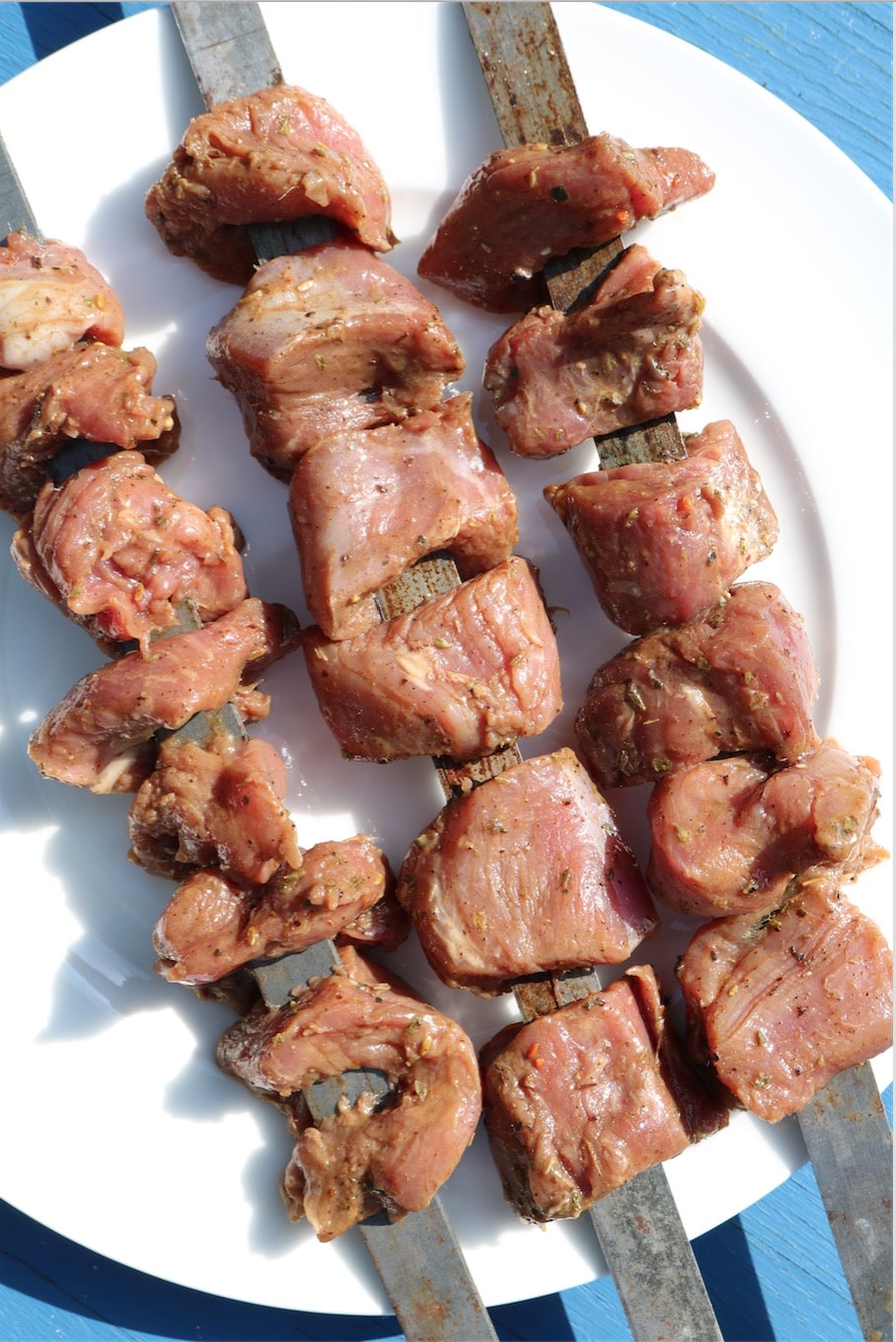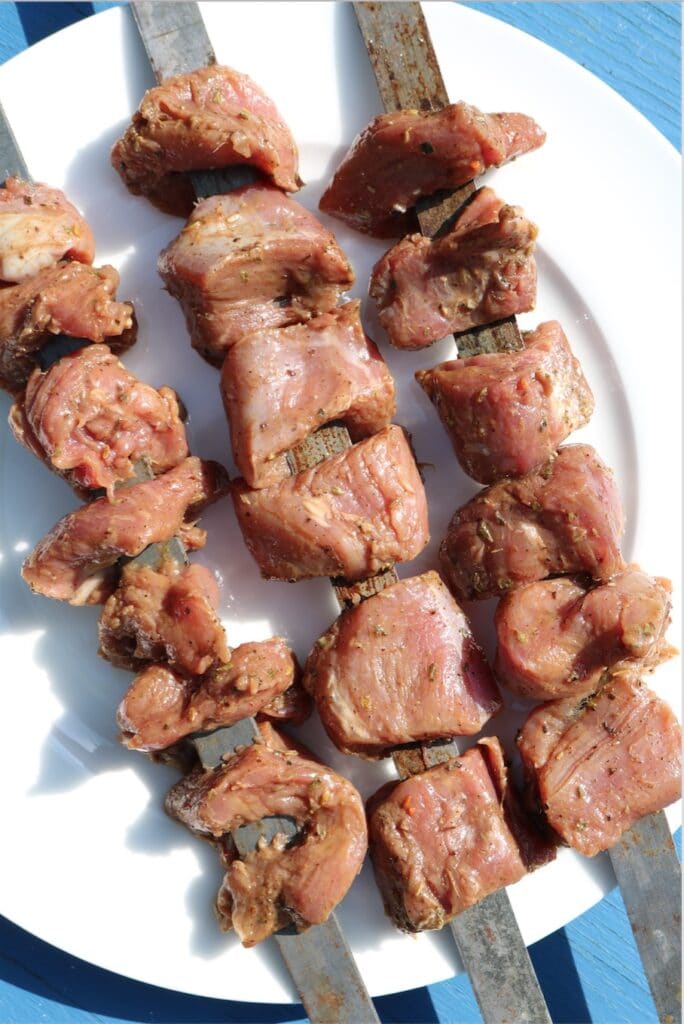 How long should I marinade?
If you are a super organised kind of person then marinading the lamb pieces overnight will give you the most flavour.
Otherwise a few hours will also do the job.
And if you suddenly decide to throw a barbecue then try for at least one hour so the flavour has time to meet the meat.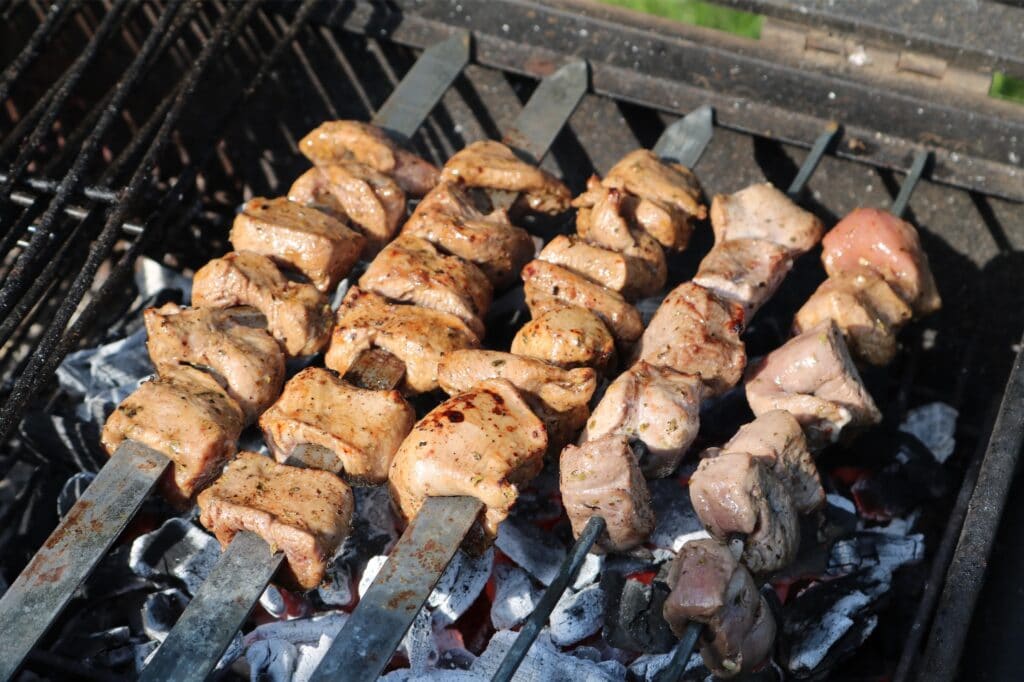 Serving suggestions
I don't think most people fry hand cut chips when they have barbecues but this is essential in a Lebanese household.
Whenever a meal approaches, someone is appointed to peeling the potatoes and we get out the chip pan before you can blink.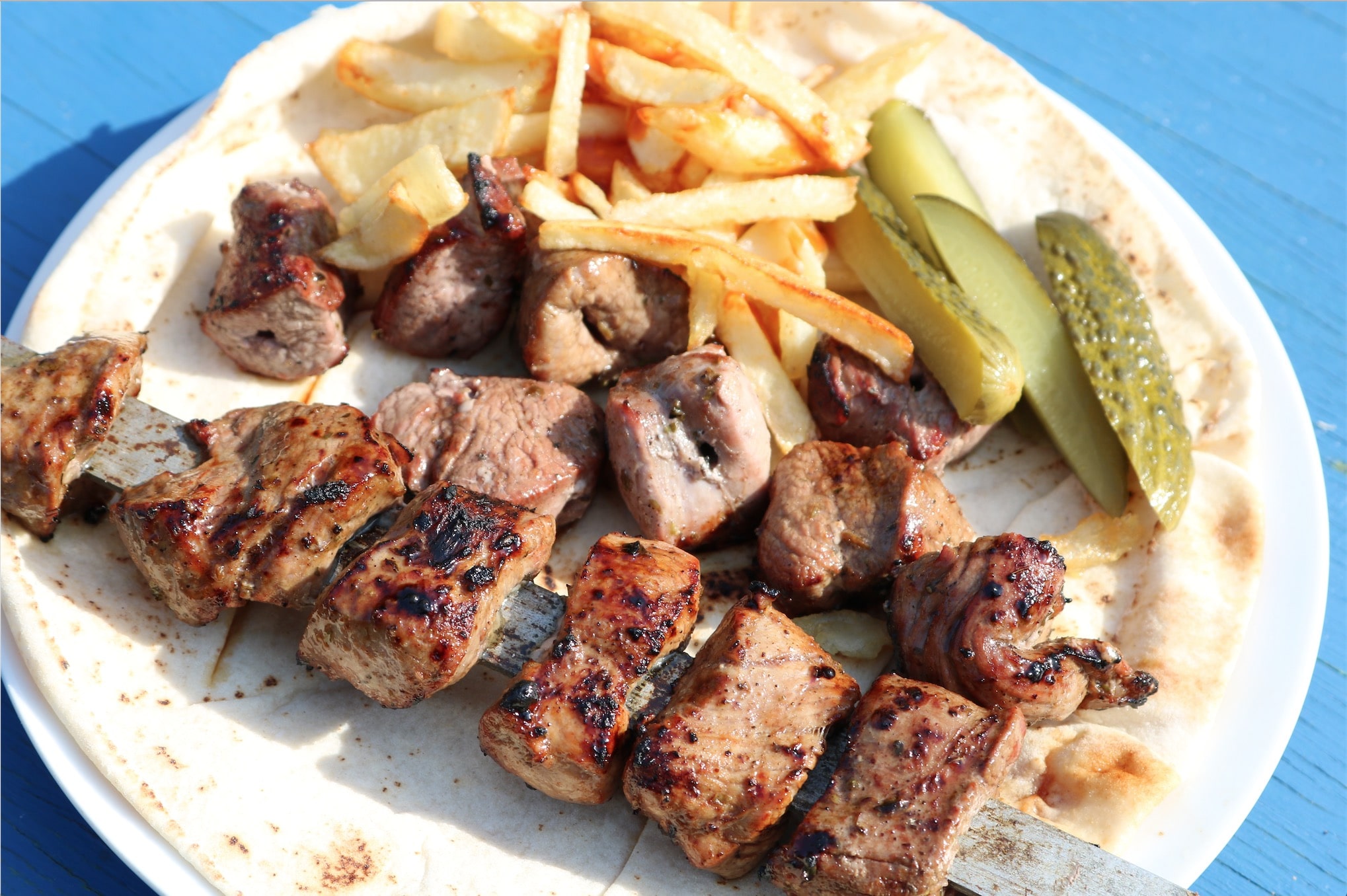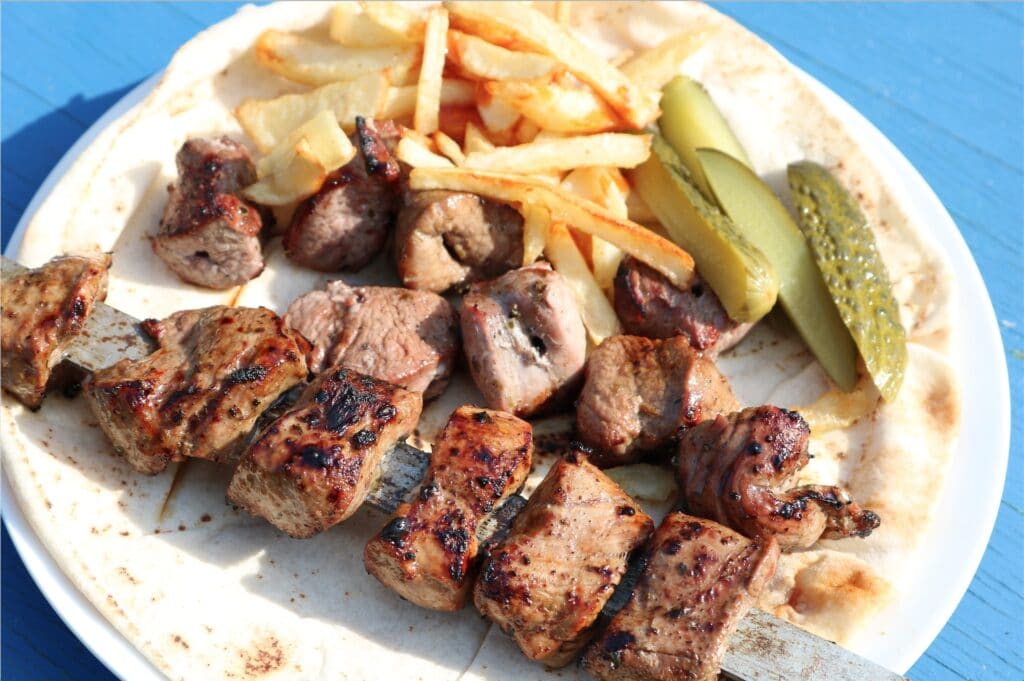 You can also serve these lamb kebabs with some nice rice but you must also serve salad such as fattoush or tabbouleh or it will be too dry
Let's not forget the hot sauce (chipotle is my favourite variety). This is a barbecue after all people.
I even drizzle a little pomegranate on my plate afterwards and dip the lamb pieces in.
You really need to try it or your life will not be worth living (3umrek khsara) haha when you translate Lebanesisms they never turn out the same way in English.
Tips for making the best lamb kebabs
Rest your meat outside of the fridge at least half an hour before you grill so the fibres won't strain themselves when they go from cold to hot.
I get the lamb fillet or 'fteeleh' cut from my Lebanese butcher and it hardly has any fat in it.
You really need to invest in a good butcher for the bests cut of meat.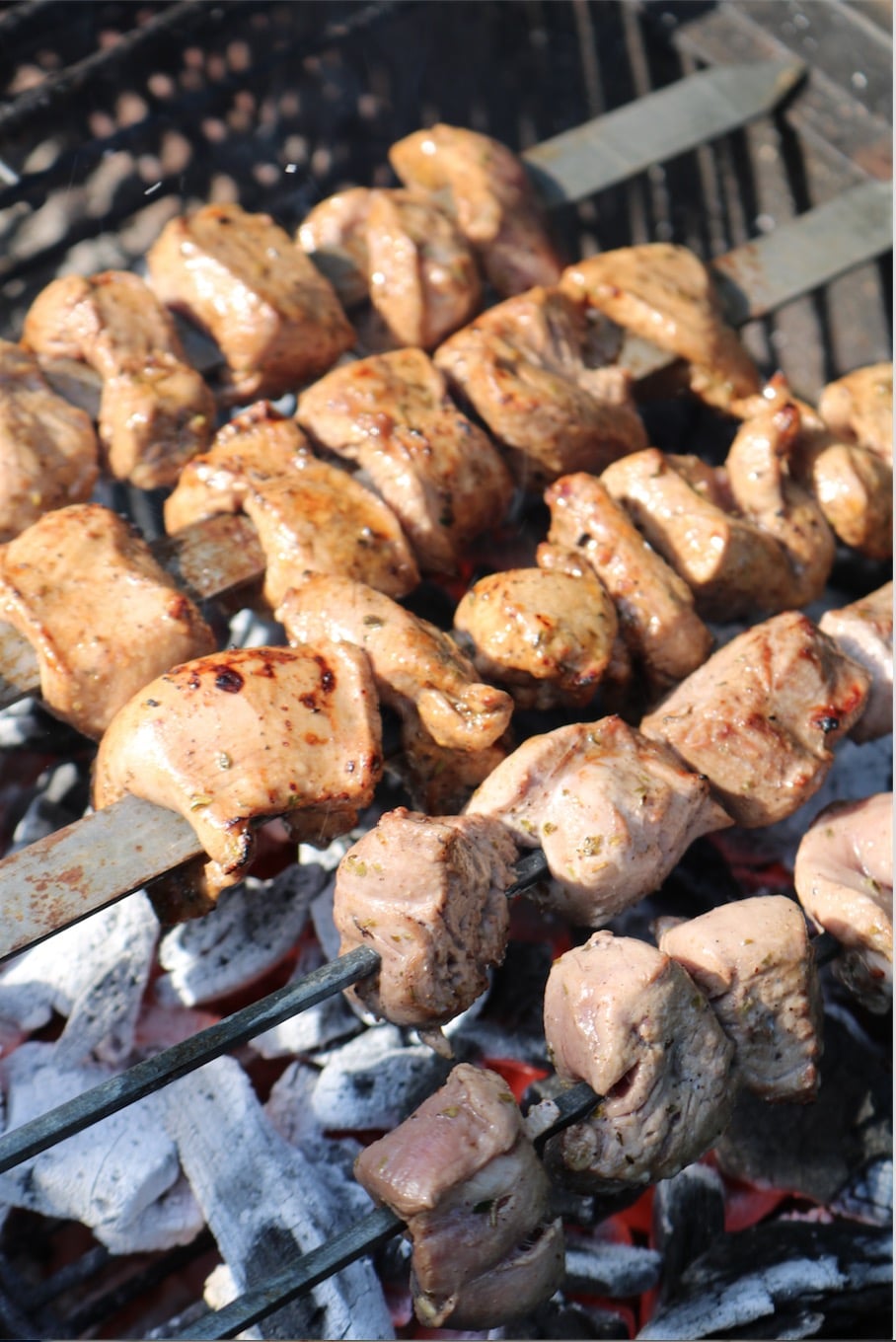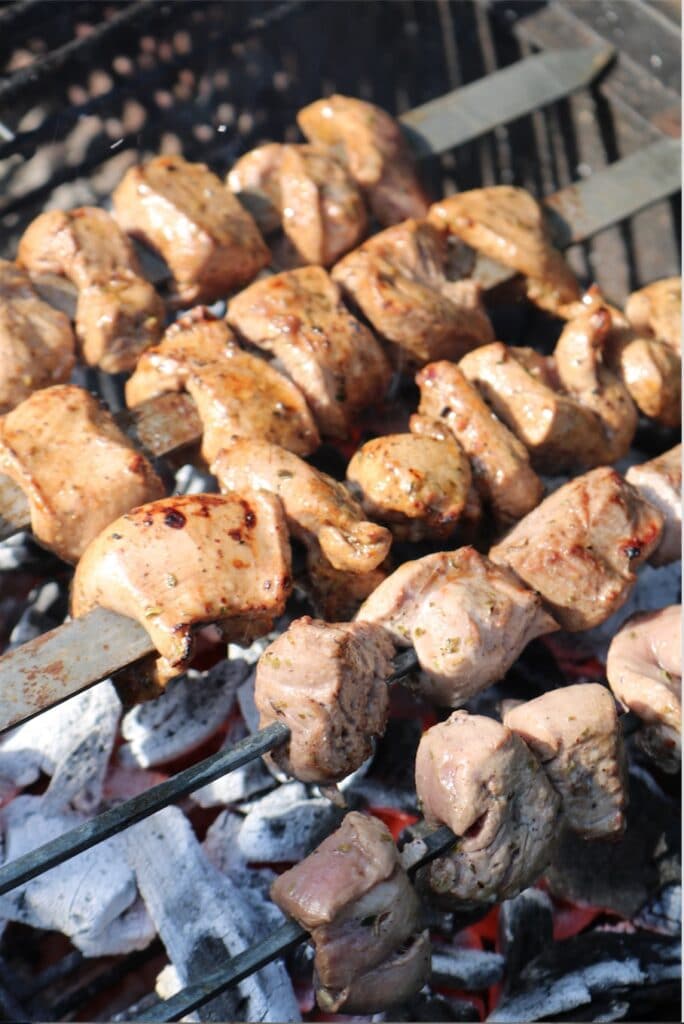 This means that I drive half way round London to get top quality meat but it is worth it when everyone screams yum at the results and asks me how I get the meat so tender.
I like to grill meat before chicken as it can handle the high heat and doesn't really need a long time.
A few minutes on each side depending on how hot your grill is should be enough. Approximately 7 minutes in total.
That said you don't want to char it black in the first few seconds so don't load the grill with too much charcoal at the beginning.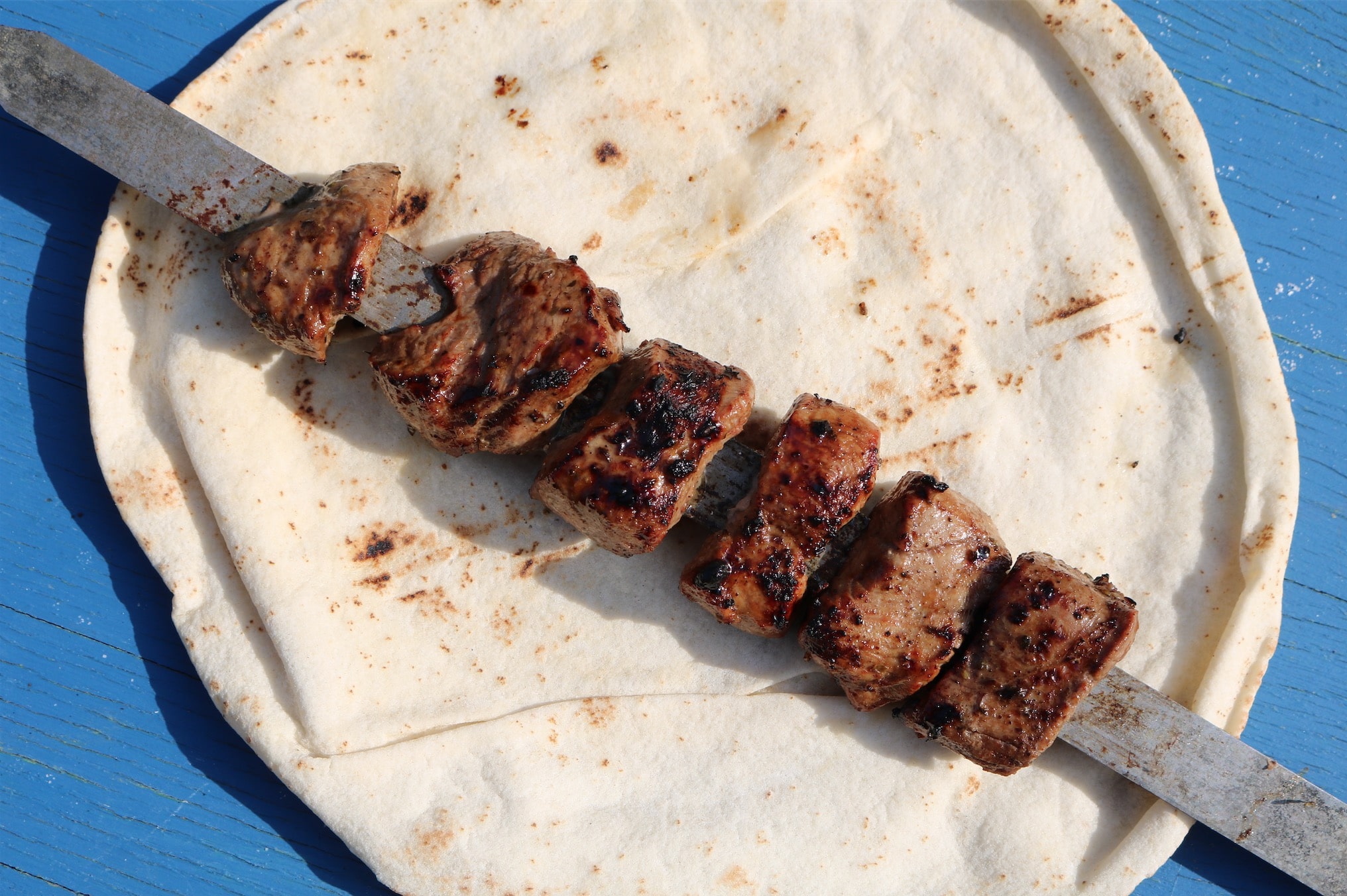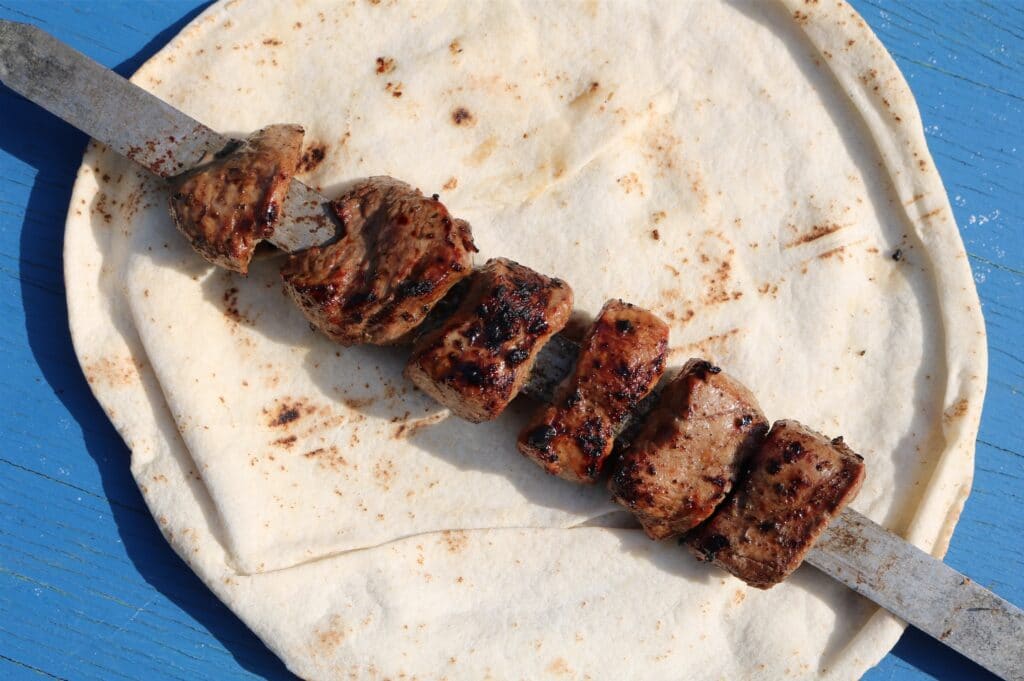 Once I think the meat is done I quickly place them inside some opened flatbreads to keep them warm and tender.
That said I love to eat lamb kebabs right away at risk of burning my fingers.
I know people say you should let the meat rest but sorry I can't wait that long, too busy eating the best Lebanese lamb kebabs.
Where's my next one? 😋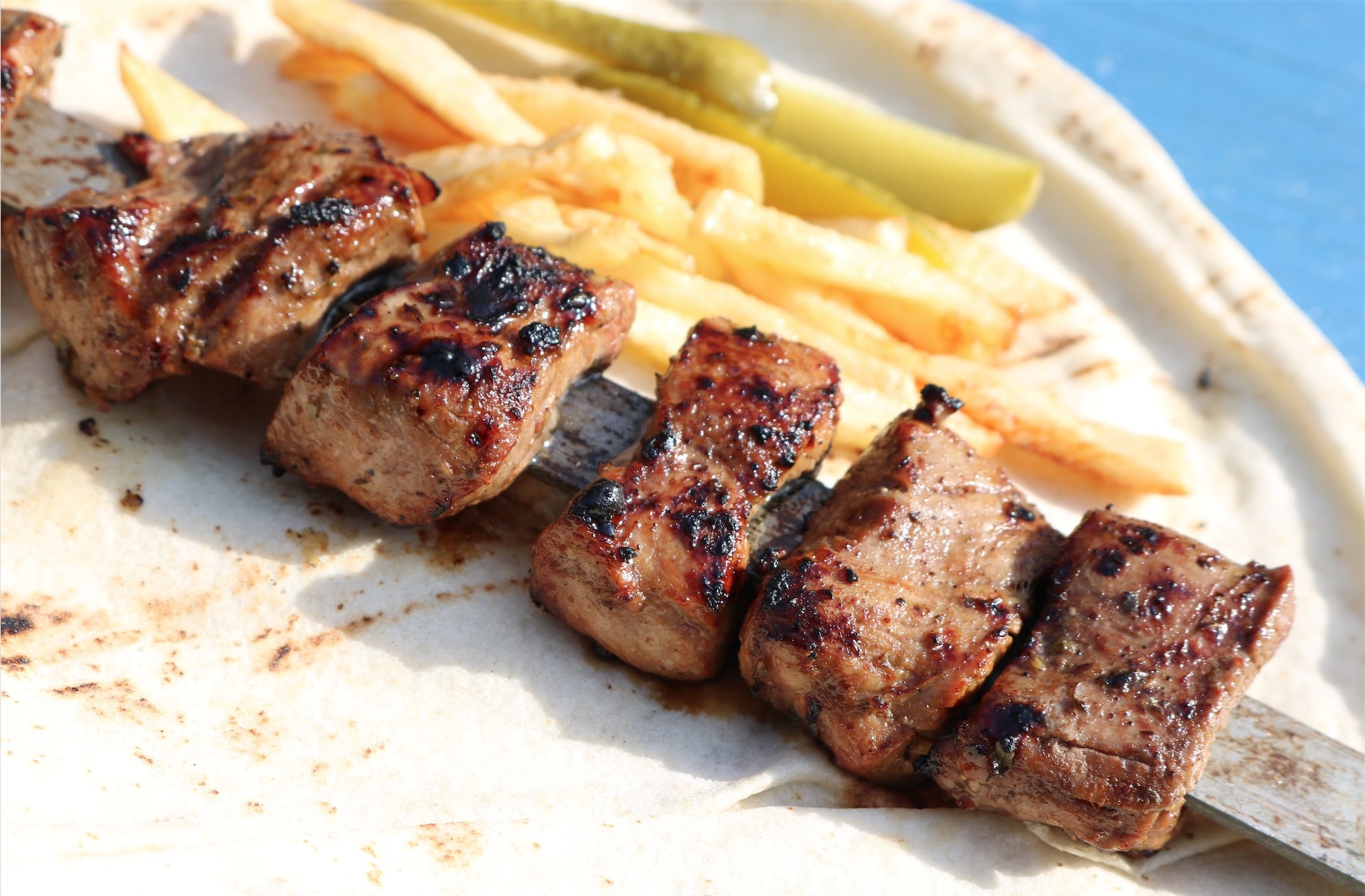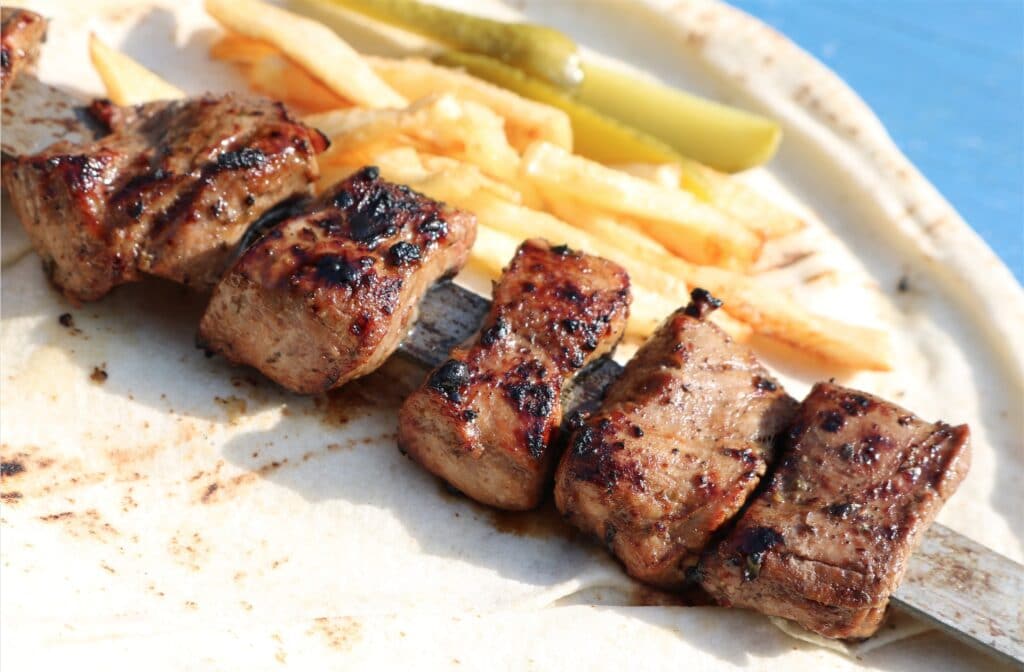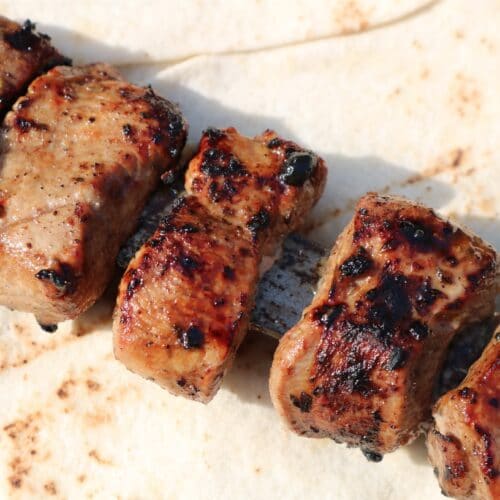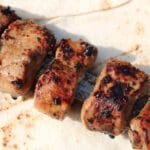 Lebanese Shish Lamb Kebabs (lahm meshwi)
Easy Lamb kebabs with an oregano and pomegranate molasses marinade
Ingredients
500

g

lamb fillet diced into cubes

½

teaspoon

dried oregano

½

teaspoon

of salt

¼

teaspoon

black pepper

2

tablespoon

regular olive oil suitable for cooking

2

tablespoon

pomegranate molasses
Instructions
In a bowl, add the regular olive oil, pomegranate molasses, dried oregano, salt and black pepper and stir well

Add the lamb cubes and stir with the marinade to coat well. Cover and refrigerate overnight or at least a few hours before grilling

Take the marinated meat out of the fridge at least half an hour before you grill. Skewer the lamb pieces on metal skewers and set on a tray

Once the charcoal is ready, grill the lamb kebabs on each side for a few minutes until slightly charred

Transfer the cooked kebabs inside some flatbreads to keep them warm and tender

In a small dipping bowl, add some pomegranate molasses to serve with the grilled lamb (optional)
If you make any of our recipes let us know how it went by giving us a star review below.
Check out our Youtube page for full video tutorials, our Facebook group to discuss Lebanese cooking, as well as our tiktok page for quick tips.
You might also like these other recipes from the Zaatar and Zaytoun collection: