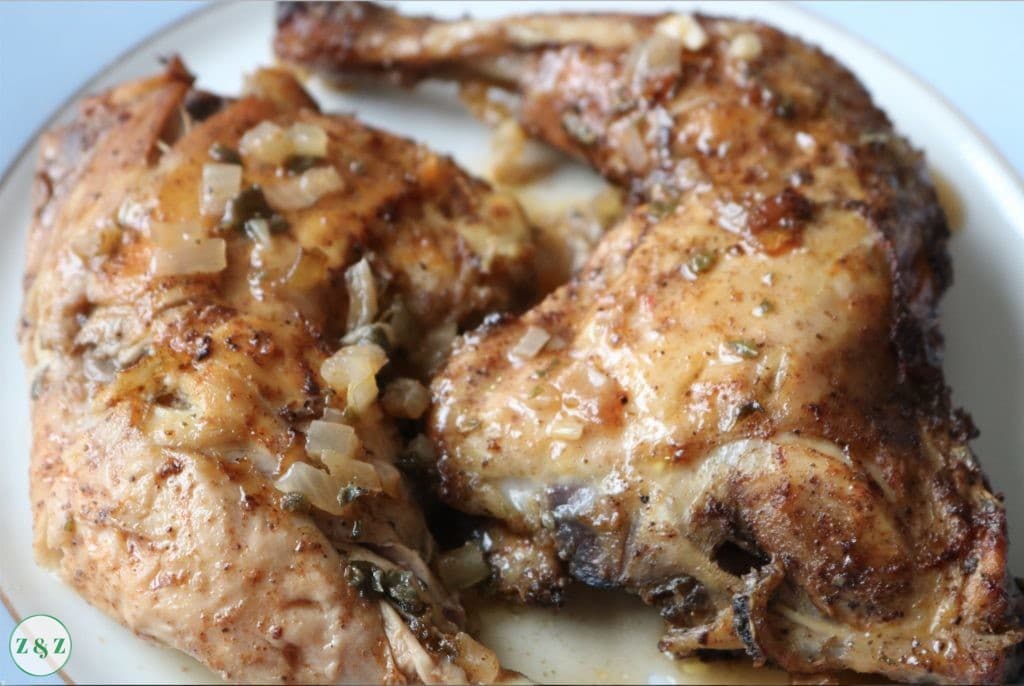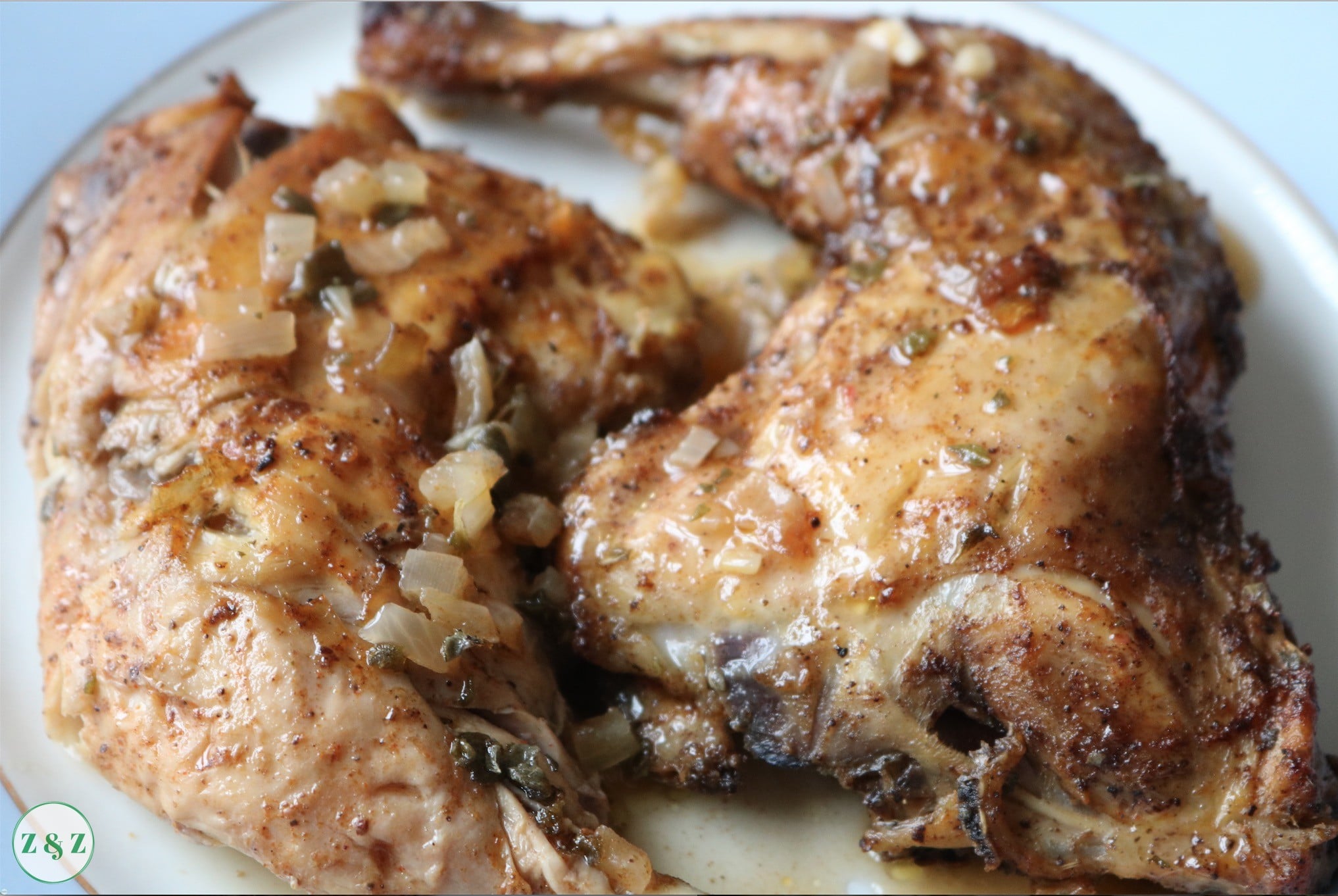 My mums zaatar chicken is unrivalled in its deliciousness because her recipe brings out the tanginess of the zaatar without scorching it.
I've seen a lot of recipes that instruct you to just marinade the chicken in zaatar then bake it which means you end up with a very dark and sometimes bitter result.
Our way of making it requires you to marinade the chicken in spices first then cook it three quarters of the way before you baste it with a zaatar lemon olive oil mix.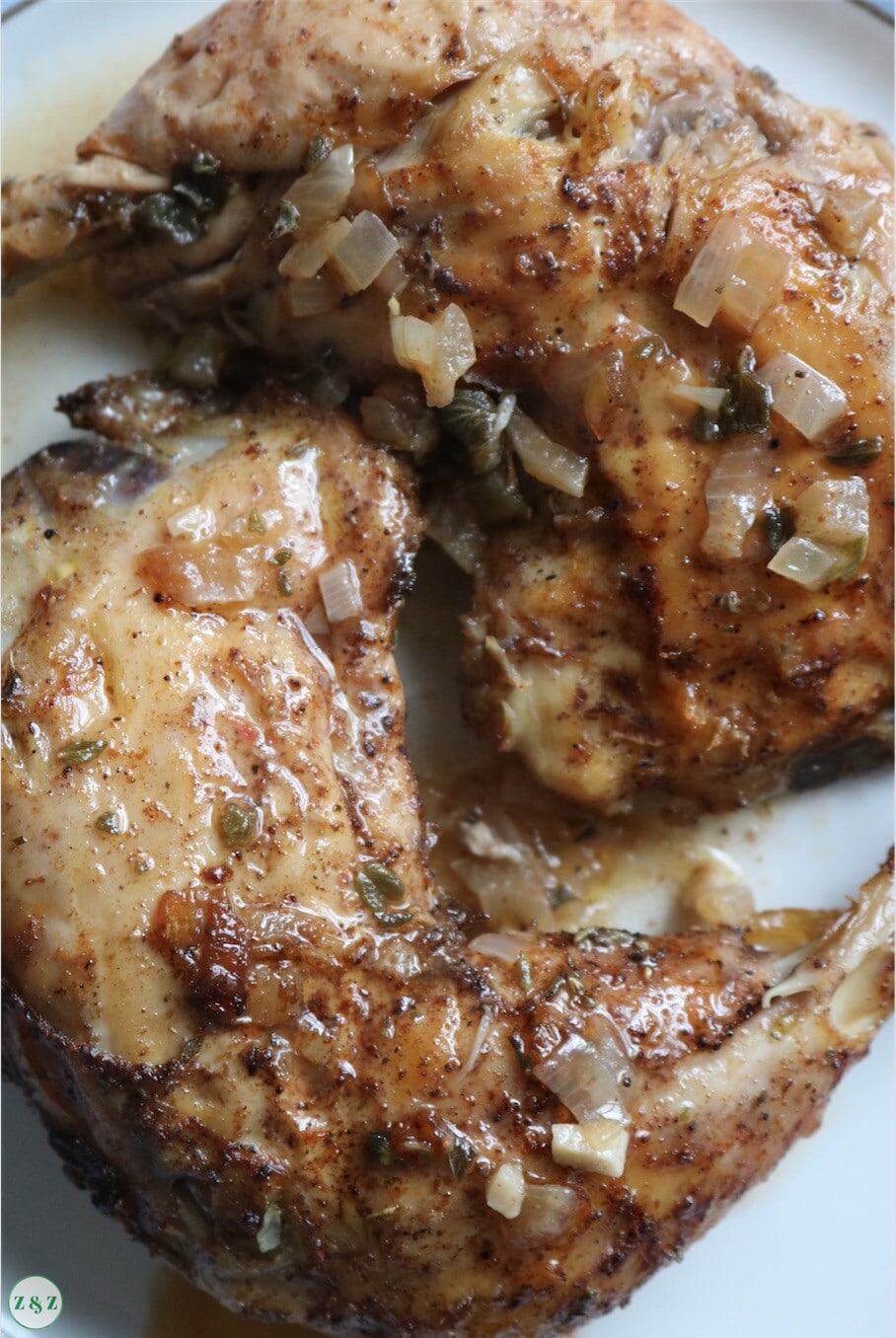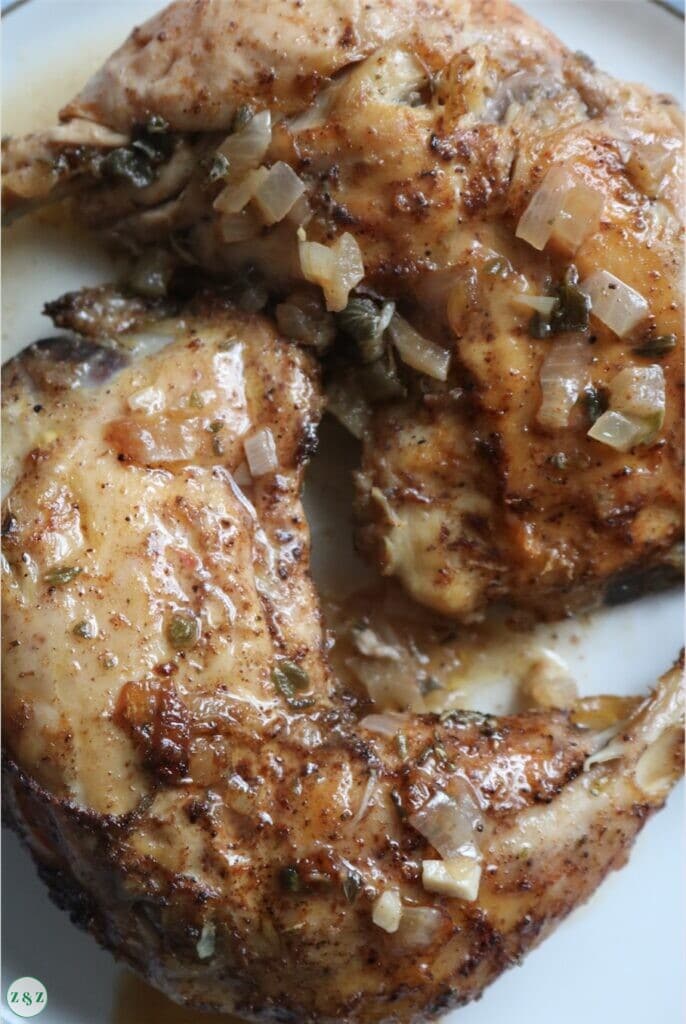 This method keeps the taste and integrity of the zaatar in tact since ultimately it is a herb and herbs are delicate things which require tender loving care.
It is also better to source some dried zaatar leaves that haven't been gorund and mixed in with sumac and sesame seeds if you can, though you can use a standard zaatar mix as well.
I'm not a great fan of couscous in general but for some reason it really works with this dish especially if you have some lovely roasting juices left over which you can drizzle on top.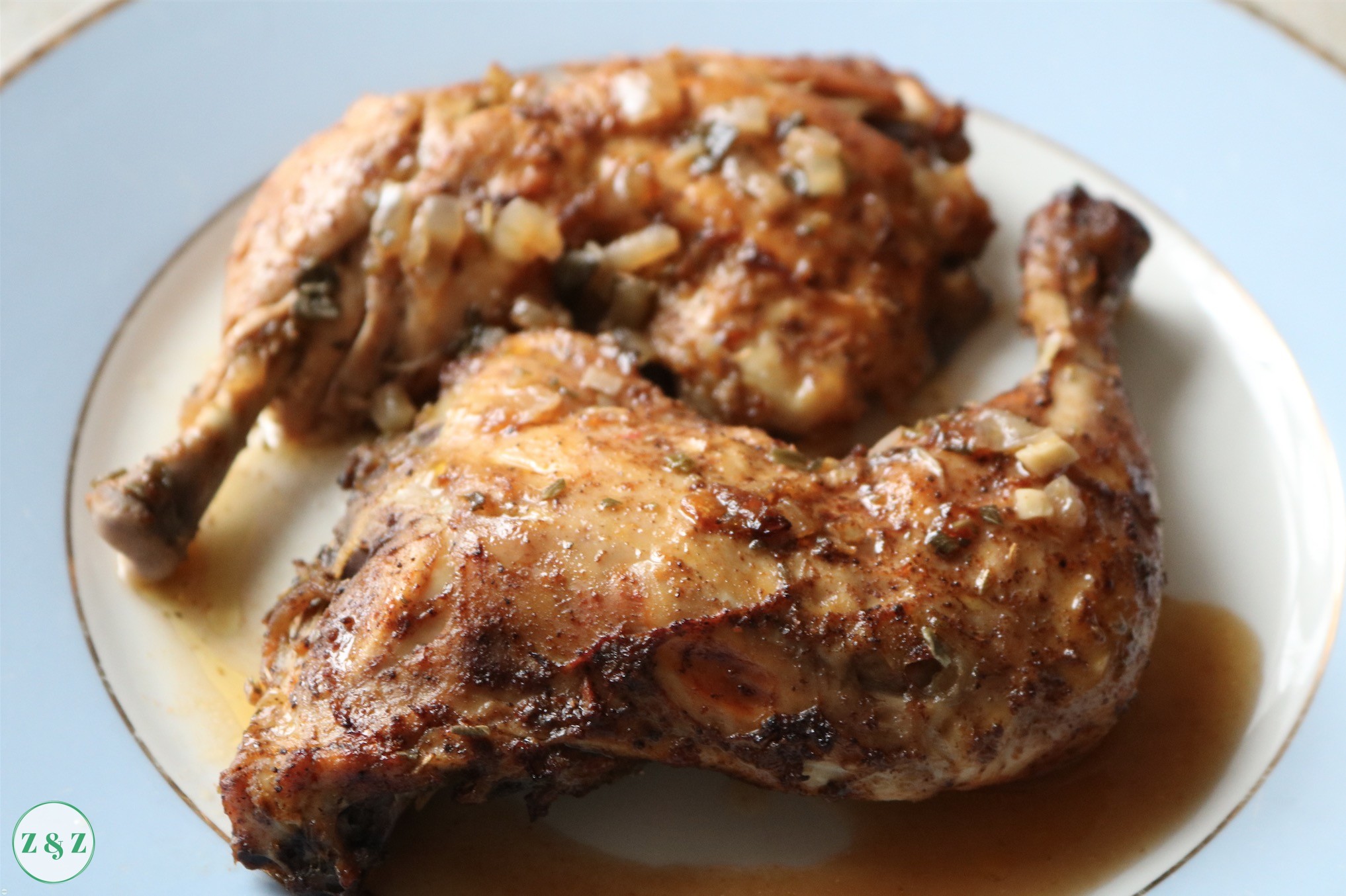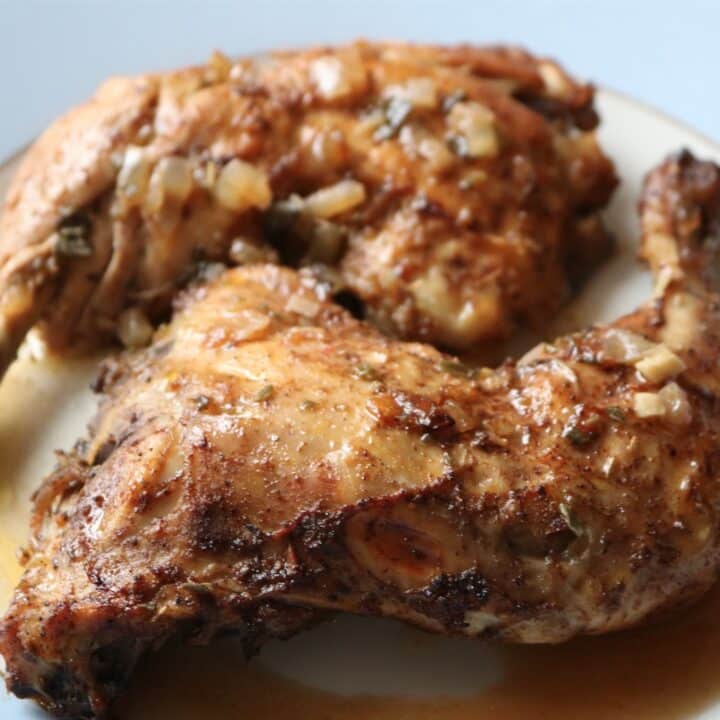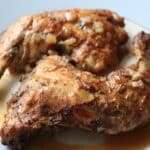 Zaatar Chicken
The Only Zaatar Chicken Recipe You Will Ever Need
Cook Time
1
hour
30
minutes
Total Time
1
hour
50
minutes
Ingredients
4-6

chicken thighs or 1 chicken quartered

For the marinade:

1

onion

3

garlic cloves

1

teaspoon

salt

1

tablespoon

of regular olive oil or a good drizzle

2

tablespoon

lemon juice

1

teaspoon

seven spice

½

teaspoon

turmeric

1

tspn sumac

½

teaspoon

black pepper

For the basting mix:

1

tablespoon

dried zaatar leaves

3-4

tablespoon

regular olive oil

3-4

tablespoon

lemon juice

1

teaspoon

salt
Instructions
Peel the onions and garlic and puree them in a blender until you make a thick paste (or finely chop) and add to a dish or bowl where you will marinade the chicken

Add 1 full teaspoon of salt, lemon juice, 7 spice, turmeric, sumac and black pepper to the onion garlic mix along with a good drizzle of regular olive oil

Wash the chicken and season with salt and pepper before adding to the marinade. Rub the marinade in the chicken well and under the skin too

Leave the chicken to marinade overnight if possible or for a few hours at least

When you are ready to cook the chicken, take it out about an hour before and bring to room temperature. Heat the oven to 200°C (390F)

Place the chicken in a roasting dish if you haven't done so already, cover with foil and put it in the heated oven for 15 mins at 200°C (390F) then lower the heat to 170°C (340F) and cook for another hour

Turn the chicken half way through

Prepare the basting juice by mixing the dried zaatar leaves with 3-4 tablespoon each of olive oil and lemon juice and 1 teaspoon of salt

After an our on low heat, take the chicken out and remove the foil

Drizzle the basting mix over the chicken and return to the oven for another 15 minutes

Serve with rice or couscous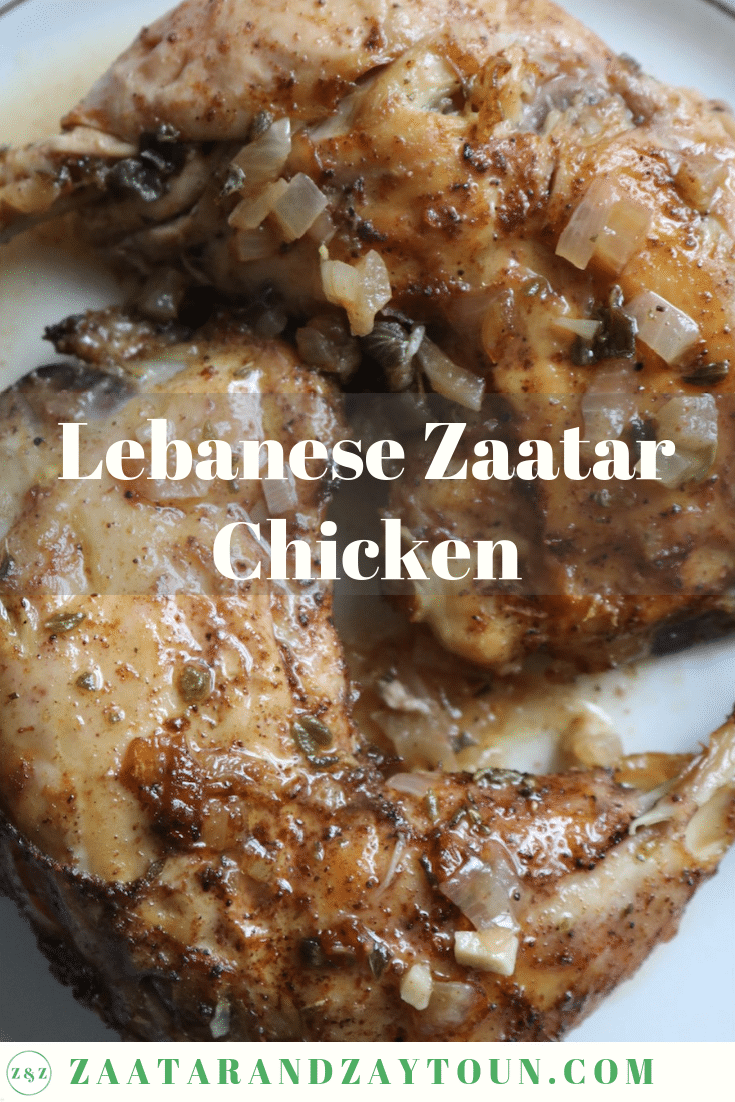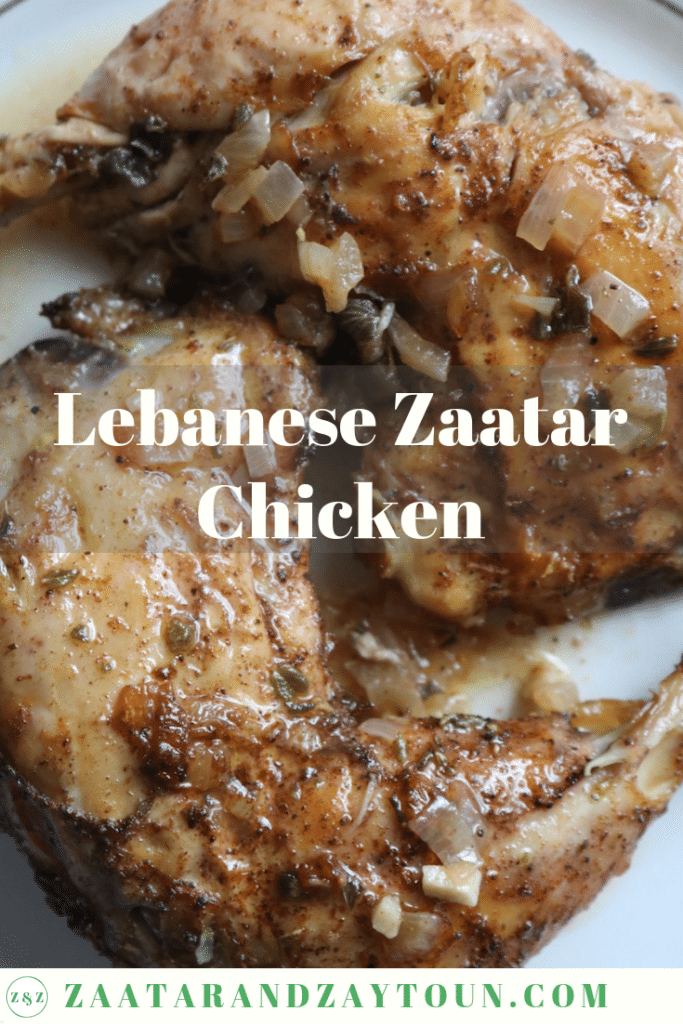 If you make any of our recipes let us know how it went via our Social Media platforms.
We have a lively Facebook group where we post frequent recipes and discuss Lebanese cooking in general, as well as a handy Pinterest page where you can save all of your favourite Zaatar and Zaytoun recipes!
You might also like these other recipes from the Zaatar and Zaytoun collection: