Maamoul mad b ashta has to be the queen of the Lebanese cream desserts. When I first tried it in Lebanon I became addicted. A thick cream filling encased in what is essentially a semolina cake, topped with pistachios and drizzled with an orange blossom syrup.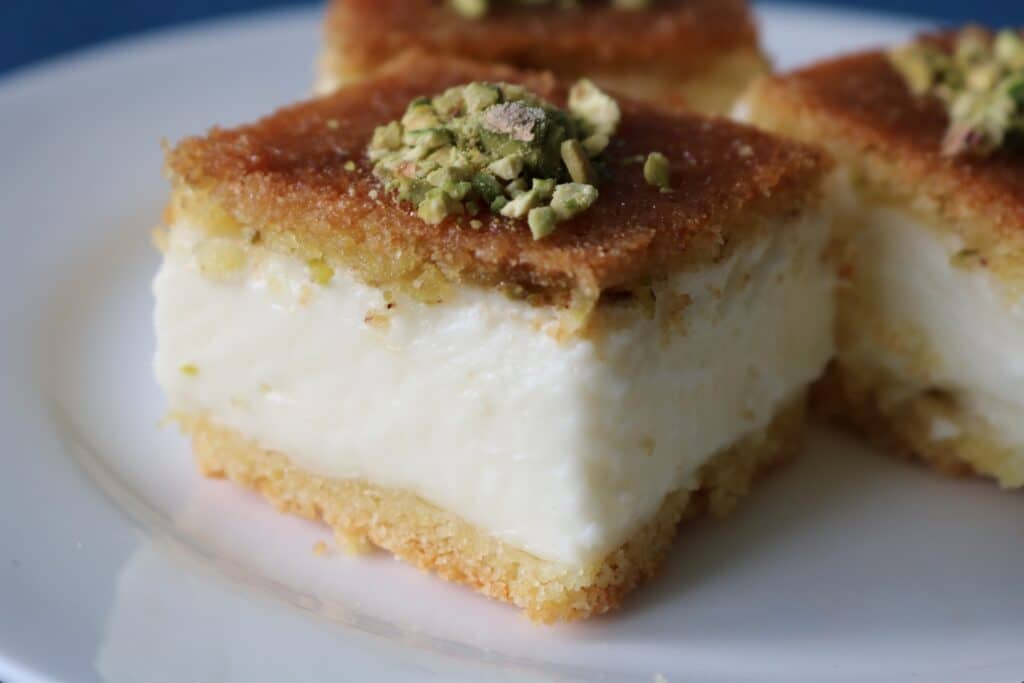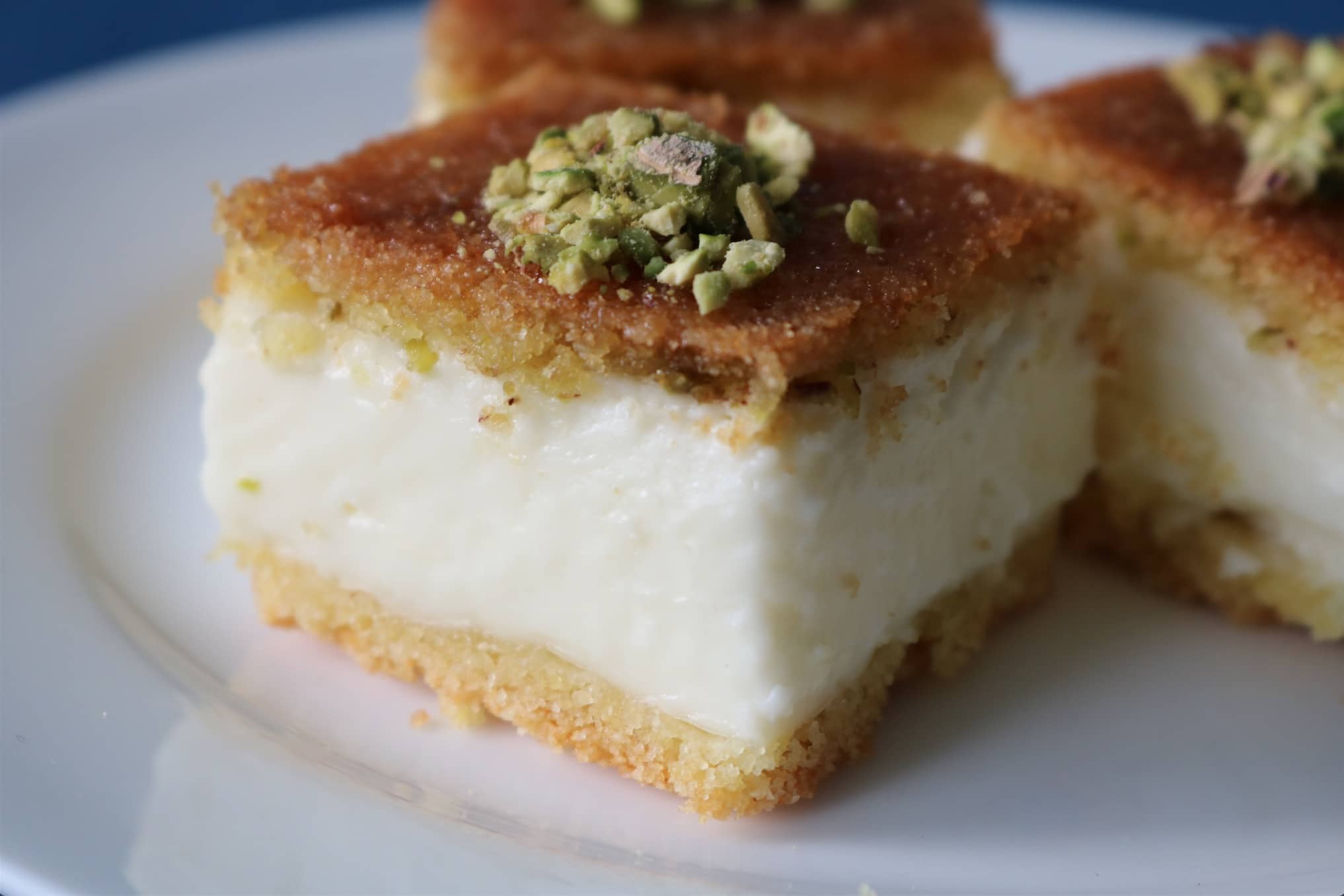 How thick do I make the ashta?
The ashta or 'clotted cream' needs to be of pouring consistency but thick enough to hold it's shape when baked. I turn off the heat a few seconds after it starts to thicken and have the semolina dough mix already prepared so the ashta doesn't set too quickly. The longer it cools the thicker it becomes so prep is key.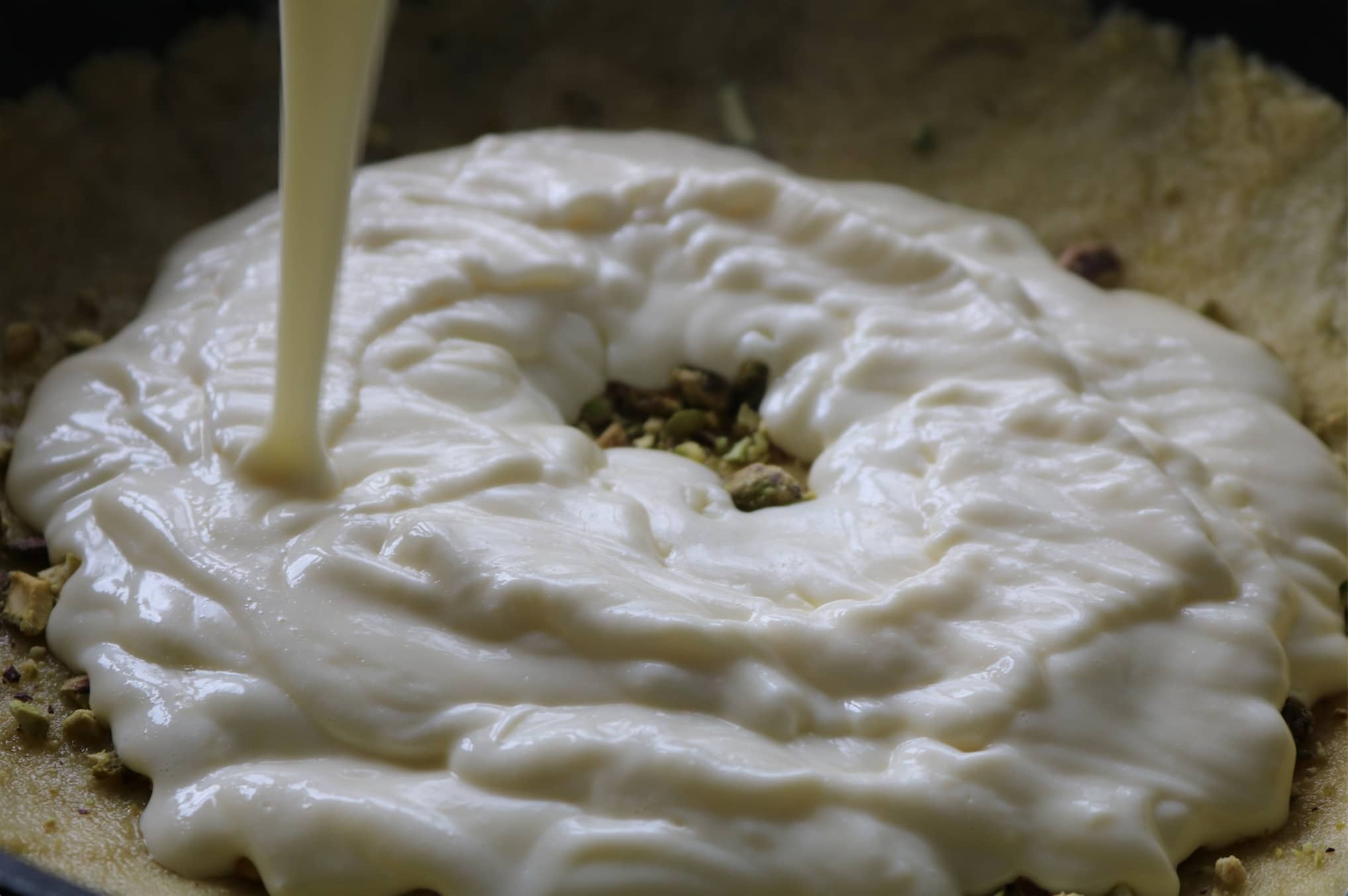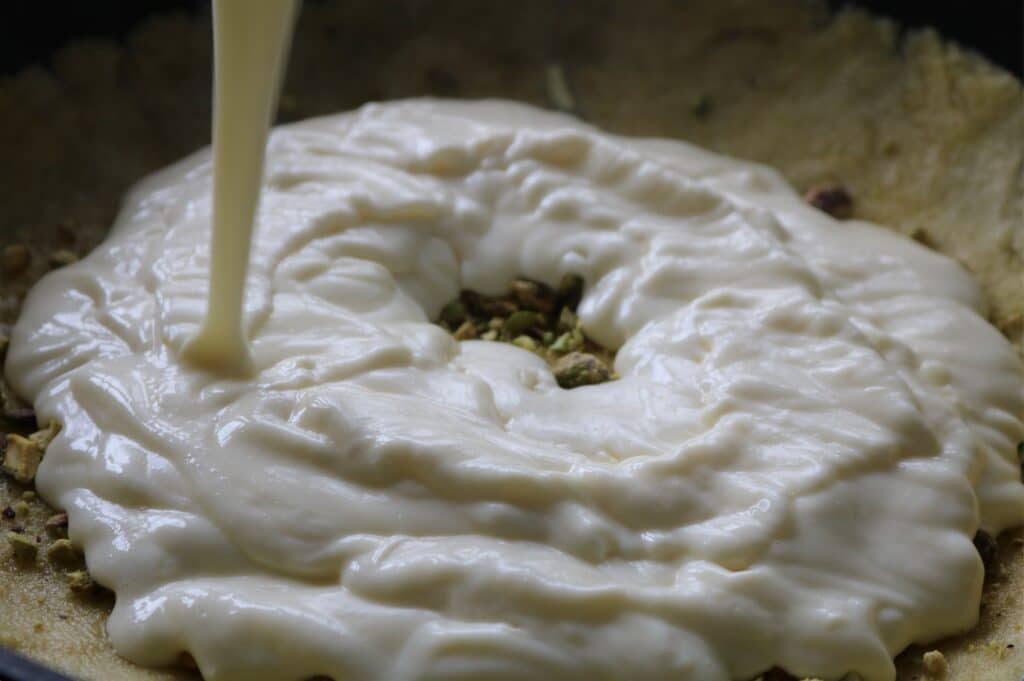 Fine or coarse semolina?
I used to think that fine semolina was better and would make for a nicer texture, but actually after trying both, I can now confirm that coarse semolina is superior for this recipe.
Coarse semolina will give a crumblier cake and can be found in most supermarkets easily these days.
How do I assemble the maamoul mad?
Once you make the semolina dough mix, it should be a little sticky and not to crumbly, just enough so you can roll it out.
Take half the dough mixture and press it down in the pan and up on the sides. Pour in the ready made ashta and sprinkle on a layer of crushed pistachios.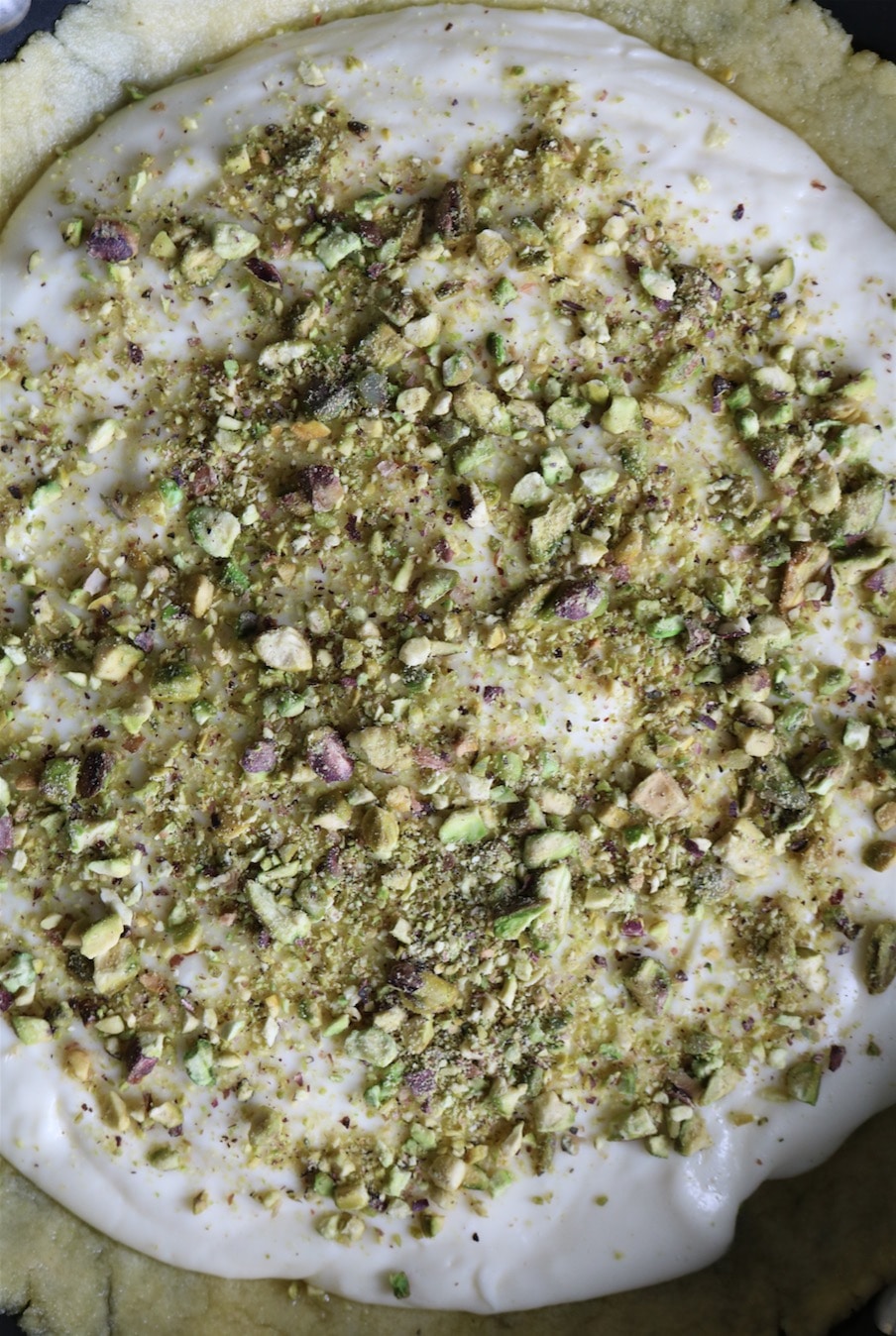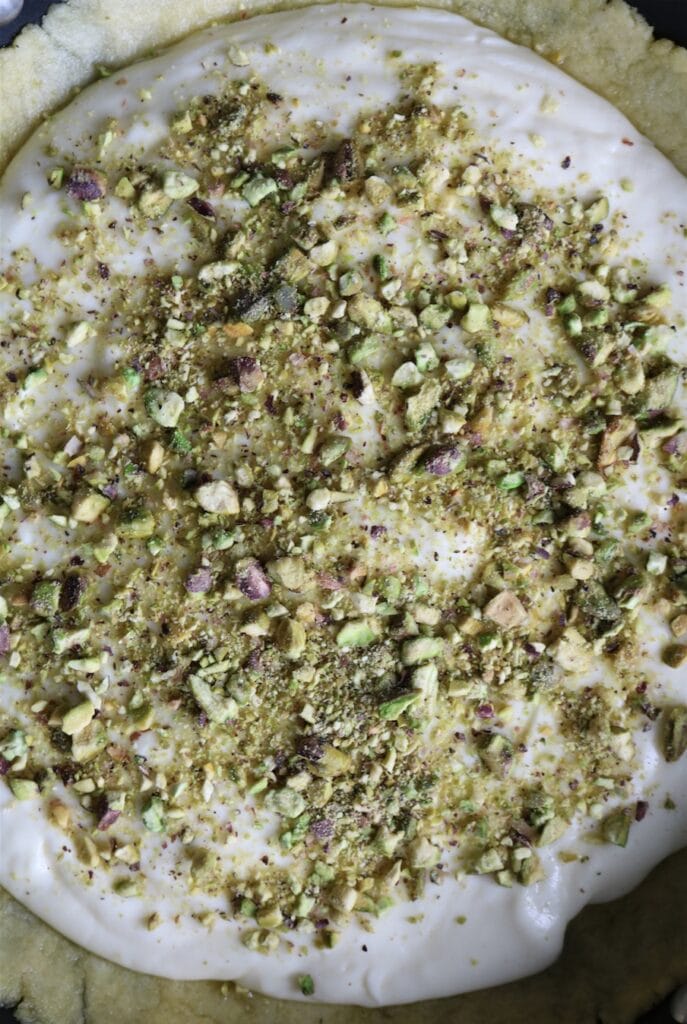 You will need cling film or baking parchment to roll the second layer and flip it on top of the ashta cream.
This is a bit tricky and it's fine if you don't get it perfect first time as this will form the bottom of the cake when turned out.
If you can't do it in one go, do it in big sections and patch it together as much as you can. The more you practise the better you will get at it.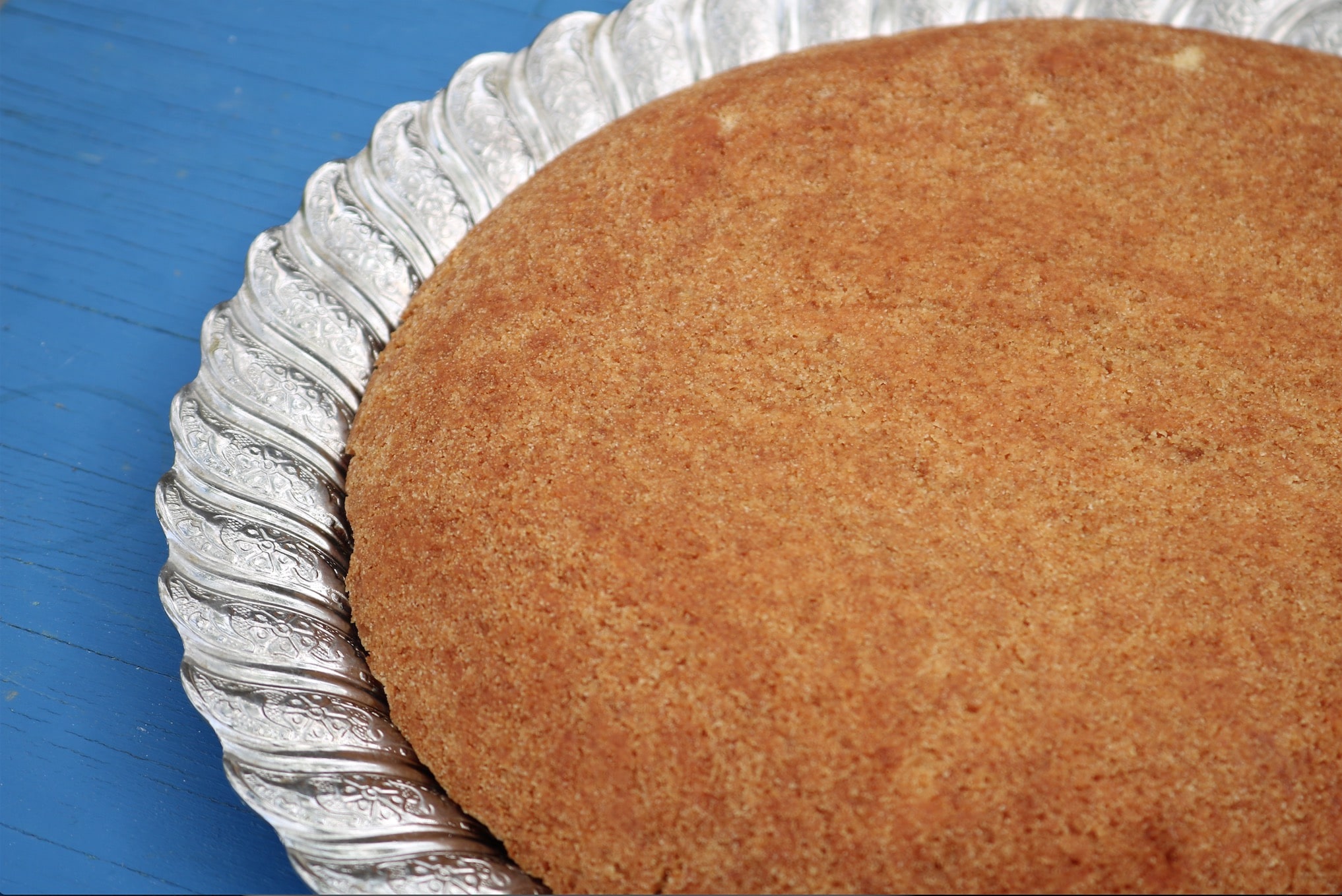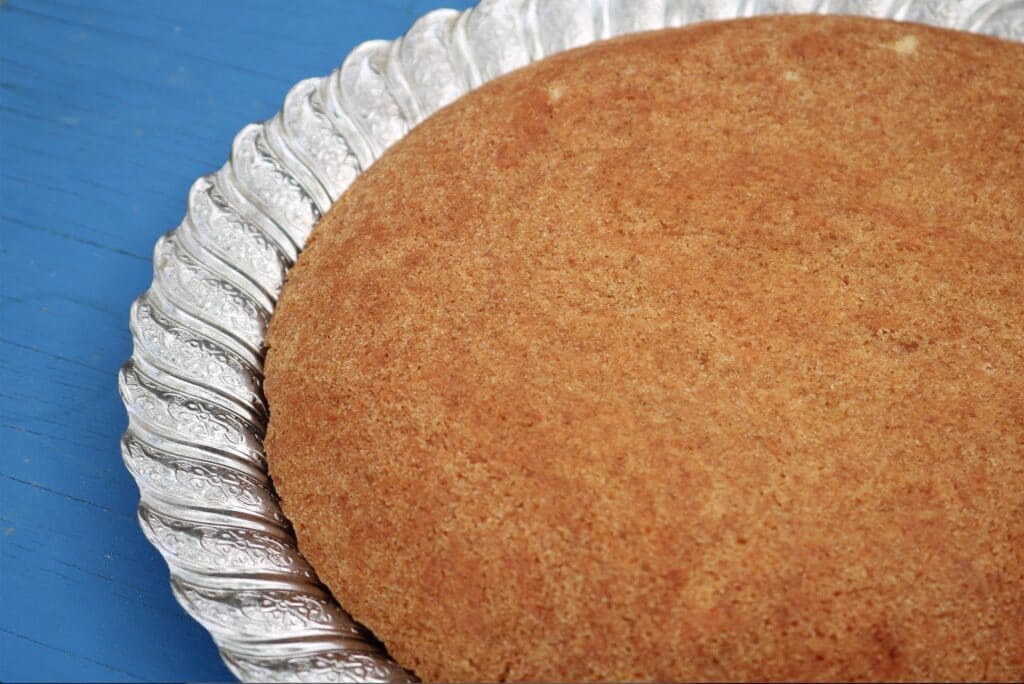 What pan should I bake it in?
Many people like to make these Middle Eastern desserts in aluminium pans. They provide a good heat distribution and are inexpensive.
However I prefer to use my non stick pans that are just as good in distributing heat and turn out the maamoul mad perfectly every time.
Use whatever large baking pan you have and adjust the recipe slightly if you have to.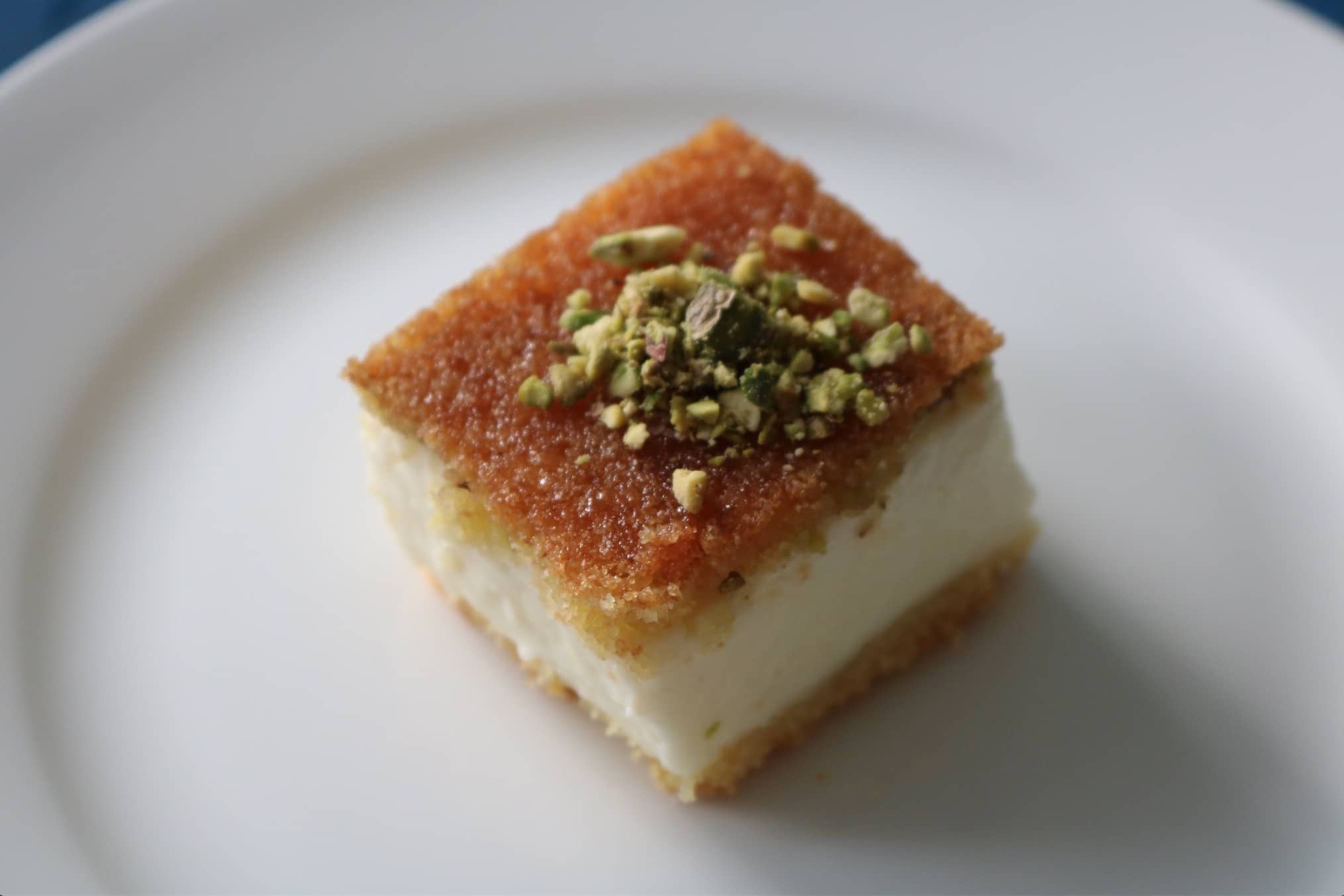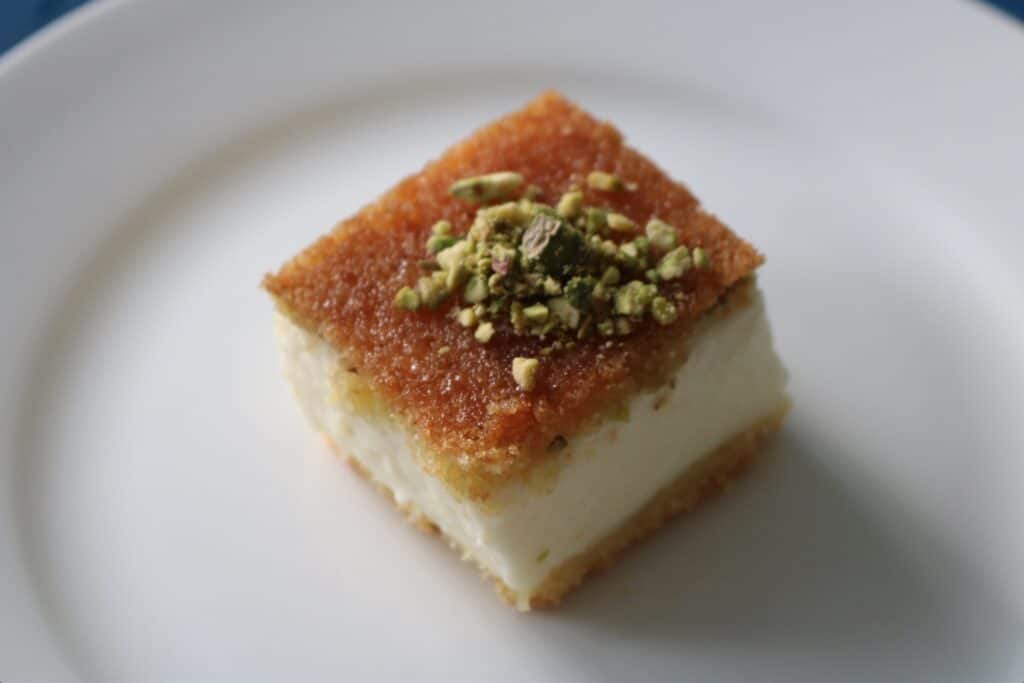 What if i don't have orange blossom water?
The orange blossom is supposed to add a fragrant touch. You could replace it with a tiny bit of rose water but don't over do it.
You could also use other flavour enhancers such as vanilla though I haven't tried it myself.
Orange blossom water is available in most Middle Eastern food stores and is useful to have if you like making these type of Arab desserts.
It also fills the house with the most soul warming smell when used in baked goods.
Do I have to make the orange blossom syrup?
So here's the thing. Traditionally it is laced with syrup at the end but I quite like it without the syrup.
Sometimes I add an extra spoon of sugar to the cream if I have no intention of making the syrup.
I don't like overly sweet desserts in general but still need to taste a little sugar which is the whole point after all.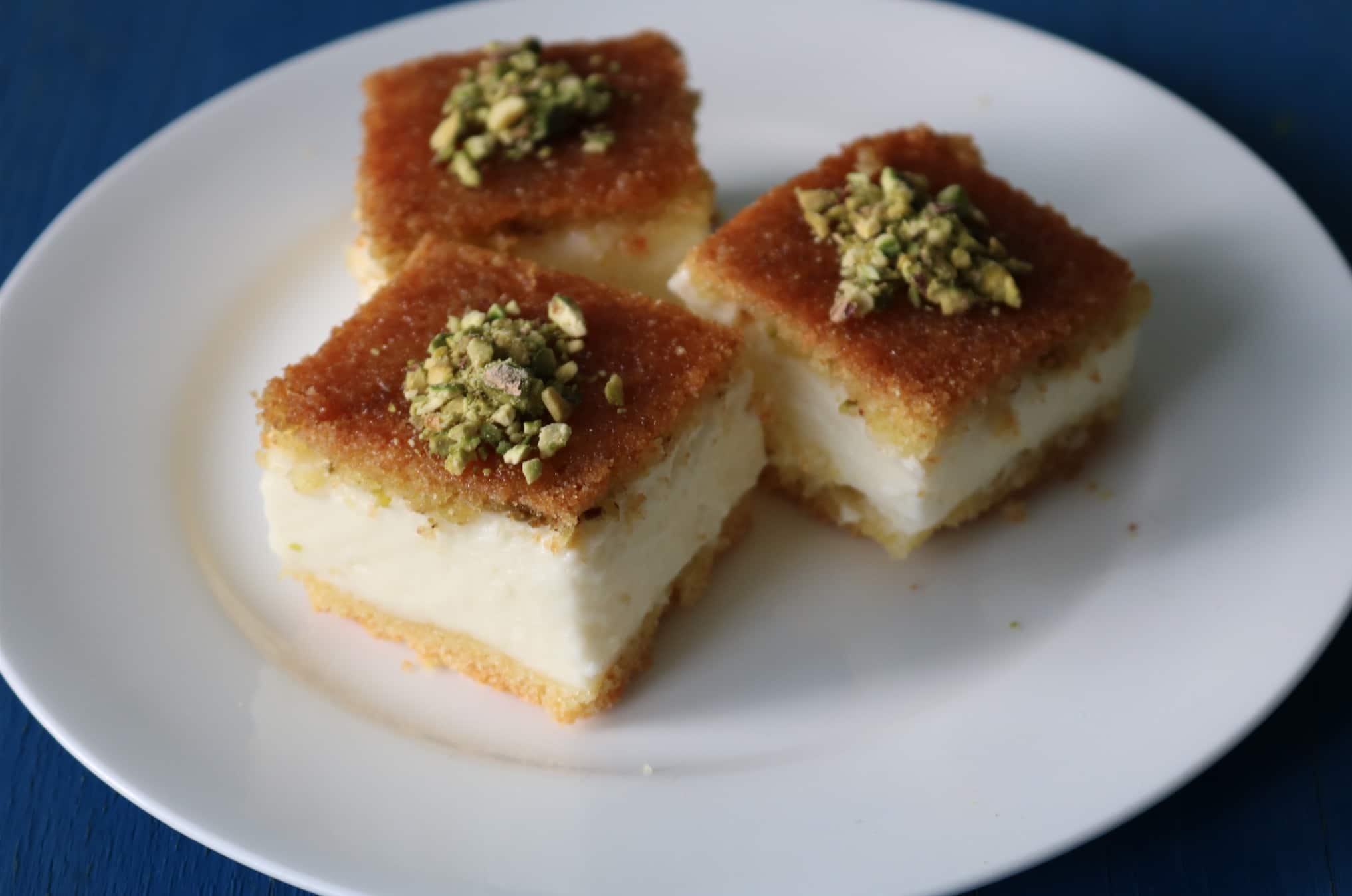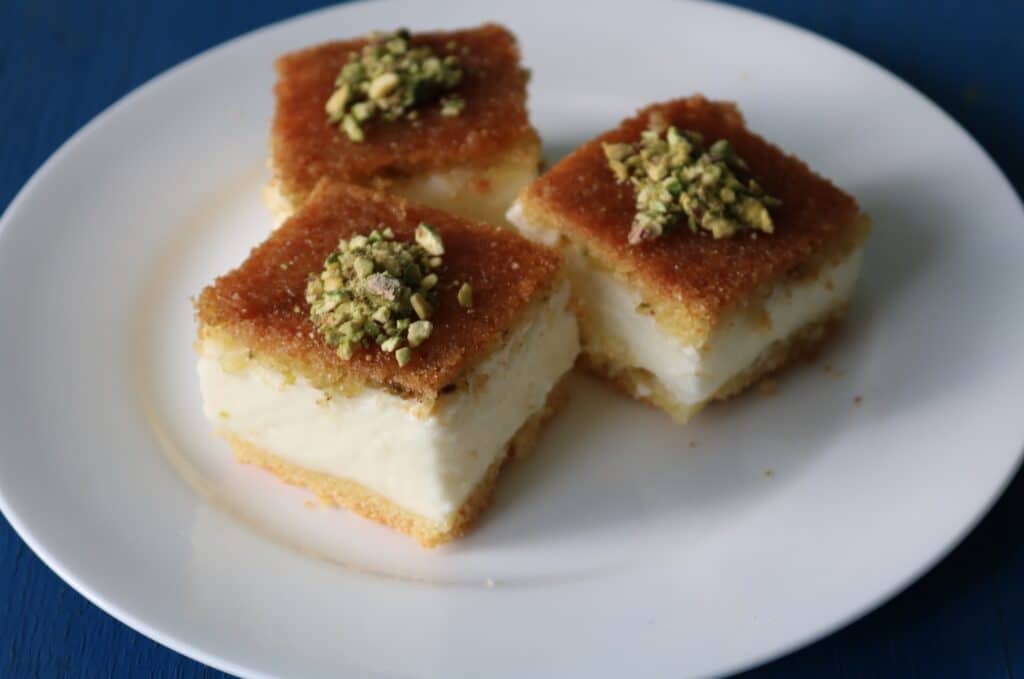 How should I serve maamoul mad bi ashta
After letting the maamoul mad completely cool. Cut it into squares with a sharp knife.
Add a little crushed pistachio to each square and drizzle on some syrup to the pieces you want to serve.
I enjoy maamoul mad most when it has cooled in the fridge for a few hours.
I love to eat these little squares of heaven with my morning coffee and it goes perfectly with tea too.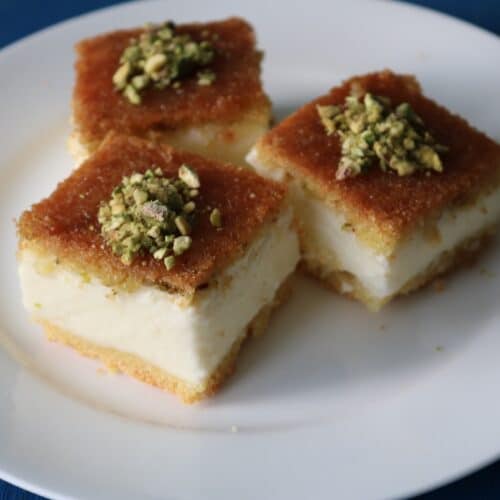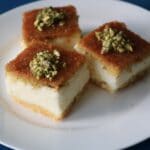 Maamoul Mad bi ashta (Semolina cream Cake)
Baked semolina cake filled with clotted cream topped with pistachios and an orange blossom syrup
Ingredients
½

cup

crushed pistachios + ¼ cup for sprinkling at end
For the semolina dough
2

cups

coarse semolina

½

cup

sugar

⅔

cups

of butter

melted

¾

teaspoon

baking powder

¼

teaspoon

bicarbonate of soda

⅛

teaspoon

salt

tiny sprinkle

4

tablespoon

plain yoghurt
For the clotted cream ashta
11/2

cups

of heavy cream

approx 350 ml

11/2

cups

of milk

approx 350ml

½

cup

of cornstarch

2

tablespoon

sugar

½

teaspoon

orange blossom water
For the orange blossom syrup
11/2

cup

of sugar

¾

cup

of water

⅛

of tsp

Tiny sprinkle of salt

1

tablespoon

lemon juice

1

teaspoon

orange blossom water
Instructions
To make the semolina dough
Combine the semolina, sugar, baking powder, bicarbonate of soda and salt in a mixing bowl and stir together

Add the melted butter, yoghurt and mix together until you have a sticky dough
To make the clotted cream ashta
In a pot, combine the milk, heavy cream, cornflour and sugar and whisk well before putting it on a medium high heat

Keep stirring until the mixture starts to thicken. Add the orange blossom water and stir for another five seconds or so then turn off the heat. Set aside
To make the orange blossom syrup
Combine the water, sugar, salt, lemon juice and orange blossom water into a separate pot and stir until the sugar is dissolved. Bring to the boil on a medium high heat, then add the orange blossom and reduce to a simmer for about five minutes.
To assemble the maamoul mad
Heat the oven to 180 °C (350 F)

Take half the semolina dough and line the bottom and sides of a medium baking pan by pressing down with your hands.

Add a layer of crushed pistachios then pour the ashta cream on and gently smooth out with a spatula. Add another layer of crushed pistachios on top of the cream.

On either parchment baking paper or cling film, roll out the rest of the dough according to the shape of your pan. Carefully flip it over the cream layer and peel off gently.

Smooth out the top layer if necessary and patch any areas you might have missed.

Bake for 35 minutes until golden. When done take out the pan and let it cool completely. Then turn it over onto a large platter and slice into squares.

Add a little crushed pistachio on each square and drizzle with a little orange blossom syrup

Serve either warm or cold. Store in an airtight container for up to 3 days.
Recipe Notes
Cornstarch is known as cornflour in the UK and is used to thicken sauces
You may also like these recipes from the Zaatar and Zaytoun collection