Time for another Middle Eastern dessert to add to your summer picnic spreads.
This time we have Namoura, an eggless semolina coconut cake drizzled with a sugar syrup, also known as Basbousa in the wider Middle East.
If you are not familiar with it, you really should get to know one another.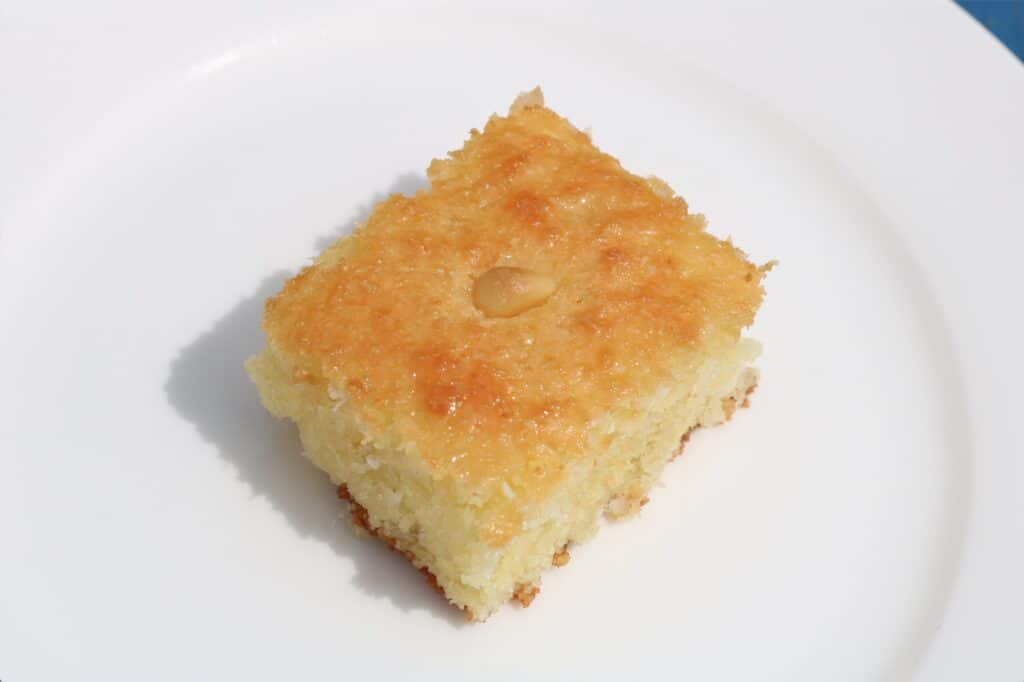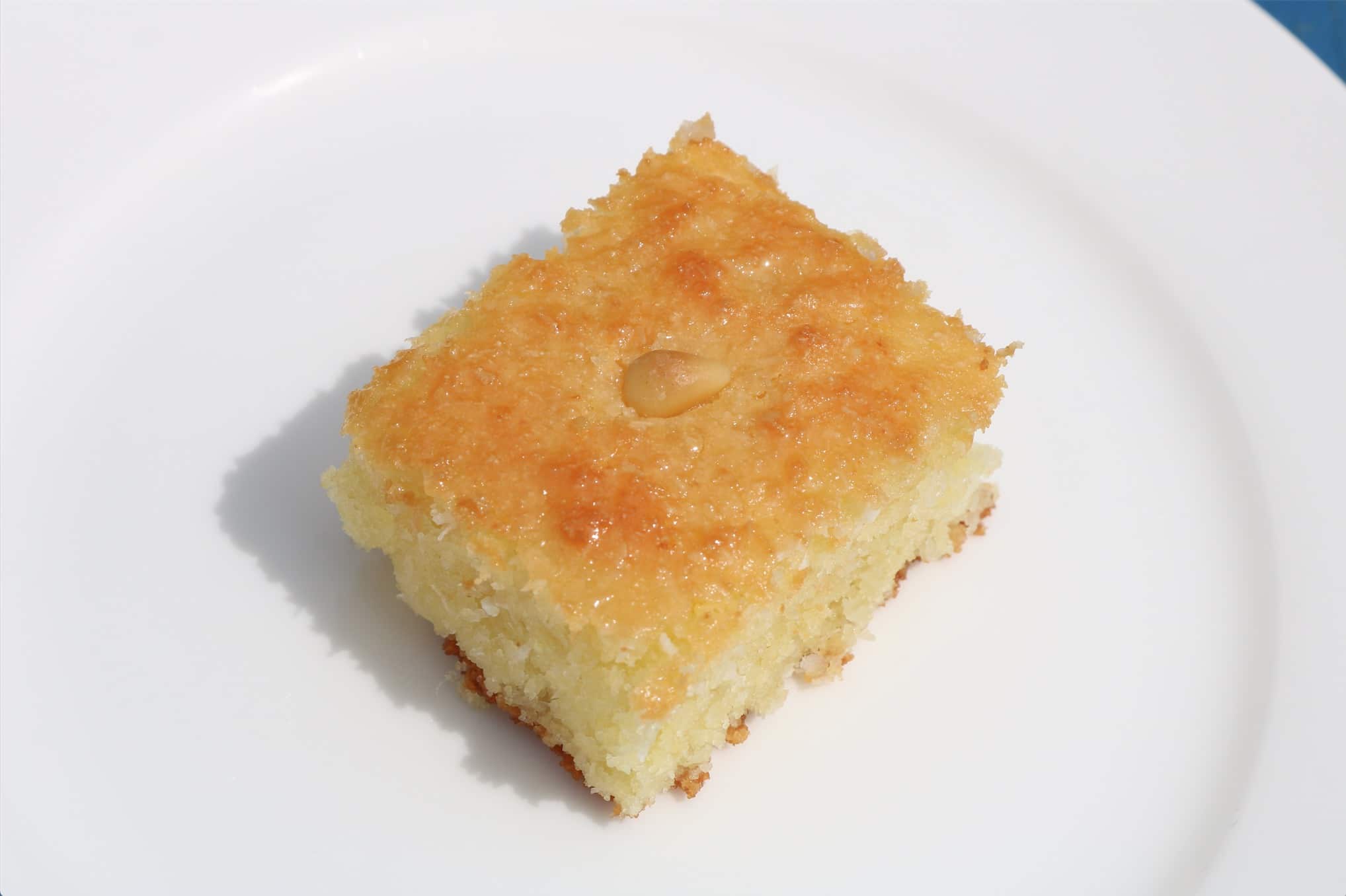 The perfect Namoura
I have tested many many many namoura recipes and adjusted this final version to my liking. I found that I don't like the texture too dense, which makes it difficult for the syrup to trickle down.
Even though some recipes don't have coconut, I quite like it as it adds another dimension to the final flavour.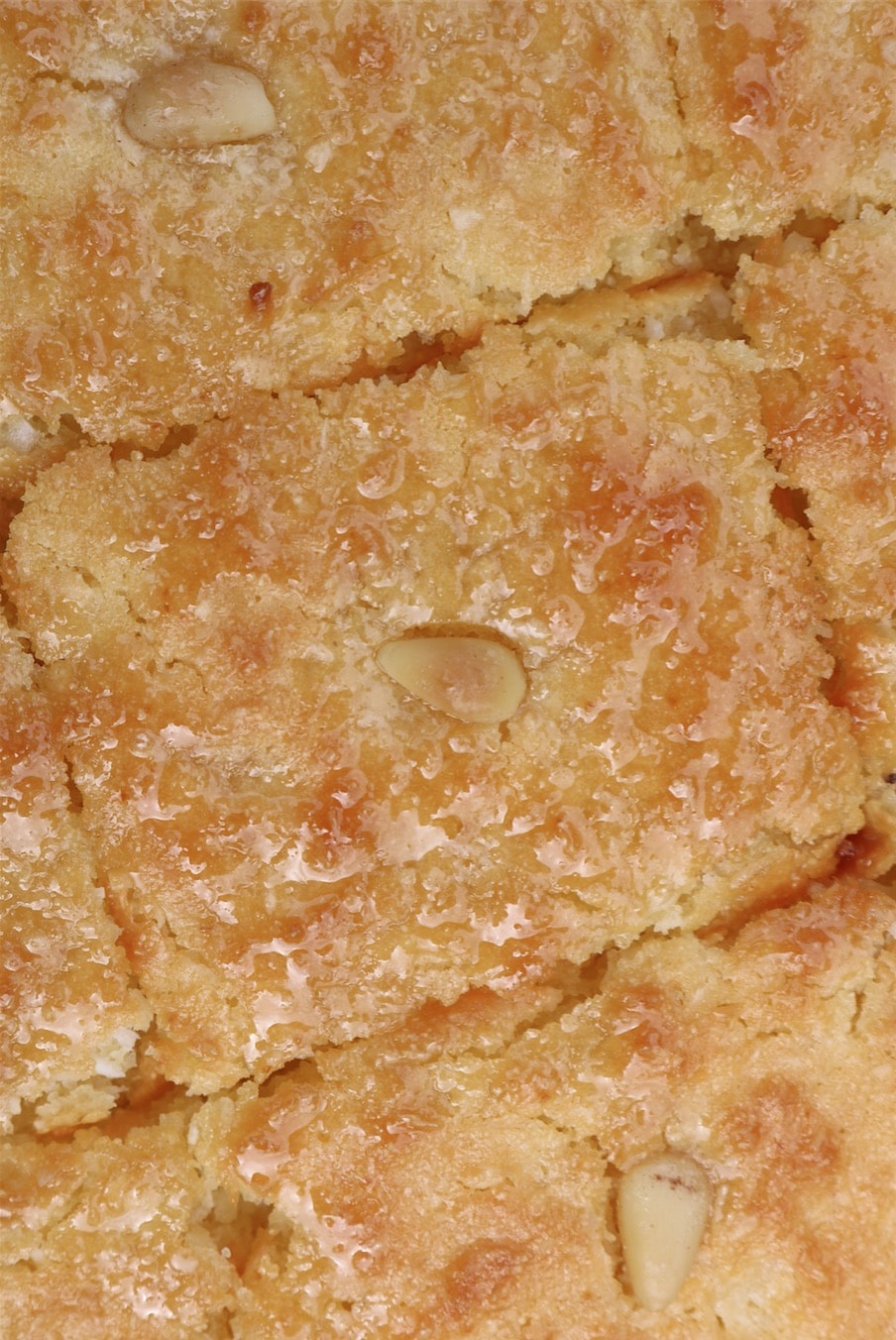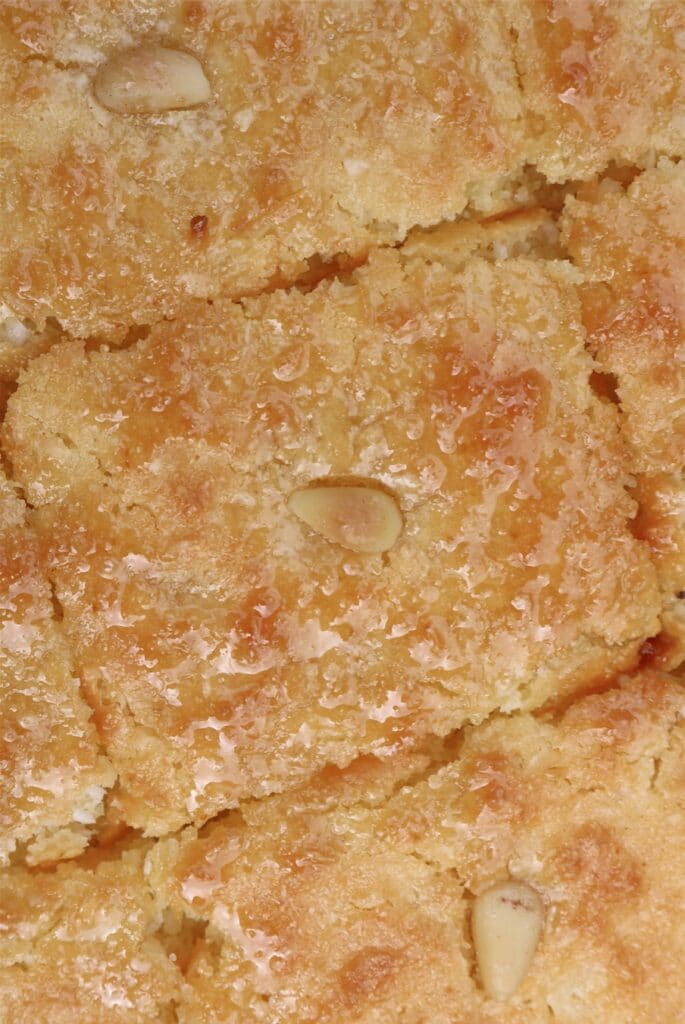 My ideal namoura is light and fluffy and makes you want to eat another one even before you've even finished the first piece.
I don't want a super sickly sweet namoura that clogs your throat and leaves you gasping for water 😳
The semolina
Semolina is a key ingredient in many Lebanese desserts such as Maamoul Mad bi Ashta and Sfouf.
You can find it in most supermarkets and usually comes in big sized bags. It comes in either 'fine' or 'coarse' texture.
In this recipe i've opted for coarse semolina as I want a fluffier cake rather than a dense one. Though you can use fine semolina if you have it as it also works.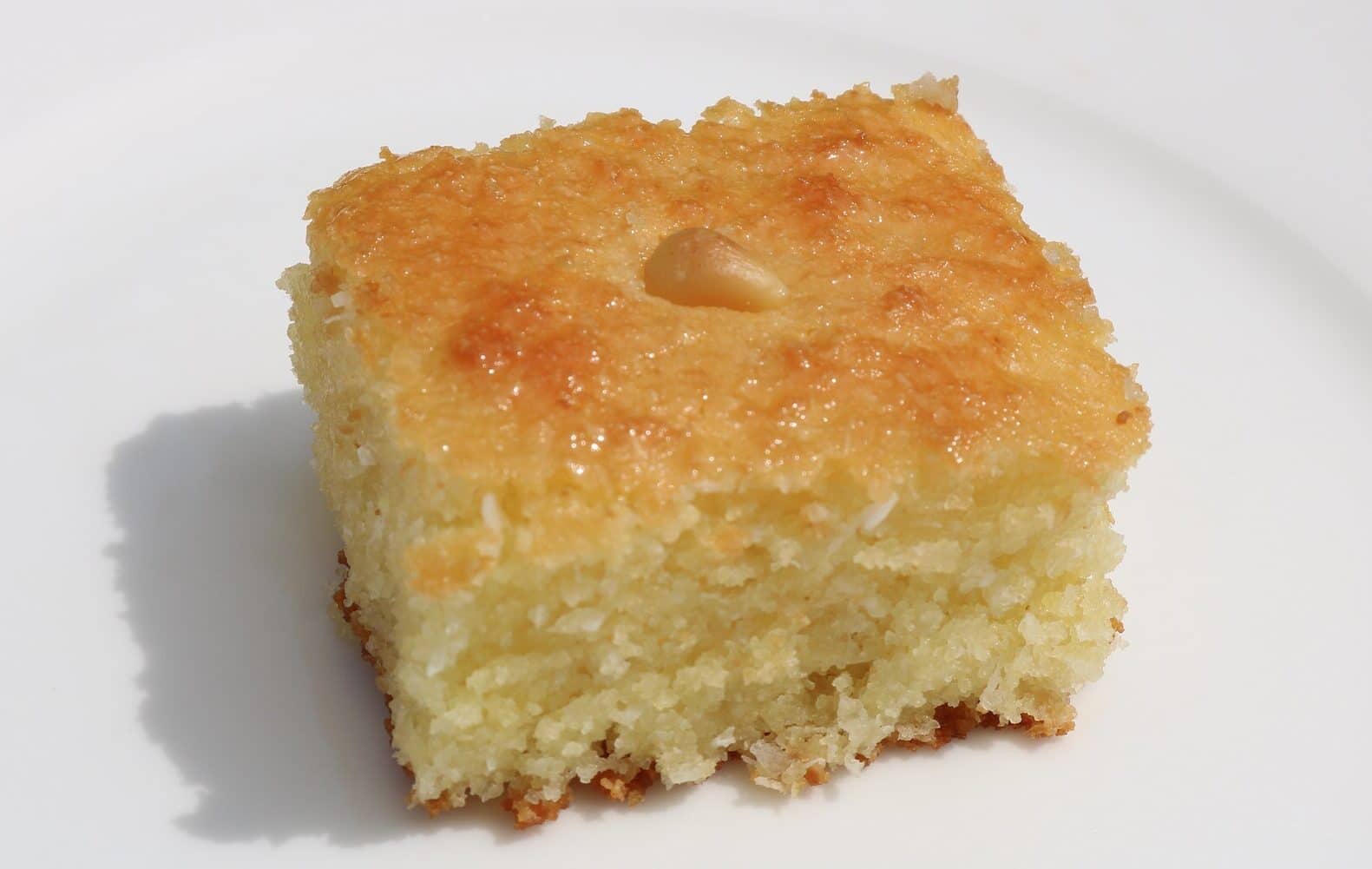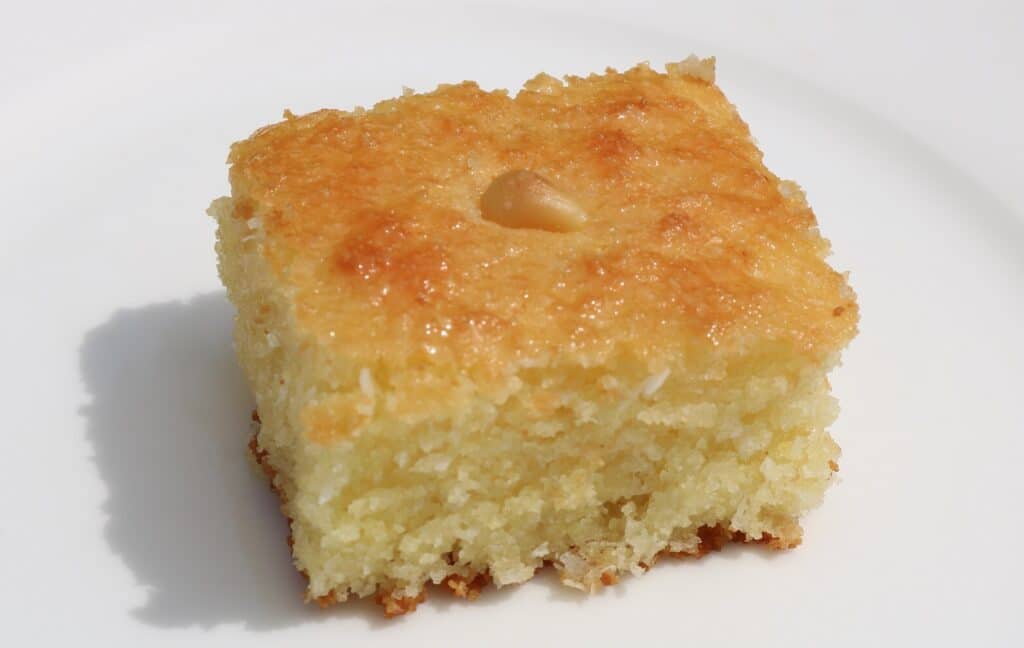 Top tips
Once you combine all the ingredients which literally takes five minutes, let the namoura sit in the bowl to 'rest' for around half an hour.
You might need to loosen the texture with a little extra milk. You can also swap the oil for melter butter.
Brush the cake tin with a thin layer of tahini (again not too much) and this will prevent the cake sticking to the pan
Make sure you cut the diamond shapes in the namoura cake mxture BEFORE you put it into the oven and not after. You might need to recut it when it cools down.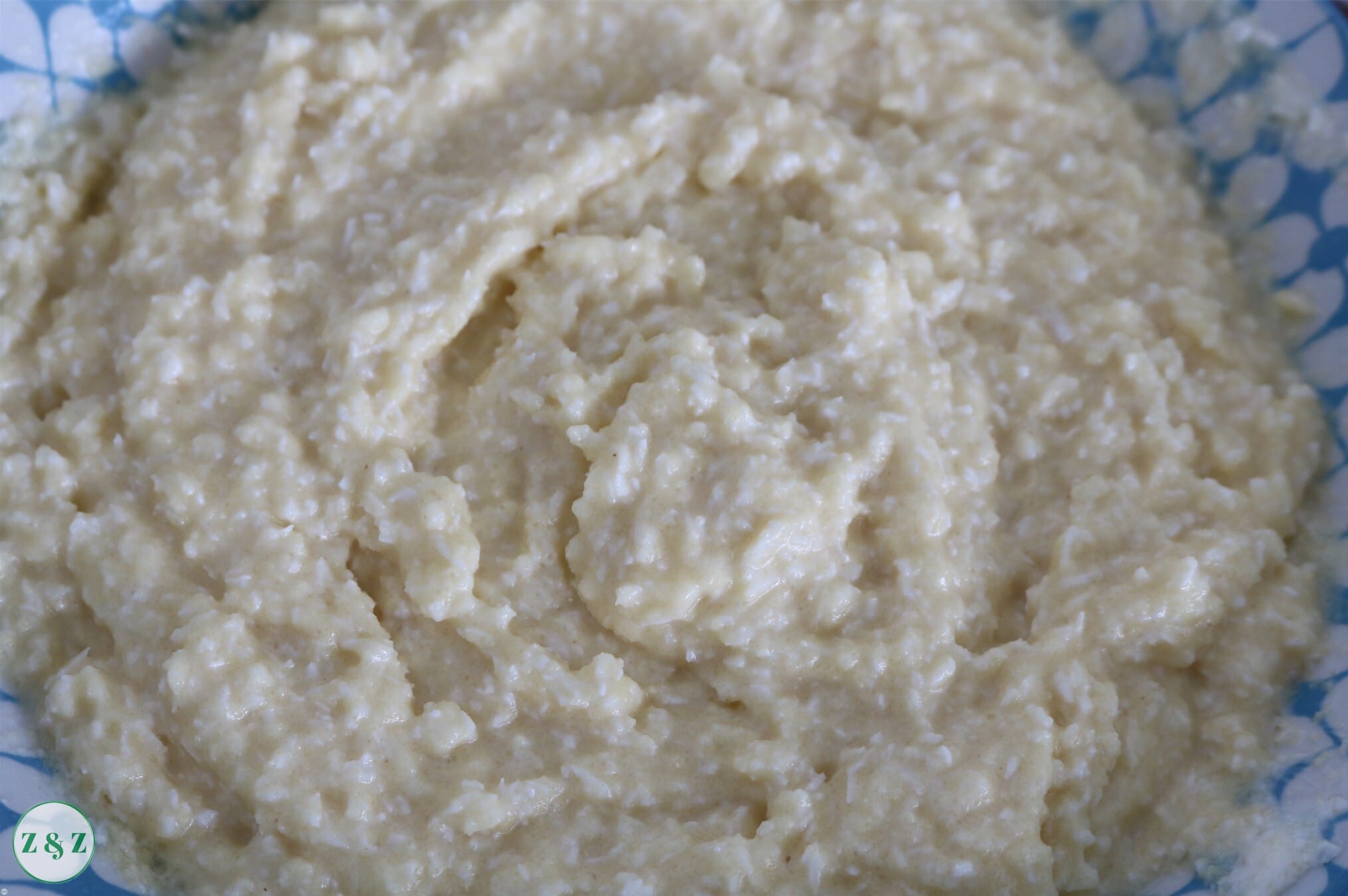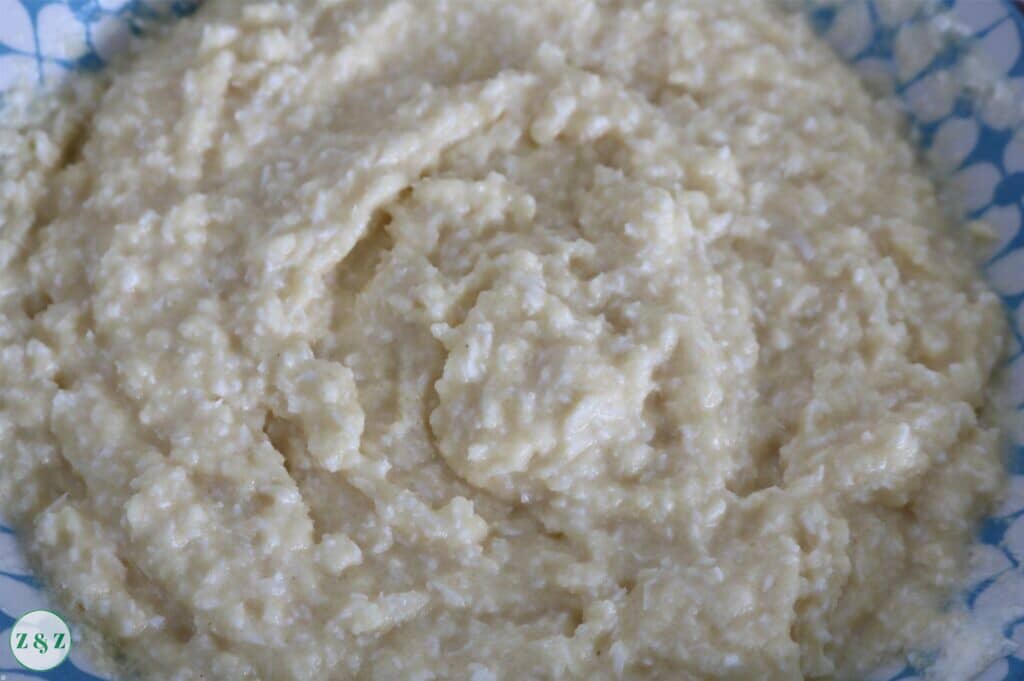 Use either peeled almonds split into half or pine nuts to decorate each diamond shape.
This recipe makes a lot of cake so you will need a larger cake tin or split it into two cake tins.
The orange blossom syrup
Namoura is usually drizzled with a simple orange blossom syrup. Though to tell you the truth I have eaten it without the syrup and it is still yummy.
The orange blossom syrup uses 2 parts sugar to one part water (ratio of 2:1 sugar to water).
Simply heat up the sugar until it comes to the boil then let it simmer for five minutes before adding a little orange blossom.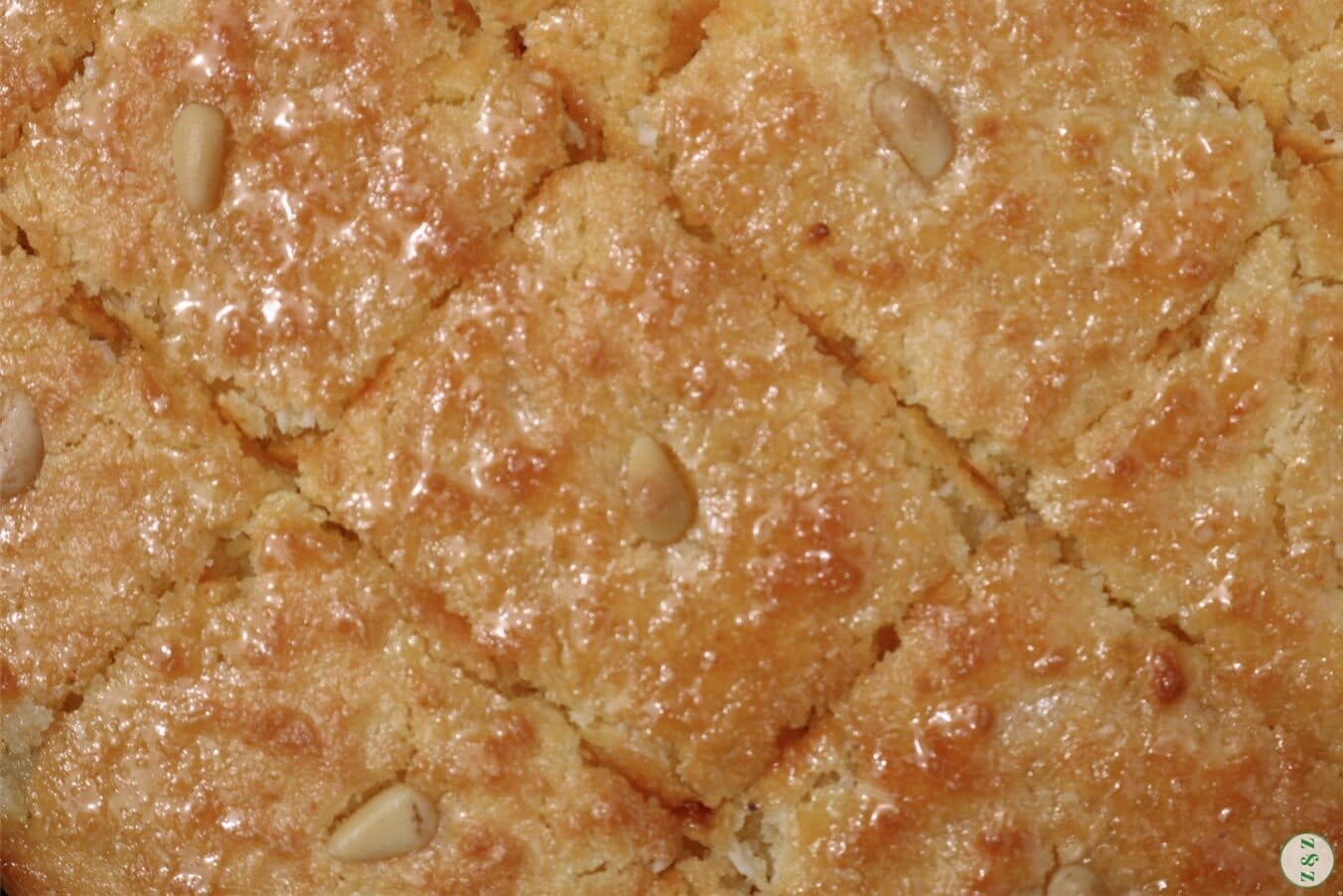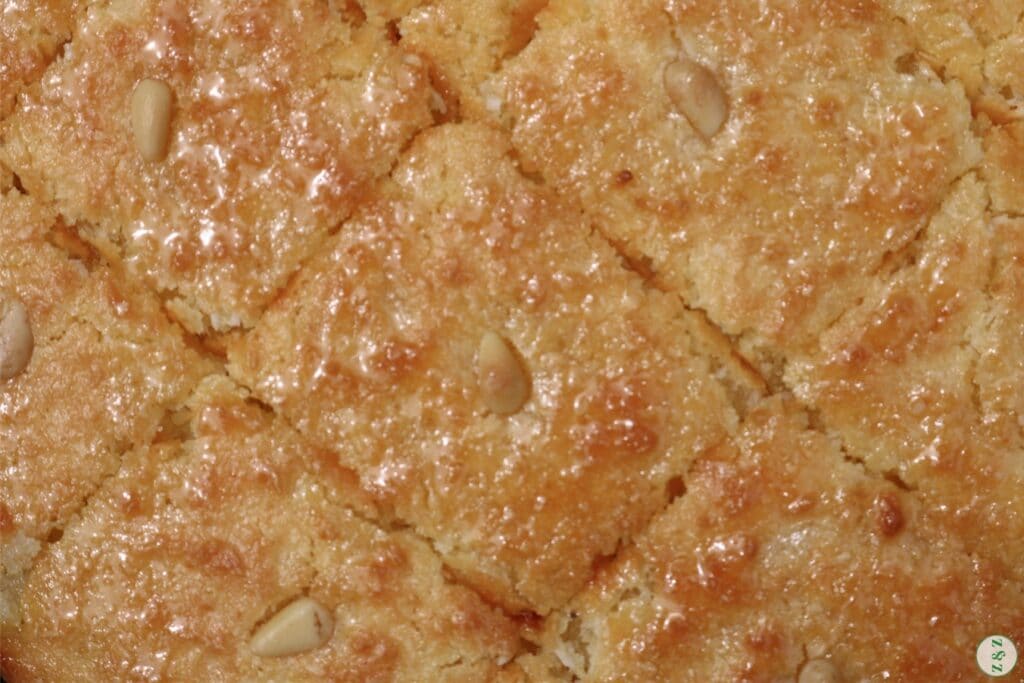 Pour the syrup on the cake while it is still warm so the namoura soaks up the syrup but don't add too much just so you glaze each section, you can always top up later.
There's nothing like the smell of warm orange blossom syrup wafting through the house it really will take you back to your childhood.
Ultimate. Nostalgia. Cake.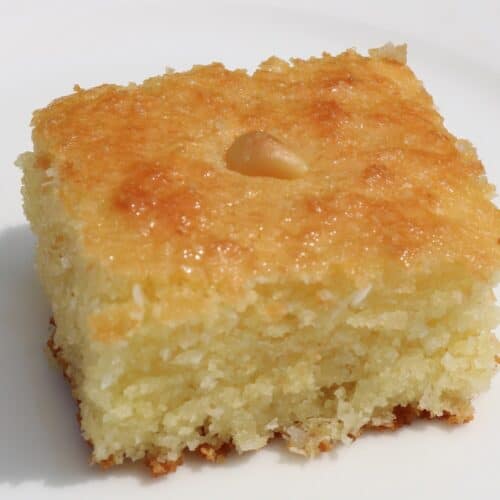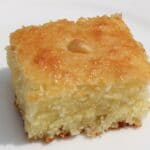 Namoura Cake (aka Basbousa)
Lebanese semolina coconut cake drizzled with orange blossom syrup
Ingredients
1 ½

cups

coarse semolina

1

cup

dessicated coconut

¾

cups

sugar

¼

teaspoon

baking soda

¾

teaspoon

baking powder

⅛

teaspoon

salt

sprinkle

1

cup

yoghurt

⅓

cup

vegetable oil

½

cup

milk

2-3

tablespoon

tahini

Handful of pine nuts or peeled halved almonds
For the orange blossom syrup
½

cup

of sugar

¼

cup

of water

½

teaspoon

of orange blossom water
Instructions
To make the orange blossom syrup
Stir together the water and sugar, bring to the boil then simmer for five minutes on low

Add the orange blossom water, swirl around and turn off the heat. Set aside
To make the Namoura cake
In a large mixing bowl combine the semolina, dessicated coconut, sugar, baking soda, baking powder and salt. Stir well

Add the yoghurt and milk and stir, then add the vegetable oil and make sure everything is well combined

Preheat your oven to 180C (350F)

Brush your brownie tin with the tahini then pour in the cake mixture. Leave the cake mixture to rest for half an hour

Using a sharp knife, cut the raw cake batter into diamond shapes and decorate the middle of each diamond piece with either a pine nut, or an almond that has been peeled and halved

Bake the namoura cake for approximately 25 minutes until golden, turning ¾ of the way to get an even bake if necessary

Once cooked, take the cake out of the oven and drizzle with some of the orange blossom syrup

Serve either warm or cold
Recipe Notes
Baking soda is also known as Bicarbonate of Soda
If you make any of our recipes let us know how it went by giving us a star rating below.
We have a lively Facebook group where we post frequent recipes and discuss Lebanese cooking in general, as well as a handy Pinterest page where you can save all of your favourite Zaatar and Zaytoun recipes!
You may also like these recipes from the Zaatar and Zaytoun collection: