Here's a basic lemon garlic pasta you can make in no time with literally 3 ingredients: lemon, garlic and pasta. This makes a great base for adding any spare toppings you might have lying around such as olives, herbs, leftover chicken, fish or vegetables. Lemon garlic goes with most flavours and yet it can be appreciated just on it's own. I adore this basic pasta recipe because sometimes even food bloggers are too tired to cook from scratch and need ways to get something tasty on the table fast.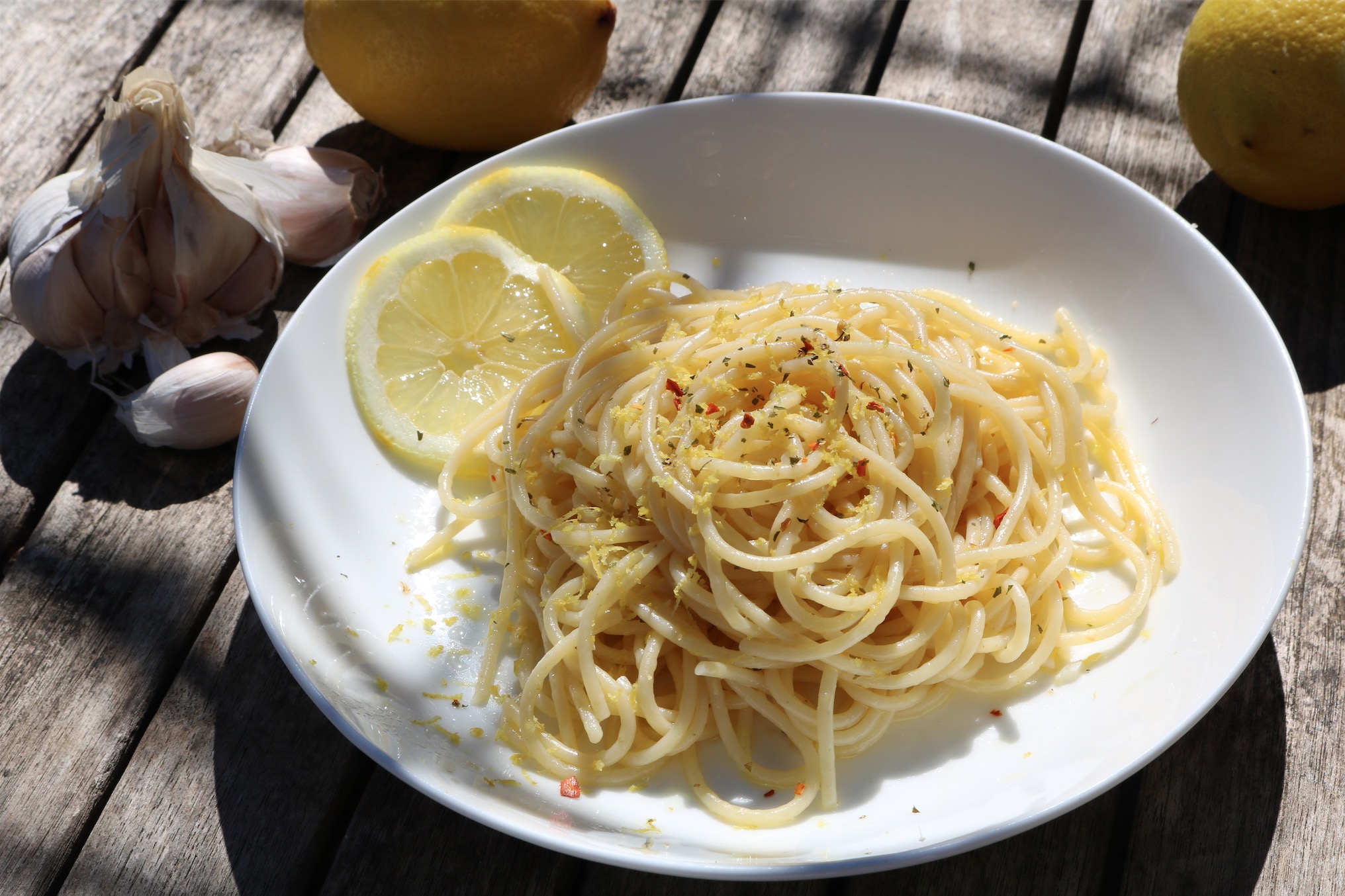 As it's such a basic recipe, it's important to get each element right. Sometimes the easiest looking recipes can be underestimated. You don't want to add too much oil or it will be greasy or too much dried herbs or spices as they will dominate. Try and zest as much lemon as you can, I find the zest of two lemons gives enough zesty flavour. You will also need to add enough juice to make it lemony but not so much so you can't eat it without making sour faces.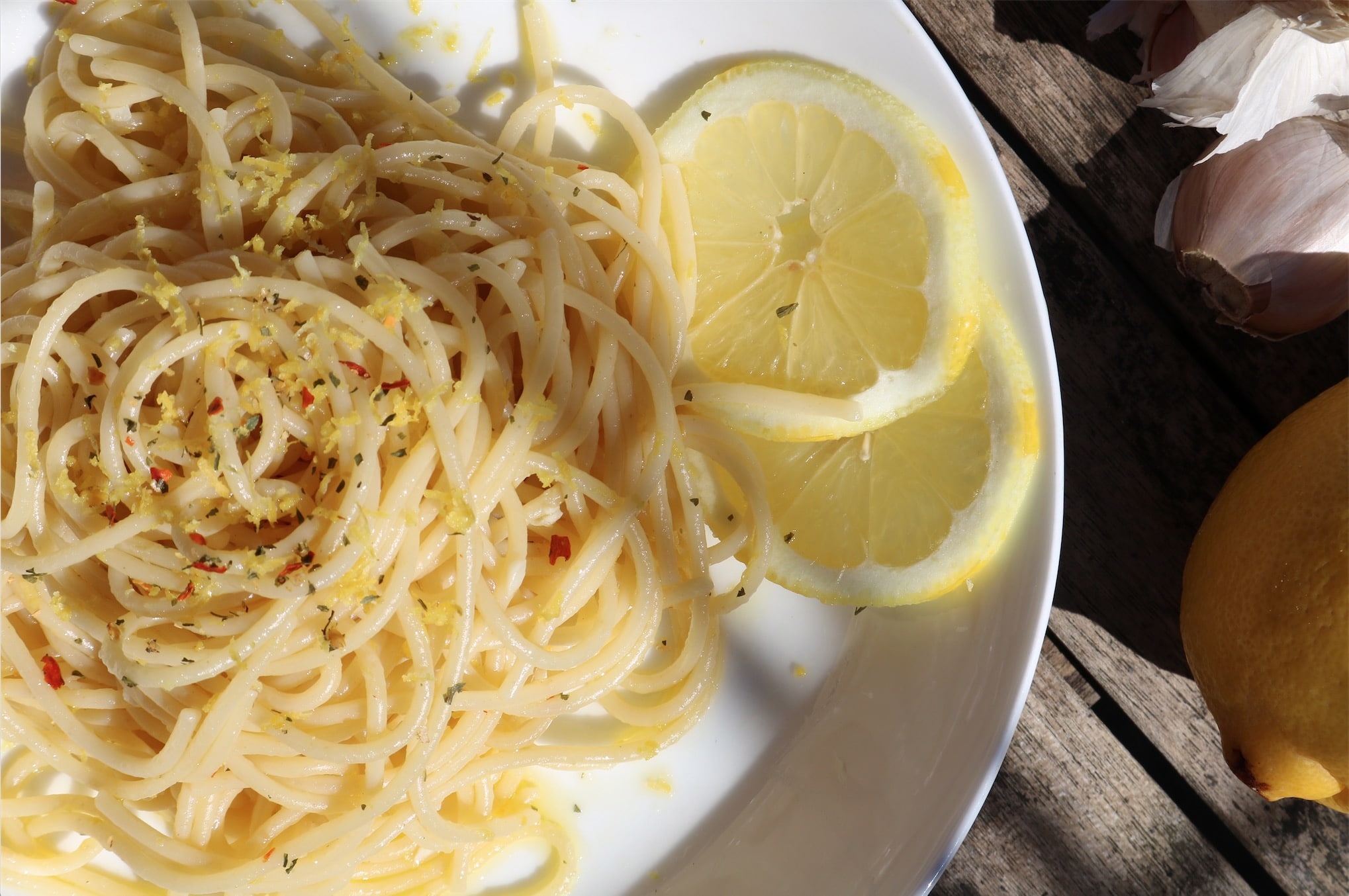 The most important bit of the whole recipe is not to burn the garlic. Even if you think it will take a bit longer, take the pan off the heat as soon as you see the garlic colour or the aroma becomes strong. You can even make this recipe with frozen garlic. I like to peel lots of garlic, whizz them up in a food processor and take bits out to use in emergency dishes such as this.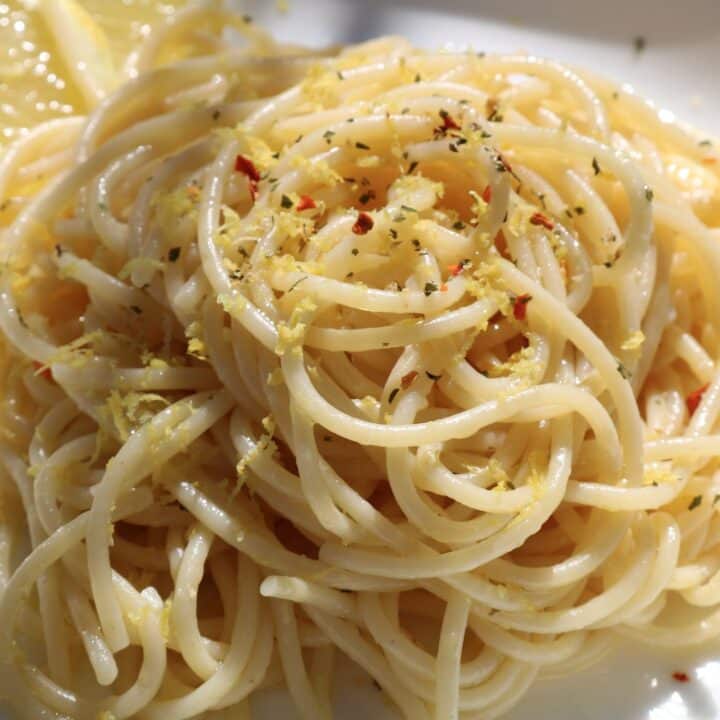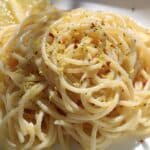 Lemon Garlic Pasta
Quick and Easy Lemon garlic spaghetti
Ingredients
250

g

of Spaghetti enough for 2 people

2-3

garlic cloves

chopped

Zest of 2 lemons

2

tablespoon

of lemon juice

2

tablespoon

Regular olive oil for cooking

Salt to taste approx ½ tsp

Drizzle of Extra virgin olive oil for dressing

Optional dried herbs and chilli flakes
Instructions
Cook the spaghetti as per packet instructions in plenty of boiling hot water

In a separate pan, add a good drizzle of regular olive oil and the garlic on low heat

As the garlic is simmering, zest one lemon and add to the garlic. Zest another lemon and set aside to add at the end

When the garlic starts to sizzle but still has not changed colour much, add the lemon juice and salt and squish the garlic down with the back of a fork

If you want to add the optional dried herbs or chilli flakes do so now

Two minutes before the pasta is done, transfer the spaghetti to the garlic lemon pan and reserve some pasta water

Turn up the heat and toss the pasta in the sauce for a minute or two

Taste the pasta before serving and adjust with extra salt or lemon juice.

Drizzle on a little extra virgin olive oil for extra flavour. Sprinkle on the rest of the lemon zest and serve immediately
You might also like our pistachio lemon pasta and our eggplant pasta in tomato sauce!