Eggplants (or aubergines as we call them here in the UK) are one of those ingredients that seem to divide people. Those who love them and those who avoid at all costs. I'm pretty sure those who don't like them have usually had them prepared badly by either making them too oily or not seasoing them enough so they are bland. This pasta dish is best made with grilled aubergines (eggplants) and definitely not fried, which brings out the lovely earthy flavour eggplants have to offer. I use a panini griddle to sear them. You can also place them under the grill in the oven making sure to turn on both sides. Once you grill eggplants there is no going back.
The tomato sauce is as easy and simple as any. You could just make it out of tomatoes if you are rushed for time but adding garlic and herbs elevates it by giving it lots of depth. I have used both dried and fresh oregano here as they each add a different dimension to the sauce and should both be respected as ingredients within themselves. People in the mediterranean don't look down on dried herbs when they are cooking as they appreciate the specific qualities they bring to a dish. Of course fresh herbs are just as wonderful and if you are lucky enough to have a herb garden your cooking will be transformed by adding a pinch here and there. You can grow herbs on a window sill if you don't have a garden so it's really worth investing some time in. 
A little sprinkle of parmesan or pecorino will finish off this pasta plate nicely.  Any leftover eggplant slices can be added to hummus sandwiches or simply eaten on their own.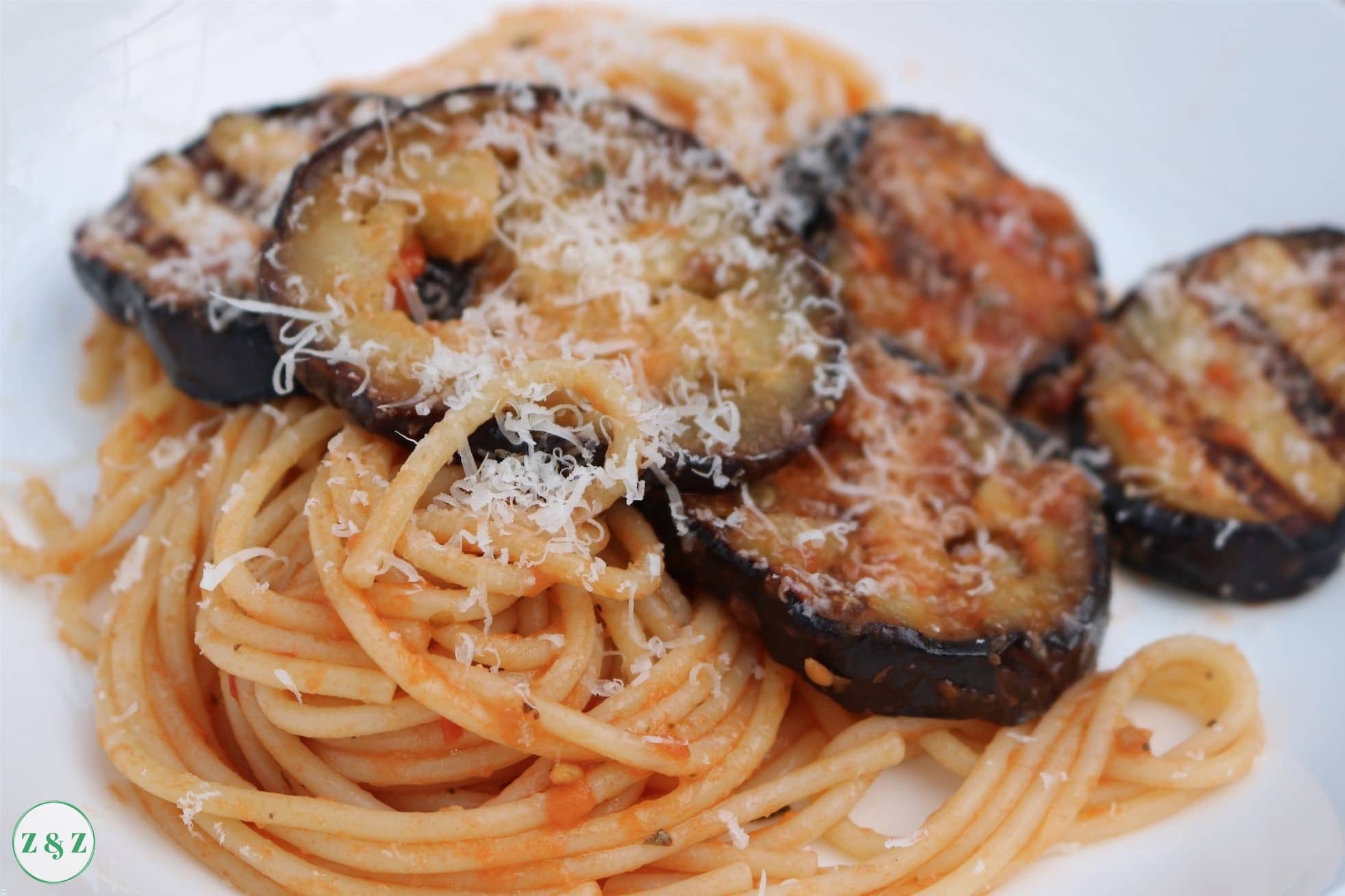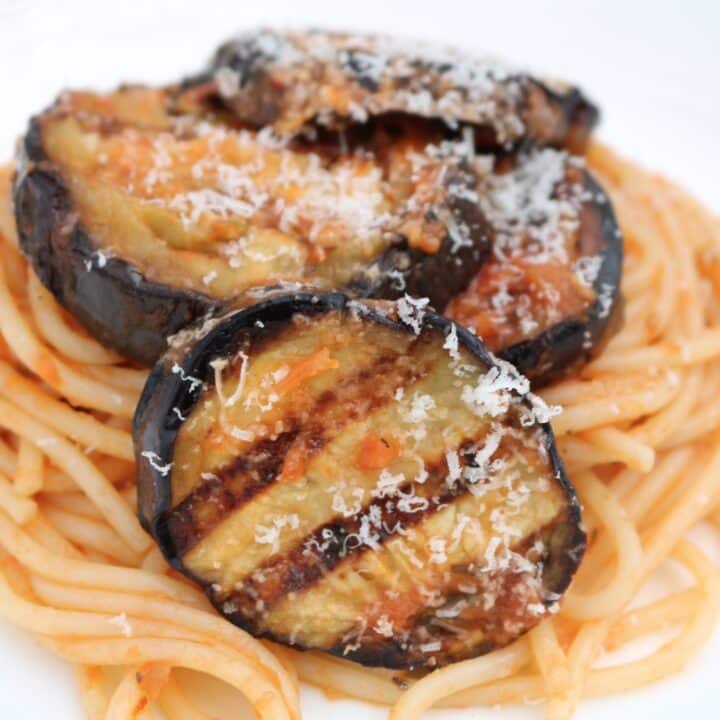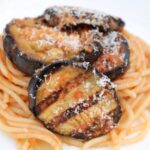 Aubergine (Eggplant) Pasta
Healthy eggplant pasta in a tomato sauce
Ingredients
1

large aubergine or 2 small

200

g

pasta or enough for two people

Regular olive oil

3

tomatoes

Pinch

of dried oregano

2

sprigs of fresh oregano

Pinch

of chilli flakes

1

lemon

Pecorino
Instructions
Roughly chop the tomatoes into a pan with a drizzle of olive oil.

Add a good pinch of dried oregano and red chilli flakes, and cook on medium high heat for about 20 minutes.

Blitz with a hand blender.

Add a few stems of chopped oregano and the salt.

Whilst the sauce is cooking, slice the aubergines roughly 2cm thick. Sprinkle with salt.

Brush the aubergine slices with regular olive oil. Griddle on both sides until cooked through.

Add the cooked aubergines and sauce to a pan and simmer for ten minutes.

Meanwhile, cook the pasta as per packet instructions. Reserve a mug of pasta water.

Before the pasta is done, remove with tongs into the sauce and finish cooking off for another minute or two.

Add reserved pasta water if it becomes too dry.

Just before serving add a squeeze of lemon and sprinkle with a little pecorino.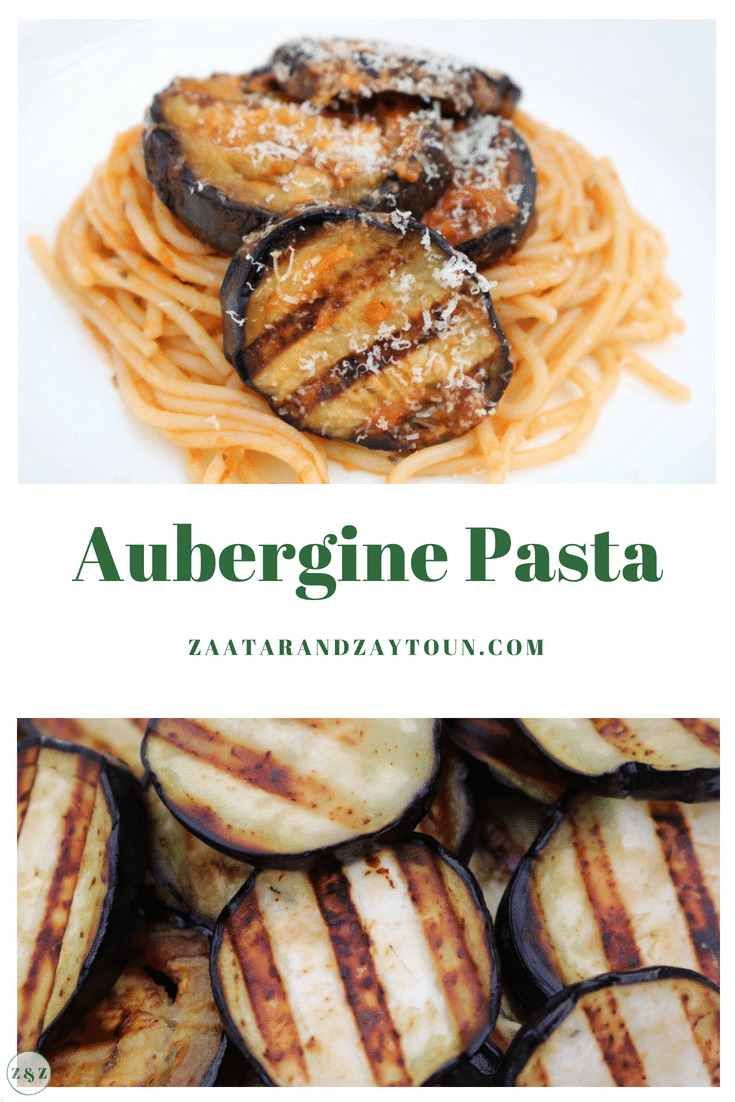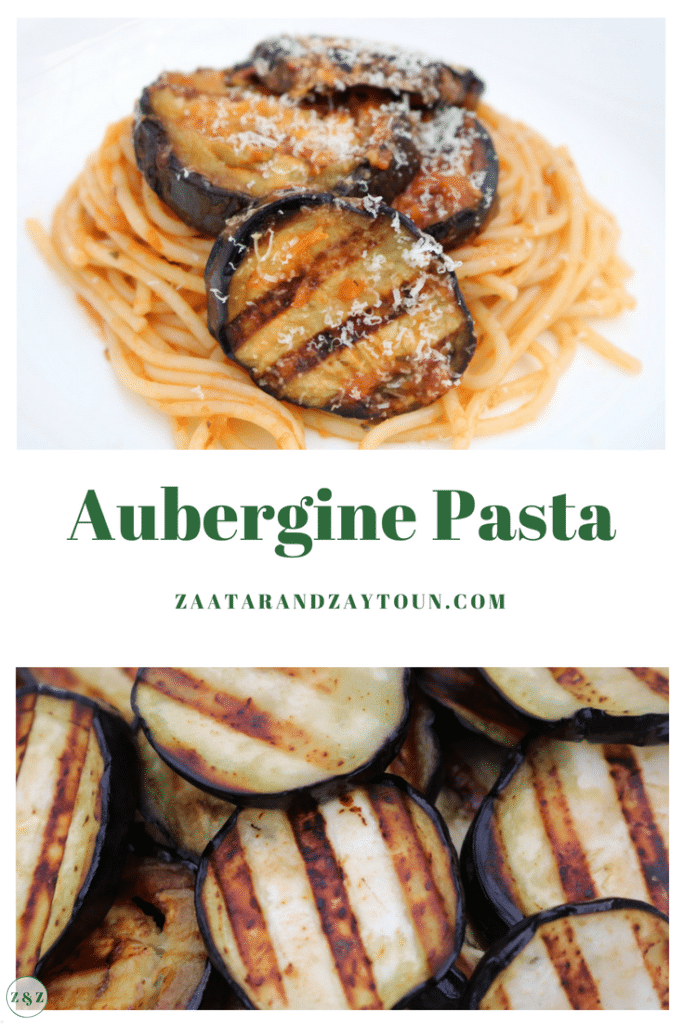 You might also like our lemon garlic pasta and our pistachio pasta recipe.