Learn to make the shawarma wrap of your dreams at home. A perfect meat shawarma wrap has a few simple elements that you can master yourself.
There is no need to fuss and add a million ingredients; you need pickles for tanginess, tomatoes for fruitiness, parsley for freshness, onions for sharpness and tahini sauce for earthiness.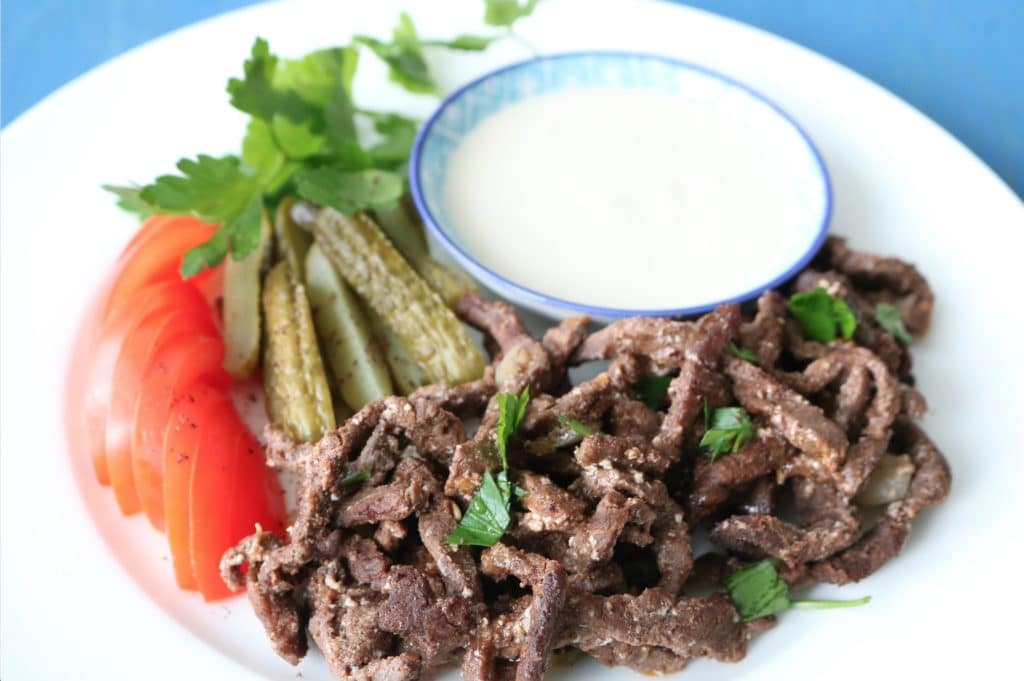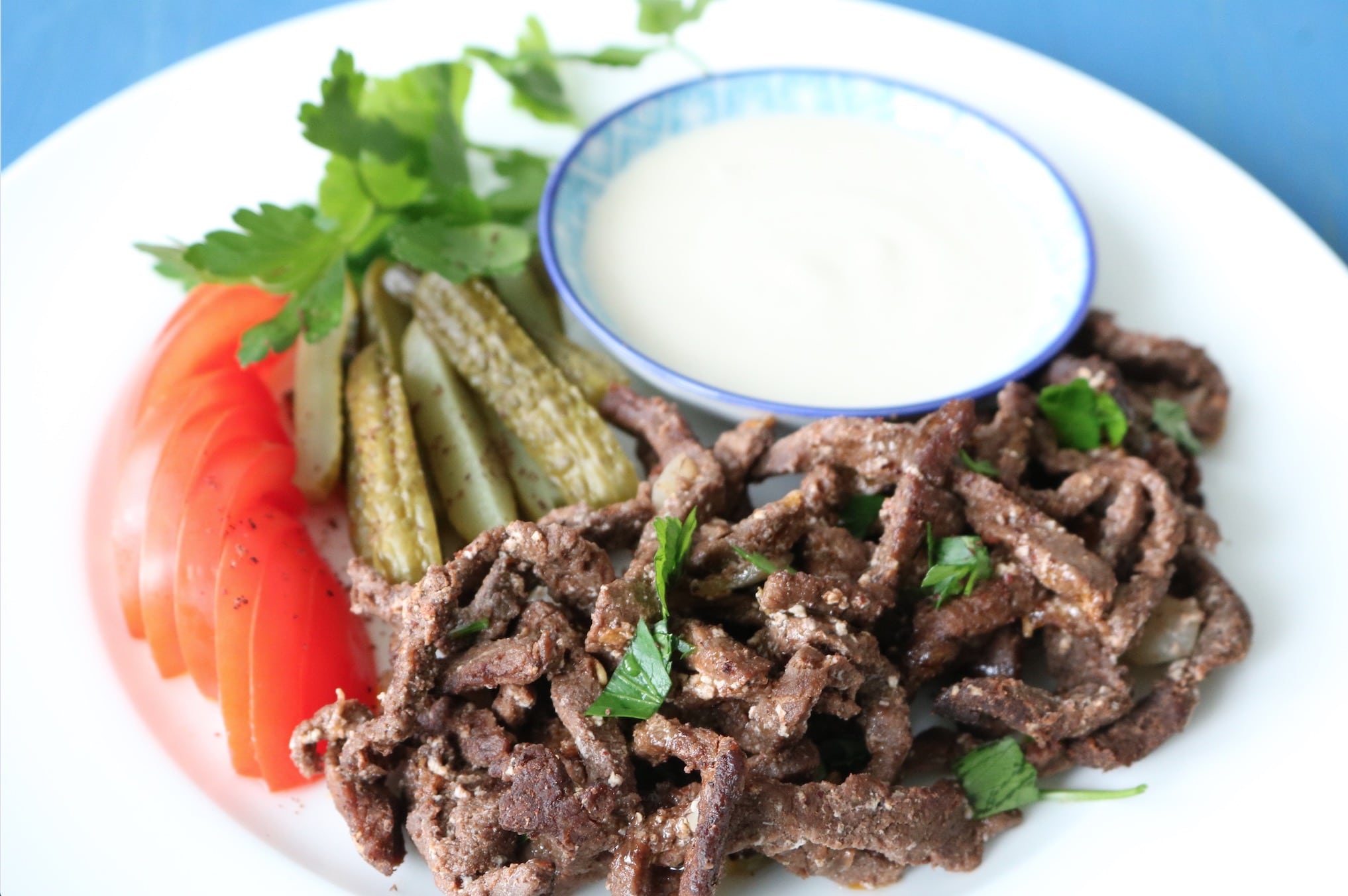 Each element brings something distinct and harmonious to the final bite.
The Meat
You can use either beef or lamb (or even both!) depending on your preference. You will need to use good quality meat even if you have to pay a little extra for it.
I'm all for eating less meat of a higher quality which tastes better and is kinder to the environment.
I've used beef here but if I was using lamb I would leave out the tomatoes whilst cooking them so they don't broil. Beef can handle some extra sauce without tasting boiled.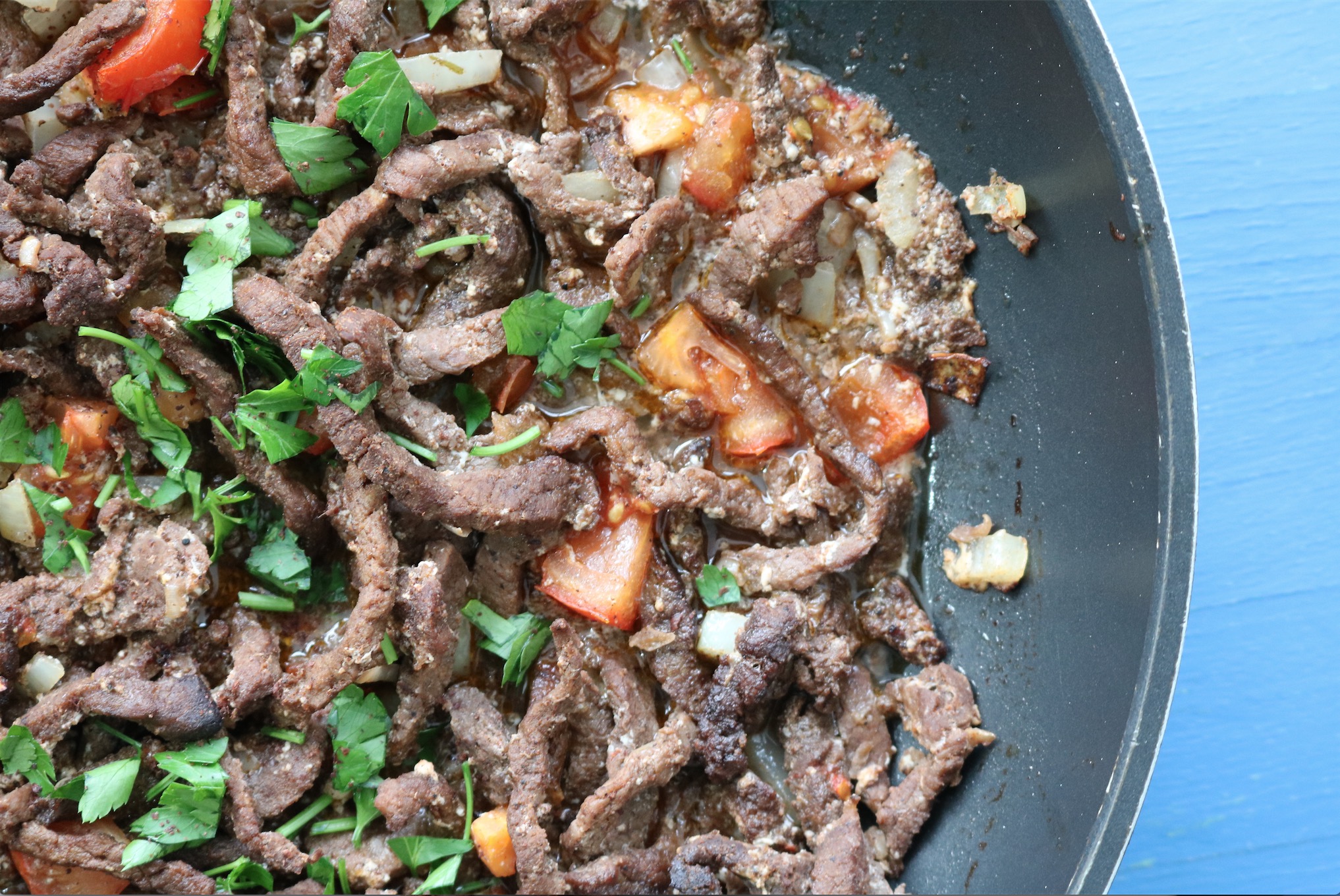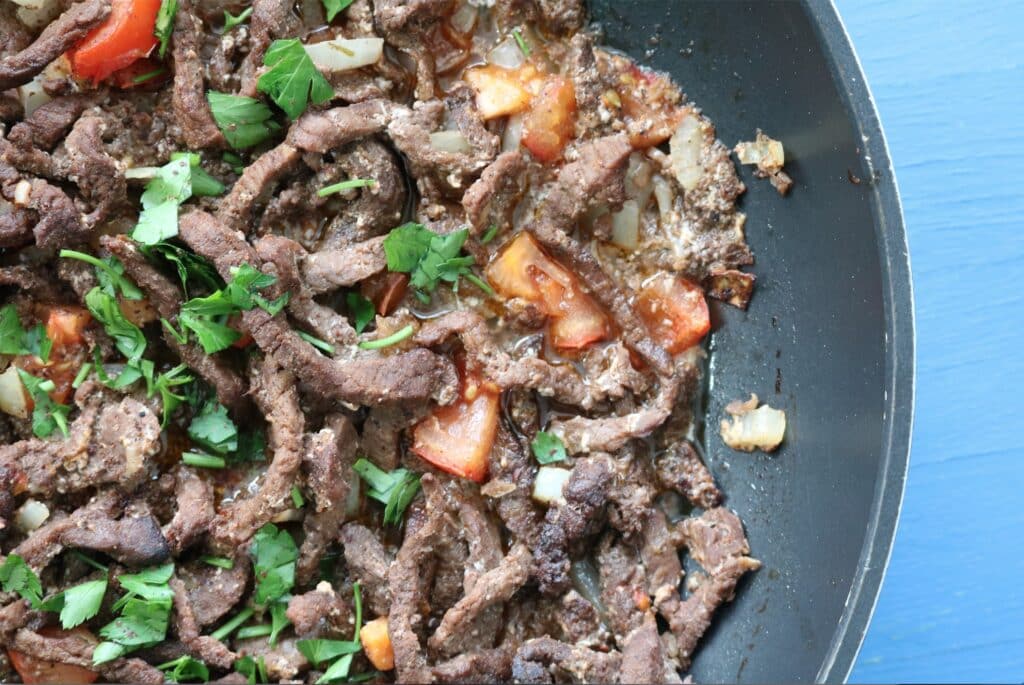 The Bread
You will need to get your hands on some very very fresh flatbreads, preferably made on the same day. You will always find me pinching my flatbreads in the shop to check if they bounce back.
I refuse to buy them if they are hard and stale. Fortunately, most Middle Eastern stores order them in frequently so you have a good chance of getting them in good condition.
The Tahini sauce
Make the tahini sauce in advance so you have some to put into your sandwich and then some to dip your wrap in.
Make sure you shake the tahini jar well before. Adjust and taste the tahini sauce to make sure you get the right zing.
The Vegetables
Sour pickles not the sweet variety thank you. Fresh tomatoes sliced and set aside. Very very thinly sliced onion.
Fresh parsley (no yellow bits please) chopped and ready to sprinkle on your wrap. Veggies done.
The Final Finishing touch
A sprinkle of sumac and salt, and a quick hot-press in a panini griddle if you have one will elevate your wrap to dreamy level.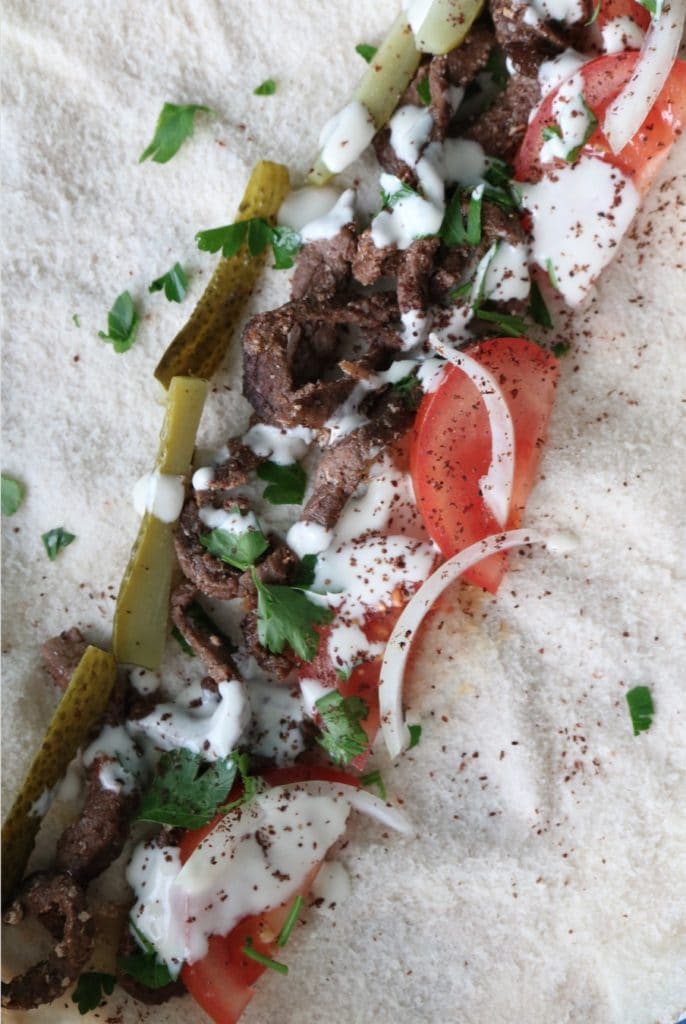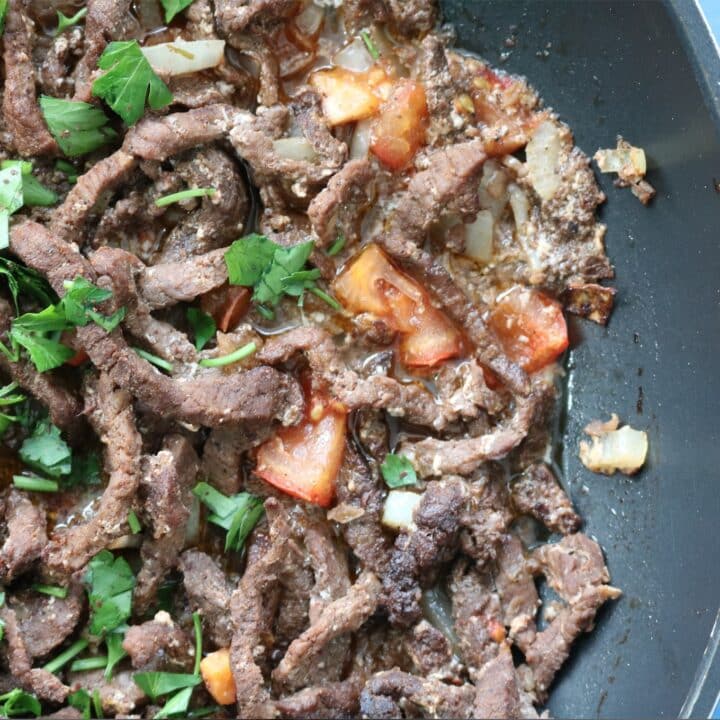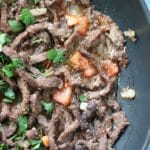 Lebanese Shawarma
Lamb or beef shawarma marinade and how to make the perfect wrap
Ingredients
For the Shawarma marinade
500

g

of lamb or beef shoulder

sliced into thin strips

½

teaspoon

salt

½

teaspoon

black pepper

½

teaspoon

cinnamon

¼

teaspoon

cardamom

¼

teaspoon

nutmeg

½

teaspoon

turmeric

½

teaspoon

dried coriander

½

teaspoon

7 spice

2

tablespoon

vegetable or regular olive oil

2

tablespoon

white vinegar

2

tomatoes

1

onion
For the tahini sauce
3

tablespoon

tahini

2

tablespoon

lemon

¼

teaspoon

salt

2

tablespoon

cold water
For the shawarma wrap
Large fresh flatbreads

halved

Tomatoes, pickles, onions

sliced

Pinch

of sumac

Parsley

chopped
Instructions
For the homemade Shawarma
Ask your butcher to slice your meat into strips approximately ½ cm thin or alternatively slice the meat yourself using a very sharp knife

In a bowl, add the meat along with the salt, spices, oil and vinegar and marinade for at least a few hours, preferably overnight

Take out your shawarma at least one hour before cooking and bring to room temperature. Then heat your oven to 180C (350F)

Chop the tomatoes and onion and add to the marinade. Mix well

Lay out the shawarma in a wide pan (preferably non stick) and cook for around 20-25 minutes, turning the shawarma with a fork half way through
To make the shawarma wrap
Prepare the fresh flatbread by separating it in half

Slice the pickles, tomatoes and thinly slice the onions. Chop the parsley and set aside

Mix the tahini, lemon juice, salt and water. Taste and adjust if necessary.

In the middle of the wrap, add the shawarma, pickles, tomatoes, onions. Drizzle on some tahini sauce and sprinkle some parsley and sumac.

Add a final sprinkle of salt, wrap up tightly and hot-press in a heated panini griddle for 1-2 minutes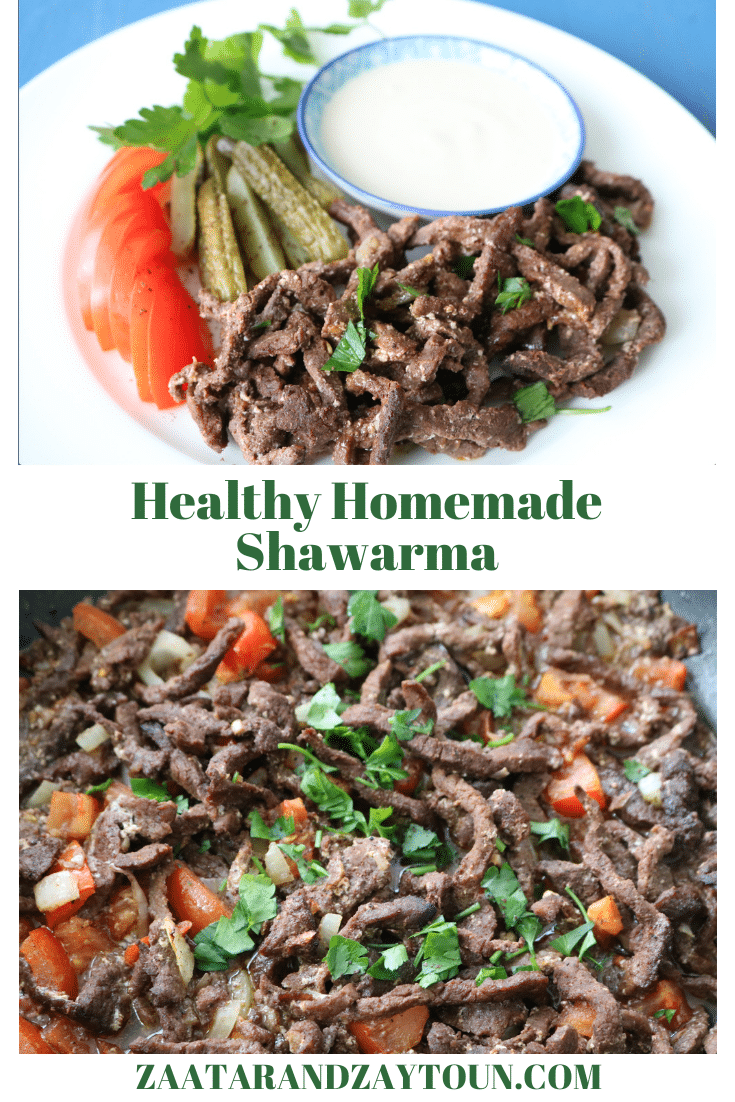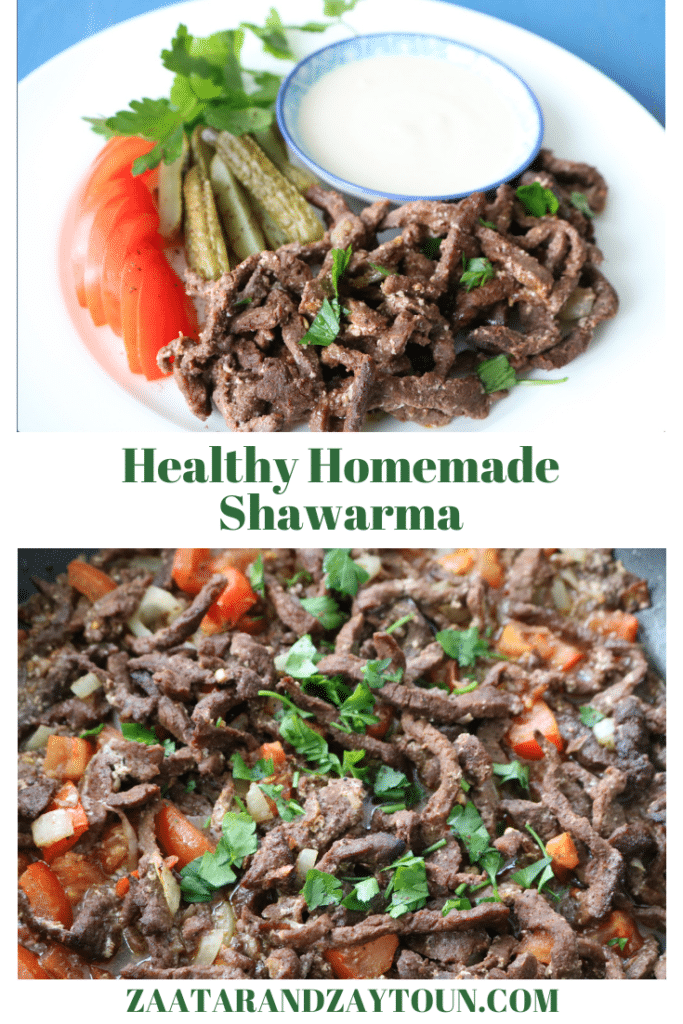 If you make any of our recipes let us know how it went by giving us a star rating below.
We have a lively Facebook group where we post frequent recipes and discuss Lebanese cooking in general, as well as a handy Pinterest page where you can save all of your favourite Zaatar and Zaytoun recipes!
You might also like these other recipes from the Zaatar and Zaytoun collection: