Lemon garlic steak with hand cut fries is an exciting recipe that's also super easy and delicious.
This has become one of my go to after school weeknight dinners and is a hit with everybody including the little ones.
The trick is to add the lemon garlic mix right at the end to prevent burning the garlic in the high heat.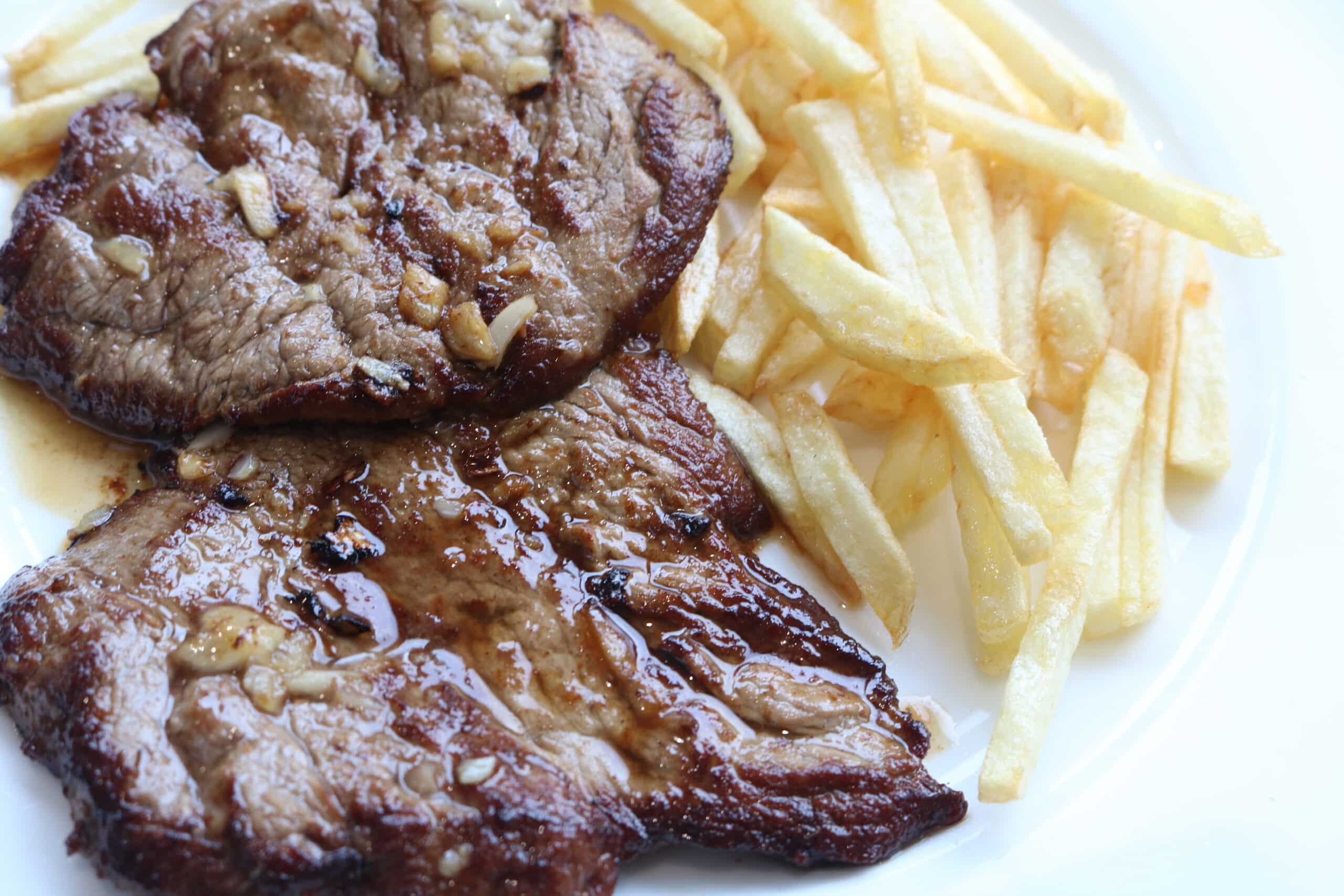 If you are a fan of the lemon garlic combination then why not also try my lemon garlic chicken and herb roasted salmon.
Jump to:
The Steak
Buy the best cut of beef steak you can afford. I got flank steak which is a beautiful cut of meat, though you can also use other cuts too.
Just ask your butcher for some great tips, they have the insider knowledge.
Now here's the technical bit: Bash your steak with a rolling pin to get it nice and thin. This will cut the cooking time to only 2 mins each side max.
If you love your steak pink in the middle you can keep it thick and skip the bashing bit.
Another important tip is to take the steak out of the fridge around an hour before cooking as you want it at room temperature.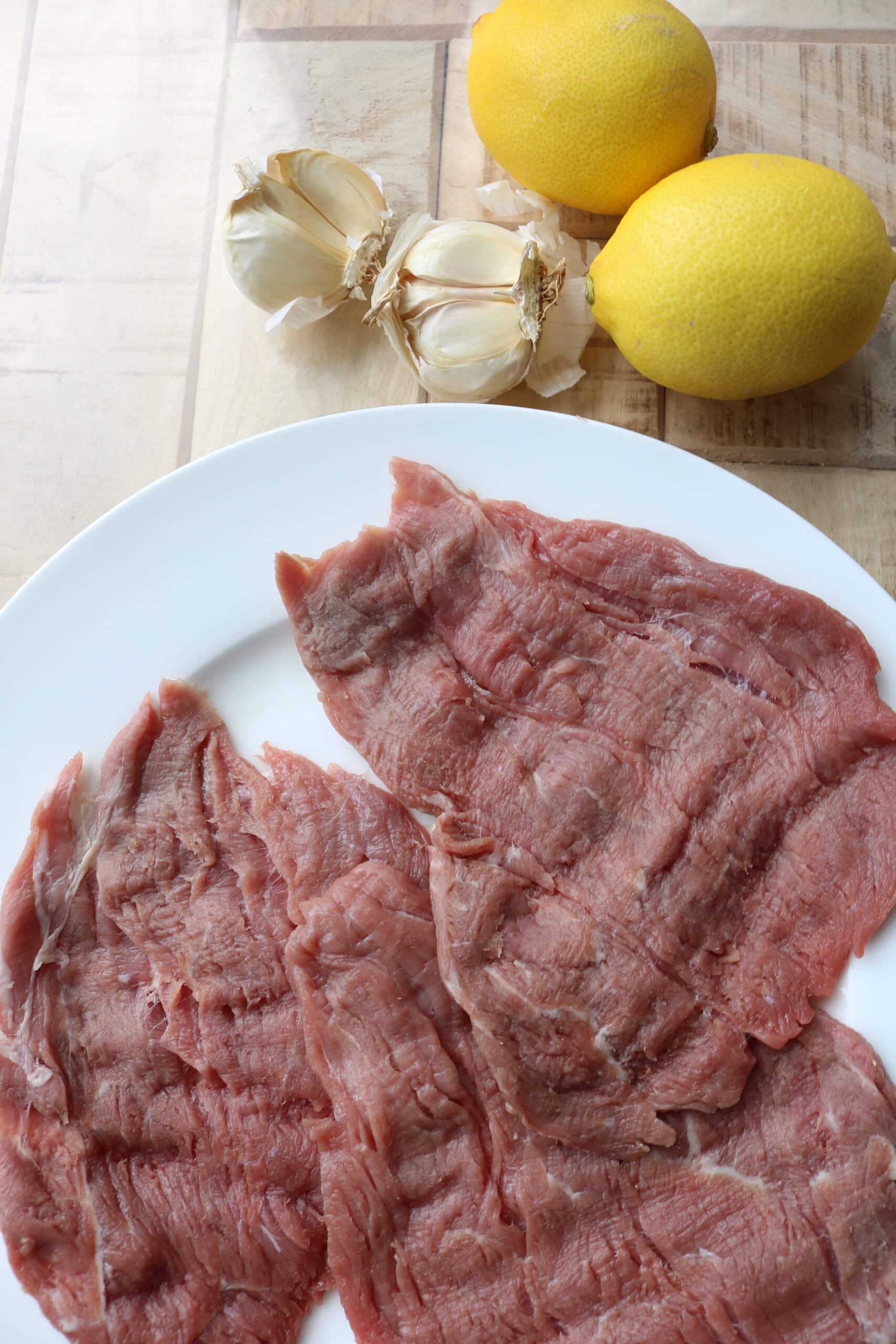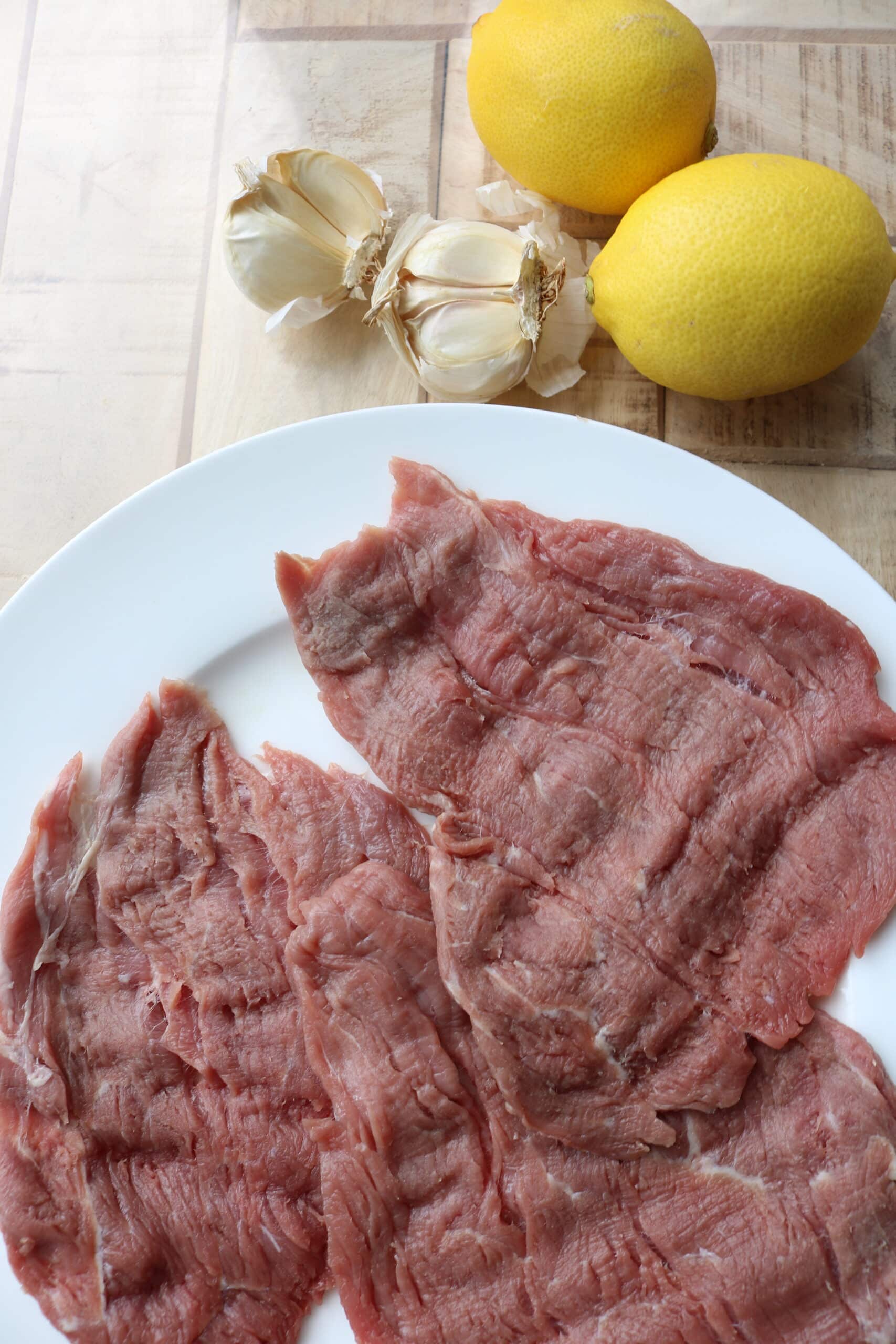 As the steak is the star of the show we don't want to hide it's flavours with too much fussy stuff, so i've only seasoned it with a some salt and black pepper and a very tiny sprinkle of 7-spice.
I also rubbed the steaks with mild olive oil before I put them in the pan.
All the chefs say let your meat rest before you eat it but i've already devoured them when they are sizzling hot so I can't tell you if it makes a big difference.
The Fries
The hand-cut fried are non negotiable as the steaks only need a few minutes cooking so you can spare ten minutes to fry them.
I can't stand those shop bought spongy fries that come with a layer of who knows what grease on them. Disgusting.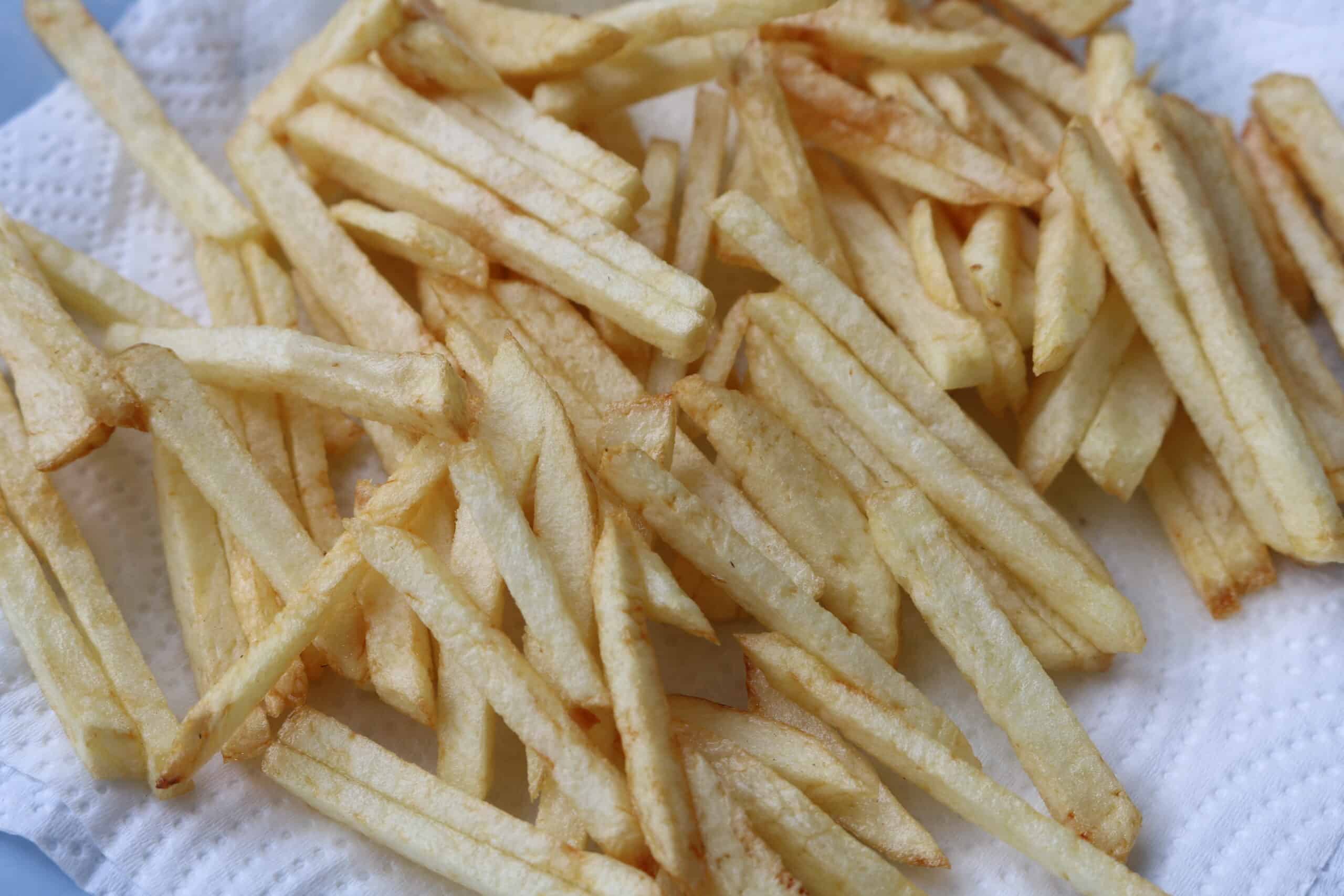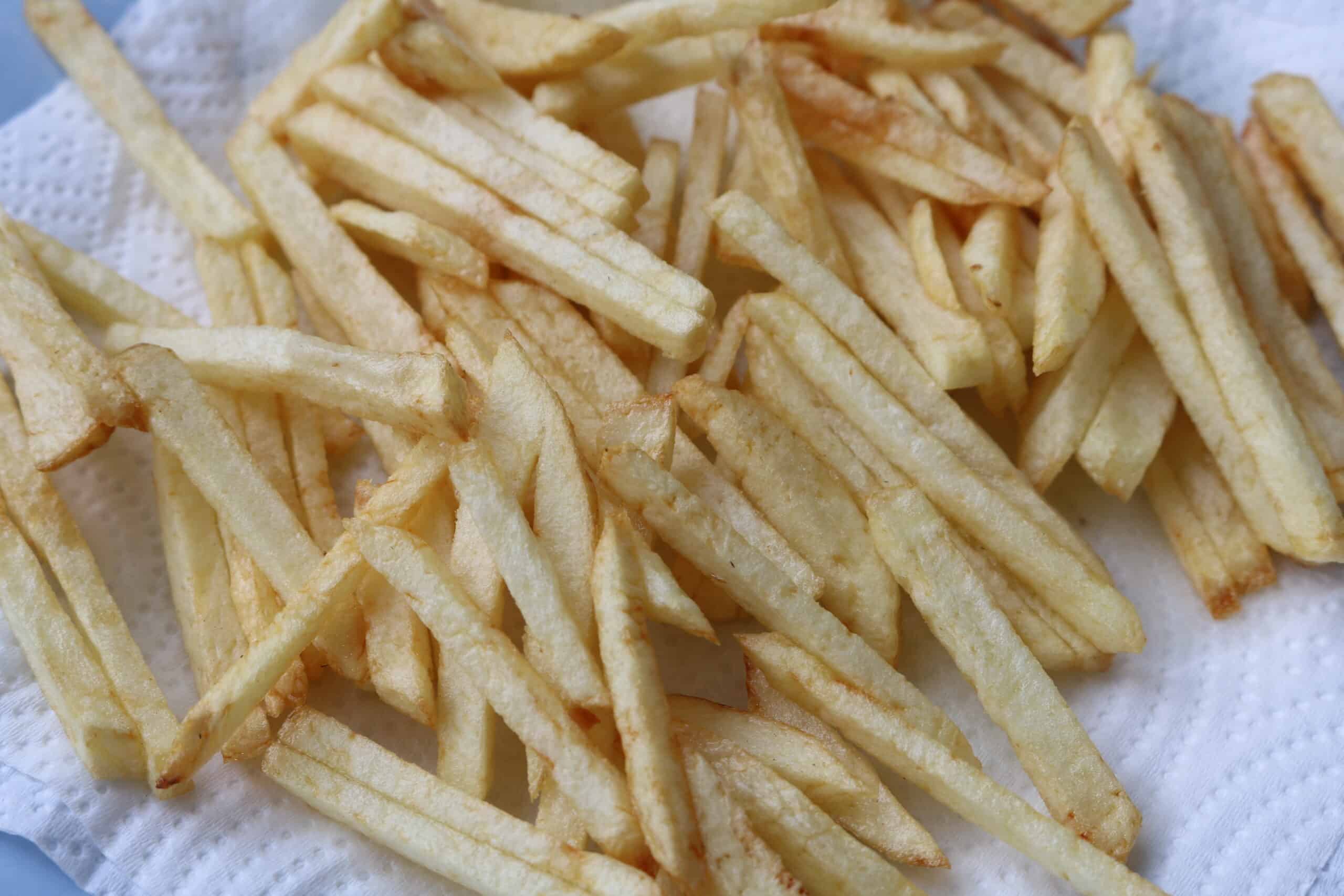 The absolutely most important detail when making home made fries is choosing a potato perfect for frying. In the UK I buy Maris Piper and in the US you can use Russet or Idaho variety.
I use a deep stainless steel pan to deep fry, there's no need for those fussy electronic deep fryers.
Heat up enough vegetable oil to cover a layer of the potatoes comfortably, and test with one of the potatoes - when it starts sizzling then you can go in with the rest of the potatoes.
Don't turn them too much in the first five minutes until they start to hold their shape. Turn them occasionally until you develop a nice golden colour (not too dark not too beige).
Cook the fries in batches (4 potatoes = 2 batches) as you don't want to overcrowd the pan. This will cause the fries to steam and not become a crunchy. You should be able to turn them comfortably.
Drain them with a slotted spoon on the side of the pan and then lift them out onto a kitchen towel lined plate. Lightly sprinkle with salt at the end.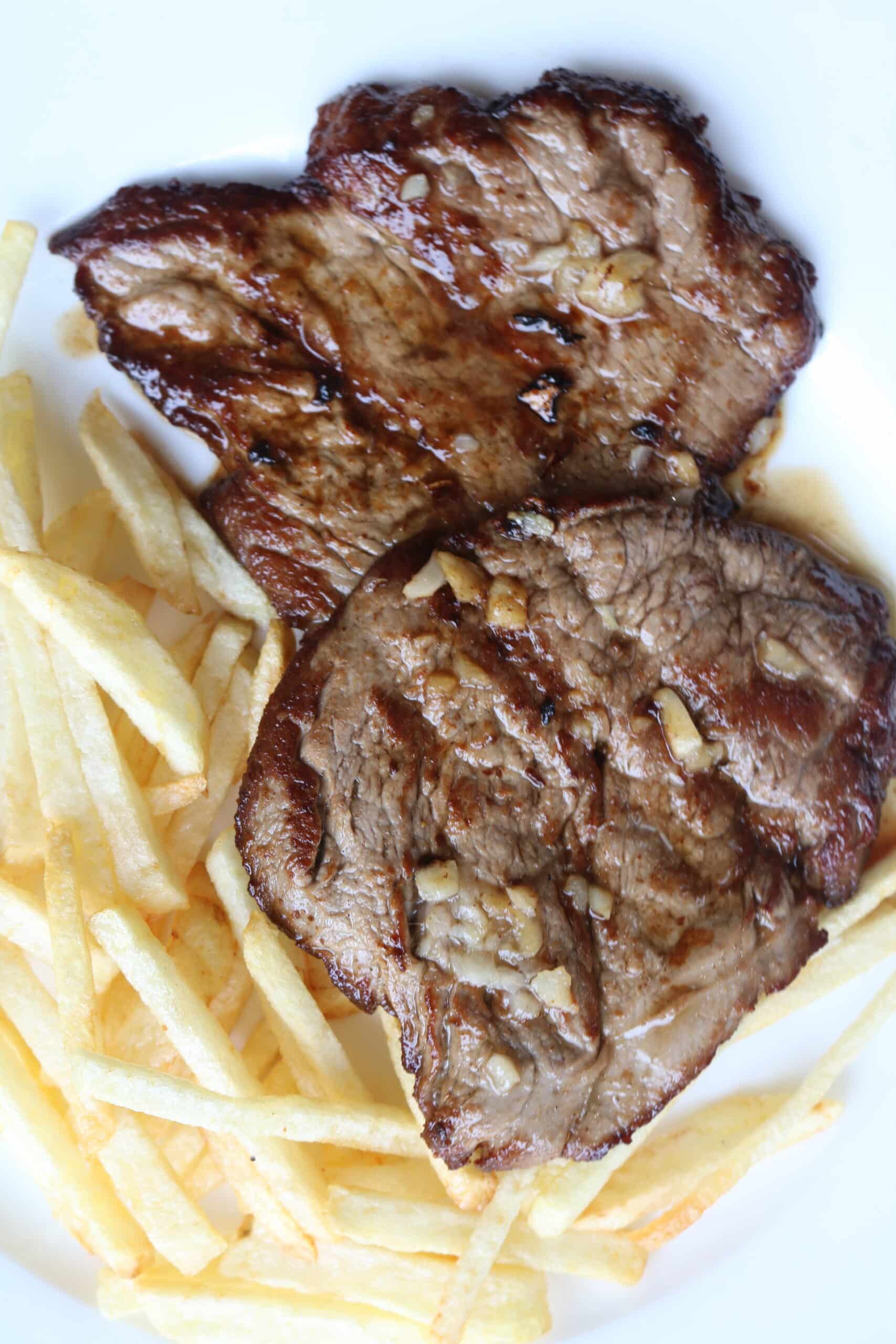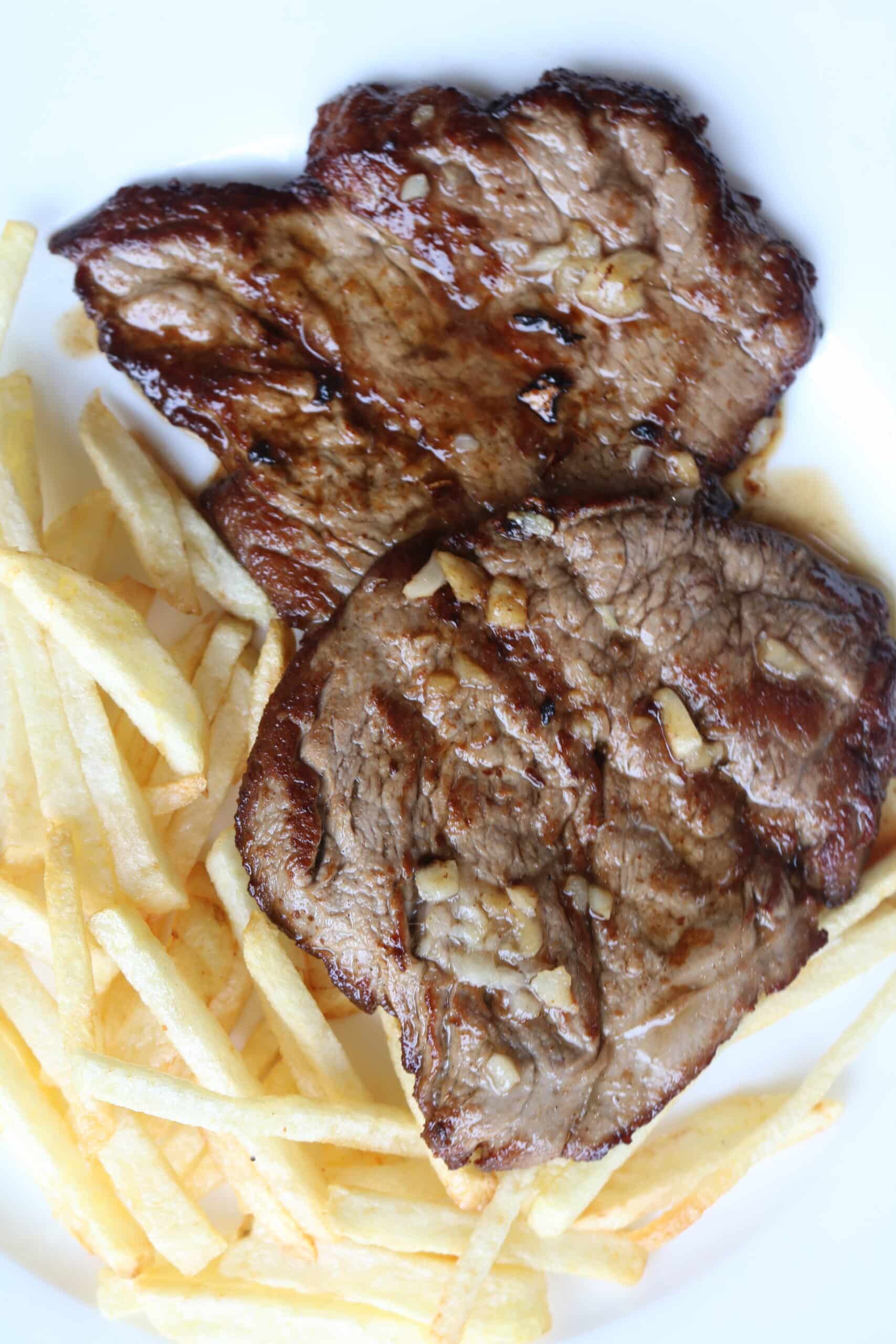 Equipment
You will need a wide pan to sear the steaks in. I use stainless steel though you can also use non-stick or cast iron.
You will also need a deep stainless steel pan for frying the potatoes, and a slotted spoon to drain the potatoes from the oil.
Top Tips
I would make the fries first as they will be ready to serve as soon as you sear the steaks.
If you are peeling and slicing the potatoes beforehand, say for a dinner party, then you can submerge them in bowl of water to stop them going brown.
If you are going to fry the potatoes within half an hour, just leave them on the chopping board and transfer directly to the pan.
I use my vegetable oil for frying about 3 times before I change it, which is recommended so it doesn't become burnt and unhealthy. I store the oil in the oven once it has cooled.
If you are a butter-fan you can add a spoon right at the end and baste the steaks by tilting the pan slightly and repeatedly spooning on the melted butter.
I can't live without a good drizzle of hot sauce so get that ready if you live on the spicy side of life.
📖 Recipe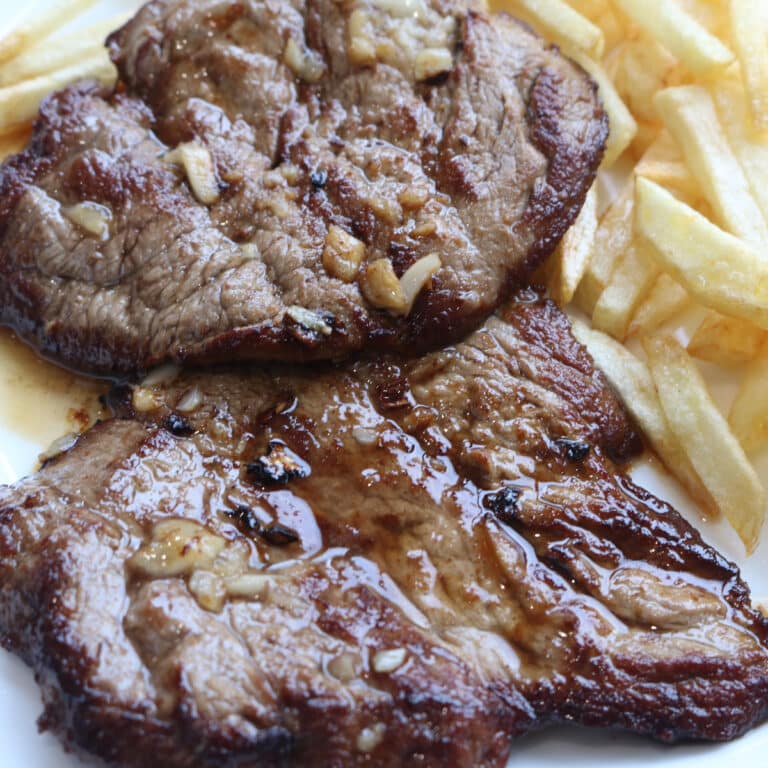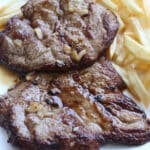 Lemon garlic steak with fries
Flank beef steaks finished with lemon garlic and olive oil, with hand-cut fries
Ingredients
500

g

beef flank steak

pinch

black pepper

pinch

7 spice

drizzle mild olive oil
For the lemon garlic mixture
2

cloves

of garlic

2

tablespoon

extra virgin olive oil

half a lemon

juiced
For the fries
4

medium potatoes

vegetable oil for frying
Instructions
To prepare the steaks
Take out the steaks from the fridge and bring to room temperature.

Using a rolling pin, bash the flank steaks so they become thin and tender. Sprinkle a small pinch of black pepper and 7-spice. Drizzle on a little mild olive oil and rub on both sides.

Finely chop the garlic and add to small bowl with the juiced half lemon and a good drizzle of extra virgin olive oil. Set aside
To make the fries
Peel and cut the potatoes into thin rounds. Then slice diagonally into thin sticks and set aside

Prepare a large plate with 2 pieces of kitchen paper

In a deep stainless steel pan, heat up enough vegetable oil (about halfway deep) on high heat. Test with one potato and when it begins sizzling gently transfer half the potatoes.

Avoid turning the potatoes too much in the first few minutes, then as they begin to develop a crust, turn them occasionally and remove with a slotted spoon onto kitchen paper lined plate.

When you have cooked the first batch, repeat to make the second batch of fries. Lightly salt.
To finish the steaks
Heat up a wide pan on high heat for five minutes using no oil initially. Then after five minutes add a drizzle of mild olive oil or vegetable oil, and heat up for another few minutes

Add a few of the steaks so as not to crowd the pan and sear for 2 minutes on each side. Then reduce the heat to low and drizzle on the garlic lemon mixture. Simmer for one minute before turning off the heat

Serve the steaks with a handful of fries and optional hot sauce.
If you make any of our recipes let us know how it went by giving us a star rating below.
Check out our Youtube page for full video tutorials, our Facebook group to discuss Lebanese cooking, as well as our tiktok page for quick tips.
You may also like these recipes from the collection: