Many of you may be familiar with our baba ganoush recipe, but you might not have come across another famous Lebanese eggplant dish known as 'Rahib' salad.
This recipe doesn't use tahini but relies on lots of finely chopped salad ingredients such as parsley, tomatoes and cucumbers, hence why it is called a salad, even though it can be eaten as a dip.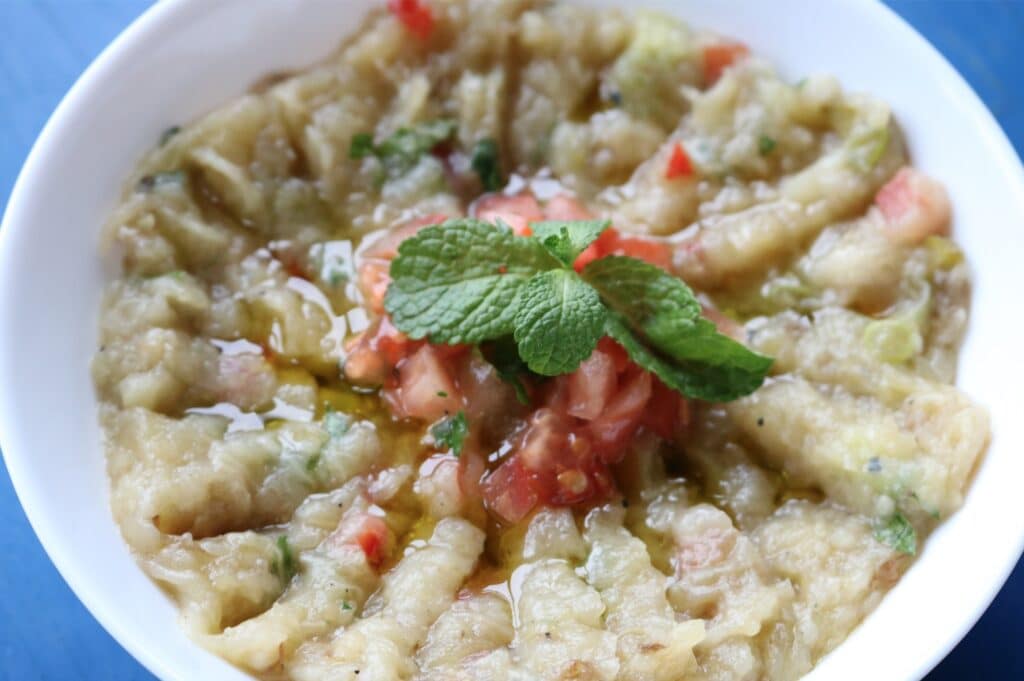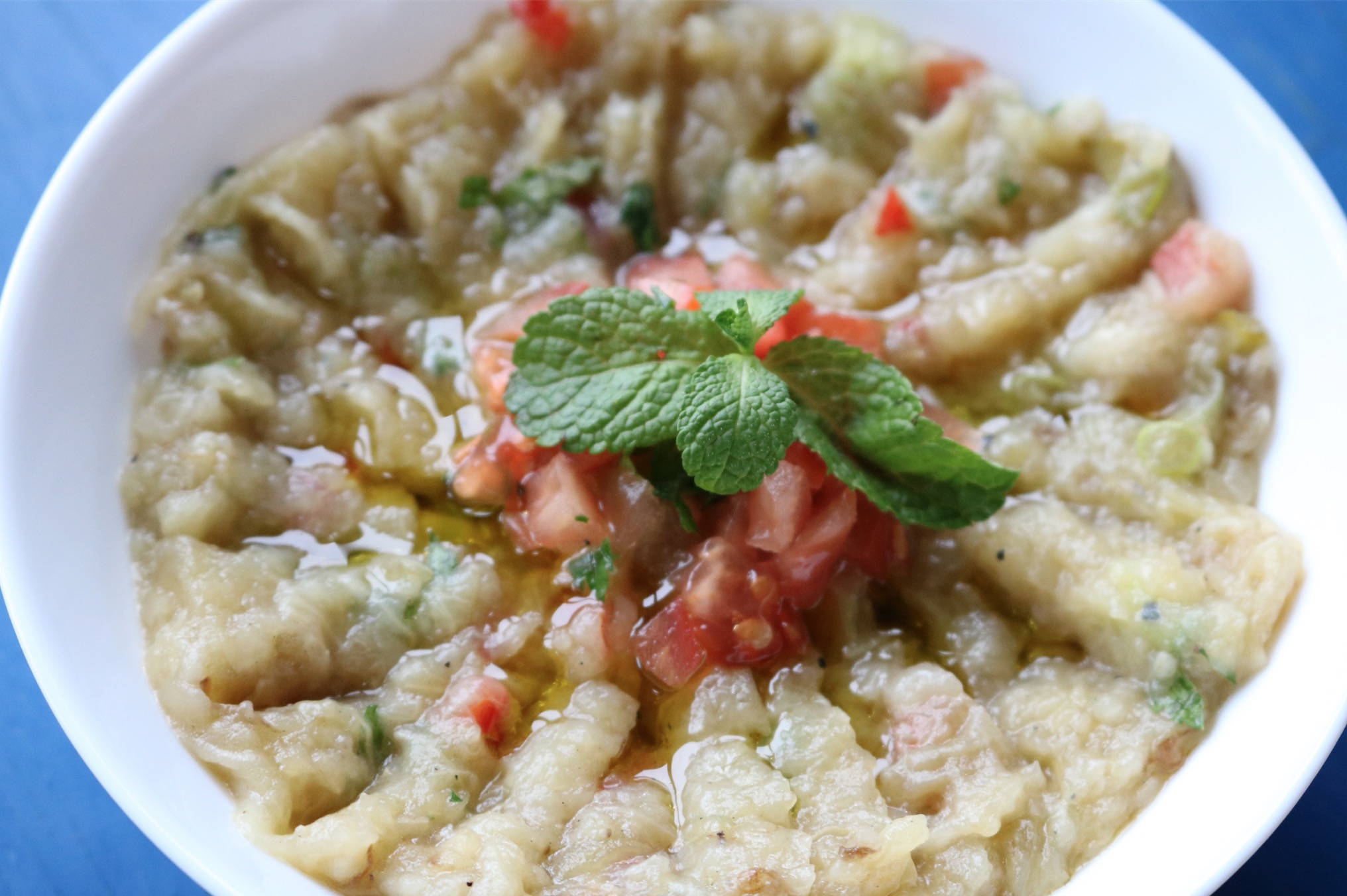 I found that charring the eggplants on the hob brings out the most wonderful smokey flavour and though it can be a little messier to clean up afterwards, you add so much flavour that it really is worth it.
The vegetables should be chopped up very finely so as to merge together with the eggplants and I suggest that you use a pestle and mortar to mash the aubergine once you drain and clean it in order to achieve the best texture.
Blending it with a hand blender or food processor makes it too mushy and you want to keep a little of the eggplant character in your salad.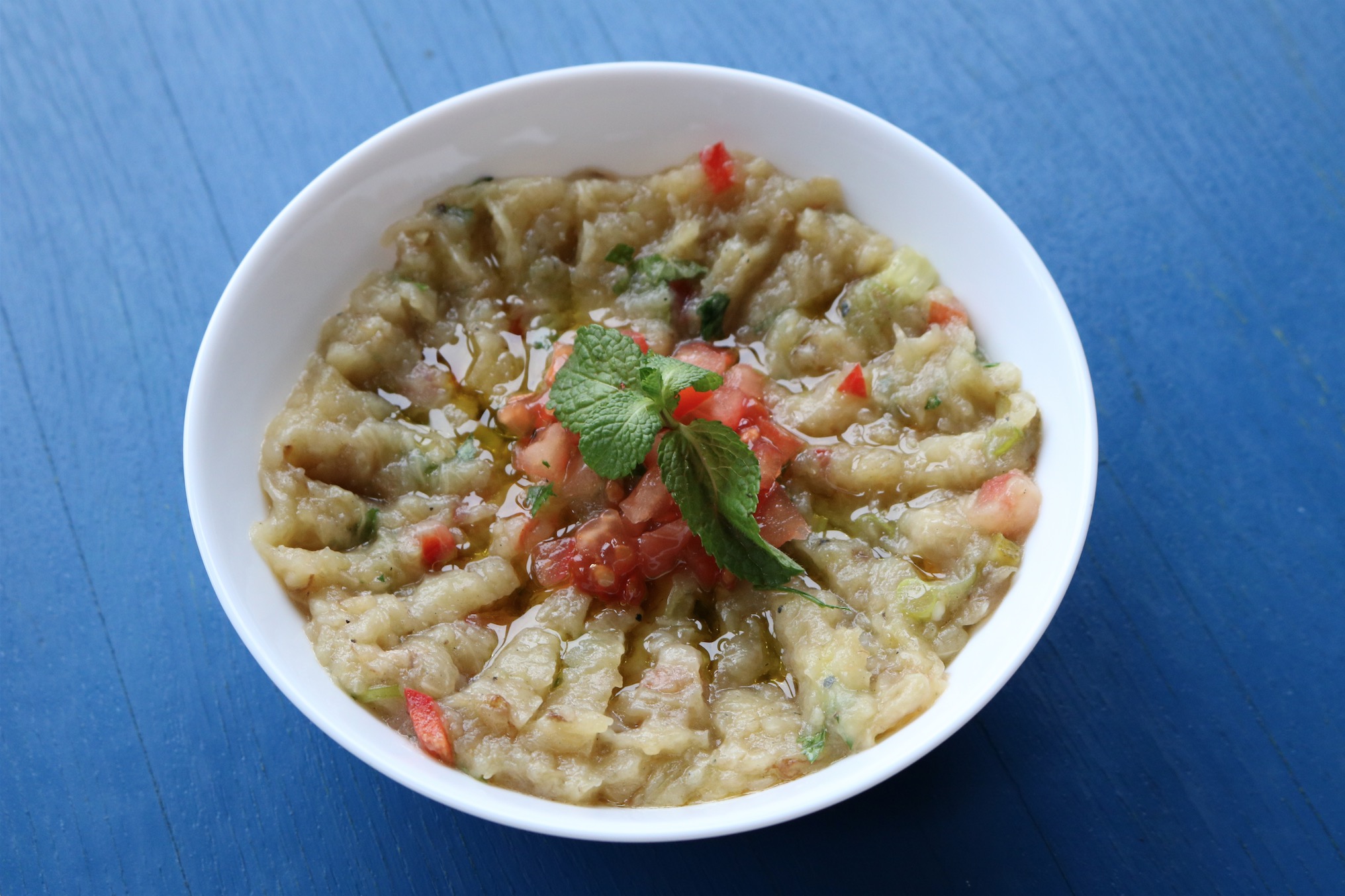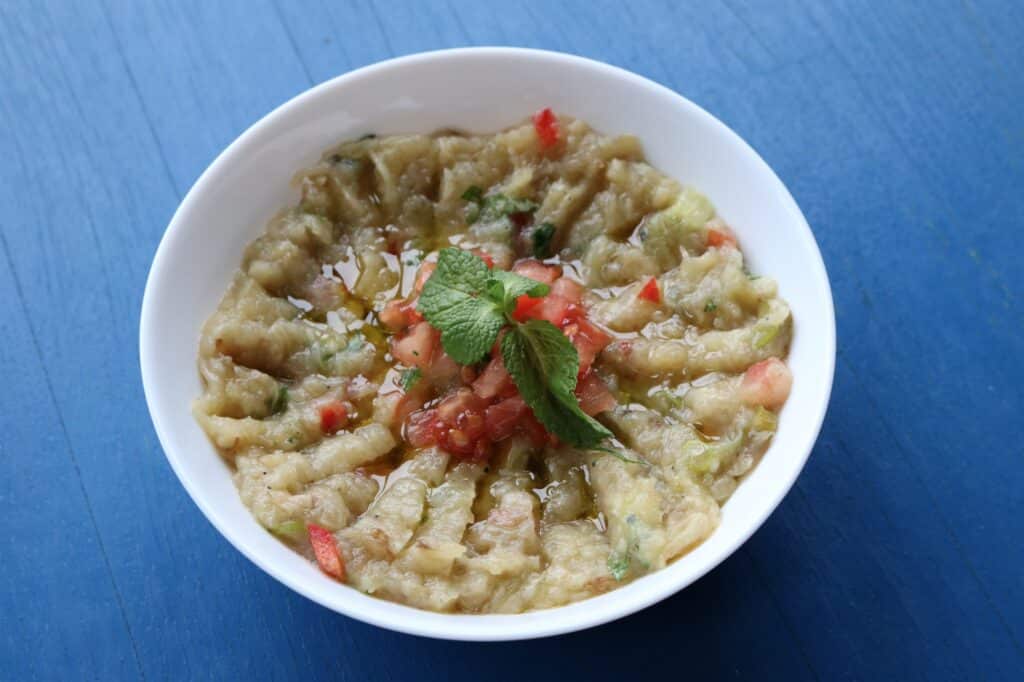 As with most salads there are no hard and fast rules so add what you love really. I have added pickles as they provide a nice tanginess to balance the earthy eggplant.
I also crumbled some walnuts in, which I feel complements the other ingredients nicely.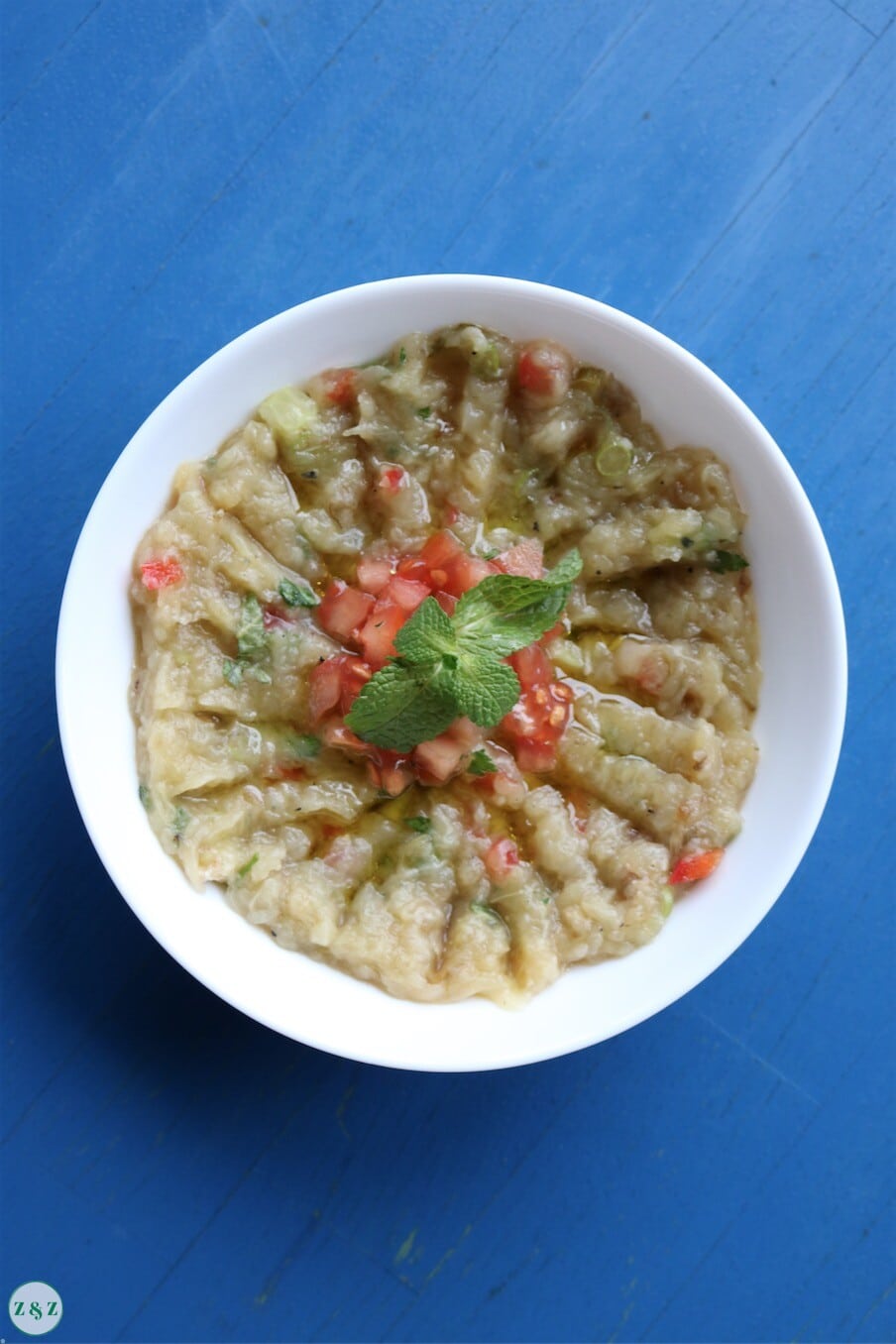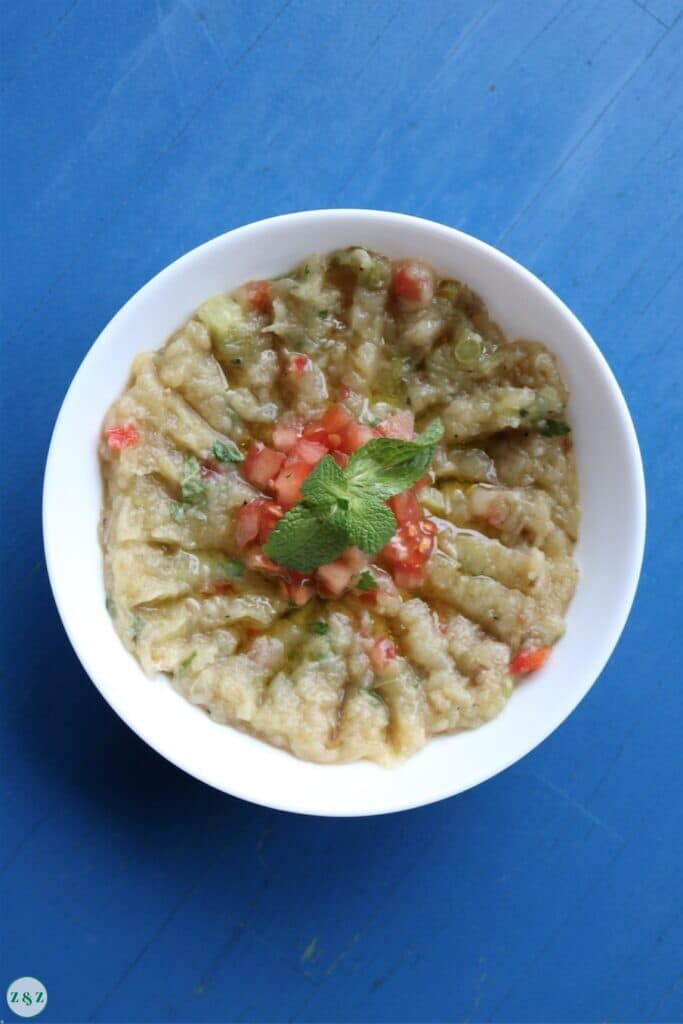 I put some of the extra virgin olive oil with the salad and kept a bit until the end as I like to drizzle a little amount on top so that it can be scooped up with the bread.
Garnish with pomegranates seeds if in season or simply with some finely chopped tomatoes and a sprig of mint.
Lastly, make sure you add lots of lemon which is needed to stop it becoming bland. I have a feeling that this will soon become one of your mezze staples in no time.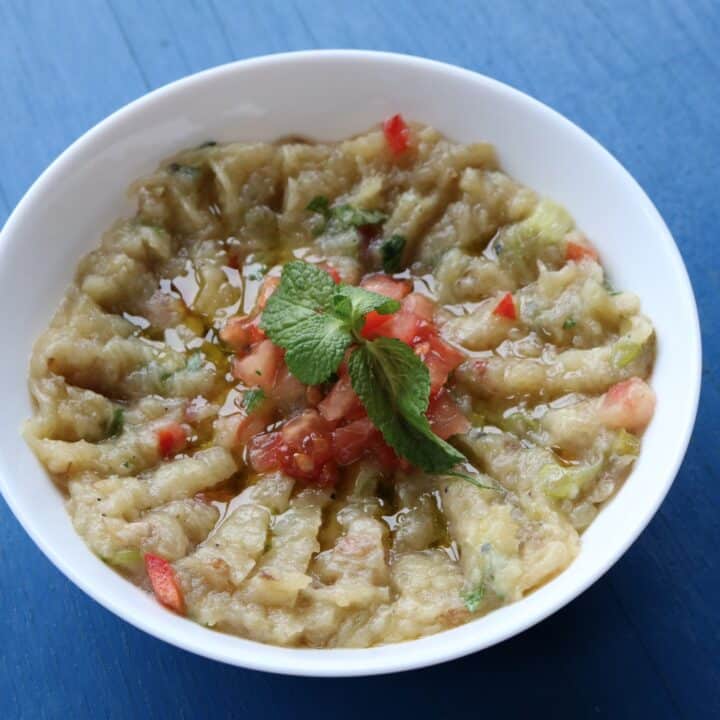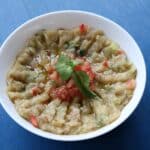 Lebanese Roasted Eggplant Salad (Salatet Rahib)
Roasted eggplant mixed with fresh salad
Ingredients
1

large eggplant

⅓

spring onion

finely chopped

1

pickle

finely chopped

⅓

salad tomato

finely chopped

3-4

mint leaves

2

sprigs parsley

½

small cucumber

3-4

walnuts

crumbled

½

lemon

juiced

2

tablespoon

extra virgin olive oil

Salt to taste approx ½ tsp
Instructions
Roast the eggplant on a gas hob for about fifteen minutes, turning every few minutes until well done.

Transfer the eggplant to a colander, cut the top off and peel the charred skin off wth a fork. Leave to drain

Finely chop the tomatoes, spring onion, cucumber, pickle, mint and parsley. Transfer to a mixing bowl

Beat the eggplant well with a pestle until you have a paste like consistency. Add to the mixing bowl along with the lemon juice, olive oil and salt

Taste the salad and adjust the seasoning if necessary. Add the crumbled walnuts and give a final mix

Transfer to a serving bowl, drizzle generously with extra virgin olive oil and add an optional garnish

Serve with fresh flatbreads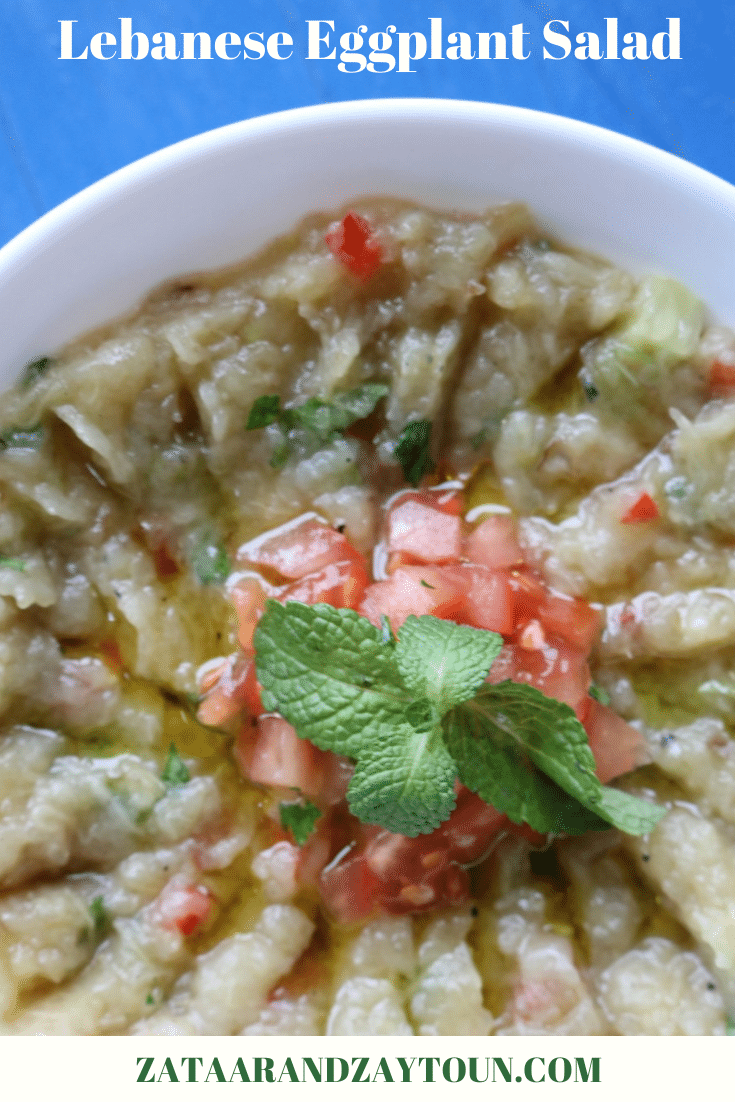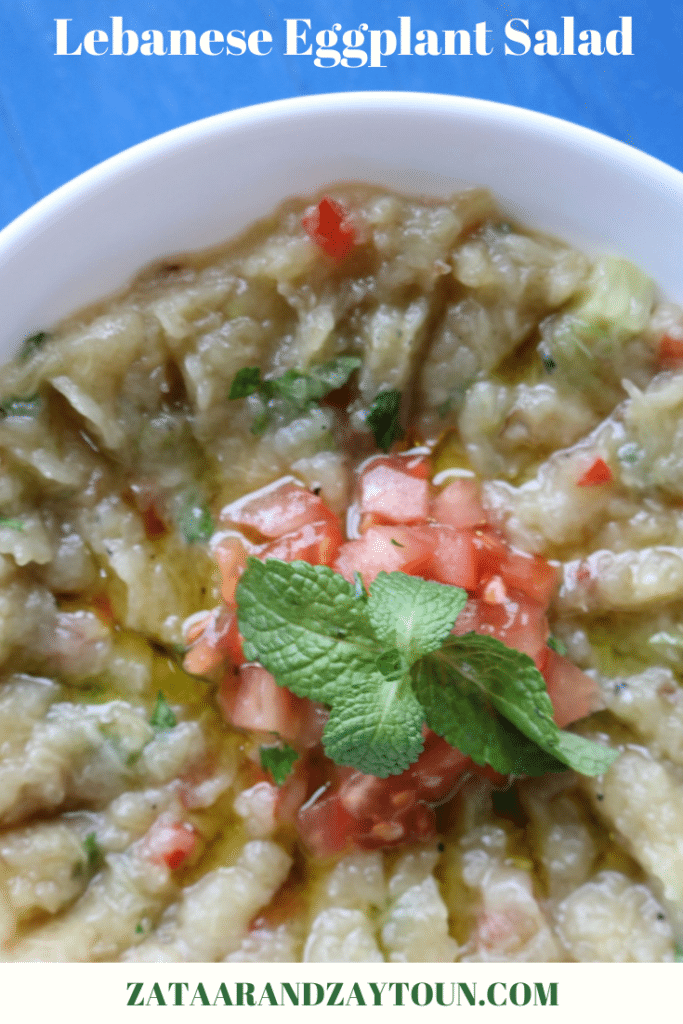 If you make any of our recipes let us know how it went by giving us a star rating below.
We have a lively Facebook group where we post frequent recipes and discuss Lebanese cooking in general, as well as a handy Pinterest page where you can save all of your favourite Zaatar and Zaytoun recipes!
You might also like these other recipes from the Zaatar and Zaytoun collection: