What is Baba Ganoush?
Baba ganoush (aka Moutabal) is a smokey eggplant dip that uses tahini, lemon and olive oil as its base. It often features in mezze spreads and in the 'starter' categories of many menus.
The Lebanese version is made in a very similar to way to hummus and shares many key ingredients except the chickpeas of course.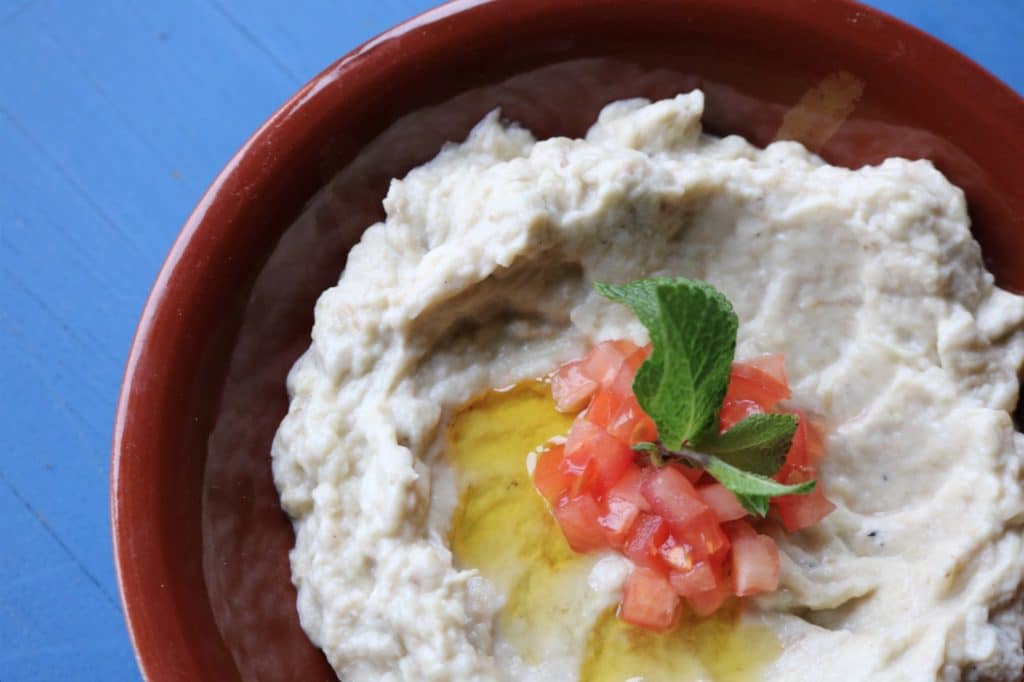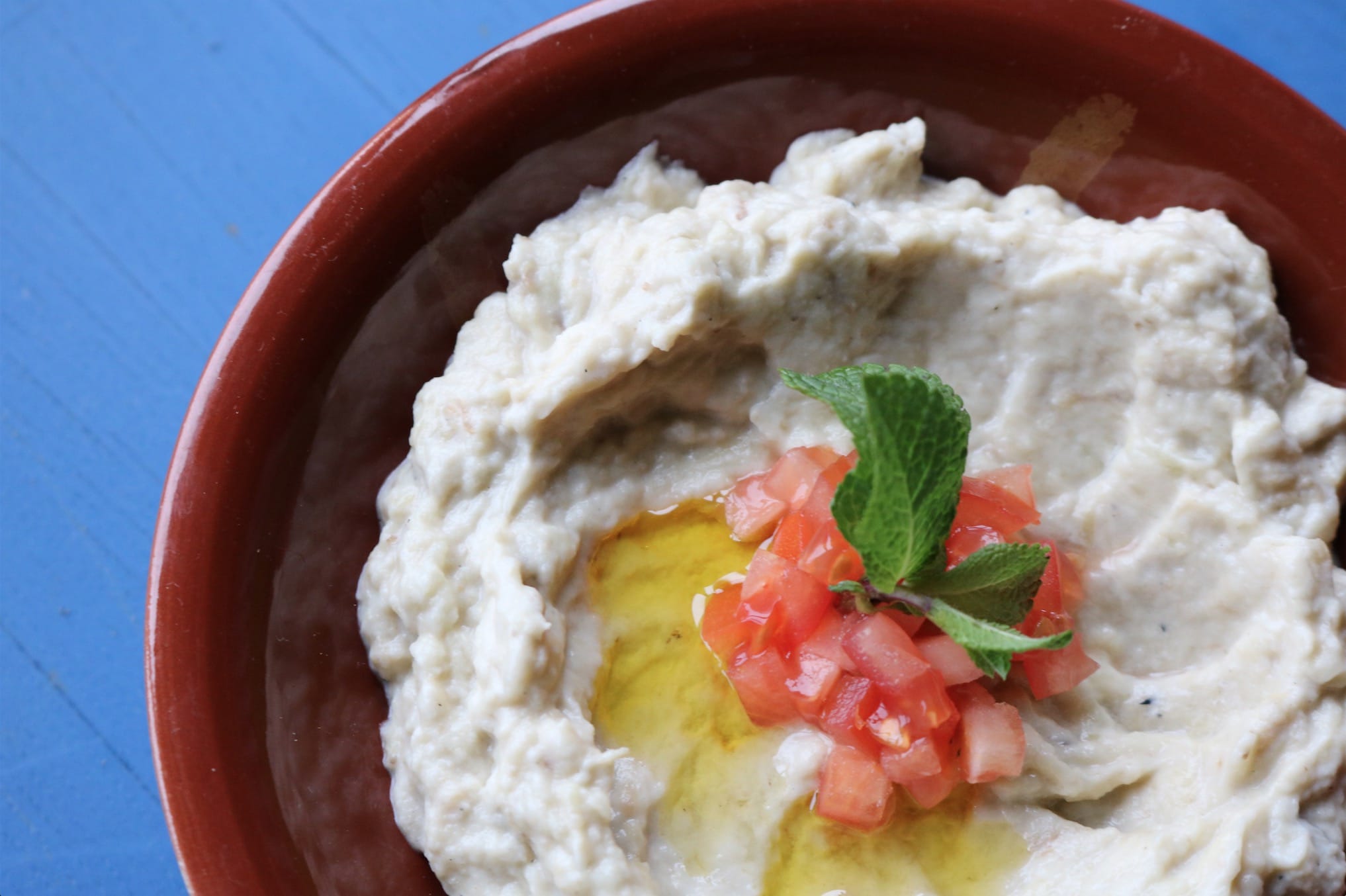 You don't need to add any extra spices or herbs, just get the basics right and there's nothing more to it.
Jump to:
The eggplants
This recipe uses eggplants (aubergines) charred on a gas hob, which can be a messy to clean up afterwards but the smokey flavour is worth the trouble.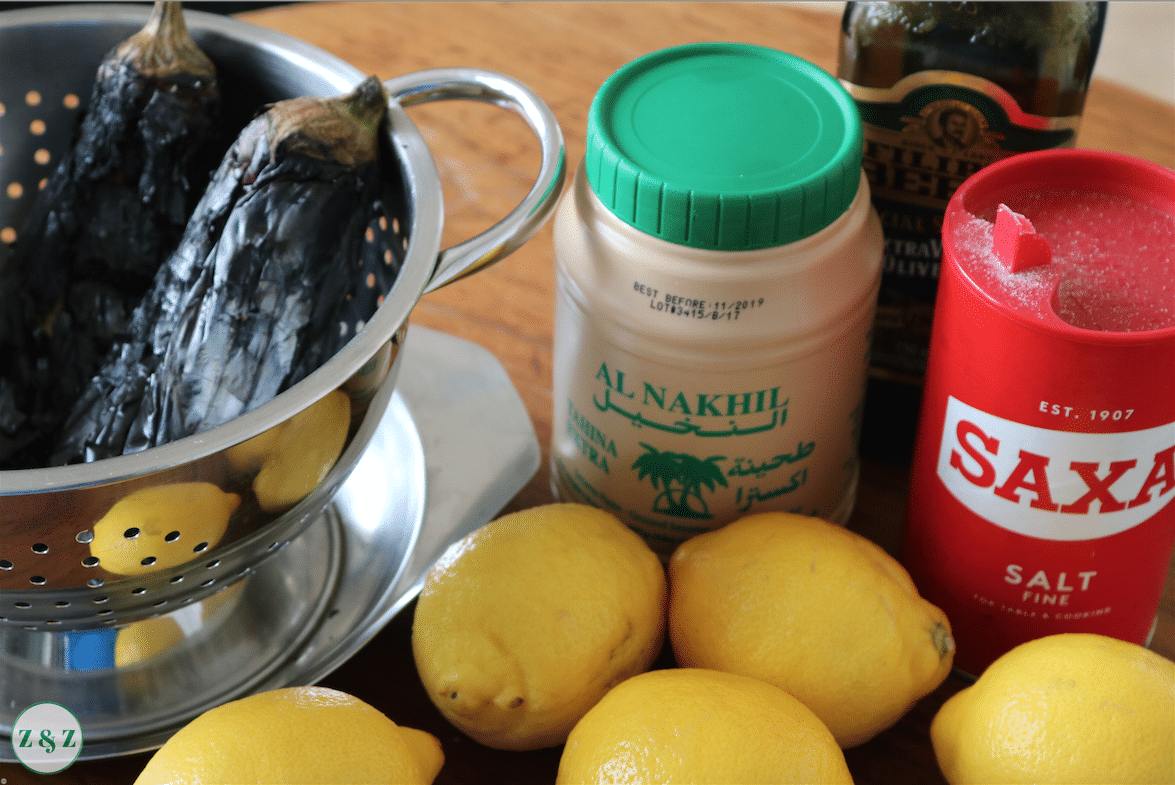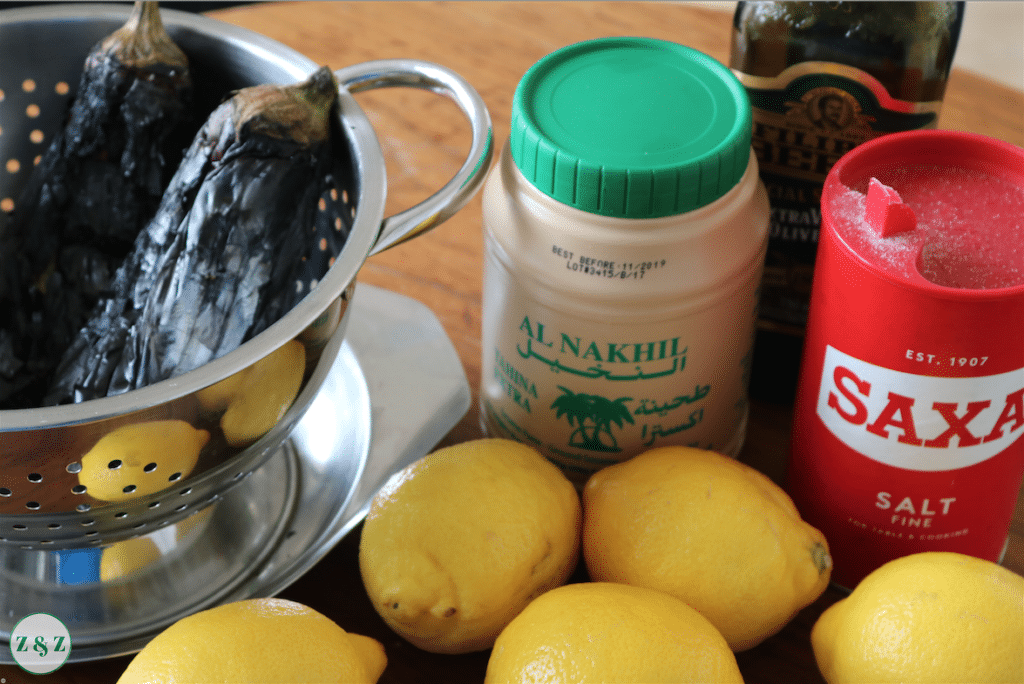 If you want to skip the mess you can roast them in the oven until well done but you will lose something in the overall flavour.
While some people like to process the peeled aubergine in a blender I prefer to use a pestle and mortar as I don't want the texture too puréed.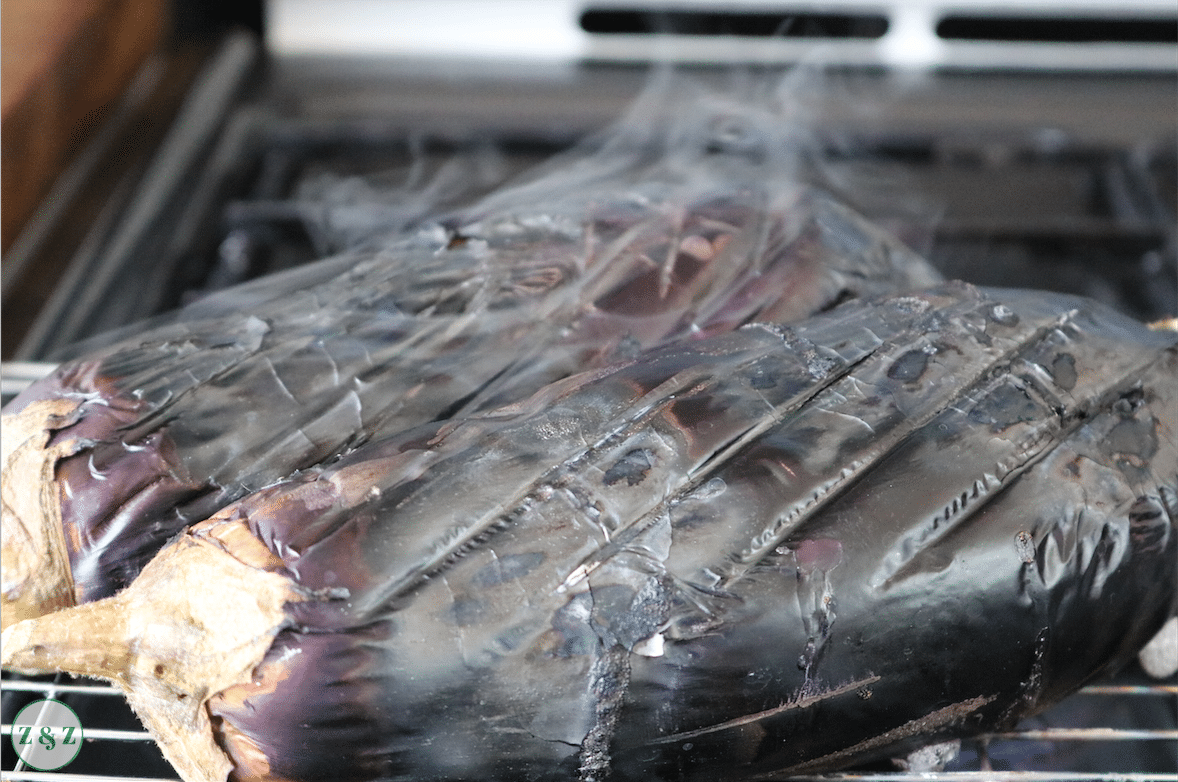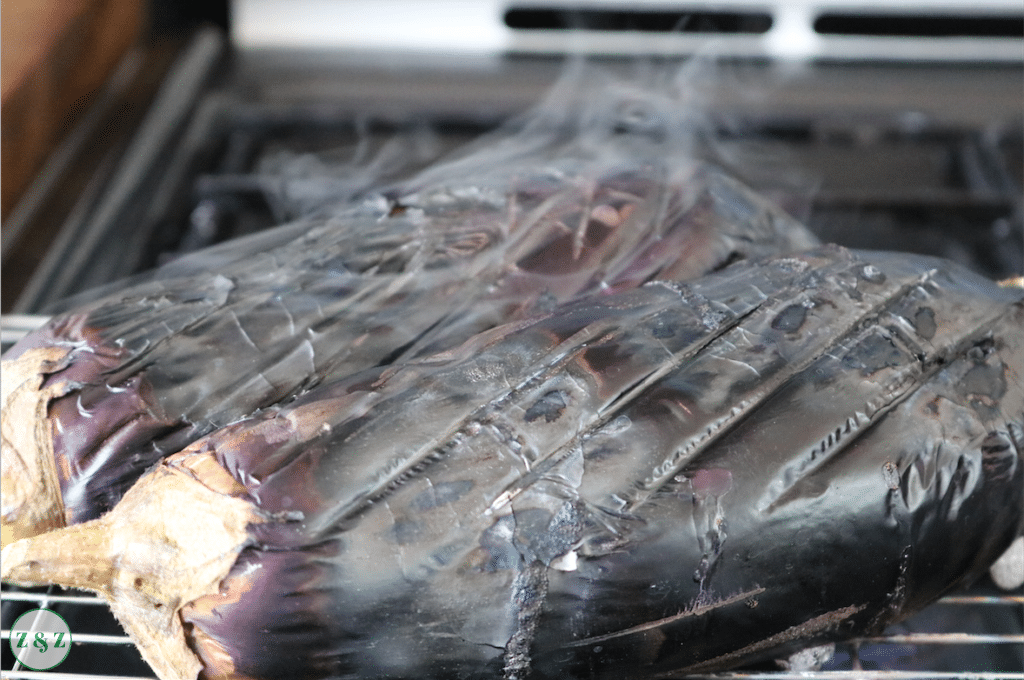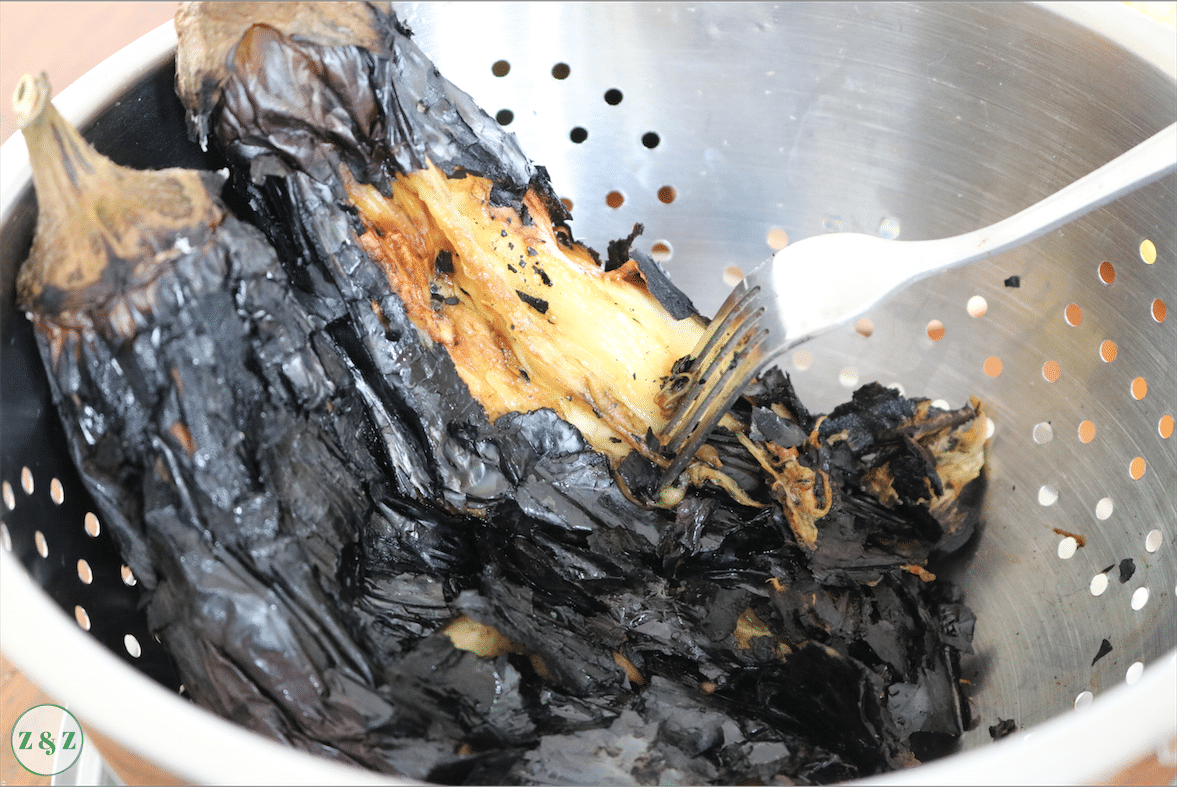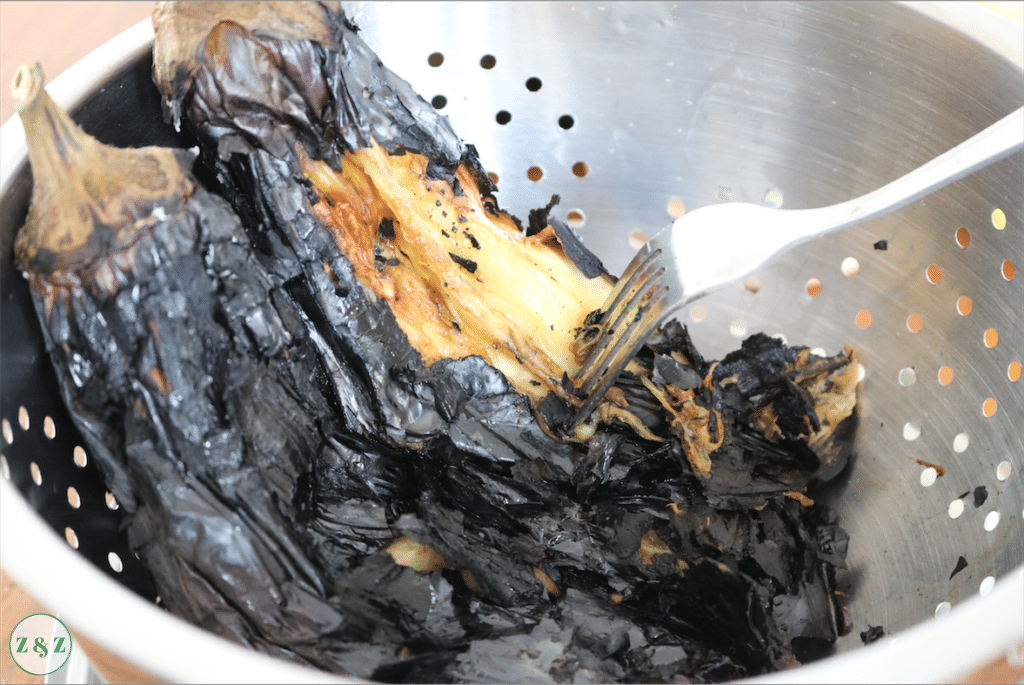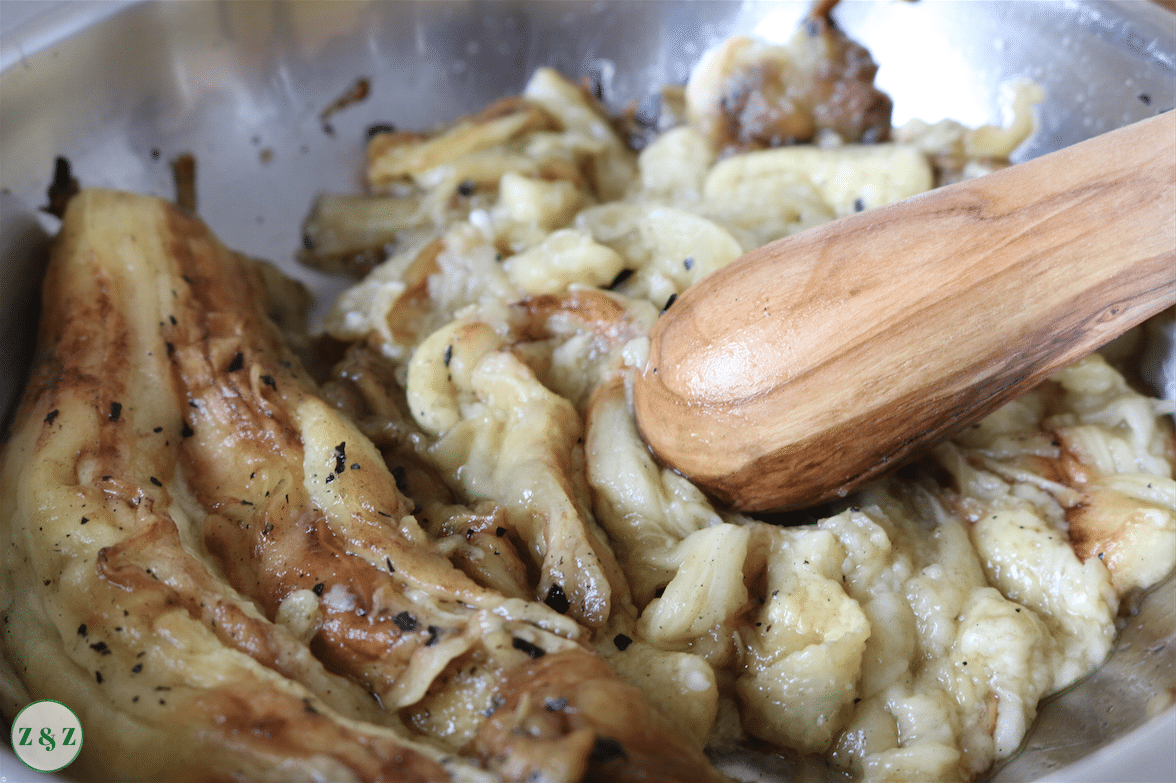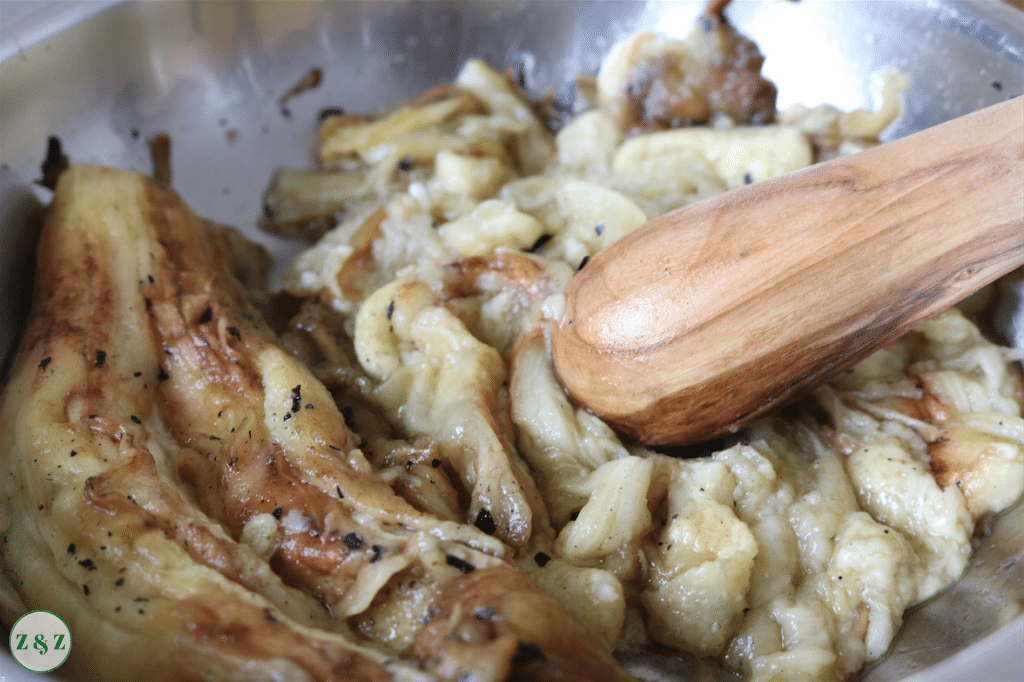 Top tips
The key is to keep tasting and adjusting the seasoning bit by bit deciding if you need more lemon for tanginess, more tahini for earthiness or more salt.
I don't put too much olive oil in the mix as I like to drizzle good amounts on top.
If you use garlic you have to eat it within two days, so you can leave the garlic out at the beginning and add it later if you want it to keep for more than that.
If you make extra eggplants, they can also be frozen if you want to use them later.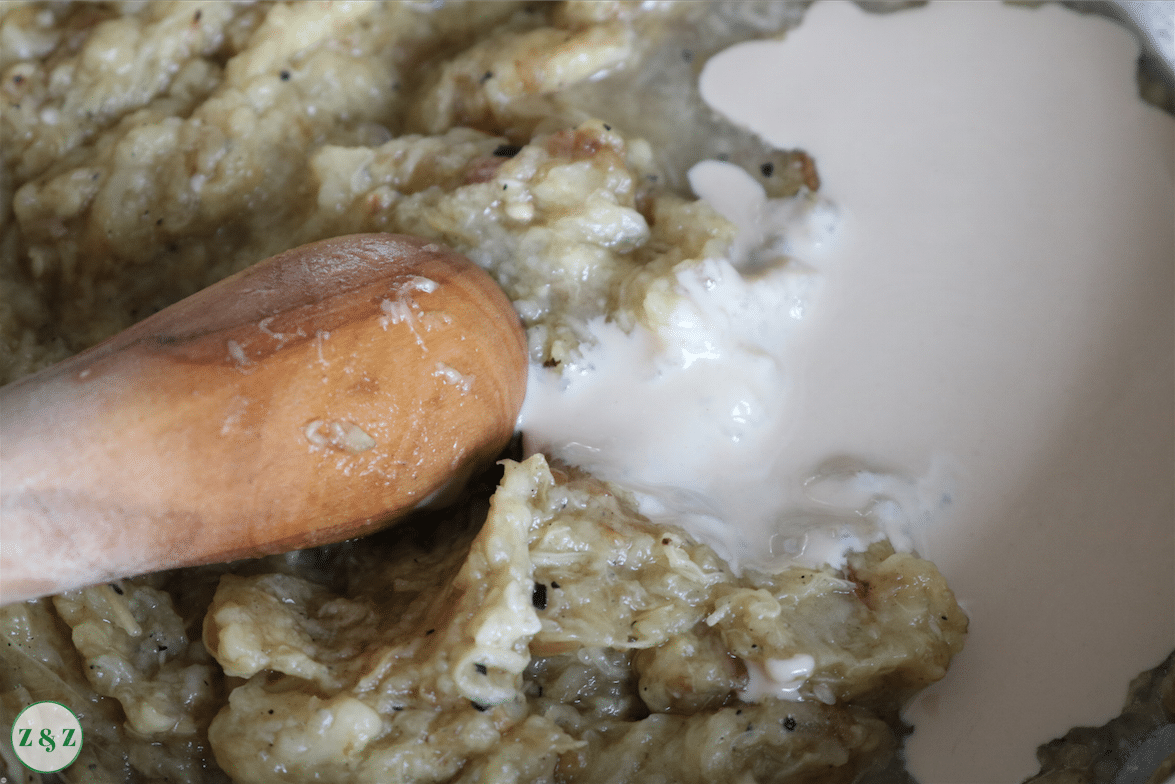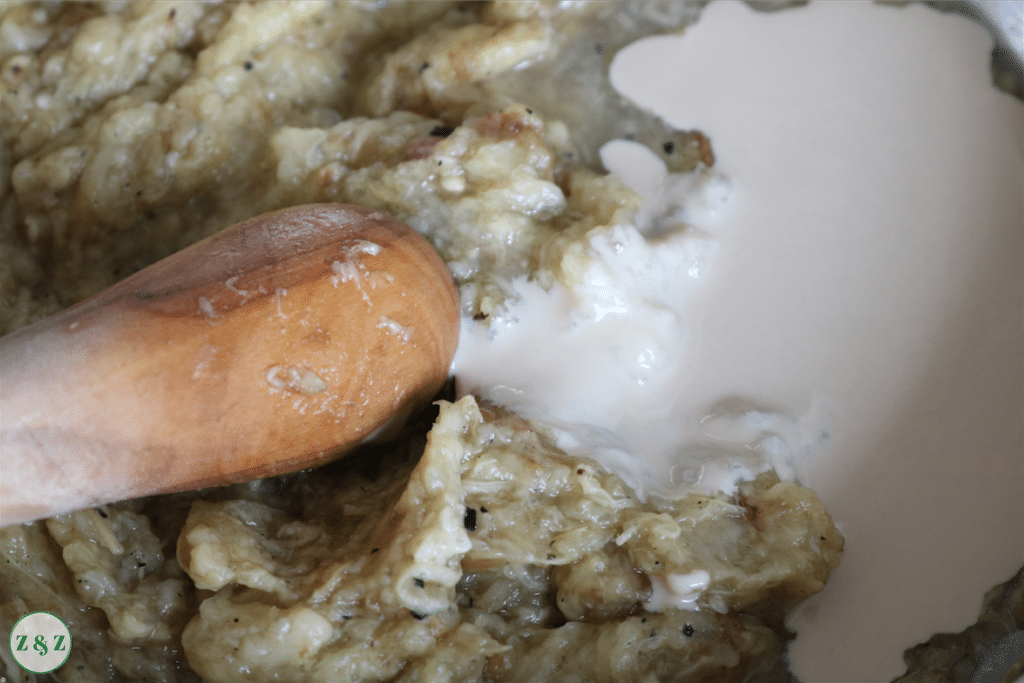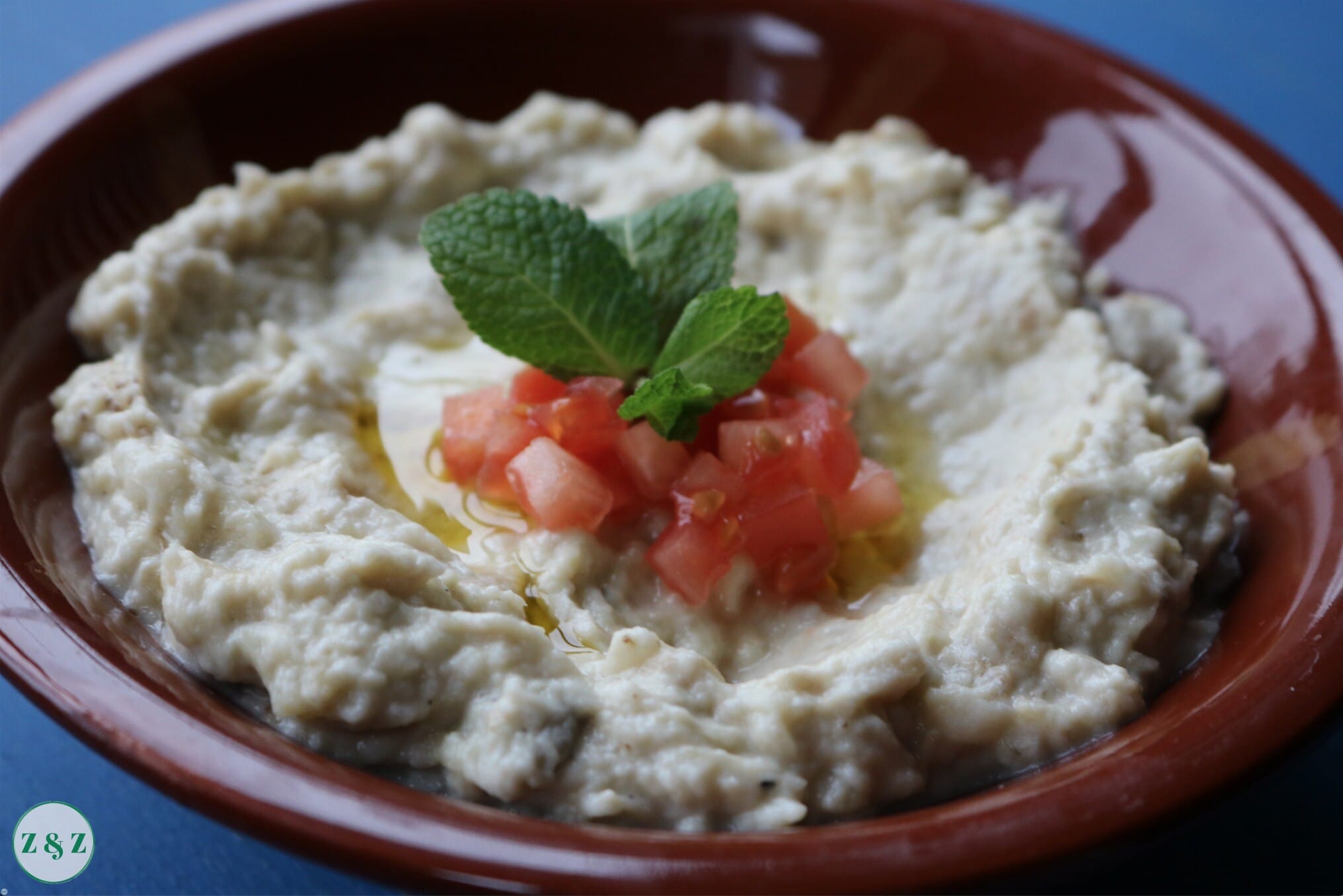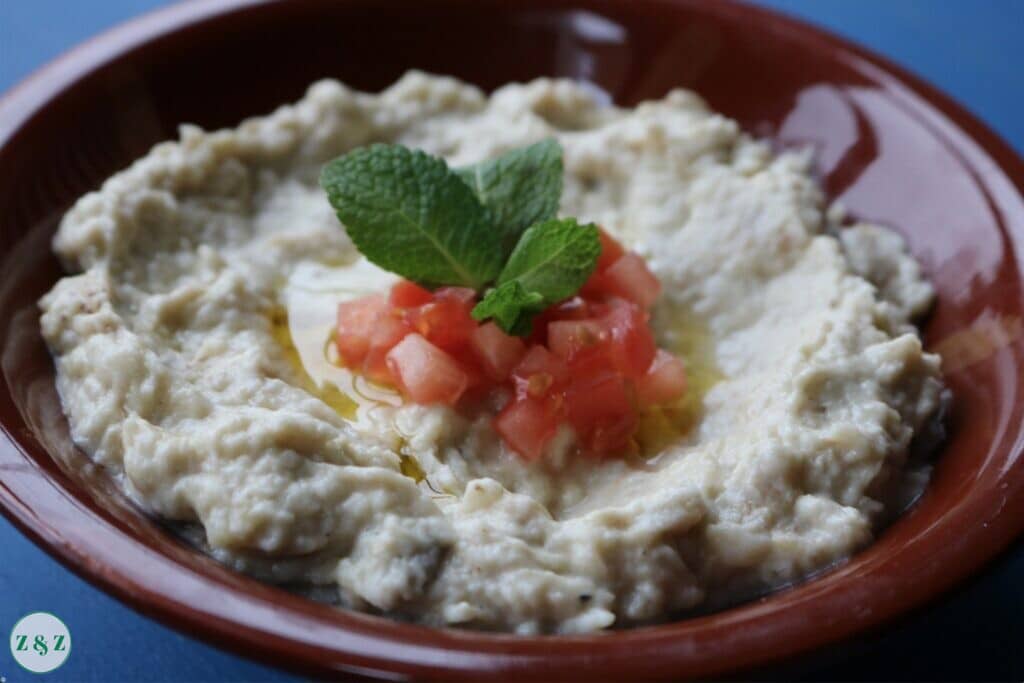 Serving
Baba ganoush can be eaten with flatbread, scooped up with nachos, included in sandwiches and wraps as well as eaten with a side of salad and chips.
If you have a few pomegranate seeds, sprinkle some on top. You can also sprinkle a little sumac on top as well.
Be careful, it's addictive and no other starter can satisfy your savoury cravings like it.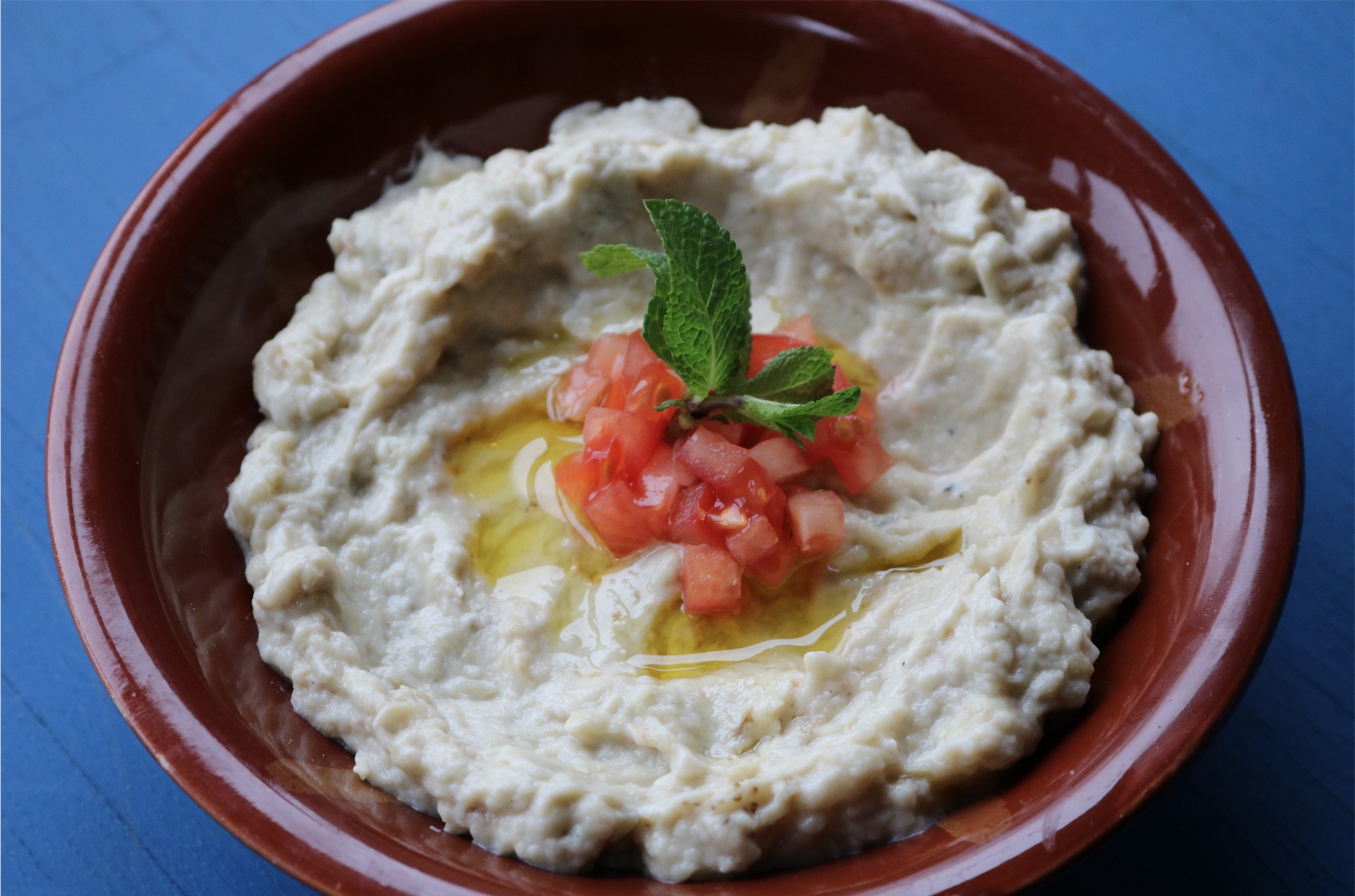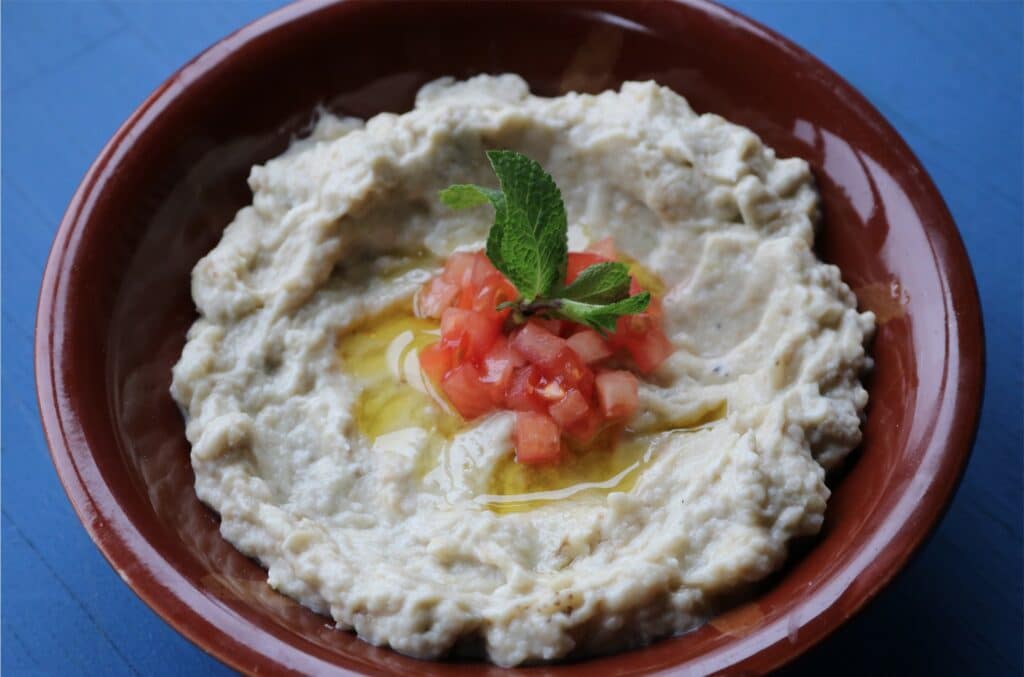 📖 Recipe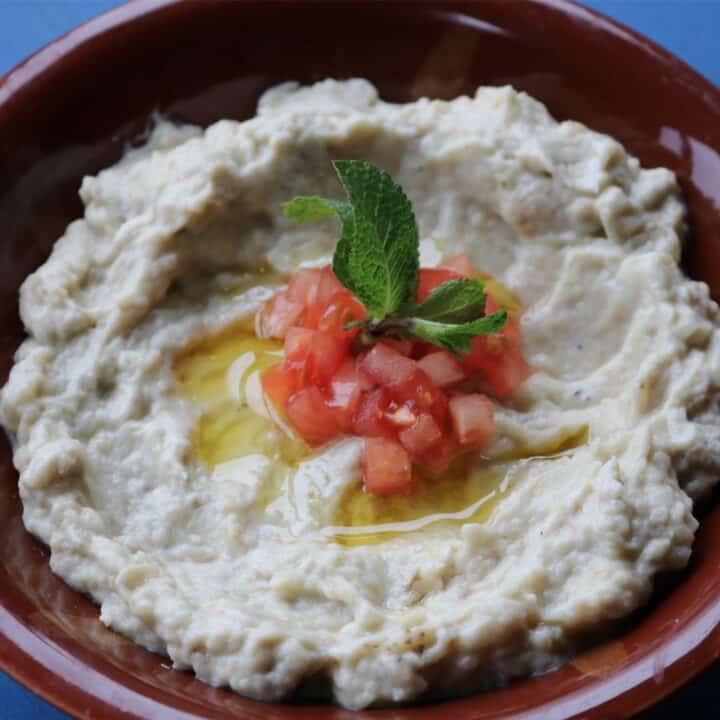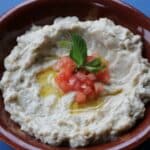 Lebanese Baba Ganoush
Eggplant dip made with tahini and lemon
Ingredients
2

large eggplant (aubergines)

approx 1 kg

1

lemon

1

garlic clove, crushed

1

teaspoon

salt

½

cup

of tahini

drizzle of extra virgin olive oil
Instructions
Char the eggplants on a gas hob for about fifteen minutes. Turn every few minutes until well done.

Put the aubergines in a colander, cut the tops off and remove the burnt skin with a fork

Transfer the peeled eggplants to a bowl and beat well with a pestle, you can also use the bottom of a sturdy cup.

Add the lemon, tahini, salt and garlic and mix well. Taste and adjust the seasoning if necessary.

Drizzle with good extra virgin olive oil just before serving.
Recipe Video
If you make any of our recipes let us know how it went by giving us a star rating below.
We have a lively Facebook group where we post frequent recipes and discuss Lebanese cooking in general, as well as a handy Pinterest page where you can save all of your favourite Zaatar and Zaytoun recipes!
You might also like these other recipes from the Zaatar and Zaytoun collection: