Moussaka Moussaka! Which person with refined tastebuds doesn't love moussaka? It's a cheap and cheerful dish that can easily feed a crowd.
Almost every Mediterranean country has their own version of Moussaka and i'm not going to get into the debate about who invented it bla bla..
All I know for sure is that it is delicious and this is how we make it at home.
Lebanese moussaka is sometimes known as 'maghmour' and the best way to make it is to griddle eggplant (aubergine) before adding to tomato sauce.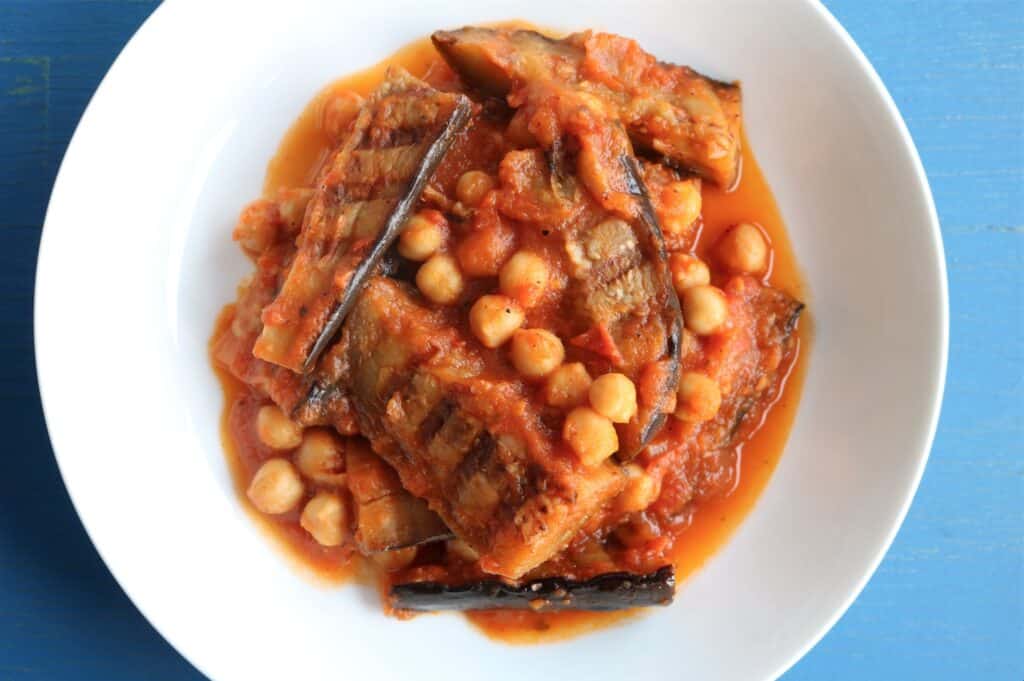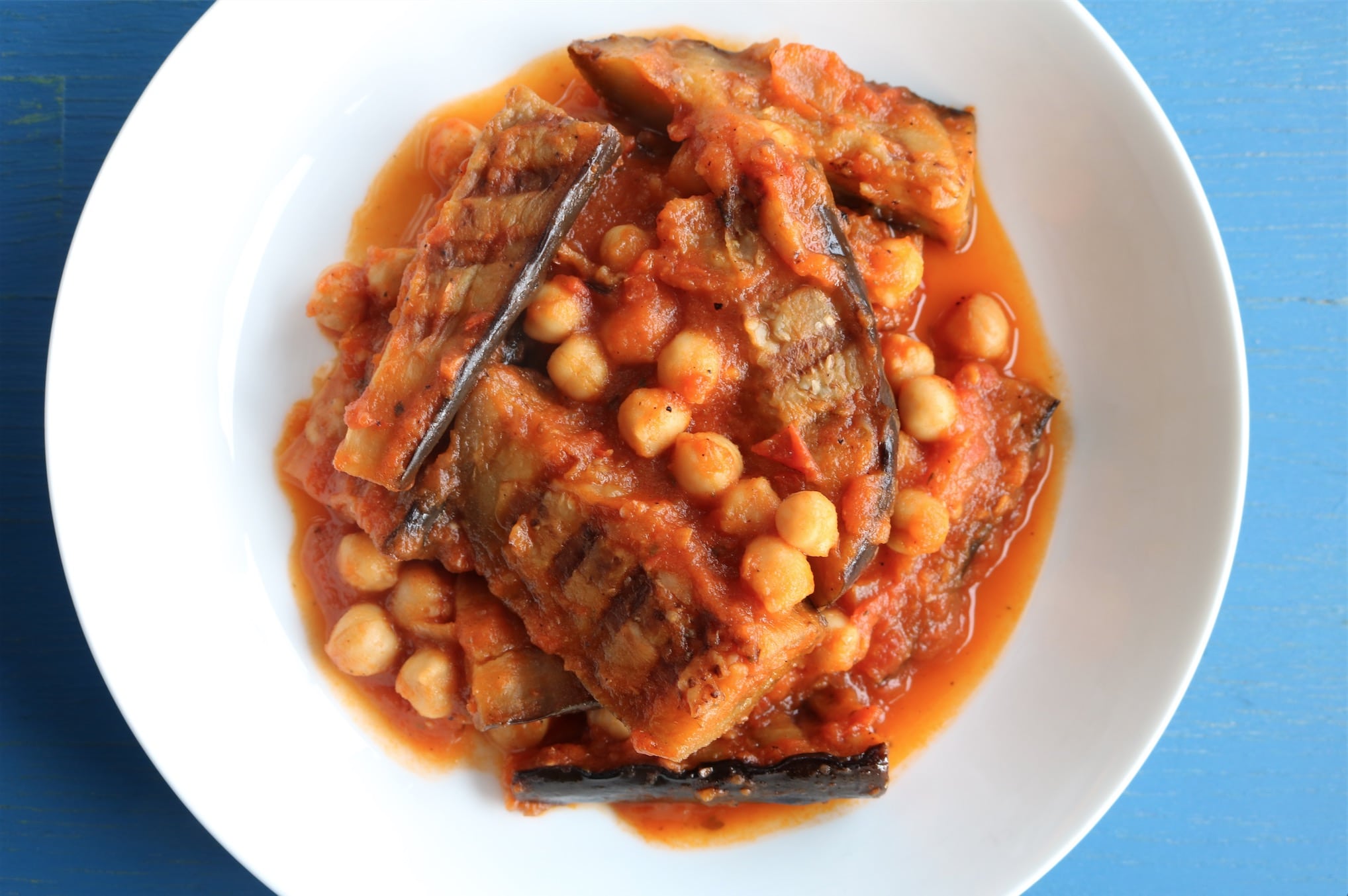 Making stews
Once you know how to make any basic stew then you can apply the same principles to other combinations.
I always start with the onions and garlics, then I sauté the veg with them before adding the tomato sauce.
You always add everything that needs more time first so in this example the pre cooked canned chickpeas come in at the end.
If there are herbs you add them near the end too as you don't want to cook the hell of them.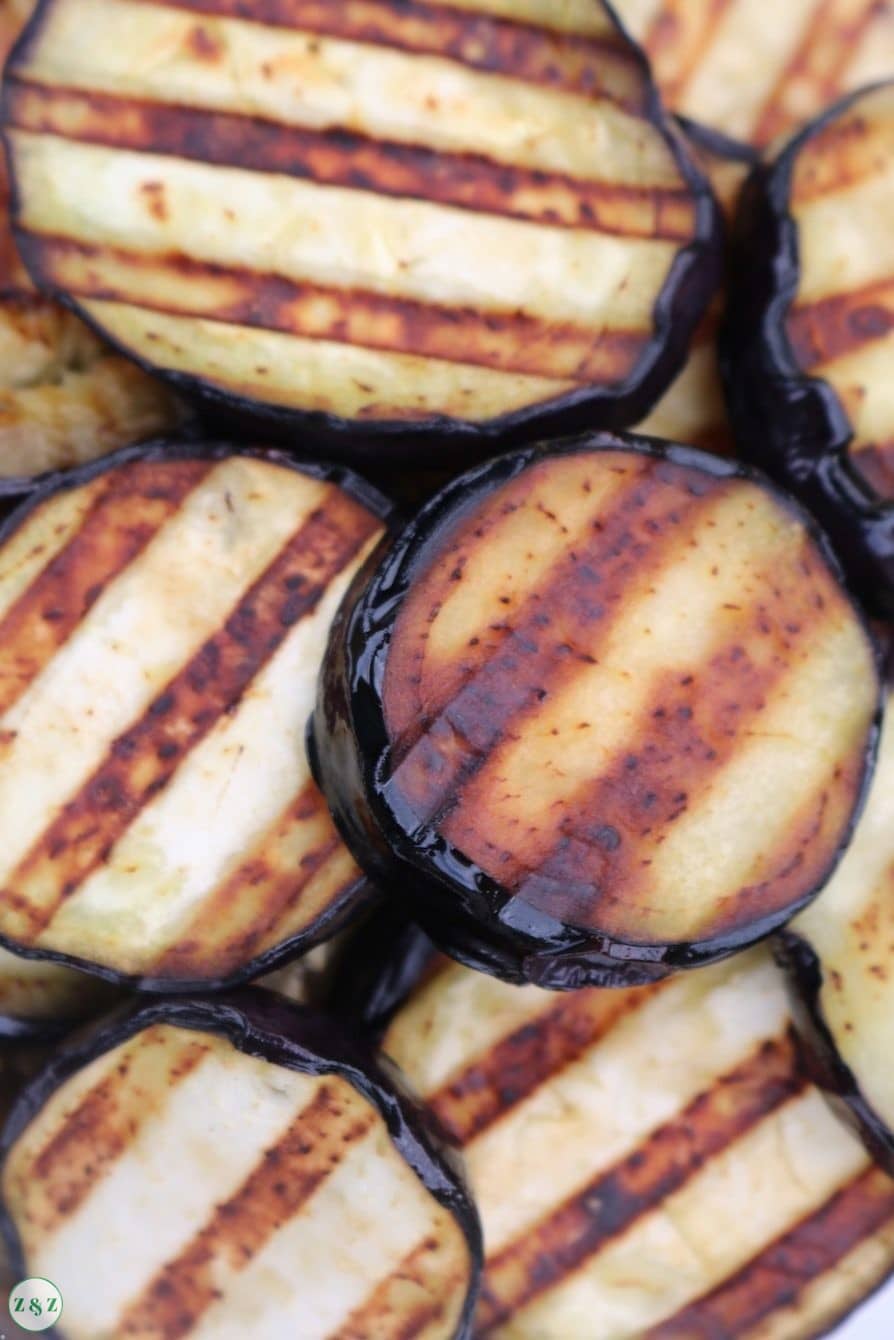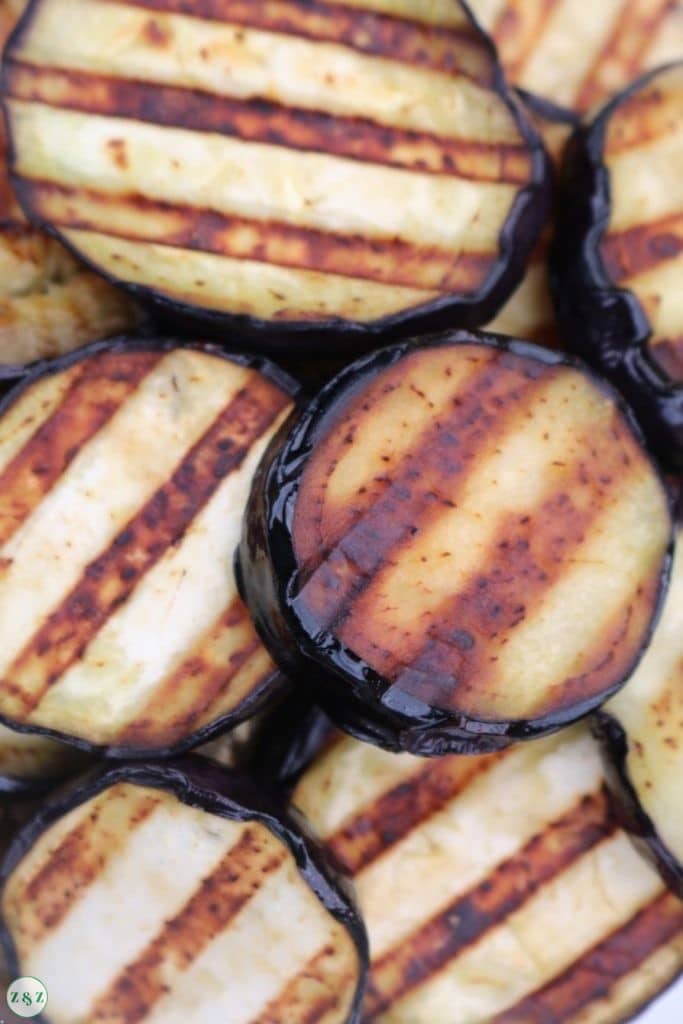 I season everything a tiny bit as I go along and add the main salt amount ⅔ of the way through usually before I turn the heat to low and leave to simmer.
You can see this basic process at work in my green bean stew recipe and you can apply it to most curries and dishes that involve simmering something in tomato sauce.
The sauce
Speaking of tomato sauce, I have used a combination of fresh tomatoes, along with one tablespoon of tomato concentrate and a bit of boiling water.
If tomatoes are out of season, it is acceptable to use one can of tomato that has been blitzed with a hand blender.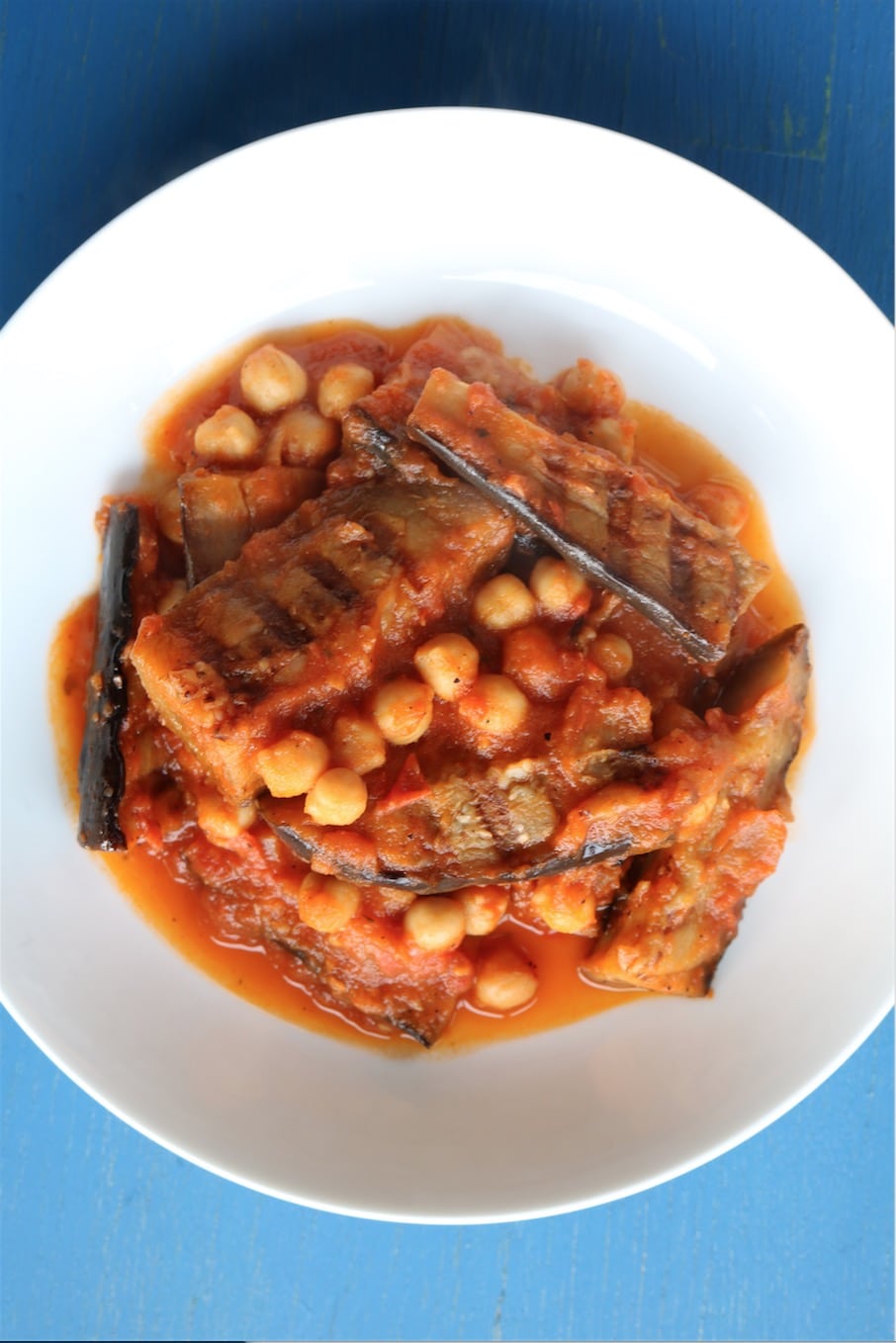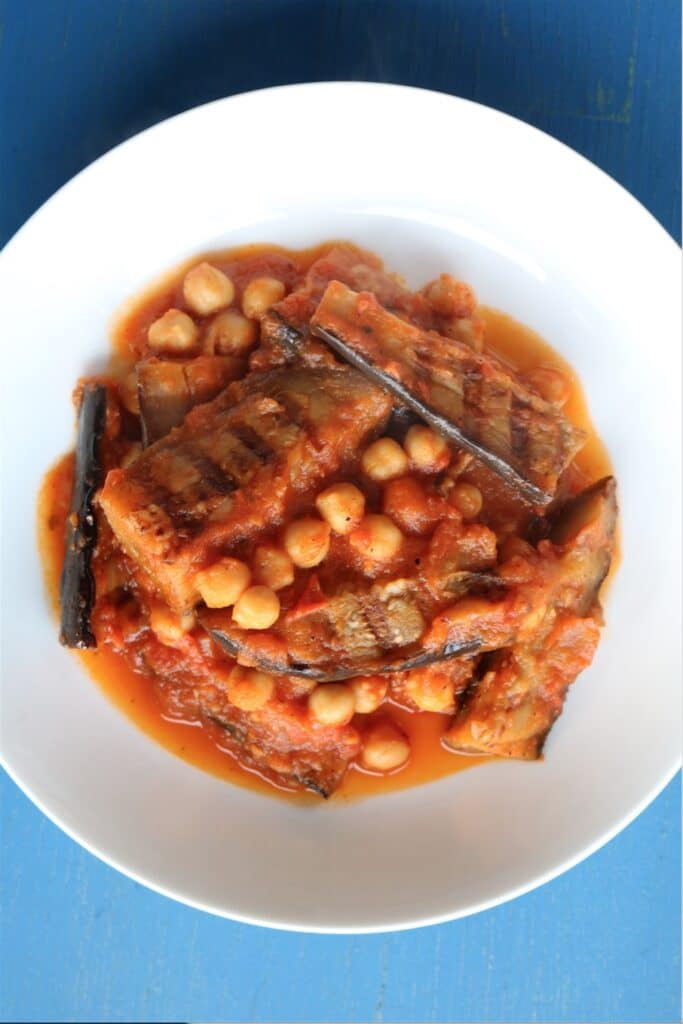 Top tips
Final note, when you add the eggplants with the tomato sauce, make sure you stir them carefully and try not to break them up as much as possible.
Gently fold them into the other ingredients but don't vigorously mix as you don't want to end up with an odd baba ghanoush.
This dish is best scooped up with some warm pitta bread in small bites of moussaka joy, perfect for those blustery cold evenings 😊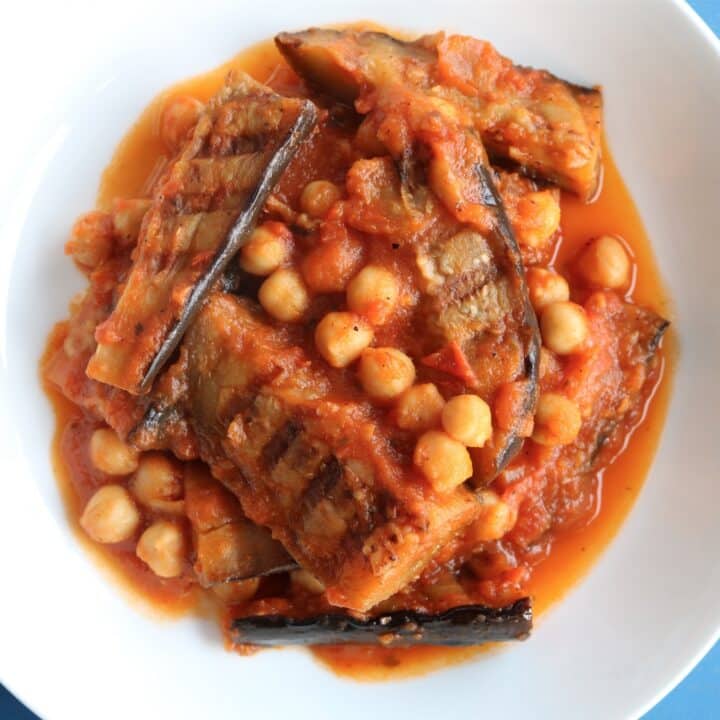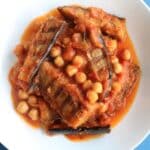 Lebanese Moussaka (Maghmour)
Vegan moussaka with eggplant and chickpeas
Ingredients
2

Large Eggplants

approx 750g

Drizzle regular olive oil

1

large onion

sliced into strips

2

garlic cloves

chopped

¼

teaspoon

7 spice

4

tomatoes

1

tablespoon

tomato concentrate

1-2

cups

boiling water

1

can chickpeas

2

teaspoon

salt

approx
Instructions
Cut the eggplants into 2cm rounds or lengthways. Brush with regular olive oil and griddle until mostly done, set aside

Add a good drizzle of olive oil (2-3 tablespoons) and sauté the onions on medium heat until golden

Lower the heat and add the garlic, sauté for another 5 minutes on low

Add the tomatoes, tomato concentrate, chickpeas and 7 spice and boiling water. Bring to the boil and then reduce the heat to a simmer for 15 minutes

Add the eggplants and salt and simmer for another 20-30 minutes until the eggplants are well done

Taste the sauce and adjust the salt if necessary, serve with warm pitta bread
Recipe Video
If you make any of our recipes let us know how it went by giving us a star rating below.
We have a lively Facebook group where we post frequent recipes and discuss Lebanese cooking in general, as well as a tiktok page.
You might also like these recipes from the Zaatar and Zaytoun collection: