Kafta bil sanieh is a baked meat, potatoes and tomatoes dish covered with a rich tomato sauce and topped with thinly sliced onions.
It is a crowd pleasing dish suitable for big family gatherings and everyone seems to like it, young or old.
Rounds of tomato, potato and kafta patties are arranged in layers either horizontally or vertically to give the ultimate kafta tray bake.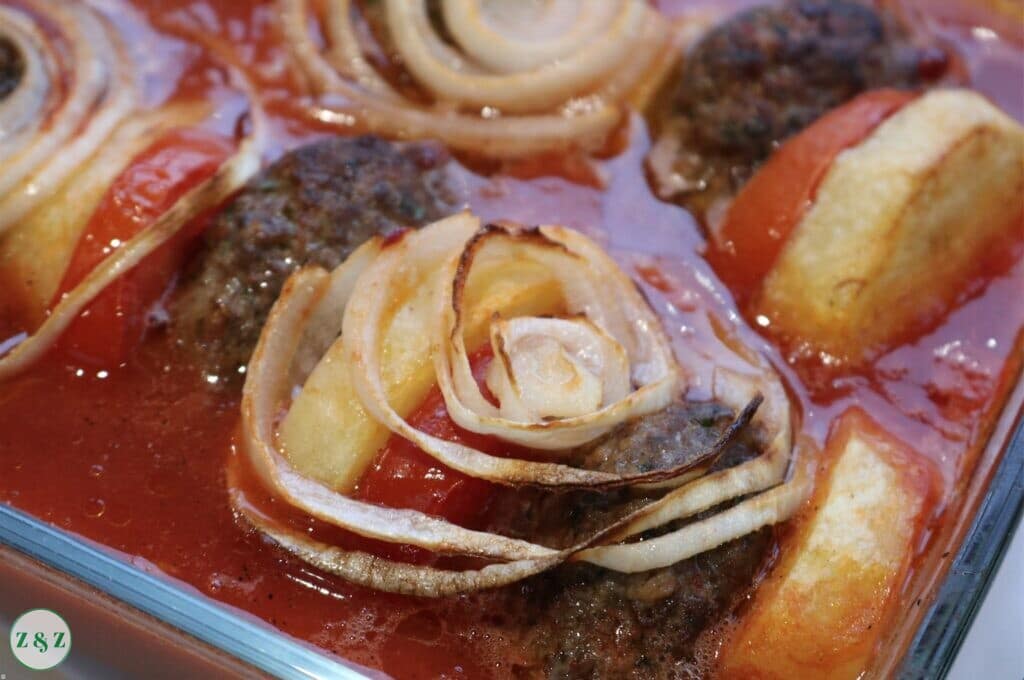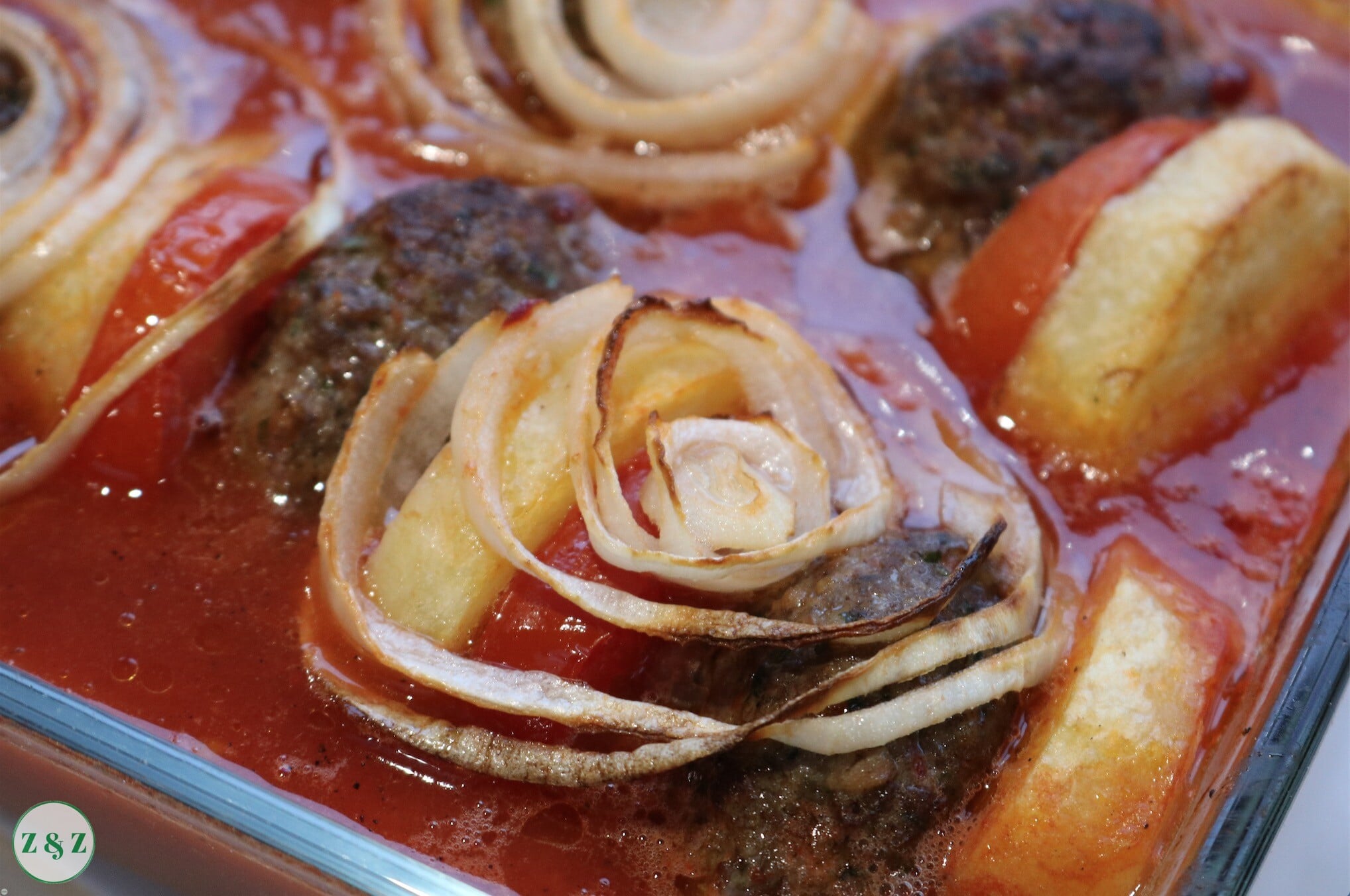 Jump to:
The Kafta
The kafta is made in exactly the same way as you would for my grilled kafta recipe, which is made from ground beef, parsley, onions and a few spices.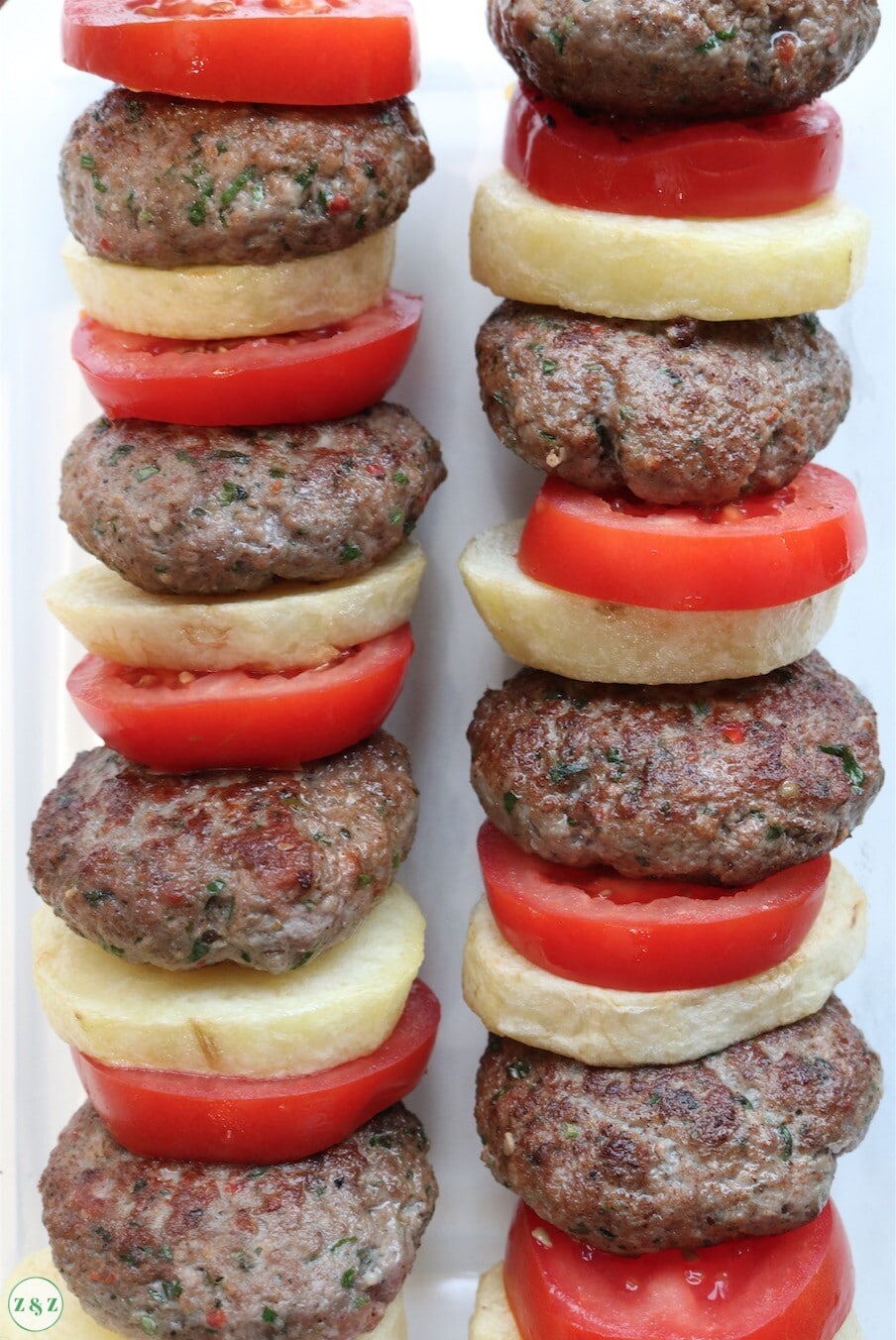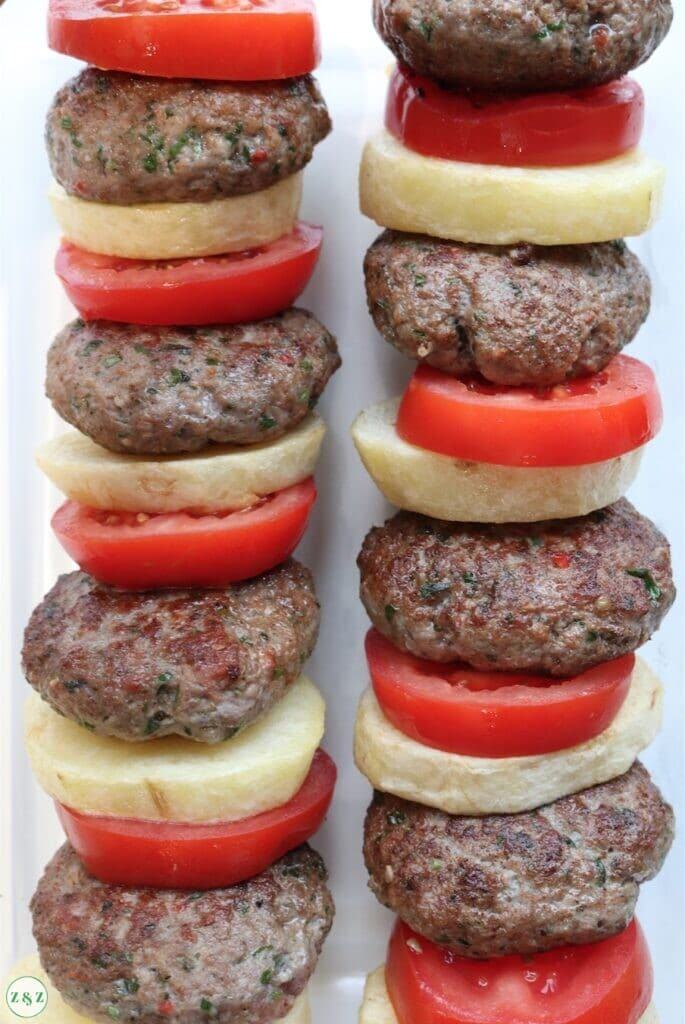 The kafta in this recipe are shaped into patties that can fit nicely into your palm. I keep them a little plump so they remain tender.
So here's the thing, I don't like scaring people off cooking with extra steps but then I have a duty to tell you the most delicious way to make everything.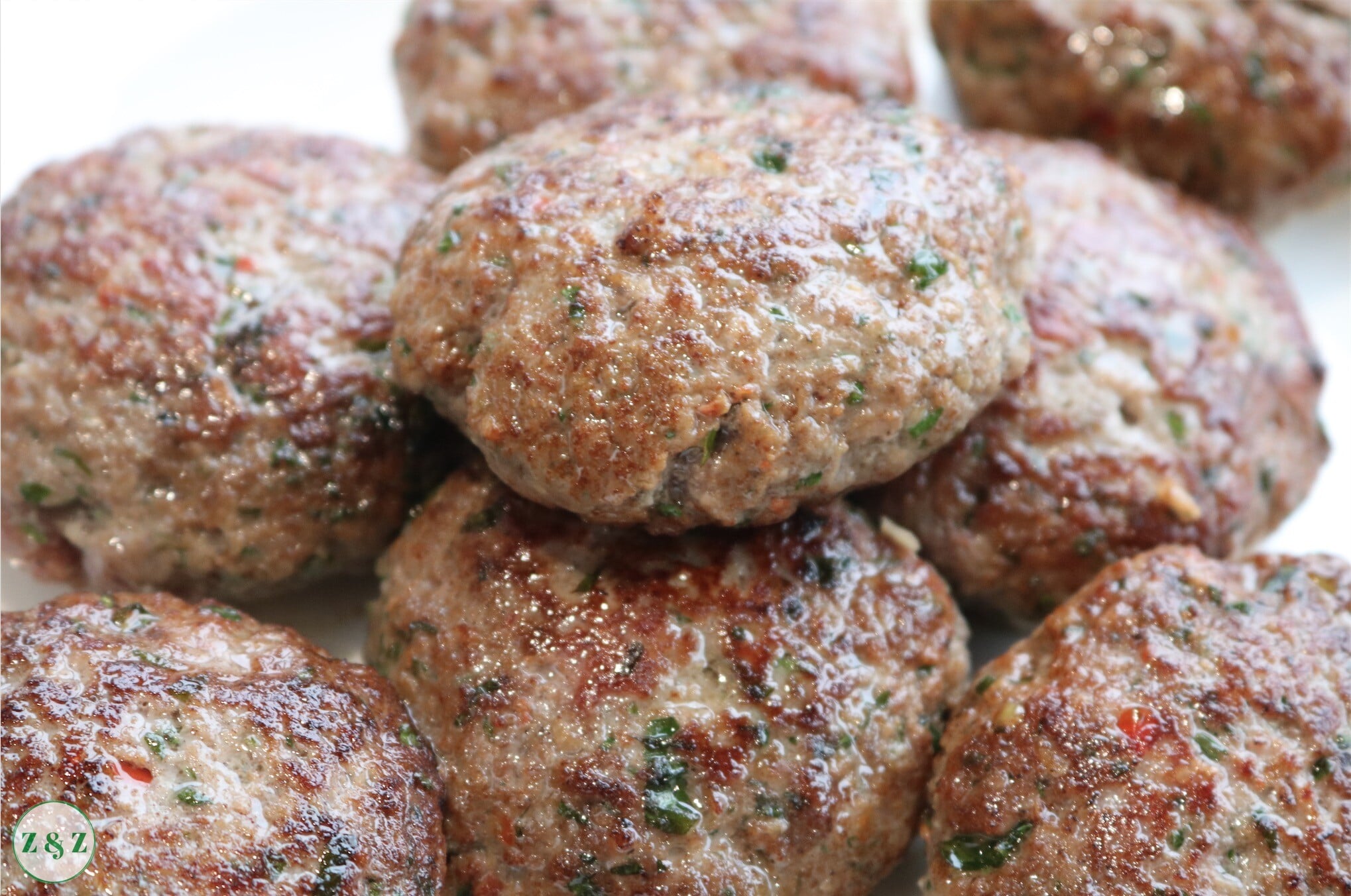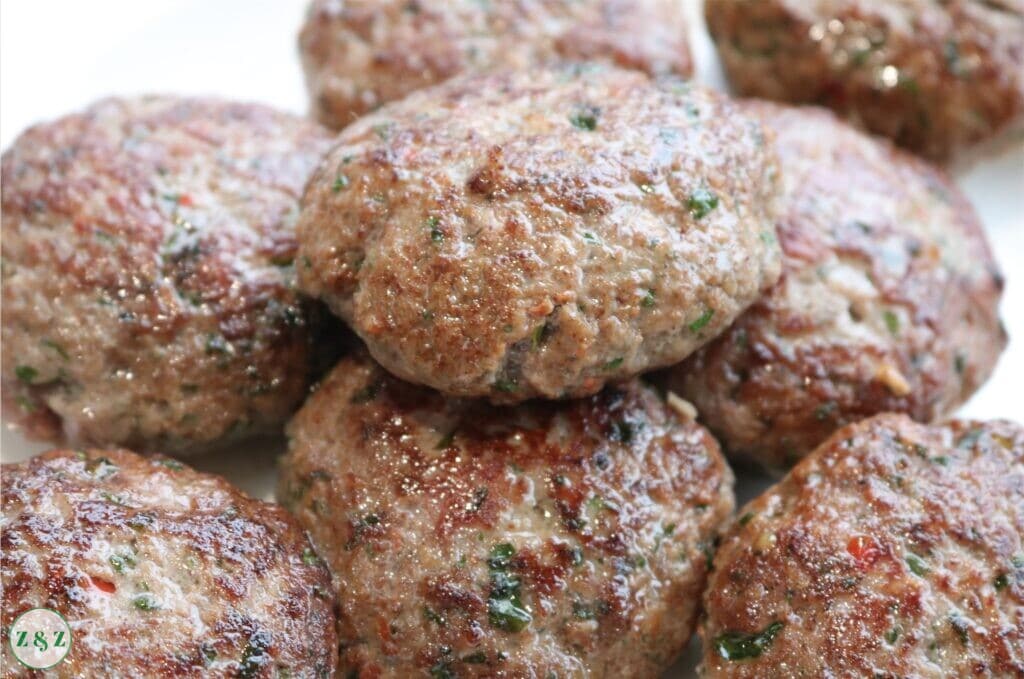 You could put the kafta straight into oven uncooked but that might give you boiled meat favour which I despise, so I flash fry them in a non stick pan on high heat just to seal off the outside.
This should only take a few minutes and will give a nice flavour, as well as making sure they don't fall apart once you cover them with sauce.
The Potatoes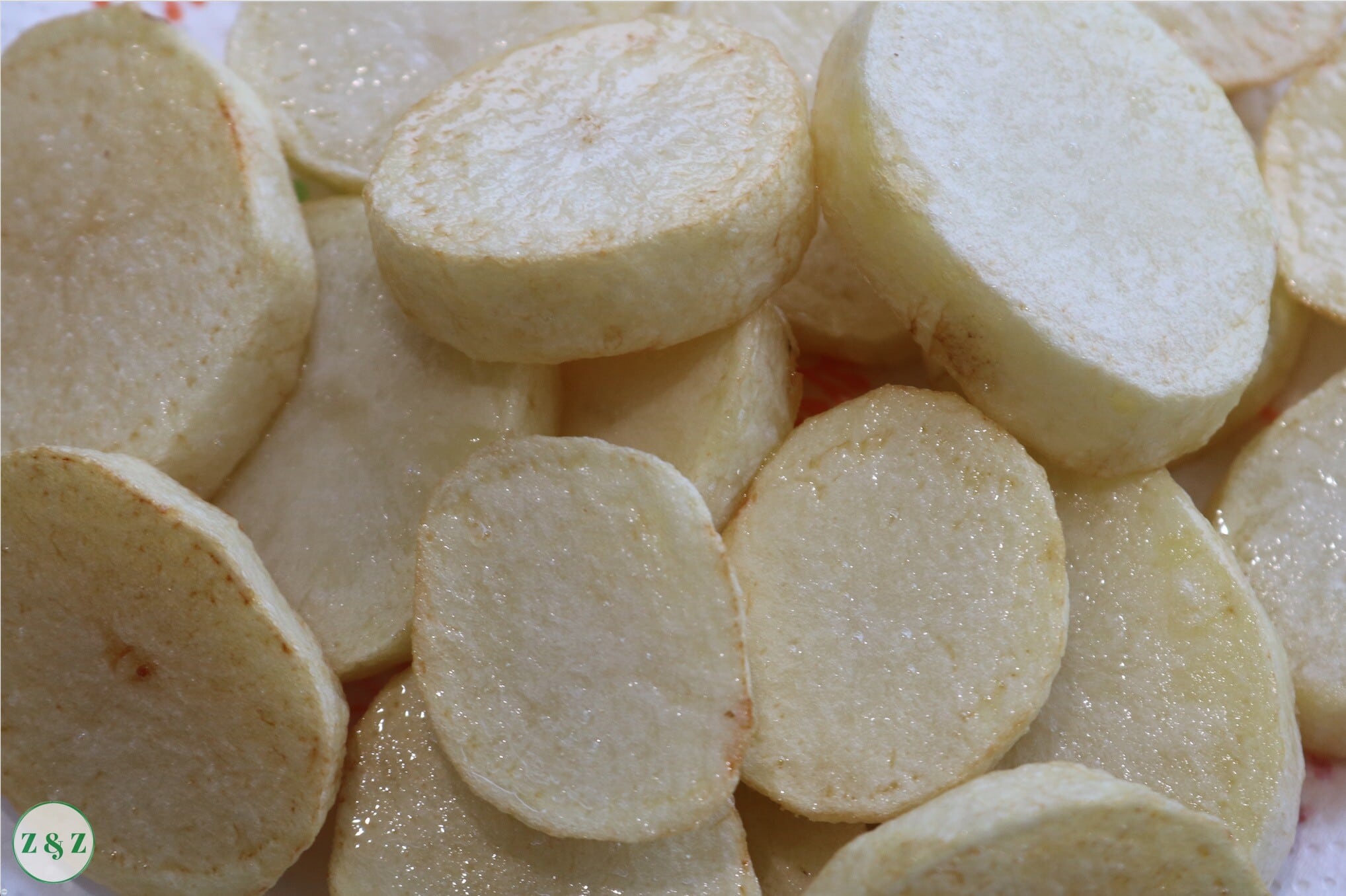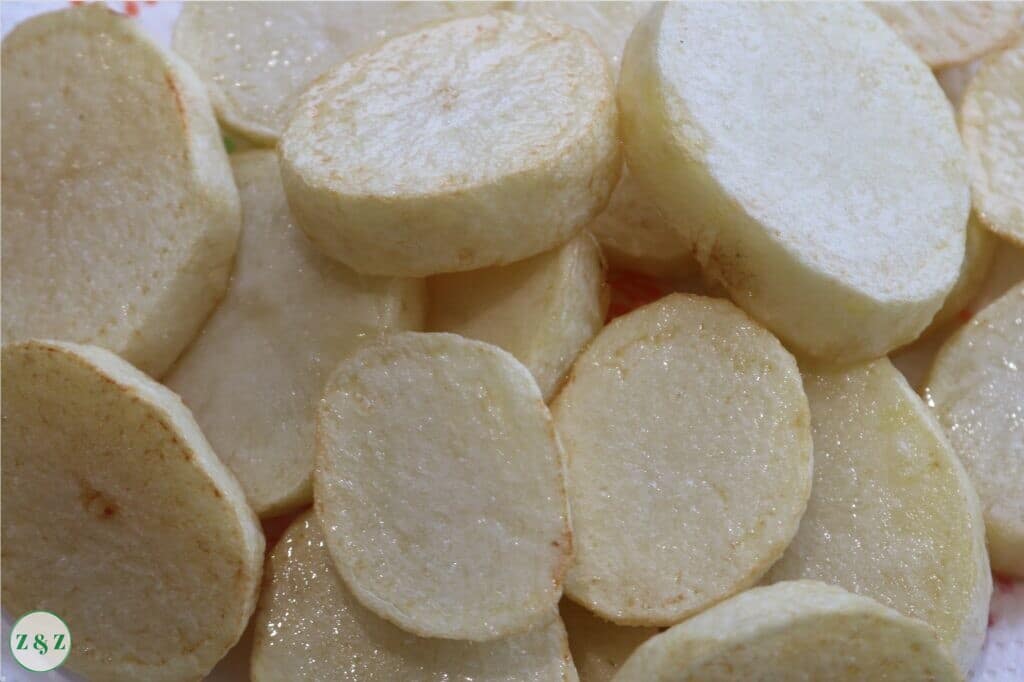 Make sure you select potatoes that can handle some sauce. You don't want a floury potato that will collapse everywhere.
Here in the UK we have Maris Piper potatoes which are perfect for just about everything.
I think the US equivalent is Russet potatoes which are good for baking, roasting and chips.
Again I half fry the potatoes and drain them on some kitchen towel before I assemble everything.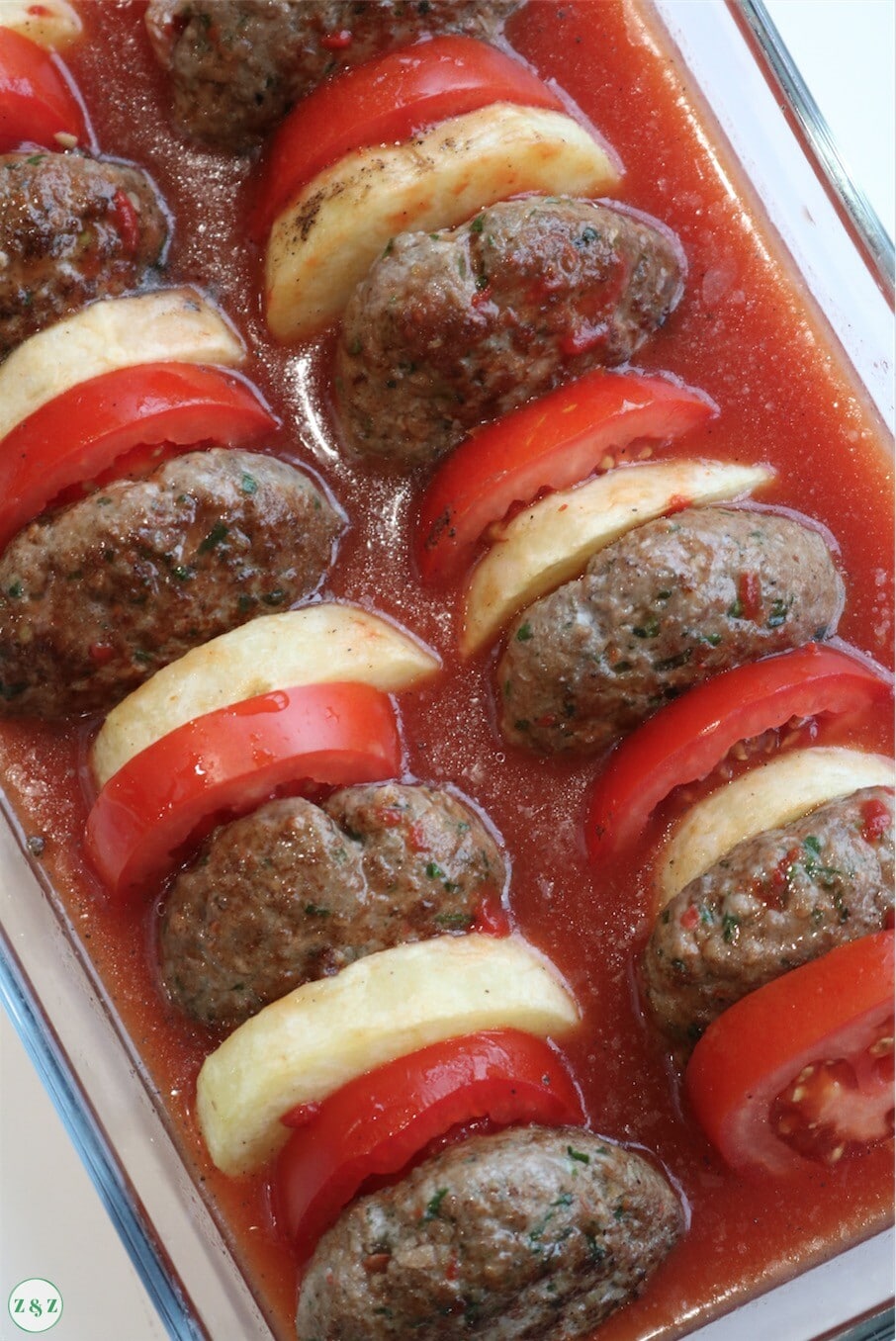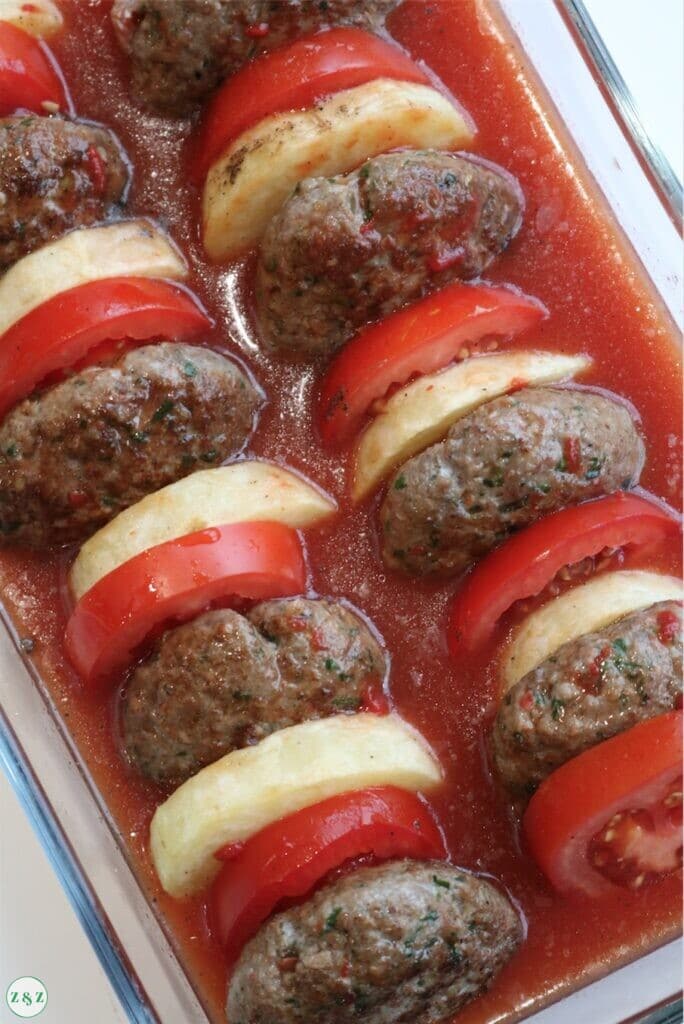 The Tomatoes
Slice the tomato into thinnish rounds. You don't have to measure them with a ruler but if you like them crispy make them thinner.
The tomato sauce can either be made with blitzed tomatoes fresh or from a can, a carton of passata or with tomato concentrate and water mixed with a little black pepper and salt.
The tomato sauce should nearly cover the layers of potatoes and meat.
The tomato slices will also release moisture so leave a little room for expansion.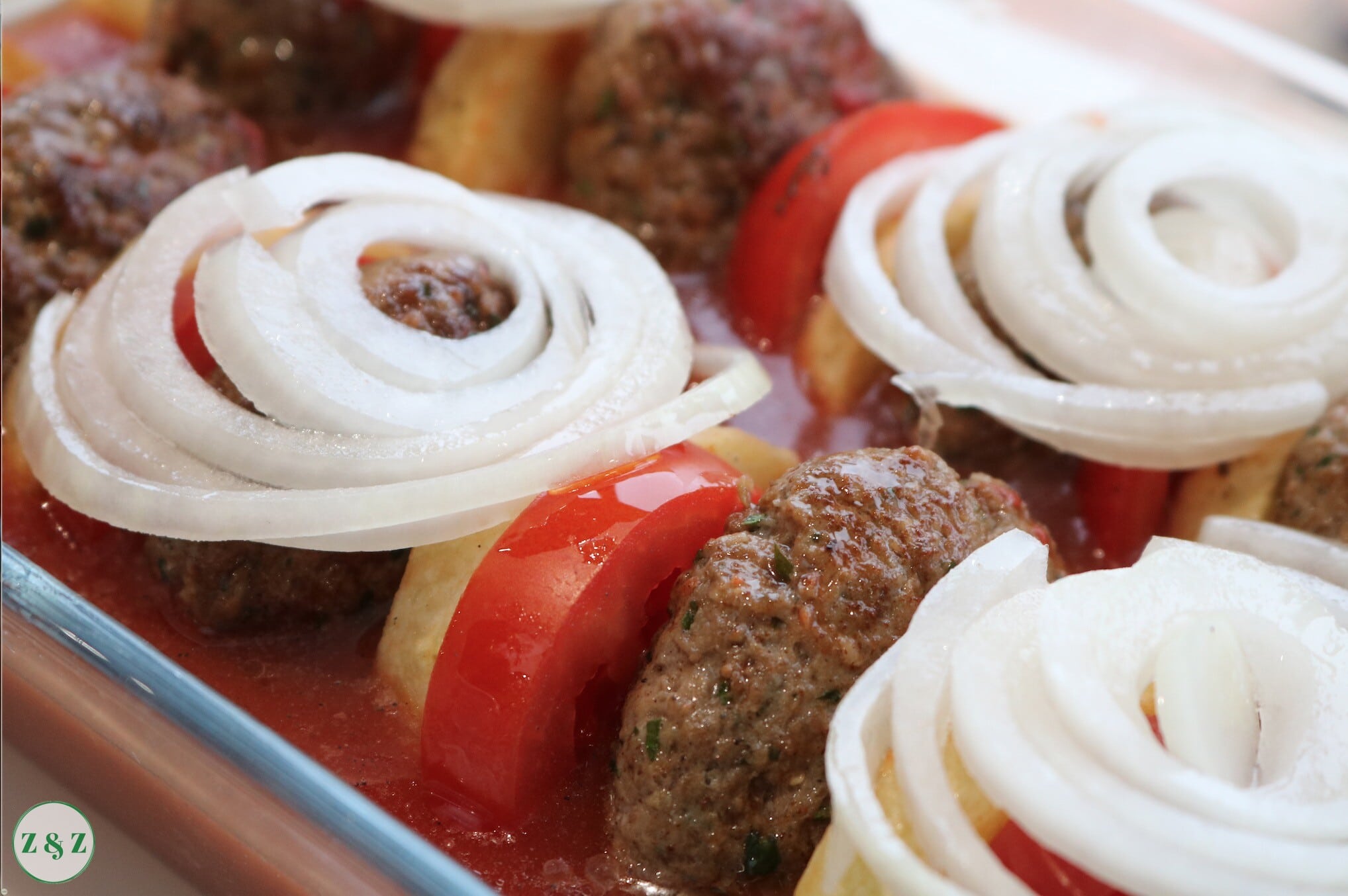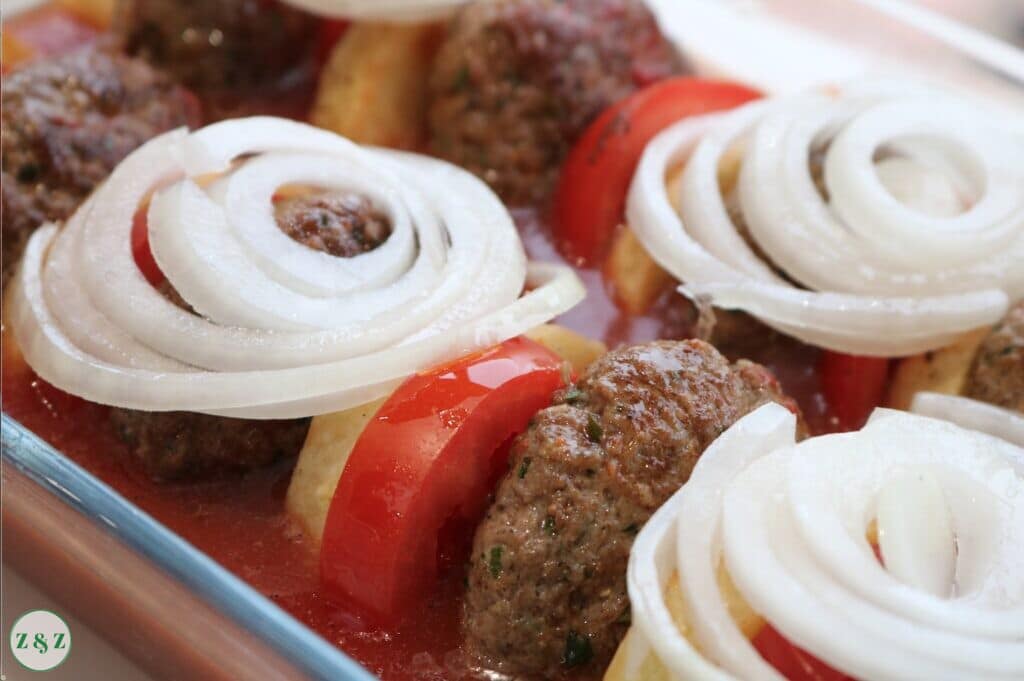 The Onions
The last finishing touch is to top the baked kafta with some thinly sliced onions. I brush them with a little regular olive oil to avoid them burning too fast.
If you really love onions you can also sauté some in a little oil and add them between the layers too.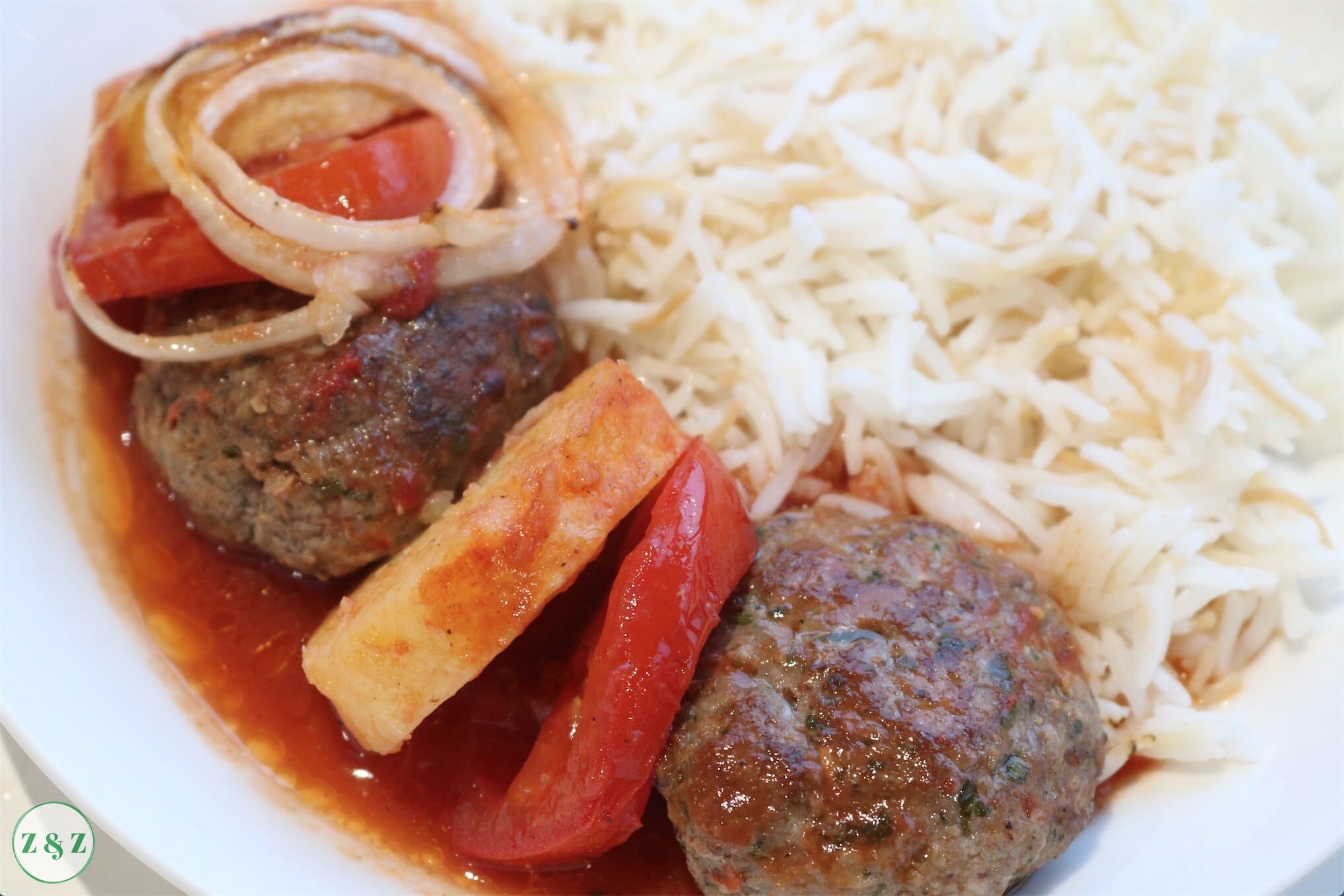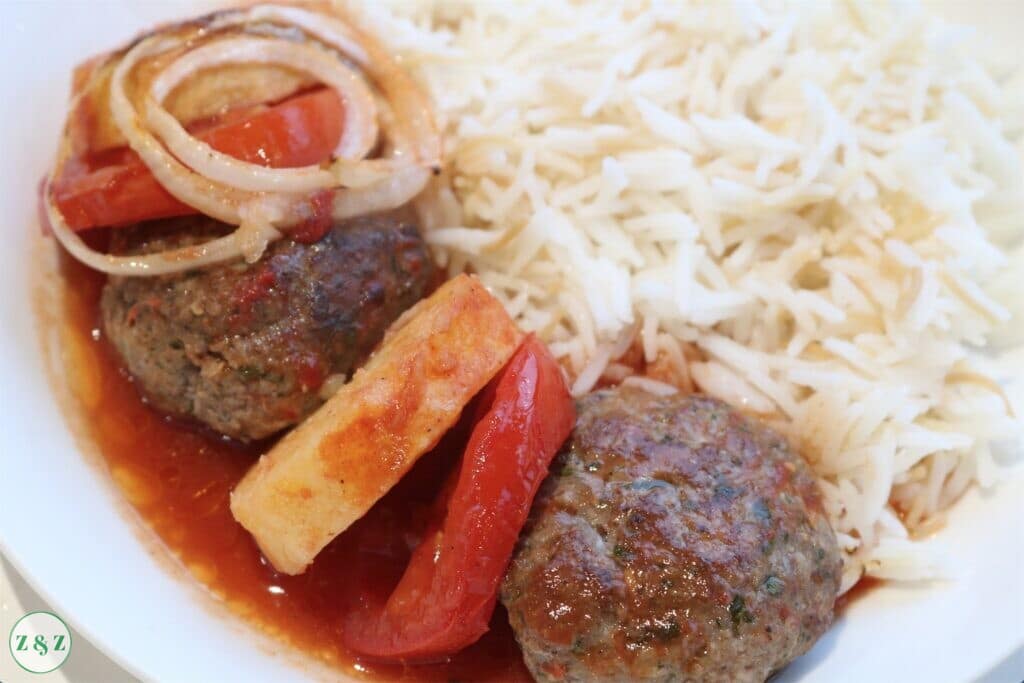 How to serve Kafta bil Sanieh
Kafta bil sanieh might need a little prep work to get all the different layers half cooked, but once you assemble it, you only need to cake it for half an hour in the oven and it's done.
As there is starch in the form of potatoes you can eat it as a stand alone dish, but many people like to make Lebanese vermicelli rice to soak up some of the sauce.
📖 Recipe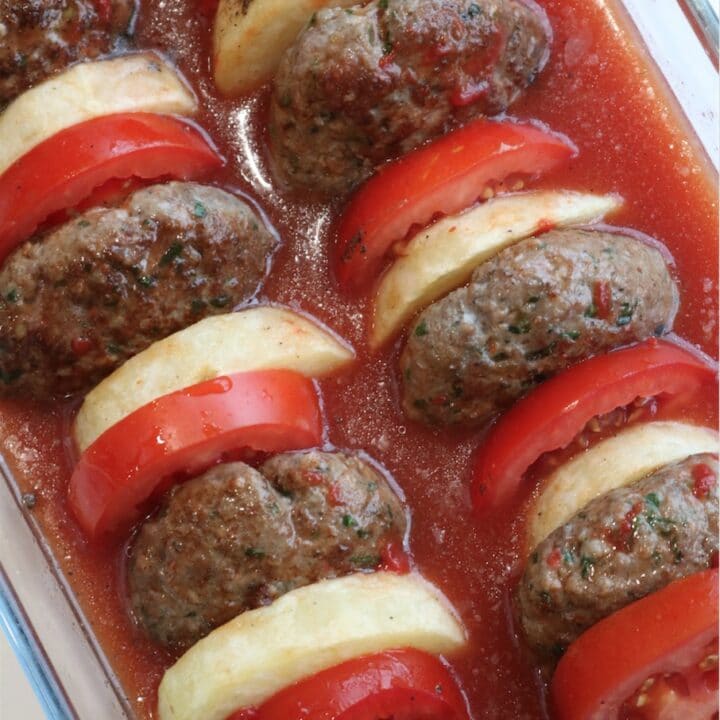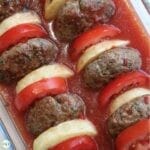 Kafta bil Sanieh (Lebanese Baked Kafta)
Baked kafta with tomatoes, potatoes and onions in a rich tomato sauce
Ingredients
For the Kafta
500

g

ground beef

1

onion

Handful of parsley

approx 1 cup chopped

¼

teaspoon

black pepper

1

teaspoon

seven spice

¼

teaspoon

salt

good pinch
Other ingredients
3

medium potatoes

sliced into ½ cm rounds

4

tomatoes

sliced into rounds

1

onion

thinly sliced into rounds

3

cups

of water

4

tablespoon

tomato concentrate

½

teaspoon

black pepper

½

tablespoon

salt

approx
Instructions
To make the kafta
In a food processor, finely chop the onion and parsley

In a mixing bowl, add the ground beef, spices, salt to the chopped parsley and onions

Knead together well until evenly distributed. You can also combine everything in the food processor until you have a fine texture

Shape into patties, then with a little vegetable oil in a non stick pan, flash fry for 2 minutes on each side. Set aside
To assemble the kafta bil sanieh
Half fry the potatoes in some vegetable oil until they start to go slightly golden. Set aside

In an oven dish, layer the kafta patties, tomatoes and potatoes either horizontally or vertically

In a measuring jug, mix together the water, tomato concentrate, salt and black pepper and pour over so ¾ of the dish is submerged

Add the thin layers of onion and brush a little with regular olive oil and sprinkle a little salt

Bake in the oven for half an hour on 180 degrees fan (350F) until the onions turn golden

Serve either with vermicelli rice or alone.
If you make any of our recipes let us know how it went by giving us a star rating below.
We have a lively Facebook group where we post frequent recipes and discuss Lebanese cooking in general, as well as a handy Pinterest page where you can save all of your favourite Zaatar and Zaytoun recipes.
You might also like these recipes from the Zaatar and Zaytoun collection: