Kafta Kofta kebab kebob. There are so many pronunciations for Middle Eastern grilled meat but they are all practically the same thing.
We Arabs love any excuse to get the grill on. It is after all the most ancient form of cooking so we've had a lot of time to perfect it.
You can't really have a Barbecue or a grilled meat platter without including some kafta alongside some grilled lamb skewers, shish tawook and garlic sauce known as Toum.
Oh and don't forget the pickles.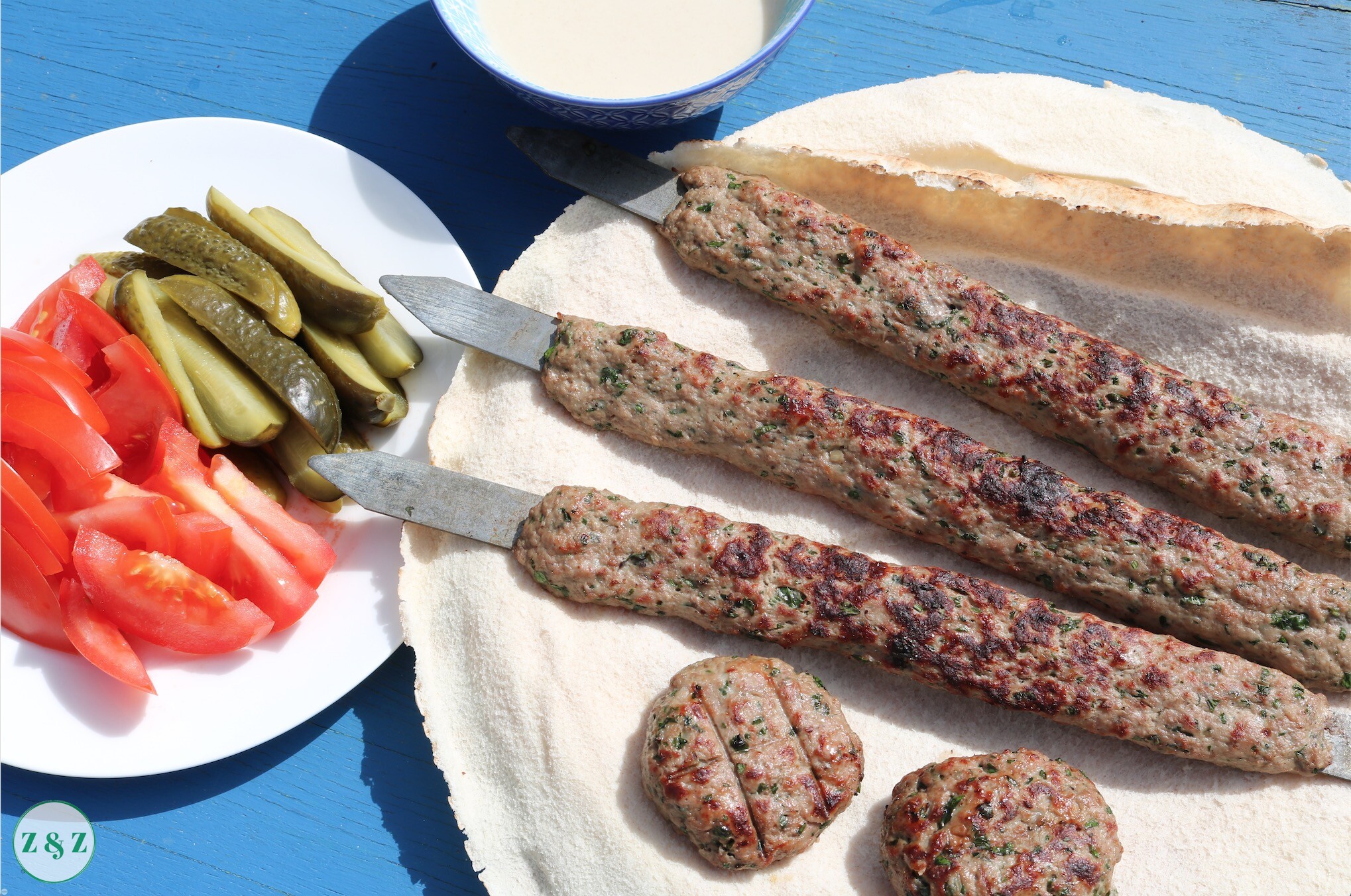 What is Kafta
Kafta is the classic Lebanese Kebab made from ground meat. It is mildly spiced and has very finely chopped parsley and onions blended into the mixture.
Very fresh kafta is sometimes eaten raw in Lebanon in a similar way to kibbeh nayeh.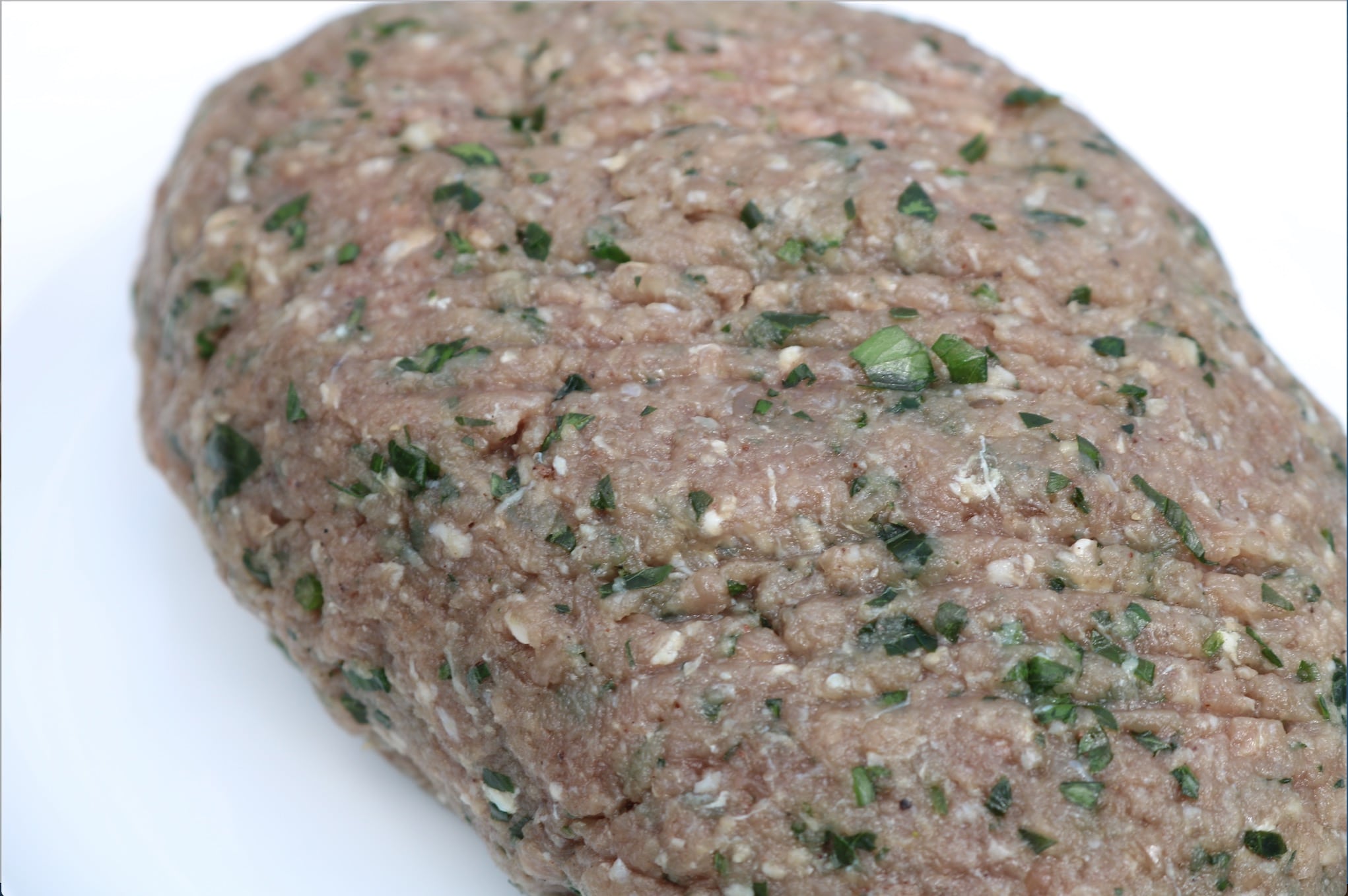 However it is mostly grilled on charcoals and also incorporated into other famous Lebanese dishes such as kafta bil sanieh (baked kafta in a tray) along side tomatoes and potatoes.
Kafta can be made into meatballs and cooked in a tomato stew as with the curiously named 'Dawoud Basha' and is usually eaten with some vermicelli rice.
It can also be pressed between two flatbreads known as 'Arayes'. These are also sometimes cooked on the grill or in a panini maker. All these recipes are coming very soon.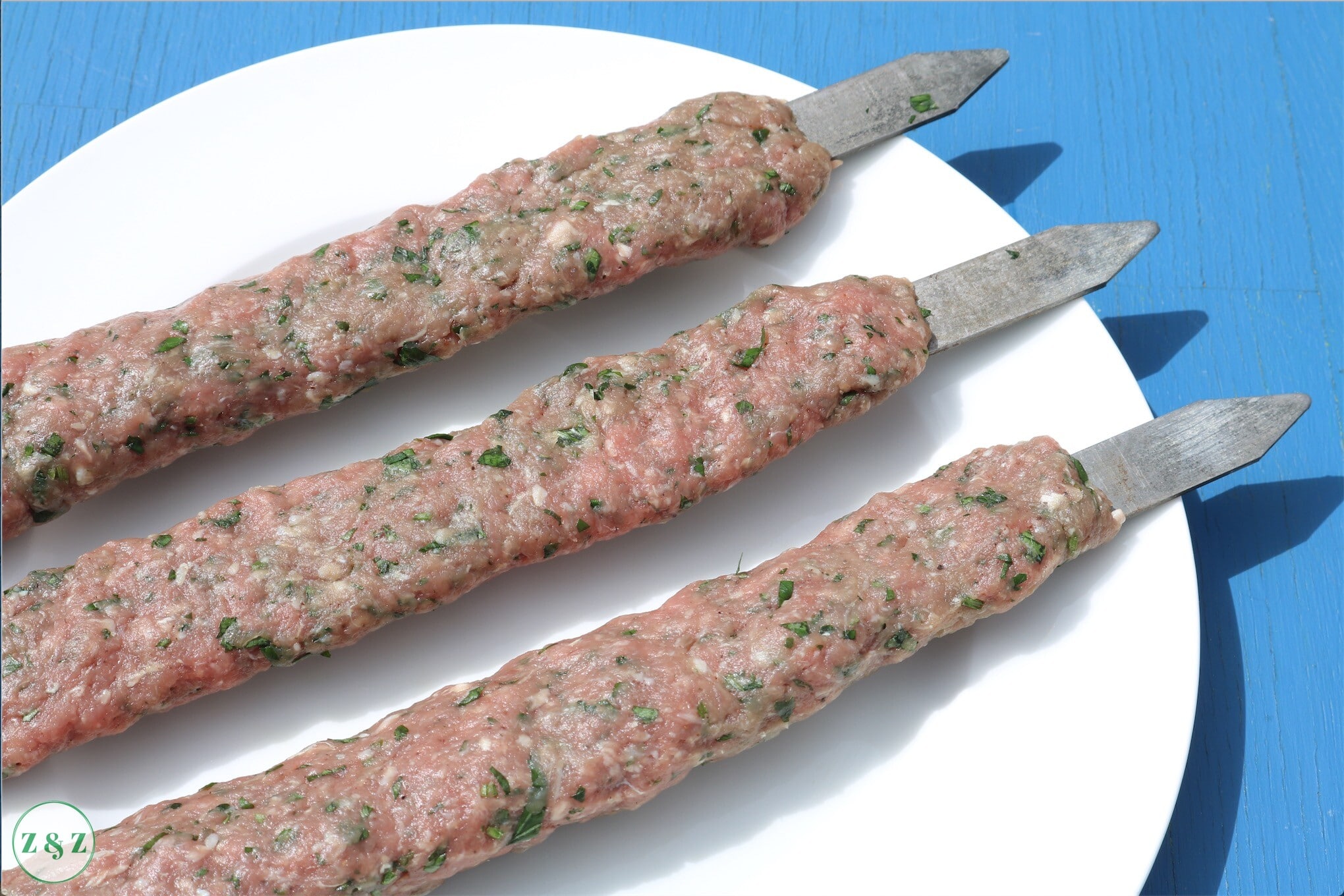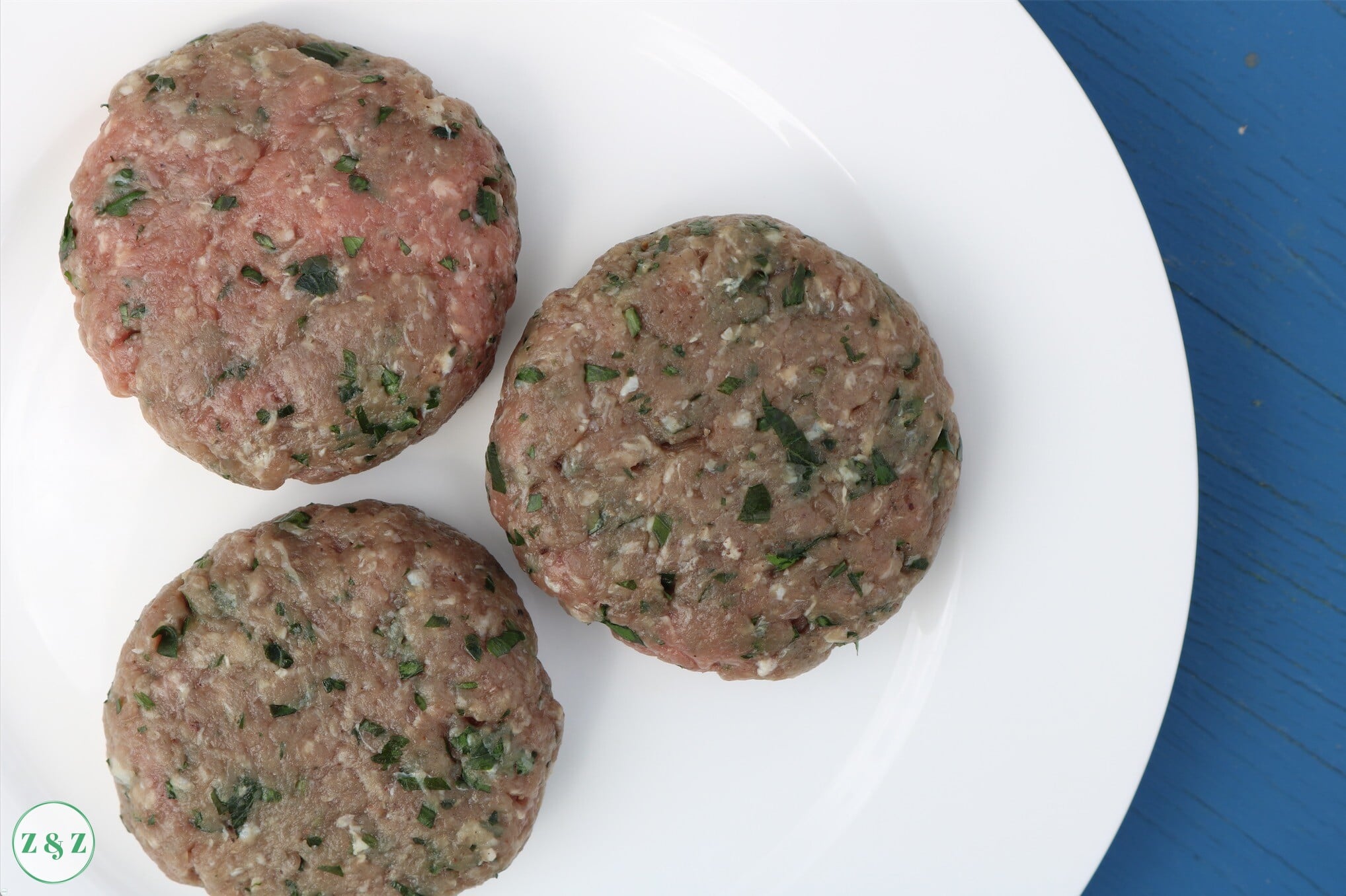 The meat
Traditionally it is made from ground beef. Ask your butcher to mince it finely for you or give it another whizz through the food processor when you combine it with the parsley and onion.
You can also make kafta with lamb though some people find it too fatty.
The other way is to combine lamb and beef in a 50:50 ratio which I'm a fan of too as it gives you the best flavour of each meat.
Shape the patties using your hands and keep a small bowl of water to dip your hand in occasionally when it gets too sticky. T
hough you don't want to get too much water on them or they will be harder to handle.
When you shape the skewers, make sure you gently seal the ends or the kafta will fall off when you are grilling.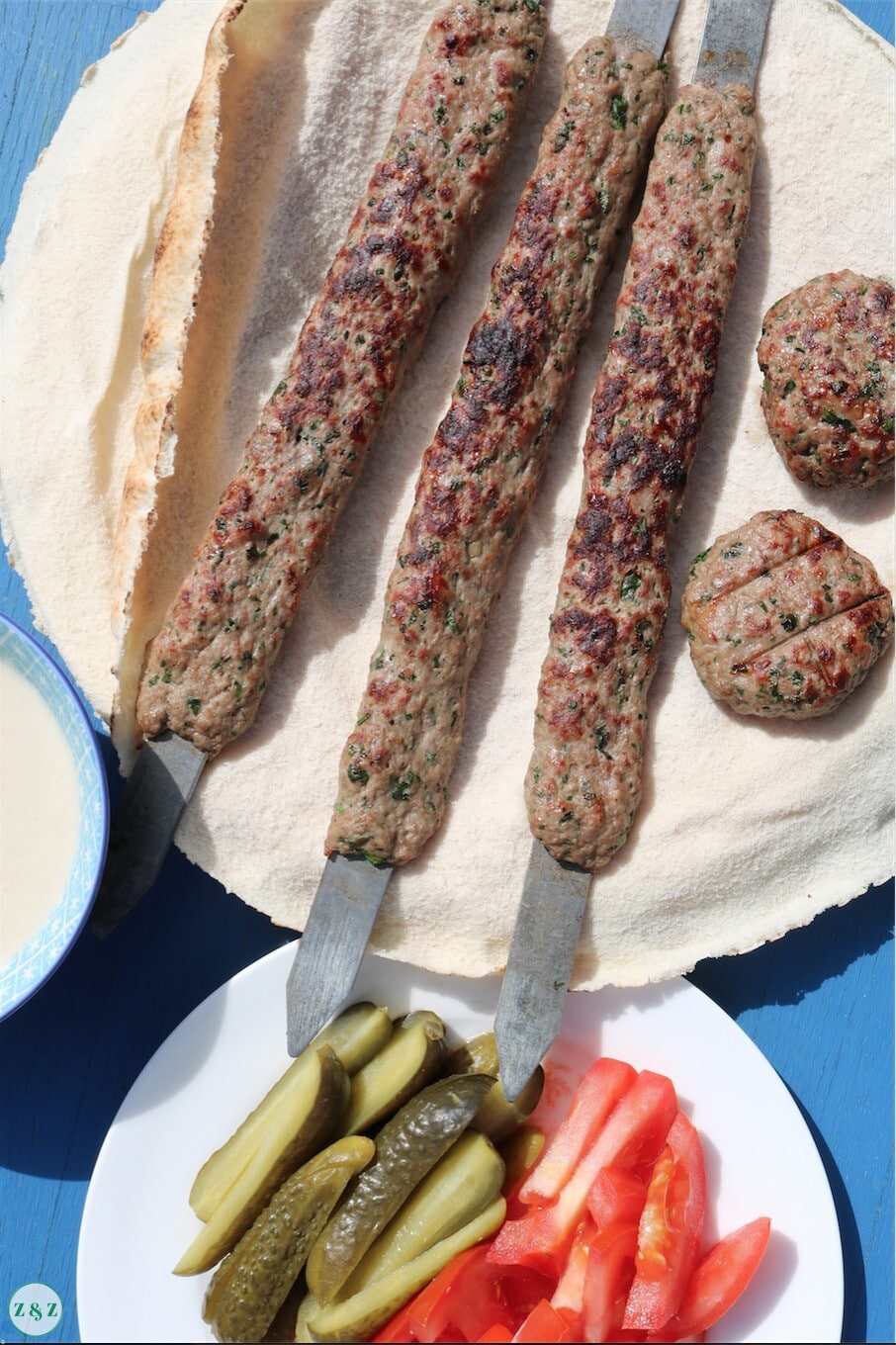 The parsley
The parsley gives a subtle herby flavour without overpowering the meat.
Something like cilantro (fresh coriander) is much stronger and would dominate whereas parsley just complements in the background.
Its not important what type of parsley you use, just make sure the leaves are vibrant green and 'supple to the touch'.
Yes, I usually have a little feel of a leaf of parsley before I buy it and if it is rough, I avoid it.
If the parsley has lots of yellow leaves it is porbably old and you would be better off choosing another bunch.
You can make parsley last longer in the fridge if you wash it straight away and wrap it in a muslin cloth.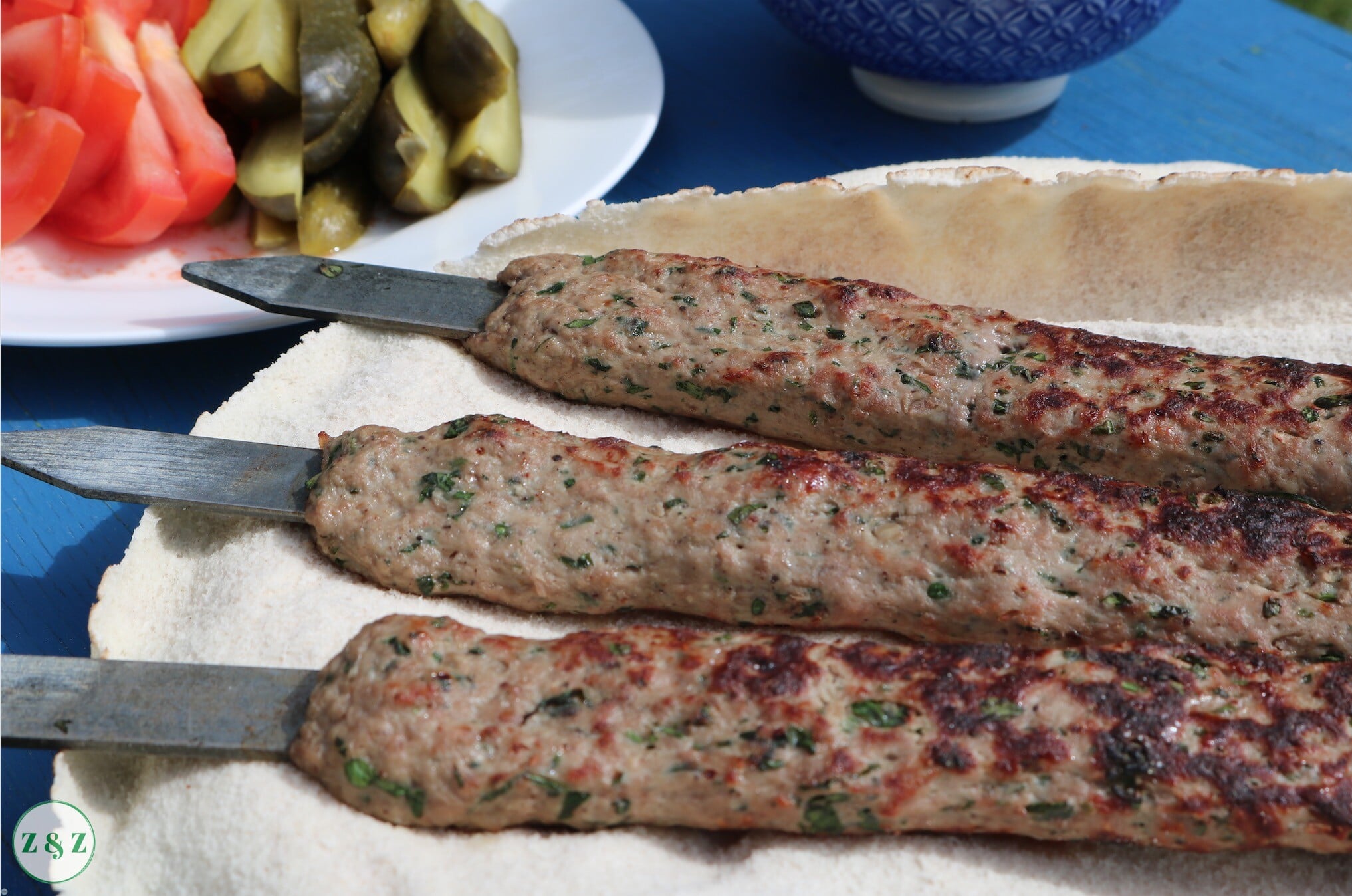 Top tips
The onion is very finely processed as you don't want big chunks of onion disrupting the fine texture. It almost needs to melt into the meat when cooking.
Some people only use black pepper and salt to season the meat but I think a little pinch of Lebanese seven spice gives a good balance.
You can also add a pinch of cinnamon though this is optional as the seven spice has some in it anyway.
Serving suggestions
My favourite way to eat kafta is in a wrap with tahini sauce, sliced tomatoes, spicy pickles and a little scattering of parsley and sumac. A little hot sauce adds a nice kick too.
Make the tahini sauce by combining the tahini with lemon juice, water and some salt. Keep adjusting it little by little until you get it right. Always shake the tahini jar before you open it.
The raw kafta mixture will be good in the fridge for up to three days.
You can freeze extra kafta for another time, but make sure you flatten out the meat either in the ziplock bag or container as you don't want a big kafta ball that takes ages to defrost.
Making your own kafta really is satisfying and once you do it, you'll find there is nothing easier. Just the first step in becoming a master of the barbecue.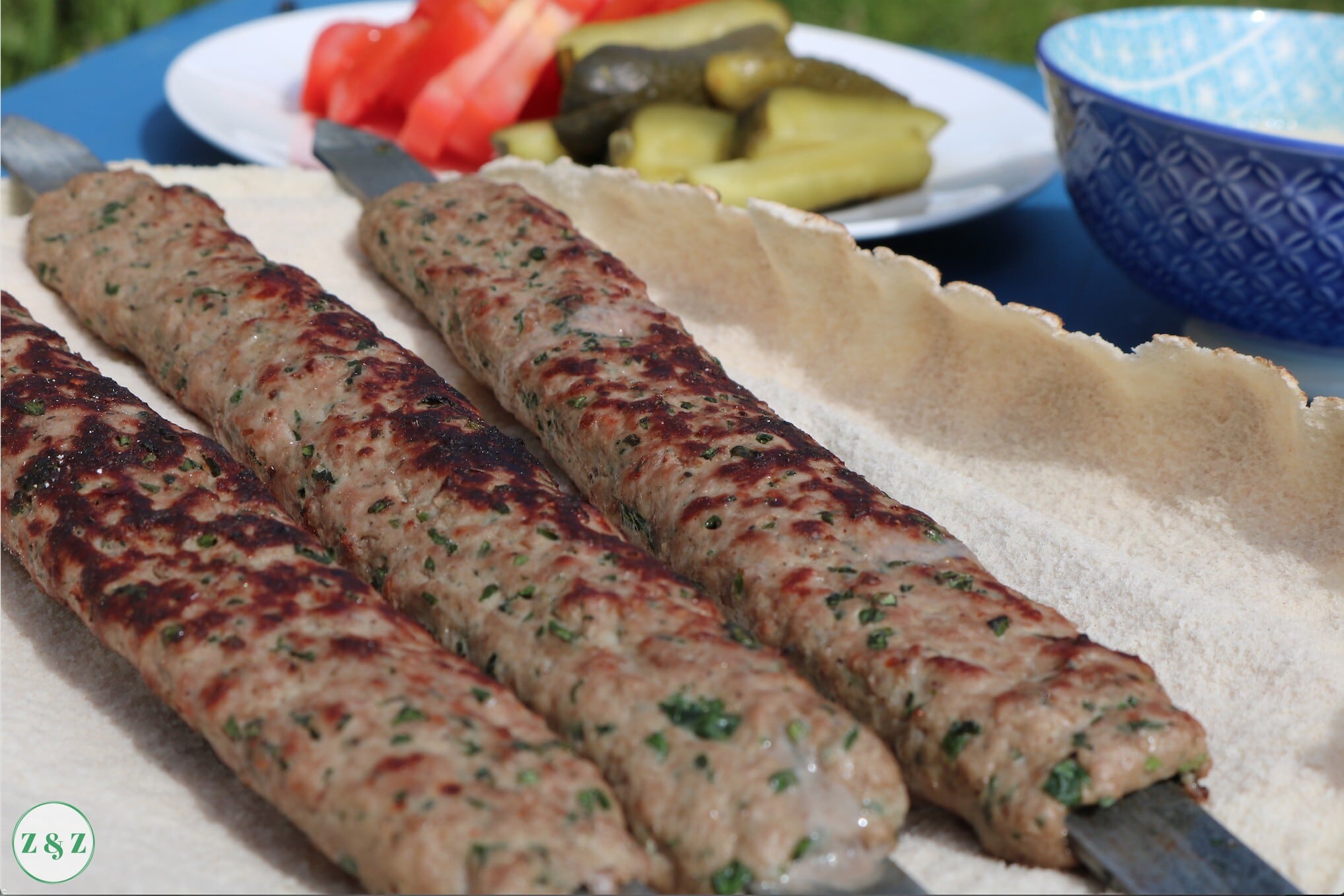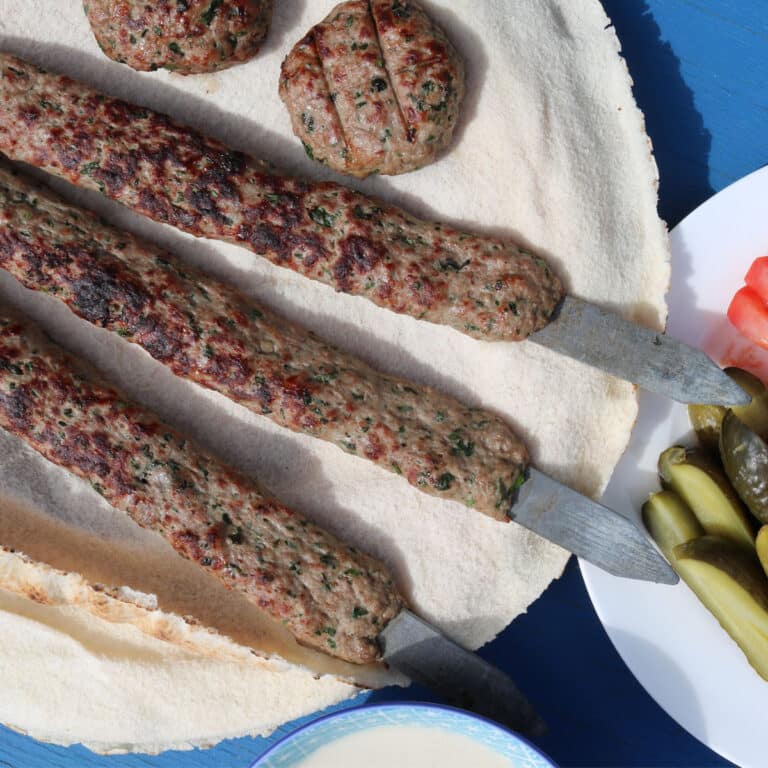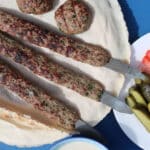 Kafta
Lebanese Kafta recipe using ground beef, herbs and spices.
Ingredients
500

g

ground beef

1

onion

Handful of parsley

approximately ½ cup

¼

teaspoon

black pepper

½

teaspoon

seven spice

¼

teaspoon

salt

good pinch
Instructions
Finely chop the onion and parsley either in a food processor or by hand

In a mixing bowl, add the ground beef, spices, salt to the chopped parsley and onions

Knead together well until evenly distributed. You can also do this using the food processor until you have a fine texture

Shape into patties or around a grilling skewer. You may like to dip your hand occasionally into a small bowl of water to reduce sticking

Grill on high heat either on the barbecue or skillet until slightly charred on the outside
Recipe Notes
You can also fry kafta in a skillet wth a little vegetable oil or bake it in the oven.
If you make any of our recipes let us know how it went by giving us a star rating below.
Check out our Youtube page for full video tutorials, our Facebook group to discuss Lebanese cooking, as well as our tiktok page for quick tips.
You might also like these other recipes from the Zaatar and Zaytoun collection: