This comforting dish features mince meat rice topped with chicken and nuts. The rice is cooked in the chicken broth which is made beforehand.
It's not as loud and glamorous as it's cousin the maqluba, which relies on frying the different elements, yet it's just as delicious, especially when served with a nice salad.
It is also commonly known as 'tetbe2a' which I think from the fact that it is assembled together.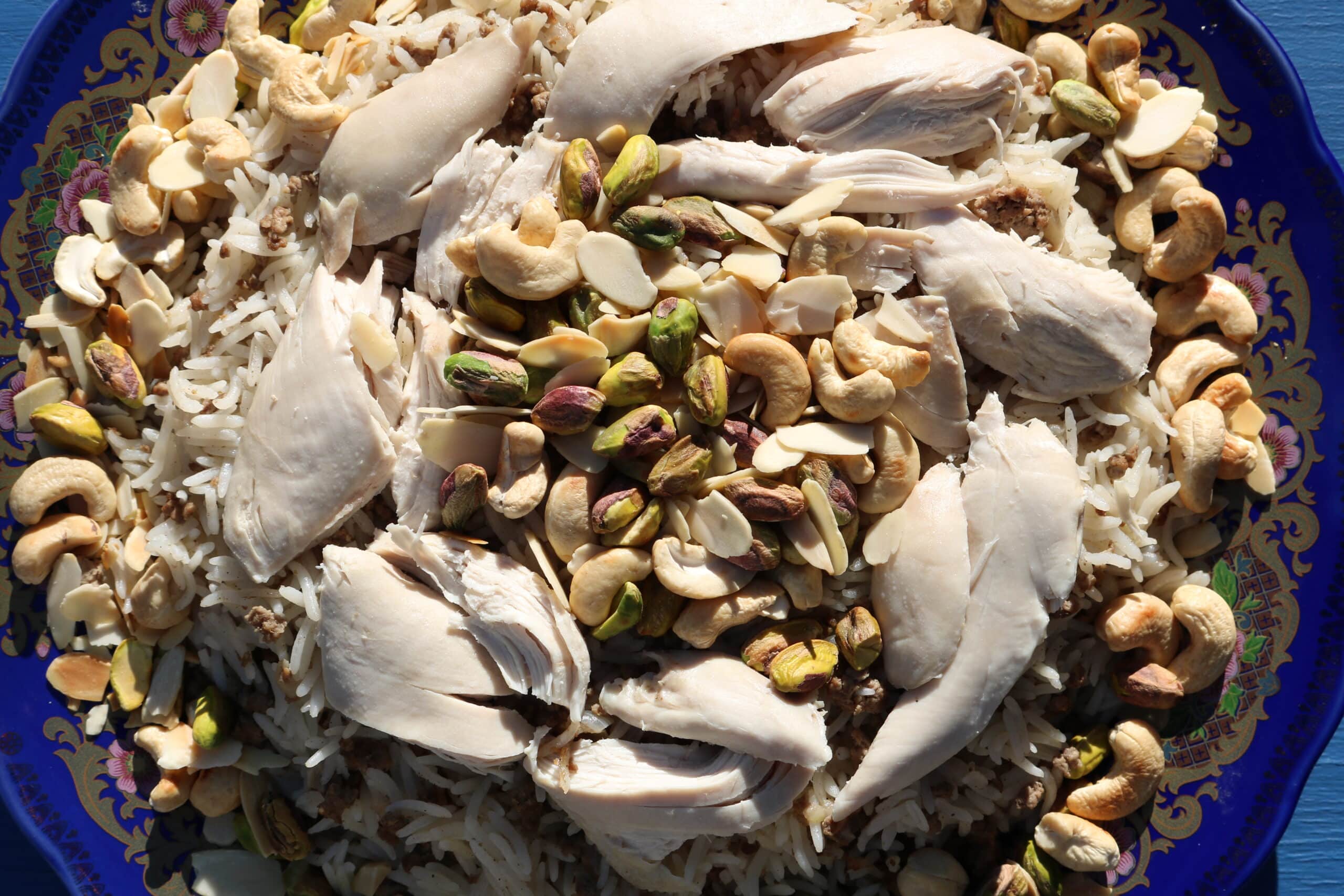 Jump to:
Ingredients
The main components of the dish are:
chicken broth

rice with mince meat

toasted nuts
Even though this dish contains a little mince meat, the star of the show is the chicken, which goes over the rice like a wreath.
I've made a simple chicken broth with basic vegetables (carrots, celery, onion) and spices (peppercorns, cardamom, cinnamon stick and bay leaves).
You only need to simmer the chicken for around 45 minutes (whereas my usual chicken broth I leave for 1.5 hours).
When shredding the chicken, try to keep them in large chunks as much as possible as they look better that way when they are placed on top of the rice.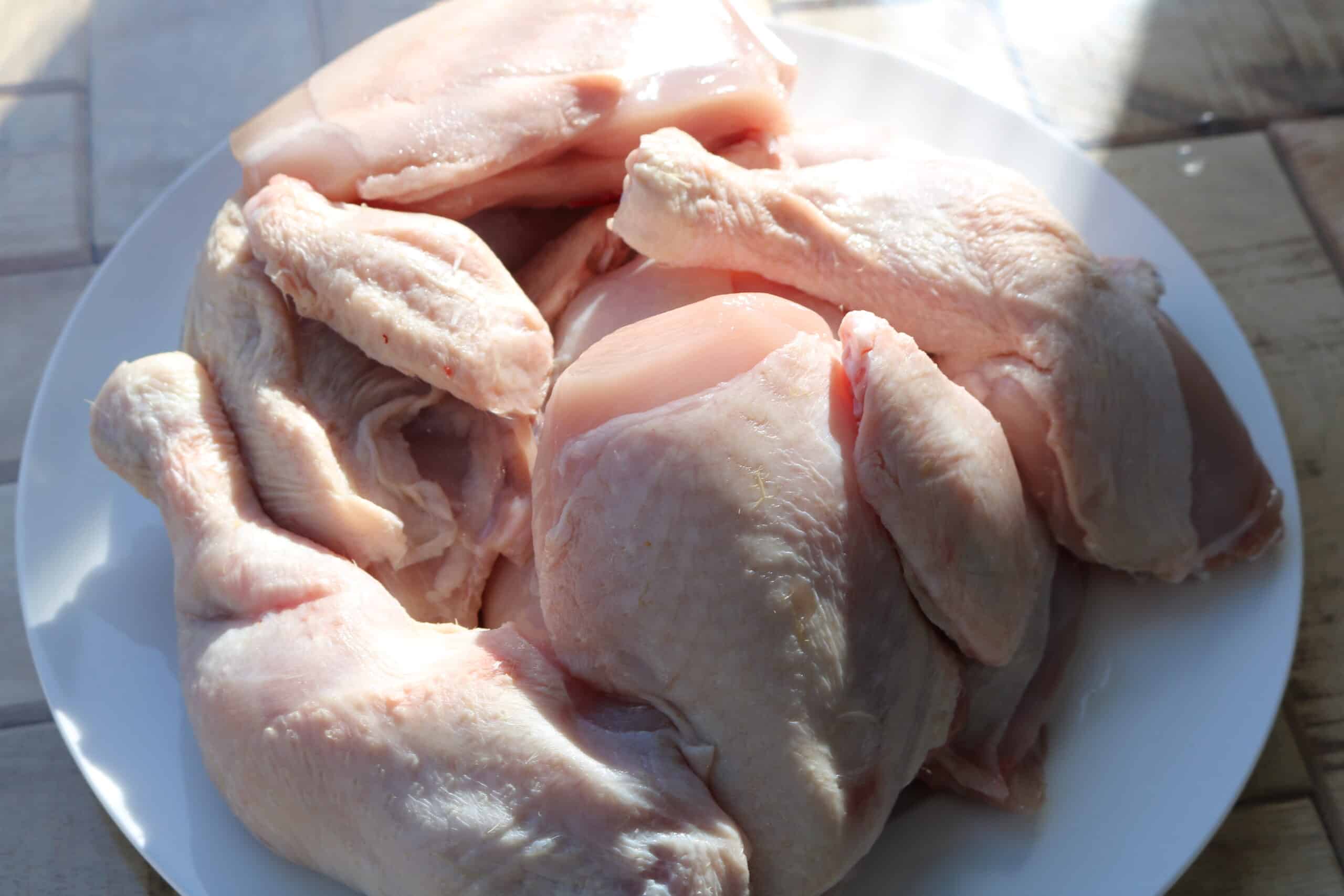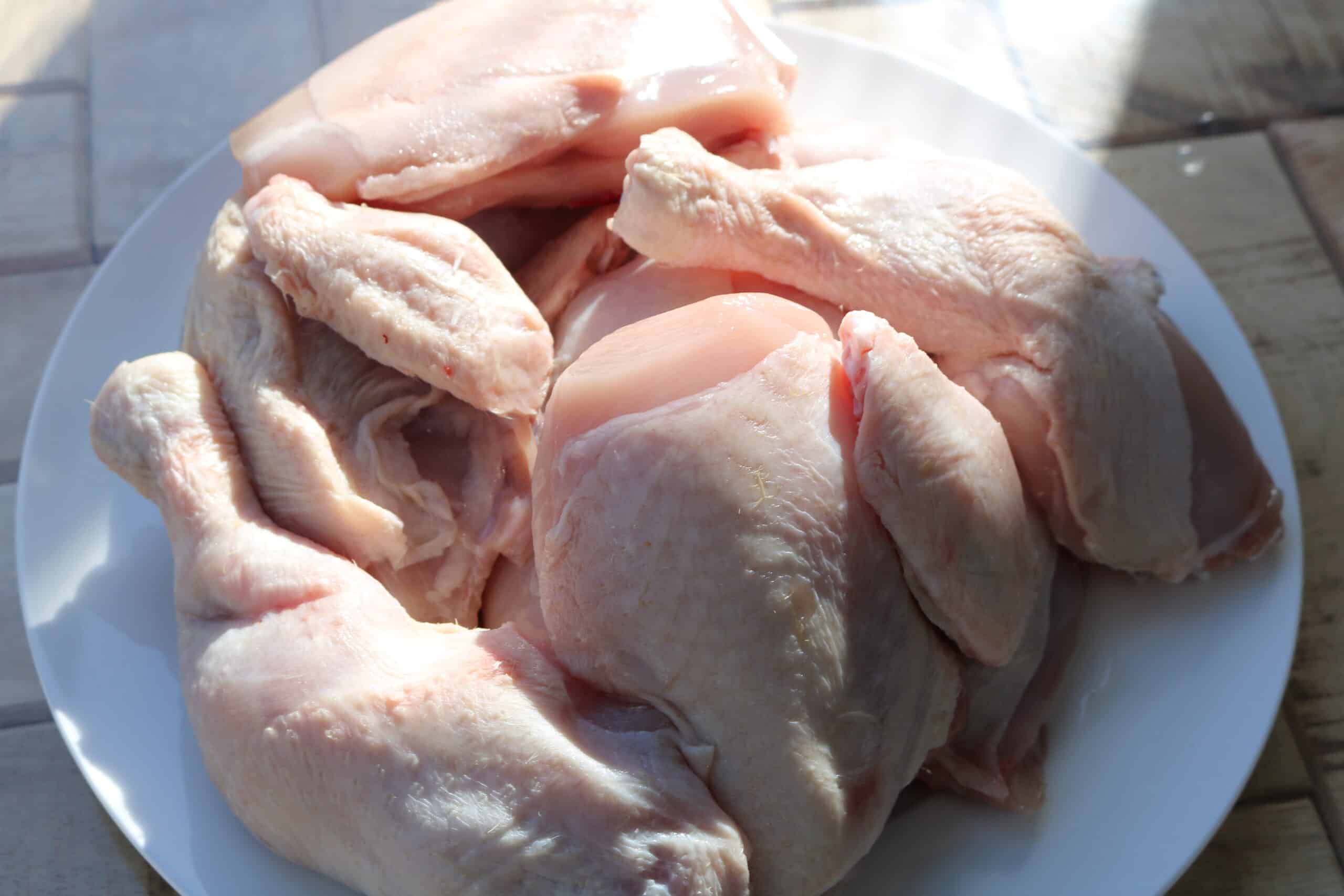 I've used a mixture of lamb and beef which I feel gives the best flavour. You can use either one no problem.
I toasted cashews, pistachios and sliced almonds, though of course you can also use pine nuts, or almond halves.
If you just have whole almonds, then soak them in some water for around 20 minutes then peel.
Instructions
You almost need to work backwards with dishes like this....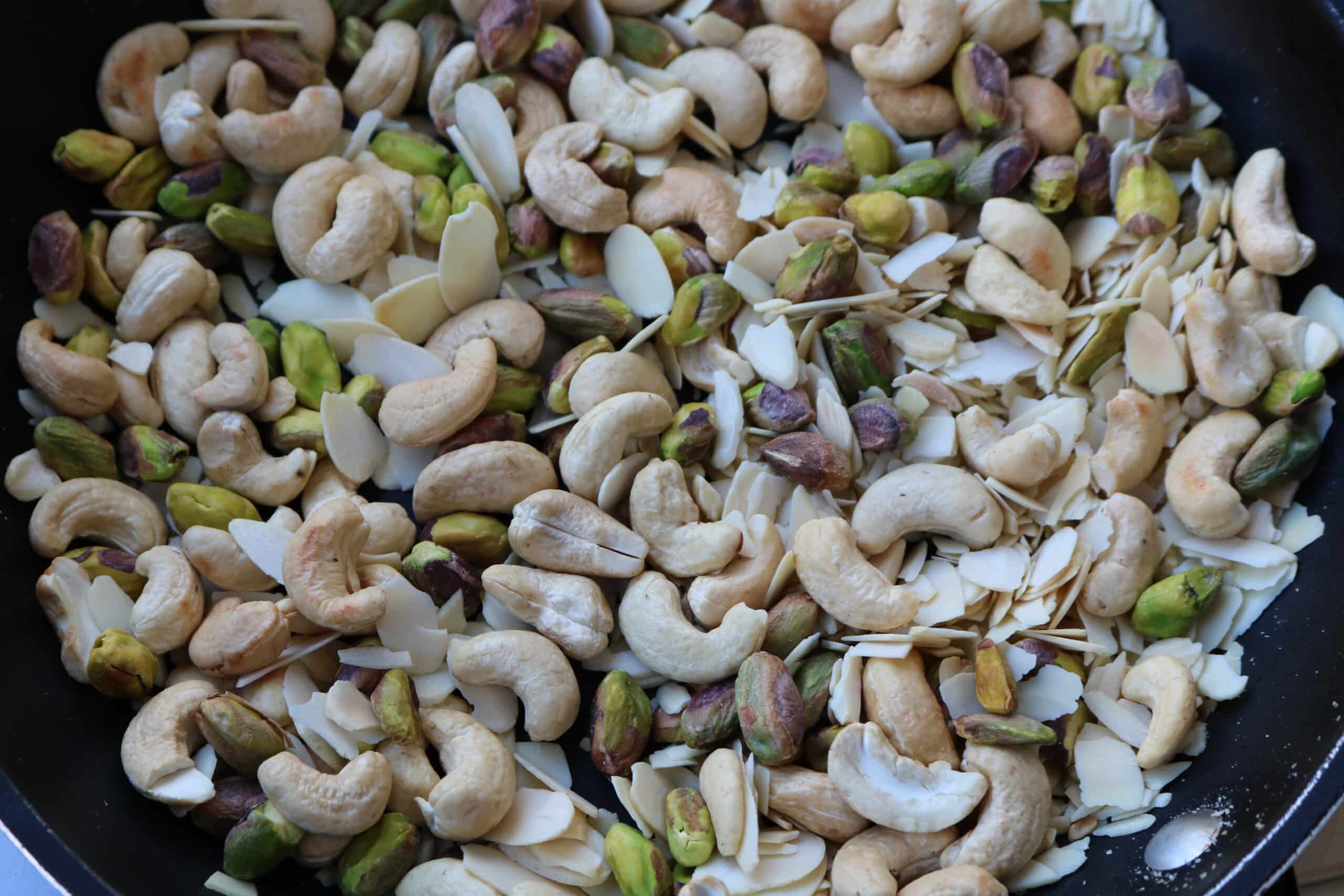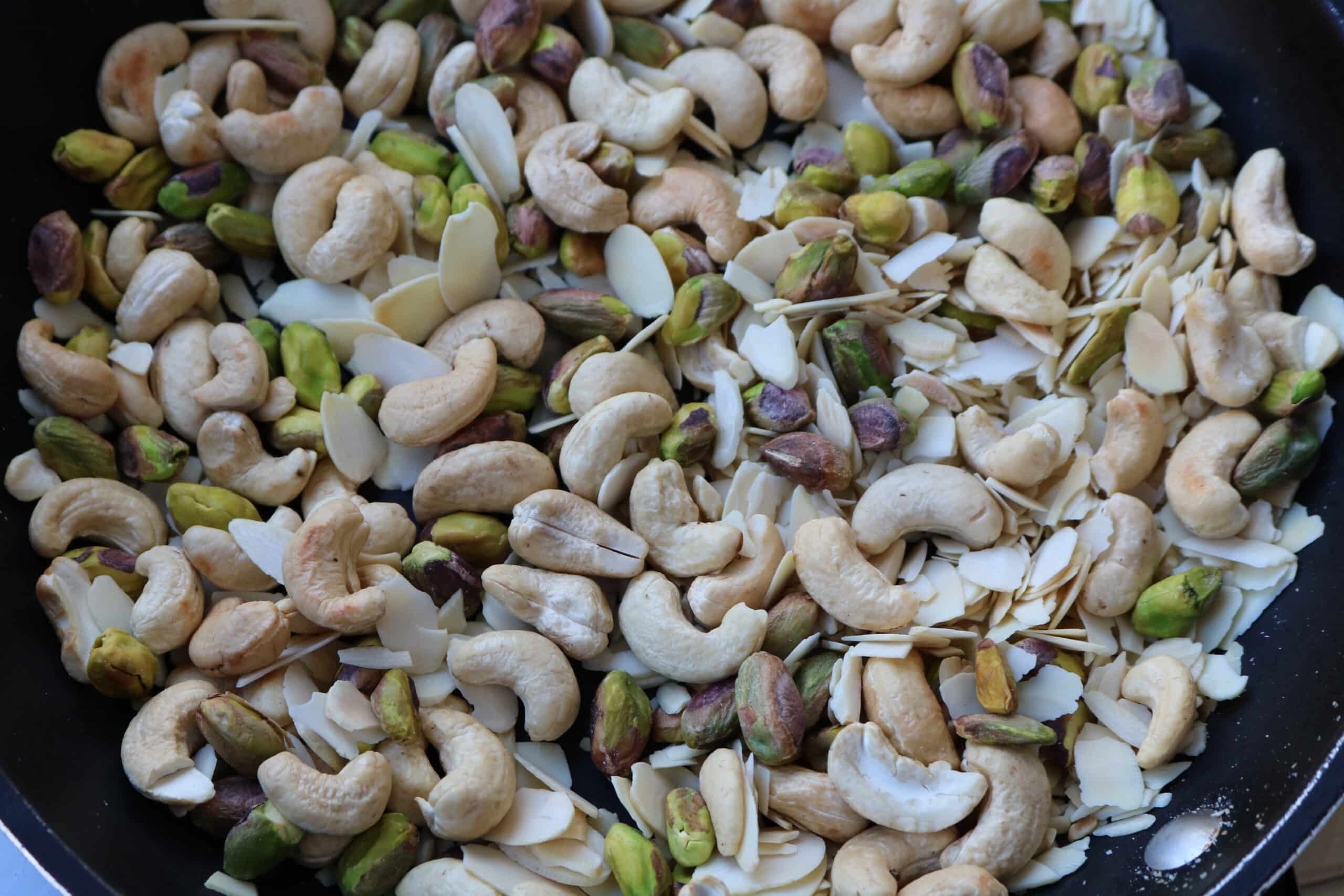 Toast the nuts first and set aside (to garnish at the end).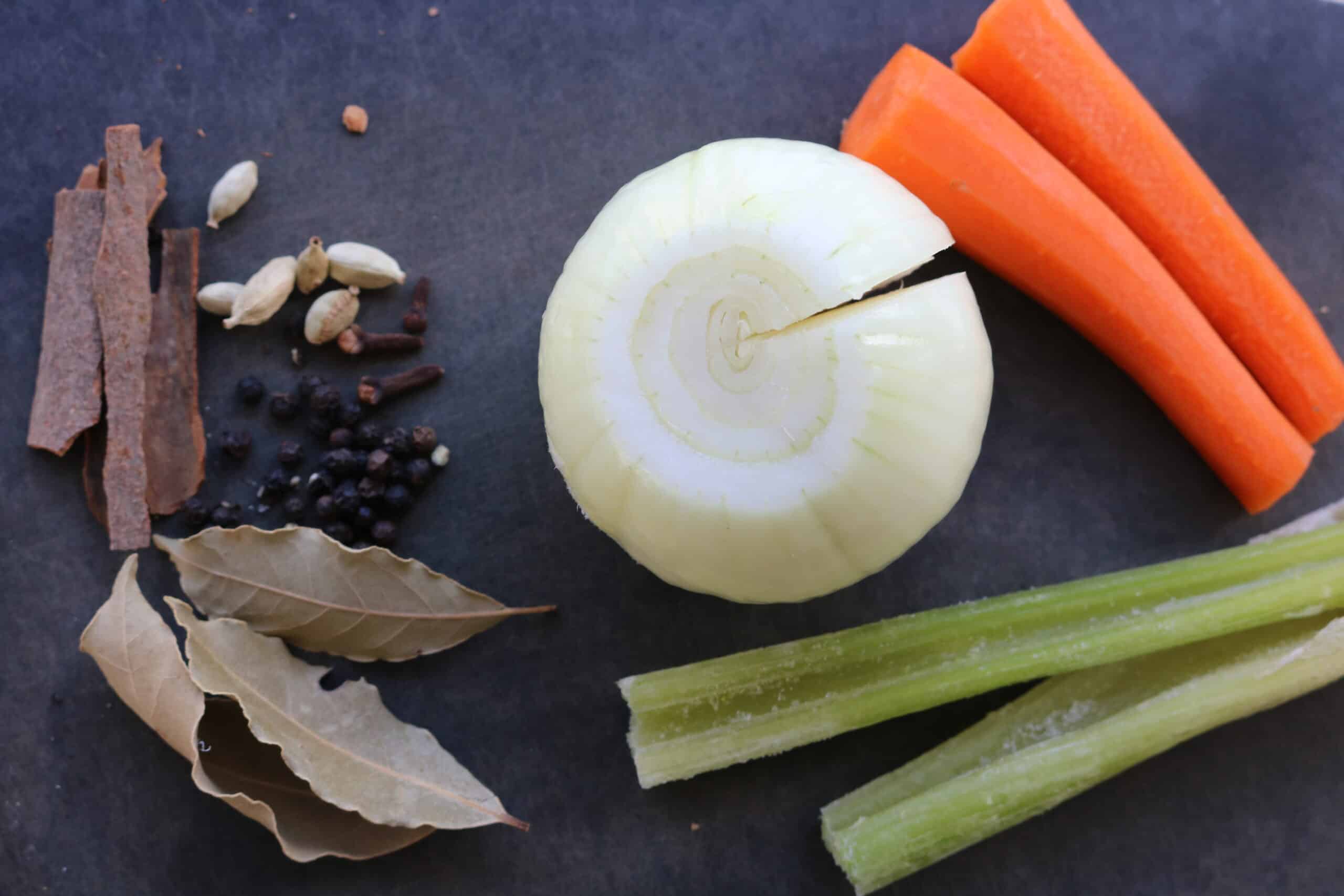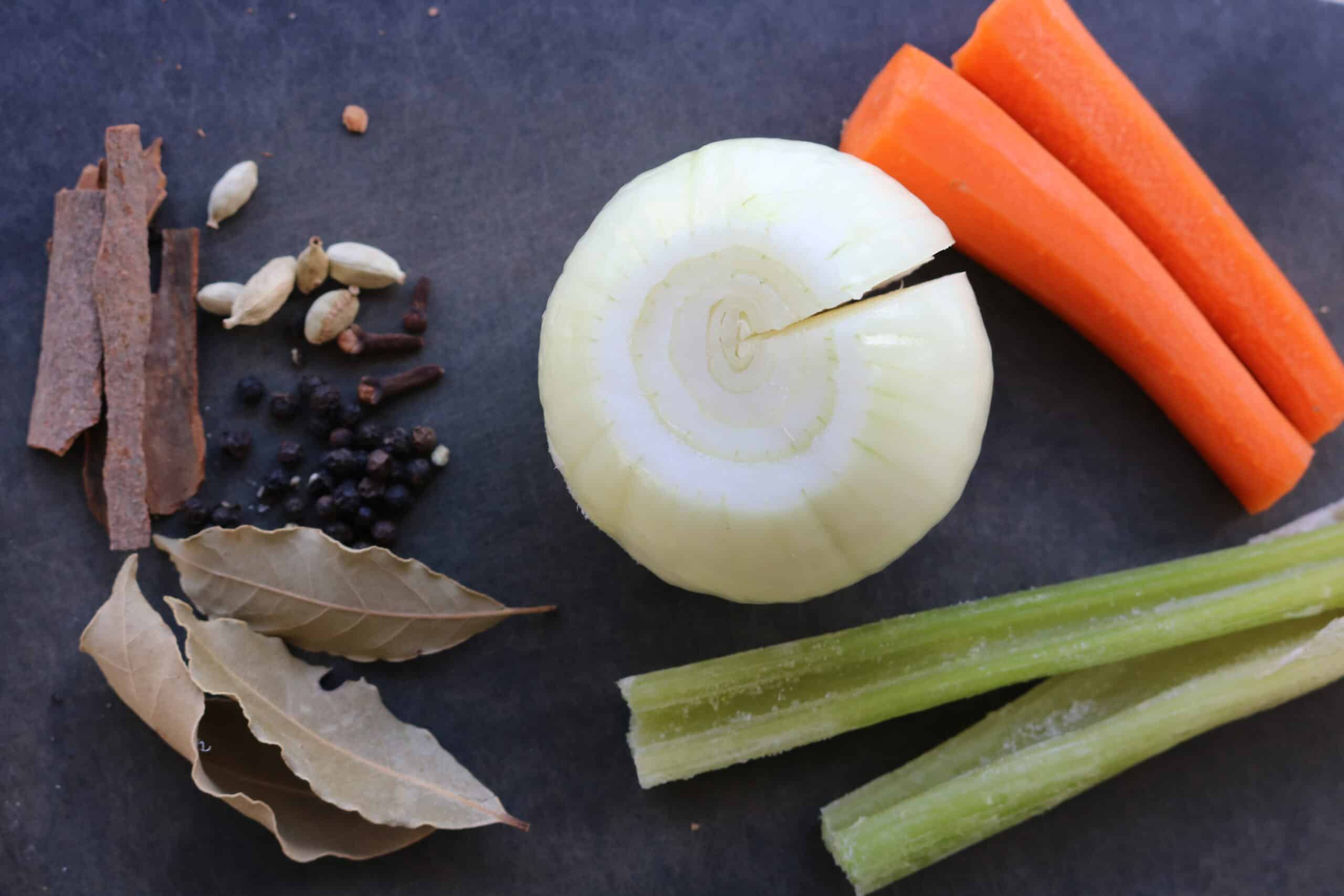 Then make the chicken broth, shred the chicken and sieve the liquid to use in the rice.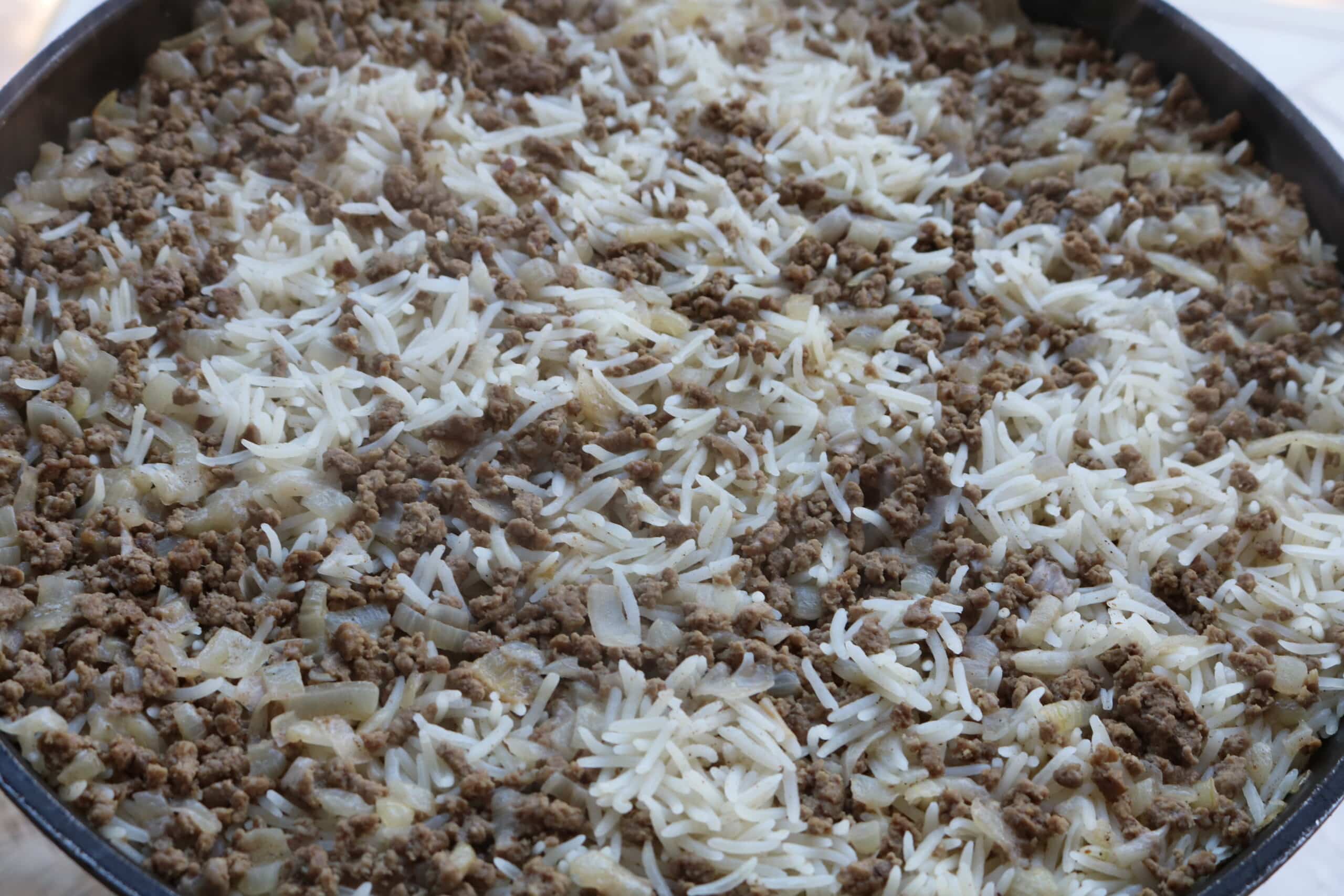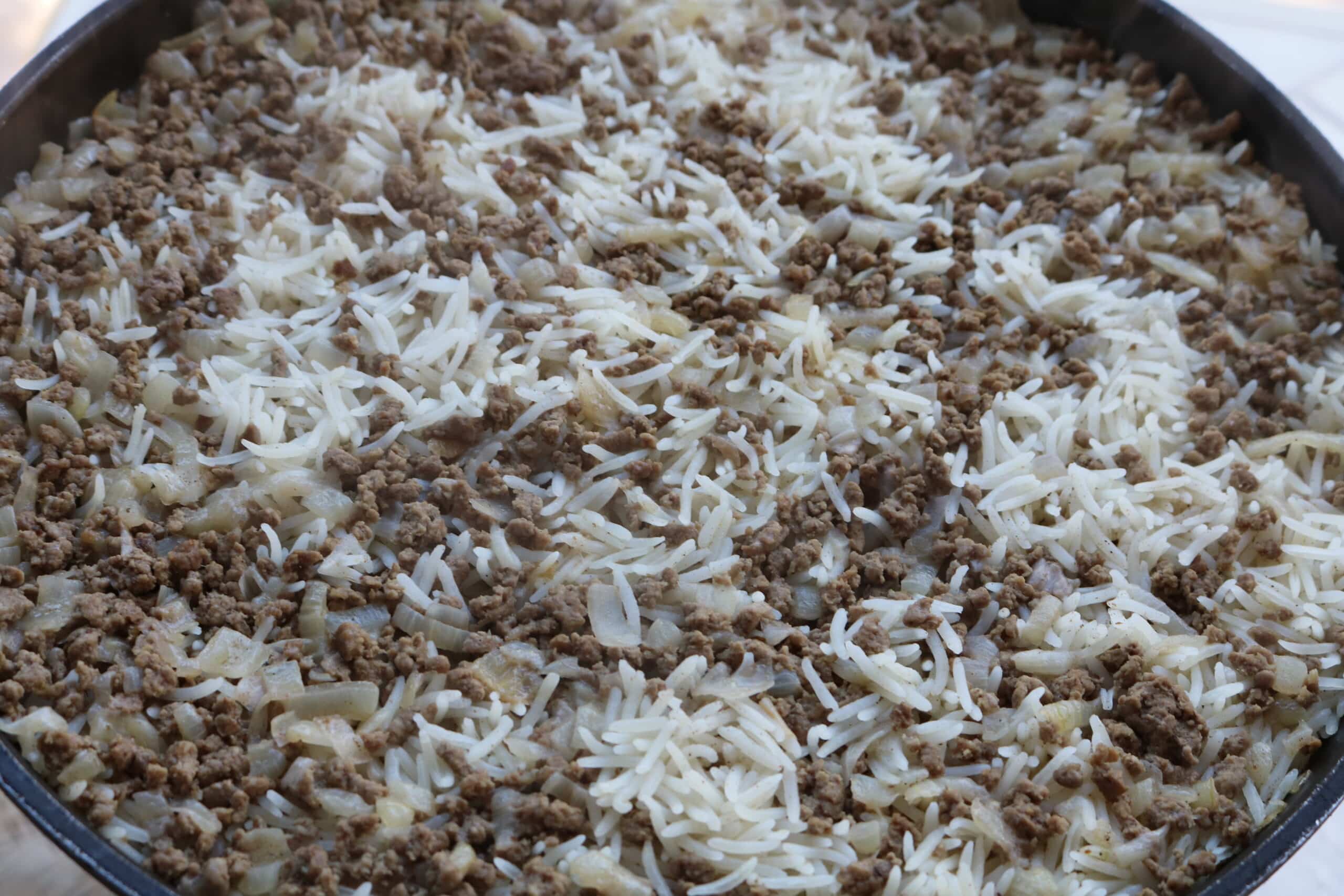 Brown the meat, add the rice and simmer for around 20 minutes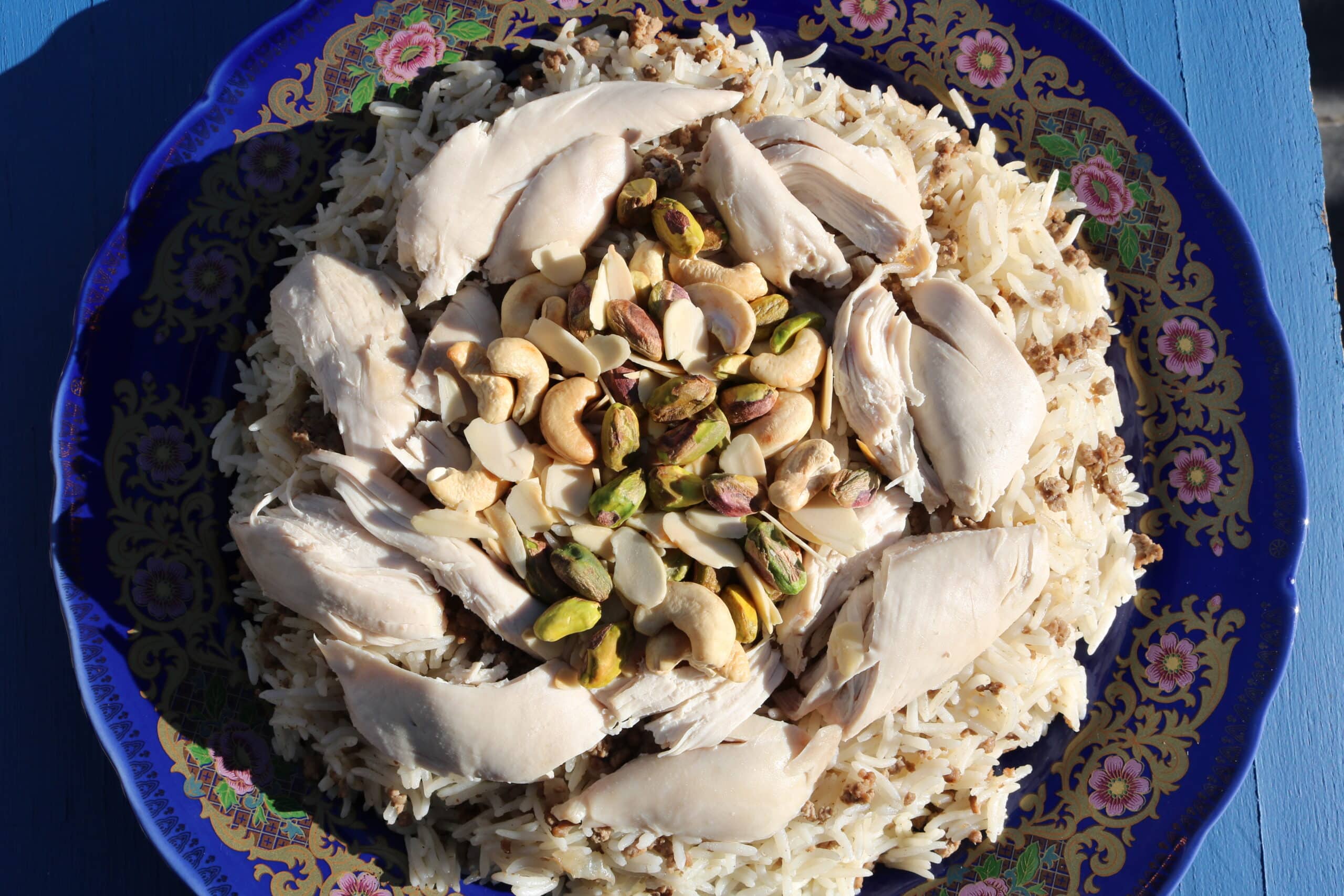 Layer up the dish, rice first, then chicken and nuts on top.
Variations
Giving the visitor ideas on how they can change this recipe to better suit their dinner guests, or their cultural cuisine, is a great way to increase the chances they make the recipe
Meat - practically the same dish can be made with meat instead of chicken
Buttery - drizzle some brown butter on top for some pizzaz
Peas - add some frozen peas to the rice for extra texure
Equipment
You will need a large stock pot to make the chicken broth, and quite a large casserole dish to absorb three cups of rice.
You will also need a wooden spoon and fine sieve for the rice and fine colander for the broth.
Storage
Store in the fridge for up to three days. To reheat, add a little water and simmer on low heat for around ten minutes.
Freeze any extra chicken broth for soups or stews.
Top tips
If you are making this for a dinner party, you can do much of it the day before.
For example, you can toast the nuts beforehand and keep them in an airtight container.
You can also make the chicken broth and set aside the 4-5 cups of liquid you will need for 3 cups of rice.
Same for the shredded chicken, you can do this the day before and keep it in a box or covered plate. Simply reheat by placing it on top of the rice when it simmers.
That's the secret to Middle Eastern feasts, prepare as much as possible the day before then assemble like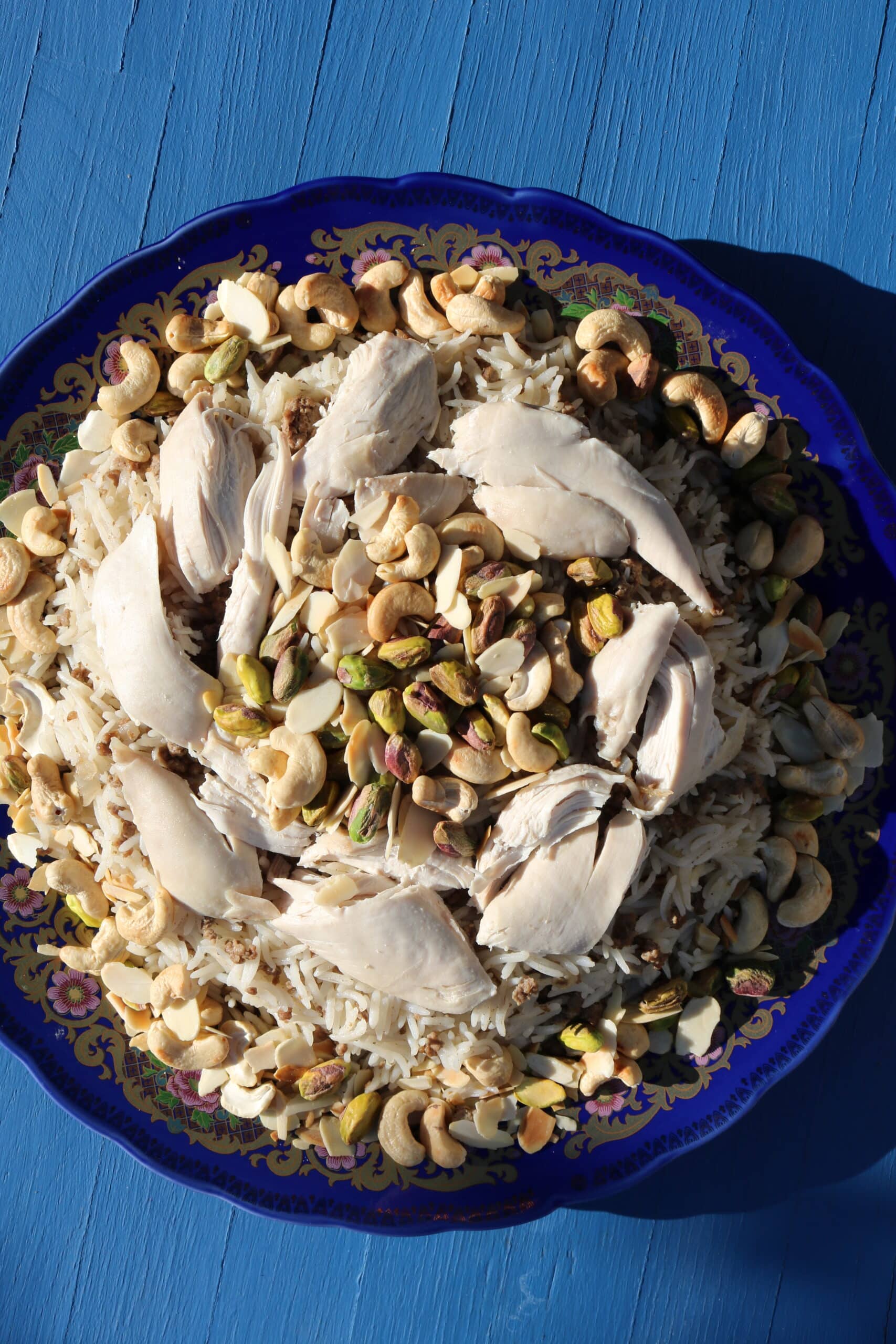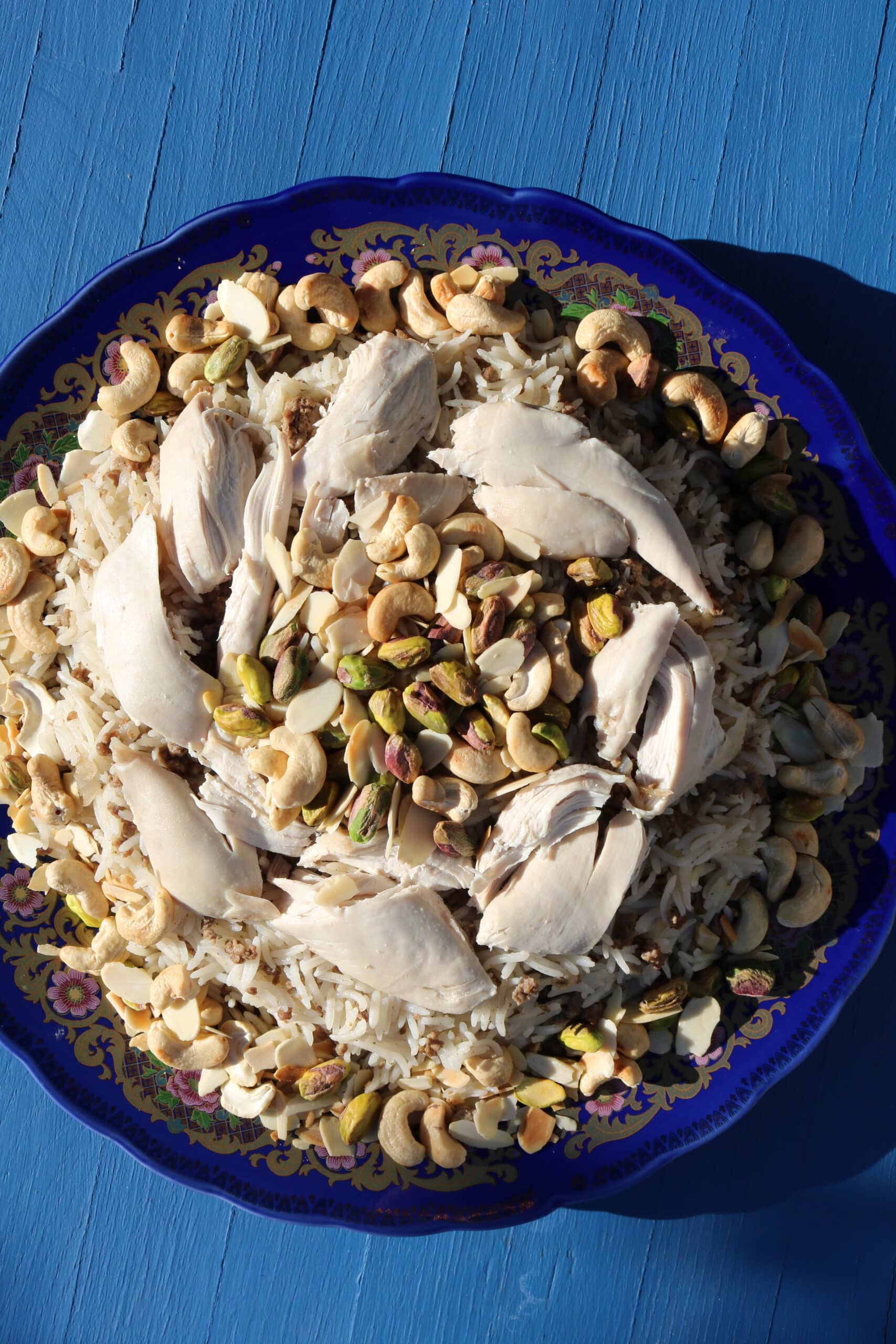 📖 Recipe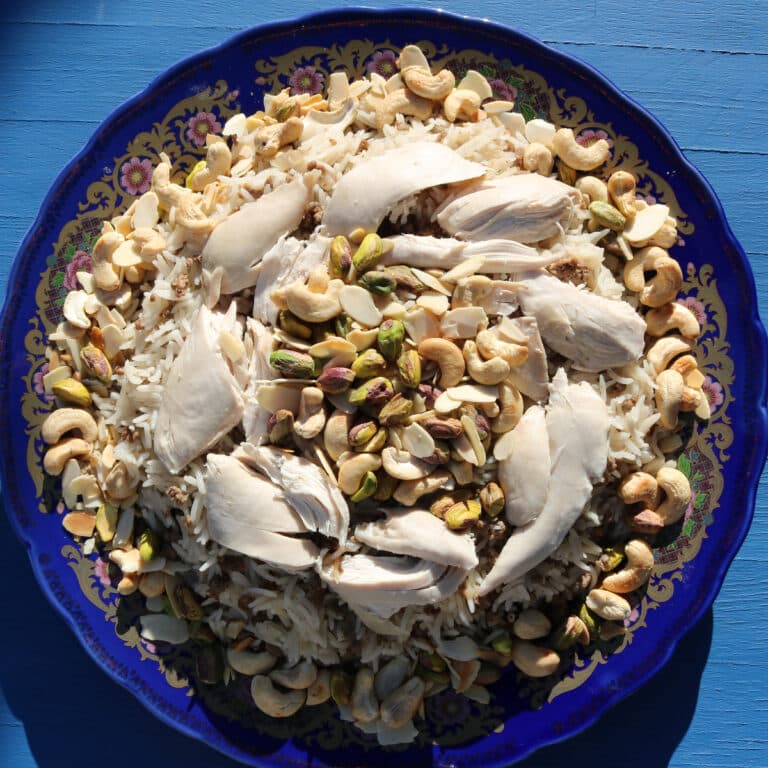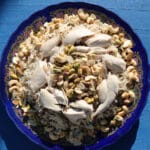 Lebanese chicken and rice (rez a djaj)
Rice with mince meat, chicken and assorted nuts
Cook Time
1
hour
30
minutes
Ingredients
For the chicken broth
1

chicken quartered

1

onion

peeled

1

celery stick

1

carrot

peeled

1

cinnamon stick

3-4

cloves

3

bay leaves

3-4

cardamom pods

10

peppercorns

approx

2

teaspoon

salt

2

litres boiling water
For the rice
3

cups

rice

1

onion finely chopped

200

g

ground meat

lamb, beef or both

2-3

tablespoon

mild olive oil

(good drizzle)

1

teaspoon

salt

approx

½

teaspoon

7 spice

¼

teaspoon

black pepper

¼

teaspoon

ground cinnamon

2

tablespoon

butter
To garnish
1

cup

assorted nuts

lightly toasted
Instructions
Lightly toast the assorted nuts (pistachios, cashews, almonds) in a non stick pan on low heat until golden. Set aside

In a large stock pot, add the washed chicken, onion, carrot, celery, cinnamon stick, cloves, bay leaves cardamom, peppercorns and salt with the boiling water. Bring to the boil then simmer for at least 45 minutes, removing any foam that comes to the surface

As the chicken broth is simmering, soak the rice in a bowl of water for around half an hour and set aside

When the chicken broth is done after 45 minutes, remove the chicken and drain the liquid over a fine colander into a pot.

Shred the chicken from the bone and keep the chicken breast in large chunks, cover and set aside

In a wide casserole pan, sauté the chopped onion in a good drizzle of mild olive oil on low heat until soft and translucent. This may take 15 minutes

Then add the mince meat, black pepper, 7 spice, cinnamon and around a teaspoon of salt. Increase the heat to medium and sauté for around 5-10 minutes until well browned, pressing with the back of a wooden spoon to break apart

Drain the rice in a fine sieve and add to the mince meat along with the butter and sauté for a few minutes. Add 4.5 cups of chicken broth to the rice, bring to the boil and then cover with a lid then simmer for 20 minutes

The rice is done when there should be no extra liquid, fluff it with a fork and add to a large platter

Lay the shredded chicken on top and sprinkle with the assorted nuts

Serve with a side of yoghurt or green salad
If you make any of our recipes let us know how it went by giving us a star rating below.
We have a lively Facebook group where we post frequent recipes and discuss Lebanese cooking in general, as well as a tiktok page.
You may also like these recipes from the collection: