Now here's a thing that will excite a many Lebanese. Makdous. We go crazy for it. It's savoury and sour and spicy all at the same time.
The perfect pickled combination of flavours and textures - crunchy walnut and smooth eggplant.
I have a very international family and the non-Lebanese don't get the hysteria me and my sisters have when we receive a batch of specially made makdous from Lebanon.
Yes I have been known to smuggle makdous in my luggage from Lebanon and even though once it leaked garlicky oil on my clothes I didn't care as it was worth it 😝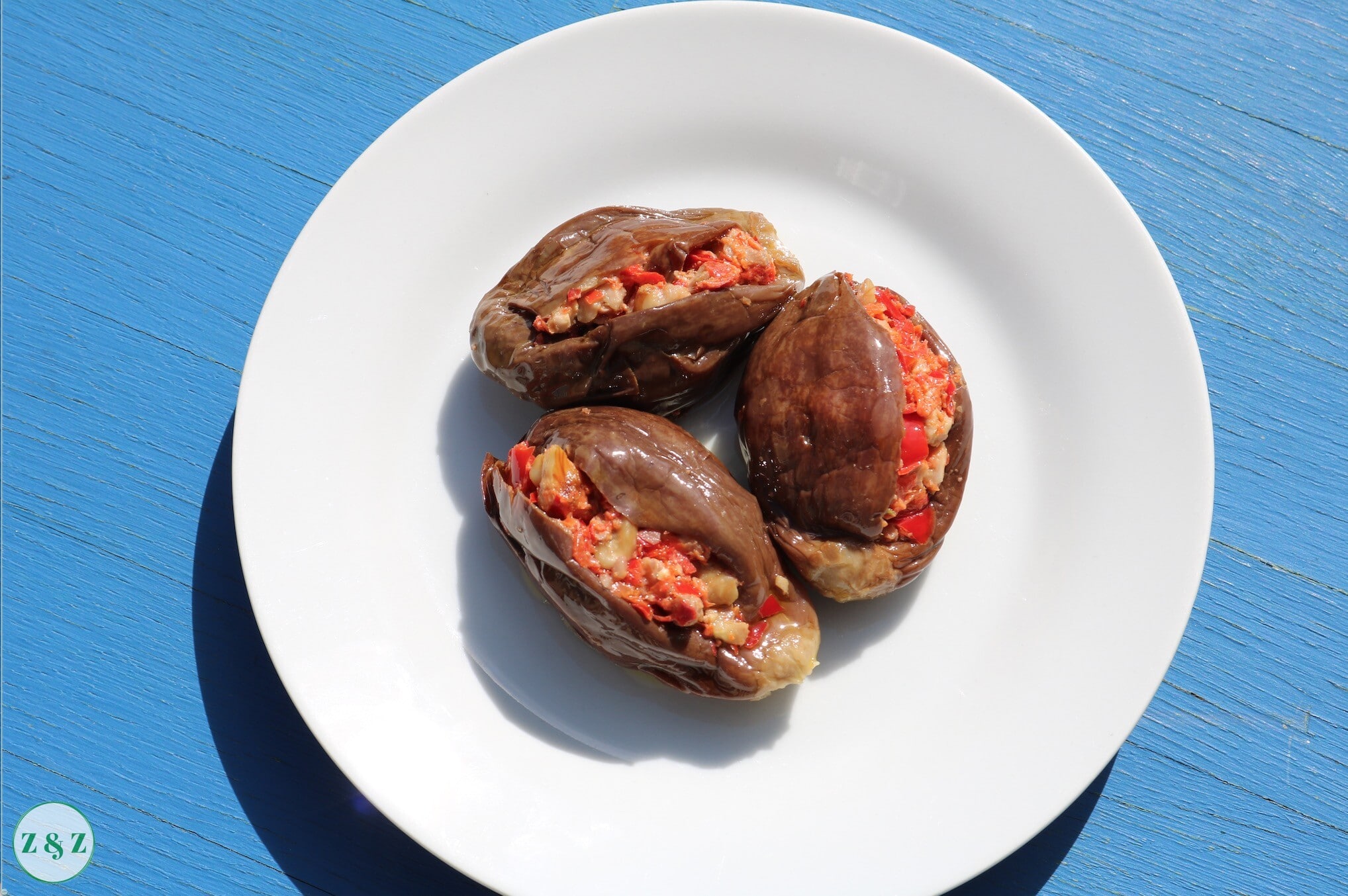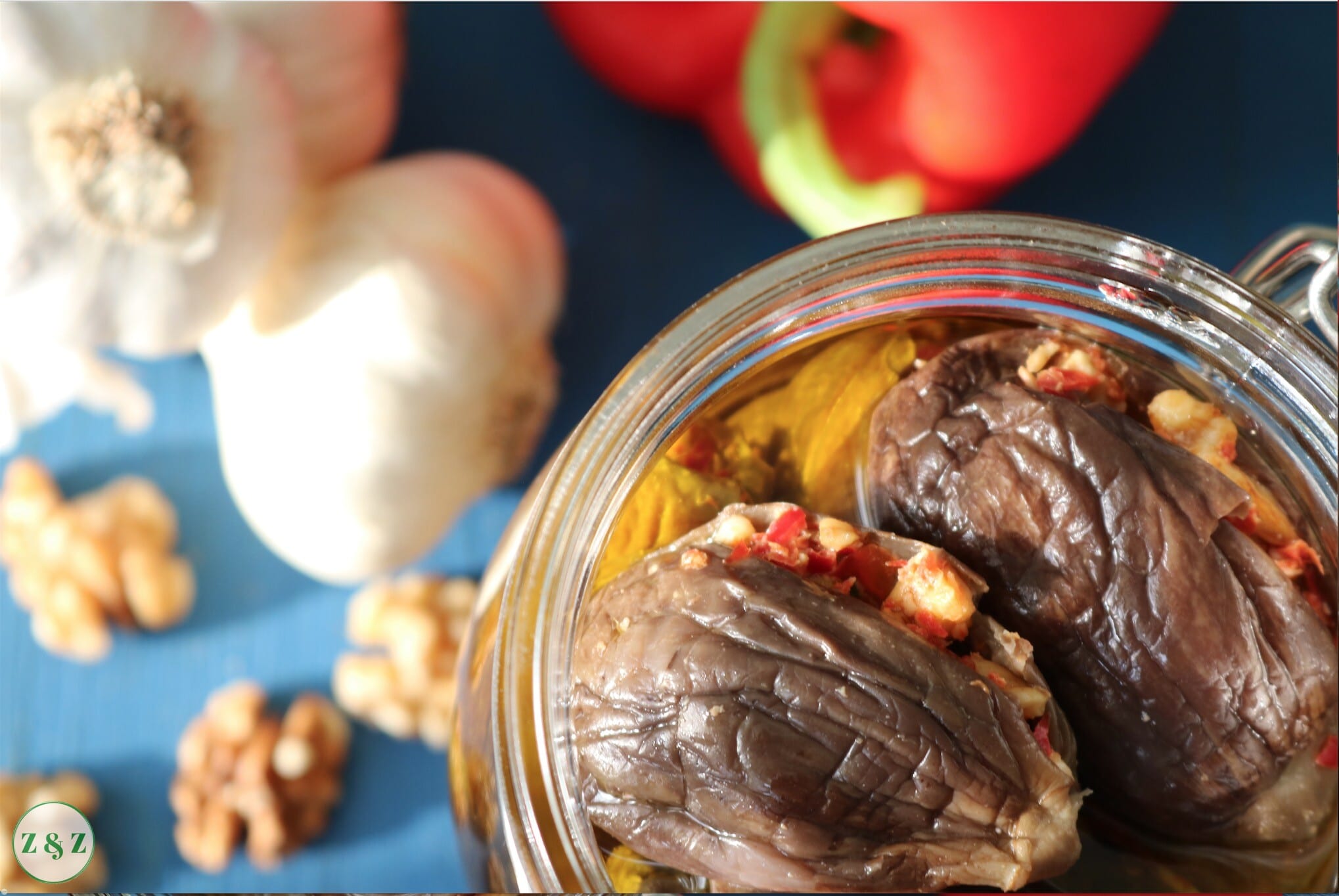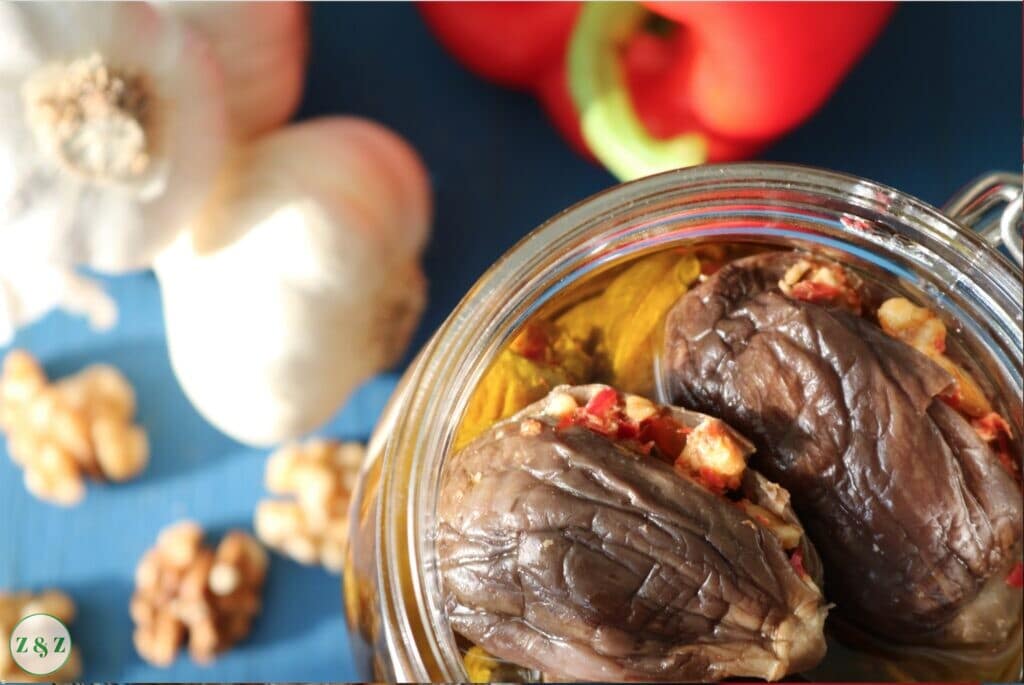 What is makdous?
Makdous are a traditonal Lebanese preserve made from little baby eggplants stuffed with walnuts, red peppers, chilli and garlic.
They are cured in olive oil and the longer you marinate them, the more sour they will be.
Makdous can stay good for up to a year provided they are fully covered in oil in an airtight jar.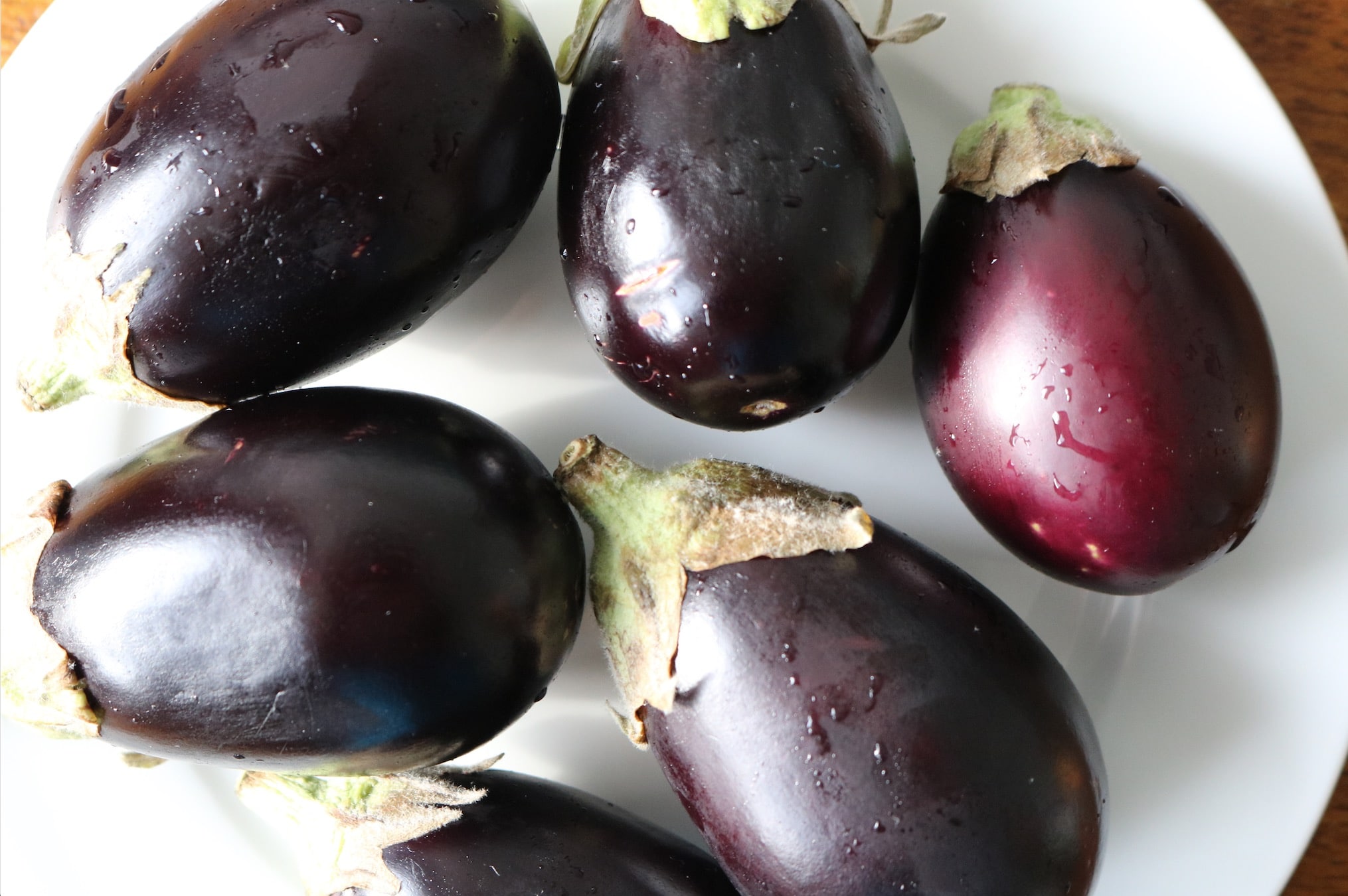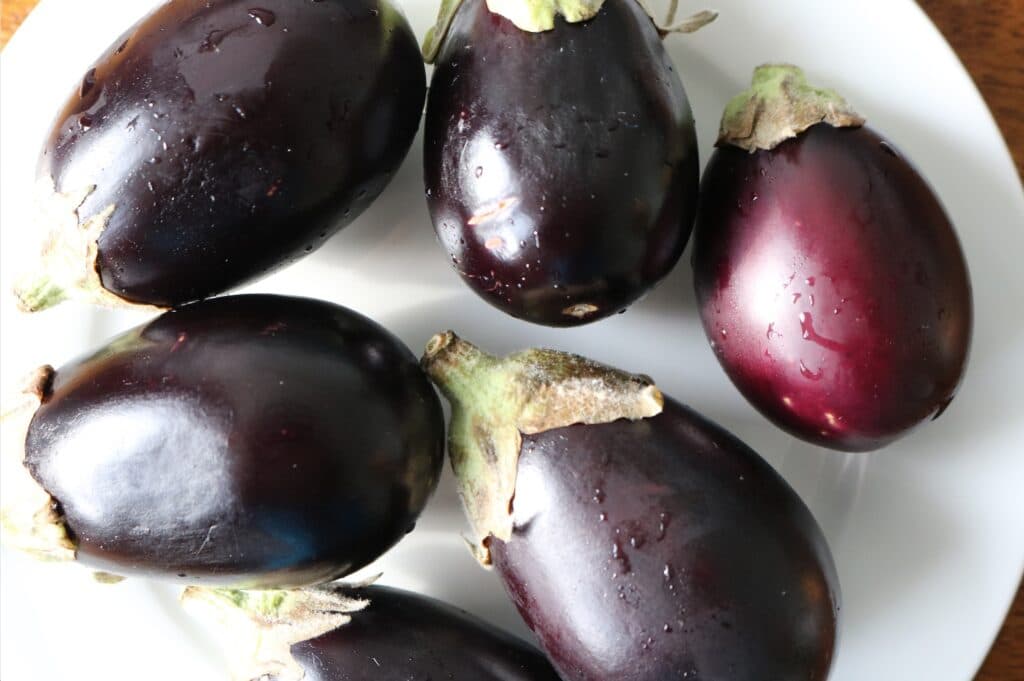 The eggplants
Makdous is made from very tiny baby eggplants. I'm talking very small so they fit inside the palm of your hand. If they are too big they will have too many seeds and will turn out bitter.
There are several varieties that can make good makdous, the black, purple or even the purple and white variety.
These baby eggplants appear at the beginning of summer around June and can be found in Middle Eastern grocery shops. You might find them in speciality supermarkets too.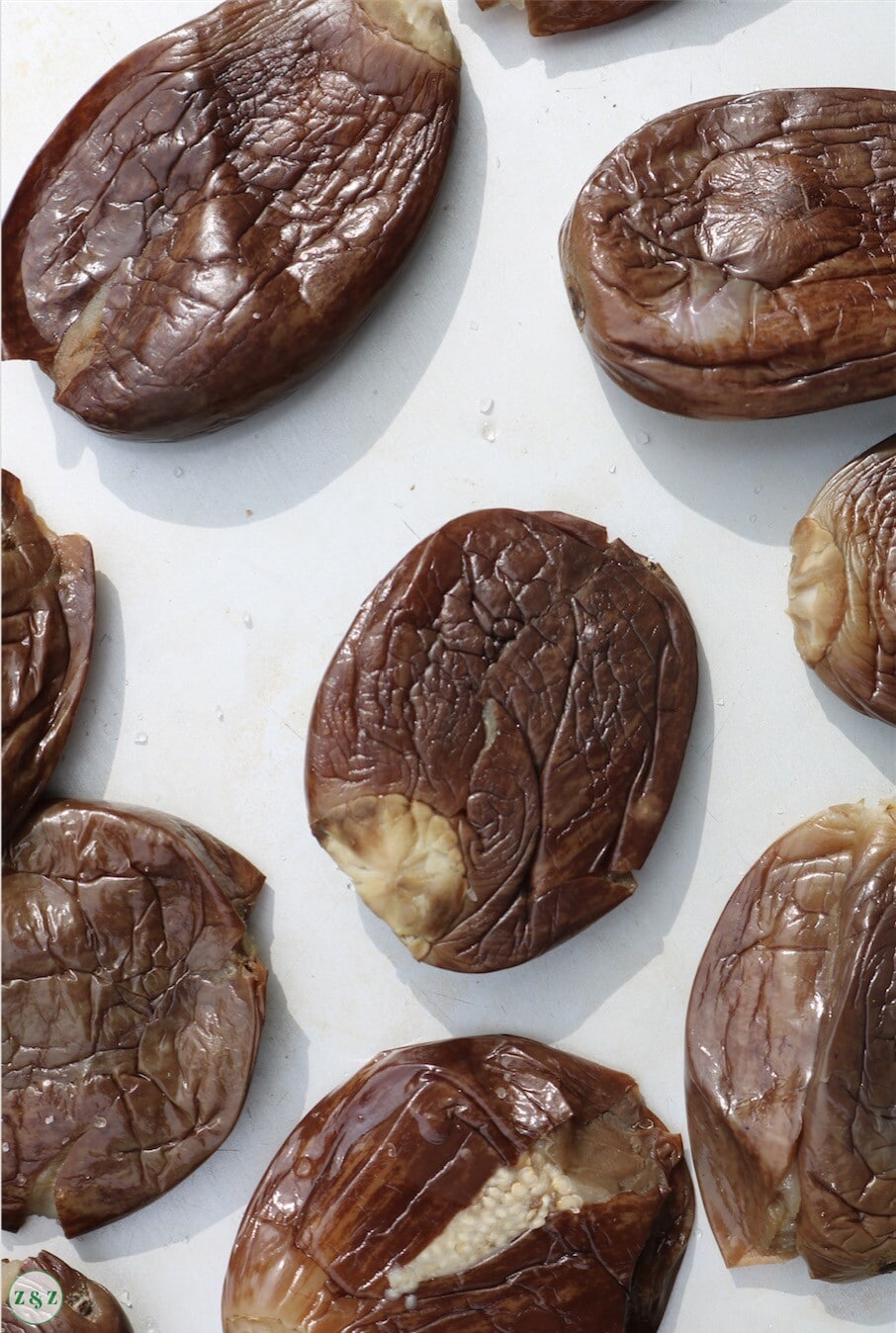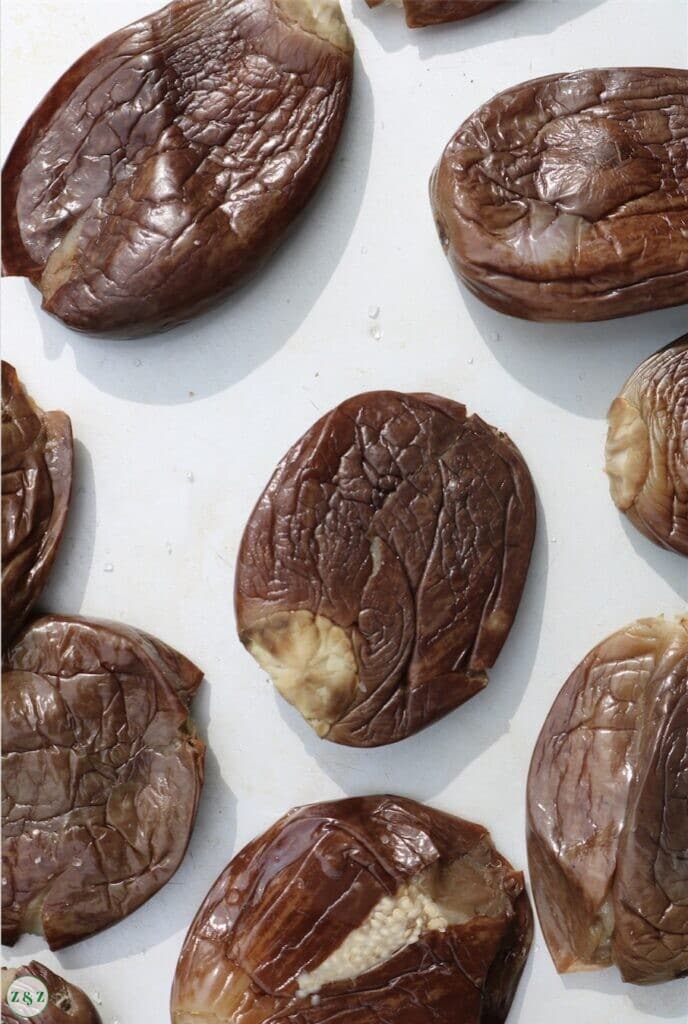 Preparation
You need patience to make any preserve and makdous isn't any difference. The whole process just to get them ready for stuffing takes a few days.
First, the eggplants are boiled until just about cooked. If you boil them too much they will fall apart and will be difficult to stuff.
Then they are pressed very tightly so all the moisture drains out. My husband takes this stage very seriously and even loads bricks on top of them to make sure they are properly pressed.
Then they are dried (preferably in the sun) for a few days until they are ready to be stuffed. After that, they are cured in some extra virgin olive oil for at least a week.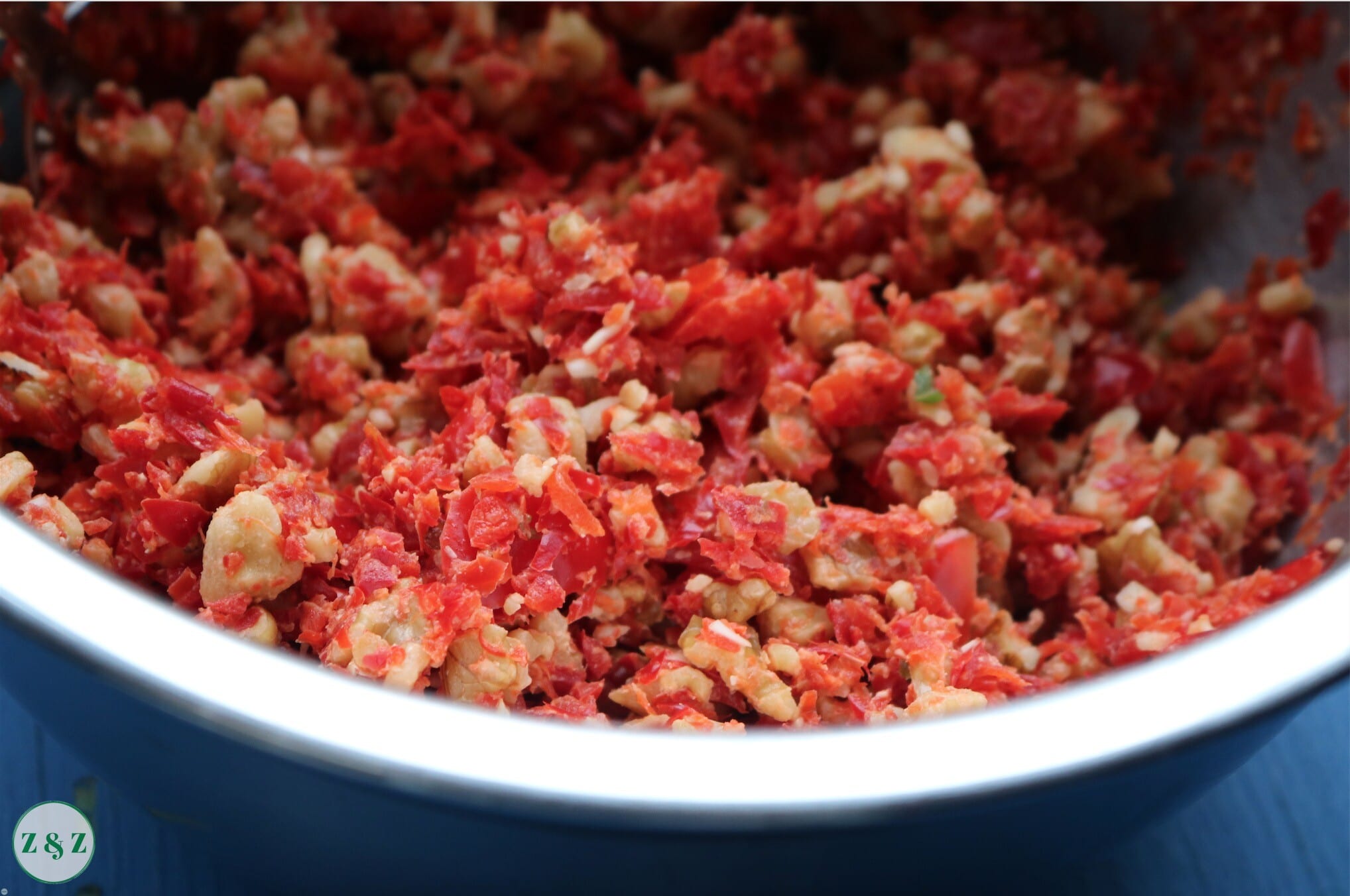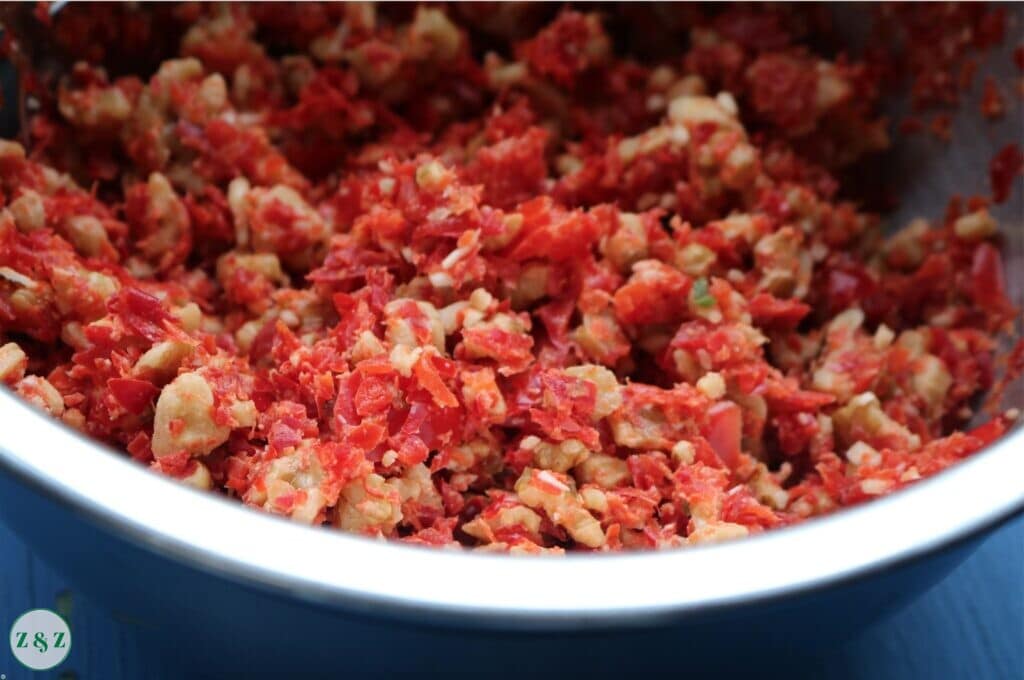 The filling
I have been known to fight my husband for the last bit of walnut on the plate so now when I make my makdous I always stuff them to the brim.
You can chop or crush your walnuts but I would avoid processing them i the processor as they become too fine too quickly. You are aiming for a coarse texture.
Red peppers are traditionally used and I have used both bell and the longer Romero peppers for extra flavour.
You can use either birds eye chilli or scotch bonnets depending on your personal spice level.
It is important to taste the filling and adjust the flavour as necessary. You don't want to do all that hard work and then find your makdous are too salty!
Preservation
I would reccommend waiting at least two weeks before opening the jar as it is the ideal amount of time you need to get them ready for eating.
This way they will have developed enough of a tang that's needed for that special makdous flavour.
If you are extremely impatient you could probably start eating them after about a week.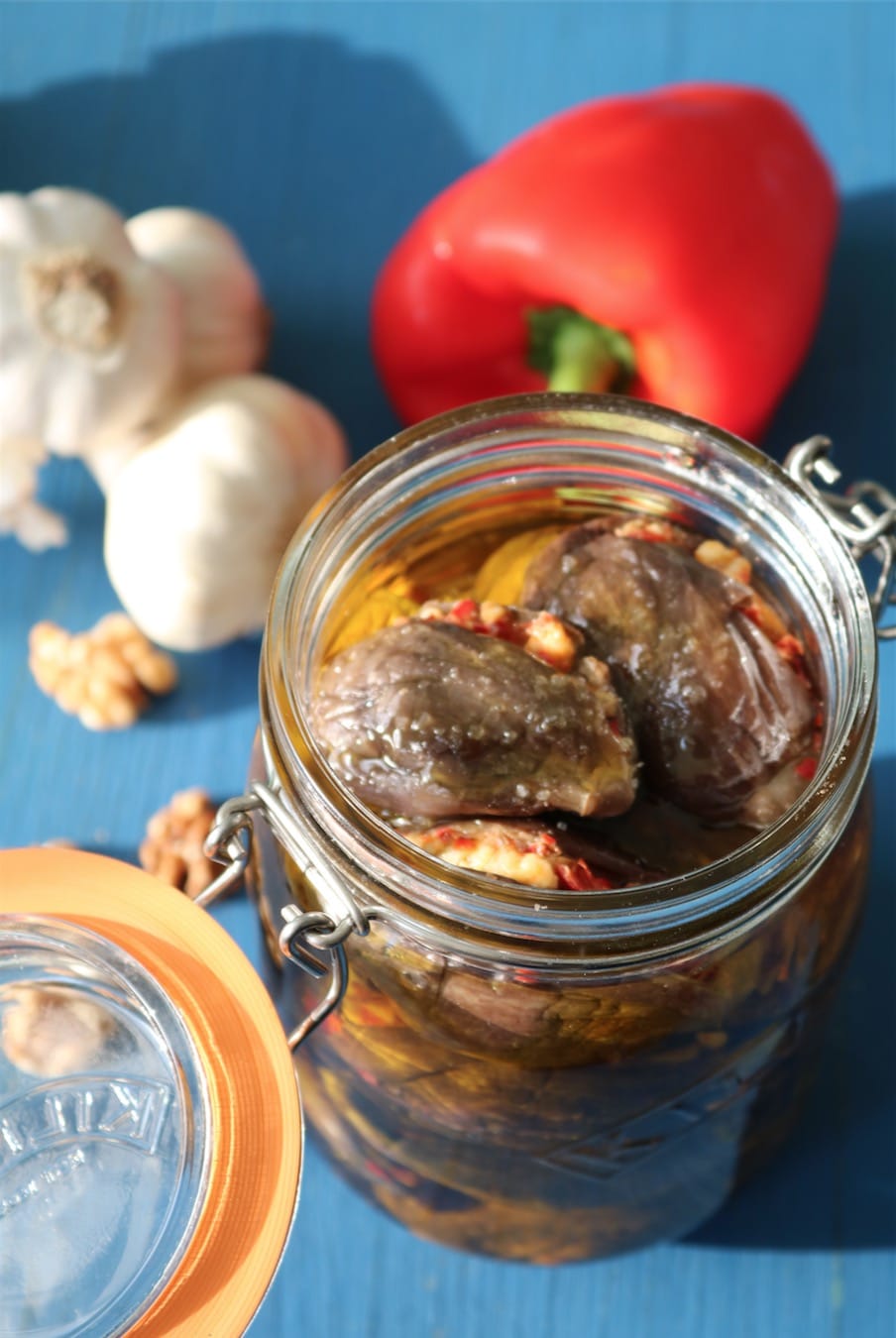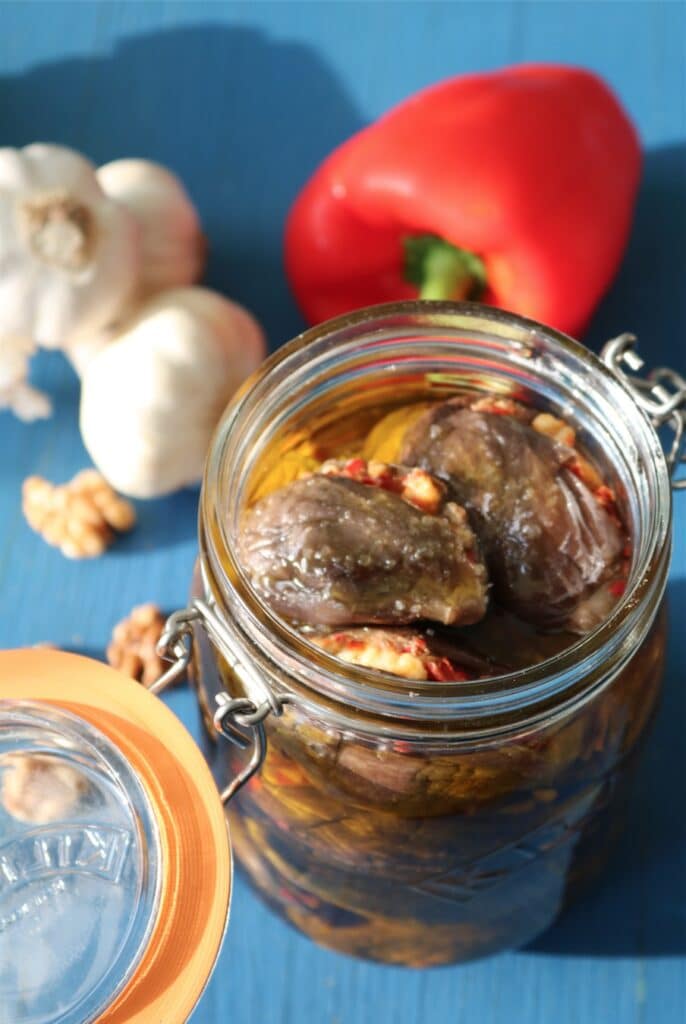 Make sure you cover the makdous in enough olive oil or they will spoil and develop a mould where they interact with the air.
Every time you take some out of the jar, gently swirl the oil around so they are covered or lightly realign them inside the jar so they don't poke out.
Top tips
Make sure you sterilise your preserving jars beforehand. The quickest way to do this is running them through the dishwasher and leaving them out to dry.
When you have finished stuffing them, don't press them too tightly inside the preserving jar - just stack them lightly on top of each other allowing for a little space between each one so the olive oil can trickle down to the bottom.
Use a good quality extra virgin olive oil as that will affect the overall flavour. Before you seal your preserving jars, sprinkle some sea salt on the top to keep the conditions perfect for curing.
When you finish eating all the little makdous, you can keep the oil for you next batch or even use it in other dishes such as drizzling over lebneh.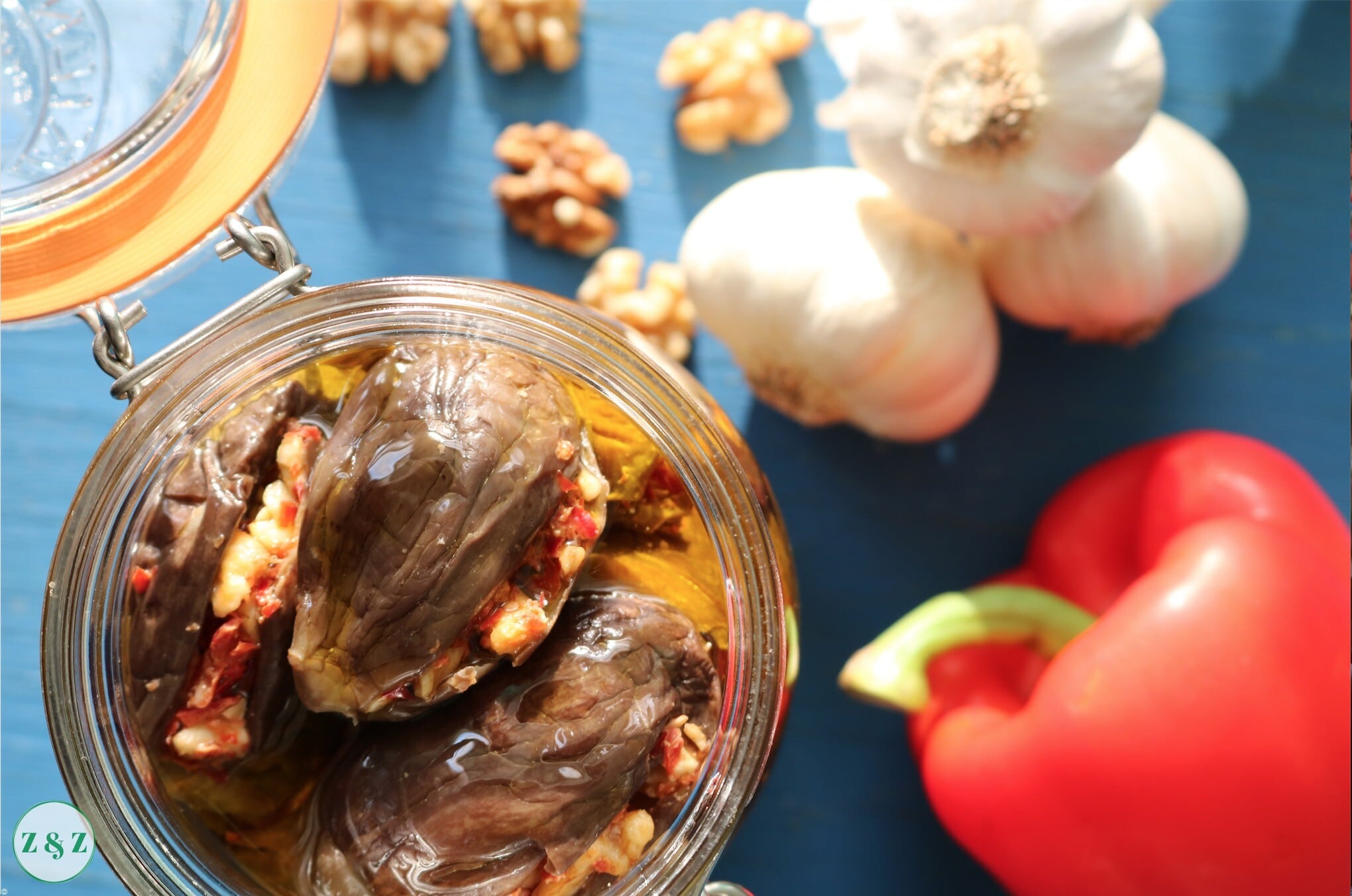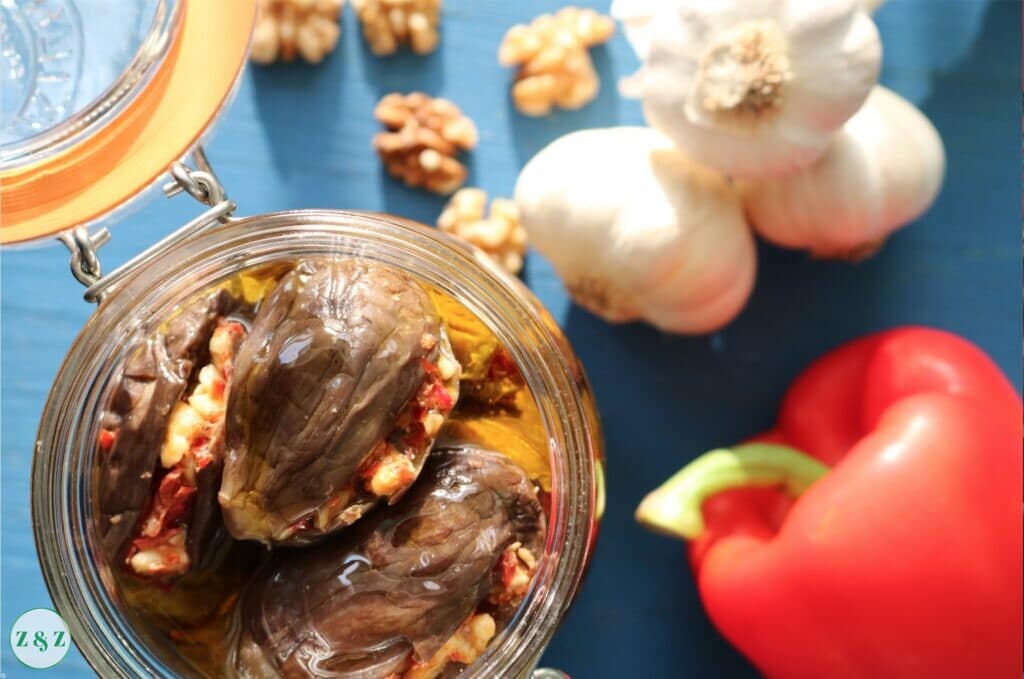 How to eat makdous
Makdous are traditionally eaten with fresh flatbreads as part of a mezze or other little dishes.
My favourite way to eat them is for breakfast with some scrambled eggs. The fluffy eggs complement the sharp flavours of the makdous.
I have also seen people eat them with mujadara hamra and even with some hummus. They will go with anything that has a calm or subtle flavour that doesn't clash with the makdous flavours.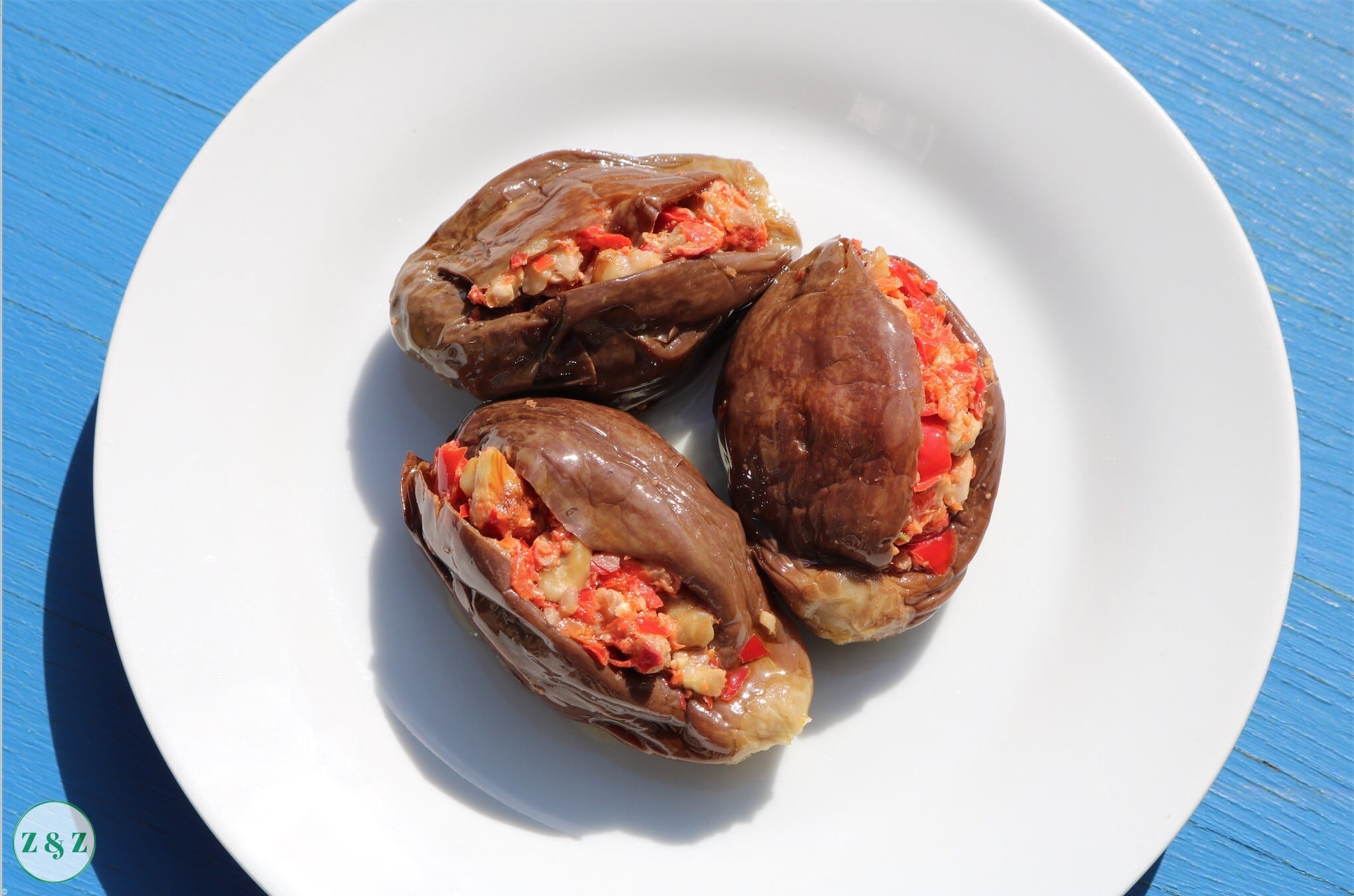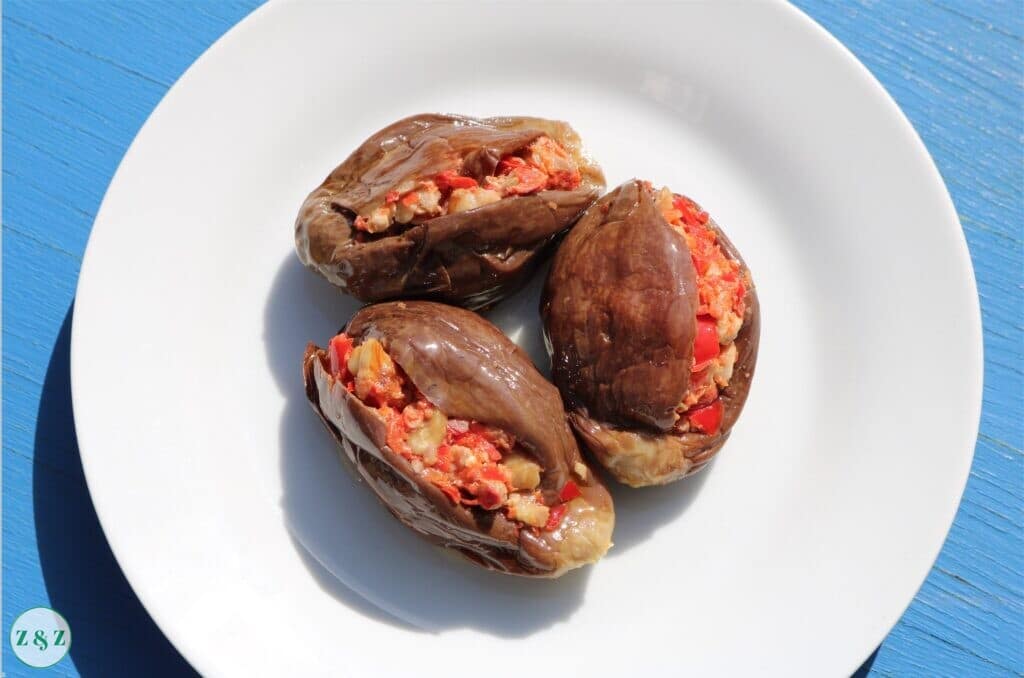 You might think of makdous as something only experienced village ladies make but actually they are not that difficult to get right.
Just simply follow the steps and feel the excitement as you open your first jar of makdous that you made with your own hands.
Then you can tell everyone all about the very extra long process you suffered just to make your delicious little pickled baby eggplants.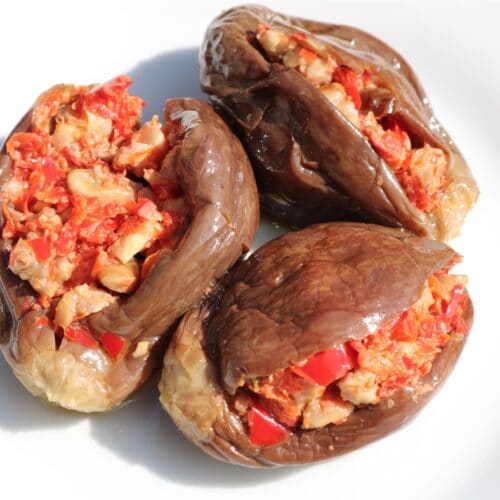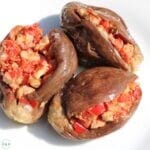 Lebanese Makdous
Cured baby eggplants stuffed with walnuts, peppers chilli and garlic
Ingredients
2

kg

approx 40 very small baby eggplants

2

red bell peppers

4

long Romero red peppers

6

cloves

of garlic

3

hot chilli

3

cups

of walnuts

Sea salt

Extra virgin olive oil approx 1.5 litres
Instructions
Wash the baby eggplants, then place in a large pot and cover with a heat proof plate. Add water to cover then bring to the boil

Cook the baby eggplants for around 15 minutes, then drain in a colander

With a sharp knife gently peel away the tops, they should come away without much difficulty

Make a slit down one side stopping just before the end. Sprinkle each eggplant with sea salt inside and out

Divide the eggplants between two or more colanders and line them on the inside so they are not overlapping. Press with either a snugly fitting bowl and top with heavy objects such as cans or bricks

Place a tray under the colanders to collect any juices that are pressed out. After 48 hours, transfer the pressed eggplants to a clean flat tray and leave to dry preferably in direct sunlight

When the eggplants are drying in the sun, prepare the red peppers by pulsing them in the food processor until they are finely chopped but not mushed completely

Transfer the red peppers to a fine mesh sieve so the juices completely drain and place in the sun so they dry beside the eggplants

Prepare the preserving jars by running through the dish washer and leave to dry very well

When the red peppers and eggplants have completely dried (after at least a few hours in the sun or the next day), start to prepare the rest of the filling

Break up the walnuts or chop until you have a coarse texture. Mix the walnuts with the dried peppers in a mixing bowl

Chop the garlic with the chilli either in a processor or by hand. Sprinkle with some salt and add to the walnuts and pepper.

Taste the filling to make sure it is not too spicy or salty. Take into account the eggplants will become more sour as they cure in the oil

Take each dried eggplant and fill generously with the filling, then stack them lightly in the preserving jar

Top them with extra virgin olive oil to cover, sprinkle on some sea salt and seal well

Leave to cure for about two weeks before eating.
Recipe Notes
Alternatively, you can arrange the pressed eggplants in a wide rectangular colander with a tray underneath
As you eat the makdous, avoid exposing the remaining ones to air by making sure they are submerged in the oil.
The makdous will be good for up to a year.
If you make any of our recipes let us know how it went via our Social Media platforms.
We have a lively Facebook group where we post frequent recipes and discuss Lebanese cooking in general, as well as a handy Pinterest page where you can save all of your favourite Zaatar and Zaytoun recipes!
You might also like these other recipes from the Zaatar and Zaytoun collection: