Mujadara is a lentil based dish, combined either with rice or bulgur wheat, that is healthy, cheap and can feed a family with store cupboard ingredients. Being the lentil experts that we are, we have three Lebanese mujadara dishes for you at Zaatar and Zaytoun, classic mujadara (with rice and caramelised onions), mujadara hamra (reddened lentils) and mujadara makhbousa (messy lentils).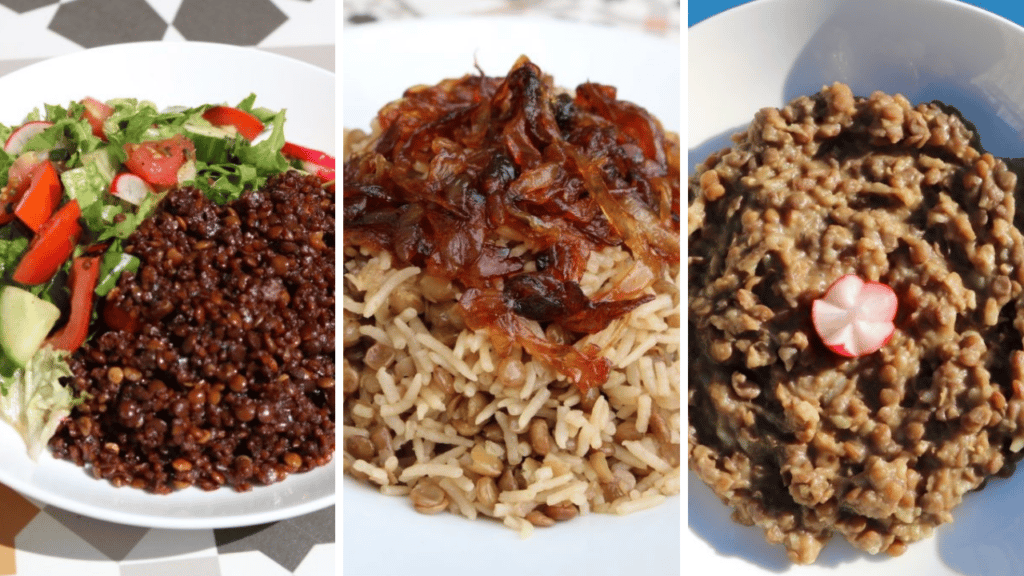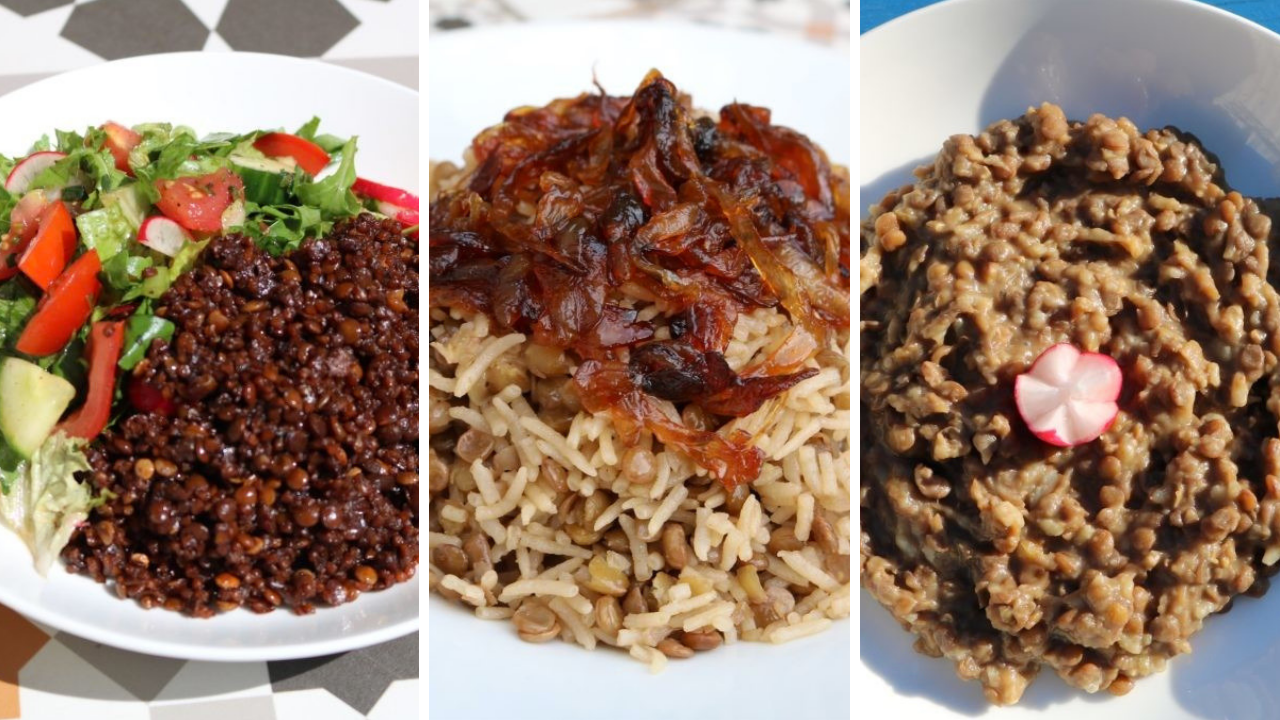 1. Classic Lebanese Mujadara (with rice and caramelised onions)
This is the classic mujadara recipe and pretty easy to make. The lentil to water ratio is 1:5 and the spices are your basic Lebanese 7 spice which can be found here. Make sure you make lots of caramelised onions as they always go fast. Serving suggestions include cabbage or spinach salad.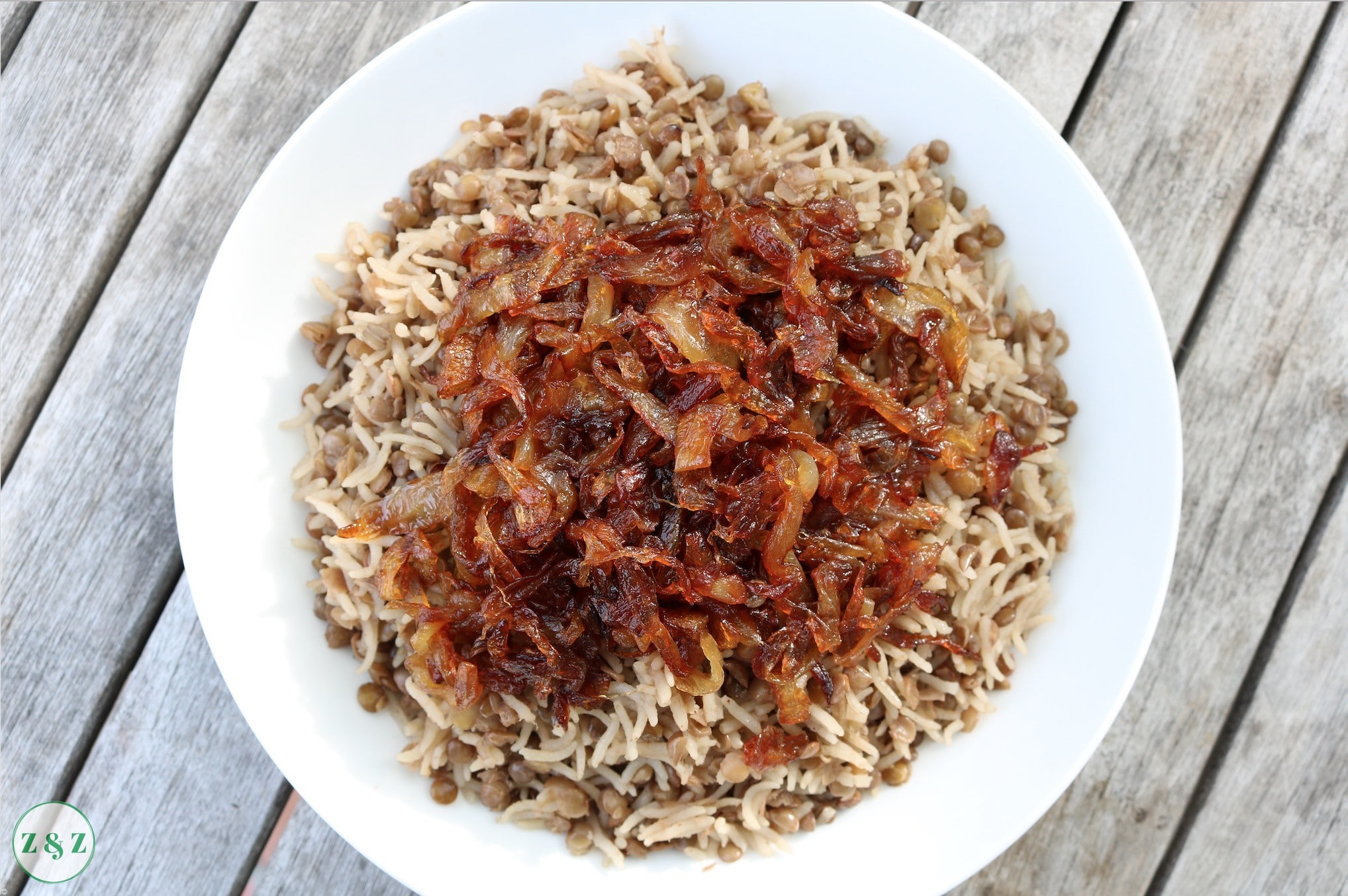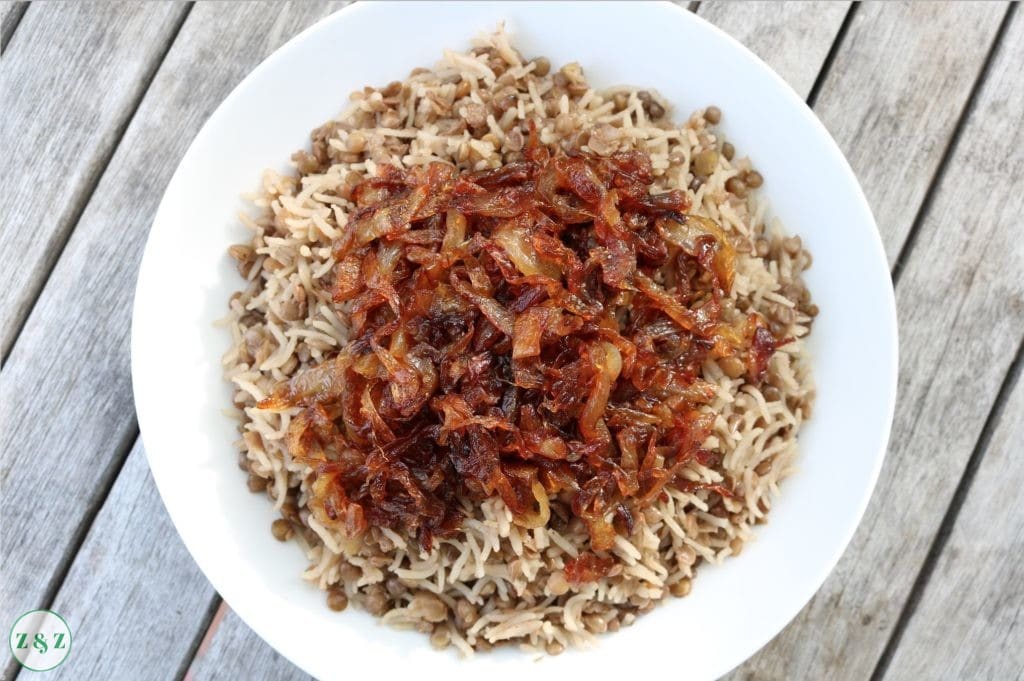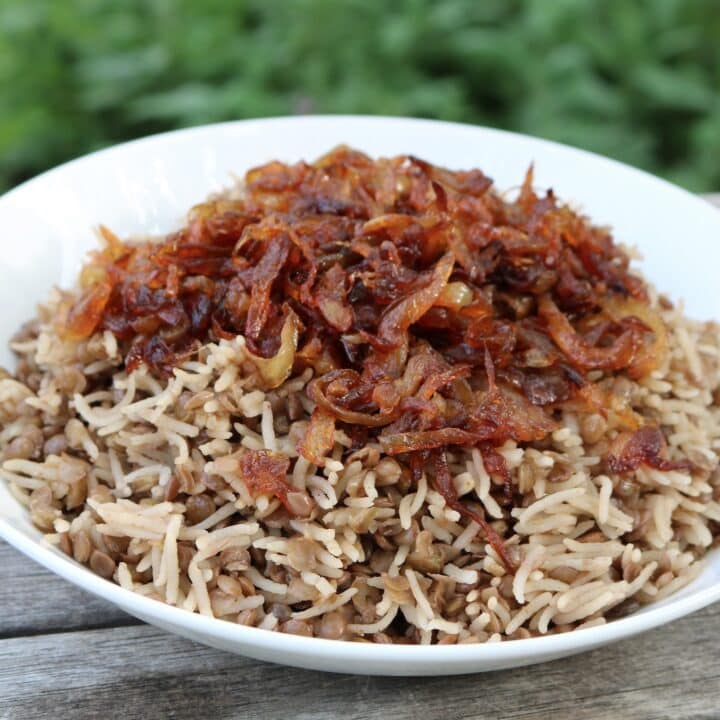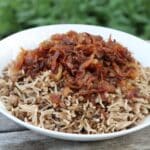 Lebanese Mujadara
Lentil rice with caramelised onions
Ingredients
3

large onions

sliced into strips

½

cup

regular olive oil

1

cup

lentils

1

cup

rice

5

cups

water

¼

teaspoon

cumin

¼

teaspoon

7 spice

Approx 1 teaspoon salt
Instructions
In a wide non stick pan, add the sliced onions and the olive oil. Turn the heat high for the first 2-3 minutes then reduce to the lowest setting and caramalise for 35-40 minutes, sautéing every few minutes so as not to burn on one side.

Wash the lentils and add to a pot along with the 5 cups of water

Bring the lentils to the boil then reduce to medium heat while they cook

After 20 minutes of the lentils cooking, check one and if it is nearly done, add the washed cup of rice

Add the salt and spices, a quarter of the onions as well as any excess oil from the onions which should be nearly done by now.

Cover the rice with a lid and cook for another 20 minutes on low. Taste and adjust the salt as necessary.

Serve with salad or yoghurt.
2. Mujadara Makhbousa (messy lentils)
This mujadara recipe, though takes a little longer than the classic one above, is actually easier to make. All you have to do is cook the lentils then add the rice and put it on low heat until you have a lose risotto like consistency. This dish is warming and comforting, perfect for cold days and like all mujadara can be eaten hot or cold.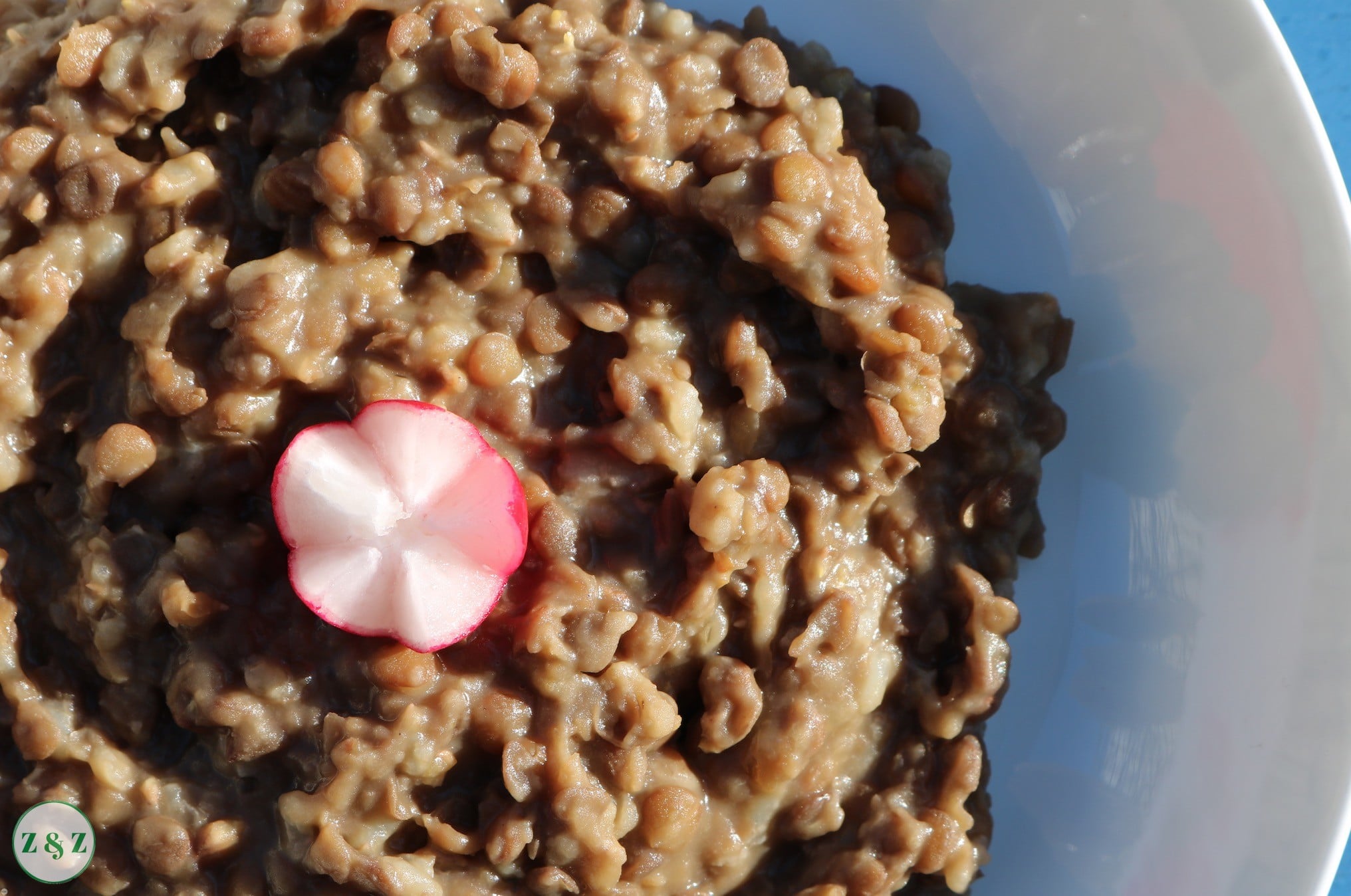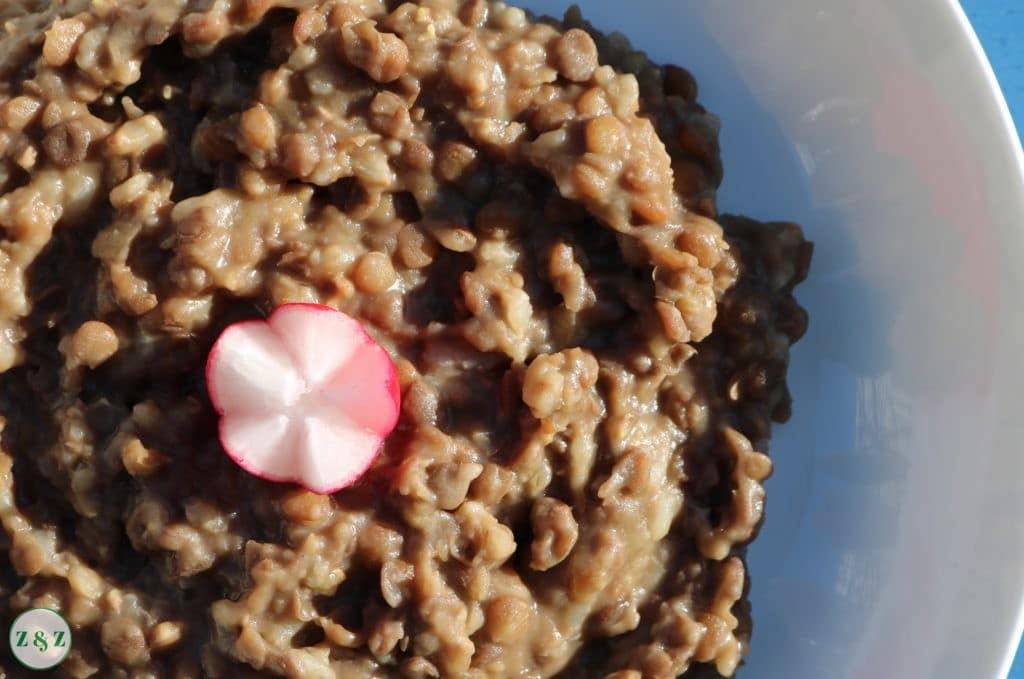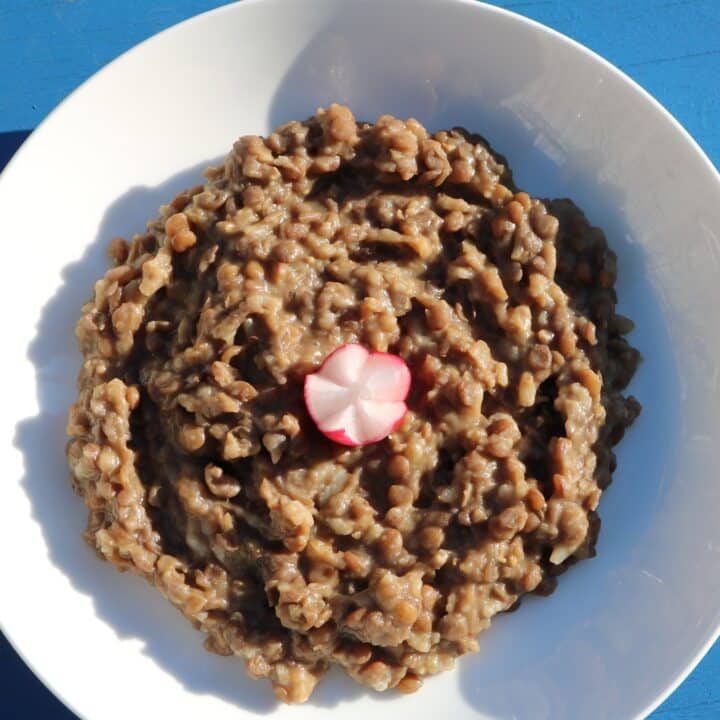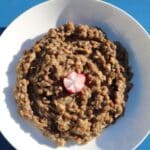 Mujadara Makhbousa (Messy Lentils)
Lebanese 'messy' lentils cooked with rice
Total Time
1
hour
5
minutes
Ingredients
1

cup

brown lentils

¼

cup

short grain rice

1

large onion

1

teaspoon

Salt

(approx)

¼

teaspoon

black pepper
Instructions
Put the lentils in a pot with 5 cups of cold water and bring to the boil

Reduce the heat to medium and cook until done (approx 20 mins)

Add the rice and keep cooking on a low heat (approx half an hour) until the rice and lentils thicken to form a loose risotto texture

Add salt and pepper to lentils, taste and adjust

In a separate pan, caramalise the onion in some regular olive oil on low heat, then add to the lentil rice mix

Combine everything well and serve with salad and flatbreads
3. Mujadara hamra (reddened mujadara)
The final mujadara recipe is for advanced cooks who are not afraid to manipulate onions to the extreme. You have to dare yourself to brown onions on medium high heat just until before they burn which can be hard to judge if you take your eyes off them for too long. Despite being a little trickier to make on your first go, you will soon know when the onions are done and then it's a straight forward recipe where you just add the lentils and bulgur wheat. Of all the mujadara dishes this is by far my favourite and everyone gets excited when they discover some one has made mujadara hamra for lunch. Give it a go, your life will be more savoury and delicious for it, I promise.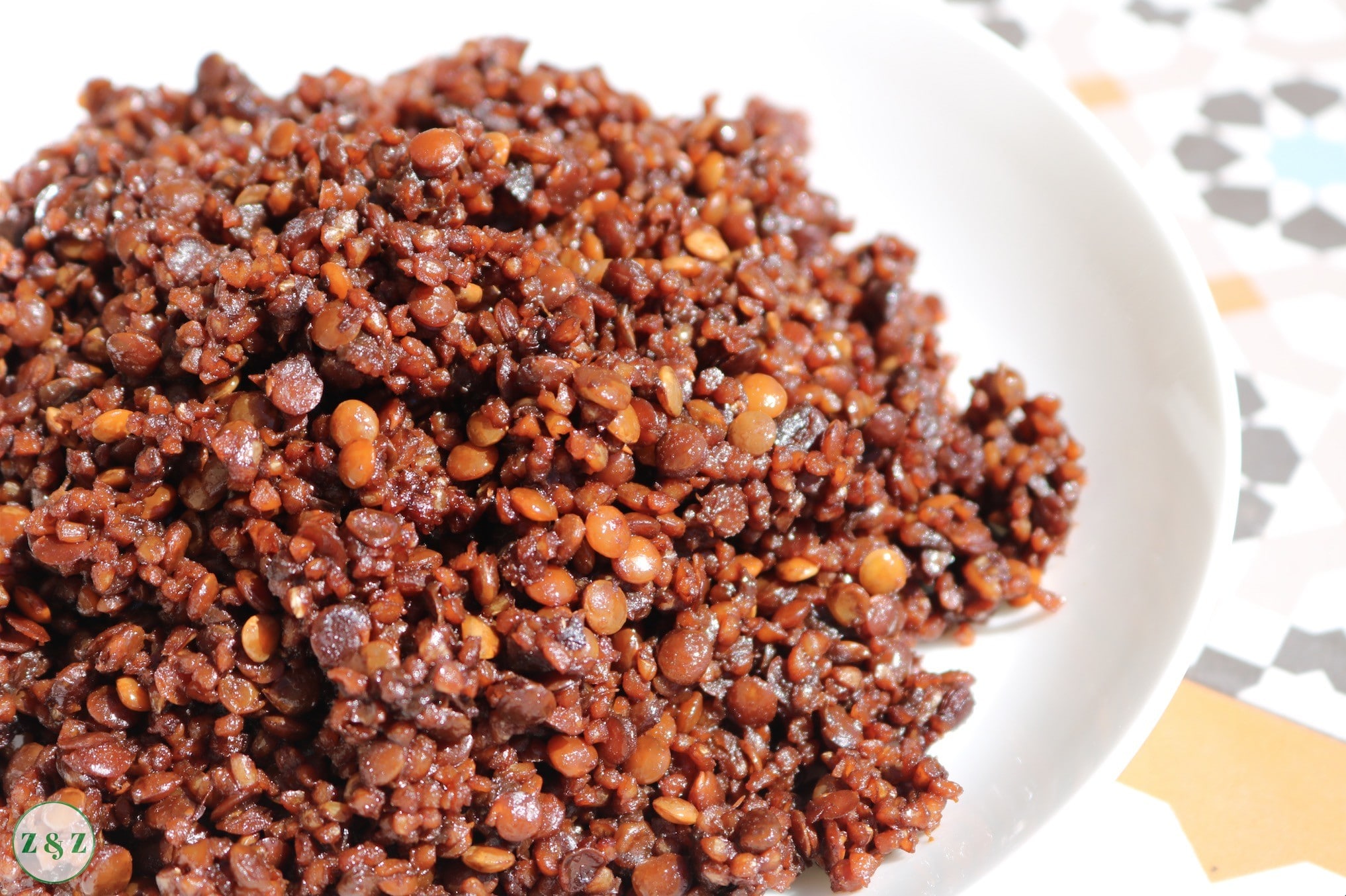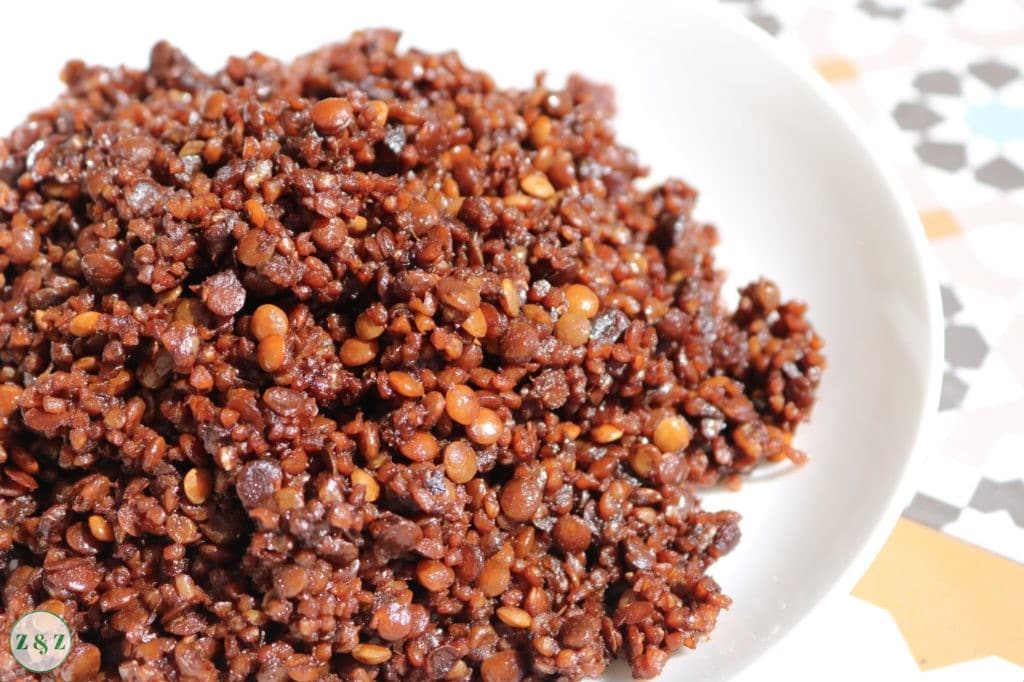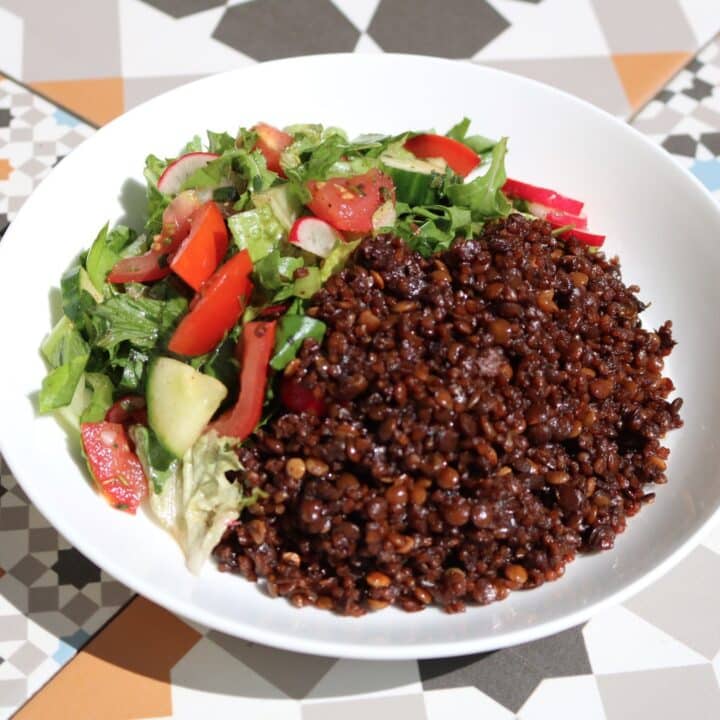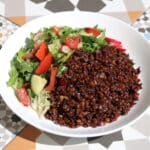 Mujadara Hamra
Reddened Lentils with bulgur wheat
Ingredients
4

large onions

½

cup

regular olive oil

1

cups

brown lentils

1

cup

coarse bulgur wheat

2

teaspoon

salt

approx

Boiled water

3 ½

cups

cold water

Extra virgin olive oil
Instructions
Chop the onions and add them to a pan with the olive oil, sprinkle with a little salt

Sauté on medium heat for at least 20 minutes until they turn dark brown (but not burnt!) The more you brown them the more savoury the flavour

Stand back and slowly add enough boiled water to just cover the onions (it will splutter!) and squish them down with the back of a wooden spoon

Add the salt and bring to the boil, cover and simmer on low heat for ten minutes

Add the lentils and the cold water, bring to the boil then reduce the heat to low and leave to cook for around another half hour until the lentils are cooked

Add the bulgur wheat and simmer for another 15 minutes.

When the bulgur wheat has soaked up most of the liquid, taste and adjust the salt as necessary, turn off the heat and add a dash of olive oil

Serve with a side salad or a helping of plain yoghurt