Kibbeh labanieh is a luxurious dish that takes something amazing and makes it even better.
Whoever thought of cooking moorish morsels of kibbeh in a rich garlicky yoghurt sauce is a genius.
The 'labanieh' refers to the garlicky yoghurt sauce. This dish is also known as 'kibbeh bi laban' which means kibbeh in yoghurt sauce.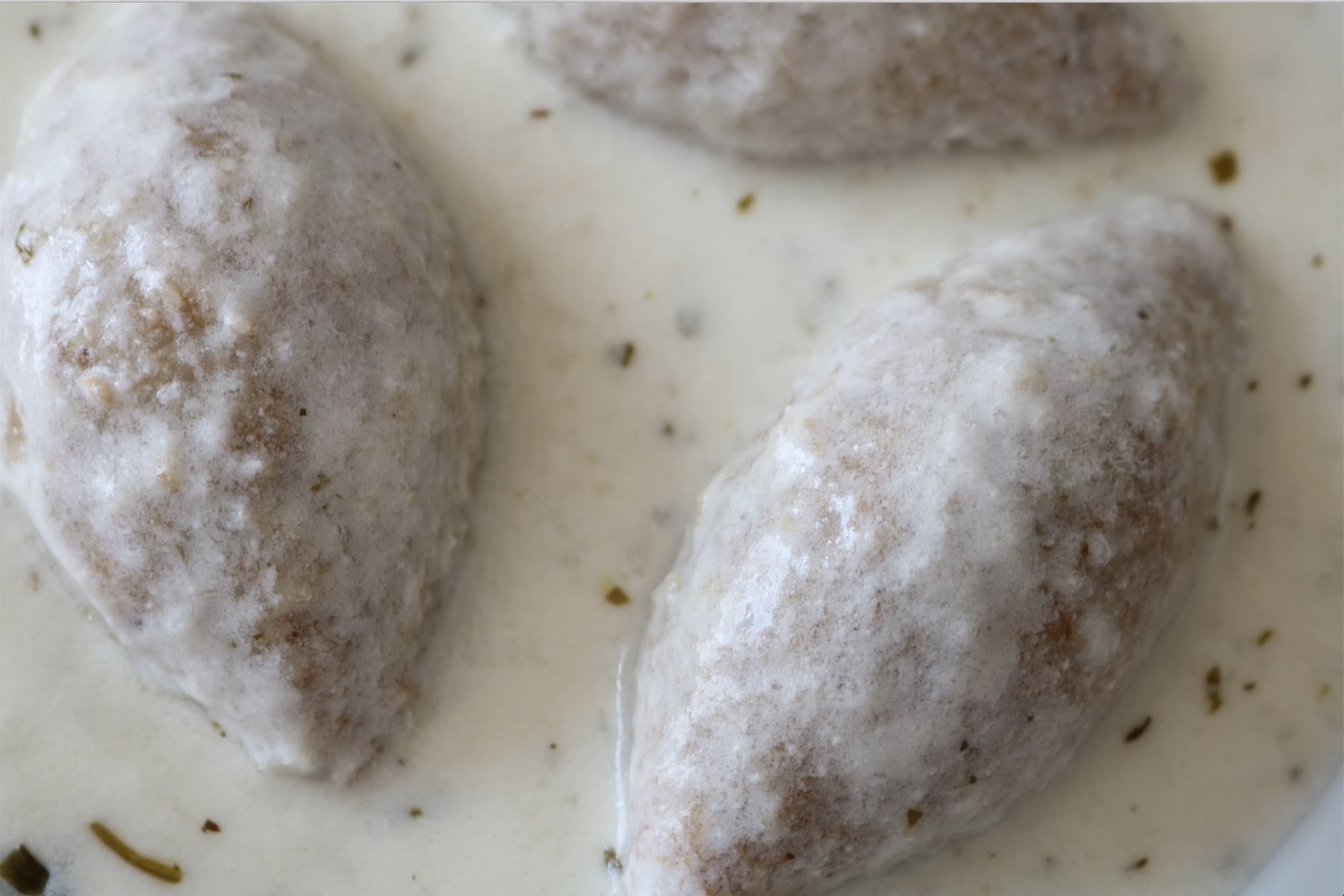 As we've discussed here on the blog, making kibbeh is an art form and you can find the original recipe here, but I have adapted it to make a smaller portion for this version.
You should have tried making the kibbeh beforehand at least once to become confident in it, but instead of frying it we will put it in the oven so it cooks a little.
Instructions
Some people drop the raw kibbeh straight into the yoghurt sauce but not only will it be more likely to fall apart it might also develop a scummy boiled meat taste which is not what we are going for.
If you deep fry the kibbeh it can't absorb the yoghurt sauce enough and you lose something from the dish.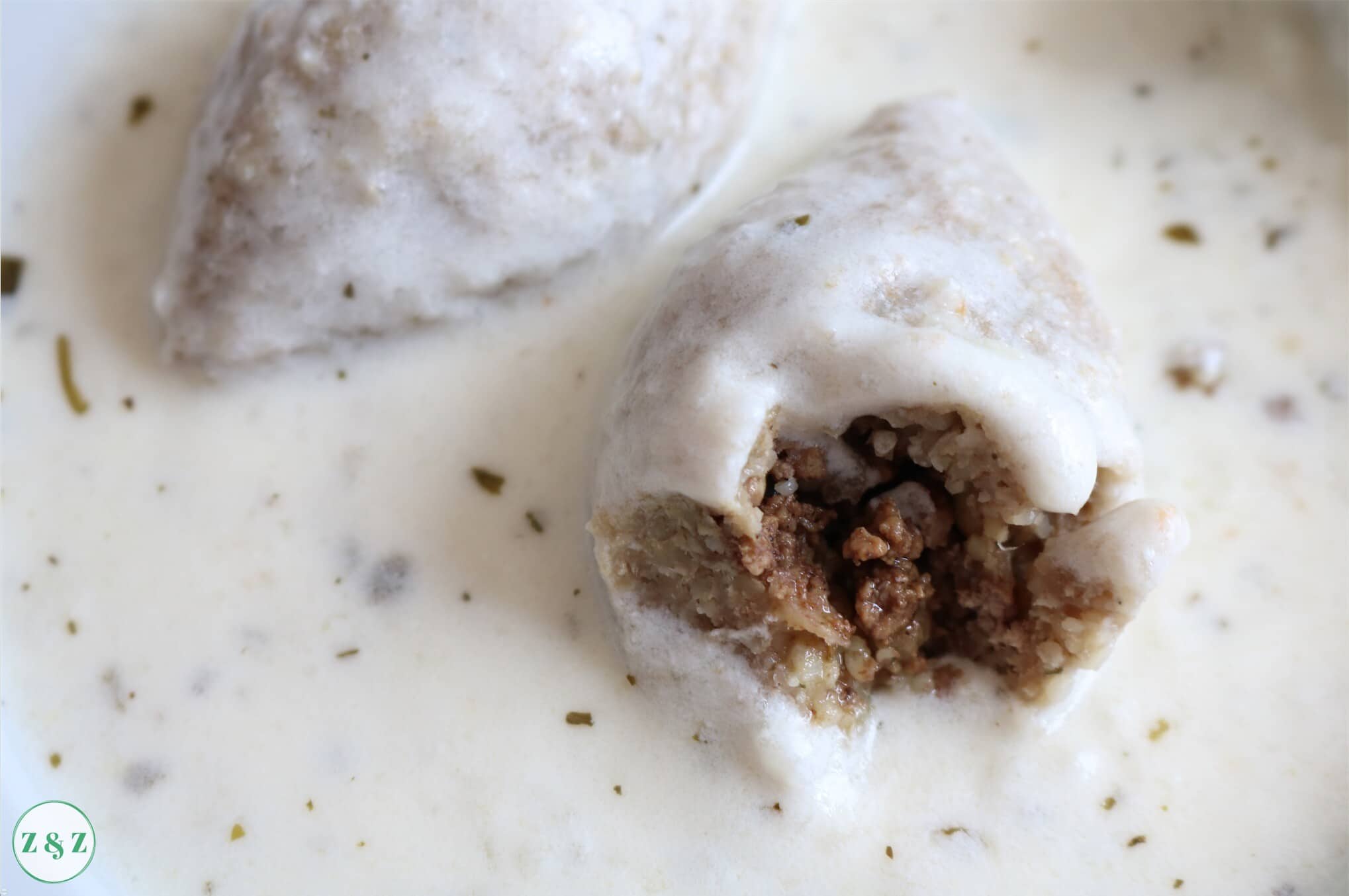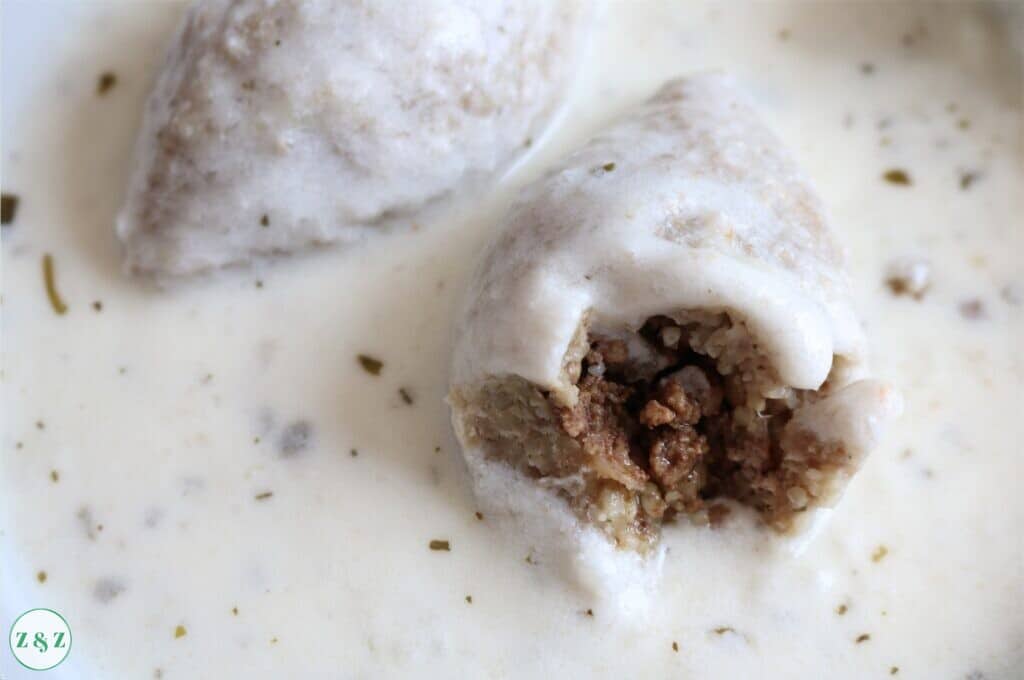 The yoghurt sauce
Some people use flour instead of cornflour but I find the cornflour makes the sauce nice and thick without feeling heavy.
The recipe makes quite a lot of yoghurt sauce which can also be eaten by itself, the kiddies seem to like it too which is always a plus.
A small amount of rice is added to the yoghurt sauce to thicken and give it a little bit of texture. It's also better to use short grain rice rather than basmati as it absorbs the sauce better.
This way even when you finish gobbling up the kibbeh (which usually takes two minutes) you can still enjoy the yoghurt sauce.
Spices
The spices are key to getting a perfect kibbeh. I have written posts on how to make 7-spice here as well as your standard kibbeh spices (kamouneh). As a reminder for 7-spice you will need
5 tbsp garam masala or allspice
2 tbsp turmeric
2 tbsp black pepper
2 tbsp cinnamon
1 tbsp paprika
1 tbsp coriander
1 tbsp cumin
1 tbsp cayenne pepper
For the kamouneh kibbeh spice mix you will need
2 tbsp cumin seeds
1 tbsp dried rose petals
1 tbsp black peppercorns
2 tsp dried marjoram
2 tsp dried basil
1 tsp dried mint
½ tsp cinnamon
1 tbsp 7 spice
1 tsp salt
The main herb used here is dried mint and although we also use fresh coriander, the dried mint gives it a distinctive taste.
You will also need good quality sumac to give your kibbeh a nice fragrant tang. You can use either pine nuts or walnuts to use in the kibbeh filling.
Serving suggestions
The wonderful thing about this kibbeh dish is that it can be served either hot or cold. It can really refresh you if you have it cold on a summer evening. You don't have to have it freezing cold straight from the fridge you can warm it up slightly just enough.
However if you like your food piping hot like me, you can reheat it for about fifteen minutes on low and the yoghurt sauce can handle it really well.
It is best to serve kibbeh labanieh in a shallow bowl. You don't want a deep dish so the kibbeh get lost and a plate will make it too tricky to scoop up the sauce with your kibbeh mouthful. Pasta bowls usually do the trick.
Short cuts
You can make cheat's kibbeh without the filling which takes a fraction of the time. Basically just use the casing and roll them into flat rounds similar to a patty.
Sometimes I make these cheat's kibbeh for my son as he loves them without the meaty filling.
You can't really skip cooking the yoghurt sauce as it doesn't have the same texture, though by all means serve any kibbeh with a side of yoghurt.
If you don't want to make too much yoghurt sauce, half the amount in the recipe.
Storage
This classic Lebanese dish is perfect for dinner parties or family gatherings as everyone is a fan whether they are young or old.
If you have left over kibbeh balls then freeze them for a quick surprise weeknight dinner, whereby you will feel very pleased with yourself for whipping up a feast at the last minute.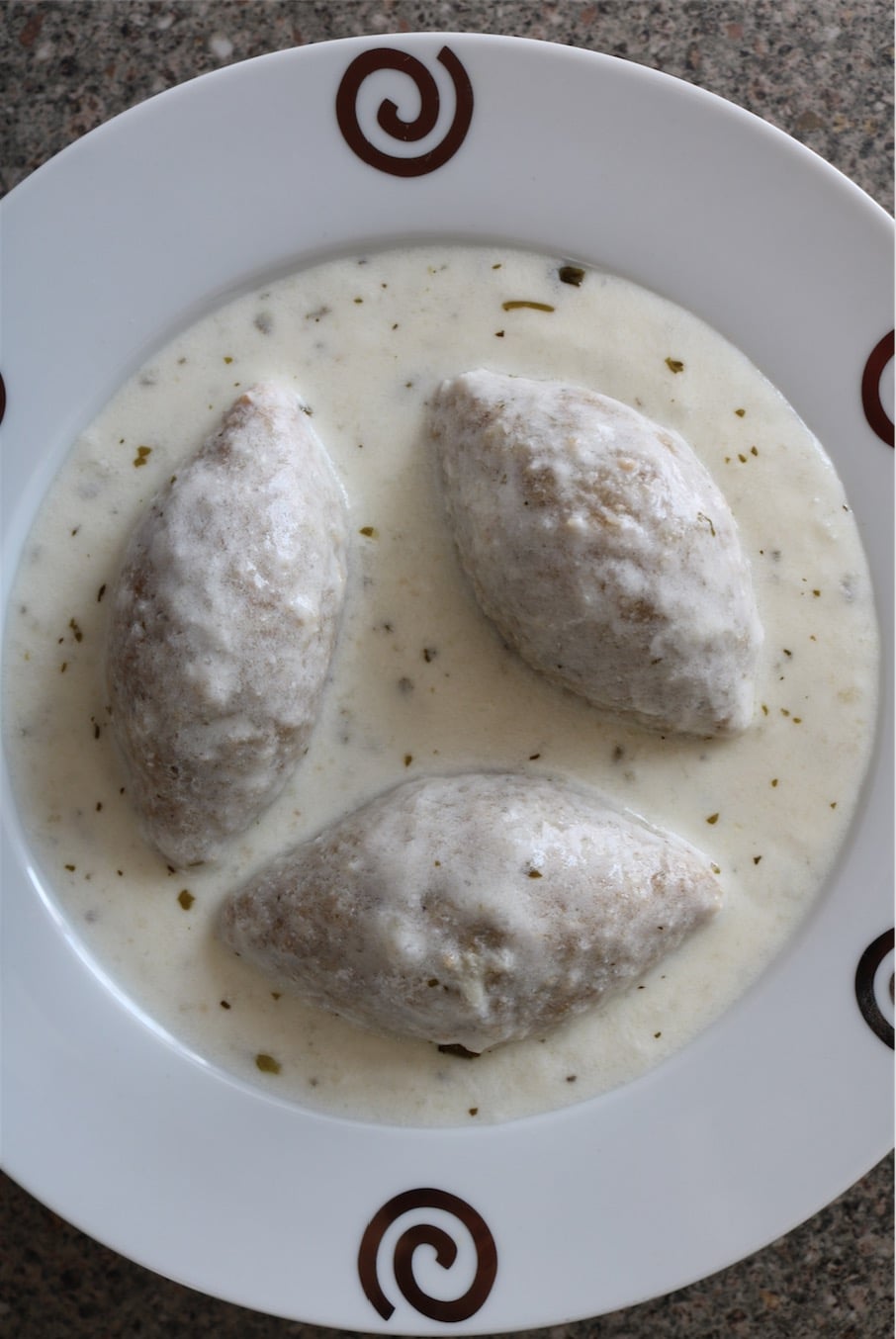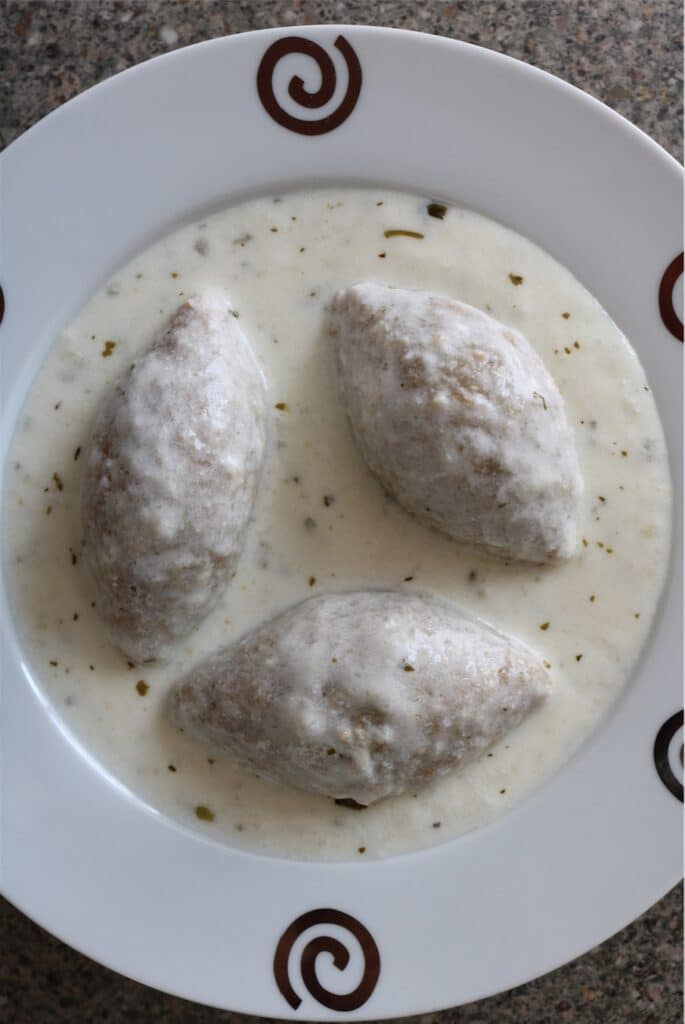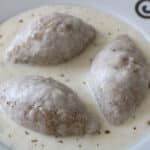 Kibbeh Labanieh
Lebanese recipe for kibbeh in a garlicky yoghurt sauce
Total Time
2
hours
30
minutes
Ingredients
For the Kibbeh filling:
250

g

minced meat

half lamb half beef ratio

2

medium onions chopped

½

teaspoon

7 spice

¾

tablespoon

kamouneh spice mix

¼

teaspoon

black pepper

½

tablespoon

salt

½

cup

pine nuts

1

tablespoon

sumac
For the Kibbeh casing:
500

g

fine bulgur wheat

500

g

mince meat

1

onions

¾

tablespoon

kamouneh spice mix

¾

tablespoon

cornflour

½

teaspoon

7 spice

¼

teaspoon

black pepper

½

tablespoon

salt

Sunflower oil for shaping
For the yoghurt sauce:
1500 g

plain yoghurt

2

tablespoon

cornflour

½ cup

short grain rice

1 ½

cups

boiling water

1

teaspoon

salt

2-3

garlic cloves

finely chopped

1

good handful

cilantro

finely chopped

4

tablespoon

butter

Pinch

of dried mint
Instructions
To make the kibbeh balls:
Soak the bulgur wheat in enough water to cover and set aside

To make the filling, sauté the chopped onions in regular olive oil until golden on medium low heat

Add 250g of minced meat to the onions and cook out the meat on medium high heat

Add the 7 spice, kamouneh spices, black pepper and salt and use the back of your wooden spoon to break up the meat

When it is cooked turn off the heat and add the sumac and pine nuts. Taste to make any adjustments then cover and set aside

Drain the bulgur wheat and add to a large bowl. Take out the half kilo of meat and prepare the food processor

In several batches, add the bulgur wheat and equal amounts of meat to the food processor and process until it clumps together and starts to roll in the processor bowl.

Roughly chop onions to go in the food processor along with the 7 spices, kamouneh spices, black pepper and salt. Blitz well

When you have combined all the meat and bulgur wheat in a bowl, add the blitzed onion spice mix and the cornflour, then bring everything together preferably with your hands

If it is too dry add a bit of water, you don't want it too loose, sticky or crumbly but so it holds together nicely. If you don't mind tasting a bit of raw meat check a tiny bit for saltiness and adjust as necessary

Add approx half a cup of sunflower to a small bowl which you can dip your fingers into when shaping the kibbeh to avoid sticking. Clean your table and arrange a workflow with a large clean tray, the sunflower oil, the filling and the casing mix

Take some casing and roll into golf ball size, indent the middle then hollow out the inside with your index finger turning as you do so until you have a half shell. Add a spoon of filling and close up the casing. Compress well with your hands and shape into classic kibbeh shape
To make the yoghurt sauce :
Soak the rice in water for about 20 minutes

Rinse the rice under the tap until the water runs clear. Then add the rice to 1.5 cups of boiling water and simmer until cooked (approx 20 minutes)

Add the cornflour and salt to the yoghurt, stir well then press through a fine sieve over the rice

Raise the heat to a medium high and keep stirring so the bottom doesn't burn, bring to the boil then lower the heat and keep on a low simmer

Meanwhile, put around ten kibbeh balls into an oven at 180 °C fan and half cook them for about 15 minutes so the outside just turns slightly golden but not well done

Add the kibbeh to the yoghurt sauce and keep simmering for another ten minutes

In a separate small pan, sauté the garlic and coriander in the butter for a few minutes then add to the yoghurt sauce along with a pinch of dried mint, stir well and adjust the salt if necessary before turning off the heat
Recipe Video
Recipe Notes
You can either deep fry these kibbeh balls in vegetable oil for an appetizer or freeze the extra ones until next time.
If you make any of our recipes, give us a star rating at the bottom of the page.
We have a lively Facebook group where we post frequent recipes and discuss Lebanese cooking in general, as well as a handy Pinterest page where you can save all of your favourite Zaatar and Zaytoun recipes.
You might also like these other recipes from our Zaatar and Zaytoun archive: