What is kibbeh nayeh?
Kibbeh nayeh, or 'raw kibbeh' is one of Lebanon's most famous delicacies. It relies on extremely fresh lean lamb or veal meat that is mixed with a little amount of fresh herbs, 'kamouneh' spices, and a bit of bulgur wheat.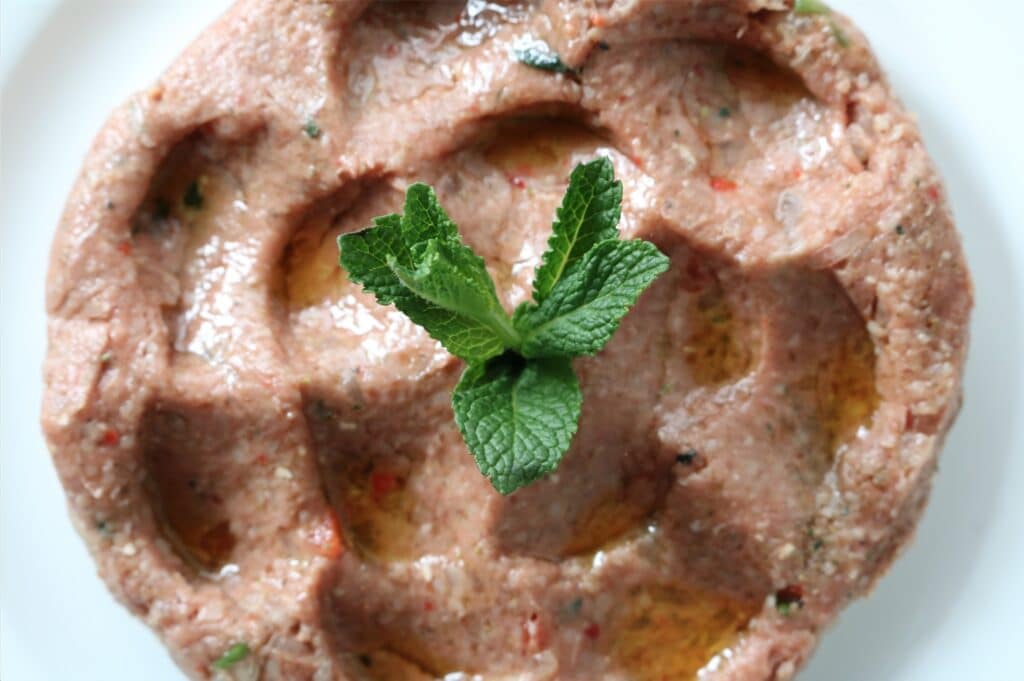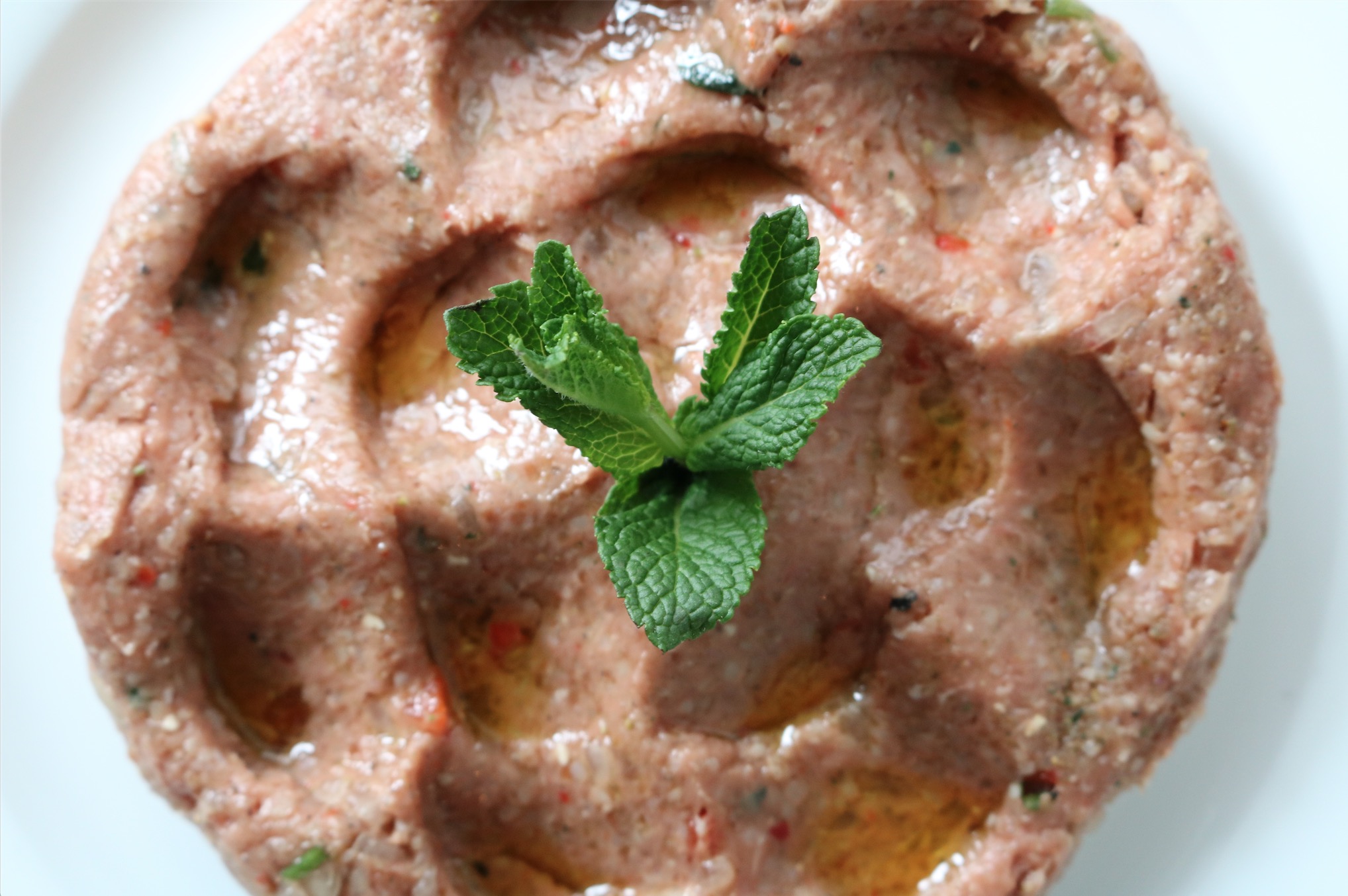 My mother recalls how they used to have a special stone mortar they used to prepare it in and she claims that when they used to ground the meat down, the shear force of the stone used to kill most of the germs.
Now, I don't know how scientifically accurate that is but it's a nice thought. These days most people use food processors which is less romantic than grinding it in a stone mortar but still effective.
Similar to lots of other mediterranean dishes such as carpaccio, it is a celebration of local produce and you wouldn't dare to use old or pre-frozen meat.
Kibbeh nayeh varieties
Frakeh is very similar to this recipe except it has a bit more bulgur wheat and it is shaped by hand rather than like a mound. It also has more olive oil in it.
Melsen is another variety of kibbeh nayeh except it has very little or no bulgur wheat. It contains kamouneh spices.
Raw Kafta has no bulgur wheat but instead contains onions, parsley and seven spice rather than kamouneh.
In big family events sometimes a raw meat board is presented with all the different raw kibbeh varieties.
The Spices
You will need to source or make kibbeh spices also known as 'kamouneh'. I have the full recipe on another post but I will summarise it below:
2 tbsp cumin seeds
1 tbsp dried rose petals
1 tbsp black peppercorns
2 tsp dried marjoram
2 tsp dried basil
1 tsp dried mint
½ tsp cinnamon
1 tbsp 7 spice
1 tsp salt
Getting the seasoning is perhaps the most important skill in preparing kibbeh nayeh. You don't want to overpower the meat with too much spice but just enough to complement the meat.
Don't confuse the spice blend (above) with the kamouneh mix, which contains bulgur wheat, onions and herbs. Therefore if you have a kamouneh mix, you can use it instead of the bulgur wheat.
The kamouneh mix contains:
Peel of 1 orange
1 cup fine bulgur wheat
1 small red onion
½ white onion
½ birds eye chilli
Herbs
¼ cup of fresh mint
¼ cup fresh parsley
¼ cup fresh basil
1 tablespoon dried marjoram
1 tablespoon dried mint
Spices
3 tablespoon kamouneh spices
1 tablespoon 7 spice
2 teaspoon salt
2 teaspoon ground cinnamon
1 teaspoon black pepper
1 teaspoon white pepper
The kamouneh mix should be stored in the fridge for up to 3 days, or in the freezer, making it ready to be added to any kibbeh.
The Herbs
You will need to add a little fresh mint and basil to life the flavours. You can also add a little dried mediterranean herbs but again not too much so as not to overwhelm the meat flavours.
Kibbeh nayeh tips
Make sure you keep the fresh meat cold until you are ready to prepare it, and come serving time, you want it to be almost at room temperature.
Using a good food processor takes out most of the work and you want to process the meat so it achieves a fine texture, you will know when it forms a ball in the processor.
You can either ask your butcher to do this or redo it at home. Getting a good butcher you trust to give you the highest quality meat is also just as important.
You can make pretty indents to hold the oil or score knife patterns as you wish, and use a bit of water to smooth it down if it gets sticky.
How should I serve kibbeh nayeh?
Use the very best extra virgin olive oil and fresh bread to accompany. It is also customary to serve fresh herbs, radishes, cucumber and raw or spring onion with it.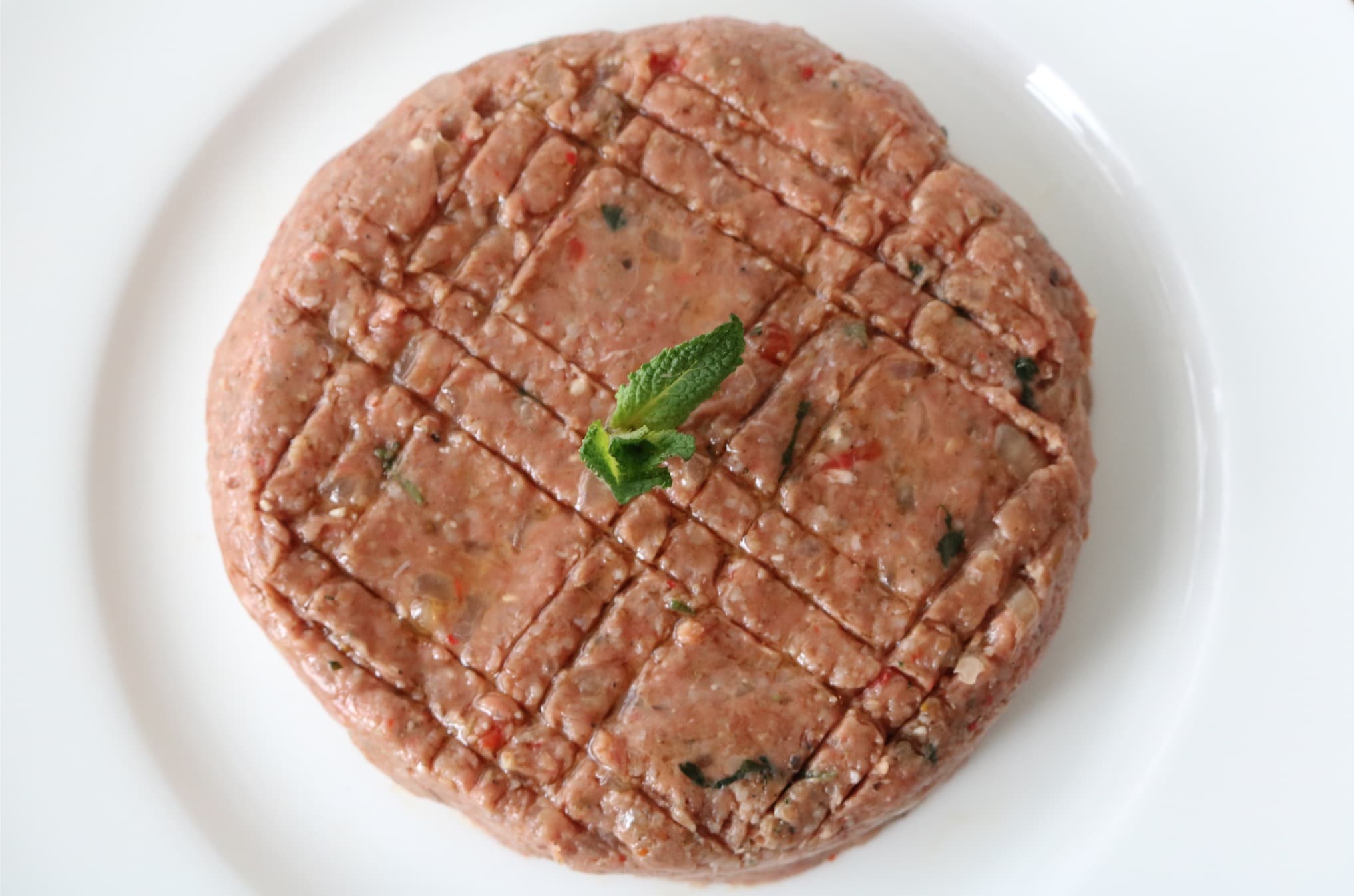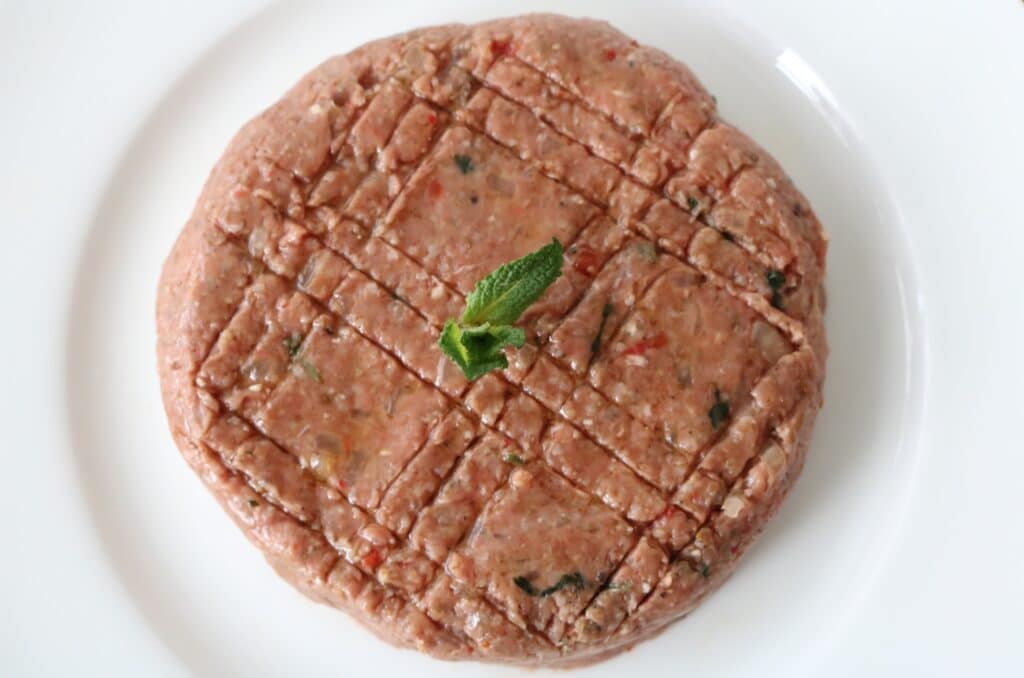 Is it safe to eat raw meat?
Ultimately this depends on the quality of the meat and try to get it as fresh as possible from the butcher the same day.
If you think eating raw meat is bad for your health then you might like to know that my husband's grandfather, who is over 90 at least, eats kibbeh nayeh most days of the week and insists it be hand beaten the traditional way.
He is a picture of health and puts it down to his rural lifestyle and a frequent helping of kibbeh nayeh with lots of fresh herbs and vegetables.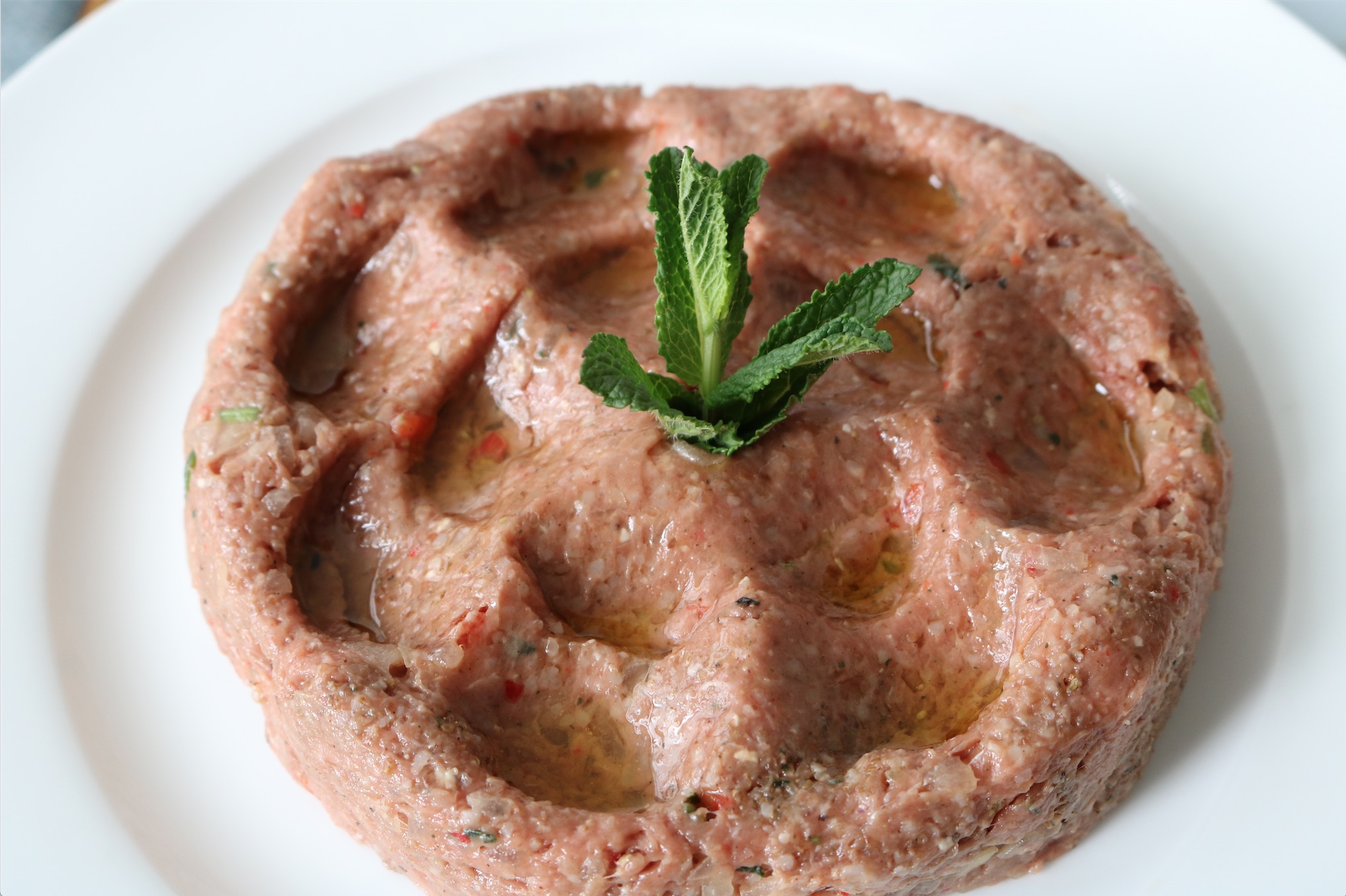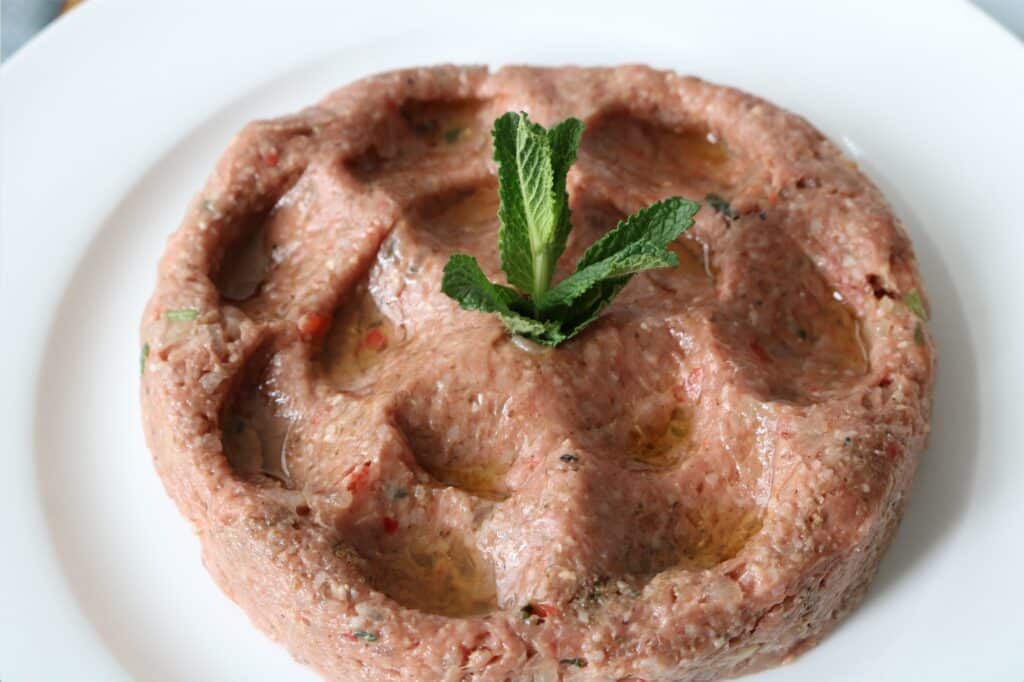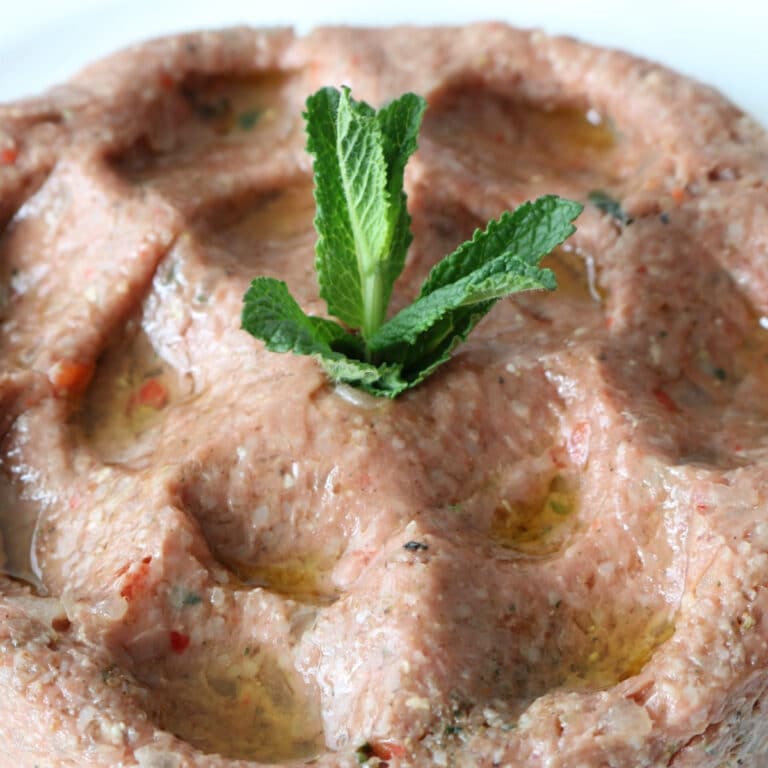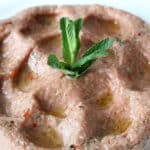 Kibbeh Nayeh
Traditional Lebanese raw kibbeh with herbs and spices
Ingredients
500

g

of lean lamb or veal fillet

fat trimmed off

¾

cup

fine bulgur wheat or kamouneh spice mix

½

small onion

1

teaspoon

kamouneh spice blend

1

teaspoon

salt

3-4

mint leaves

5-10

basil leaves

¼

teaspoon

dried Mediterranean herbs

Extra virgin olive oil
Instructions
In a food processor, blend the lamb fillets on a fine setting until it begins to clump together in a ball. Repeat if necessary to achieve an extra fine mince

Soak the bulgur wheat in water to cover for five minutes, then drain in a fine sieve

Chop the onion and herbs extra fine

In a mixing bowl, add the spices, onion, fresh and dried herbs, and salt to the meat along with the bulgur wheat. Mix together well and taste to adjust the seasoning if necessary

In a serving platter, transfer the kibbeh and use a spoon or knife to make a pretty pattern with indents. Drizzle some extra virgin olive oil on top

Add ice on top to keep cool and serve immediately with flat breads and a selection of herbs, pickles, sliced raw onion and cucumber.
Recipe Notes
You can use either kamouneh spice blend 
If you make any of our recipes let us know how it went by giving us a star rating below.
Check out our Youtube page for full video tutorials, our Facebook group to discuss Lebanese cooking, as well as our tiktok page for quick tips.
You might also like these other recipe from the Zaatar and Zaytoun collection: