Basal Banadoura manakish is a brilliant one to get right as you usually have all the ingredients on hand.
There is no need to source Baalbeck made kishik or hand picked zaatar although the best time to make them is in summer.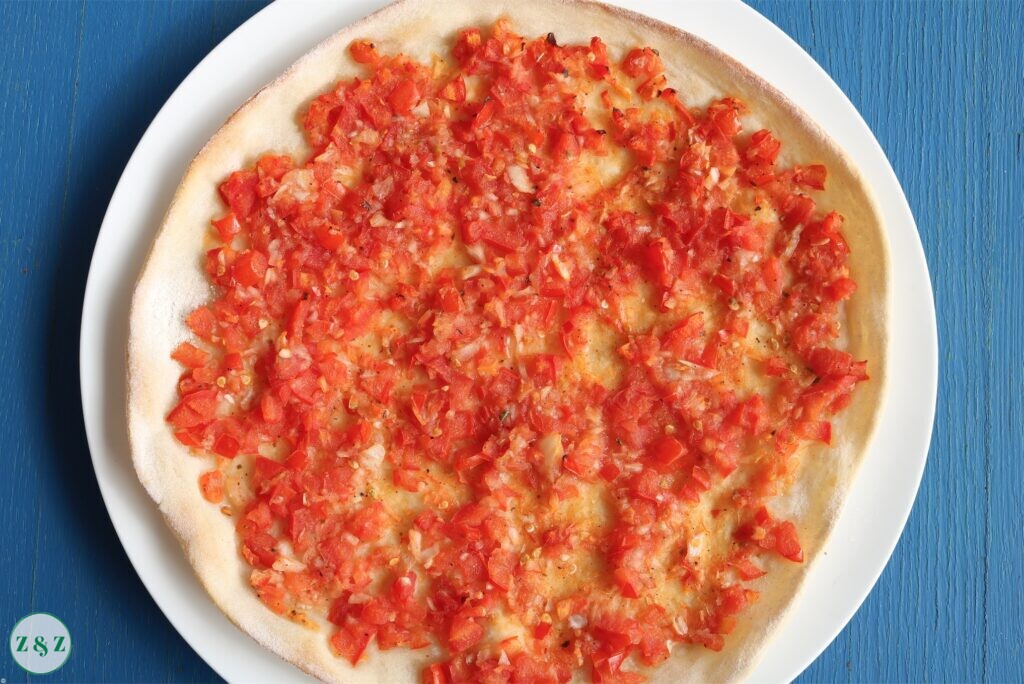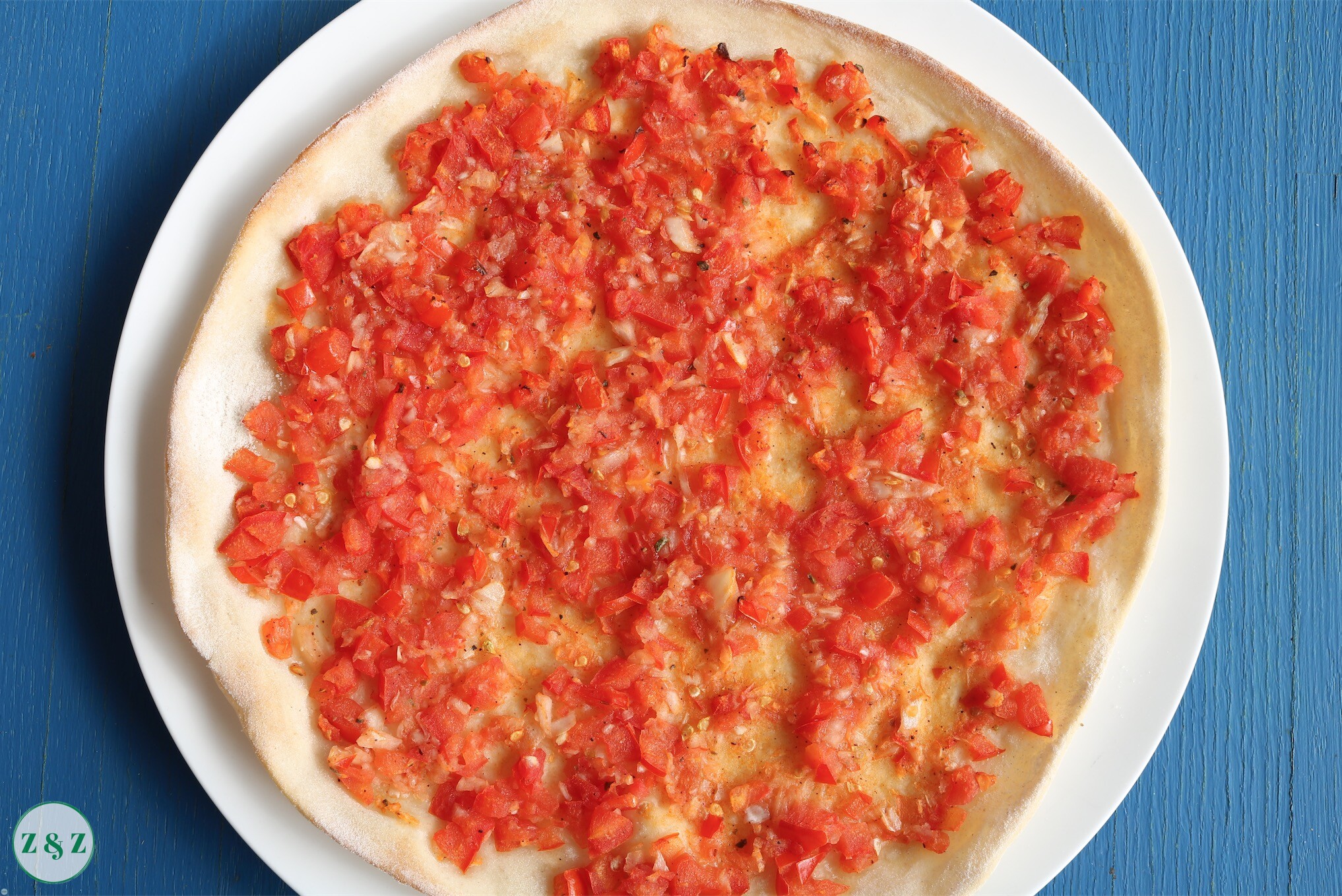 The onions and tomatoes
The best quality onion and tomatoes will make the best onion and tomato manakish.
Make sure the onions are hard and shiny, and that tomatoes are nice and ripe. You can even vary types of tomato such as cherry, beef or plum.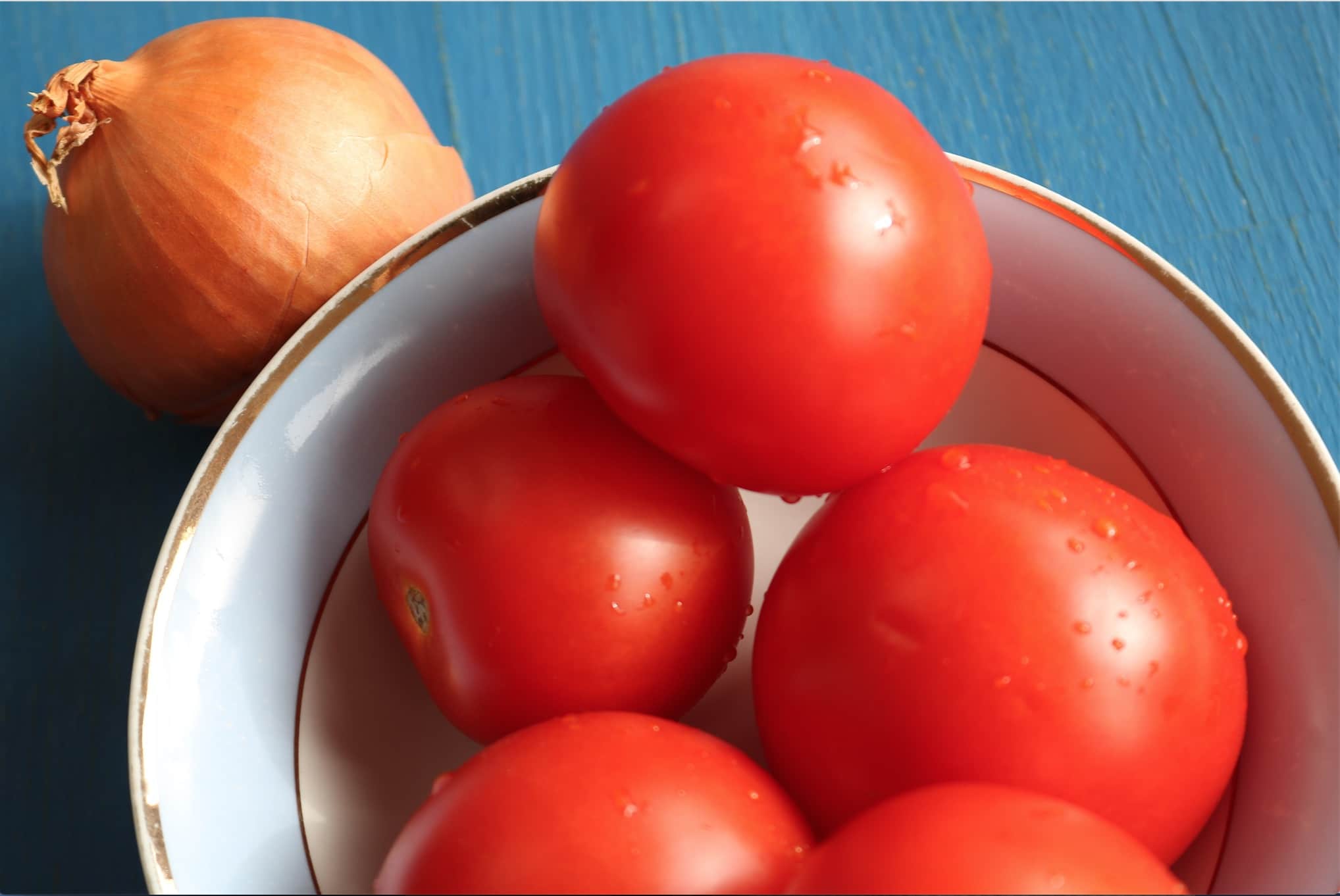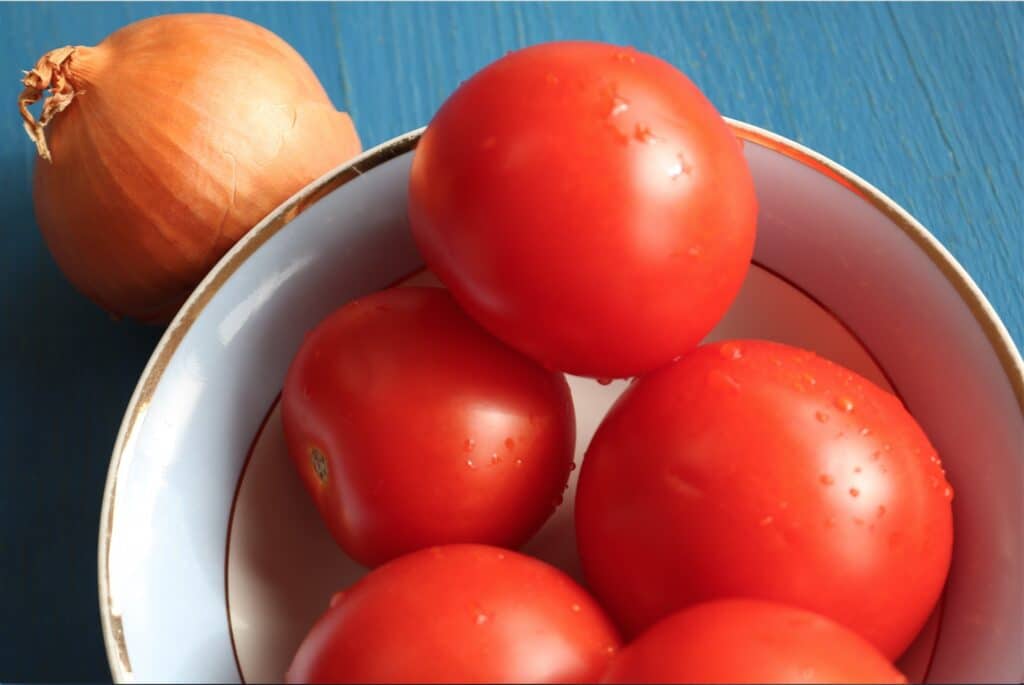 The onions and tomatoes go in raw and will cook through at high heat. So it's important to chop them very very finely so you don't get a bit chunk of onion in your teeth.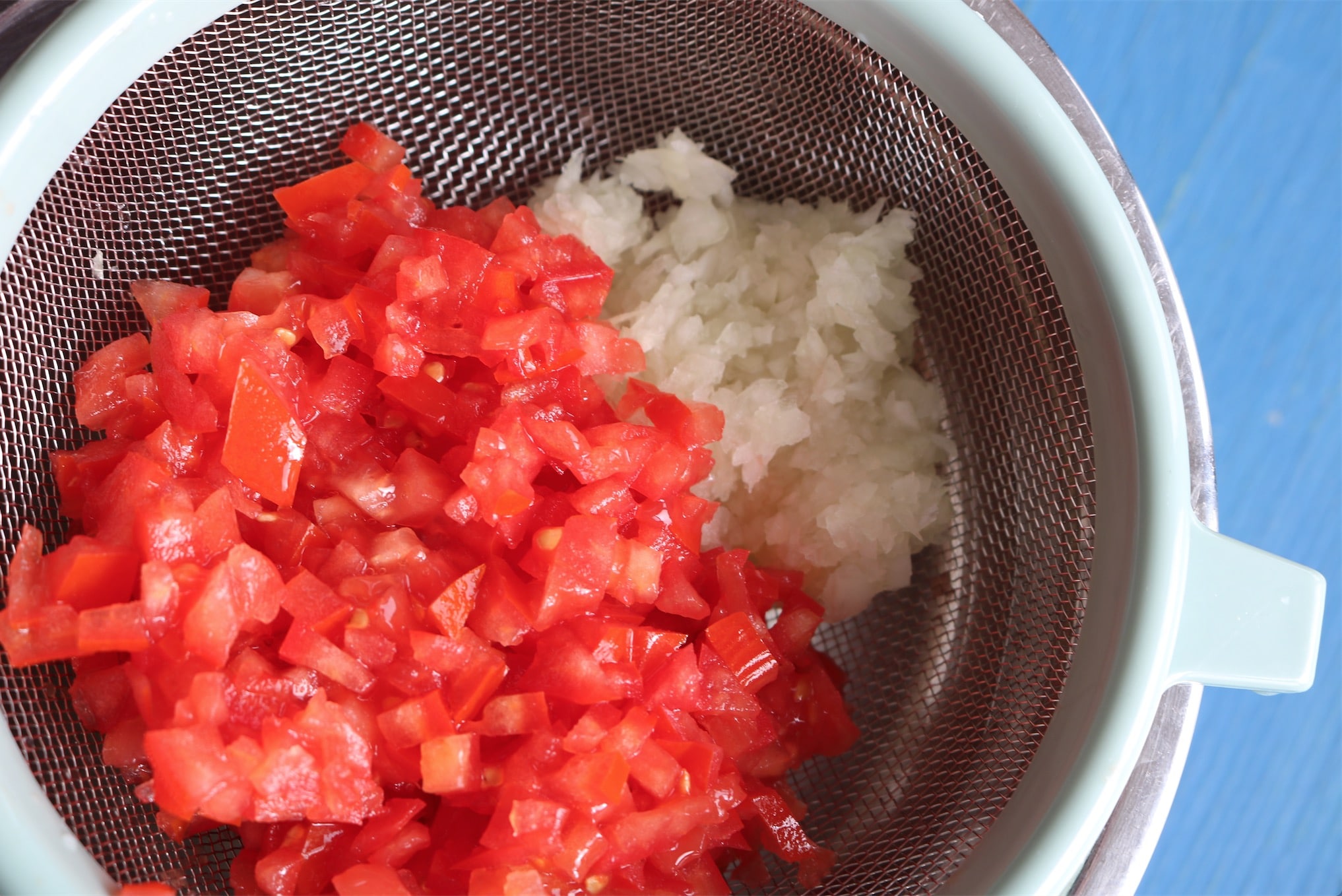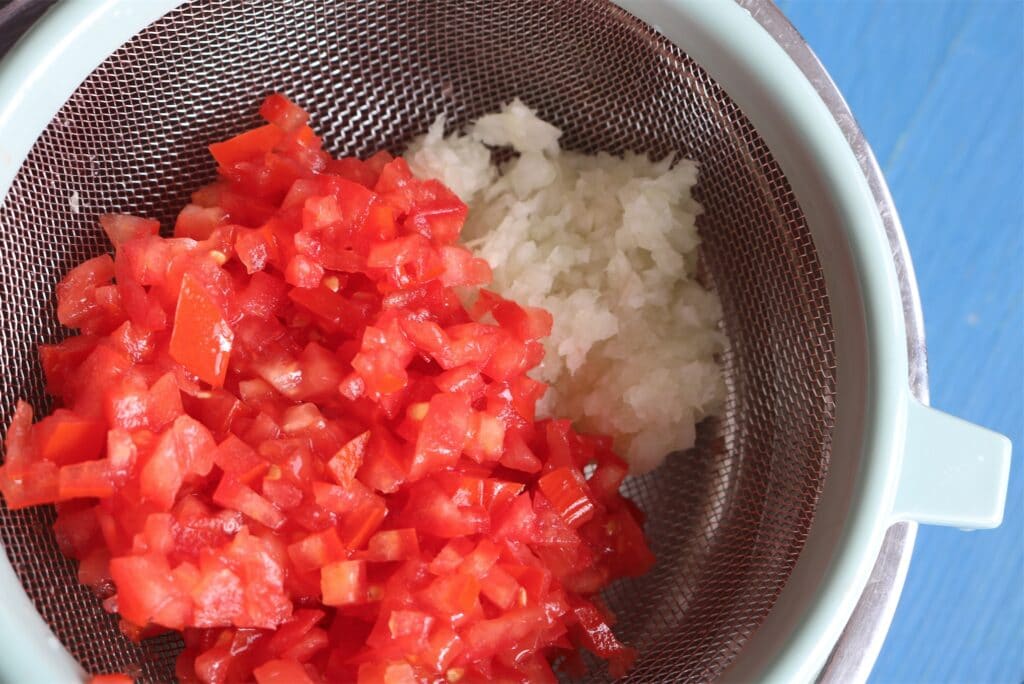 Best Manakish Tips
I add the tomatoes and onion to a fine sieve to let the extra moisture drain out. I don't squeeze them as I do with spinach fatayer, just press them down gently.
If I have any seasonal herbs on hand such as basil or oregano I sometimes add them to the mix. Even a pinch of dried herbs can add another dimension.
I personally like a little bit of chilli so add a pinch of cayenne or a tiny bit of fresh chilli chopped extra finely. Chilli flakes will also do, just don't add too much at once!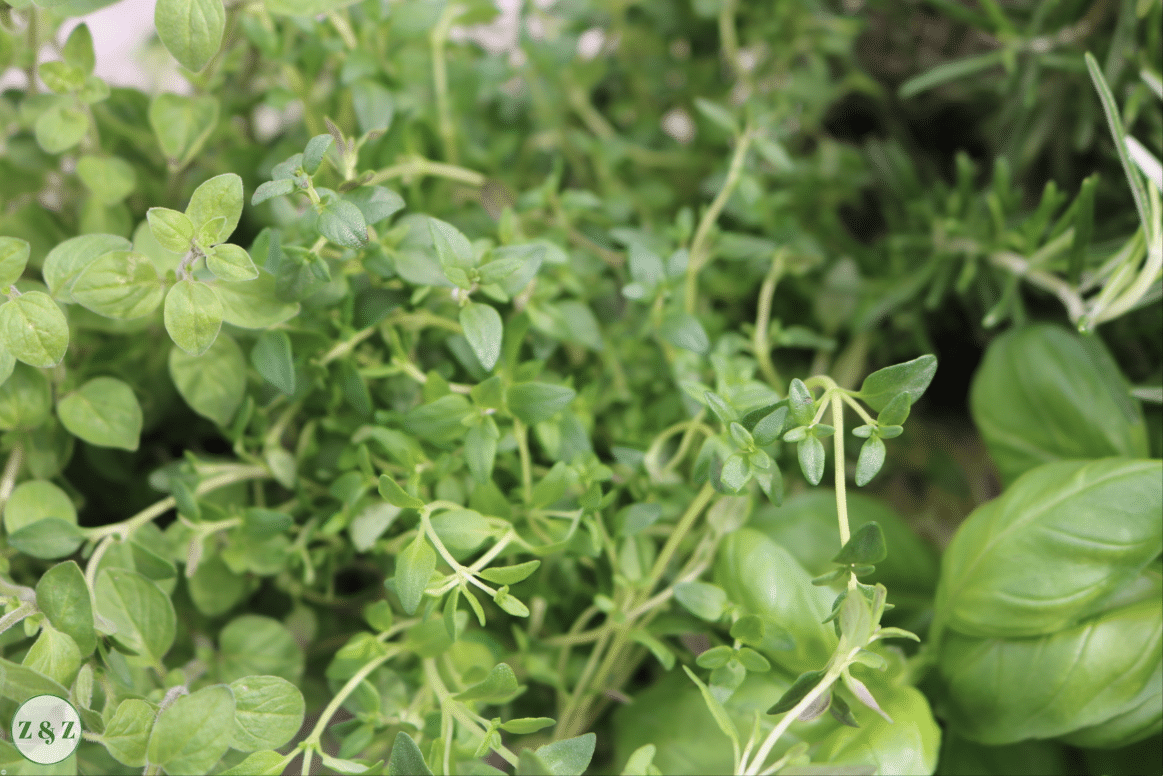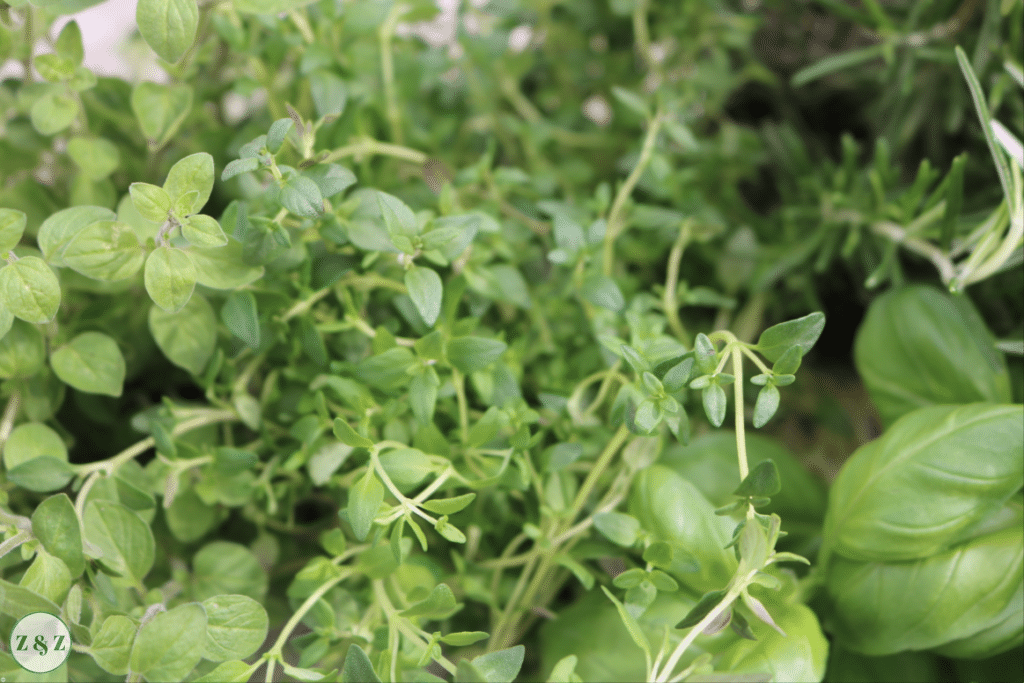 Can I use canned tomato?
No. Absolutely not.
Can I use a food processor?
Yes, sometimes.
To tell you the truth these days I put the onion in the food processor, but I avoid doing the same to the tomatoes as they lose too much texture and moisture.
I guess you could out the tomato in pulse mode but even then you get some big pieces and some tiny peices.
The sharp knife will let you regulate the size of each chunk and all you have to do is slice the tomato into thin rounds then chop chop chop.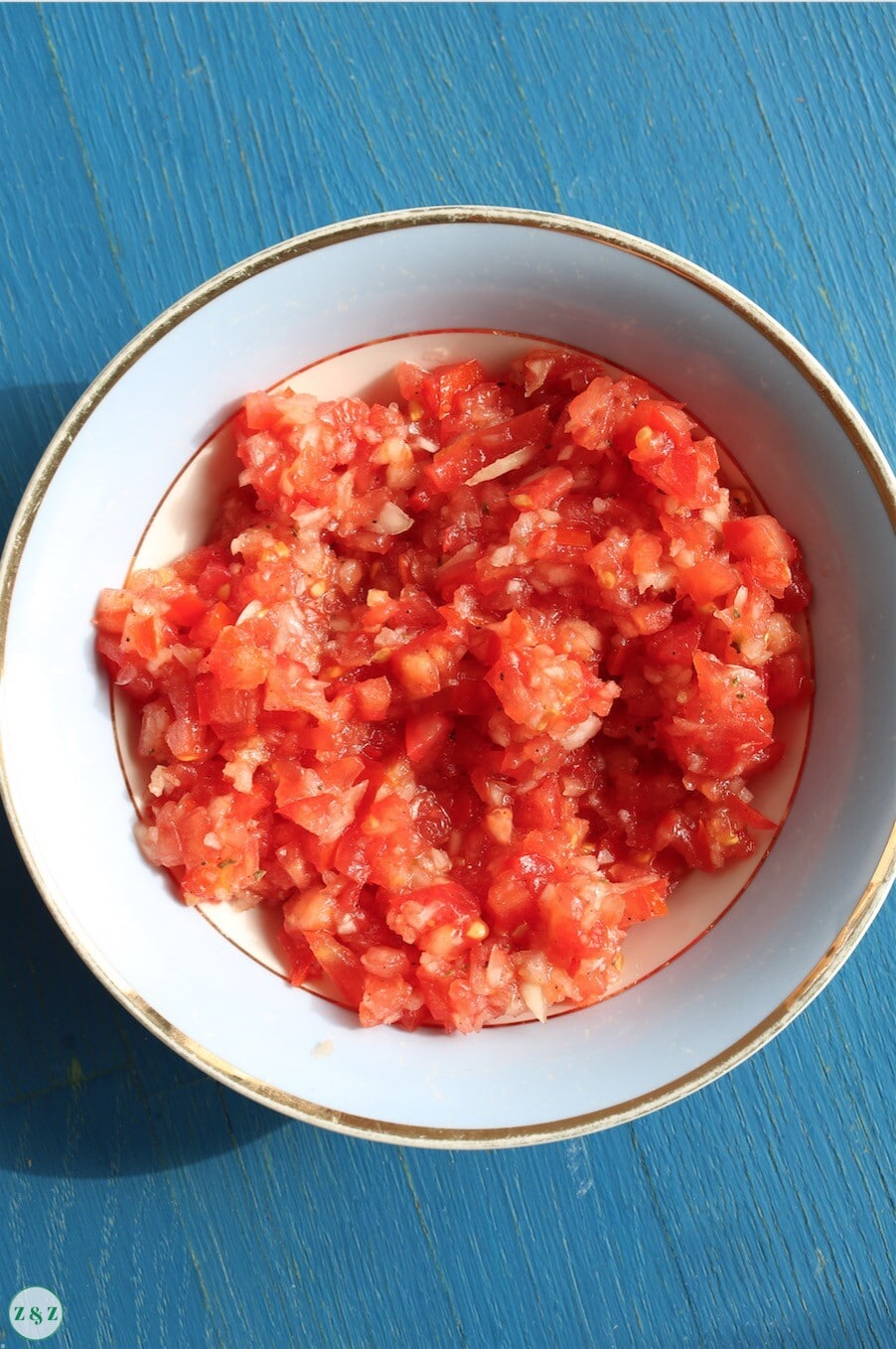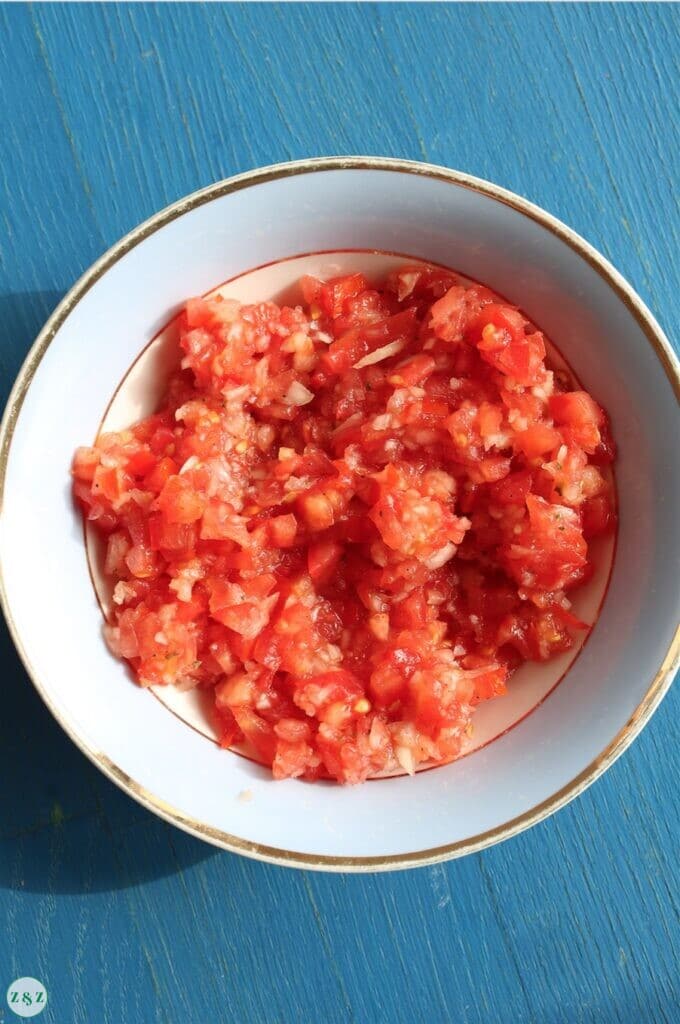 The Dough
Manakish dough can be simply made out of water, flour, salt and yeast.
However substituting half the water with milk will give a richer more elastic dough.
Make sure the water is lukewarm never boiling hot or it will kill the yeast, and always check the yeast is not out of date.
I feel active dried yeast does the job perfectly well so no need to complicate the matter and make your own sourdough.
If you are making the dough the night before let it prove in the fridge overnight then take it out around 2 hours before.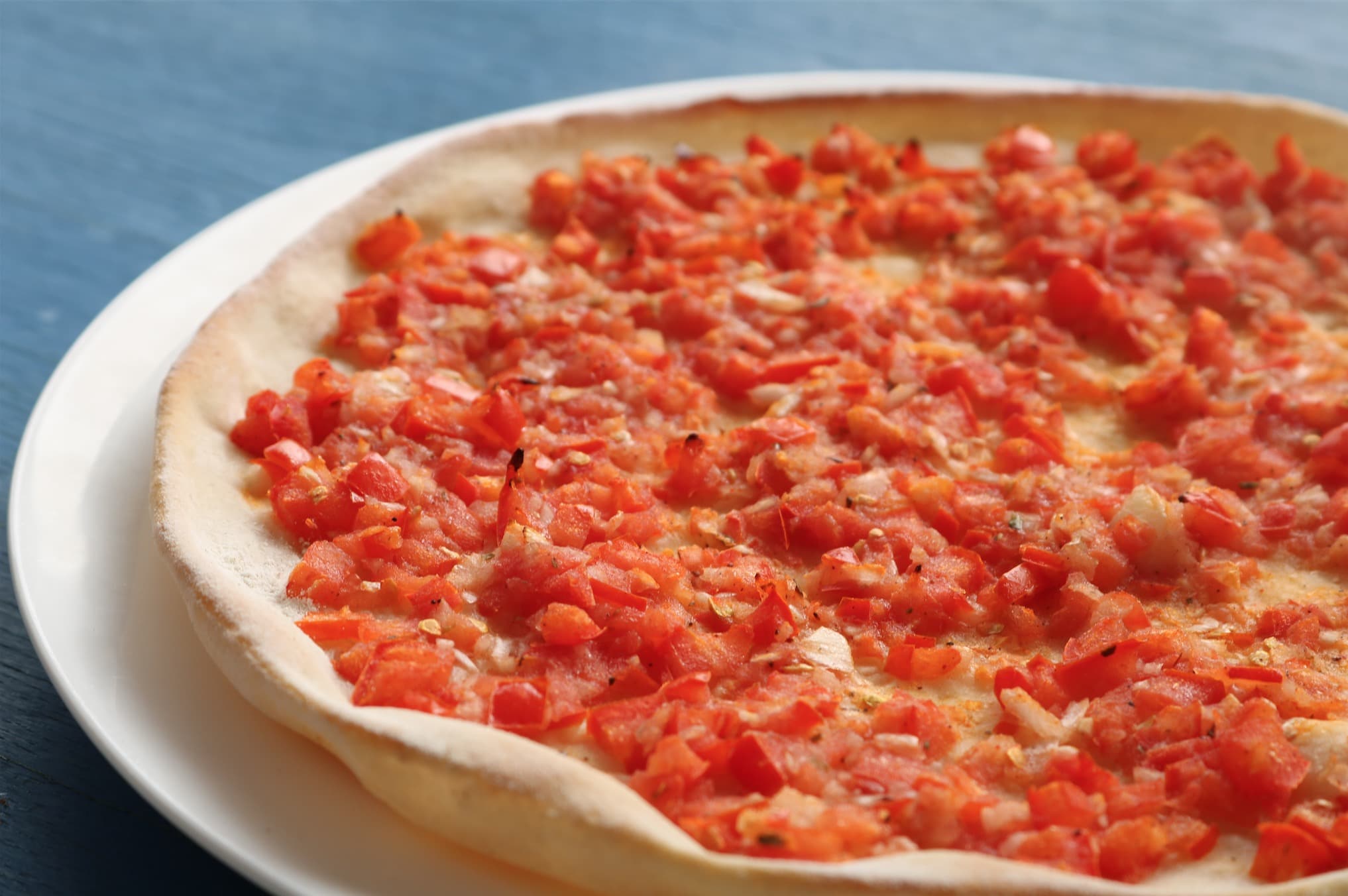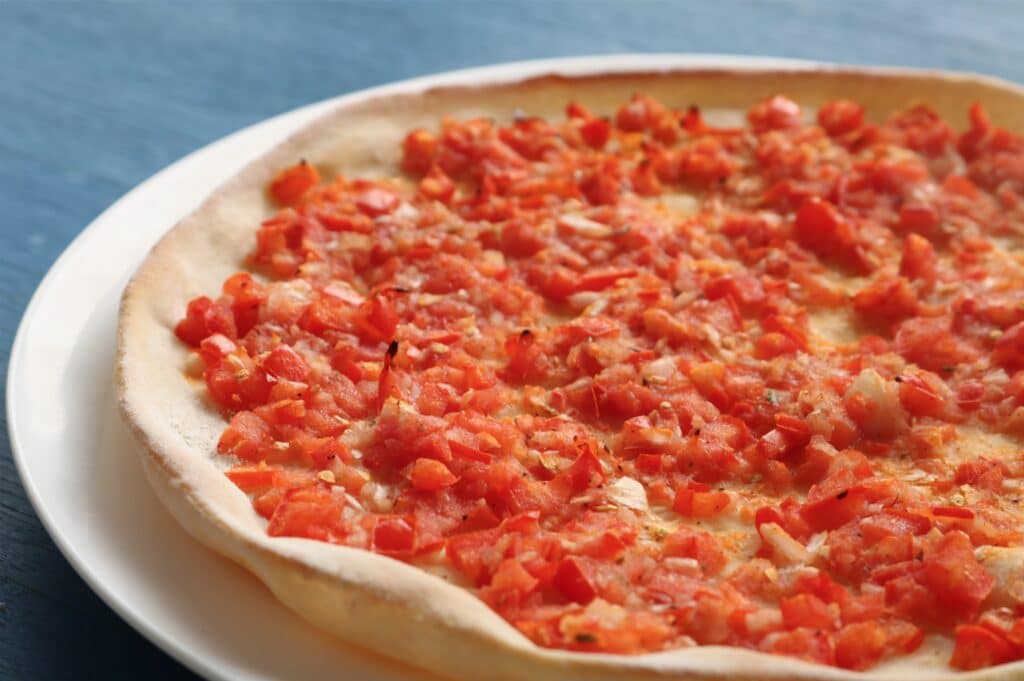 I make my dough first thing in the morning and 2 hours is usually enough to let it prove. You can keep it in the fridge for up to three days though it might get a little dry.
I use half bread '00' type flour and half plain (all purpose) although you can certainly use just plain if you don't have bread flour.
Always taste your filling to adjust the seasoning, and don't forget to dimple the dough with three outstretched fingers so it won't puff too much.
Manakish can be heated up or even frozen so don't worry about making too much.
There you go - your manakish 101, if you have any questions just let me know below.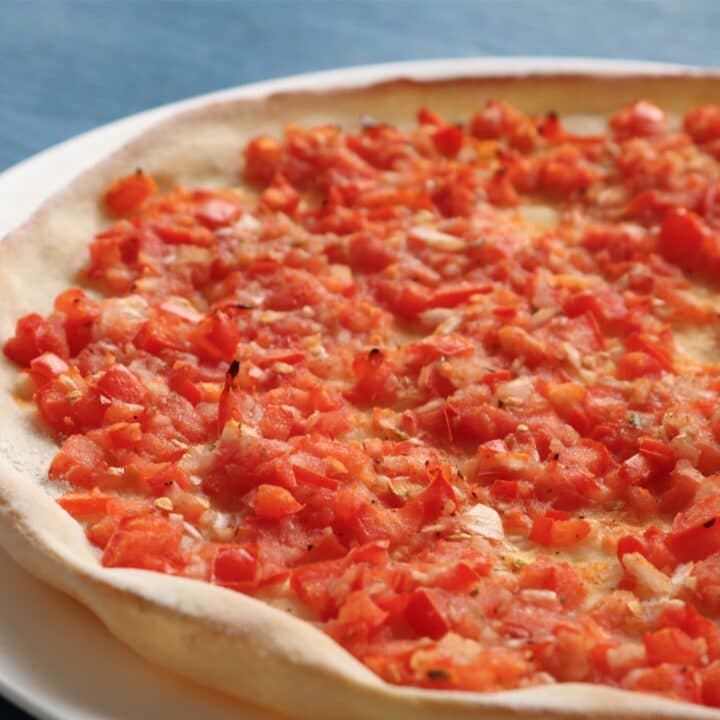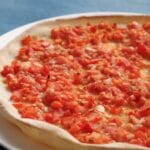 Basal Banadoura (Onion Tomato) Manakish
Popular Lebanese Manakish filling with onions, tomatoes, spices and herbs.
Ingredients
For the Dough (8 manakish)
3

cups

of plain or bread flour

1

cup

of lukewarm water

1

tablespoon

of dried active yeast

1

teaspoon

of salt

½

teaspoon

of sugar

4

tablespoon

regular olive oil or vegetable oil
For the Basal banadoura filling (4 Manakish)
1

onion

8

medium tomatoes

(4 cups)

1

teaspoon

salt

1

tablespoon

regular olive oil

¼

teaspoon

7 spice

¼

teaspoon

black pepper

¼

teaspoon

cayenne or red chilli powder

¼

teaspoon

dried oregano
Instructions
To make the dough
Add the sugar to the luke warm water along with the dried active yeast and stir well until it dissolves. Leave for 15 minutes allowing the yeast to ferment and bubble

In a large bowl, add the salt and flour, oil and yeast liquid and bring together until you have a smooth ball.

If the dough is too dry add a little water 1 tablespoon at a time until it comes together. Adjust with more flour if it is too sticky until you have a smooth ball.

Then turn out into a floured surface and knead for 5-10 minutes so the dough springs back when you poke it

If you are using a stand mixer, knead the dough for approximately 8 minutes

Place the kneaded dough ball into a large bowl and cover with cling film or a damp cloth. Leave to rise for at least 2 hours or until doubled in size
To make the tomato onion filling
Finely chop the onions and tomatoes, add to a fine sieve and gently press so the extra moisture drains out. Transfer to small bowl

Add the salt, 7 spice, black pepper, red chilli powder, dried oregano, regular olive oil and combine well
To assemble the manakish
Turn on the oven on the highest setting (usually 230°C/450 F)

Roll out a small handful of dough on a floured surface so it is quite thin (approx 5mm)

Transfer to a non stick baking tray, spoon on the tomato onion mixture leaving a small margin around the edges and dimple the surface lightly with three outstretched fingers

Bake for 10 minutes, turning half way if necessary to get an even bake
Recipe Video
Recipe Notes
You can substitute half the water in the dough with milk to get a richer dough
If you make any of our recipes let us know how it went by giving us a star rating below:
We have a lively Facebook group where we post frequent recipes and discuss Lebanese cooking in general, as well as a handy Pinterest page where you can save all of your favourite Zaatar and Zaytoun recipes!
You might also like these other recipes from the Zaatar and Zaytoun collection: