If you love brunch, then eggplant fatteh is definitely something you should give a go.
It's so filling that I would even consider it for lunch as I couldn't eat anything for hours afterwards last time I made it.
Fatteh is a bread based dish with a garlicky tahini yoghurt sauce that is topped with lots of delicious things like pine nuts, mince meat and browned butter.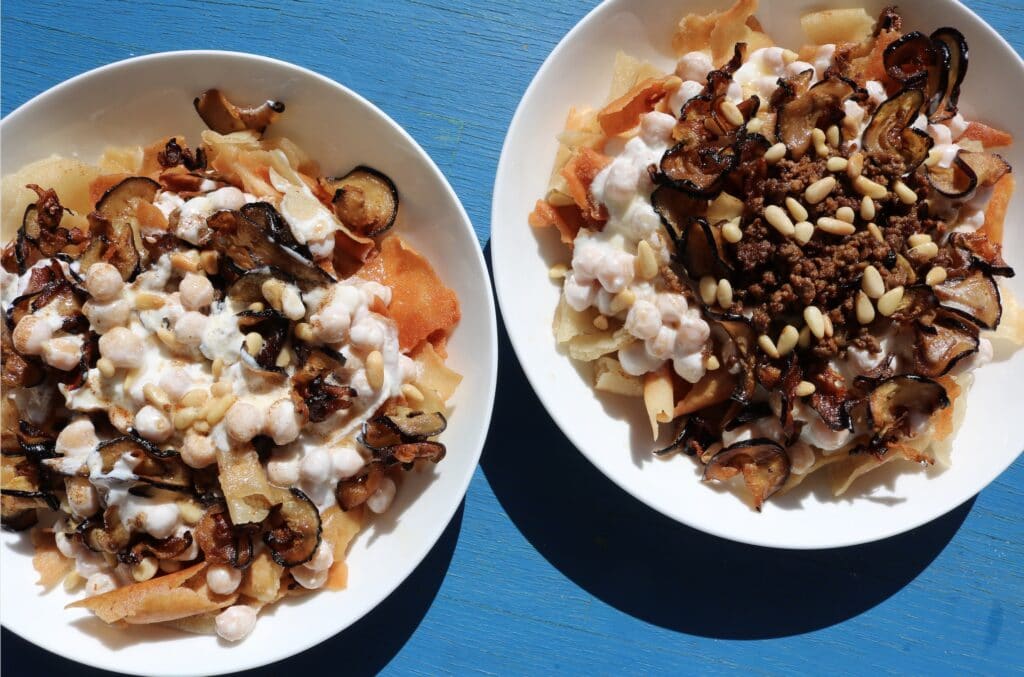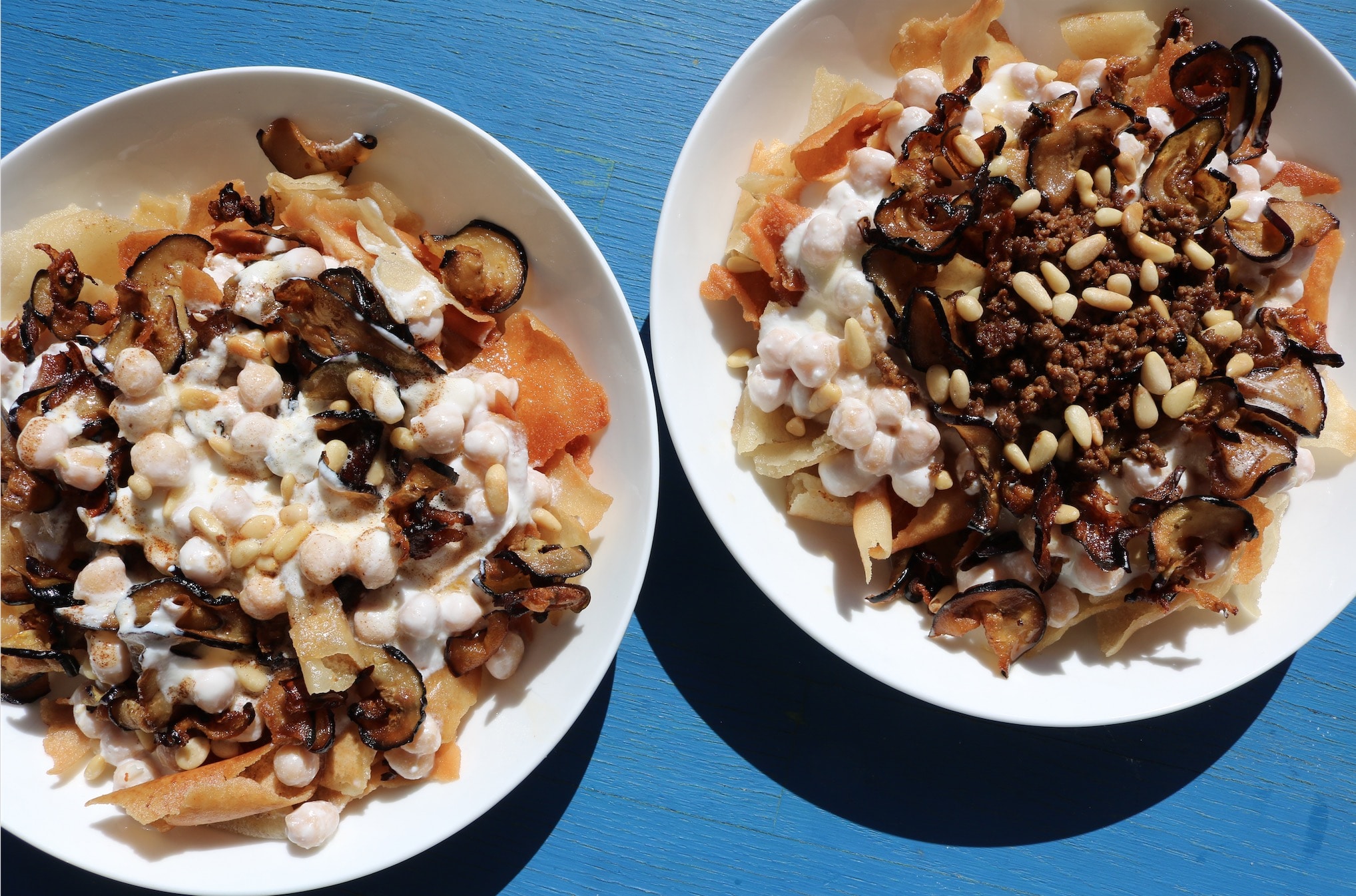 My basic easy chickpea fatteh forms the basis of this recipe, and if you want to do something a little more fancy then have a look at my chicken fatteh recipe which also includes rice.
Jump to: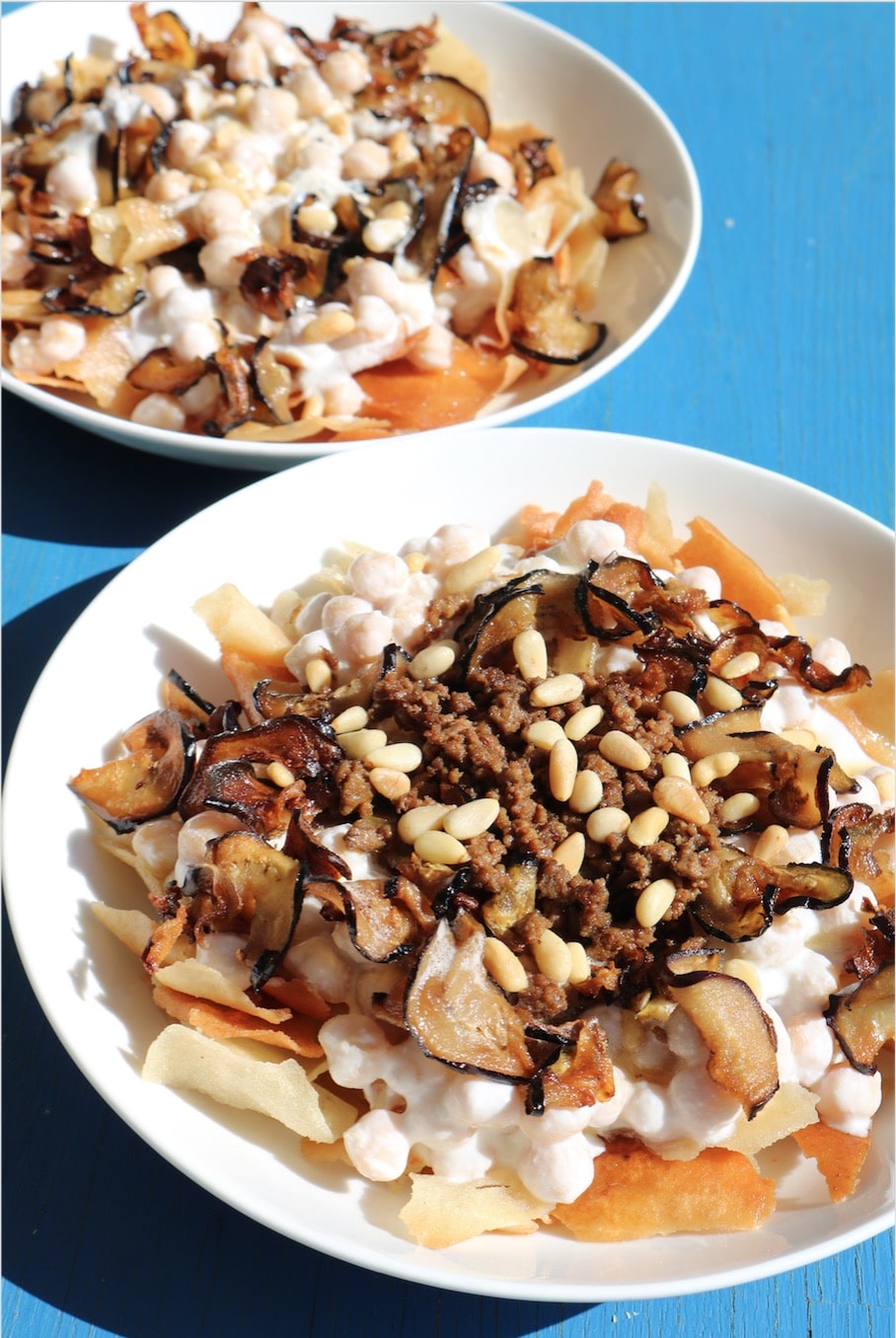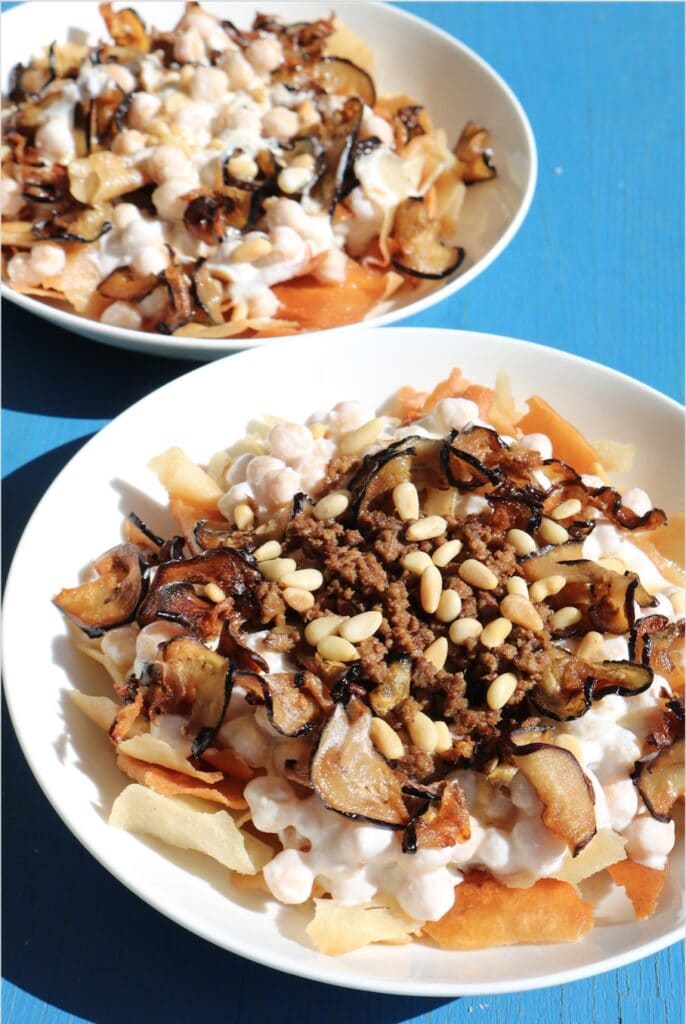 🍞 The bread
Lebanese style flat breads which come super thin make the best fatteh dishes. You can usually find these at your local Middle Eastern grocery stores.
I have also made fatteh with pita bread but as it is thicker it absorbs more oil and can be harder to chew.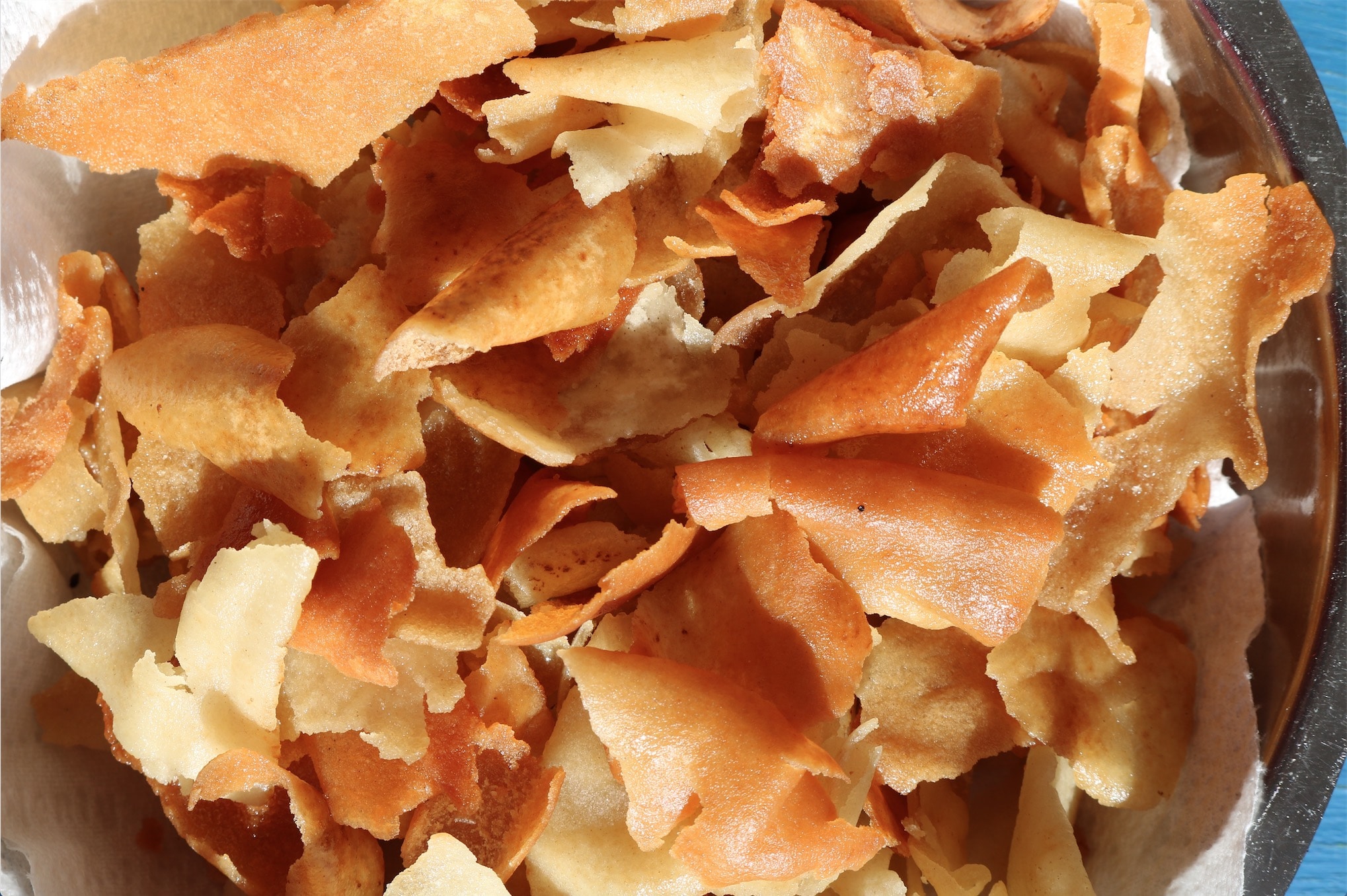 Make sure the vegetable oil is quite hot before you put the bread in as if it hasn't heated properly, then it will absorb too much oil.
You can test this by letting one small piece of bread sizzle and float to the surface, that's how you know the oil is hot enough.
Some people like to slice the bread into perfect squares but I much prefer the tear up into rough shapes method 😂
🍆 The eggplant (aubergine)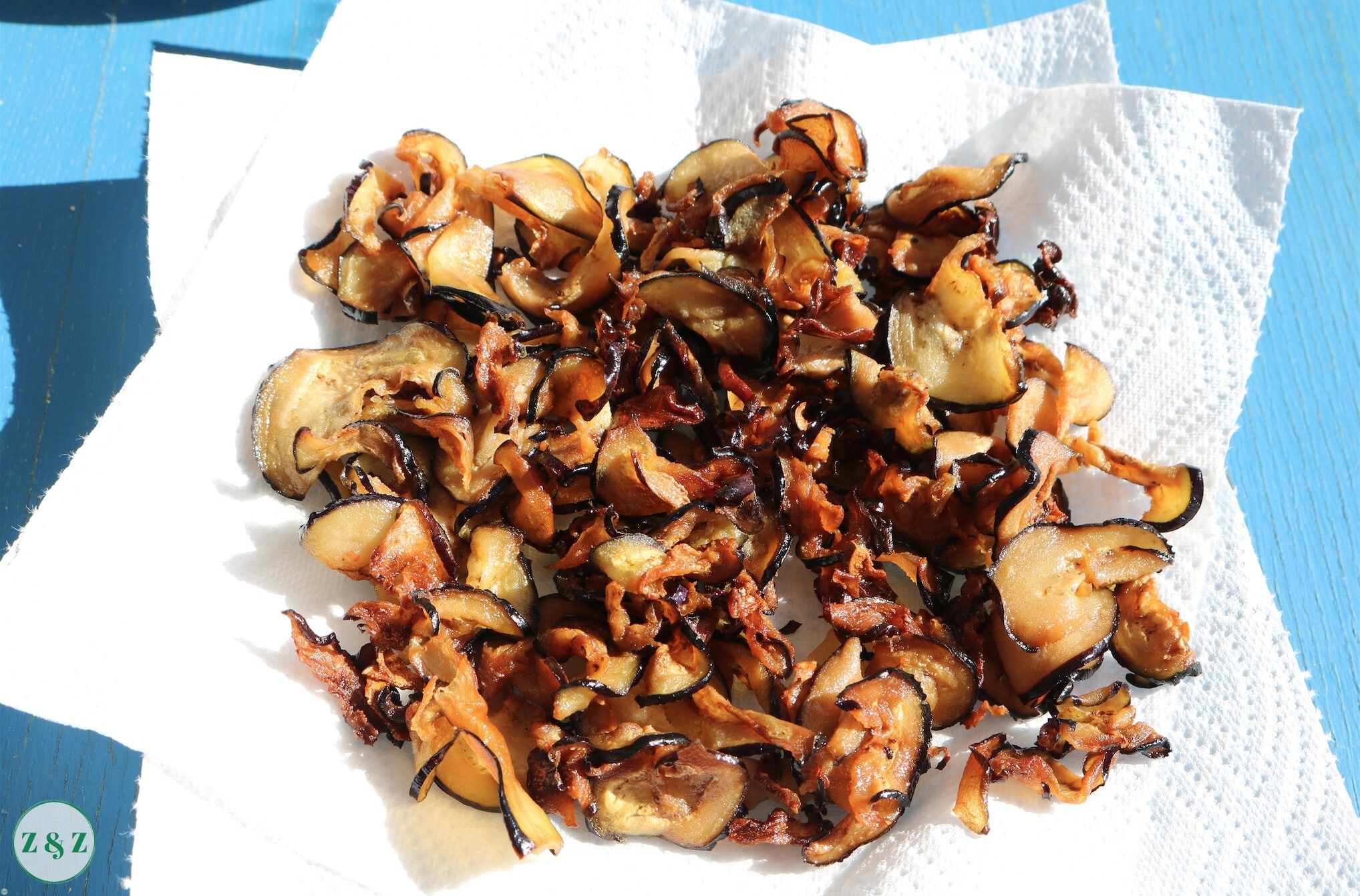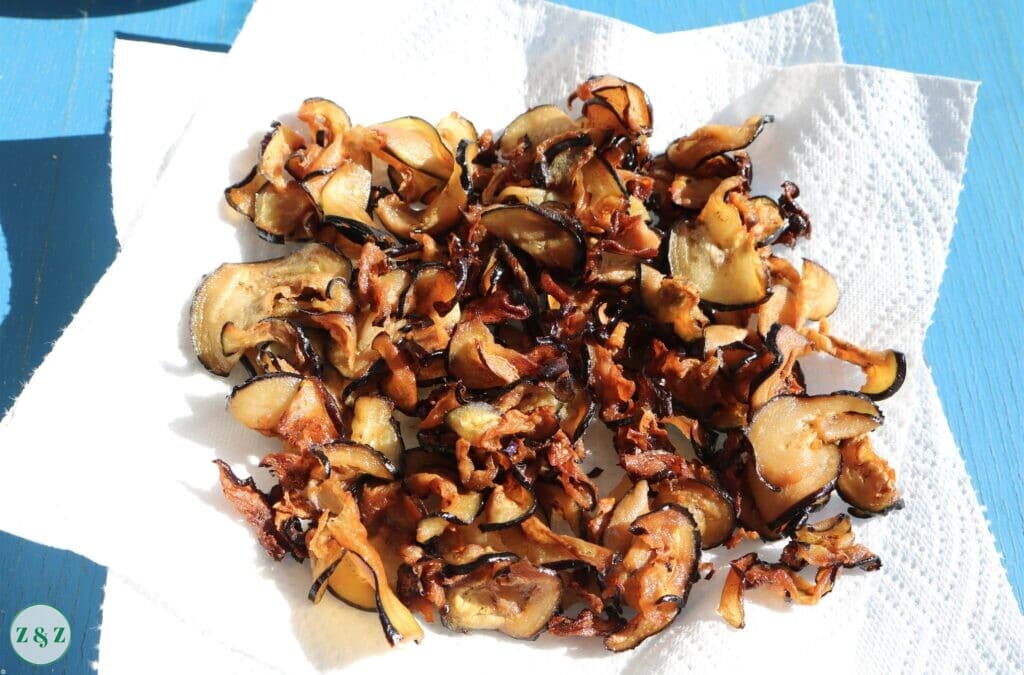 My preferred way to prepare the eggplants is to slice them very thin in the food processor, sprinkle on some salt and leave out to dry ideally in sunshine.
By sprinkling salt on them before frying, you draw out the extra moisture. Dab them with some kitchen towel and turn over. A good few hours in the sunshine will do the job.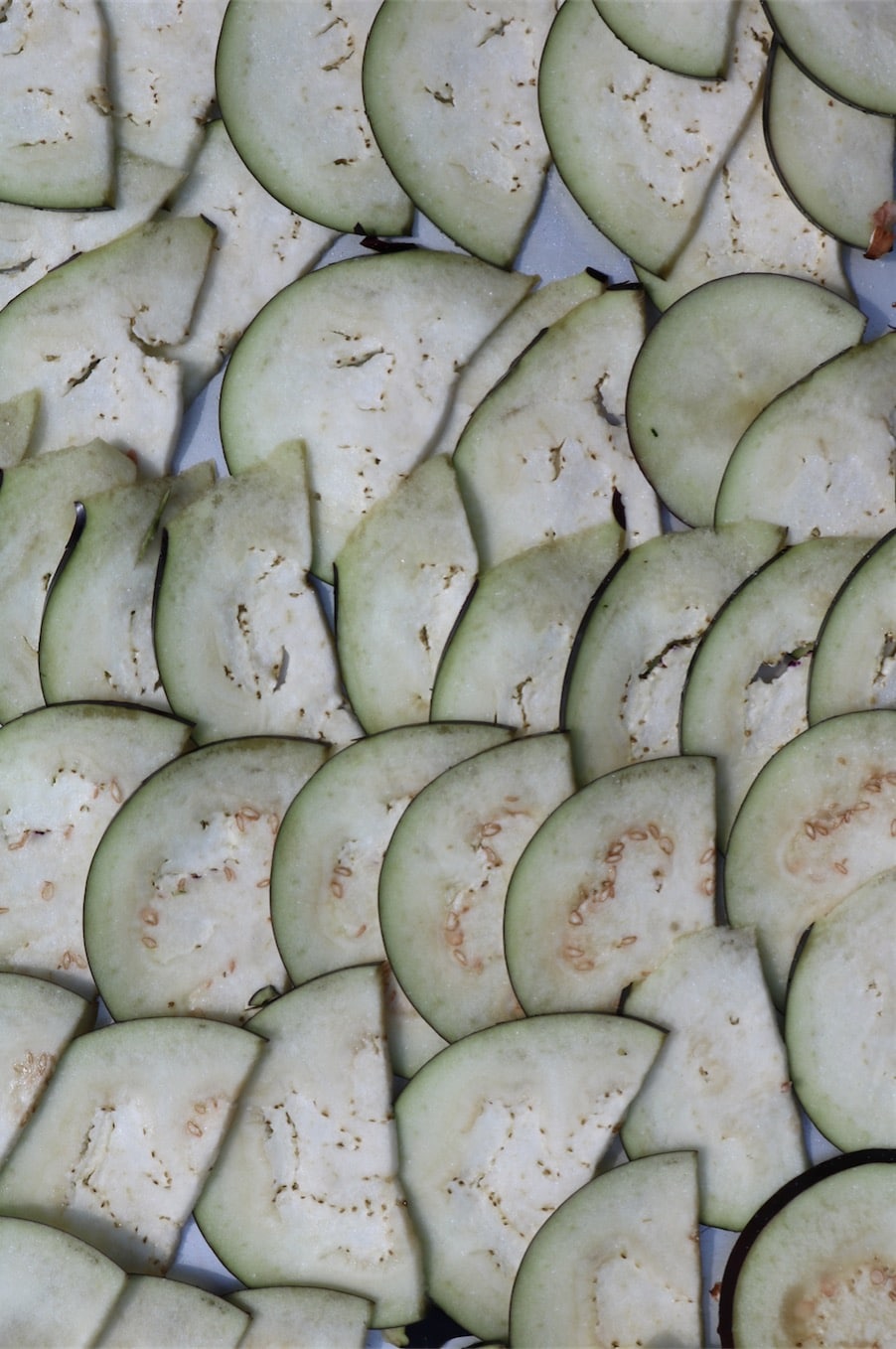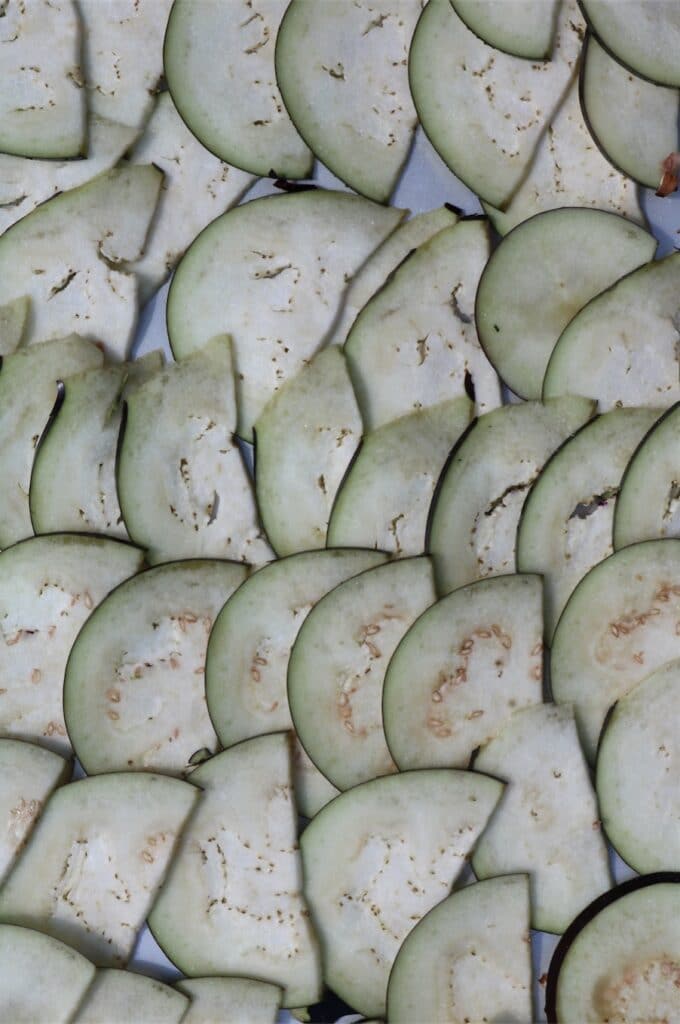 This way when you deep fry them they become wonderfully crispy and add another texture dimension.
The thin eggplant also stops the fatteh becoming too heavy which sometimes happens when you add meat and other things.
🥫 The sauce
Yoghurt, garlic, tahini and lemon make the base of the sauce, which you then add the chickpeas too.
Leave some of the water from the chickpeas to thin the sauce out as necessary. The chickpea water also adds extra flavour.
Always taste the sauce and adjust as necessary as getting the seasoning right will balance the sweet, sour and savoury.
📖 Variations
Eggplant fatteh is traditionally made with some minced meat but just subtract it for the vegetarian version which is just as good.
I use a combination of beef and lamb mince and sauté the meat off in a separate non stick pan beforehand.
If you've frozen some cooked mince eat you can heat it up in the pan for a few minutes, you don't even need to defrost for ages.
The only garnish that I think is necessary is pine nuts. Some people like to add pomegranate molasses or parsley but I feel these are mostly for aesthetics.
Browned butter drizzled on at the end gives a wow moment where everyone licks their lips in anticipation, but also makes the dish extra luxurious.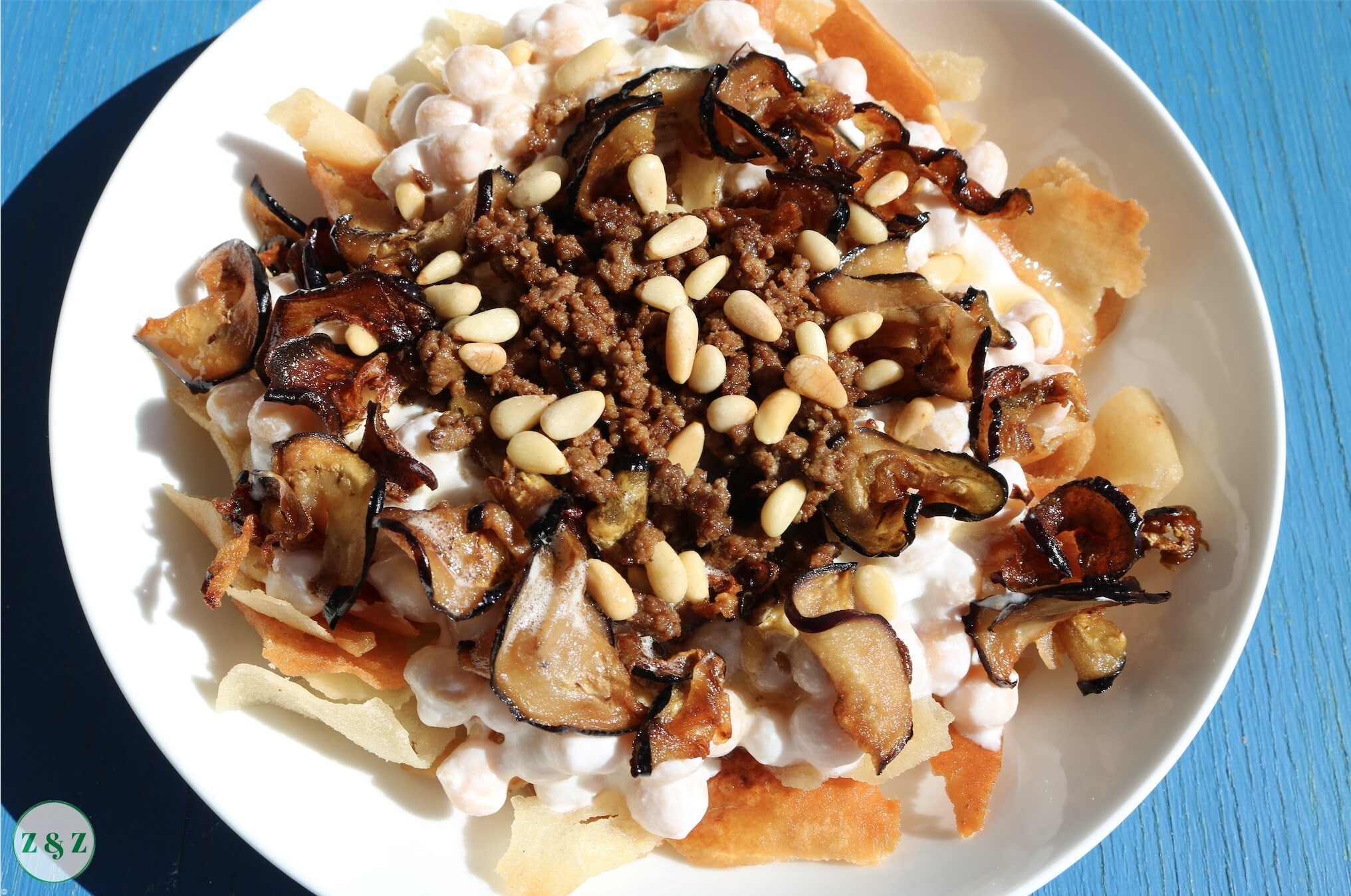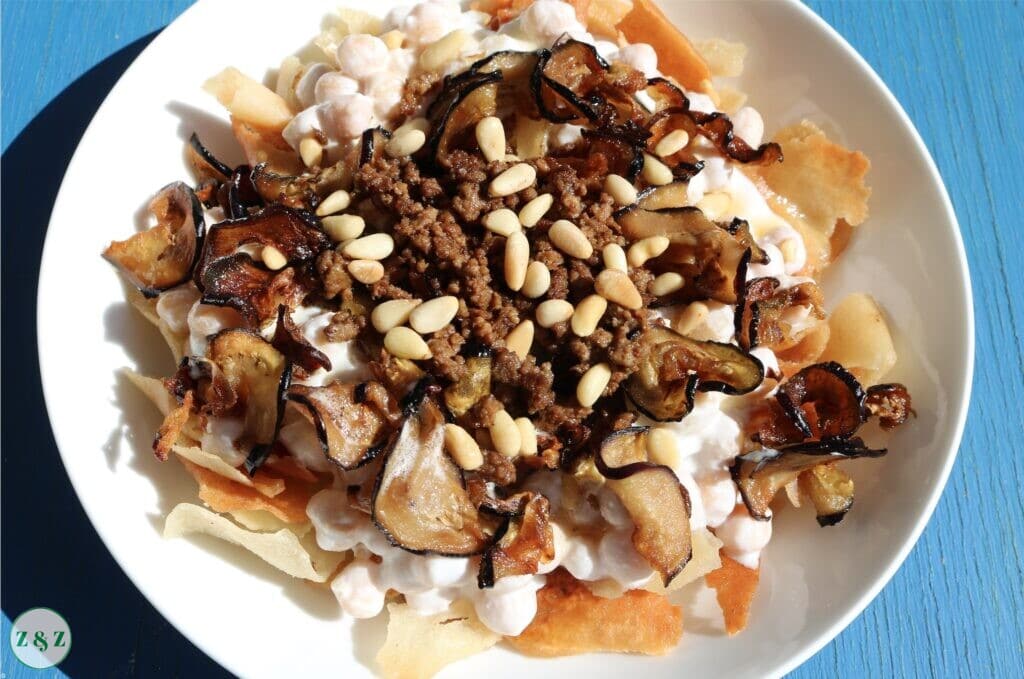 💭 Top tips
Prep, prep, prep is the key to making the best fatteh. You must have everything ready just before serving as the bread will go mushy if you leave it out too long.
This is the order I prepare the ingredients in.
Toast pine nuts
Fry bread
Fry eggplant
Saute meat
Make chickpea yoghurt sauce
Brown butter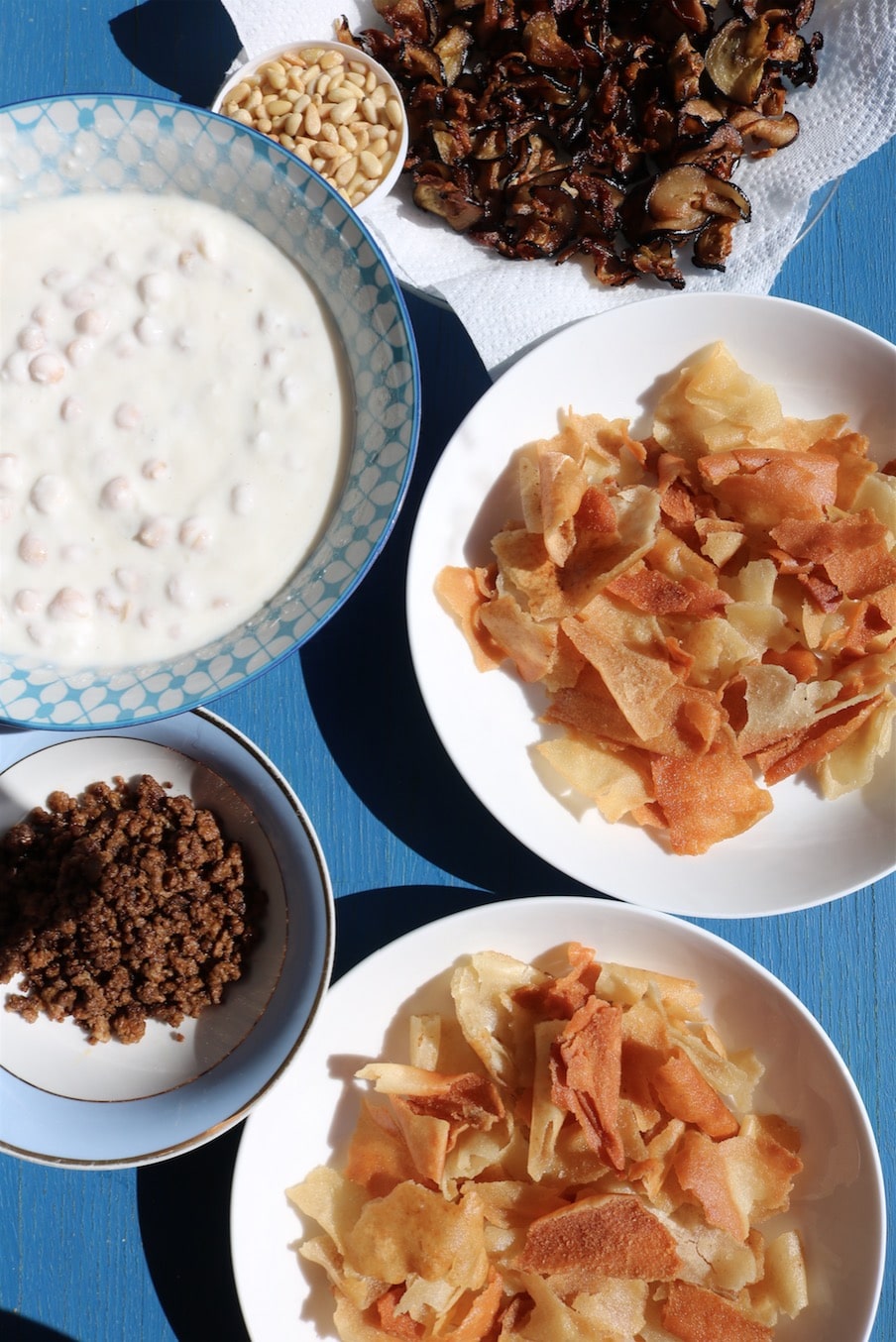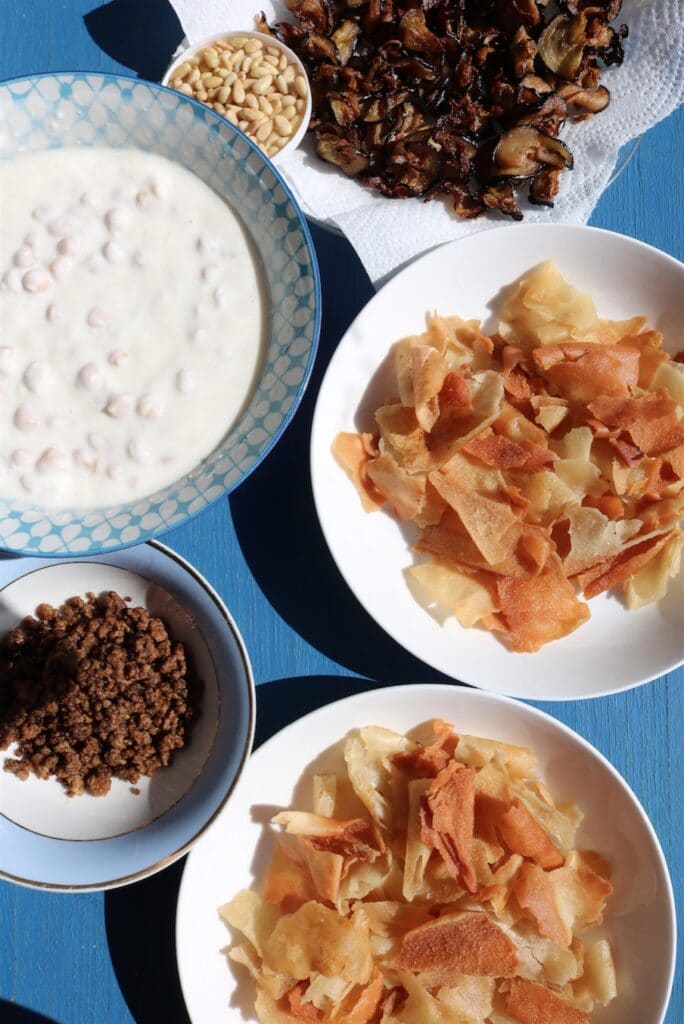 Once you have everything ready, yell for everyone to come to the table (in traditional Arab mum style) then assemble everything together in a few quick minutes.
I start with the bread, then the sauce, then the eggplant, meat, pine nuts and browned butter right at the end.
Wait for that moment of silence where everyone tucks in and can't believe the deliciousness. Truly heaven.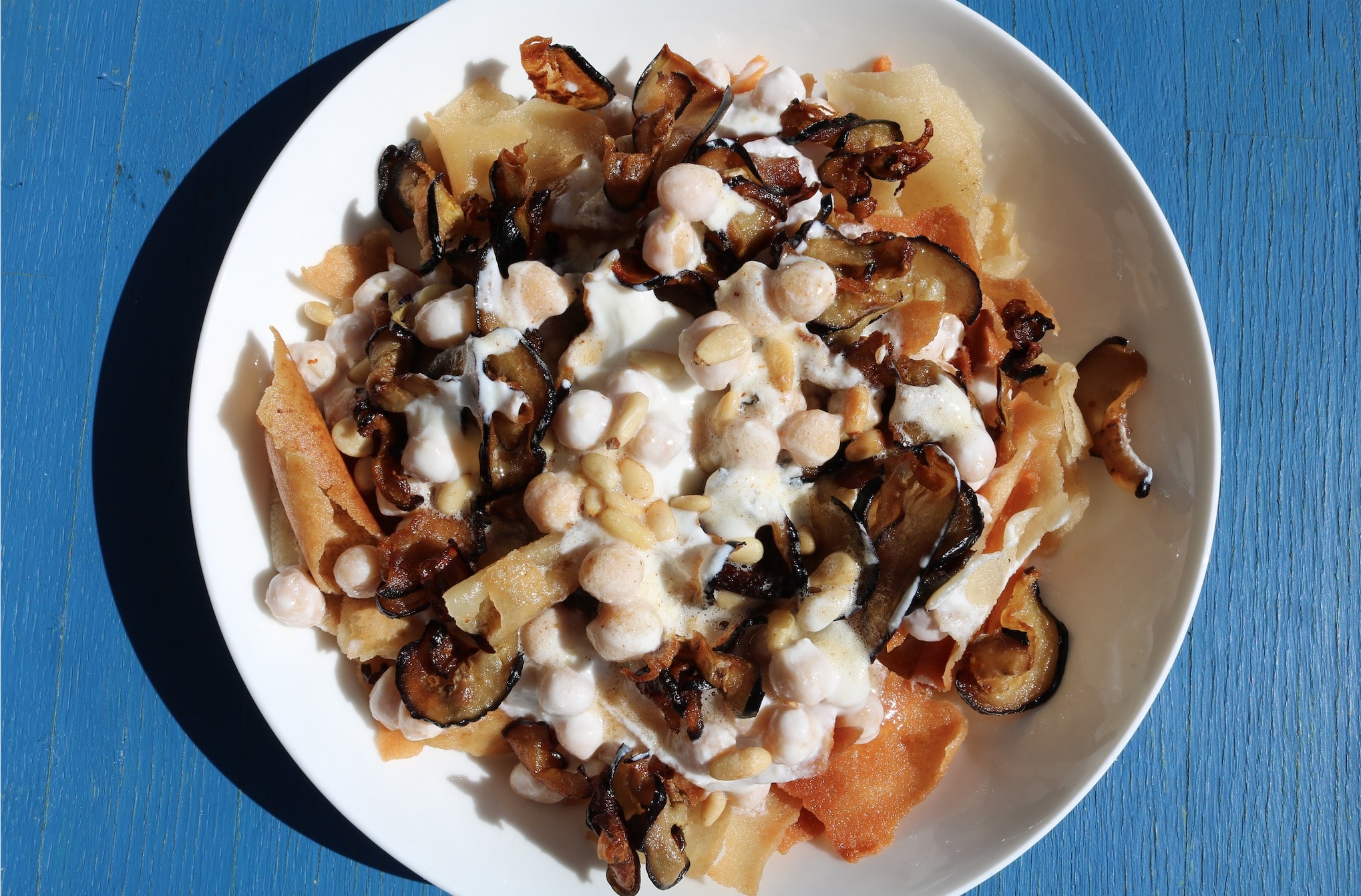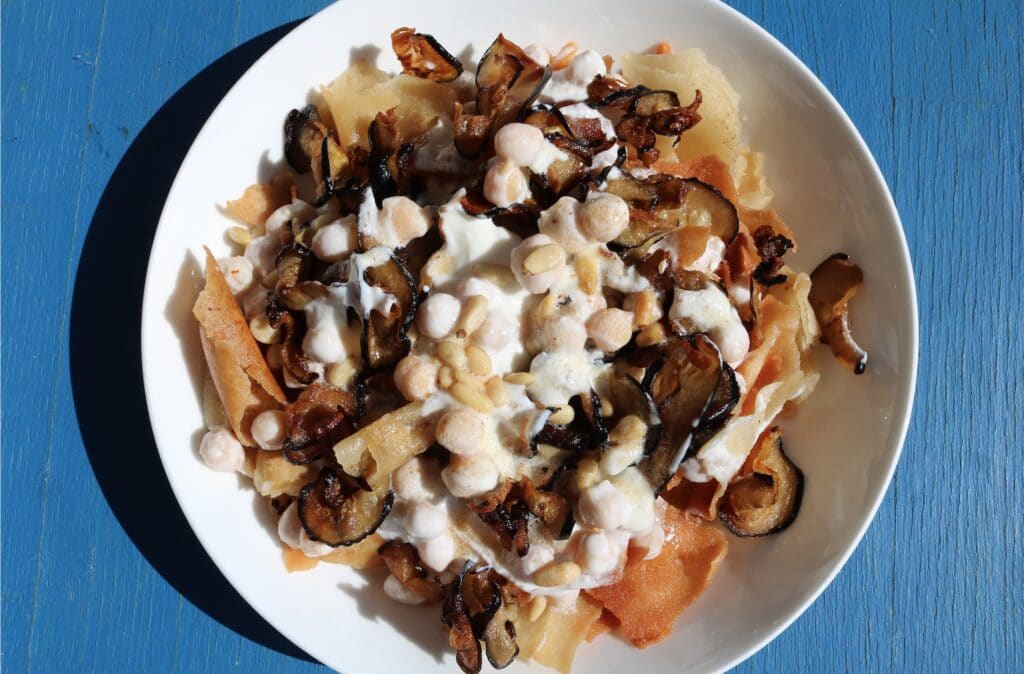 📖 Recipe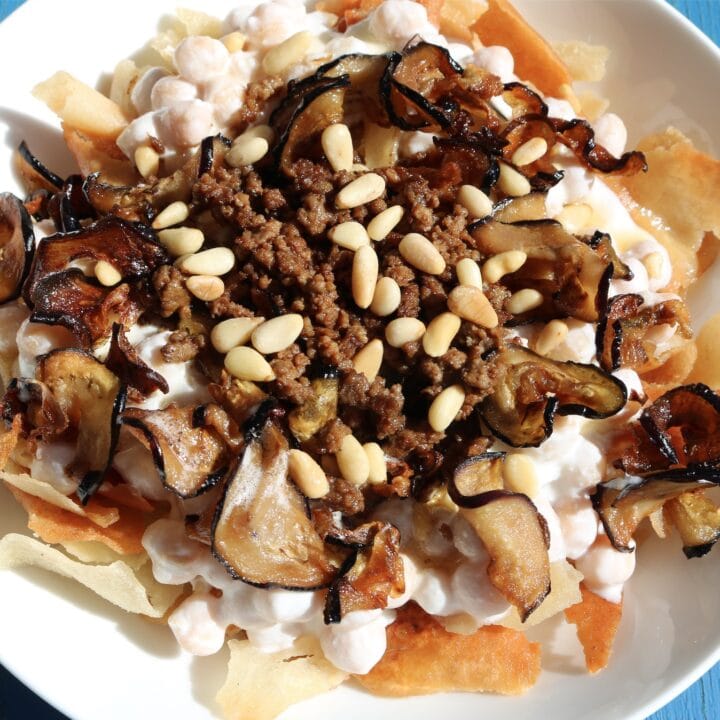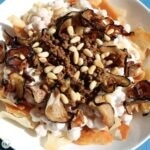 Eggplant Fatteh (Fattet Batinjan)
Lebanese Eggplant (aubergine) fatteh with optional mince meat
Ingredients
1

eggplant

150

g

of mince meat

lamb/ beef

3

large thin Lebanese flatbreads

1

can chickpeas with water retained

3

cups

plain yoghurt

Juice of ½ lemon

approx 2 tbsp

1-2

garlic cloves

2

tablespoon

tahini

3

tablespoon

butter

1

teaspoon

salt

Handful pine nuts

Vegetable oil for frying
Instructions
In a food processor, slice the eggplant into thin rounds, lay out on a tray and sprinkle with salt, ideally in sunshine for a good few hours

Sauté the mince meat in non stick pan with some regular olive oil for 5-10 minutes, set aside.

Deep fry the Lebanese flatbreads in the vegetable oil until just golden, avoiding browning them too much. Drain on kitchen towel and set aside

While the vegetable oil is still hot, deep fry the eggplant thins until crispy for a few minutes, drain well on kitchen towel and set aside.

Toast the pine nuts in a heavy non stick pan until golden, set aside

In a pot, heat the chickpeas for 5-10 minutes and keep the water.

In a wide mixing bowl, crush the garlic cloves well. Add the yoghurt, tahini, lemon and salt. Stir well, taste and adjust the seasoning if necessary

Using a slotted spoon add the chickpeas to the yoghurt sauce, with a few tablespoons of the water to thin out the sauce a little.

Heat the butter in a small pot on lowest heat until it starts to foam and turn golden brown. Turn off the heat and set aside

You are now ready to assemble your fatteh. Prepare four shallow bowls

Add a layer of fried bread pieces to the bottom of the bowls.

Spoon on a good layer of yoghurt tahini sauce with the chickpeas

Add the eggplant and mince meat

Top with pine nuts and drizzle with the browned butter on top

Serve immediately
If you make any of our recipes let us know how it went by giving us a star rating below:
We have a lively Facebook group where we post frequent recipes and discuss Lebanese cooking in general, as well as a handy Pinterest page where you can save all of your favourite Zaatar and Zaytoun recipes.
You might also like these other recipes from the Zaatar and Zaytoun collection: