Malfouf is much easier to prepare than stuffed grape leaves or zucchini (kousa mahshi) as the leaves are larger and quicker to roll up.
Even the stuffing is quite easy to make consisting of meat rice and a few spices.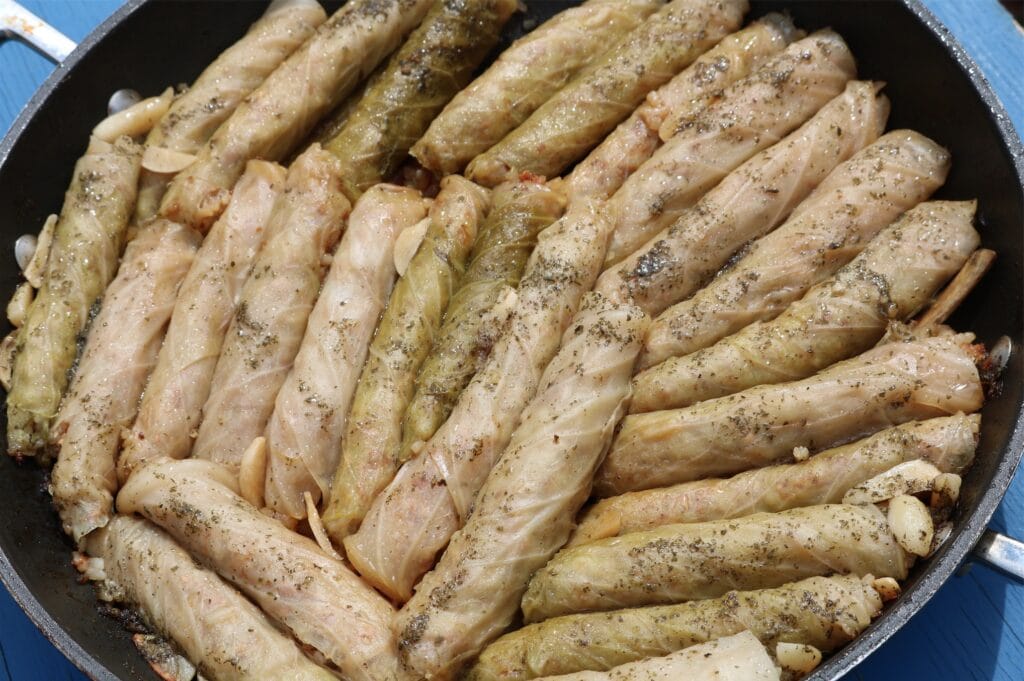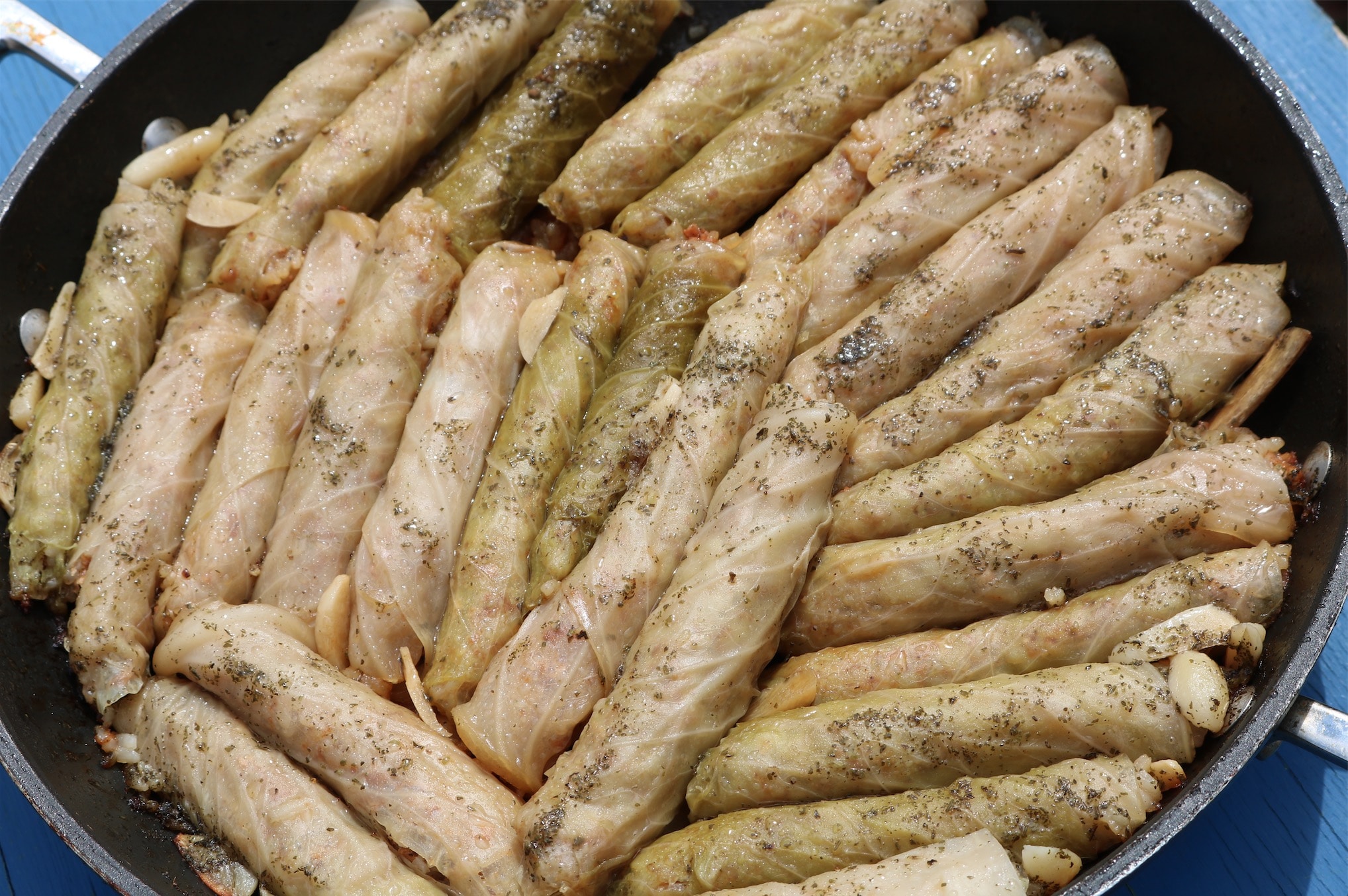 Malfouf can also be prepared with a vegetarian stuffing similar to waraq enab b'zeit (vegan stuffed grape leaves).
If you want to make this version just use the vegan grape leaves stuffing on this link instead of the meat one.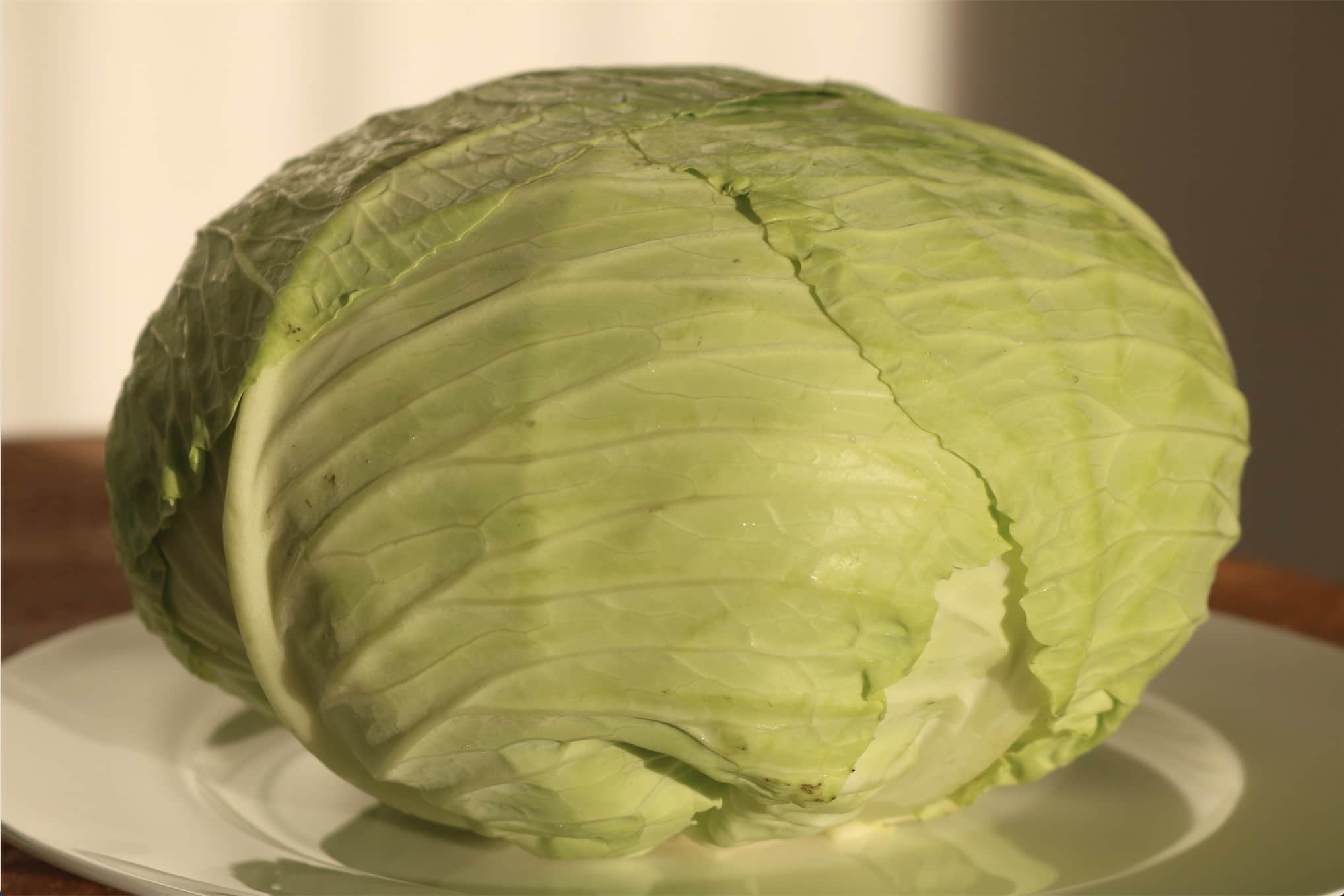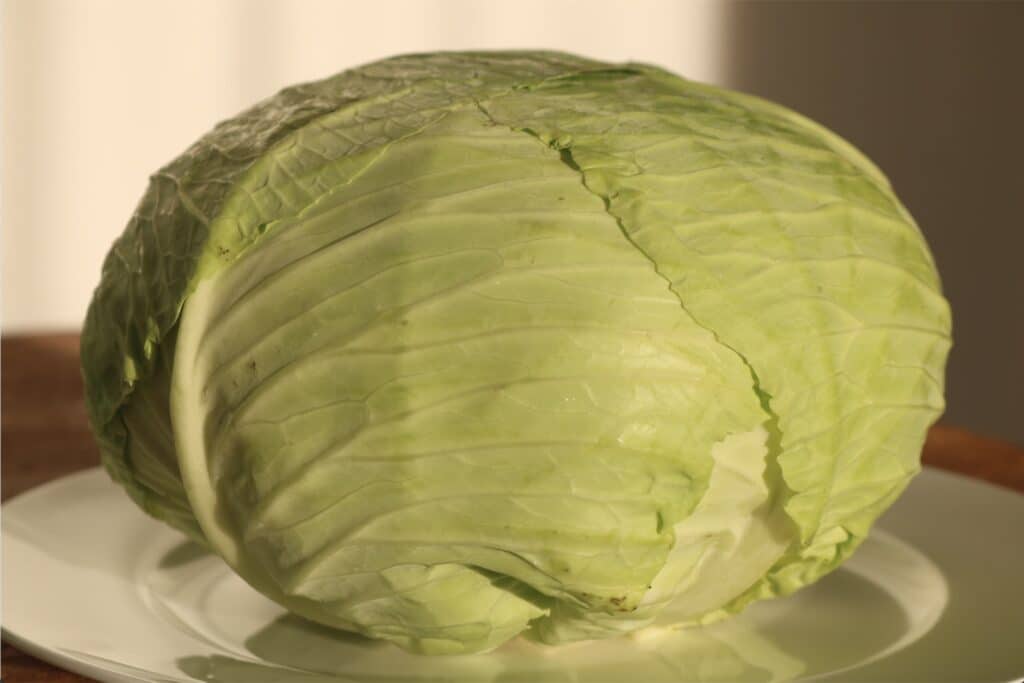 Malfouf cabbage
You can make malfouf with any cabbage leaf that lets you roll it up but I have used the very large cabbages found in Middle Eastern grocery stores.
One of these cabbages weighs more than a kilo and they give you a lot of big wide leaves perfect for stuffing.
Alternatively you can use chinese leaf cabbage or sweetheart cabbage as they are supple and have a thin texture.
Something like savoy cabbage would be too difficult to roll up.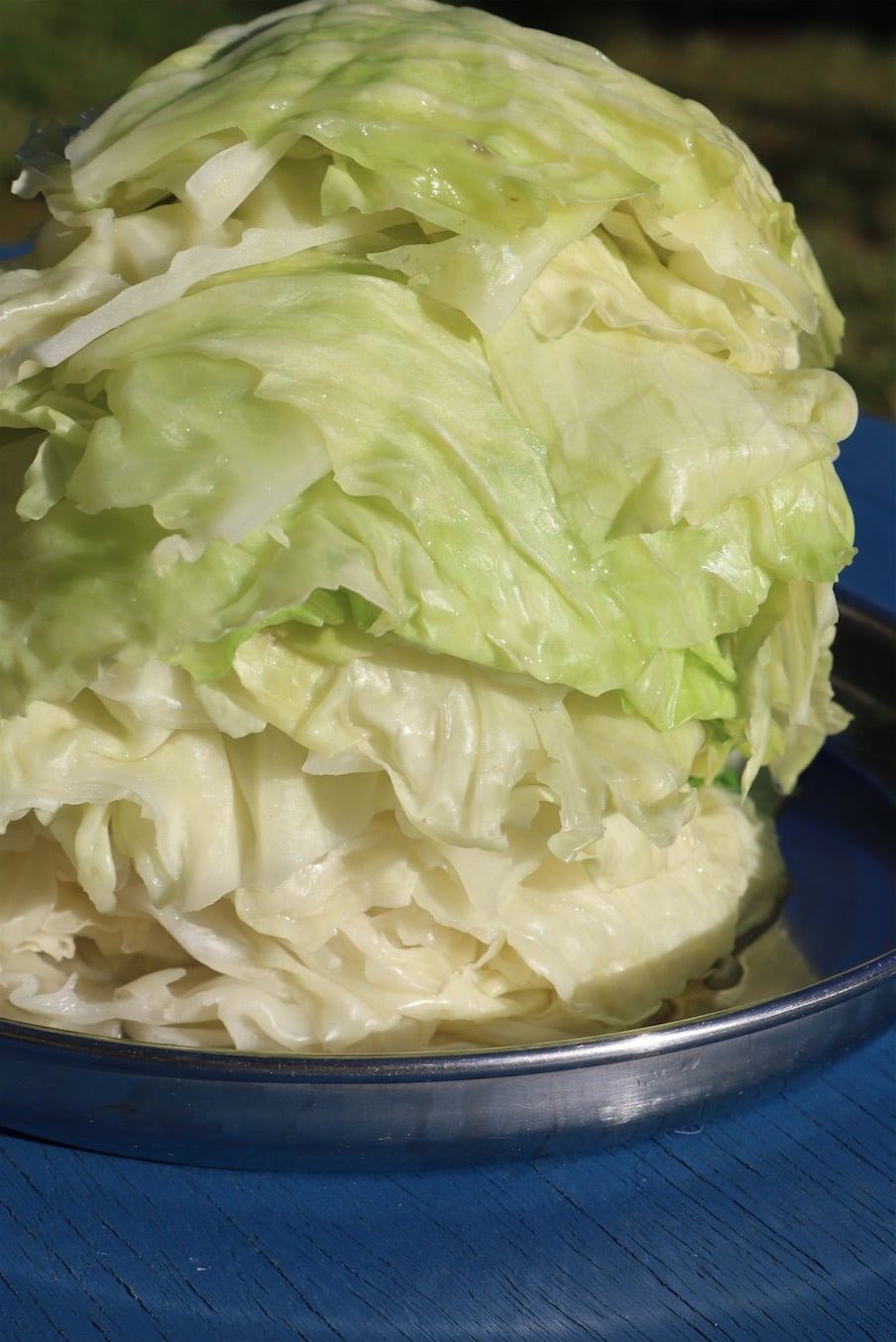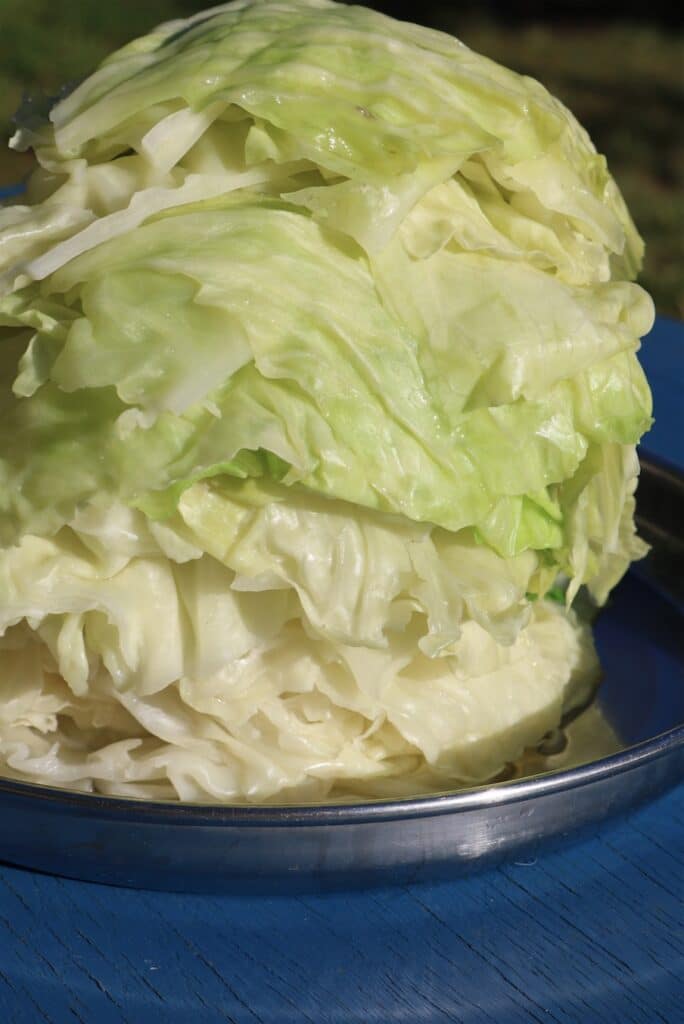 The most difficult bit is probably separating the leaves making sure you don't rip them as you do so.
Then you have to blanche them in hot water for about five minutes until they go soft and lighter in colour.
I also trim the stalks off and divide the very large ones in half so they are no bigger than the size of my whole hand.
I then stack them on top of each other so they are ready to be stuffed and rolled and stacked again in the pot.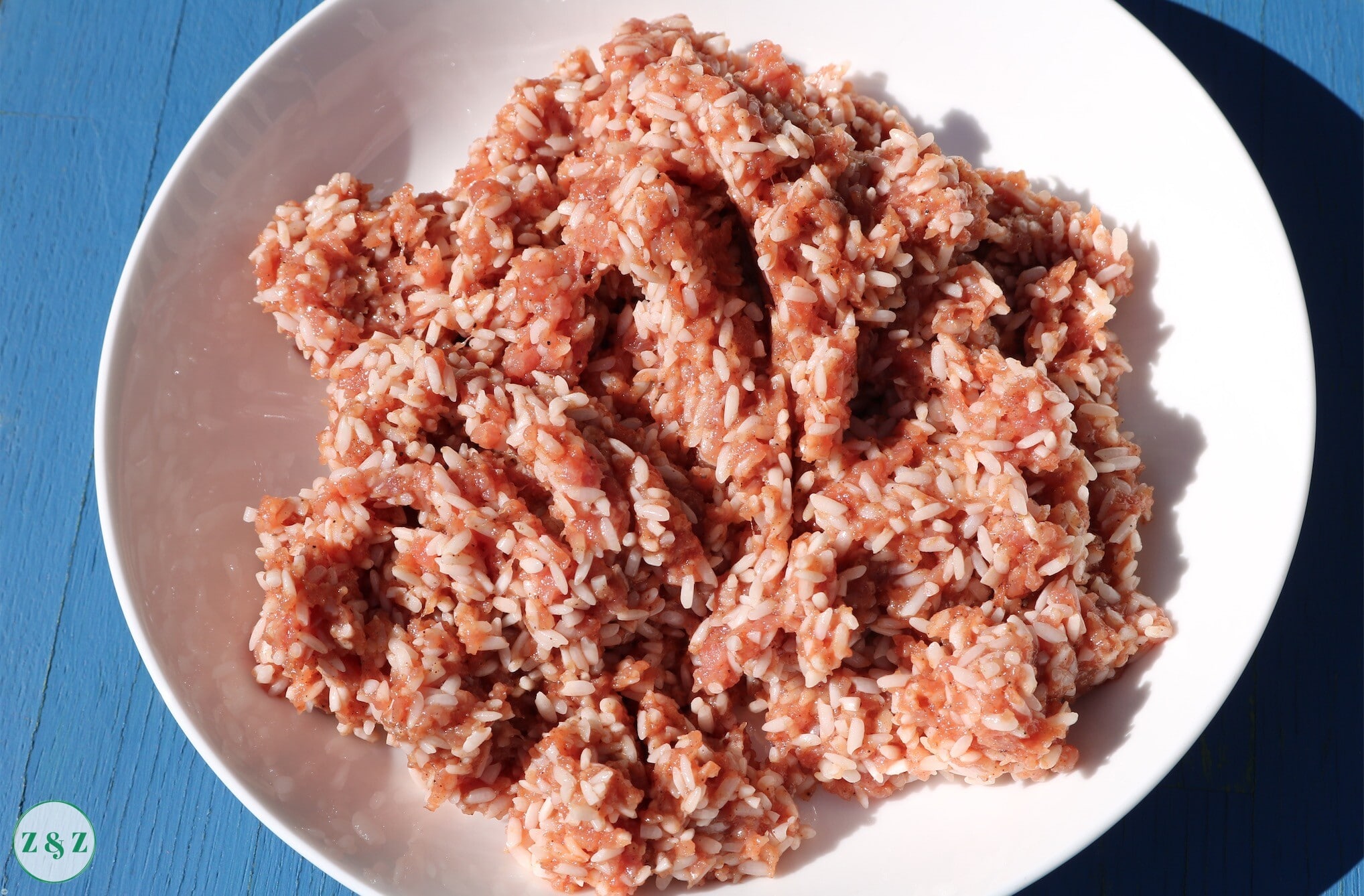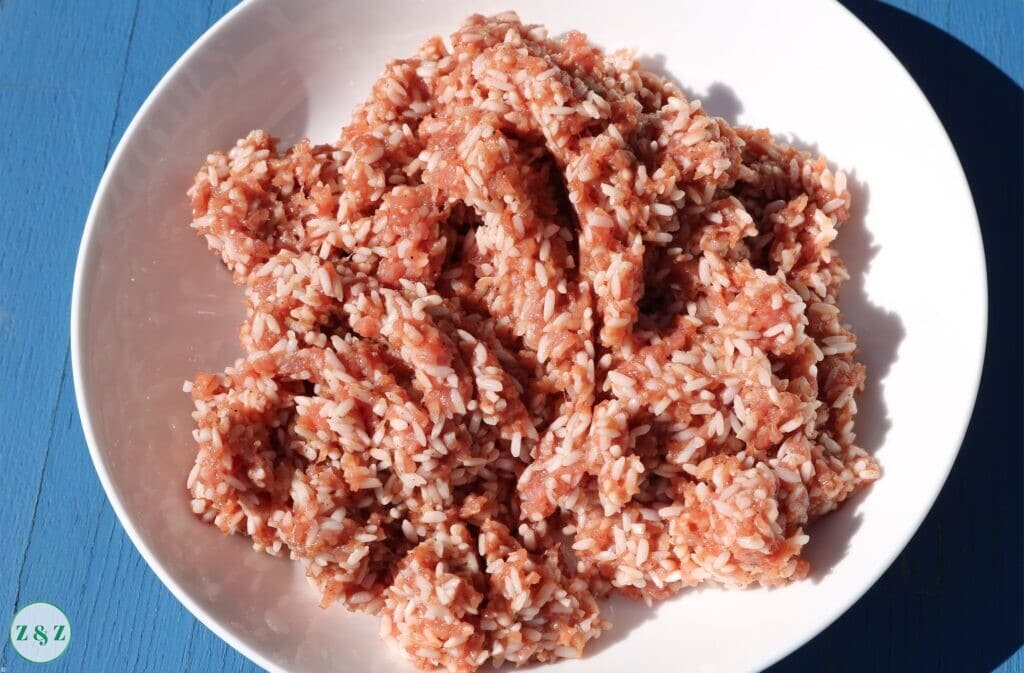 The meat and rice stuffing
Most people like to use ground beef as it is less fatty than lamb when it cooks.
However I am a lamb fan and so I use both lamb and beef to get a nice flavour.
You will notice that most mahashi (stuffed vegetables) use short grain rice as it soaks up the flavour better than long grain varieties.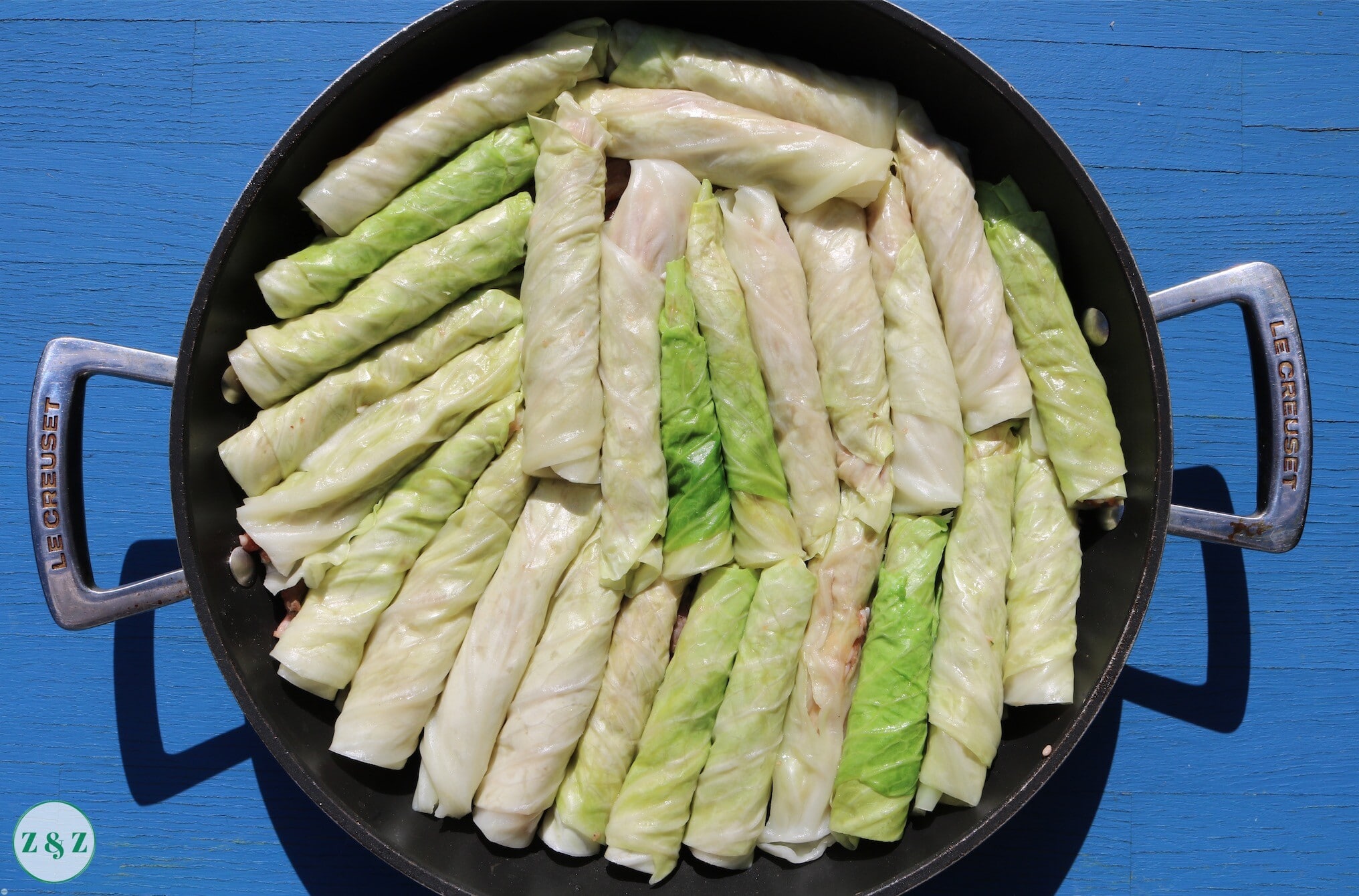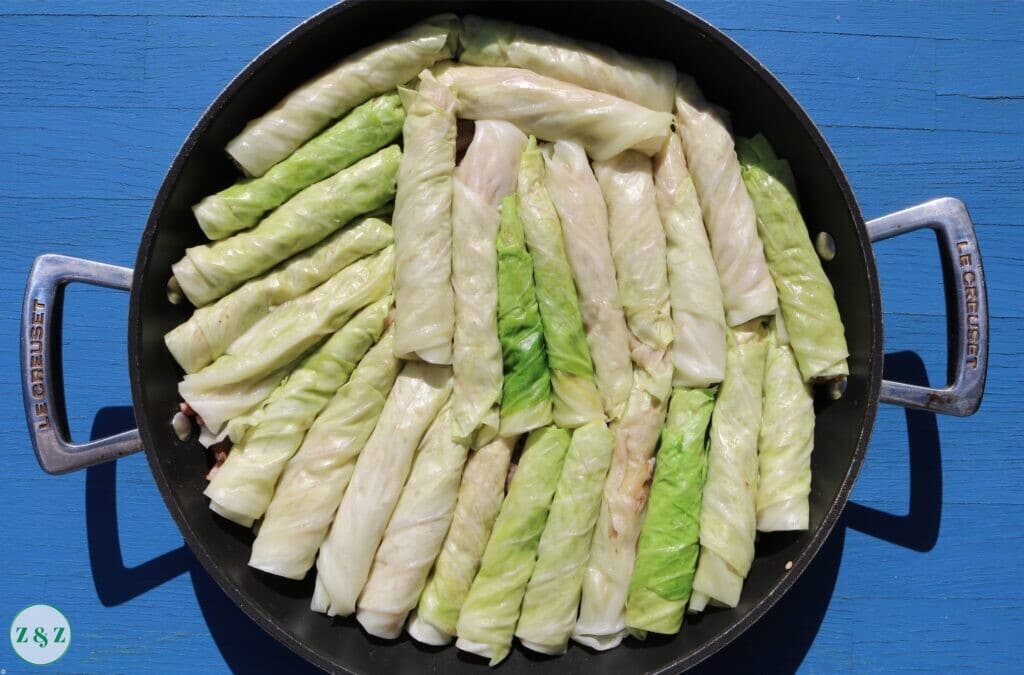 I also add some tomato concentrate to the stuffing as well as seven spice, black pepper and a bit of cinnamon.
Malfouf is a subtly flavoured dish and you shouldn't overdo it with the spices or add something crazy like chilli.
You can also layer the bottom of the pot with lamb chops if you want to be extra fancy and want to create a wow moment for your guests as you flip over the pot onto a large platter.
However I would flash fry the lamb chops off in a separate pan to reduce the greasy taste.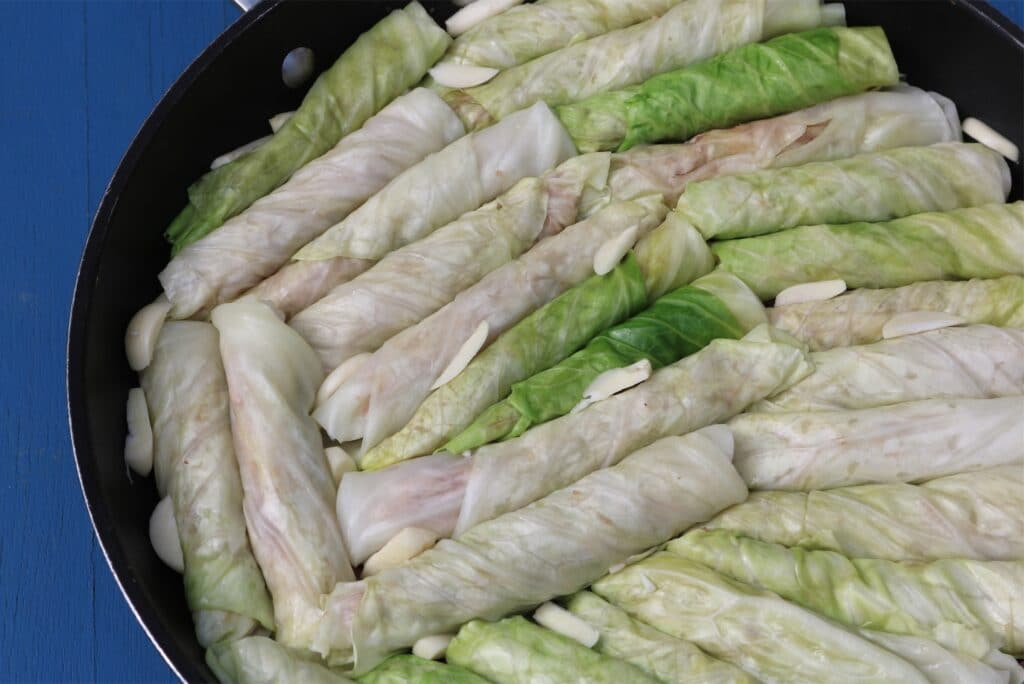 How to roll the cabbage leaves
Cabbage leaves are so easy to roll as you literally put the stuffing on and just roll upwards
No fancy side techniques required. No fiddly bits like grape leaves.
Simply roll and stack tightly.
I've even made a video to show you how easy it is.
Well actually my mum was rolling them and I was filming because I can't do everything at once. Ha!
Tips for making the best malfouf
Now here are the secret tips to making amazing life changing malfouf as opposed to average bla malfouf no one remembers.
Get a whole bulb of garlic (yes a whole head of garlic), peel them and slice them roughly longways. Then scatter them between the layers of cabbage rolls.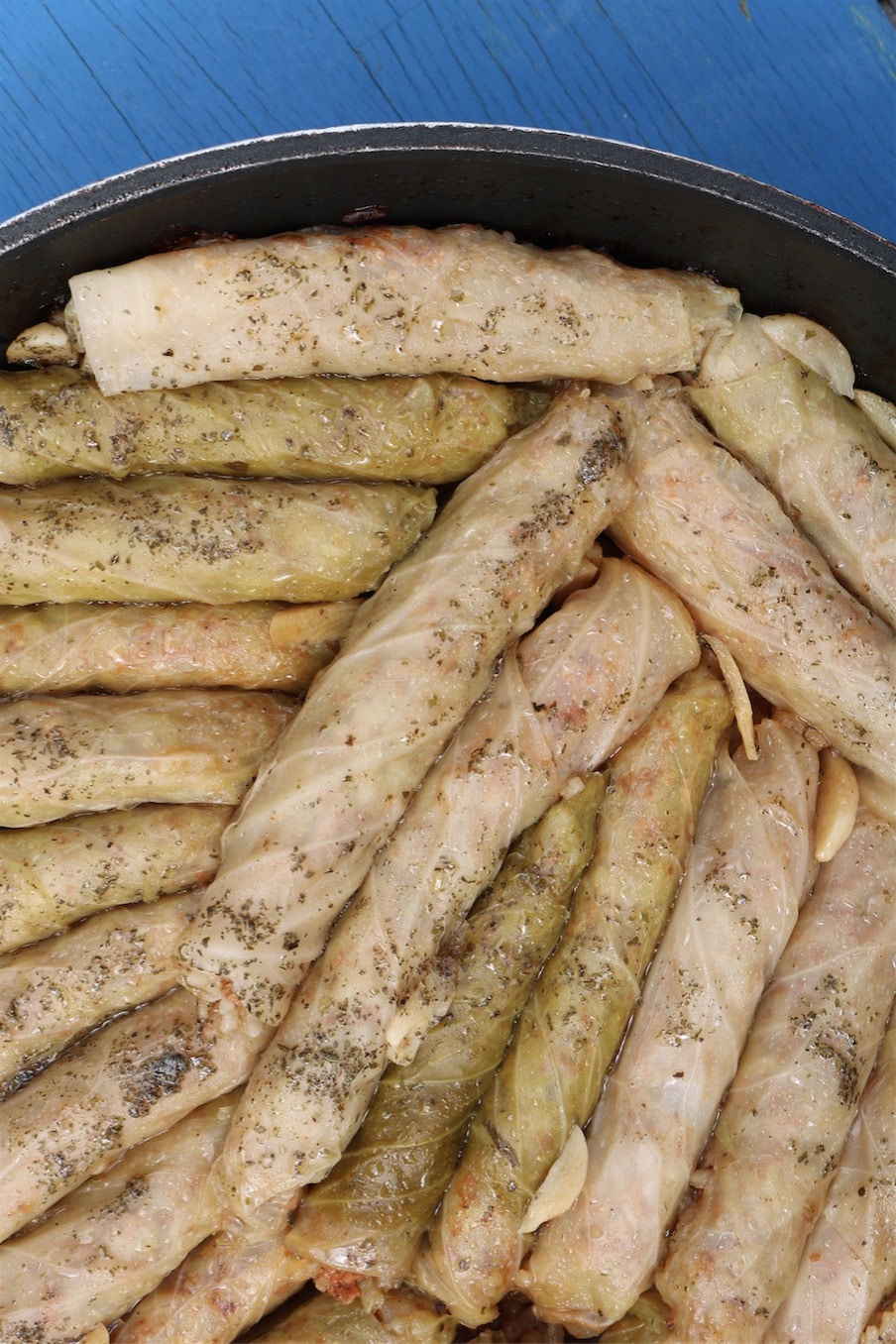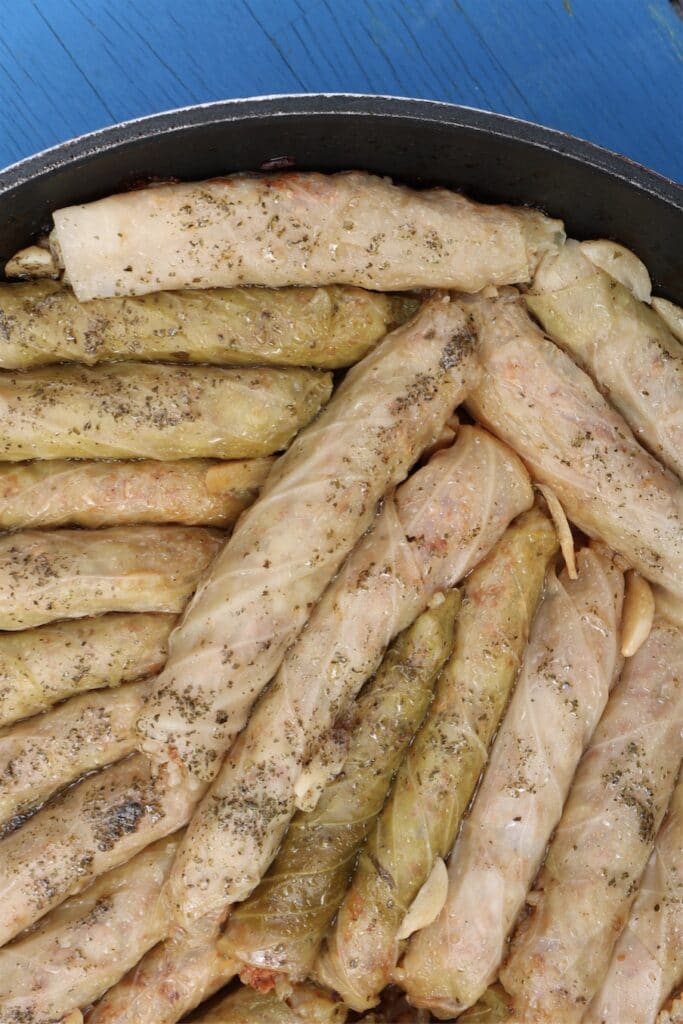 Make a brine of salty water approximately two teaspoons to two cups of water and a lemon, and pour it on top of the malfouf to cover.
You need to taste this brine as this will tell you how salty or lemony the overall dish will be, so adjust it as necessary.
When you bring the malfouf to the boil (after about twenty minutes) reduce the heat to a simmer and add a good drizzle of regular olive oil and another good drizzle of pomegranate molasses
Finally add a pinch of dried mint and simmer for a good hour
Before you switch off the heat, take one cabbage roll and taste it to see if everything is done.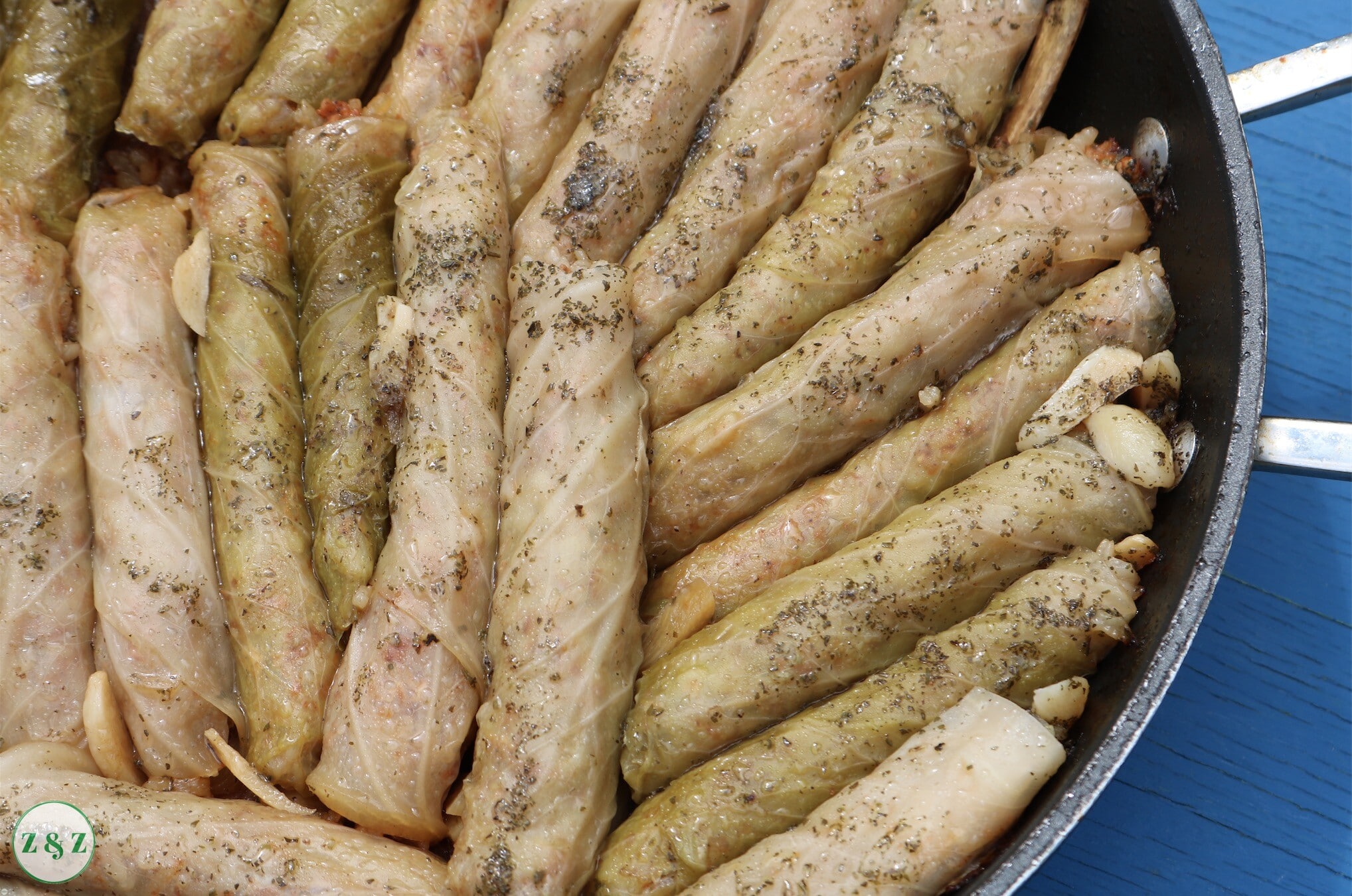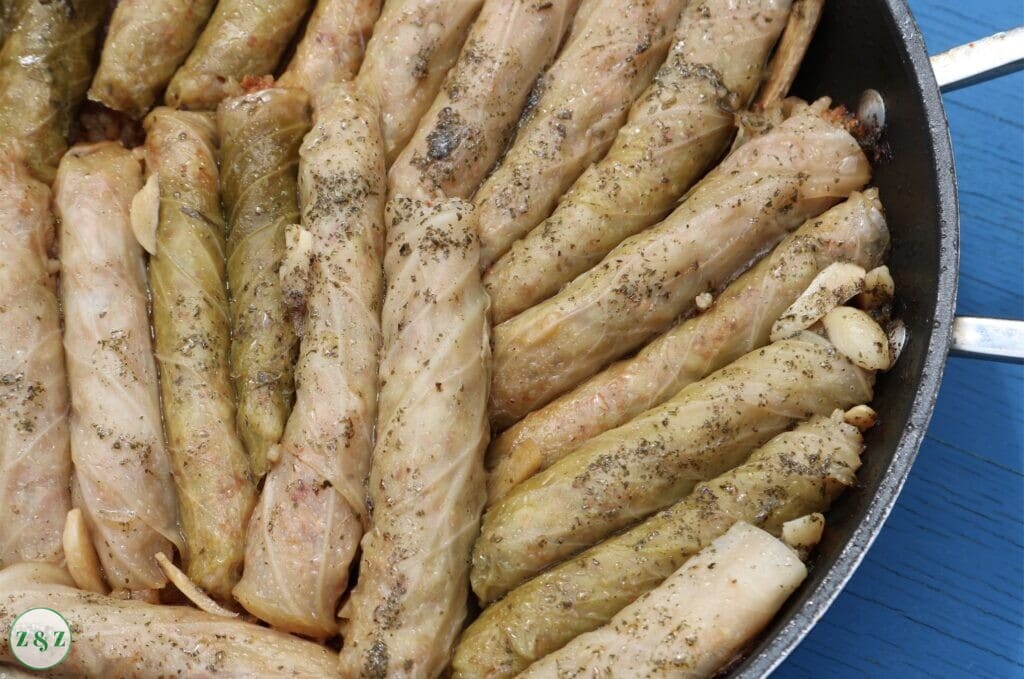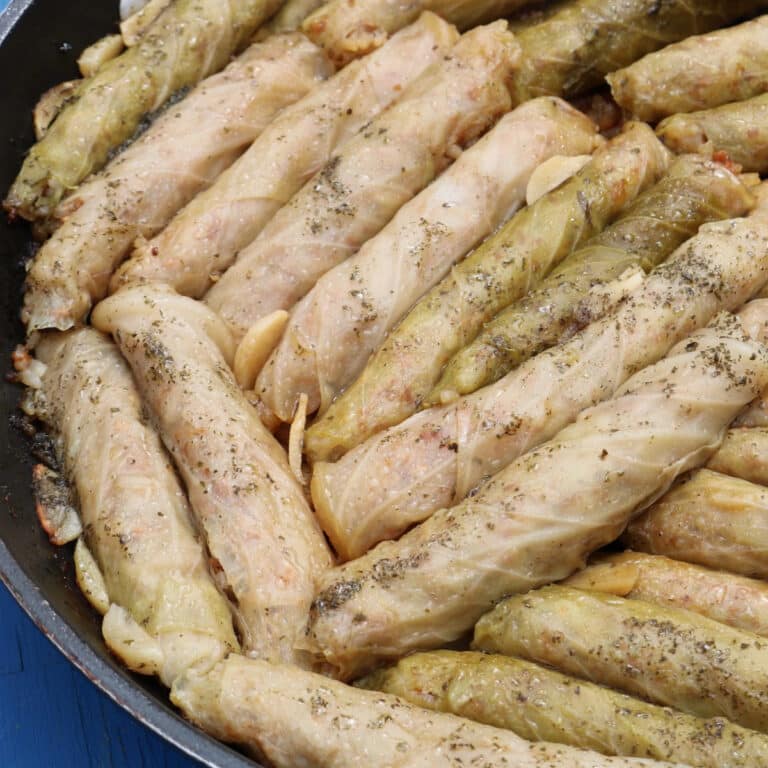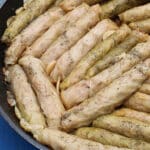 Malfouf Mahshi (Stuffed Cabbage rolls)
Cabbage leaves stuffed with meat and rice, cooked with garlic and mint
Cook Time
1
hour
20
minutes
Ingredients
1

very large cabbage

or 2 medium

Boiling water for blanching

2

cups

short grain rice

300

g

ground beef or lamb

or mix of both

½

tablespoon

salt

½

teaspoon

seven spice

¼

teaspoon

cinnamon

¼

teaspoon

black pepper

¼

cup

regular olive oil

1

tablespoon

tomato concentrate

1

bulb of garlic

peeled

2

cups

of water + 1 teaspoon of salt + 1 lemon

(to make the brine)

2 -3

tablespoon

pomegranate molasses

½

teaspoon

of dried mint
Instructions
Carefully separate the cabbage leaves trying not to rip them. Then in batches, add them to a pot of boiling water. Blanche for around five minutes until soft and set aside.

When they have cooled, trim off the thick stems, and divide the very large leaves into half so they are around the size of your whole hand

In a mixing bowl, add the ground meat, rice, seven spice, black pepper, cinnamon, ¼ cup of regular olive oil, the tomato concentrate and salt. Combine well and place on the table

On a large plate, flatten out a cabbage leaf

Take around 2 tablespoons of the stuffing and arrange in a cigar shape near the bottom of the cabbage leaf and simply roll up (see video)

Peel a whole bulb of garlic and roughly slice. Scatter the garlic between the layers of cabbage rolls

Prepare the brine by mixing 2 cups of water with 1 teaspoon of salt, and the juice of a whole lemon

When you have finished rolling the cabbage leaves, place a heatproof plate on top and pour over the brine water

Bring to the boil on high heat for around 20 minutes. Taste the brine water to see if you need to adjust the lemon/salt levels.

Remove the plate and then reduce the heat to a medium low simmer and add a good drizzle of regular olive oil and another of pomegranate molasses, as well as the dried mint

Cover with a lid and cook for another hour or so until the cabbage leaves are well done, tasting one malfouf roll before you turn the heat off
Recipe Video
If you make any of our recipes let us know how it went by giving us a star rating below.
Check out our Youtube page for full video tutorials, our Facebook group to discuss Lebanese cooking, as well as our tiktok page for quick tips.
You might also like these recipes from the Zaatar and Zaytoun collection: