Stuffed zucchini (or courgettes) are one of the Middle East's most popular dishes for when you have a feast and really want to make an effort for your guests.
Each country has slight variations in how they cook their stuffed vegetables which makes it a little more interesting when your friend invites you round for some kousa mahshi.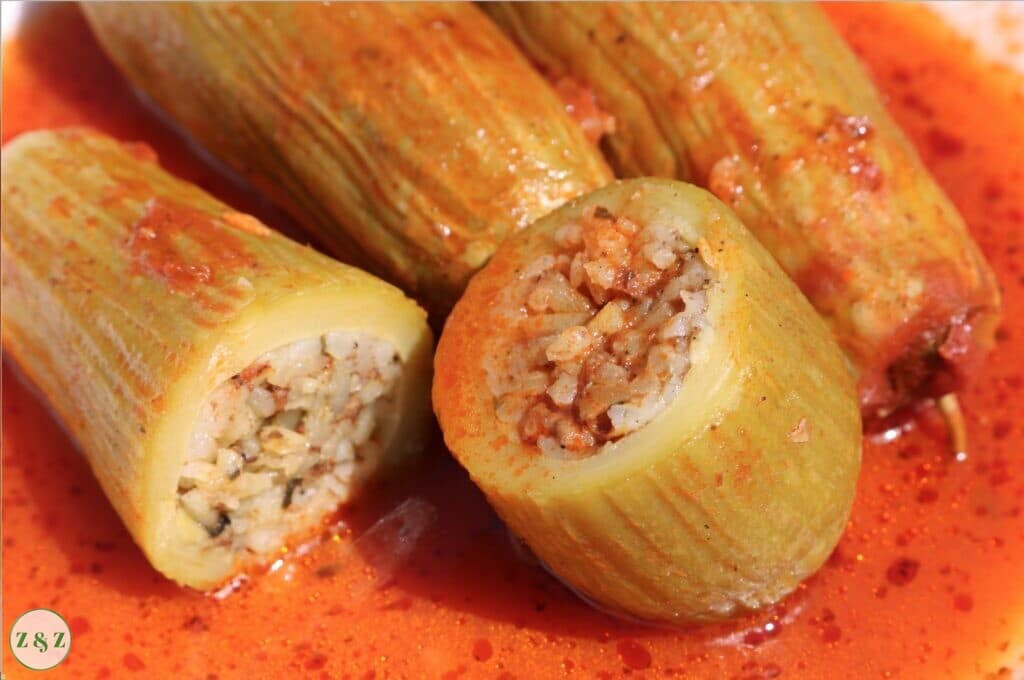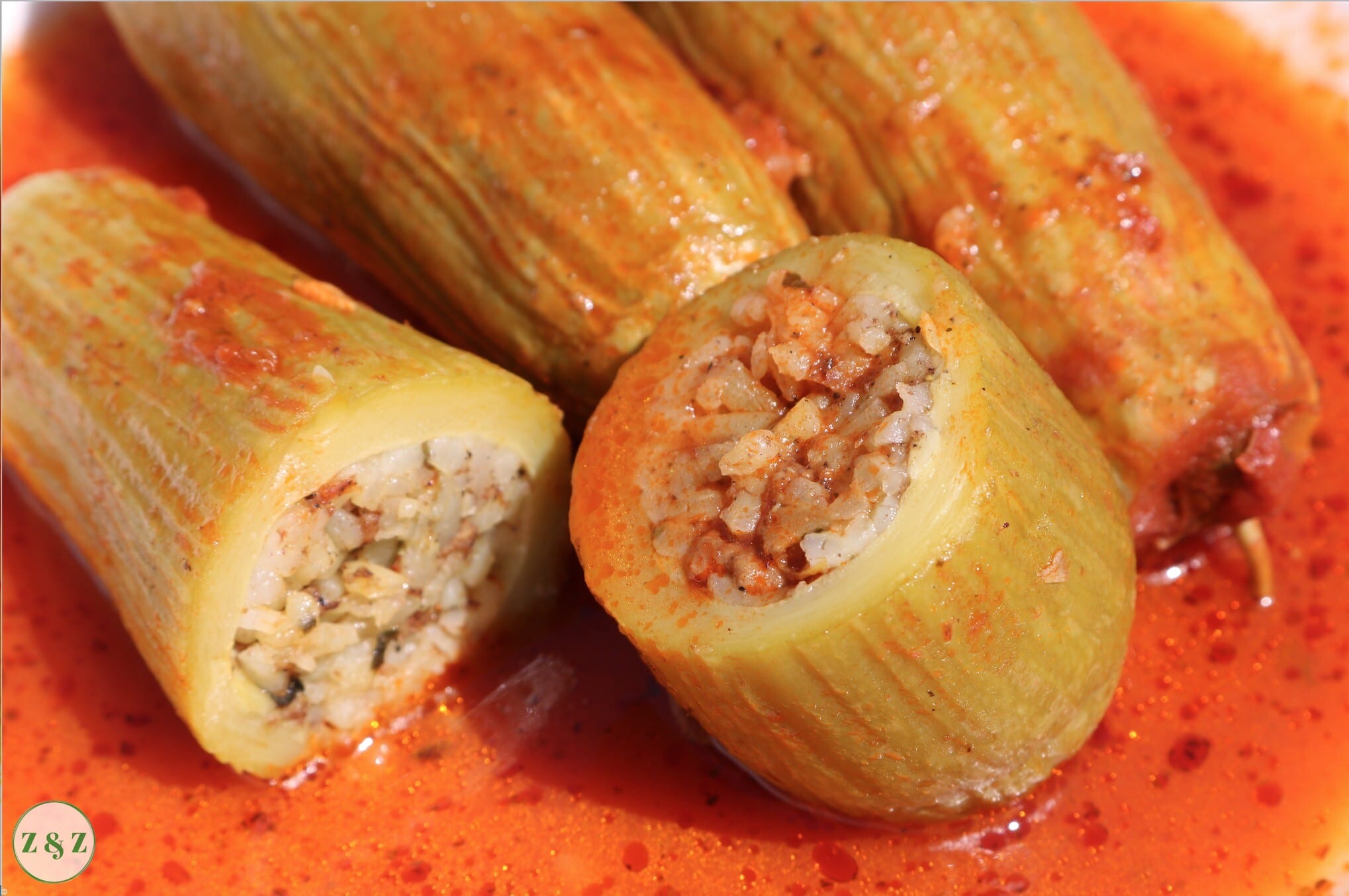 You can stuff them with rice and meat or do a vegetarian/vegan version, they are both delicious. The meat version is cooked in a garlicky tomato sauce with a hint of dried mint.
How to prepare the zucchini (Kousa)
Some zucchini (kousa in Arabic) are better for stuffing as they keep their shape when cooked in the tomato sauce. My favourite is the 'Magda' variety which is small and light green in colour. I also feel they have a sweeter taste than the larger green zucchini.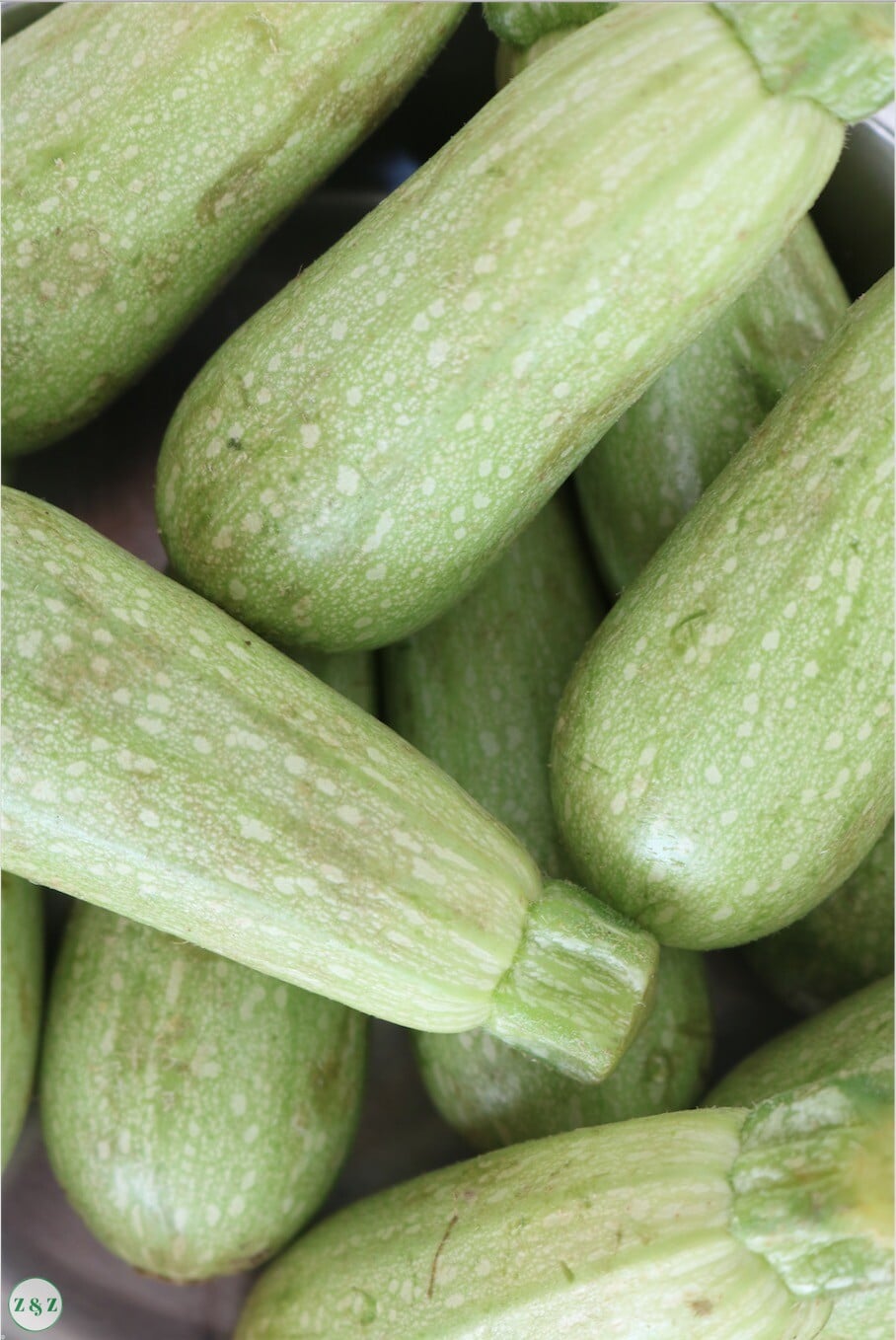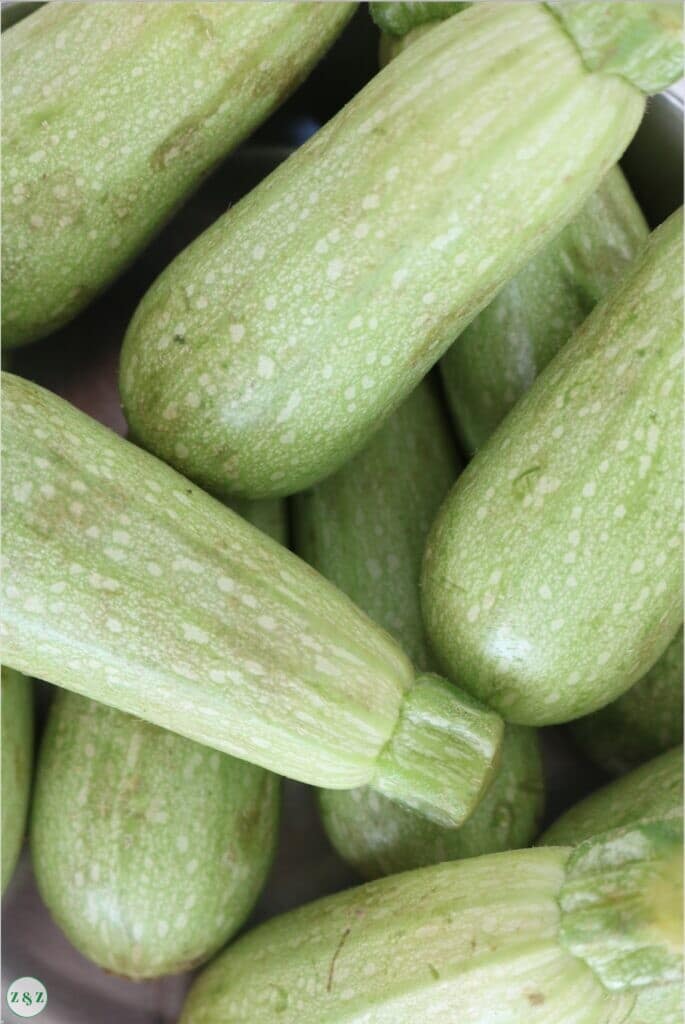 After washing and removing the tops of the zucchini, you have to core out their insides and leave a nice hollow opening for the stuffing to go inside. This is not a skill you can master in one session but you will get better at it.
You can use a special zucchini corer or an apple corer might do the job too. You want to try and leave a margin of approximately 5mm or less.
Don't throw away the insides you can fry them off with your morning eggs they are delicious!
Another trick is to groove the outside of the zucchini with a serrated knife. This not only looks pretty but means your stuffed kousa can hold more sauce which makes each mouthful more yummy.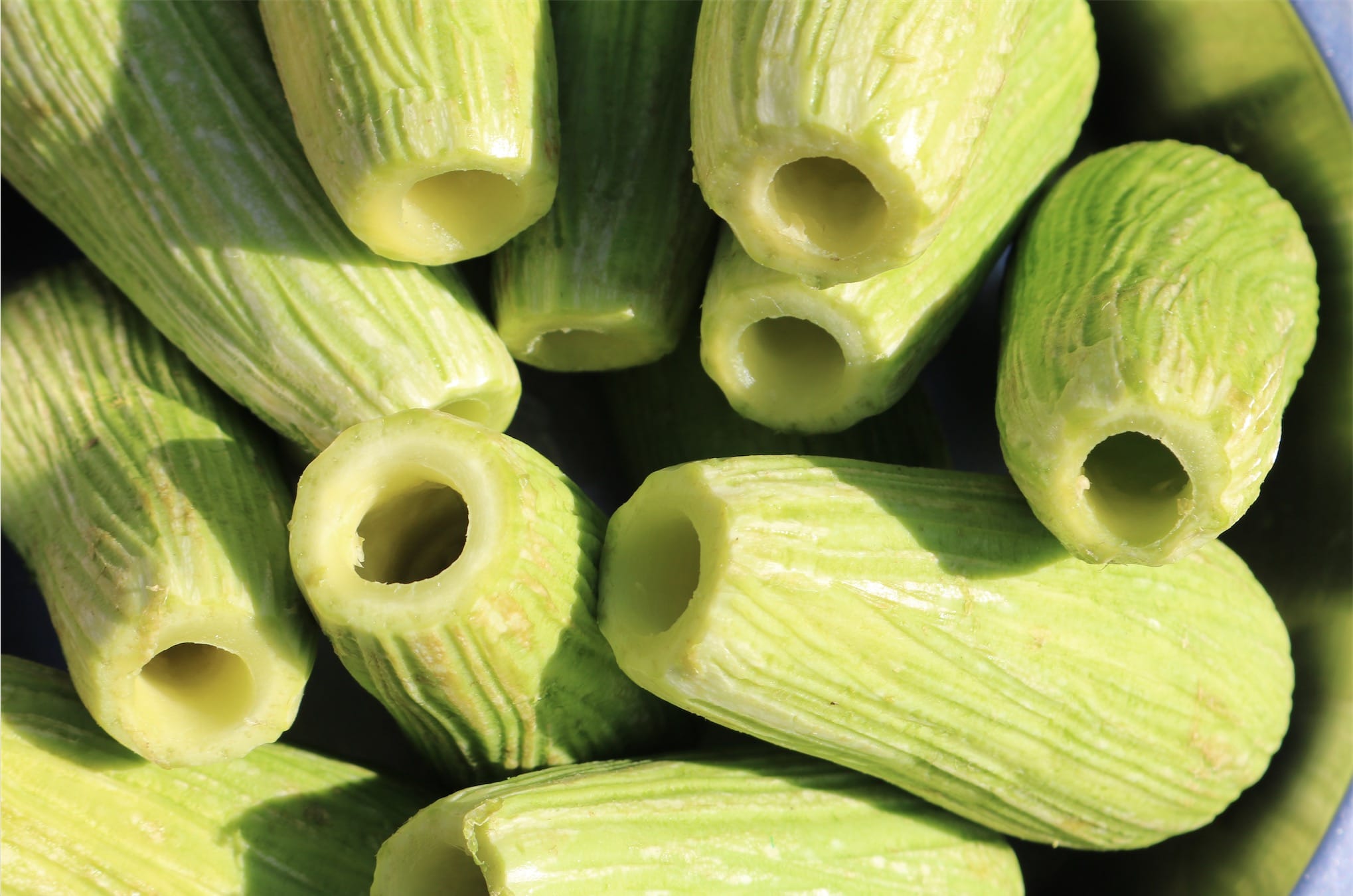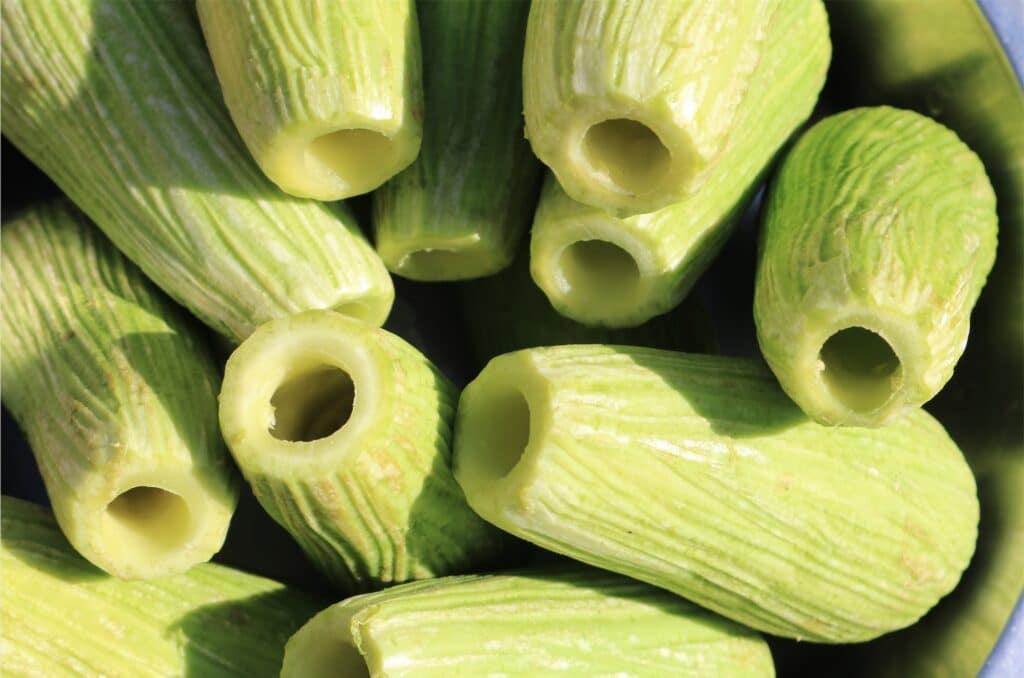 How to make the stuffing
You can choose to have your stuffing as simple as just meat, rice, tomatoes and a bit of seven spice. I like to add a little parsley, turmeric and black pepper which I feel gives extra flavour.
Some people fry off the meat before especially if they are only using lamb. I like to use both lamb and beef (best of both worlds). The meat is commonly minced and mixed with the rice though I have also eaten kousa mahshi with teeny tiny fillets of lamb or beef scattered throughout the rice.
If you adore cutlets of meat you can line the bottom of the pan with them though again, flash fry them off in a pan before adding to the main pot.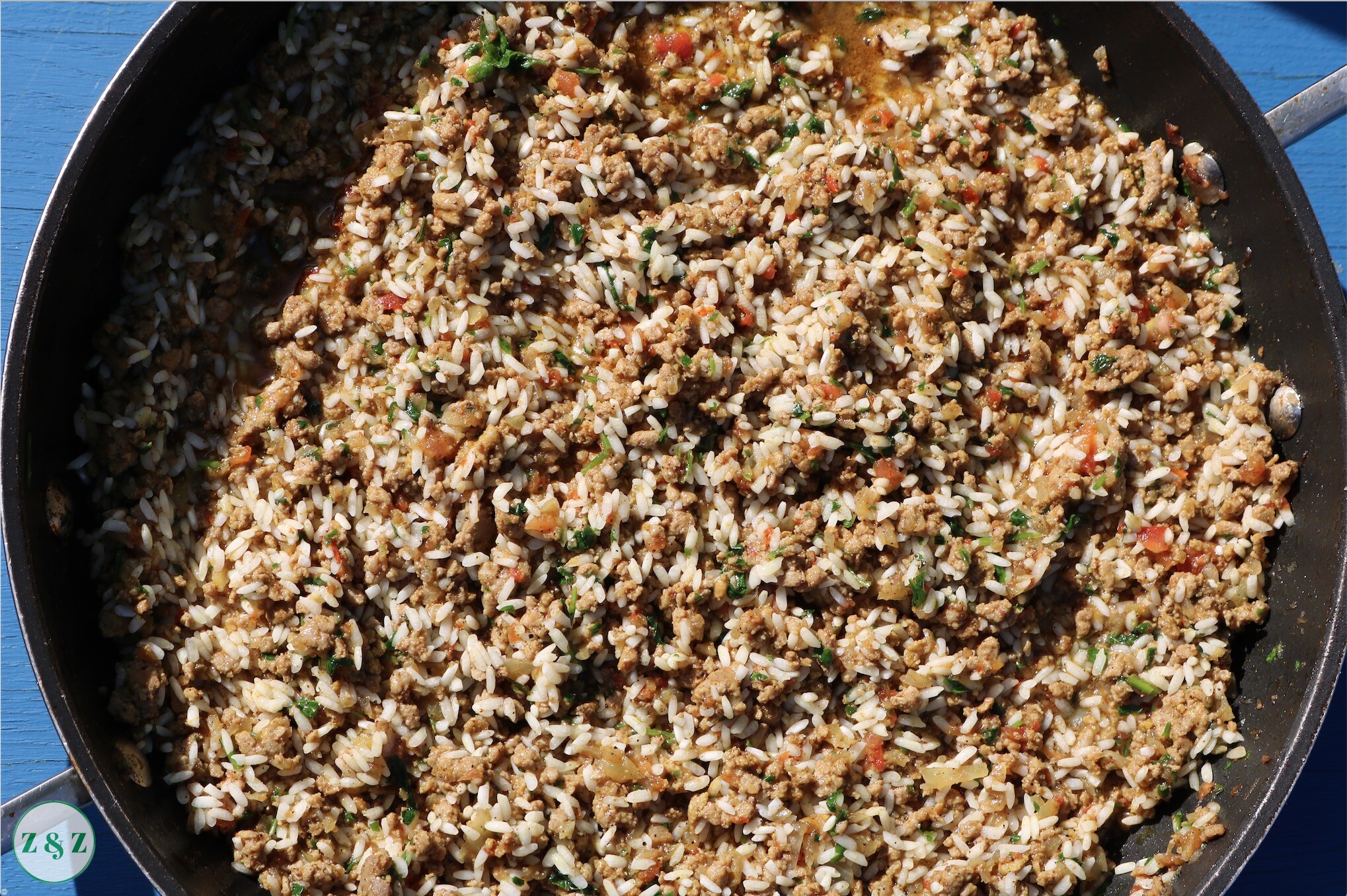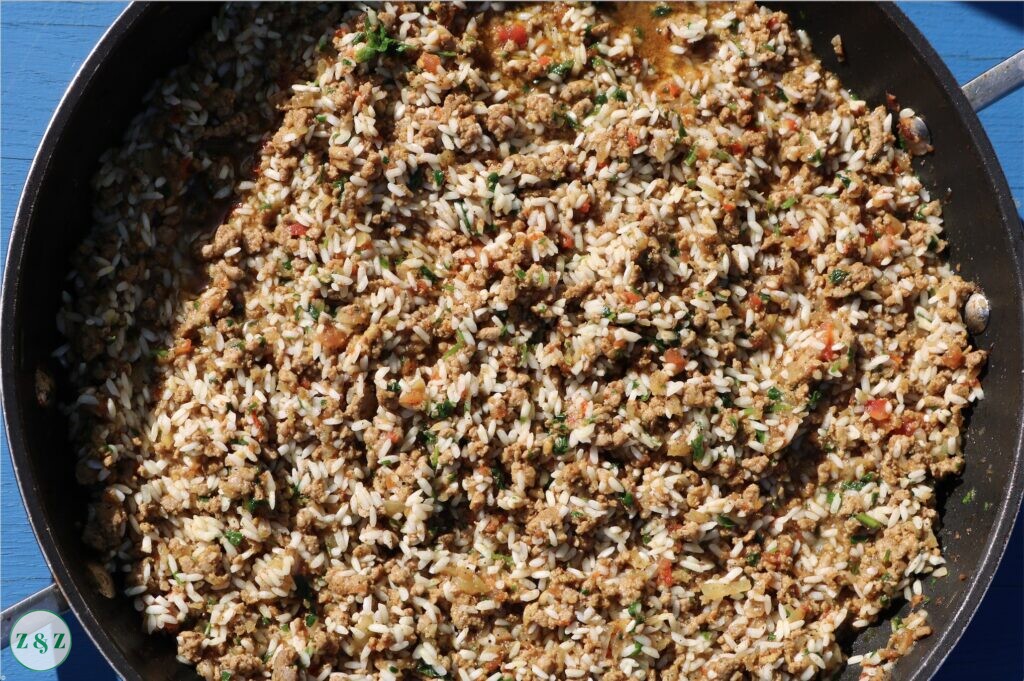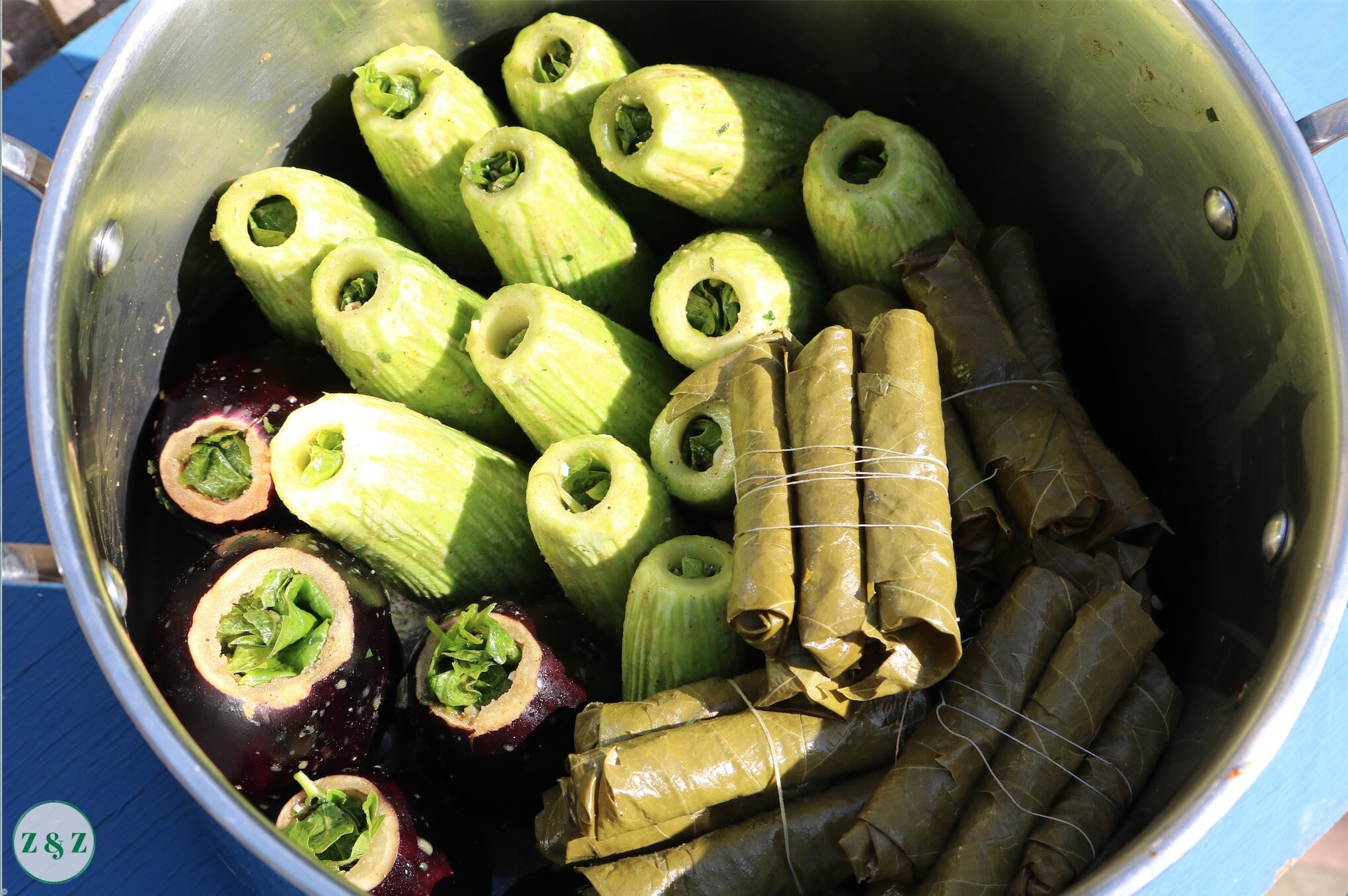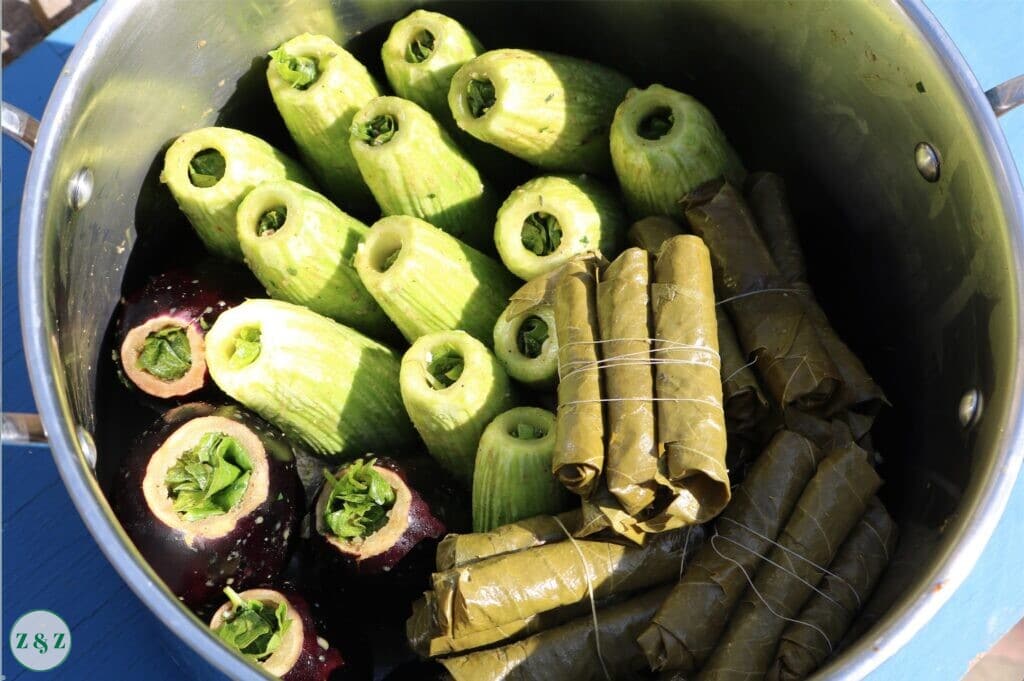 The tomato sauce
If you are in prime tomato season in the summer then I would advise using lots of fresh tomato to make the sauce. You can do this by blitzing some in a food processor, or if you have time peeling the tomatoes and then blending them to make a finer sauce.
This might not be an option at other times of the year and it is perfectly fine to use canned tomatoes (pureed using a hand blender) or my preferred option using pasatta.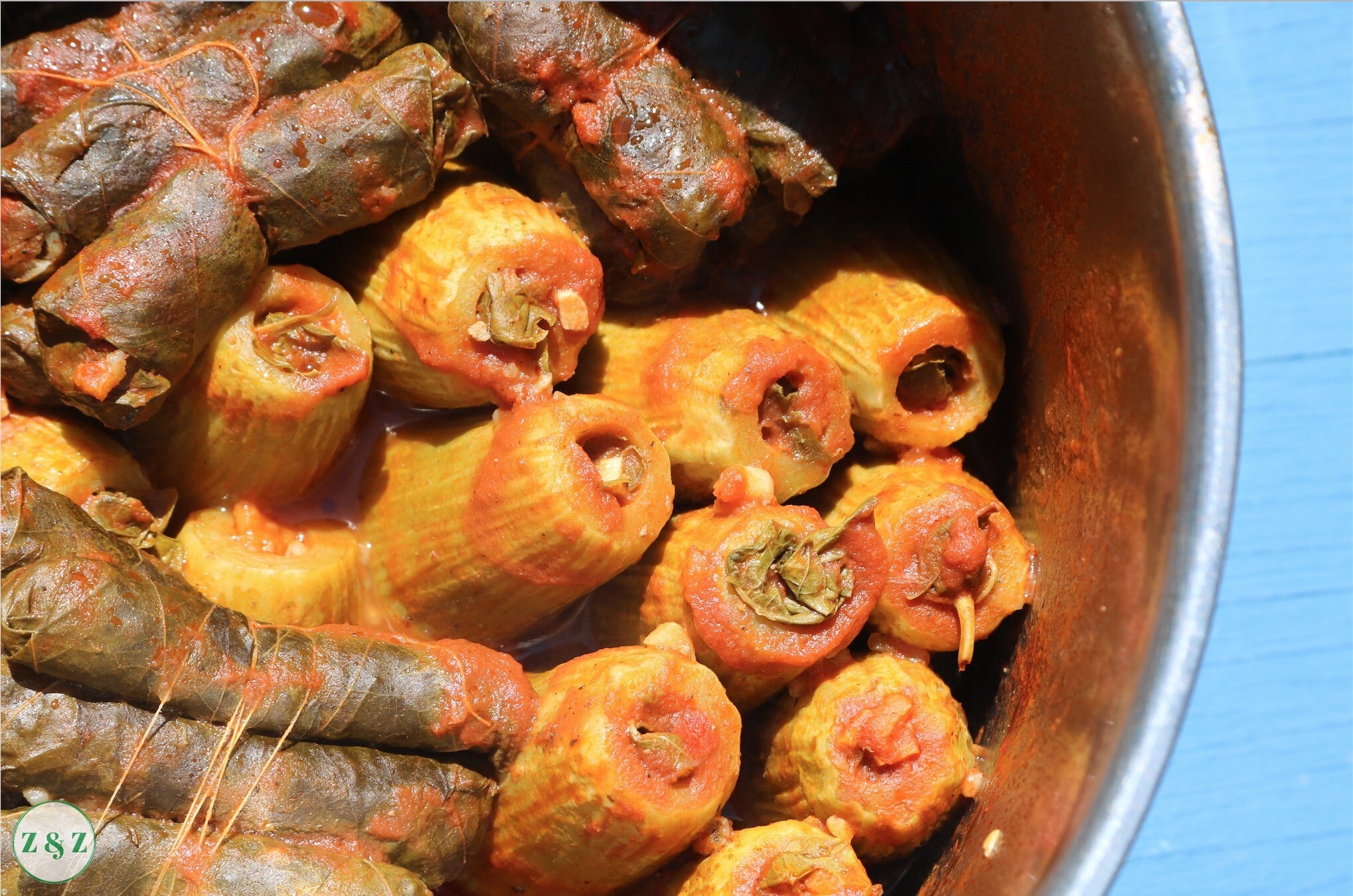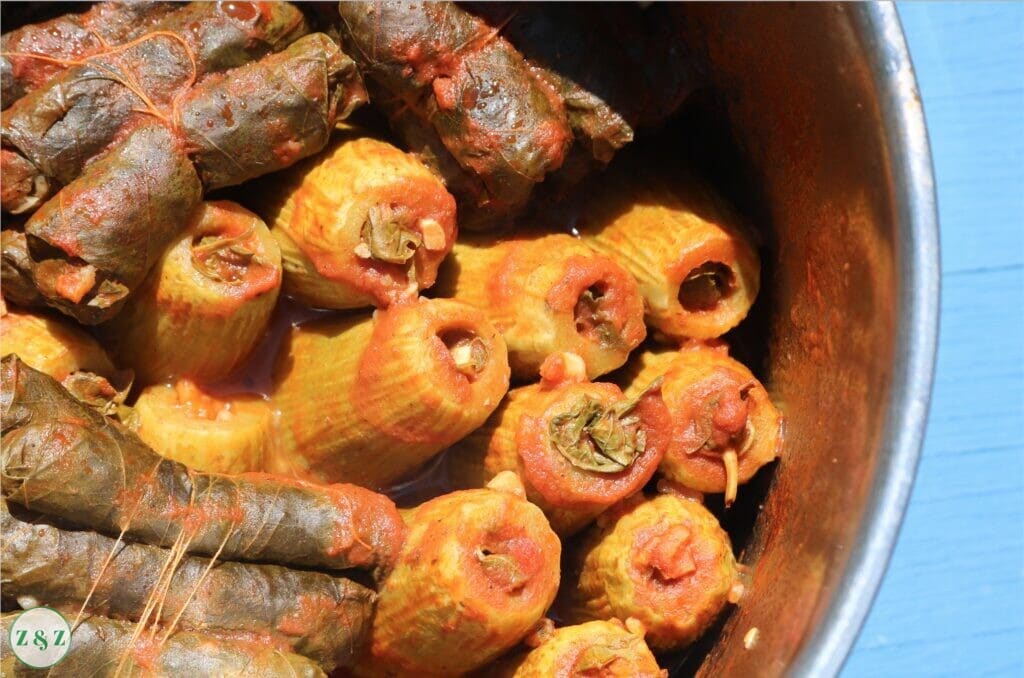 You can also use tomato concentrate combined with water. The important thing is to taste the sauce once it has come to the boil and adjust any seasoning. Then, taste it again half way through cooking when you add the garlic, lemon juice and dried mint to make sure it is perfect.
Failure to taste the sauce might mean your overall flavour is bland or too salty and it's really simple just to adjust it by either adding more lemon, salt water or pepper.
How to stuff the kousa
I have a handy video (see recipe card) to show you a quick and efficient way to get the stuffing in. You don't need to use any utensils as your hands are the best tools for this job.
Grab a small handful and with the tips of your fingers start filling the kousa. Leave about an inch from the top so you can close the kousa with either the original tops or some grape leaves.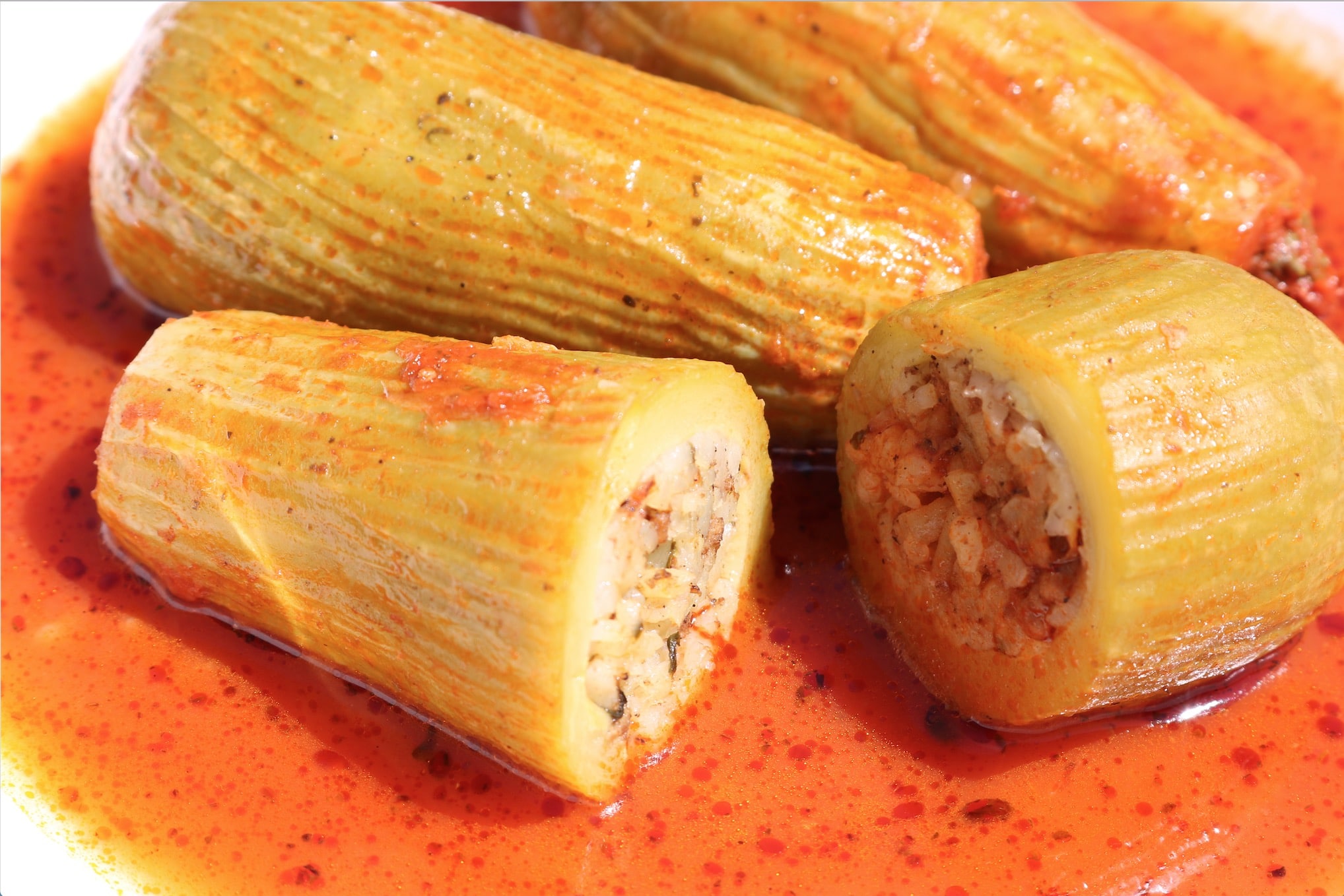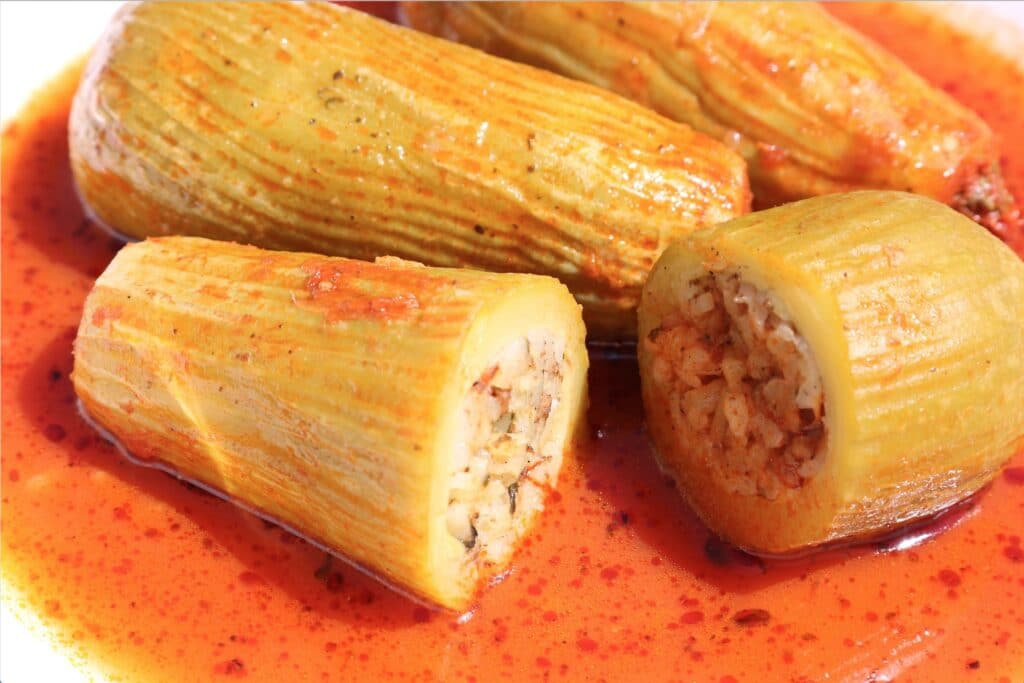 Tips for making the best kousa mahshi
You need a decent sized pot to bring the whole dish together. The kousa needs enough space to cook in the sauce.
Cover the kousa with a plate or lid that fits inside your pot for the first half an hour of cooking so they don't fall apart. You can take the plate off for the last half an hour of cooking as the rice should have cooked.
The same stuffing can be made with baby eggplants, peppers, grape leaves and they can all be combined in the same pot. I have even seen people add stuffed tomatoes and potatoes there are no limits really.
If you like wow factor moments, then you also need a large platter to put all the stuffed vegetables in and about half a dozen people to dive right in.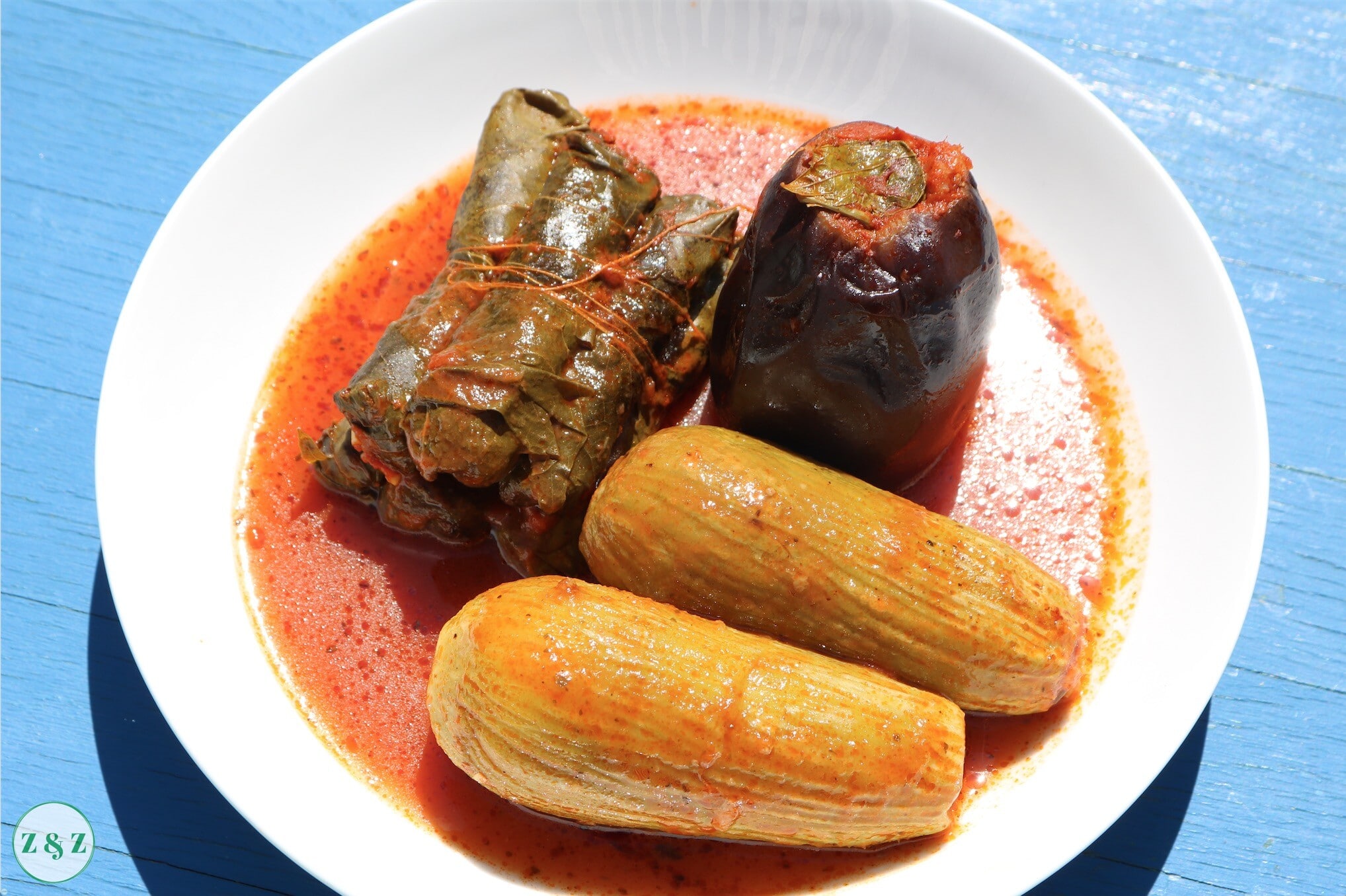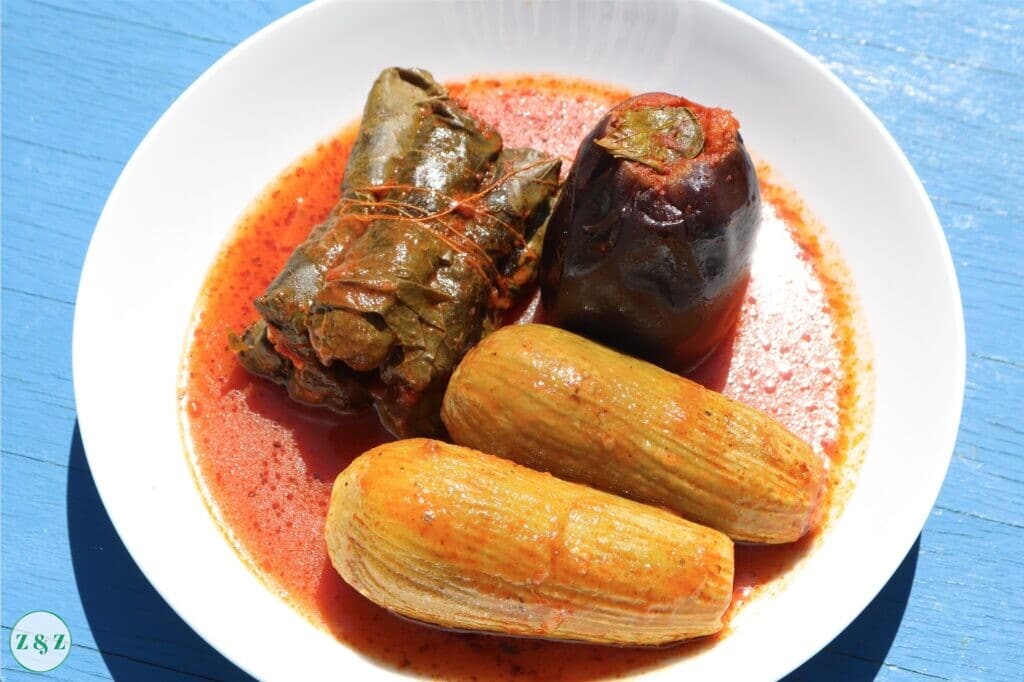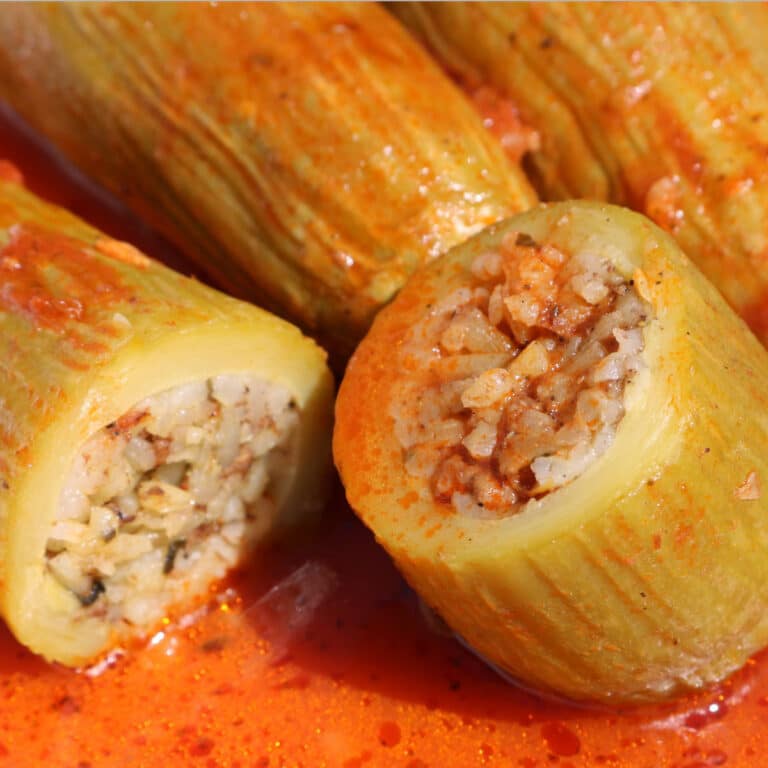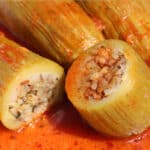 Kousa Mahshi (Stuffed zucchini)
Lebanese stuffed zucchini cooked in a tomato sauce
Ingredients
2

kg

of 'Magda' light green zucchini
For the stuffing
250

g

of minced meat

lamb or beef

1

small onion

chopped finely

2

tomatoes

chopped finely

¼

teaspoon

black pepper

¼

teaspoon

white pepper

⅛

teaspoon

turmeric

¾

teaspoon

seven spice

1

teaspoon

salt

Small handful of parsley

chopped finely

10-15

mint leaves

chopped finely

¼

cup

regular olive oil

11/2

cup

short grain rice
For the tomato sauce
1

carton of passata

approx 500g

Extra water if necessary

2

lemons

juiced

¾

tablespoon

salt

2

tablespoon

of regular olive oil

2-3

garlic cloves

roughly chopped

1

teaspoon

dried mint
Instructions
To prepare the zucchini
Wash the zucchini well. Remove the tops and set aside if you are going to close the zucchini with them

Using a corer, scrape out the insides of the zucchini leaving around a half centimetre margin

With a serrated knife, lightly score the outsides to make grooves on the zucchini skin
To prepare the stuffing
Wash the rice and soak in some water for around half an hour. Then drain the rice and add to a large mixing bowl

Add the mince meat, chopped tomatoes, parsley, mint, onion, seven spice, white and black pepper, salt and oil. Mix well and set aside
To make the stuffed zucchini
Prepare a large pot to stack the zucchini in

Take small handful of the stuffing and gently fill the zucchini leaving around an inch near the top for the cooked rice to expand

Stuff the ends either with the original zucchini tops or some grape leaves. Stack the zucchini in the large pot

Once you have finished stuffing all the zucchini, add the carton of passata, salt, regular olive oil, juice of 1 lemon and top up with water.

Cover with a plate that fits inside the pot and bring to the boil. Then reduce the heat to a low simmer

After half an hour of cooking, remove the plate and add the garlic, dried mint and juice of another lemon

Simmer for another half an hour and taste the sauce to see if it needs any seasoning, salt or lemon adjustment

Taste one zucchini to ensure it is done and if you are happy turn the heat off

Serve in a shallow bowl with some of the tomato sauce
Recipe Video
Recipe Notes
If you prefer to pre-cook the meat for the stuffing, lightly sauté the onion until translucent then add the meat and cook for around 10 minutes until most of the juices run dry. Then add the rest of the raw ingredients and stuff the zucchini accordingly.
If you are in tomato season, you can also make the tomato sauce out of fresh tomatoes, just simply blitz them in a food processor.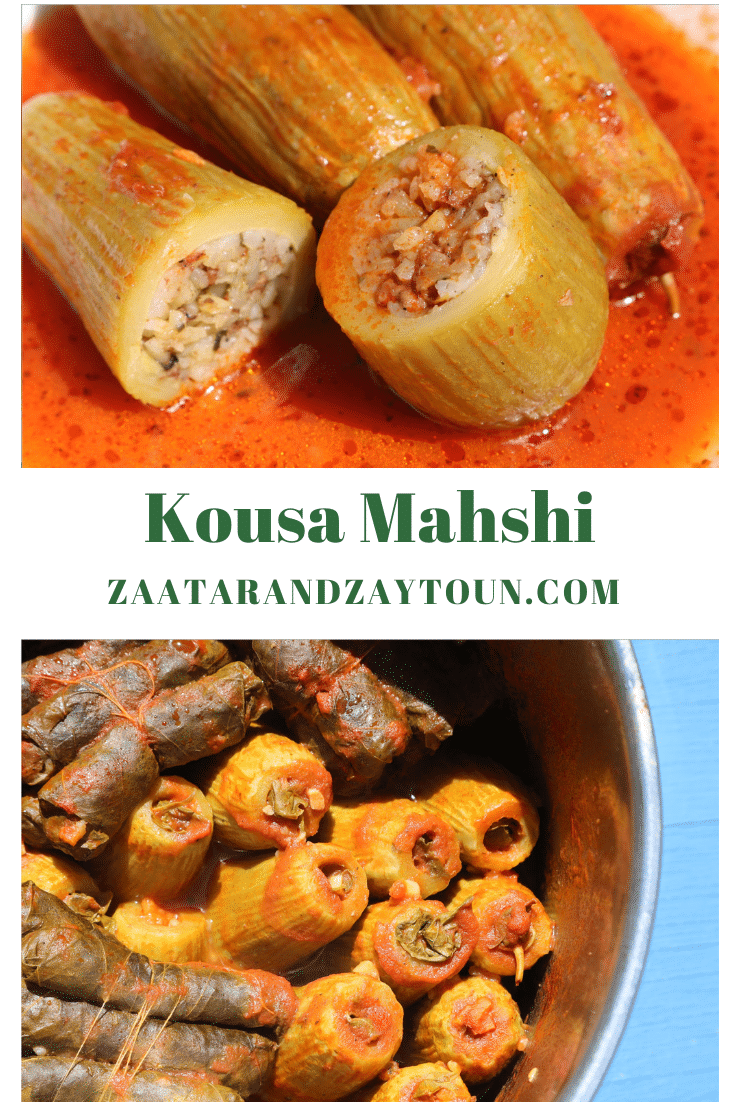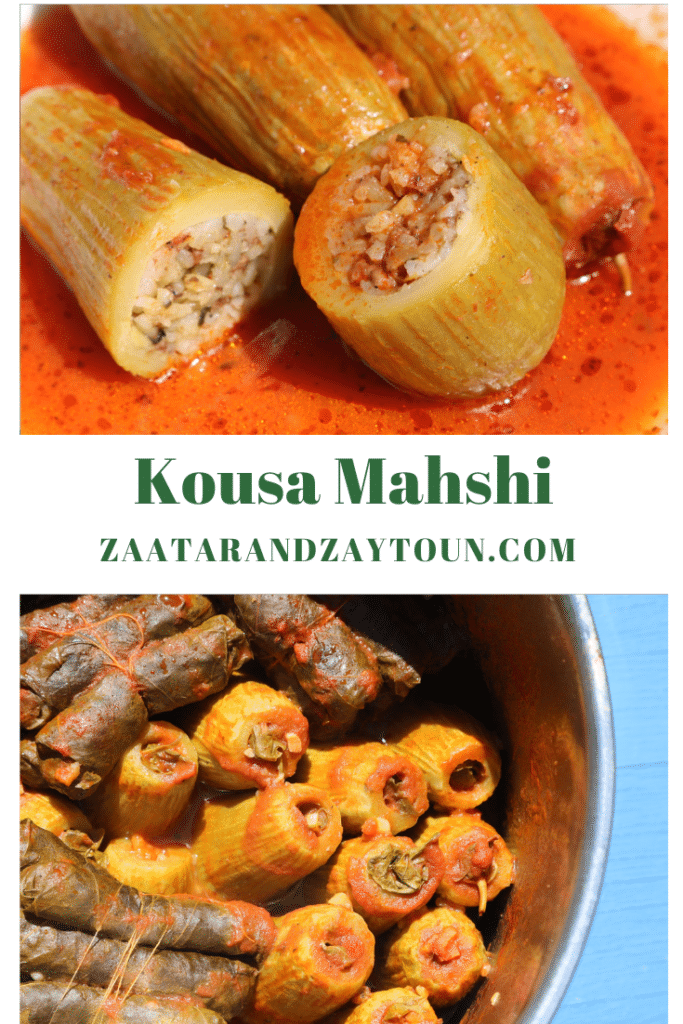 If you make any of our recipes let us know how it went by giving us a star rating below.
We have a lively Facebook group where we post frequent recipes and discuss Lebanese cooking in general, as well as a handy Pinterest page where you can save all of your favourite Zaatar and Zaytoun recipes!
You might also like these other recipes from the Zaatar and Zaytoun collection: