My Lebanese mince and potatoes is like the classic version but just upgraded to make your life better.
I've added a few extra herbs and spices to the mix to give it va va voom. When you try this version you will find it hard to go back to the simple one.
I'm prepared to take bets on this.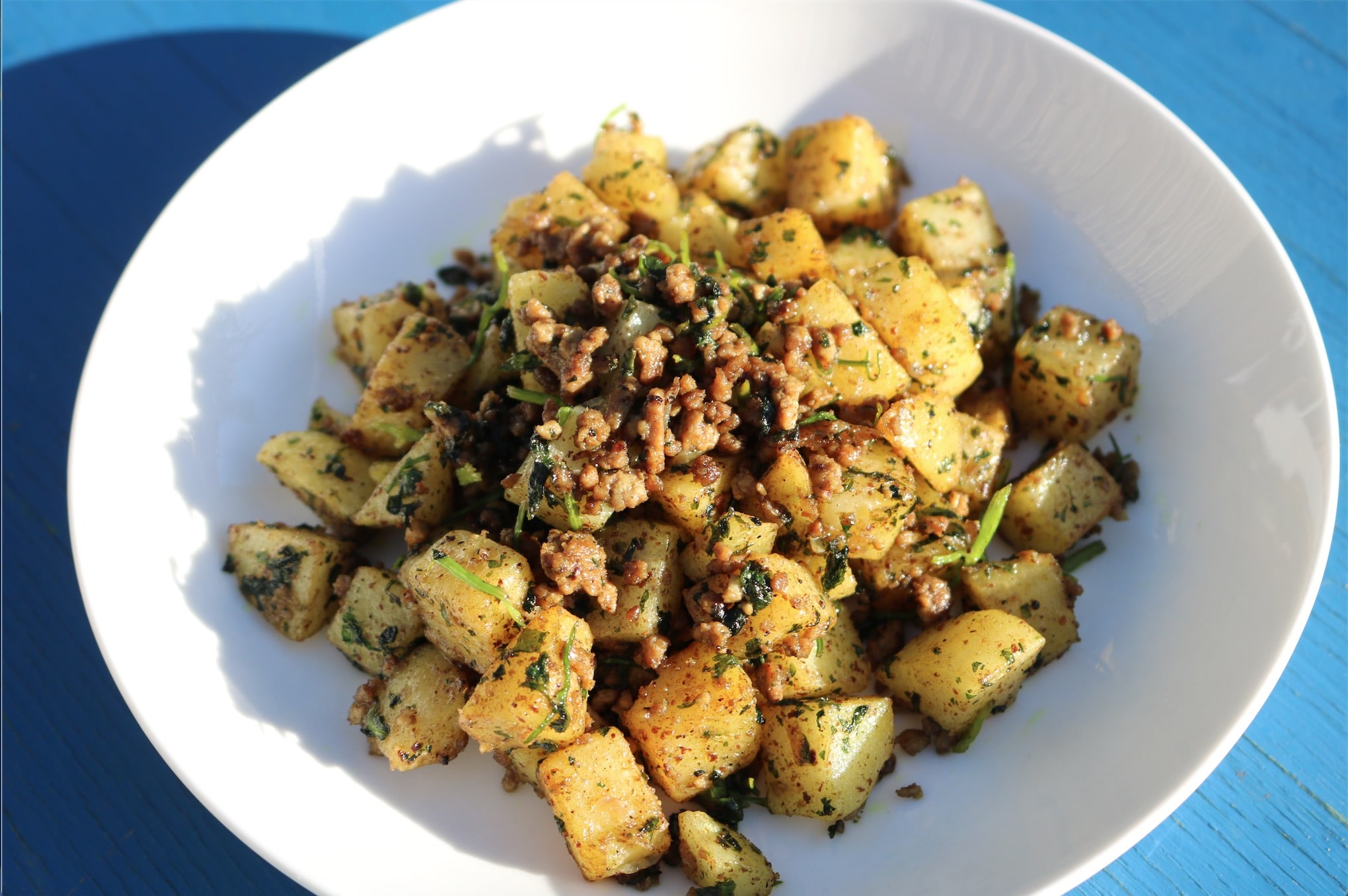 This dish shares many ingredients with it's cousin batata harra (potatoes, cilantro, garlic and chilli) which, as you might know is my signature dish (and most requested recipe after a dinner party).
So I apologise if I seem overconfident when telling you my secrets on how to make this meal magical. Sorry Not Sorry 😂
The Meat
Cooking a batch of minced meat and freezing it for use when necessary has become such a blessing (baraka) in my kitchen I cannot begin to tell you.
You can heat up a tiny handful in a matter of minutes and and sprinkle some on your breakfast eggs.
You can add it to pasta to make an instant meal (without tomato sauce).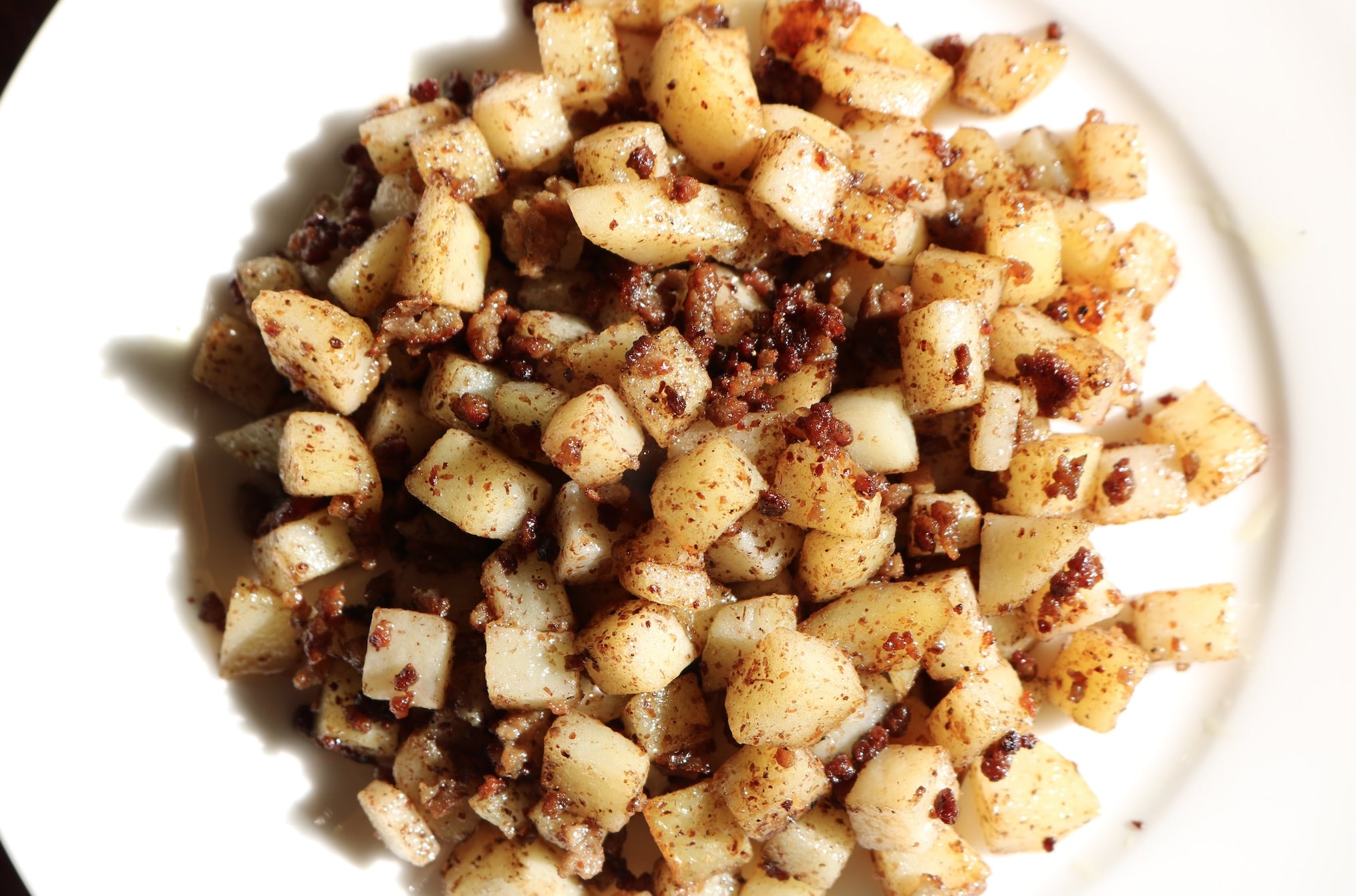 You can add it to rice with some peas and make some Lebanese rice either by itself or with another main such as chicken or even salad.
One of my favourite ways to use Lebanese spices mince is to add it to fried potatoes with a little cilantro (fresh coriander) and a pinch of spices.
Top tips
Making mince meat is an easy thing to do of course, but there are good reasons why some mince meat makes you feel like you've eaten sprinkles of heaven and why some makes you queasy.
The first thing you want to do is make sure you get he very best meat you can afford free from any grizzly bits.
You can actually ask your butcher to mince a certain cut of meat such as the fillet, neck or the chuck (for beef) etc. This way you can control the amount of fat to meat ratio.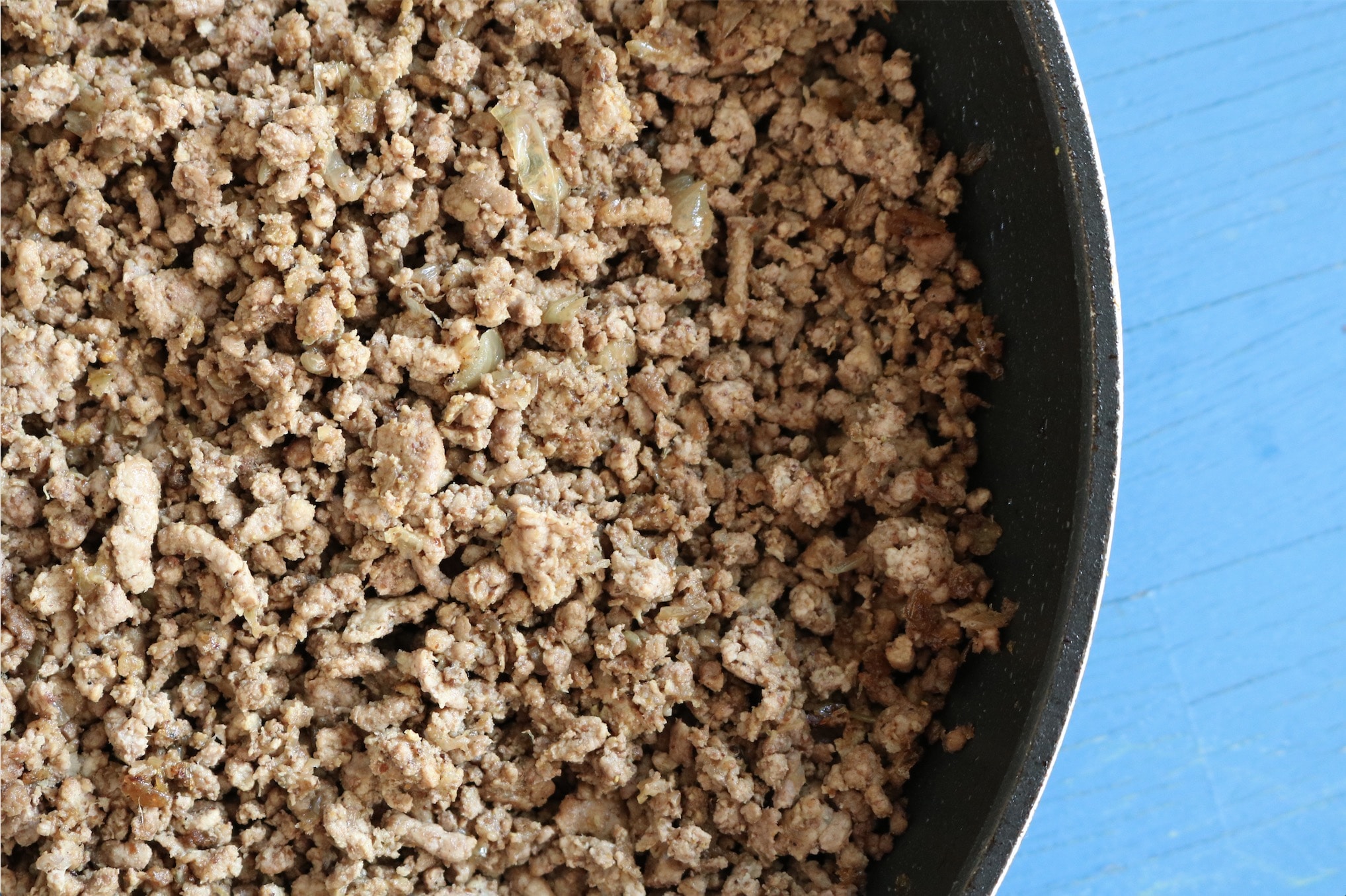 The next thing is that you want to avoid that 'zenkha' taste which happens when meat boils in its own juices, especially with lamb.
If I am frying off mince lamb I always drain the extra juices after 5-10 minutes so this doesn't happen, using a colander if necessary so it won't fall in the sink.
This is less of an issue with beef as it has less fat.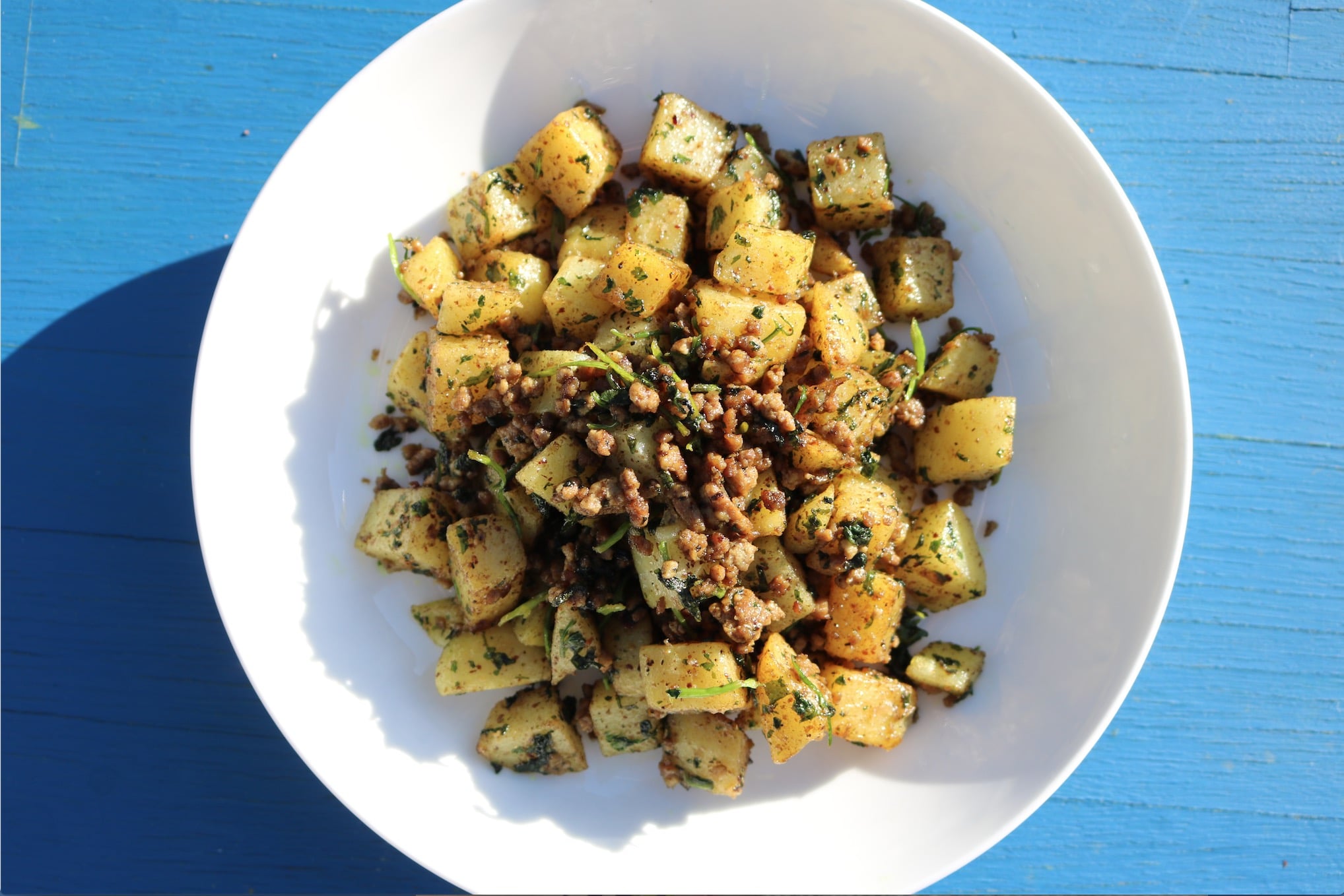 If you have time then caramelise some chopped onion to add to your mince meat. This will take another half an hour but will make sooooooo much difference.
The sweet onions balance out the savoury meat that makes you go Mmmm without realising why.
The best way to caramelise is to cook on high heat for the first five minutes then reduce to low heat and sauté every now and then until you get a good golden colour.
Make sure you use a generous drizzle of regular olive oil to allow for good caramelisation of onions.
Herbs and Spices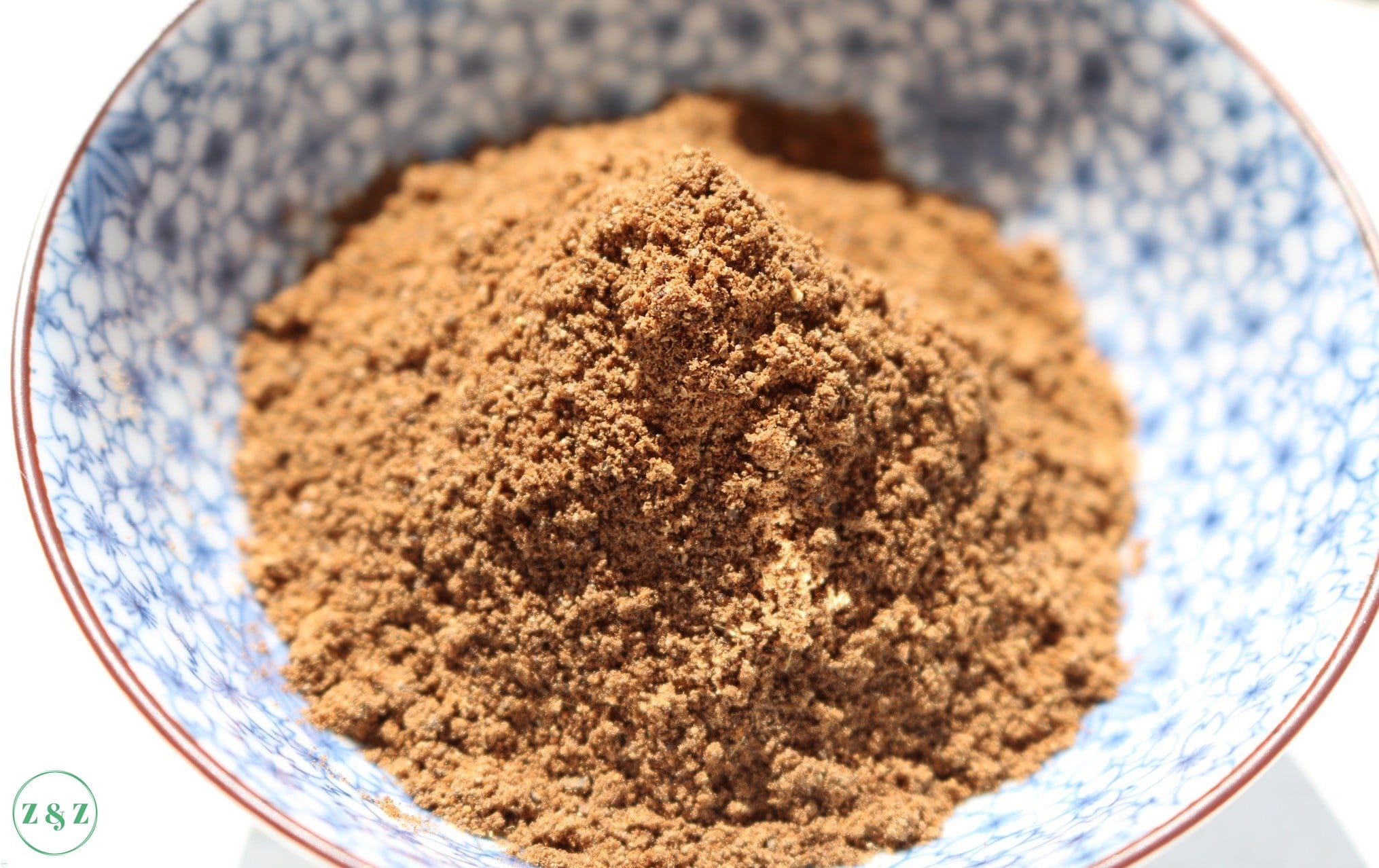 Now for the spices, as ever you will need some good seven spice to get that authentic Lebanese flavour and luckily I have the recipe here for you on the blog.
I have also added a hint of cayenne pepper (or red chilli powder) and a tiny bit of turmeric.
The final touch is to add a good sprinkling of sumac near the end. The more vibrant red your sumac is then the better quality. If you buy brown sumac then it is probably very old.
The sumac adds a welcome sourness to the savoury earthy flavours and really makes a difference so try your best to source some good sumac.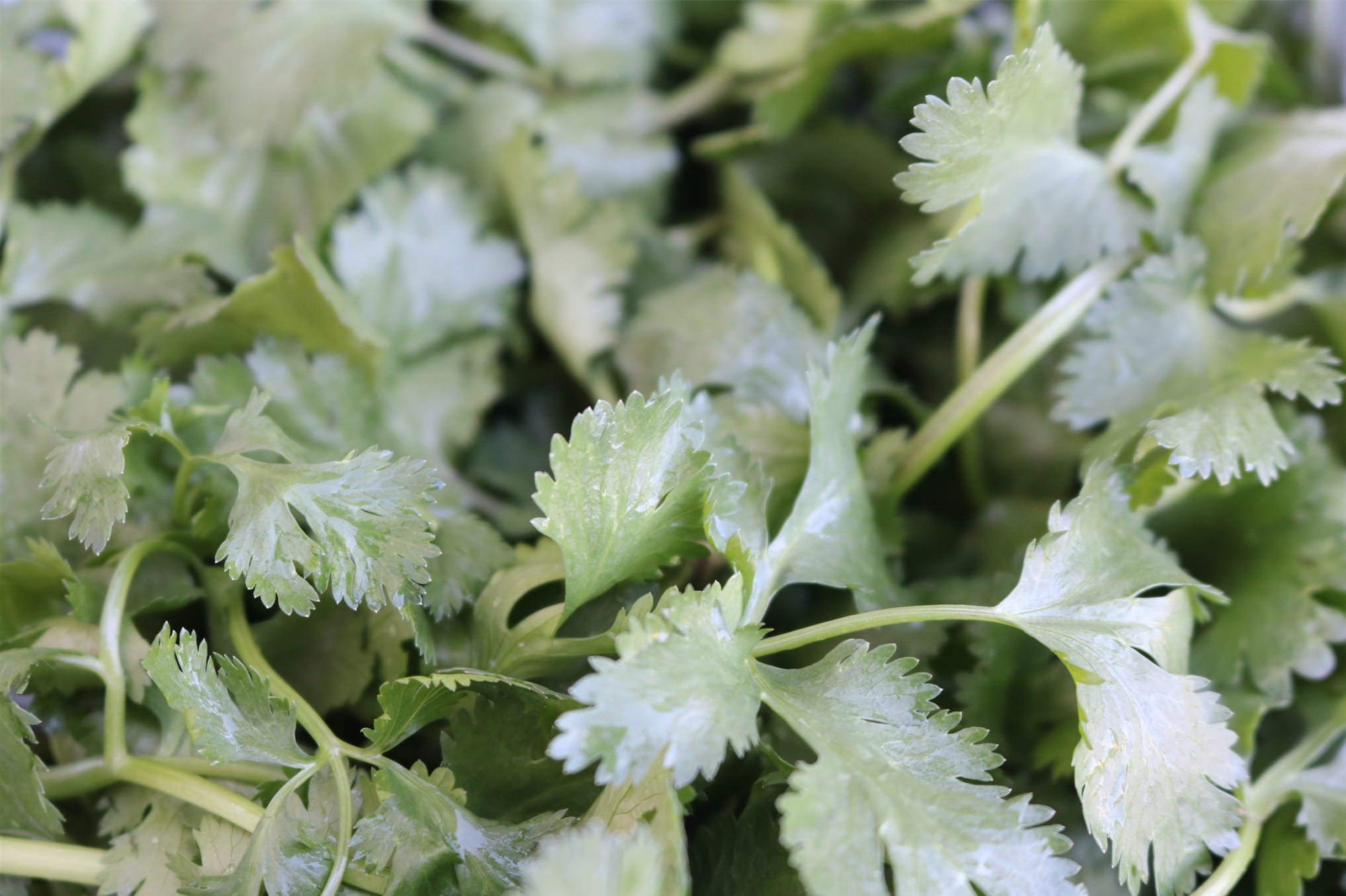 You can use fresh or frozen cilantro (coriander), it gets sautéed so there isn't much difference in the final flavour.
Frozen cilantro is another must have in your freezer so there is no excuse for throwing it out.
The potatoes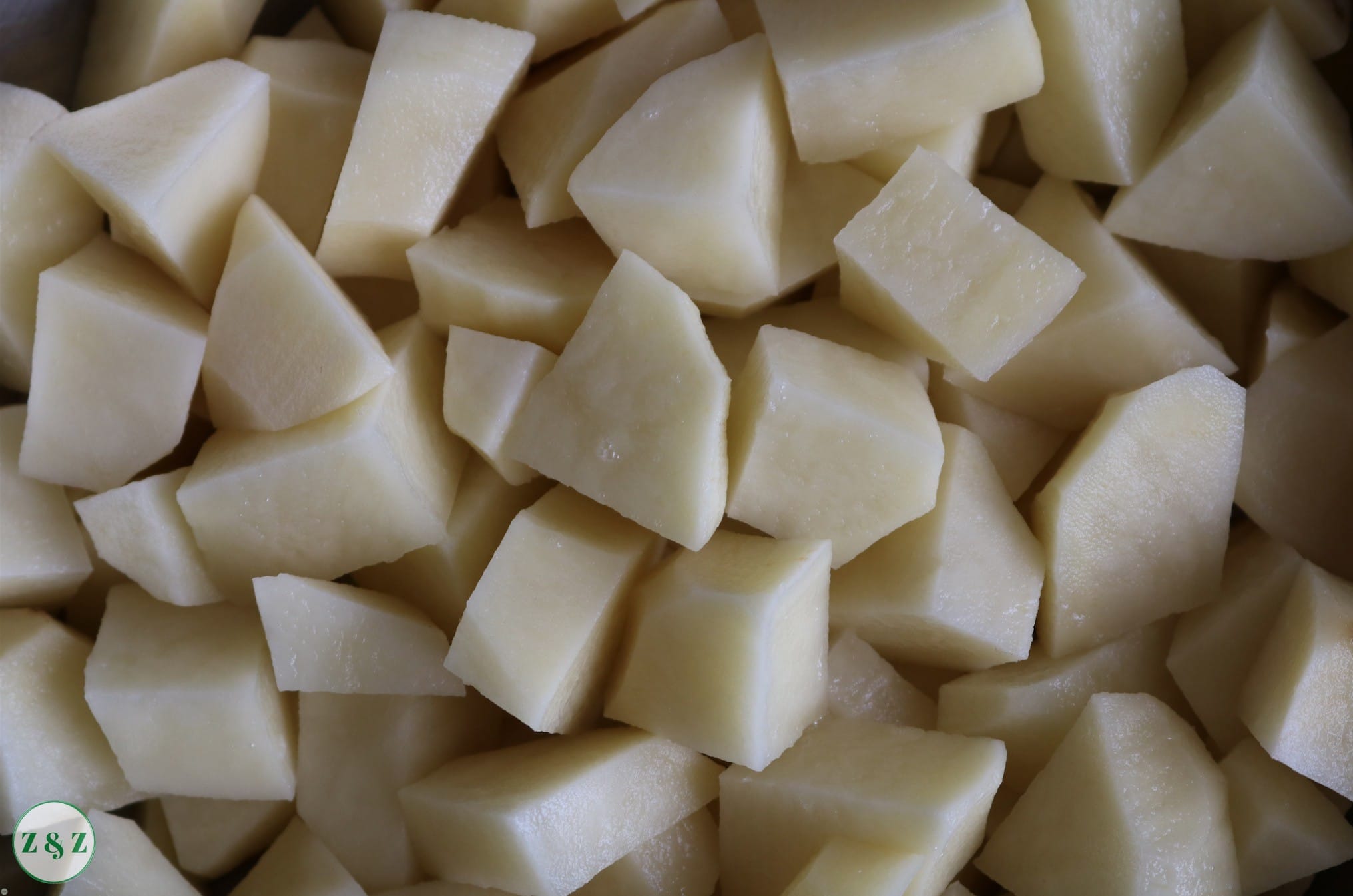 You wouldn't believe the amount of people who don't bother buying the right type of potato for their recipe and then wonder 'oh why is my potato still hard or why has it mushed into oblivion?'
My favourite potato here in the UK is the Maris piper, you can use it for mashing, roasting, jacket potatoes and most importantly frying.
When you fry the Maris piper potato it comes out beautifully crisp on the outside and wonderfully soft on the inside.
The other potato I quite adore is the Cyprus potato (not sure what you guys call it in the States). It is very similar to the potatoes you find in Lebanon from the Bekaa Valley.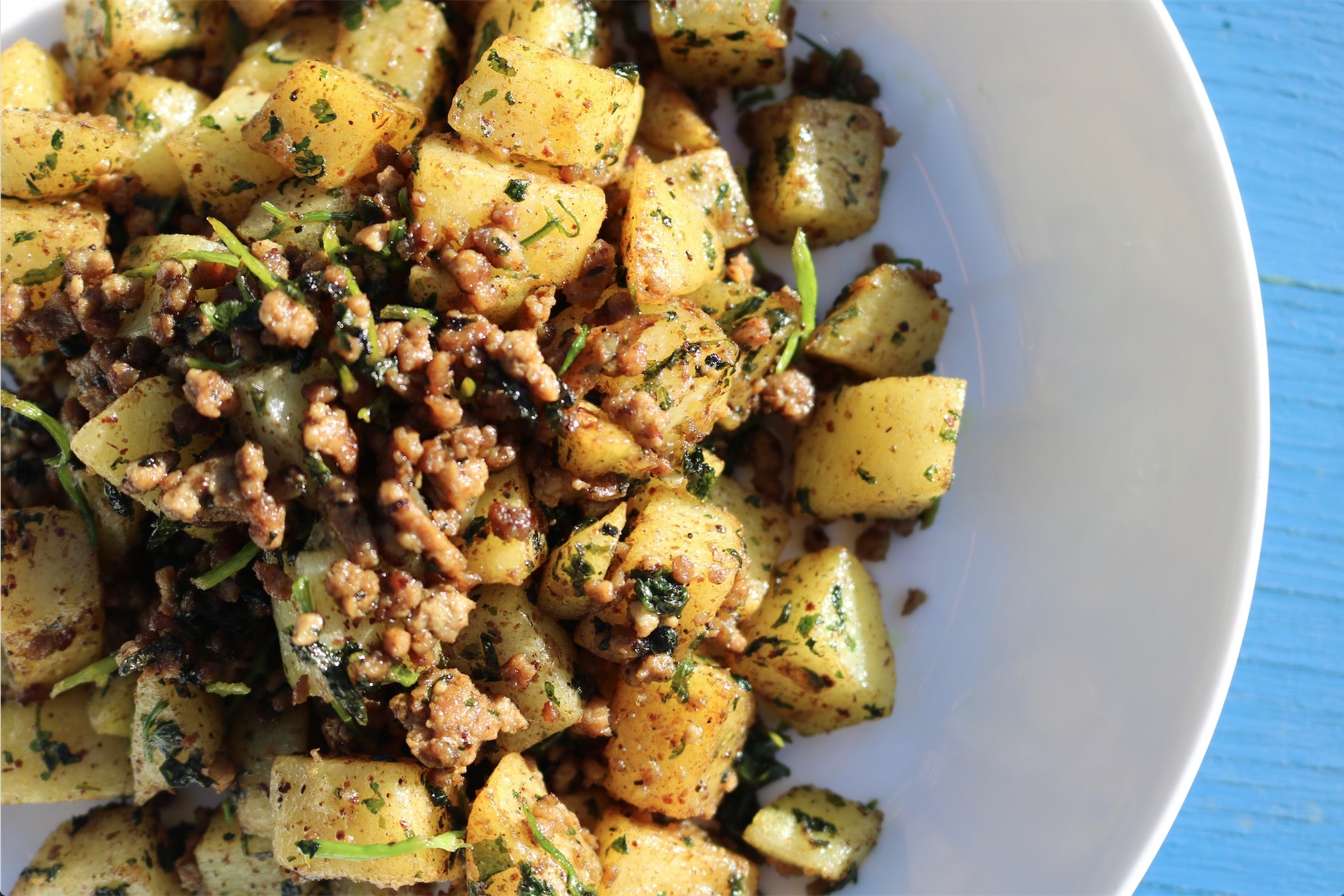 Anyways, buy a potato suitable for frying and not a boiling potato, Okies.
Cut the potato into little bitesized cubes around 1-2 cm thick and half fry before adding to the mince and cilantro.
If you think about it, these meat and potatoes are a nutritiously balanced snack which has protein, veg and carbs in it.
You can make a small amount as a side dish or a substantial amount for dinner itself, accompanied by a nice salad such as tabbouleh or fattoush.
Of course we are Lebanese so we eat it with flatbreads (carbs on carbs I know!) but who cares when something so simple as meat and potates can be so good.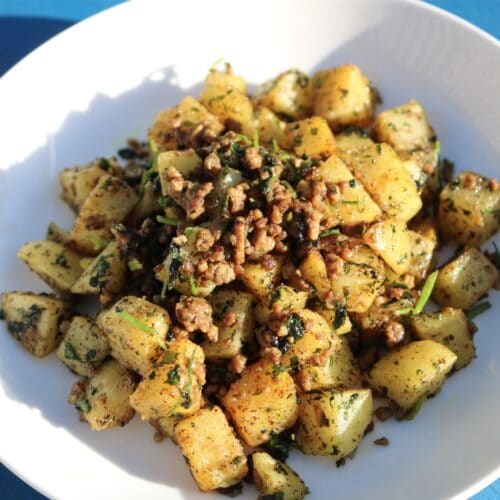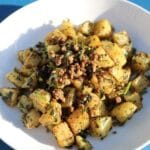 Lebanese Spicy Mince and Potatoes (batata w lahme)
Spicy mince meat and potatoes with cilantro and chilli
Ingredients
4

medium frying potatoes

diced 1-2cm thick cubes

100

g

of mince

lamb or beef

1

onion

chopped

1

cup

chopped cilantro

fresh coriander

¼

teaspoon

seven spice

⅛

teaspoon

turmeric

⅛

teaspoon

cayenne pepper

1

teaspoon

sumac

½

birds eyes chilli

finely chopped

½

teaspoon

of salt

approx
Instructions
Dice the potatoes into thickish cubes 1-2cm thick. Deep fry in vegetable oil until half fried and slightly golden. Drain on a kitchen towel lined plate and set aside

In a wide non stick pan, sauté the chopped onion in 2-3 tablespoon of regular olive oil on high heat for five minutes then on low for another fifteen minutes until golden

Add the mince meat and turn up the heat. If using lamb drain any excess liquids

Press the mince down with the back of the wooden spoon until you have a fine texture then add the seven spice, turmeric, cayenne pepper, chilli, and salt. Sauté for another ten minutes

When the mince meat is mostly cooked, add the chopped cilantro and sauté for another few minutes

Add the fried potatoes and sumac and stir everything together for another five minutes

Taste one potato to check the seasoning and adjust as necessary

Serve with warm flatbreads or a nice green salad.
If you make any of our recipes let us know how it went by giving us a star rating below.
We have a lively Facebook group where we post frequent recipes and discuss Lebanese cooking in general, as well as a handy Pinterest page where you can save all of your favourite Zaatar and Zaytoun recipes.
You might also like these recipes from the Zaatar and Zaytoun collection: