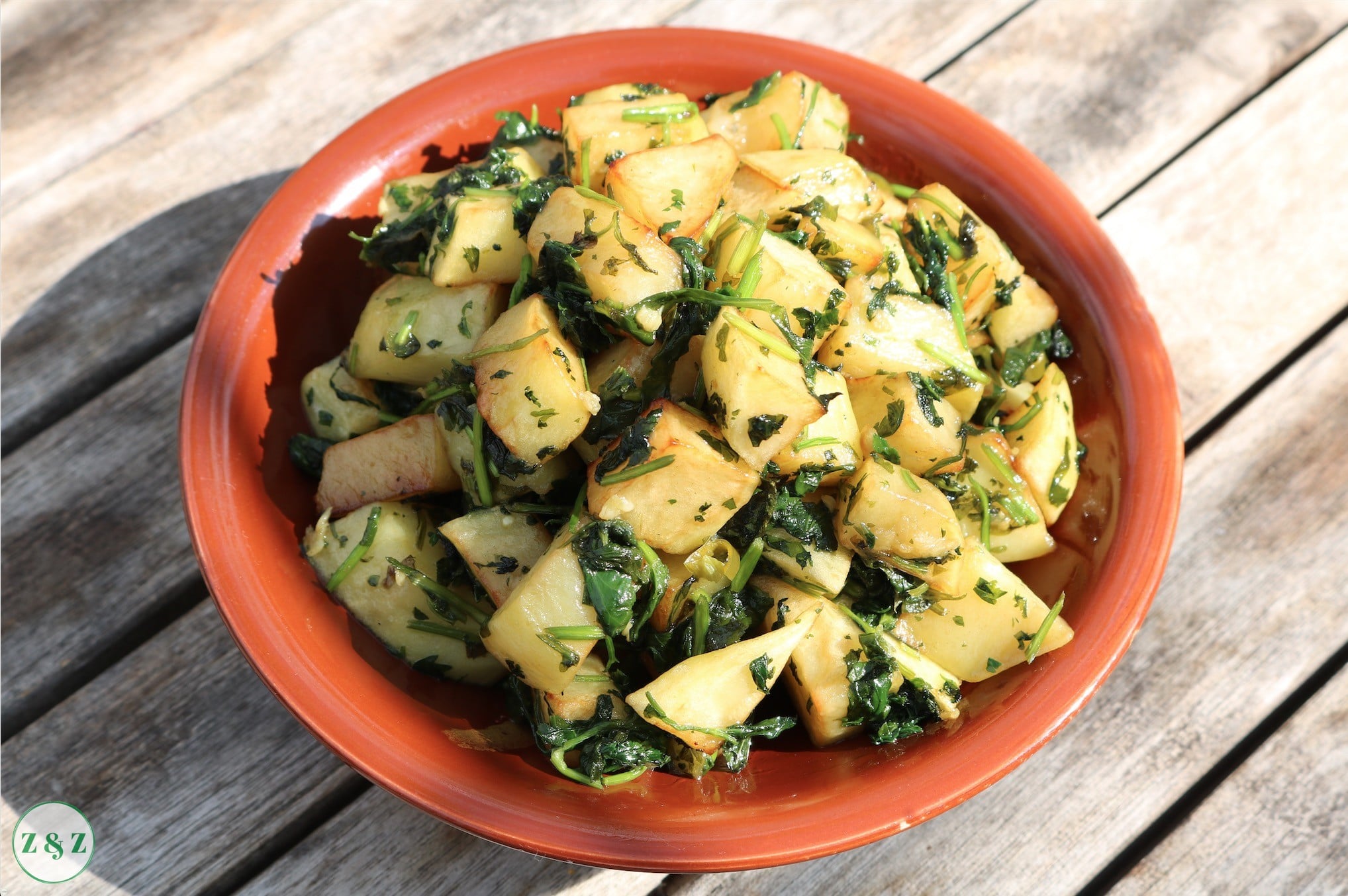 Batata Harra is without doubt my signature dish.
It's one of the first recipes I learnt after moving out of home and it's the recipe people ask me for the most, and yes my version is the best 😌
Potatoes, cilantro, garlic and chilli are all you need to make this simple recipe but as always, it's all about how you treat these most basic of ingredients that will make the difference.
Tips on making the best batata harra
First of all you need to get potatoes that fry well, and by this I mean varieties that retain a crispy crunch when they are golden; Maris Piper and Cyprus potatoes will do the job nicely.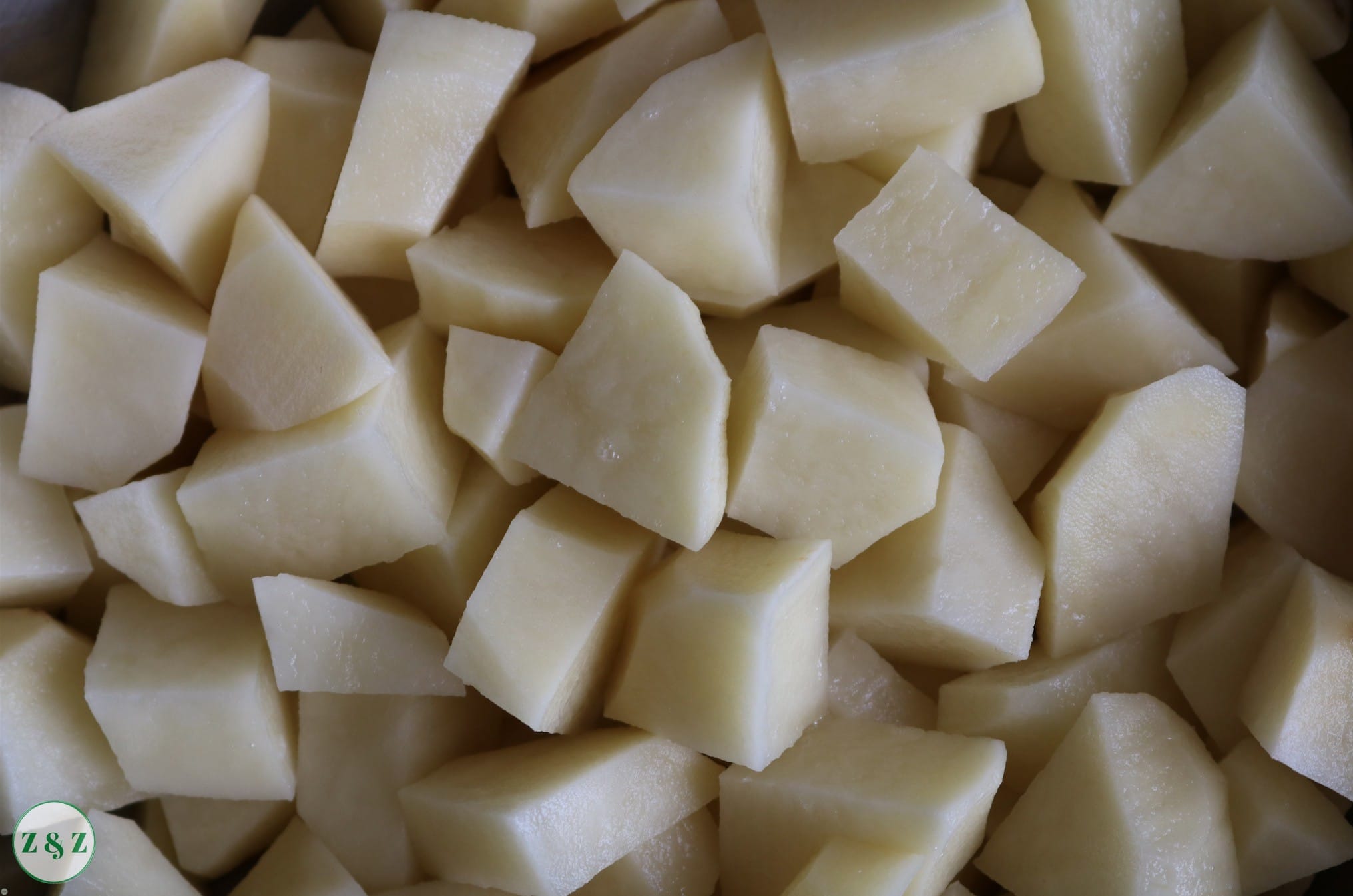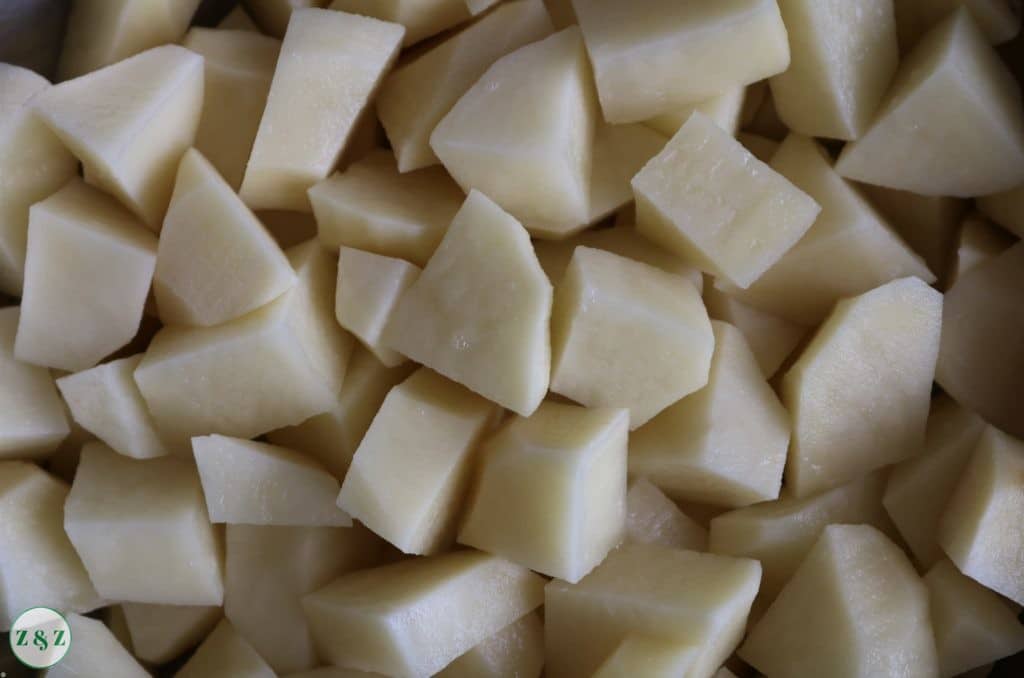 Dice your potatoes into 1-2 cm thick cubes by first slicing into thick rounds, then slicing in half long ways and then into cubes.
Half fry your potatoes in plenty of vegetable oil so they are light gold in colour. You can finish cooking them off with the cilantro and garlic.
The cilantro
Secondly you need a respectably sized bunch of cilantro, preferably from your green grocer and not those sad sample sized bags you find in supermarkets.
When you choose your cilantro make sure it's green and the leaf is supple and vibrant (feel it if you have to).
When I first started making batata harra, I used to add the whole cilantro bunch because I didn't want to waste it.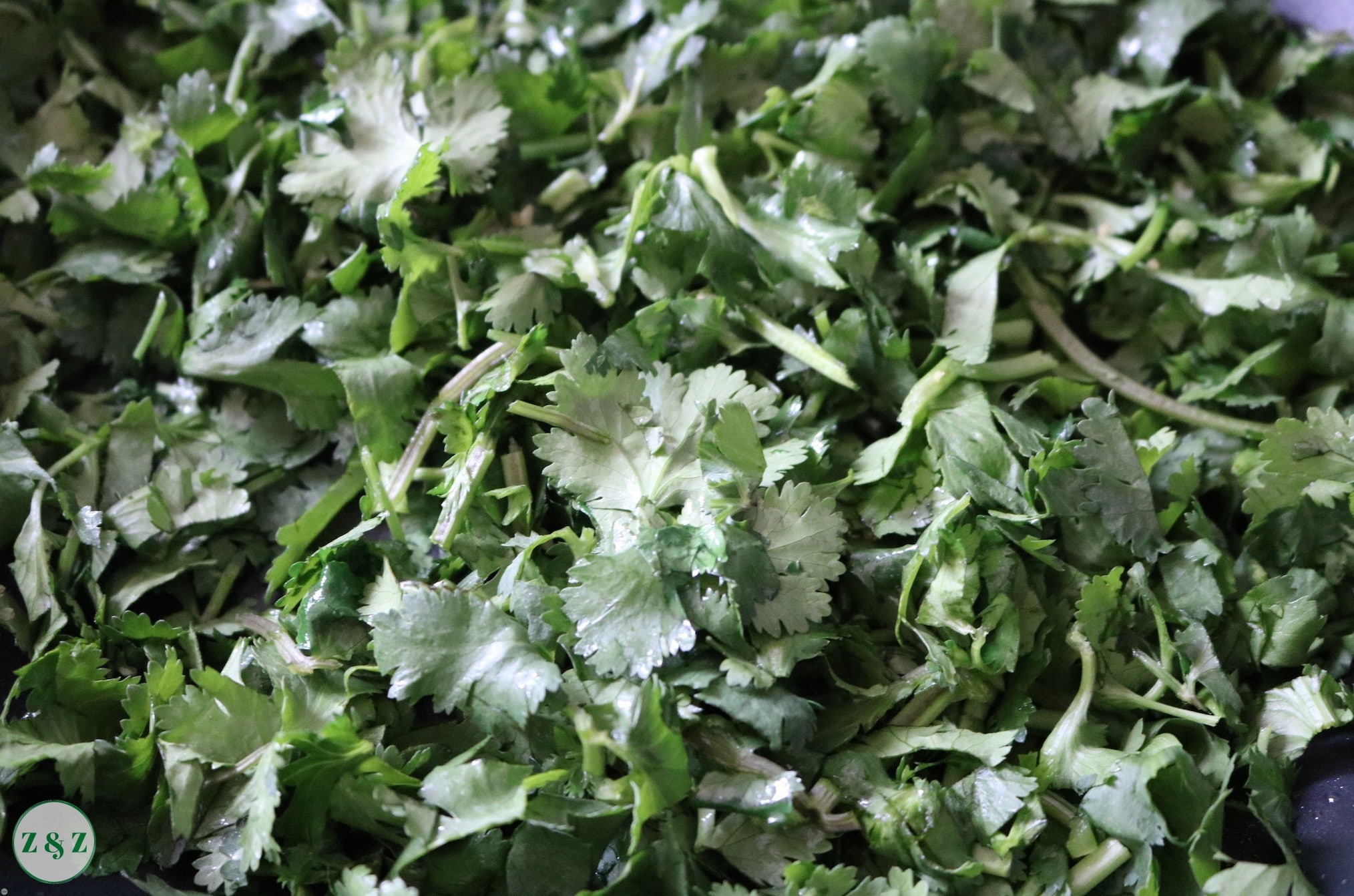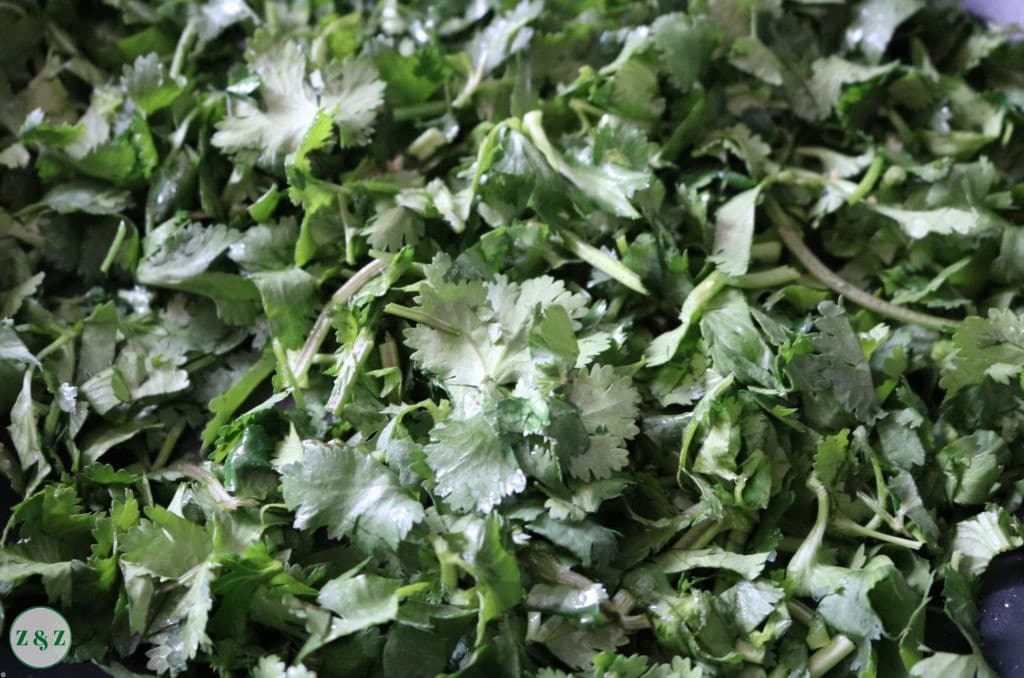 Little did I know at the time, that this amateur adjustment would be the secret to my spicy cilantro potato glory.
Most recipes will ask you for a handful of cilantro, but it is never enough, the cilantro will wilt and though it may look like a lot, trust me it will be all the more delicious.
And yes it's true that I once went to seven different green grocers turning my nose up at inadequately fresh cilantro in the pursuit of the perfect bunch.
The garlic
Third, take care to never burn the garlic which is easier said than done because garlic waits for you to turn around and then scorch itself 😱
After I heat the regular (not extra virgin) olive oil I put the garlic in and turn it down to the lowest setting, sometimes I even turn off the heat and leave it into simmer for fear of burning it.
At the same time you don't want uncooked garlic which will make you burp offensively so you know when it's done as soon it gets the ever so slightest golden colour, in fact you're going for beige not golden.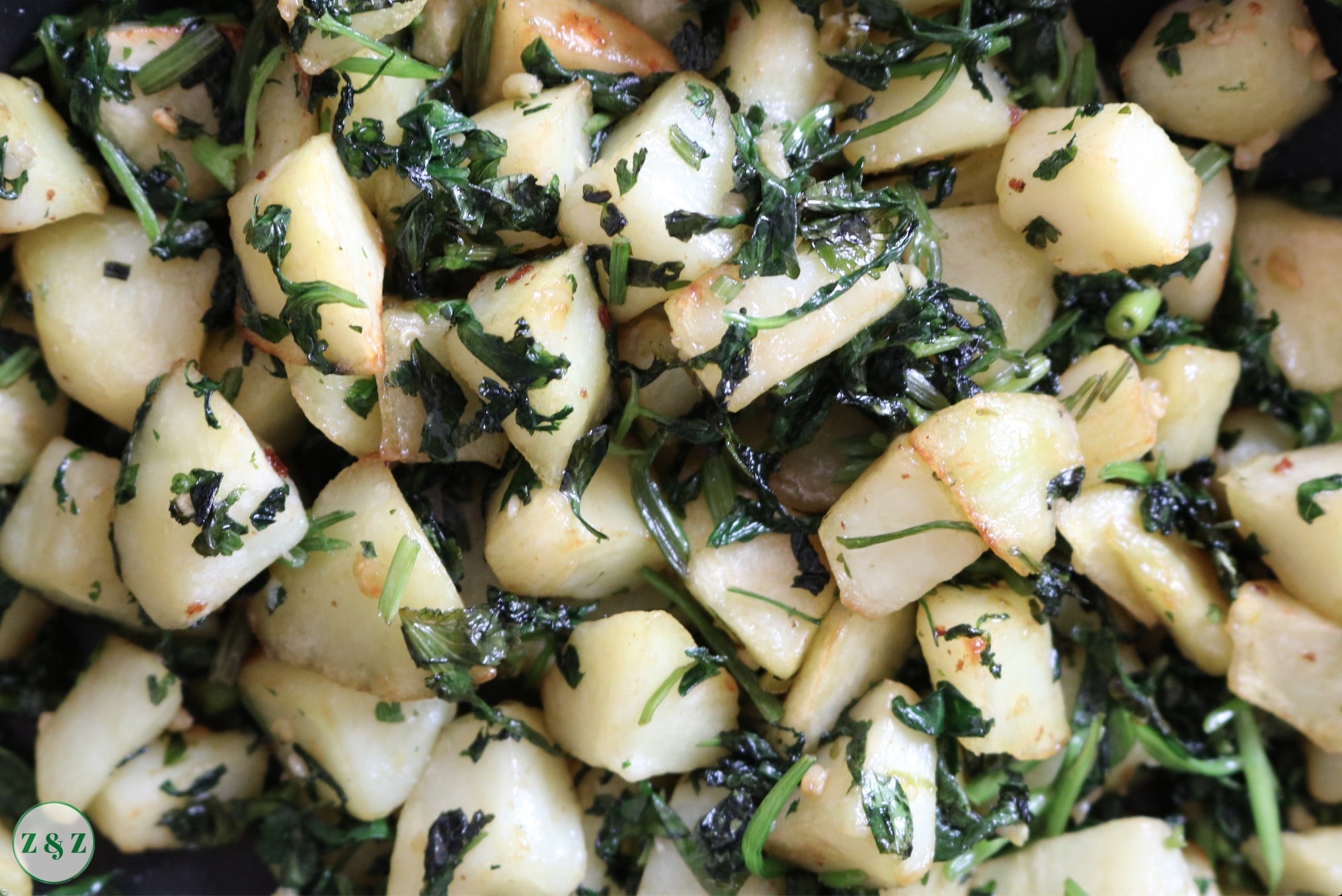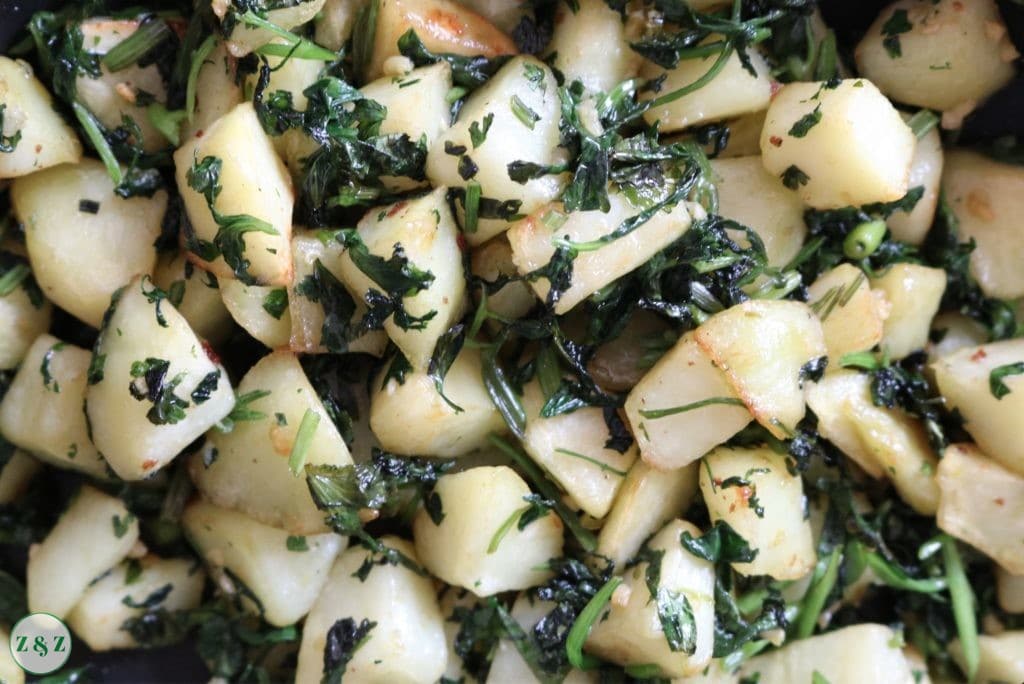 The chilli
Next we come to the spice level - you might think me fussy for specifying 3/4 of a chilli and of course adjust this according to your spice threshold, but I feel it is not spicy enough if I put in half a chilli and too spicy if I use a whole one so I have found 3/4 of an average sized birds eye chilli creates the optimum spice level.
I often freeze batches of washed chopped cilantro for sudden a batata harra fix.
Cilantro is one of the few herbs that freezes well and is nearly as good as the fresh thing.
I freeze the chilli too which actually makes it easier to chop finely. Although it is usually served as a side in restaurants, in my house we have batata harra with salad and other grilled veg such as cauliflowers and aubergines.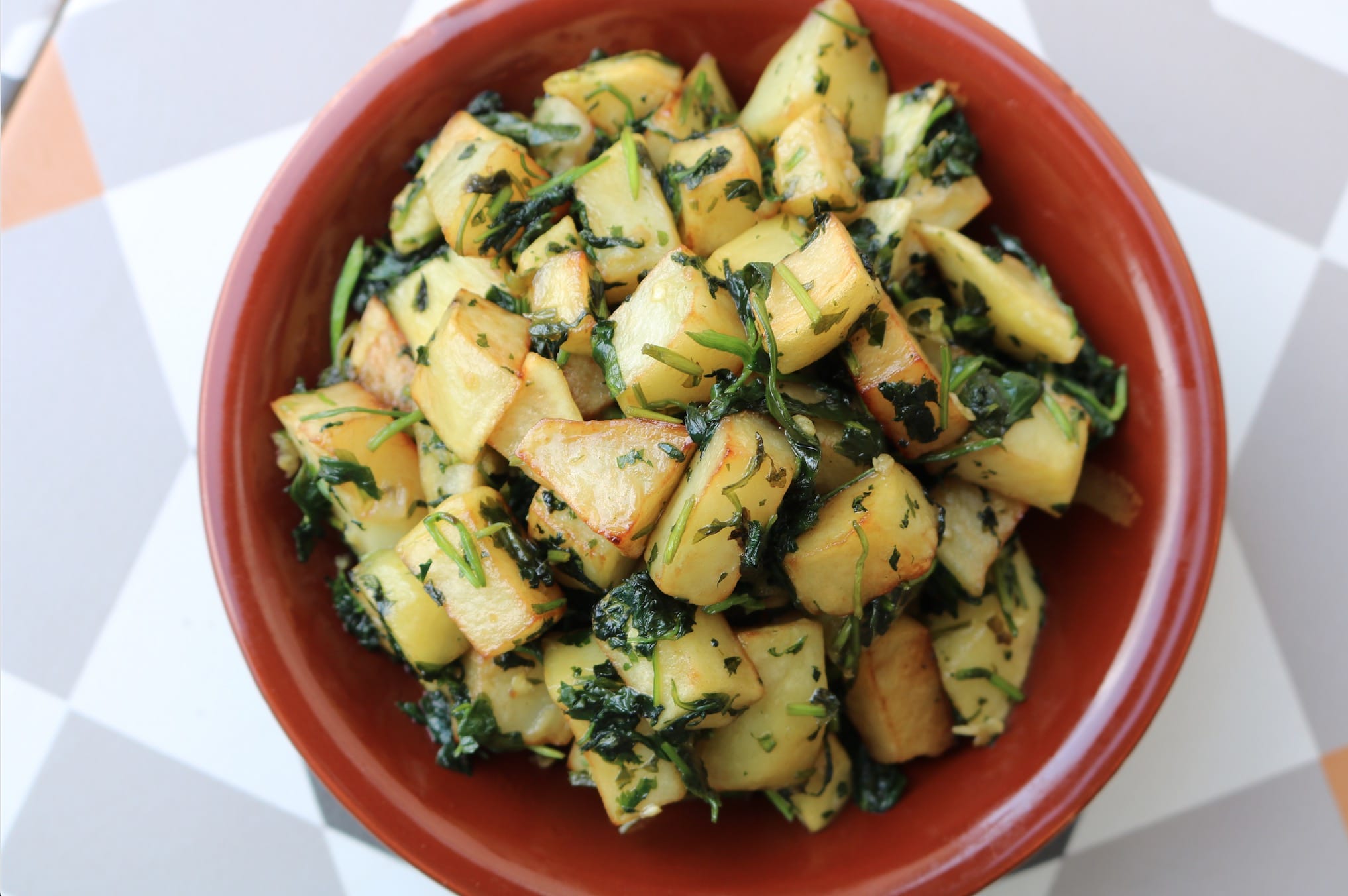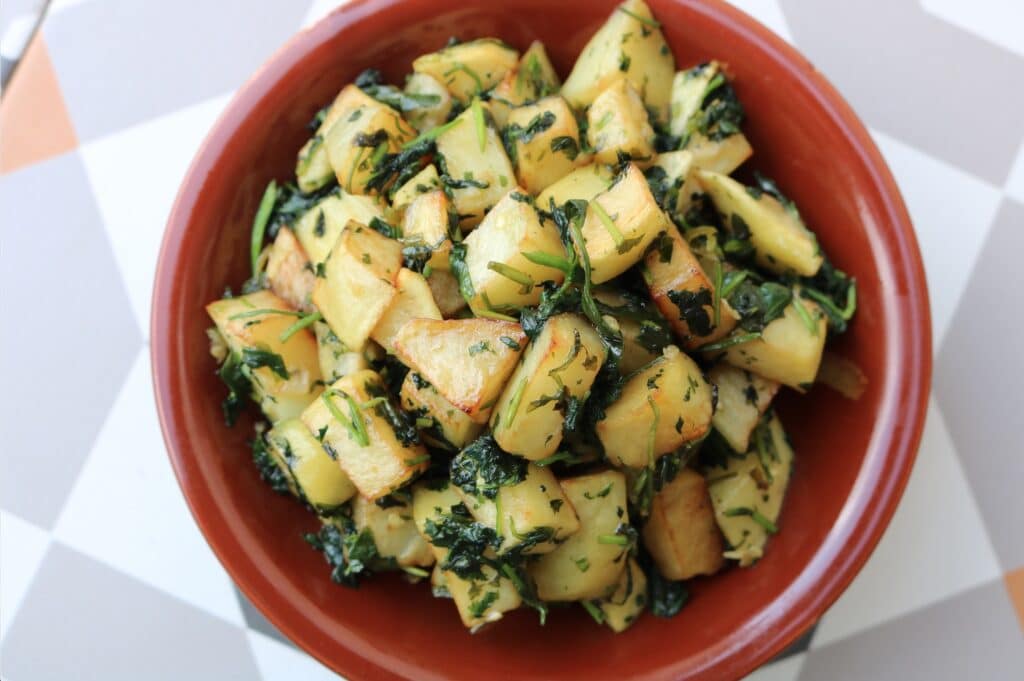 My husband even eats it with flatbread (starch on starch I know!) and it goes wonderfully with hummus too.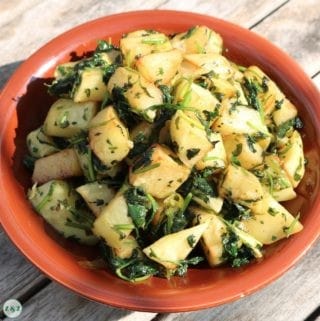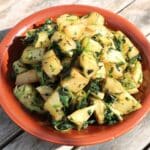 Lebanese Batata Harra
Ingredients
1

large bunch of cilantro

3-4

medium sized frying potatoes

3-4

garlic cloves

3/4

of a birds eye chilli

1

tspn salt

2-3

tbsp

regular olive oil

Vegetable oil for frying
Instructions
Wash the cilantro several times, remove any yellow or odd looking leaves and roughly chop. Set aside

Cut the potatoes into medium sized cubes, roughly 1-2 cm thick

Deep fry the potatoes until light golden brown and set aside on a kitchen towel lined plate

Add a good few drizzles of regular olive oil into a wide sauté pan

Crush the garlic and add to the pan. Lightly fry on low for a few minutes until beige.

Chop 3/4 of an average sized chilli and add to the garlic along with the salt. Sauté for another minute or so

Add the chopped cilantro to the garlic chilli mix and fry on medium heat for 4-5 minutes.

Add the fried potatoes to the pan and sauté for another 2 minutes being careful to not to squish the potatoes.

Adjust the salt and chilli level if necessary and serve.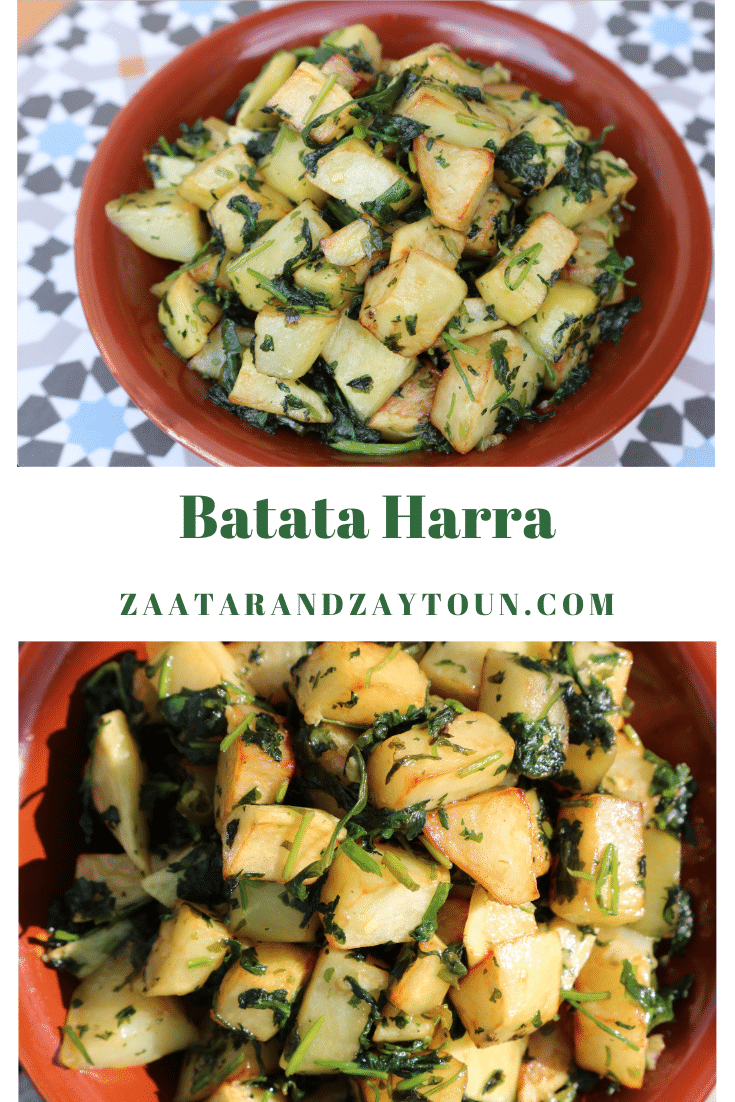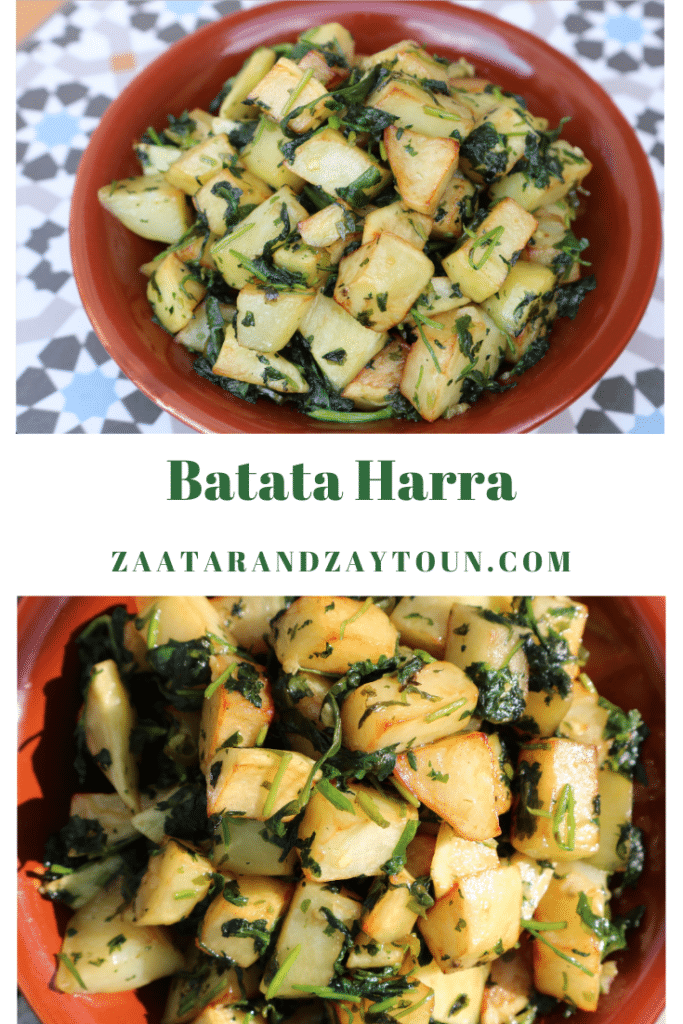 If you make any of our recipes let us know how it went via our Social Media platforms.
We have a lively Facebook group where we post frequent recipes and discuss Lebanese cooking in general, as well as a handy Pinterest page where you can save all of your favourite Zaatar and Zaytoun recipes!
You might also like these recipe from the Zaatar and Zaytoun collection: