Here's a handy rice dish you can make as a side dish or as a meal in itself with a helping of yoghurt. A basic mince recipe will really go a long way in the kitchen.
You can add a little mince meat to so many things to make a nutritious meal as well as giving you just enough protein. The Lebanese way of cooking is to sprinkle expensive ingredients such as meat frugally here and there.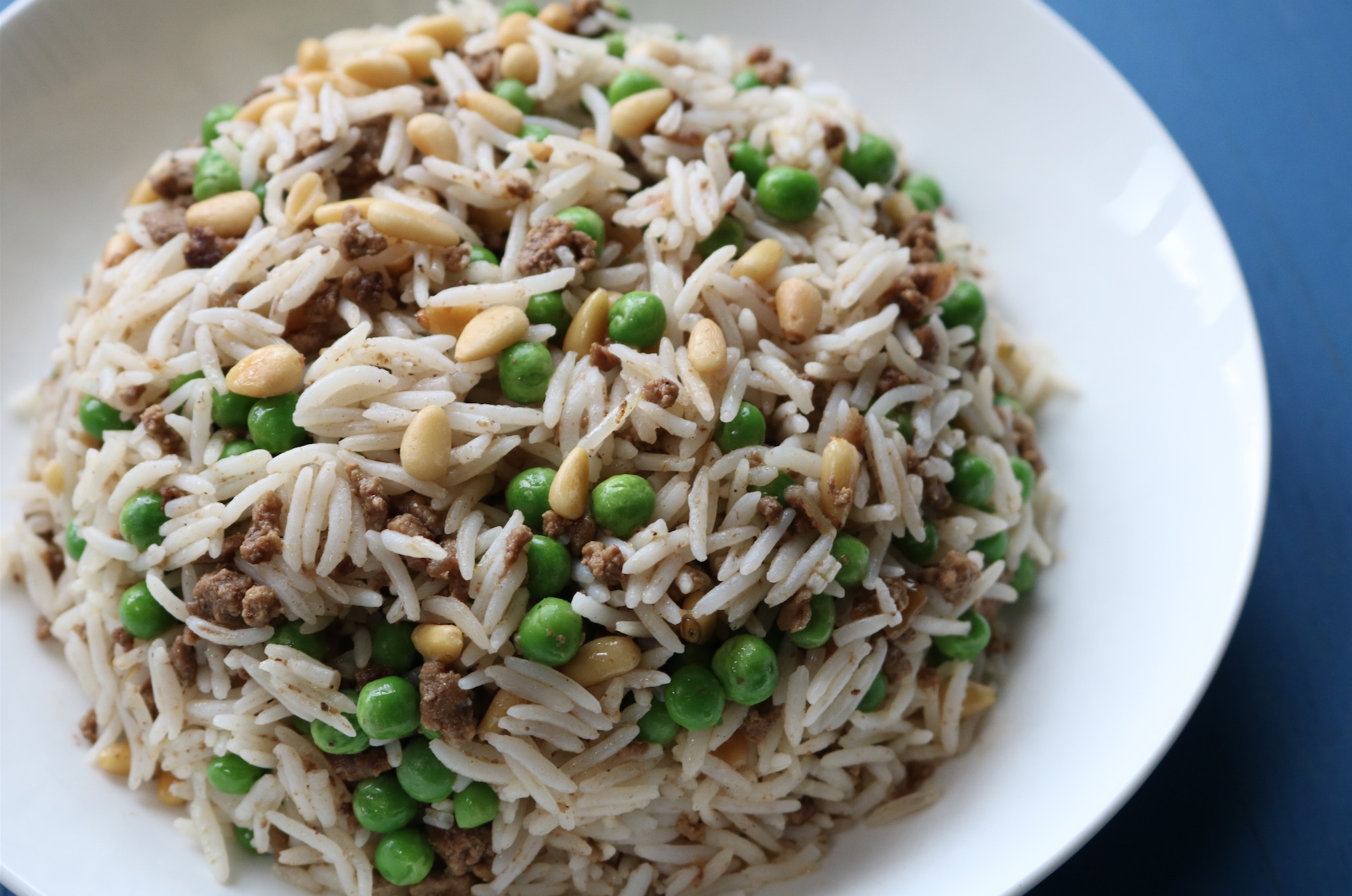 The meat
I've used a mixture of lamb and beef as you get the flavour of the lamb balanced by the robustness of the beef, without it feeling too fatty.
Ask your butcher to make you a 50:50 lamb to beef mince meat ratio. Adding peas and some toasted pine nuts turns the whole thing into something a little special.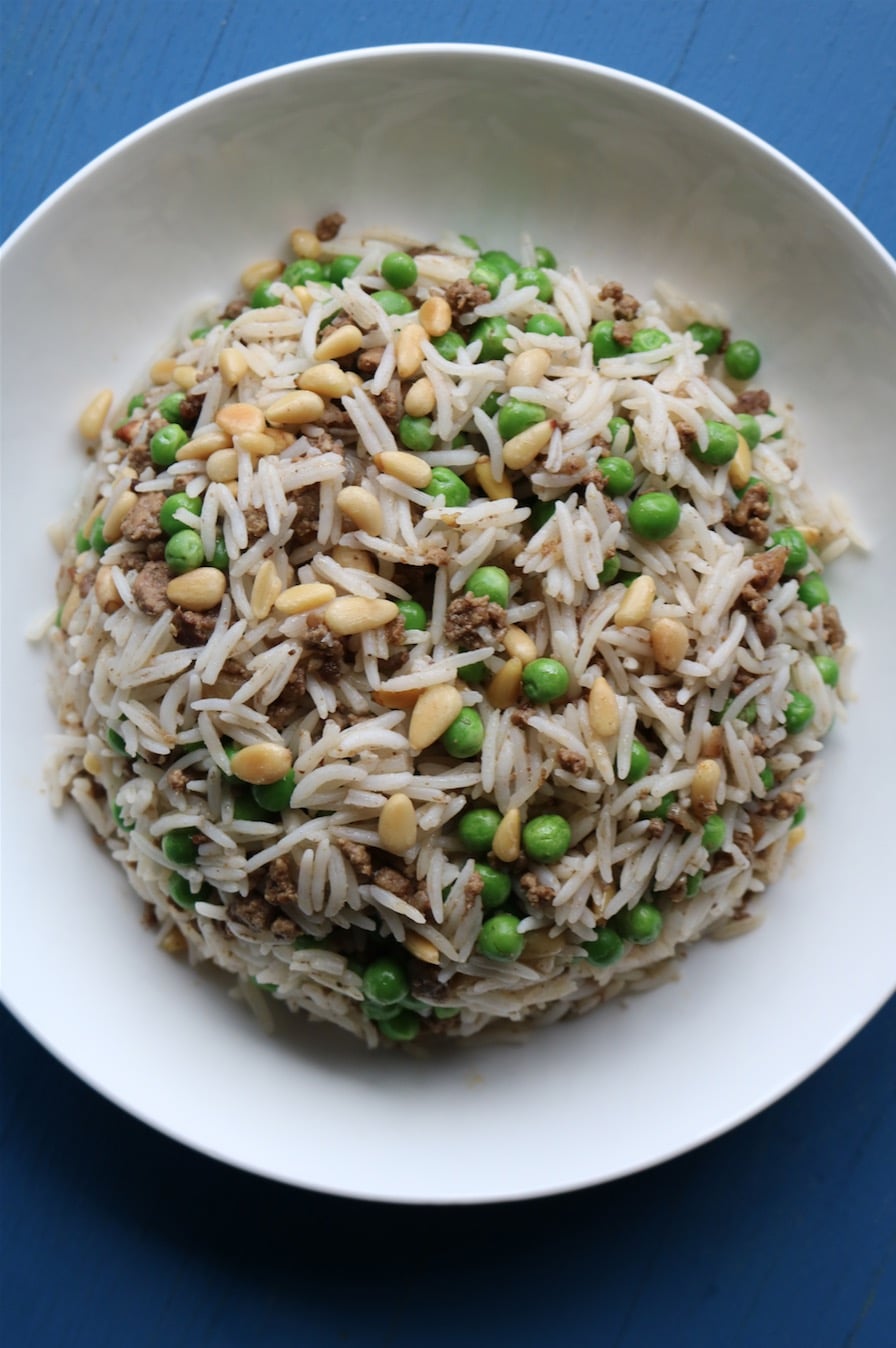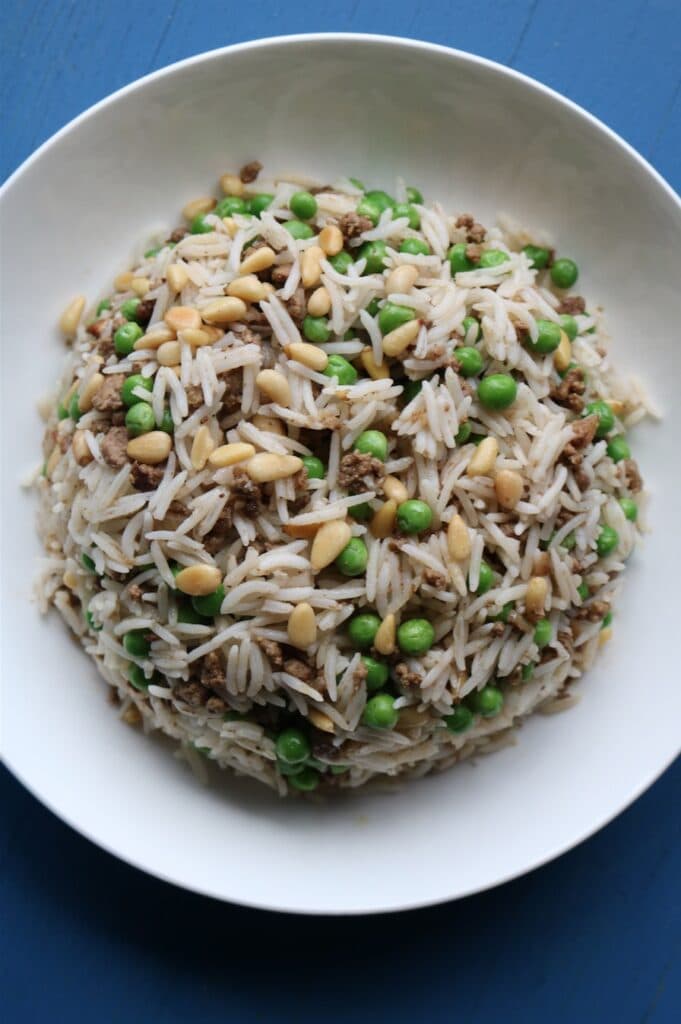 The rice
Some people like to cook the rice and meat together but I like to half cook the rice then add the mince meat for the last five to ten minutes which keeps it nice and fluffy.
Make sure you check out my post on how to make perfect rice every single time as well as my vermicelli rice recipe which you can find here.
It's good to have a few classic rice recipes up your sleeve so you can offer an alternative to the classic white rice.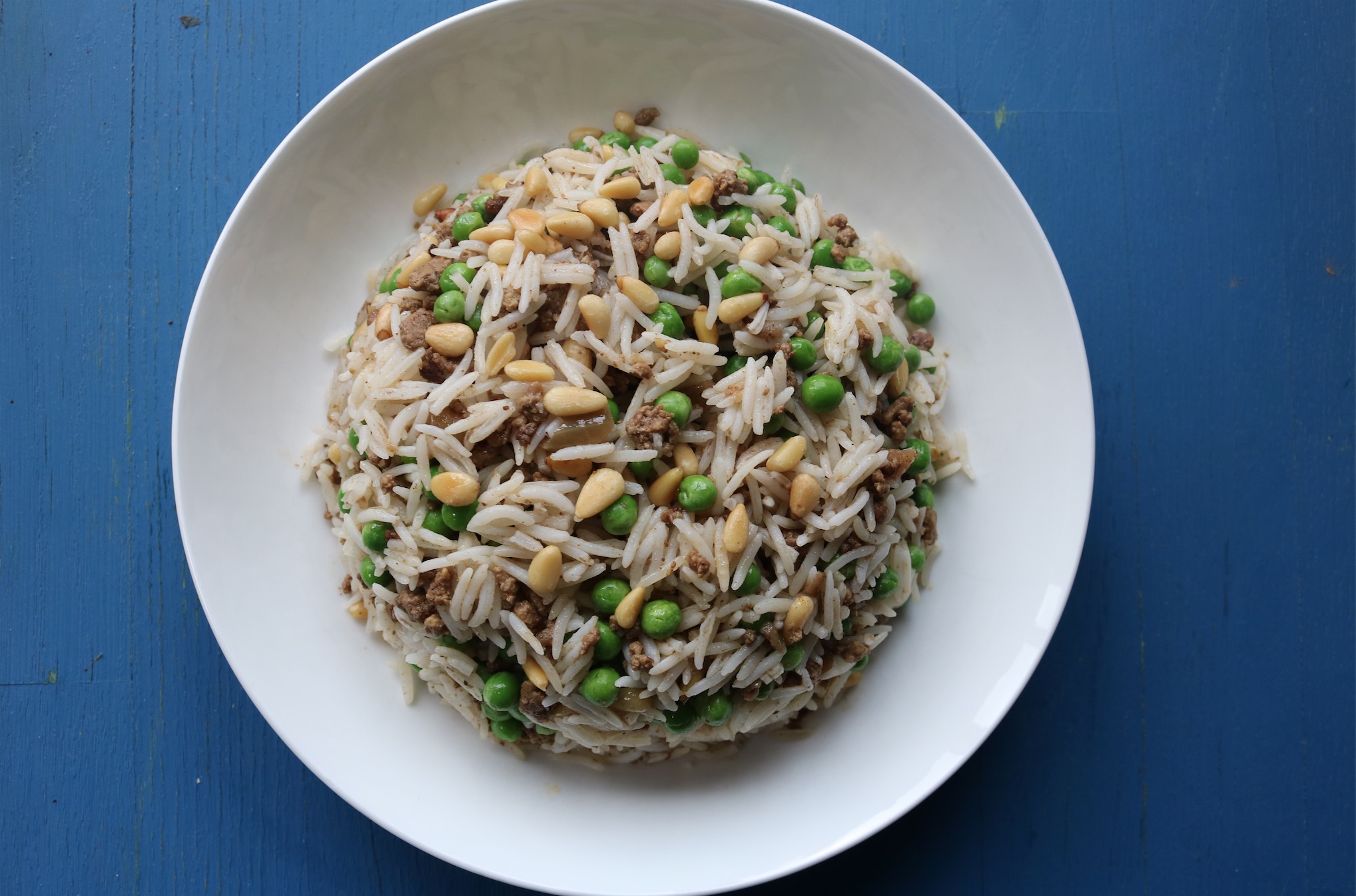 The nuts
People in the Middle East often bejewel their rice with toasted nuts including pistachios, pine nuts, cashews and almonds.
Feel free to substitute the pine nuts for any other nut of your choice.
How to eat Lebanese rice
This dish will go with many stews and you can even pair it with roast chicken. It makes an impression at dinner parties where you want to make an extra effort instead of plain rice.
I sometimes give this rice dish for my son's pack lunch and he certainly approves.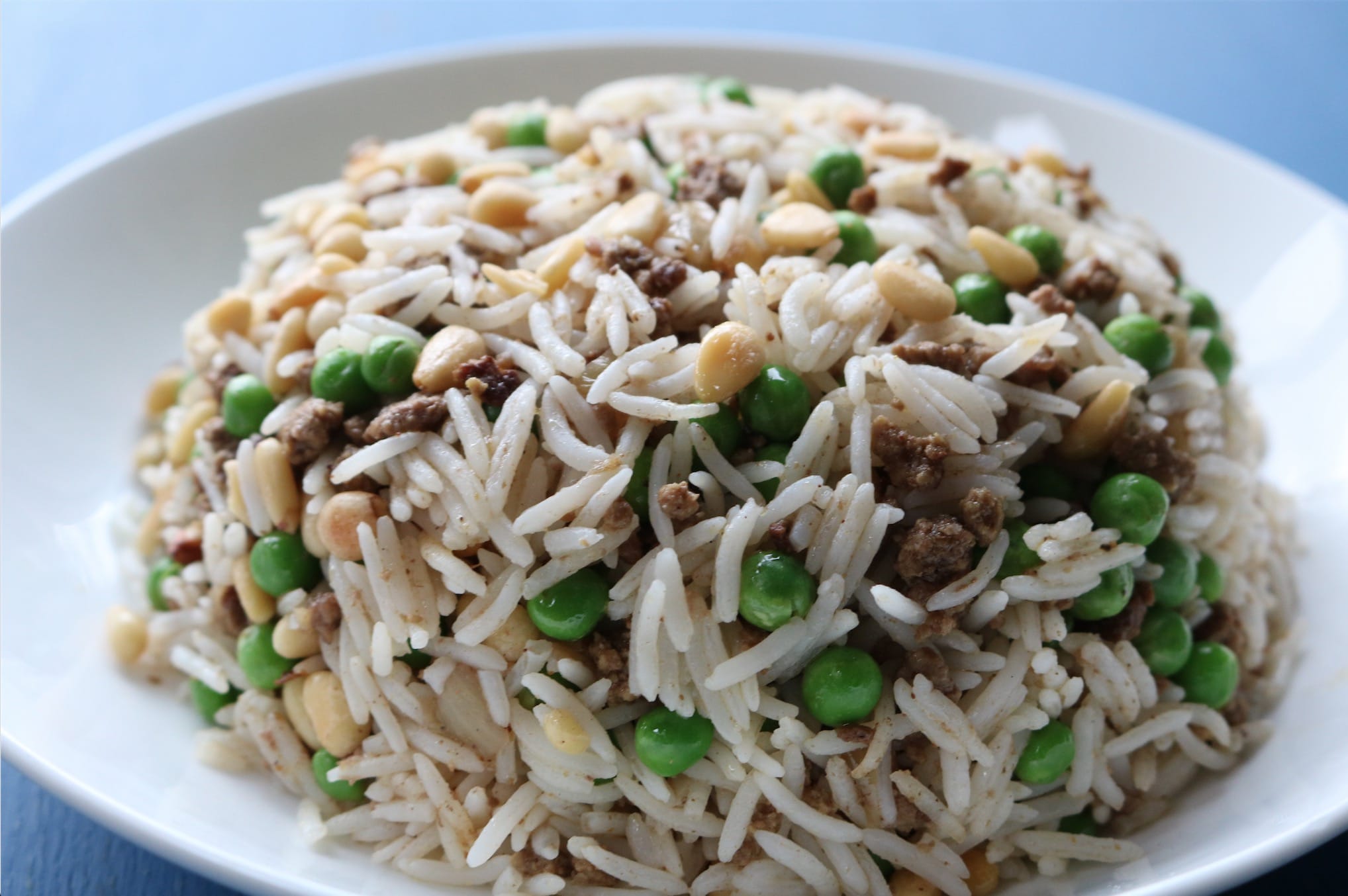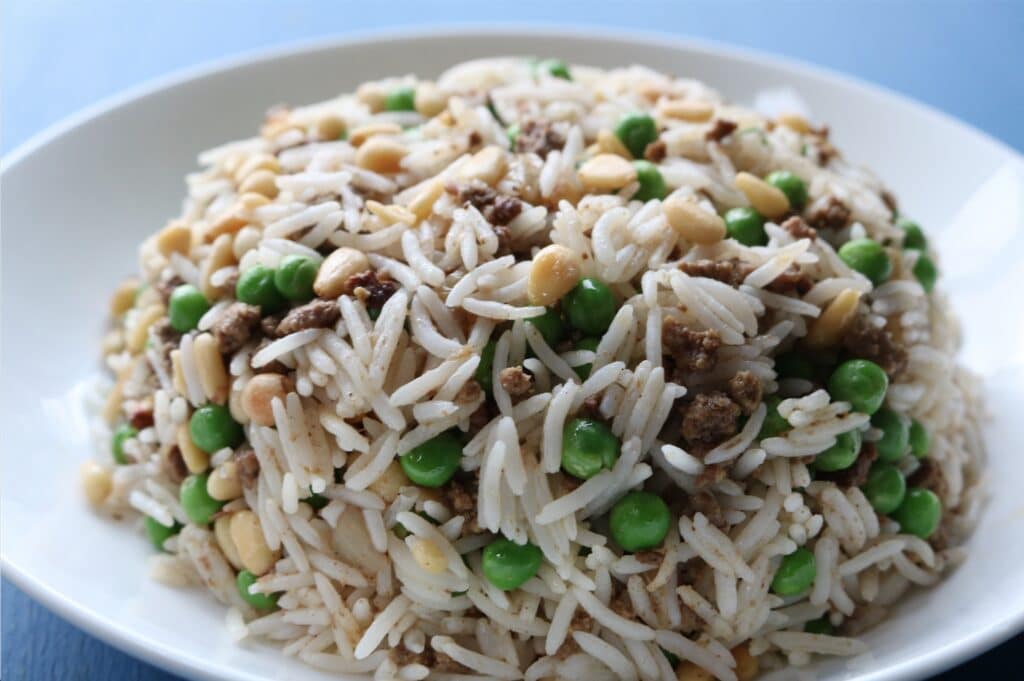 I remember as a child we often used to eat rice and yoghurt mixed together (riz w laban) and now as a mum I understand how it can save you in so many situations.
Especially when you throw in some peas and mince meat, you have a healthy dish that pleases both adults and children alike.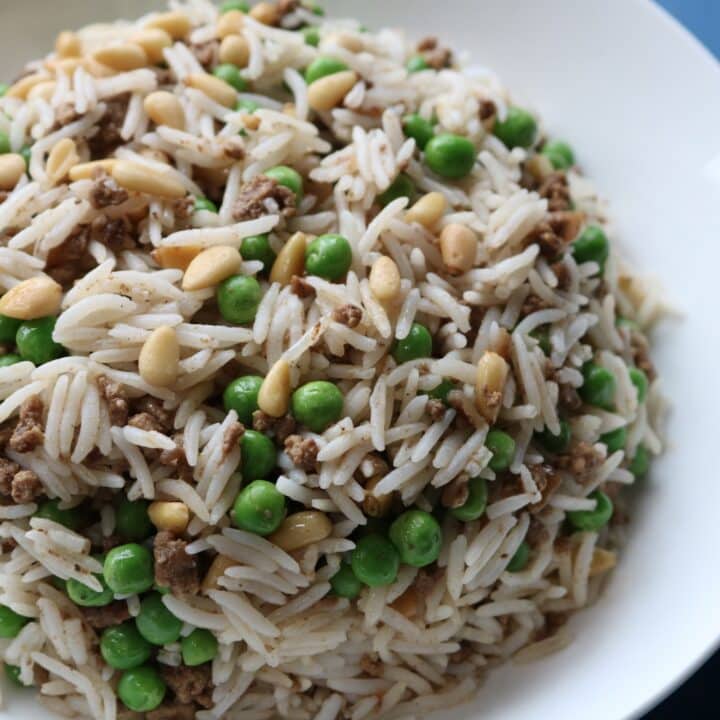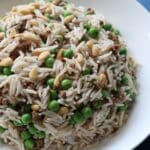 Lebanese Rice with Mince and Peas
Easy Rice dish with mince meat, peas and pine nuts
Ingredients
250

g

of mince meat

lamb or beef

1

large onion

chopped

½

teaspoon

7 spice

½

teaspoon

dried coriander

¼

teaspoon

black pepper

Salt to taste

2

cups

Basmati rice

washed and drained

1

cup

frozen peas

¼

cup

toasted pine nuts

Boiling water
Instructions
In a wide pan, heat a drizzle of regular cooking olive oil and caramelise the onion until golden

Add the mince meat, spices and salt to the pan and fry off for about ten minutes, squish the mince down with the back of a spoon and drain any excess liquid that builds up

Heat up 3 ½ cups of boiled water for 2 cups of rice in a kettle

In a separate pot add the rice with a drizzle of vegetable oil and approximately half a teaspoon of salt. Sauté the rice for a few minutes then add the boiling water. Bring to the boil, cover with a lid then simmer for 12 minutes exactly

Just before the rice is done add the mince meat mixture and peas. Stir everything together then cover again with the lid and simmer for another five minutes or so until the rice is fluffy and well done

Add some toasted pine nuts into the rice and some just on top before serving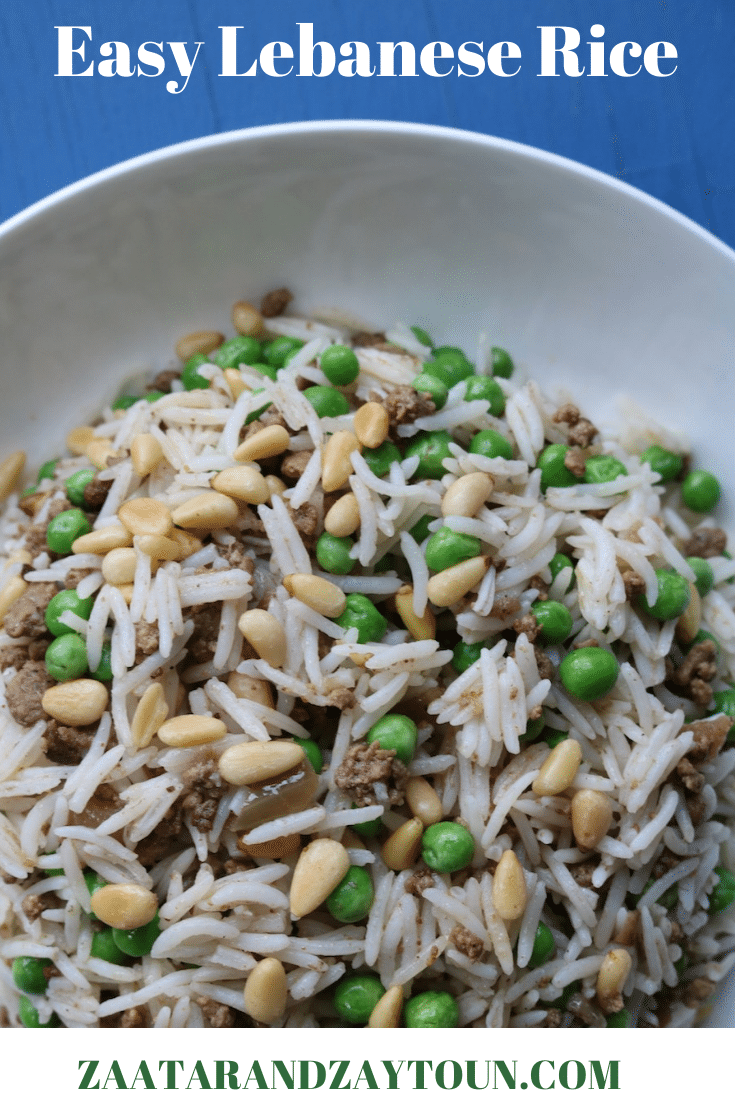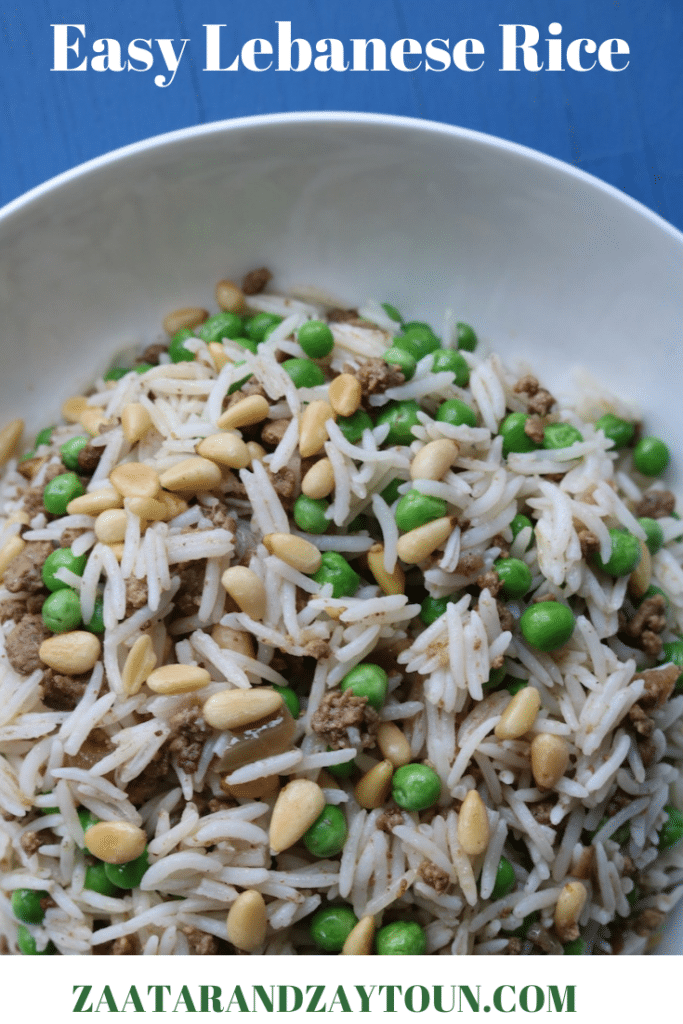 If you make any of our recipes let us know how it went by giving us a star rating below.
We have a lively Facebook group where we post frequent recipes and discuss Lebanese cooking in general, as well as a handy Pinterest page where you can save all of your favourite Zaatar and Zaytoun recipes!
You might also like these other recipes from the Zaatar and Zaytoun collection: