We are back with another Bamia recipe, this time with lamb. Many of you loved our vegan version which you can find here but also wanted to know the meat version. They are practically the same except the one with lamb also has cilantro (coriander).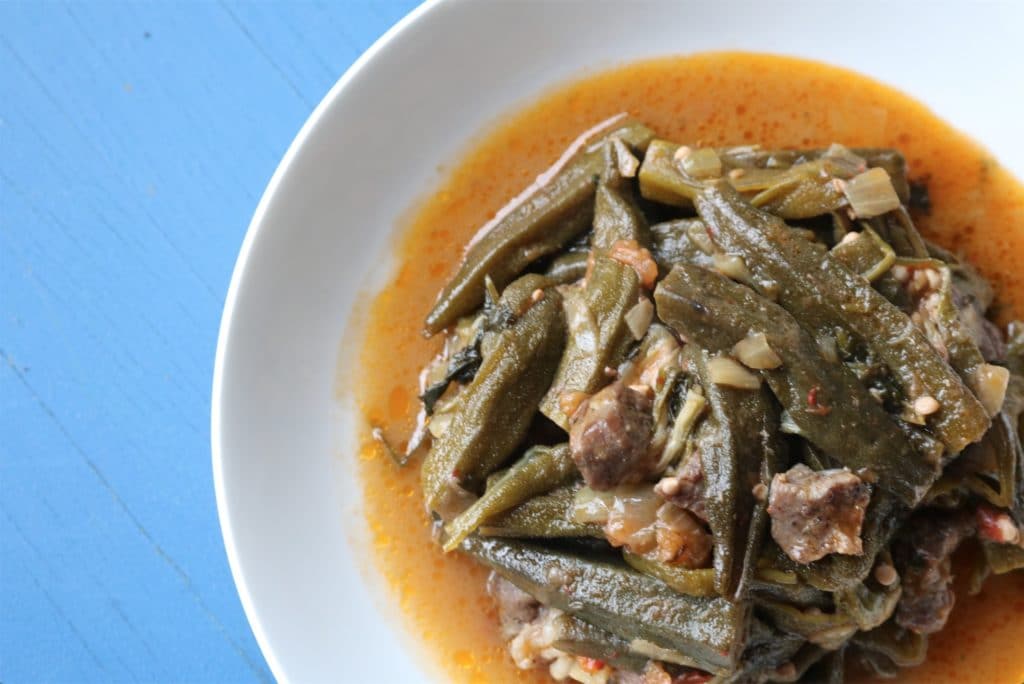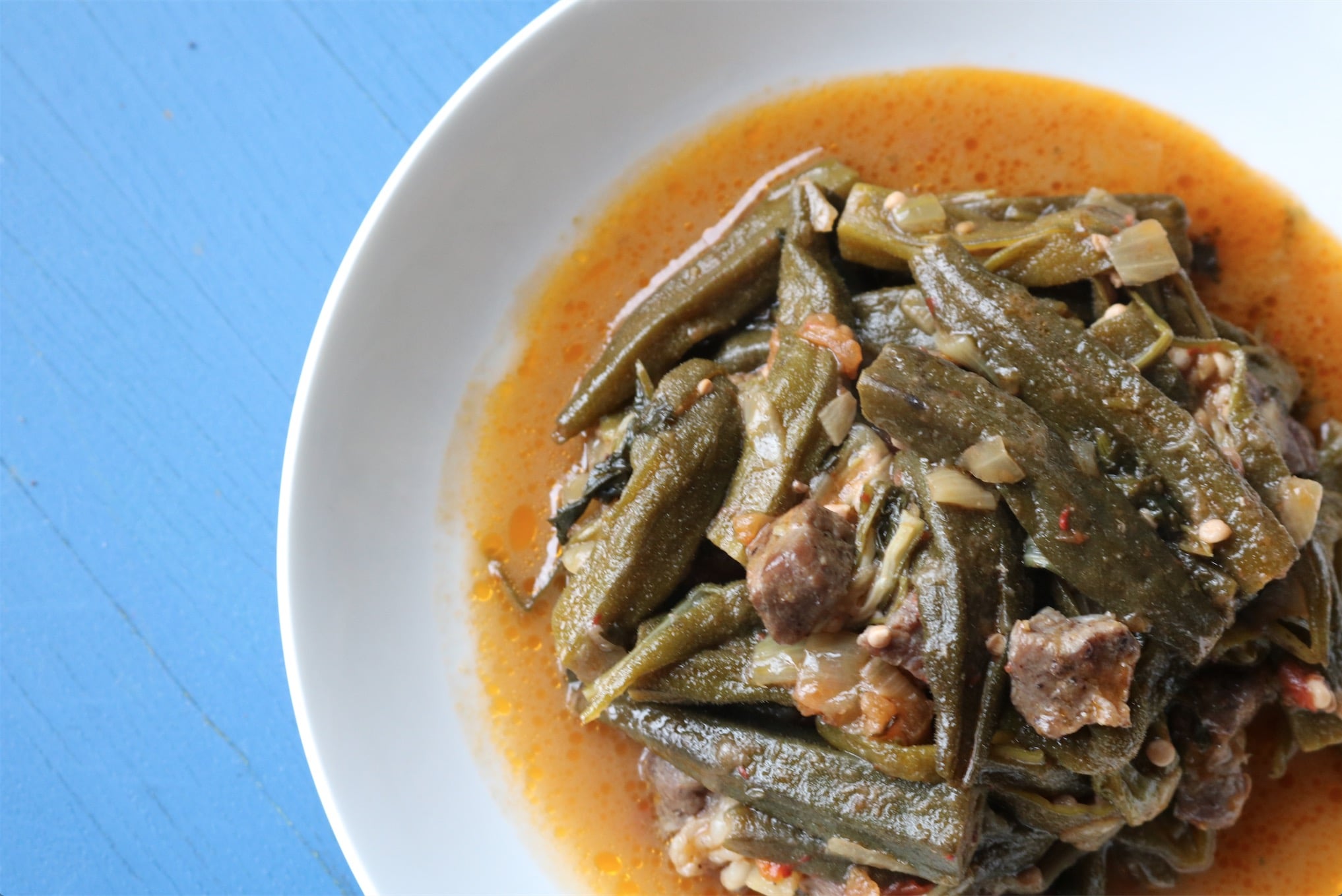 The meat
I've used lamb fillet here diced into tiny pieces so they go a long way through the dish.
What you are aiming for is to get a bit of okra and a bit of lamb in every mouthful, which is where the expertise of the frugal grandmother comes in - making sure everyone gets a bit of everything in their plate.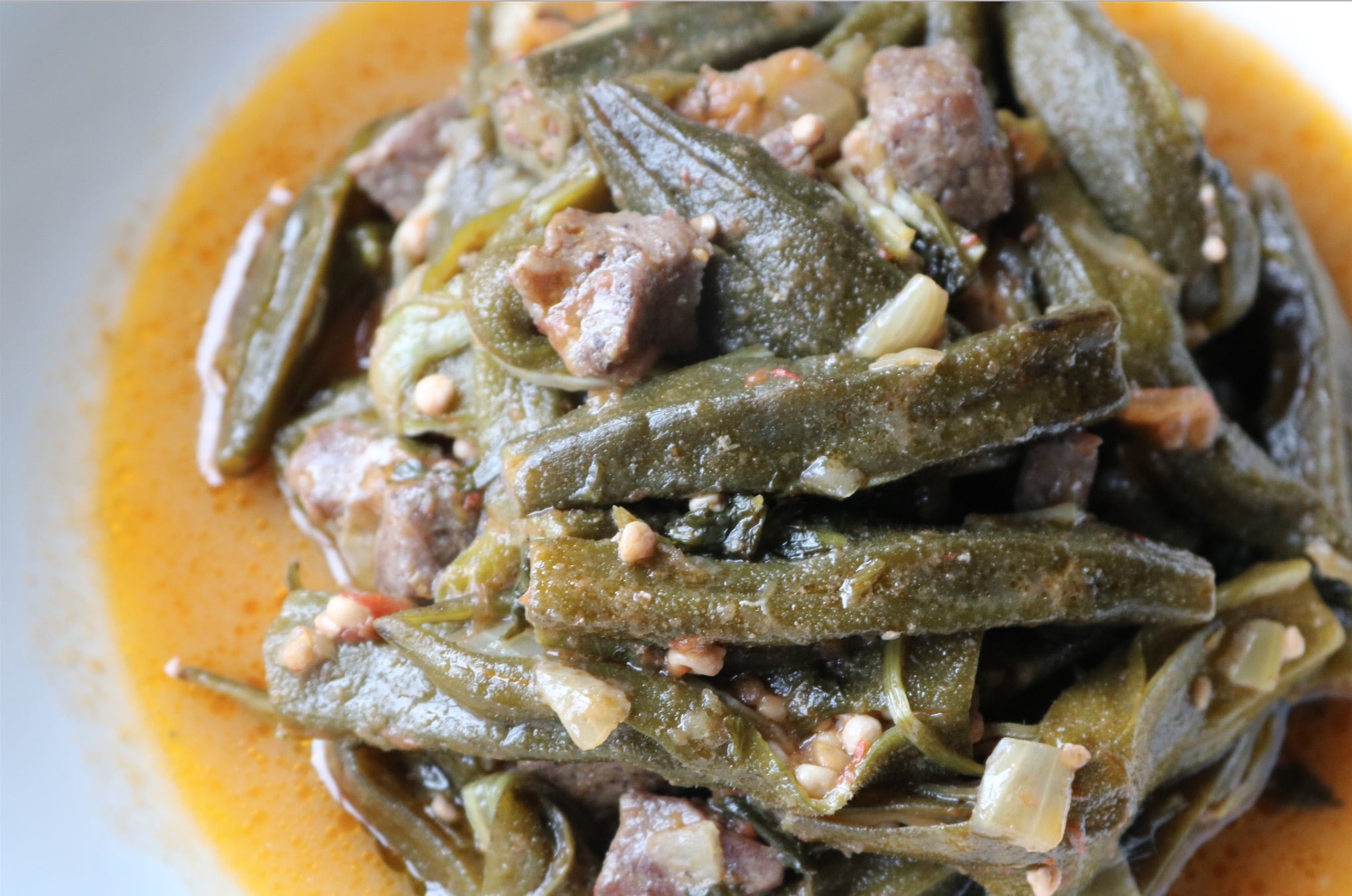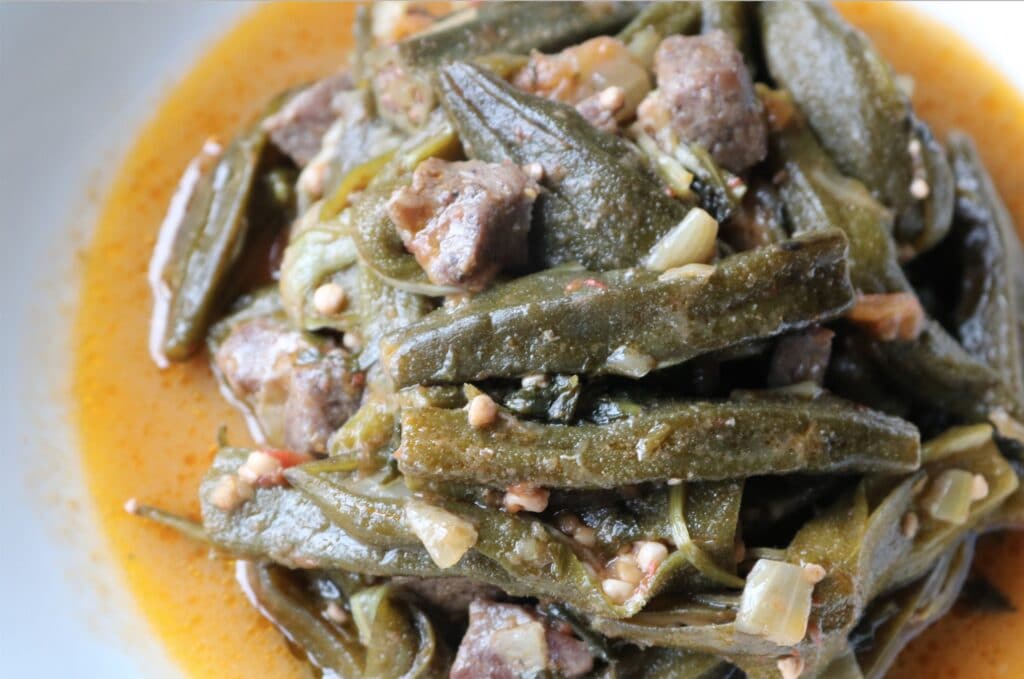 The mediterranean diet
Lots of Lebanese dishes take a small piece of meat and distribute it throughout the pot. This is part of the Mediterranean diet which relies on lots of vegetables, pulses, grains as well as fish and a little bit of red meat.
For real, we don't need to be eating steak sized portions of meat every meal time to get the benefit of red meat in our diets. Little bite sized chunks will do nicely, plus, it's better for the environment.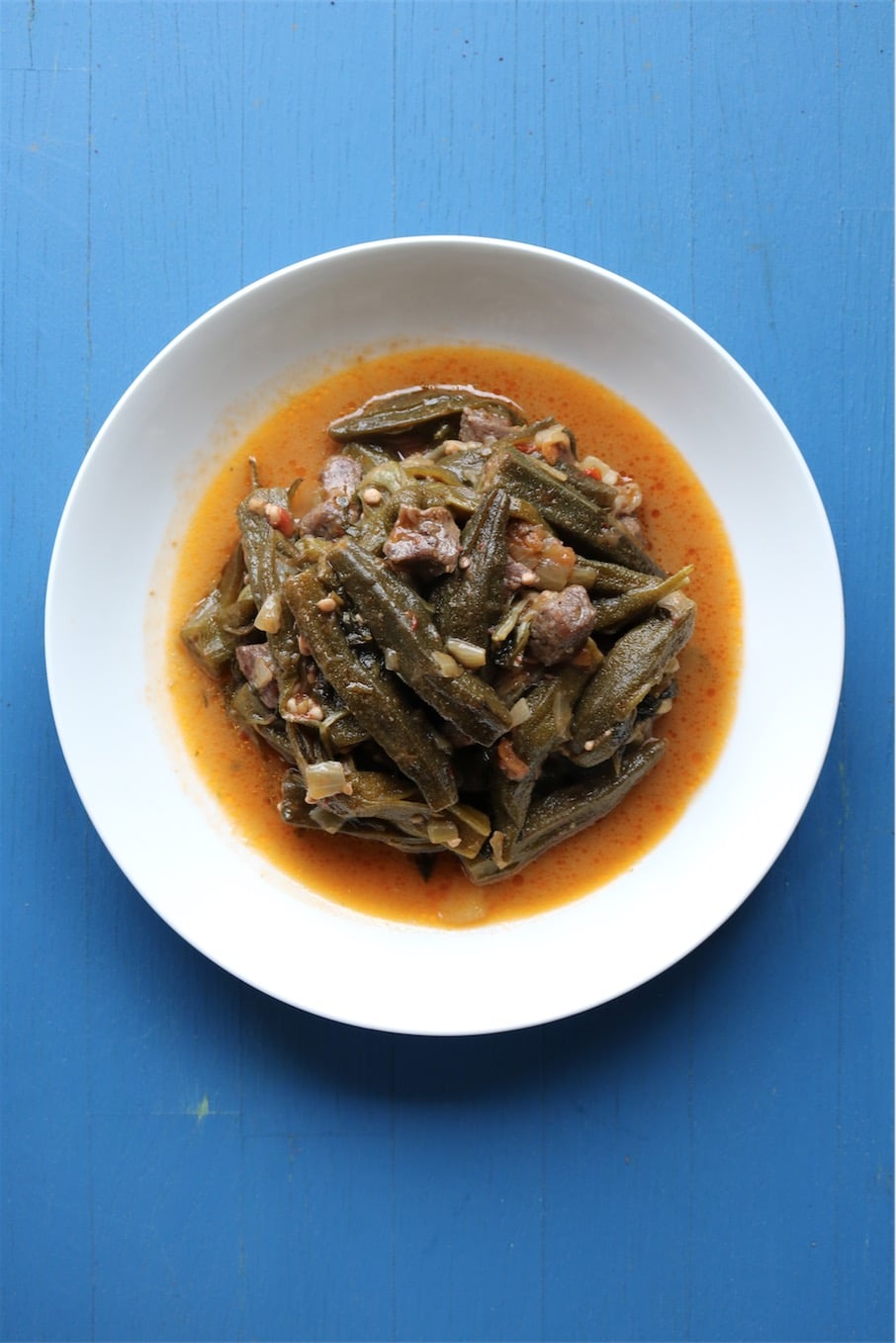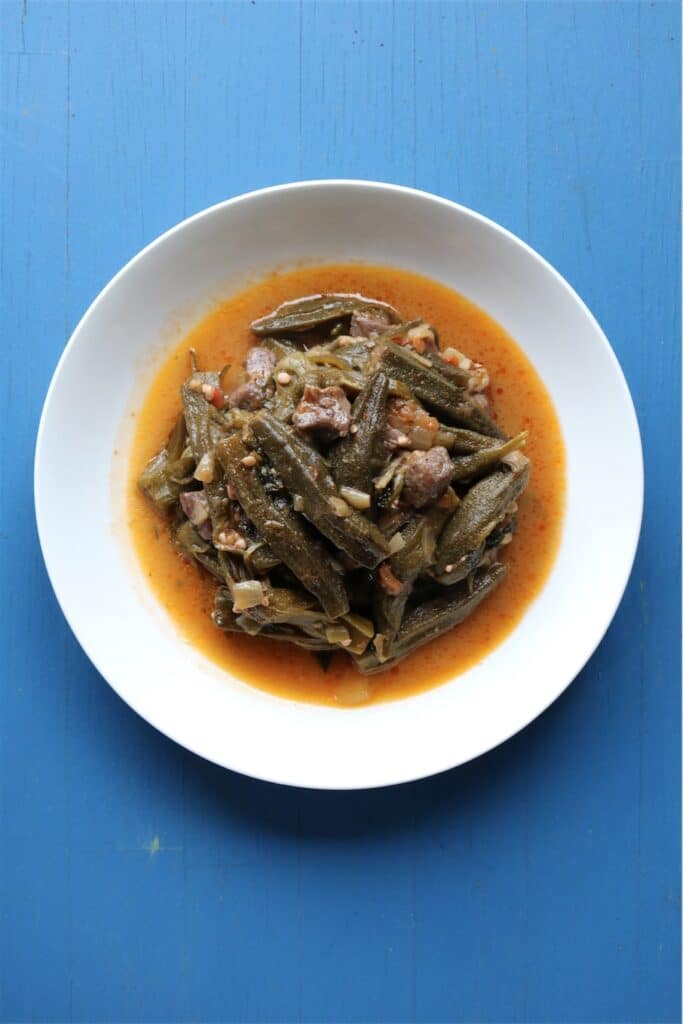 How to eat bamia bi lahme
I like to serve this bamia stew with Lebanese vermicelli rice so I make it bit more watery than the vegan version for the rice to soak up some of the extra sauce.
Of course, it can be eaten with flatbreads as well. Lebanese people eat everything with bread don't you know!
Tips for making bamia bi lahme
You can use fresh or frozen okra there isn't a vast difference in delicious levels and you can also use frozen cilantro (coriander) and a can of tomato when not in season.
So really, you can make this from store cupboard or freezer alternatives which is always a plus for those cold days you don't want to leave the house.
The last finishing touch is to drizzle some pomegranate molasses (rub ruman) just before you turn the heat off which will lift the whole thing from nice to absolutely amazing.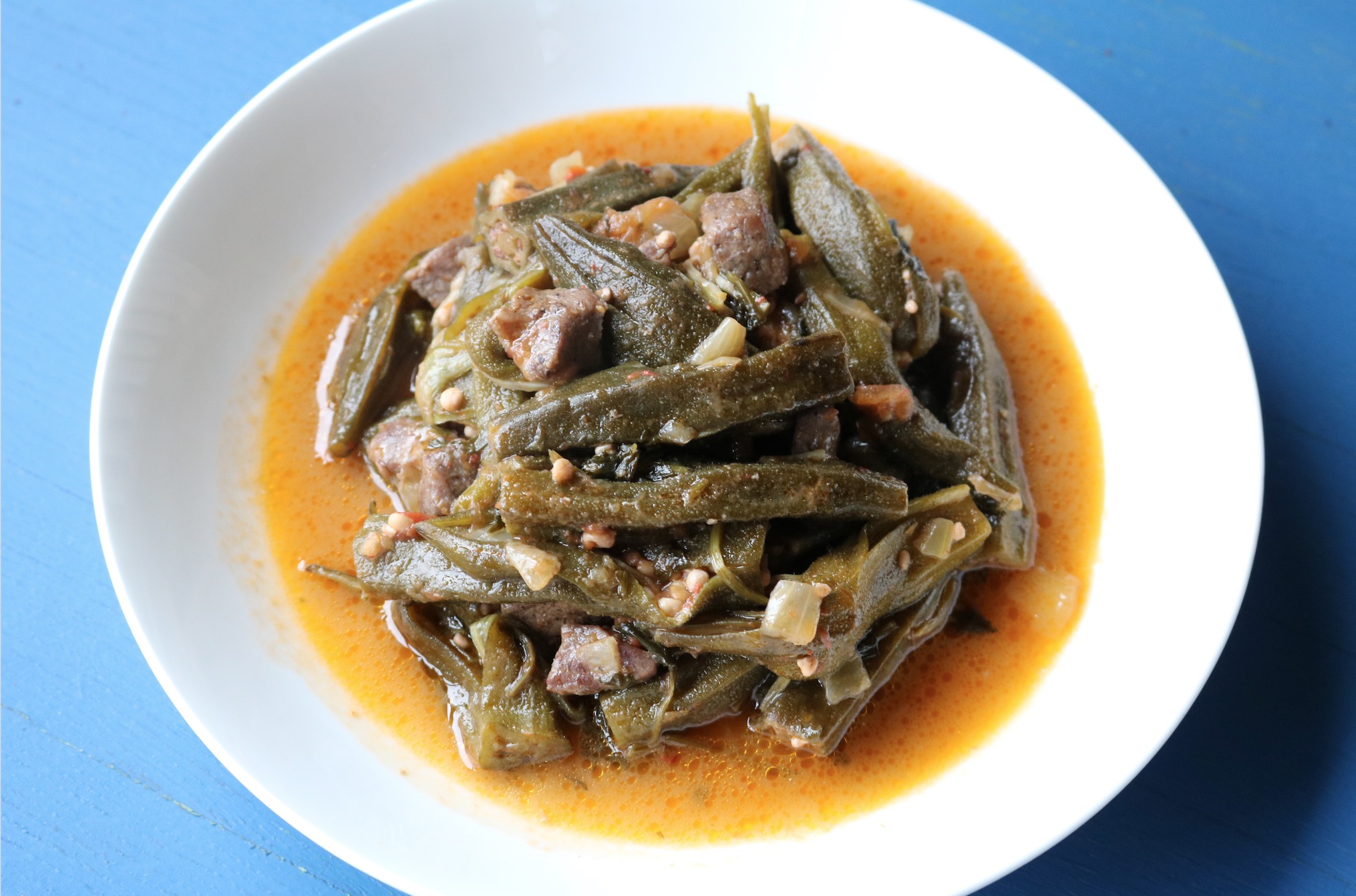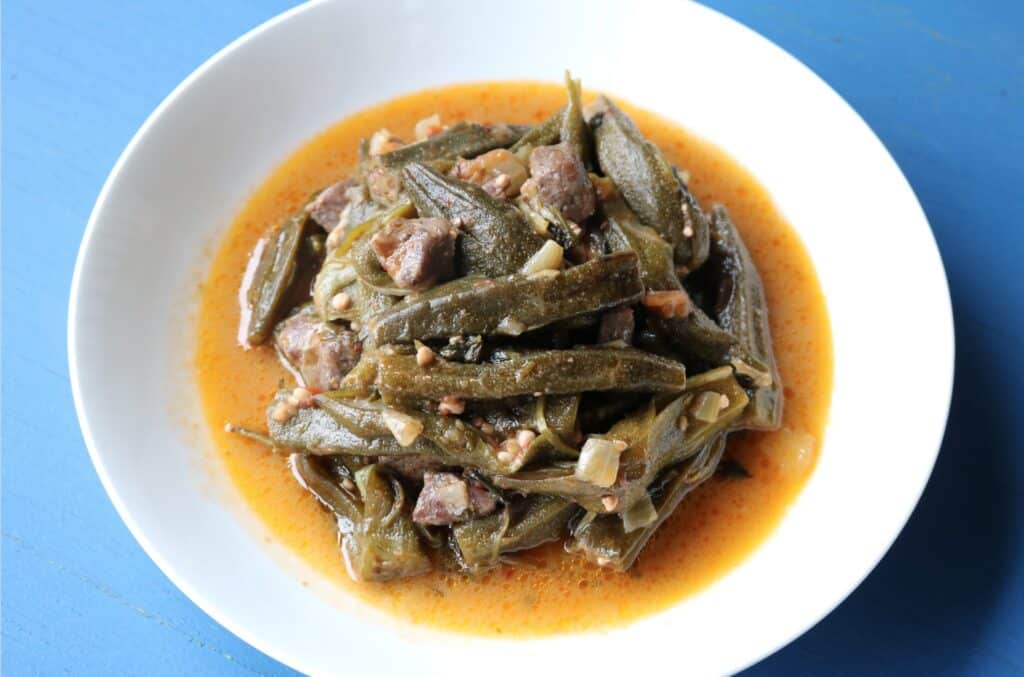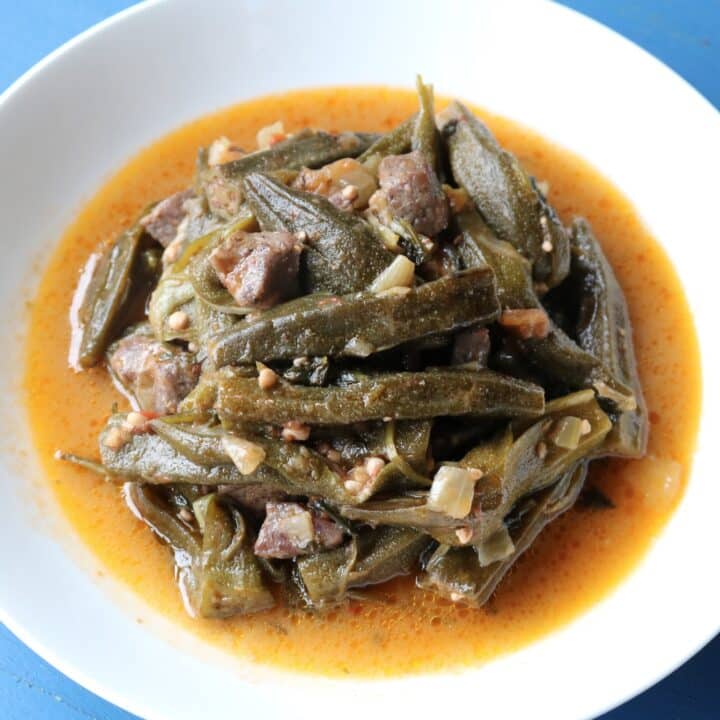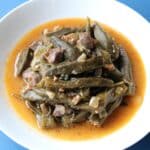 Lebanese Okra Stew with Meat (Bamia bi Lahme)
Okra stew in tomato sauce with bitesize lamb pieces
Ingredients
500

g

okra

fresh or frozen

1

large onion

chopped

200

g

lamb fillet

diced into bitesized chunks

4

tomatoes

chopped

1

tablespoon

tomato concentrate

1

cup

boiling water

2

cloves

of garlic

chopped

1

cup

cilantro (fresh coriander)

chopped

Approx 1 teaspoon of salt

2

tablespoon

pomegranate molasses

Regular olive oil suitable for cooking
Instructions
In a pot, sauté the chopped onion in some regular olive oil until golden, on medium heat

Add the okra and a few more drizzles of olive oil, sauté for another 5-10 minutes until the okra is half done

Meanwhile, chop the tomatoes and add to the pot along with the tomato concentrate, salt and a cup or so of boiling water. Bring to the boil then reduce to a simmer

In a wide pan, fry off the lamb pieces for a few minutes so they are sealed on the outside but still not fully cooked. Add the garlic and cilantro (coriander) and sauté for another 2-3 minutes

Add the lamb cilantro mix to the okra and simmer everything together for another 20 minutes or so until the okra is well done

Just before you turn off the heat, add the pomegranate molasses and adjust the salt if necessary by tasting the sauce

Serve with vermicelli rice or flatbreads.
If you make any of our recipes let us know how it went by giving us a star rating at the bottom of this page.
We have a lively Facebook group where we post frequent recipes and discuss Lebanese cooking in general, as well as a handy Pinterest page where you can save all of your favourite Zaatar and Zaytoun recipes!
You might also like these recipe from the Zaatar and Zaytoun collection: