Potato salads live in two worlds; the creamy mayonnaise based ones and the healthy Mediterranean style ones. I know which I prefer.
But this is no ordinary potato salad, this is the ultimate potato salad and you can taste the gorgeous flavours just by looking at it.
The trick is to have quite intense flavours complementing the calmness of the potato flavour so everything balances out.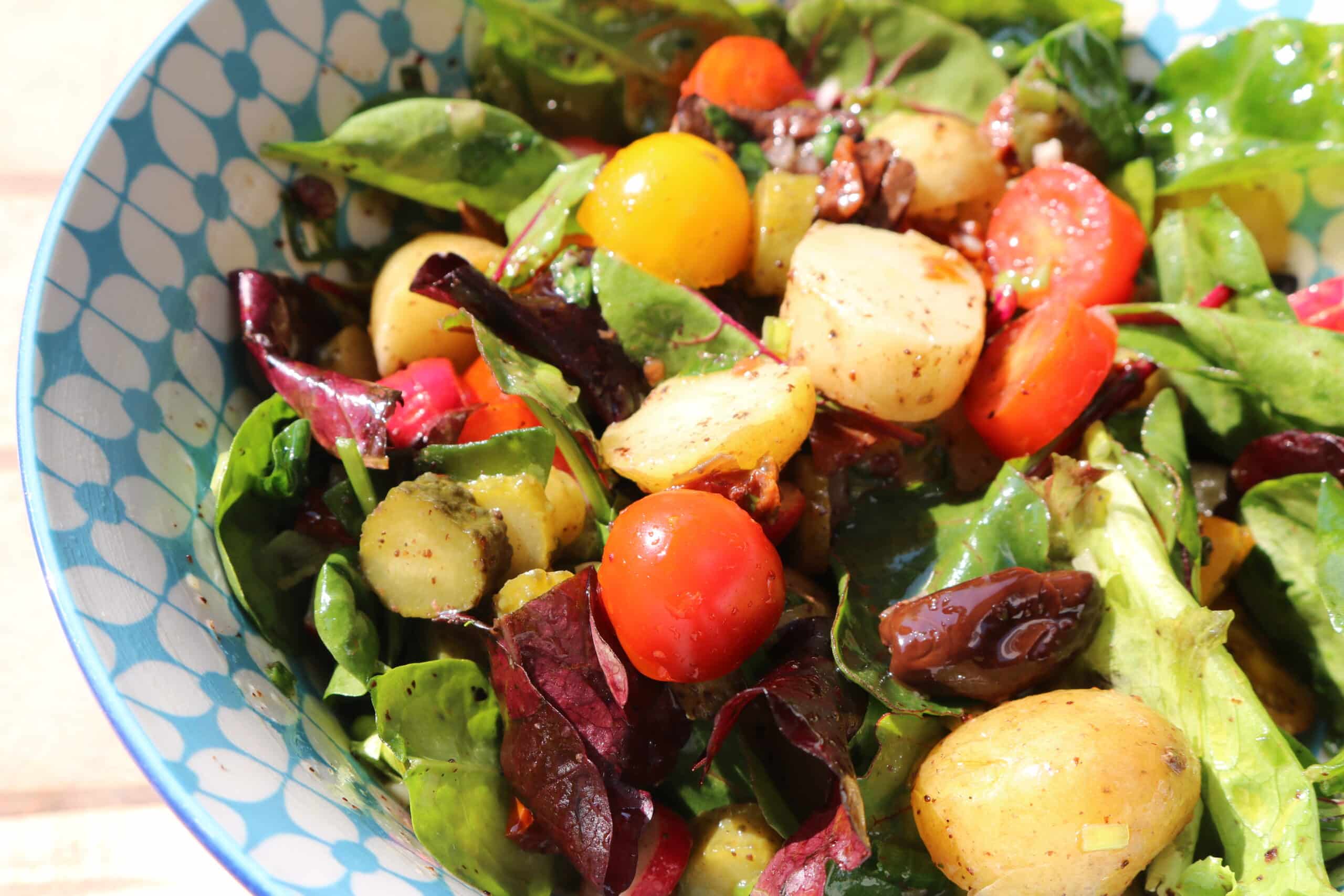 Jump to:
Ingredients
I've used seasonal jersey royals that are available here every year in the UK but you can use any small boiling potato, which hold their shape better in the salad.
Avoid floury potatoes that crumble too easily in the salad.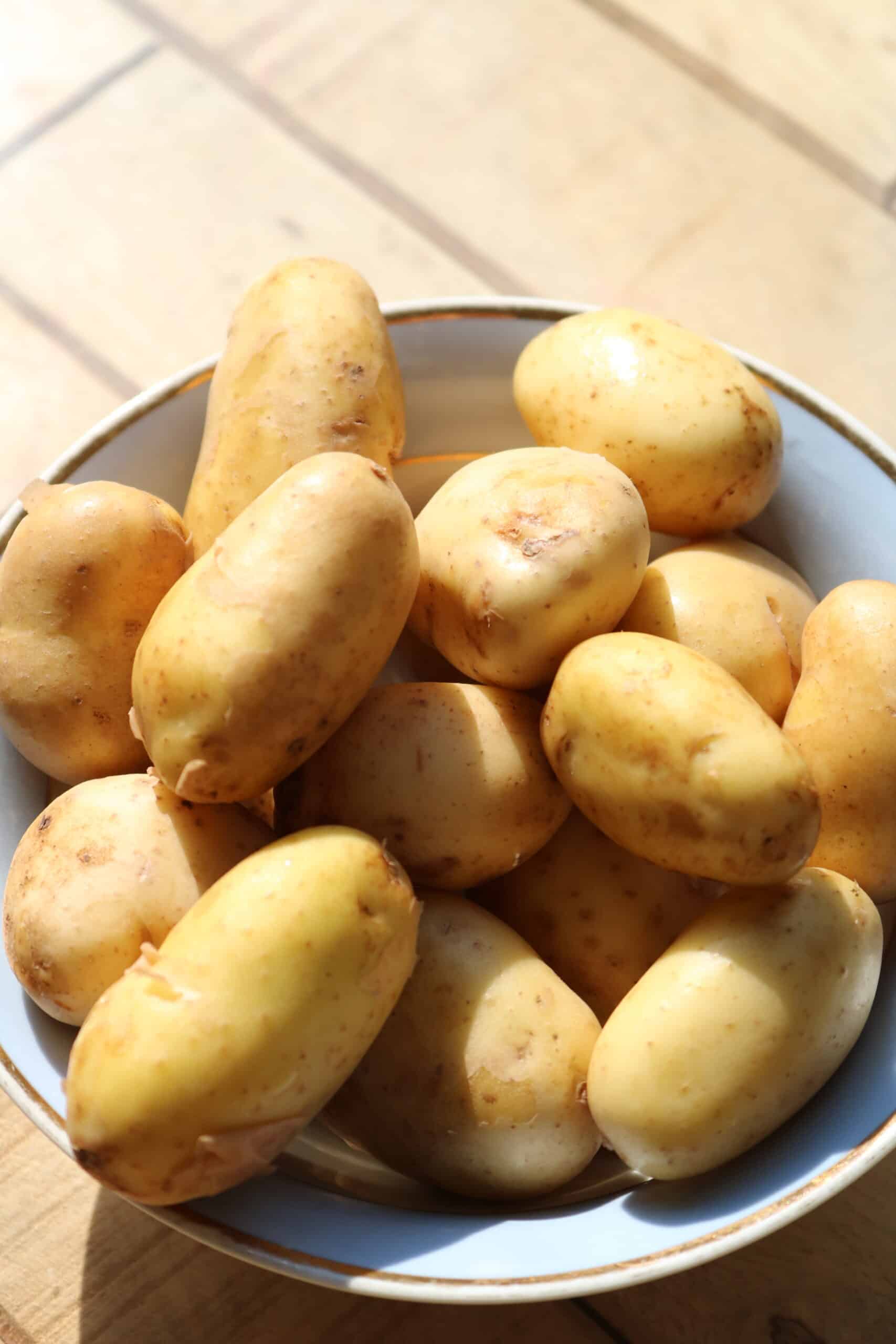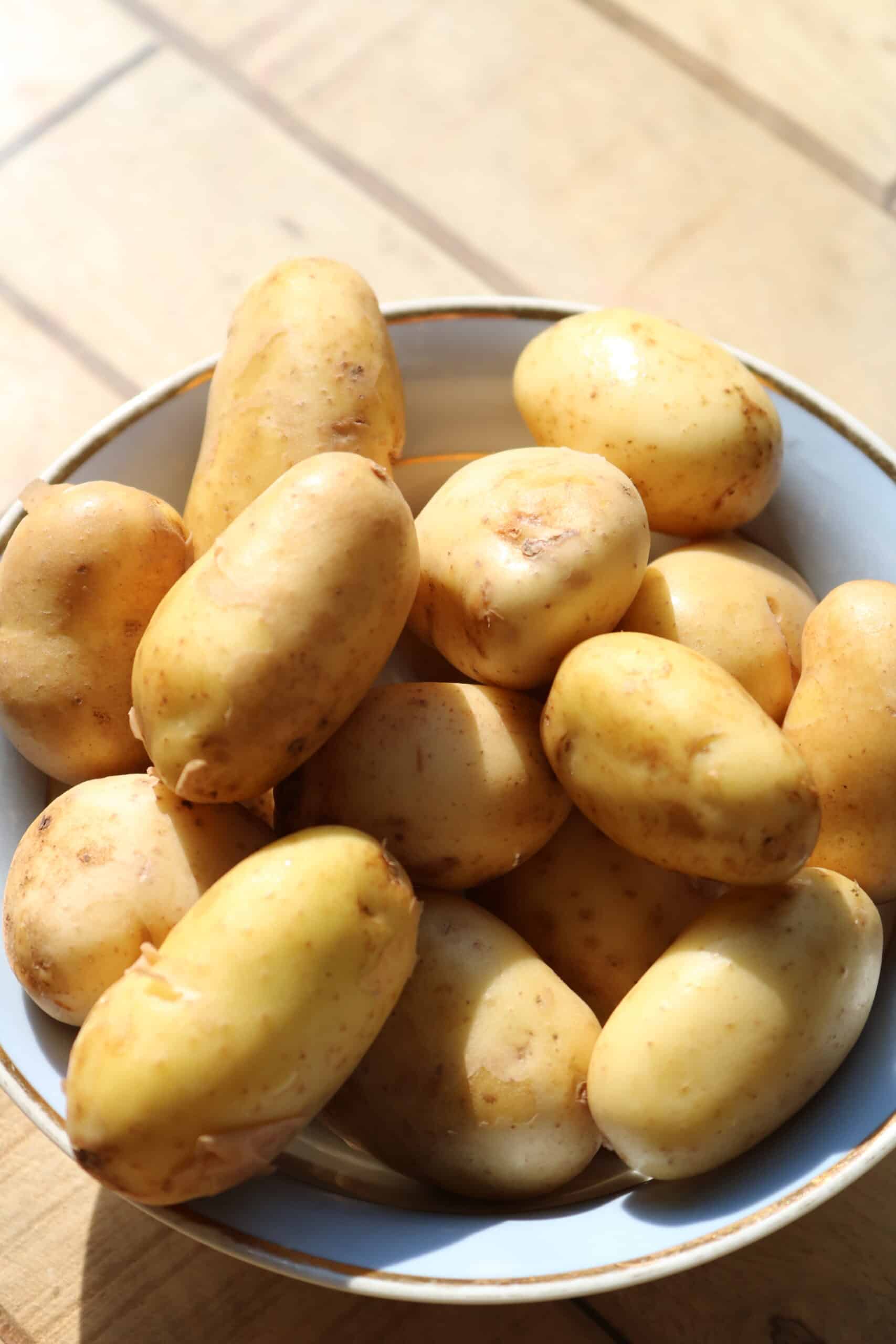 I also add the following:
Baby salad leaves
Cherry tomatoes
Black olives
Slightly spicy pickles
Sun-dried tomatoes
Sumac
Extra virgin Olive oil, lemon and salt for the dressing
Fresh herbs such as basil, chives and mint
Instructions
Although there aren't really any rigid rules for chopping up a salad, it's good to think about how each element will combine with others in a mouthful depending on the intensity.
So for example the olives, pickles and sun dried tomatoes should be chopped slightly smaller than the tomatoes or potatoes.
The herbs should be quite fine so they make an appearance all over the place.
The radishes should also be quite thinly sliced as they can be slightly spicy. You don't want a big chunk of radish interrupting the situation.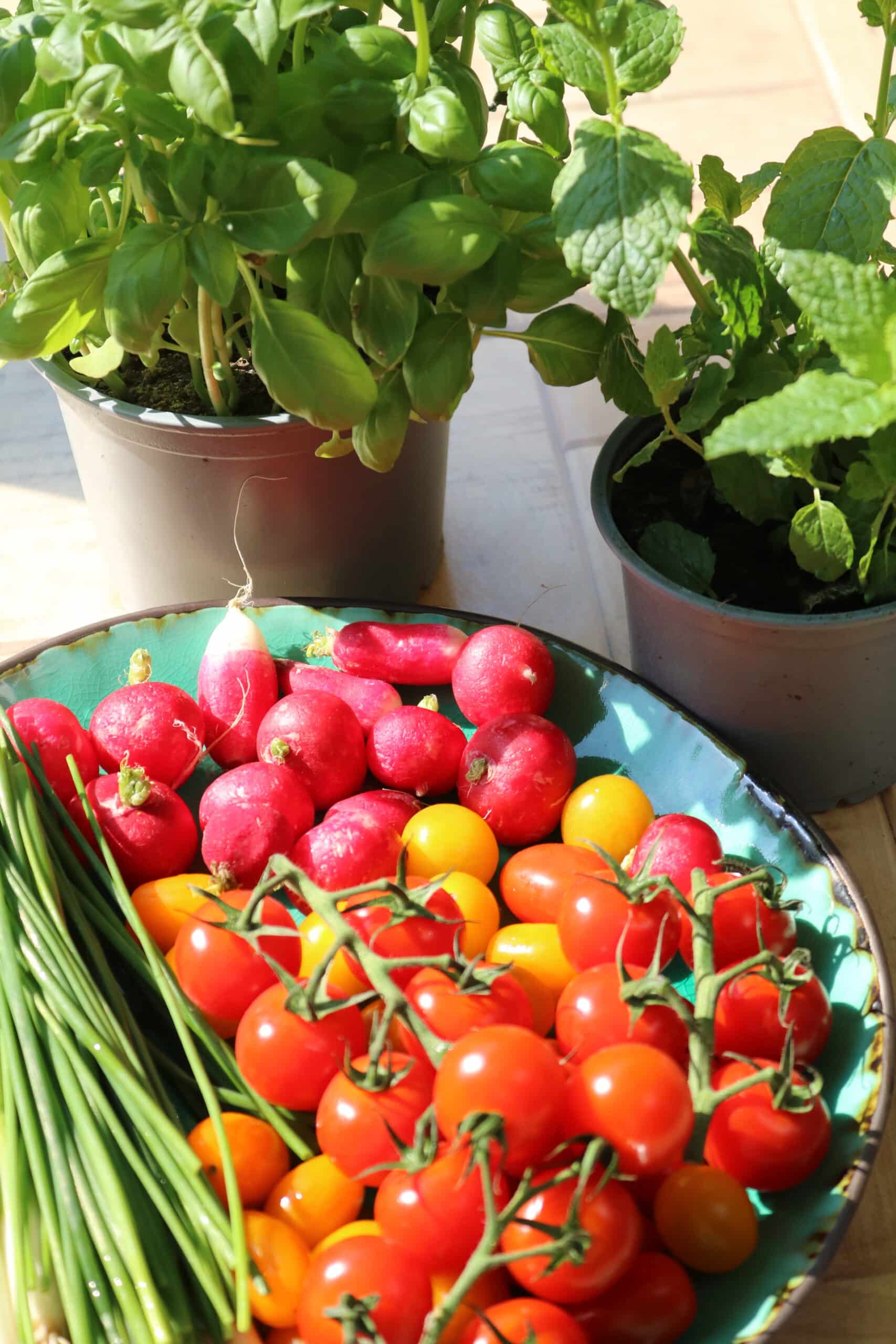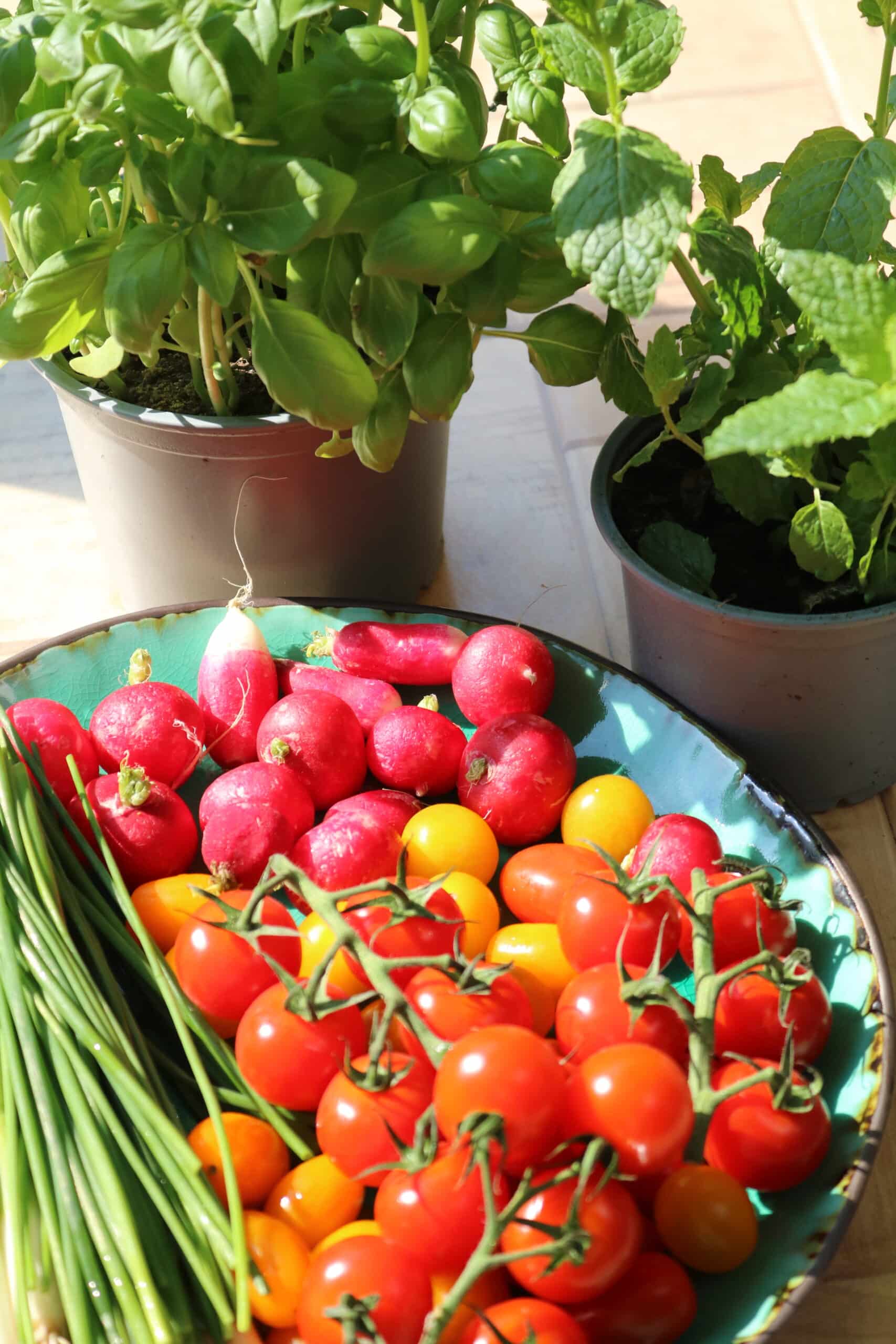 And of course, never ever serve a salad without tasting it first and adjusting the seasoning.
I add a good sprinkle of sumac alongside the salt, lemon and extra virgin olive oil.
Trust your instincts when adjusting the seasoning, if you don't get overwhelmed with the first bite it usually means it needs a little more lemon and a tiny sprinkle of salt.
Always adjust in increments never in big leaps.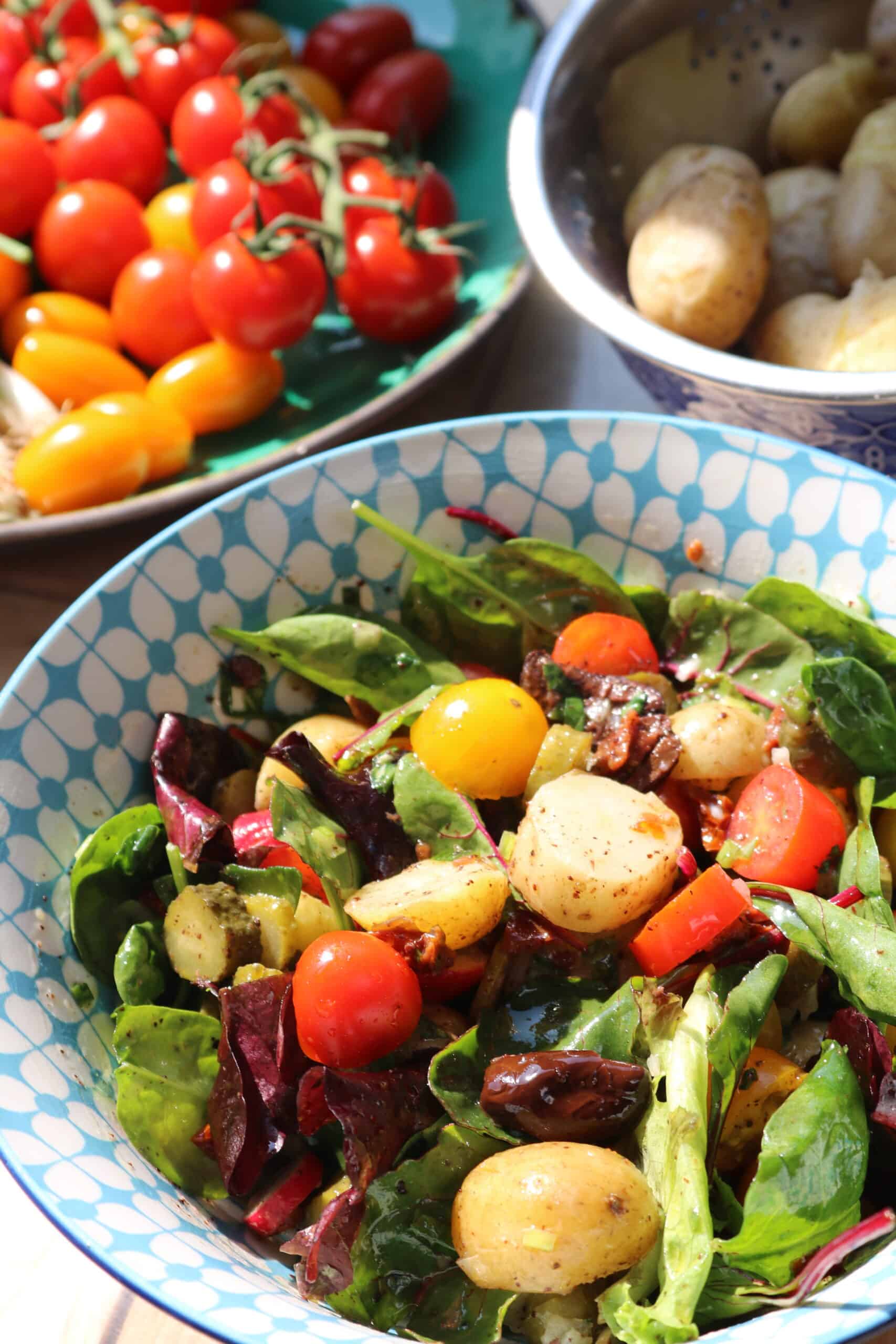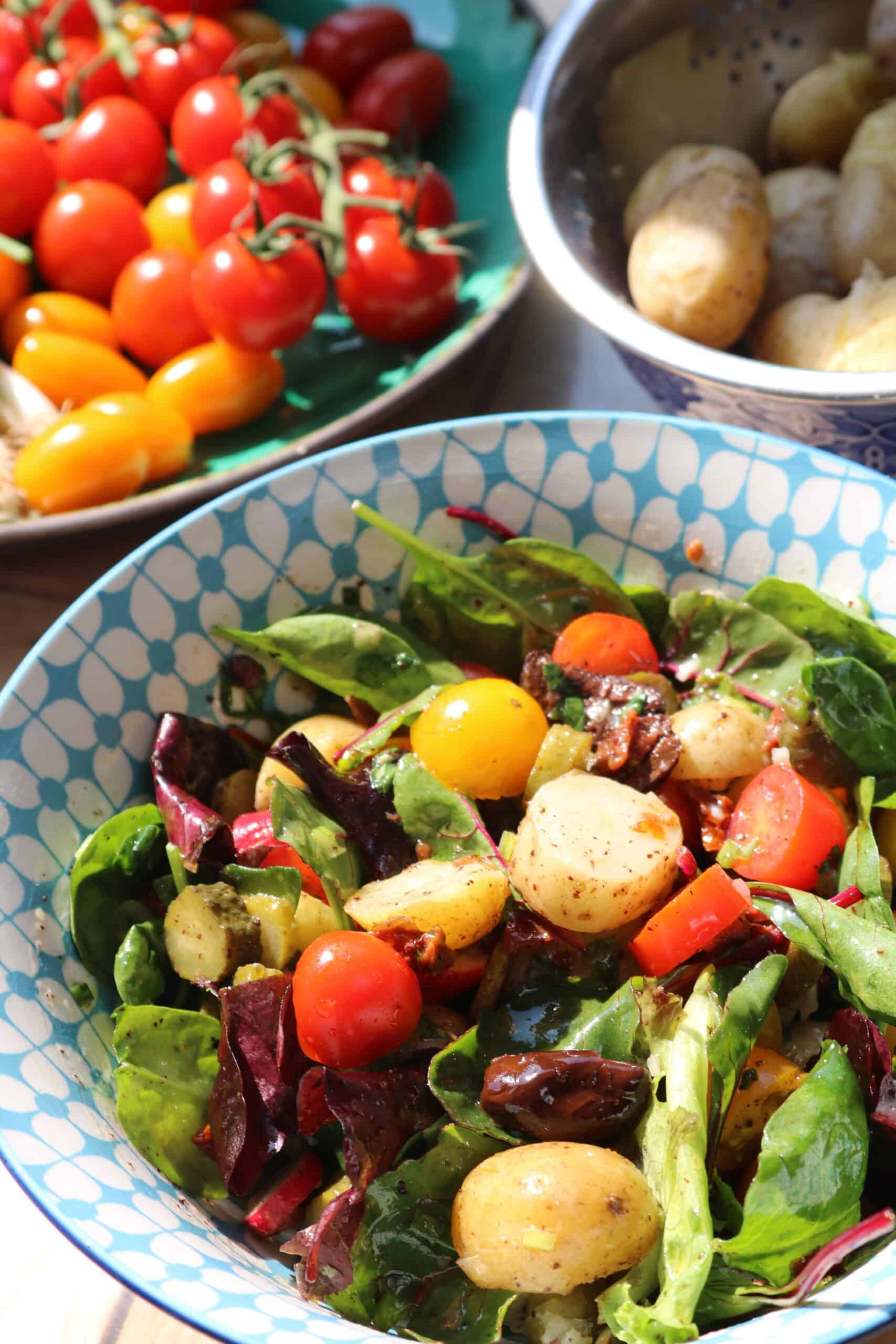 Variations
As salads are flexible things, you can make several amazing versions depending on what you have in the fridge. You can substitute the potato for...
Chicken - some leftover grilled chicken cut into cubes
Cheese - firm white cheeses work very well such as feta
Croutons - fried Lebanese flatbreads or pitta add crunch
Nutty - Pistachios or flaked almonds are my nuts of choice
Vinegary - a nice splash of balsamic vinegar
Top tips
Some people think anything goes in any salad and I can't help but disagree. Everything in a great salad has to be considered and its existence has to be justified.
What particular texture or flavour is that ingredient enhancing? Would the salad be missing something if it was not there?
I didn't mean to get too philosophical about salads, but actually even though they don't require much cooking, it's possible to make memorable salads if you ensure everything works together in perfect harmony.
📖 Recipe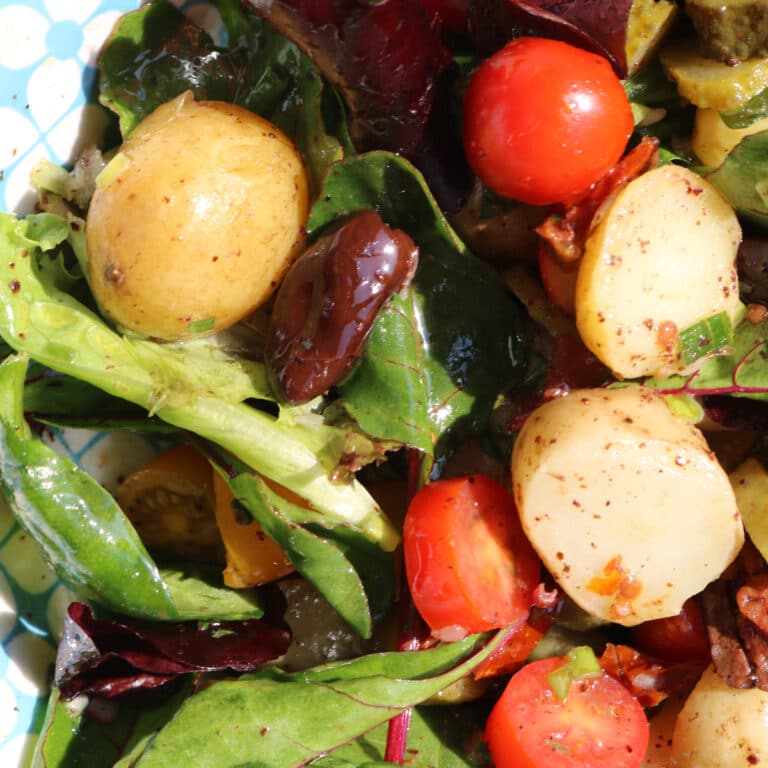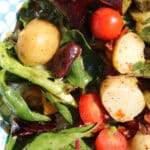 Healthy Potato Salad
Mediterranean Potato salad with olives, pickles, sumac and sun dried tomatoes
Ingredients
1

cup

baby boiling potatoes

Approx 250g

good handful baby salad leaves

Approx 100g

Handful cherry tomatoes

3-4

pickled cornichons

2-3

sun-dried tomatoes

1-2

spring onions

small handful basil, chives, mint

(3-4 of each)

small handful black olives

¼

teaspoon

sumac

squeeze of lemon

drizzle extra virgin olive oil

salt to taste
Instructions
Boil the potatoes for about 15 mins until a knife cuts through. Drain and set aside

Wash and drain all the vegetables in a colander

In a large bowl, add the baby salad leaves and basil, chop the spring onion, sun dried tomatoes, pickles, tomatoes

Finely chop the chives and mint. Pit the black olives and halve.

Chop the baby potatoes into thick rounds. Add the sumac, sprinkle of salt, a big squeeze of lemon and a good drizzle of extra virgin olive oil

Combine gently making sure you don't squish the potatoes

Taste and adjust the seasoning as necessary
If you make any of our recipes let us know how it went by giving us a star rating below.
Check out our Youtube page for full video tutorials, our Facebook group to discuss Lebanese cooking, as well as our tiktok page for quick tips.
You may also like these recipes from the collection: