Right, we have another life saving emergency recipe from pantry ingredients that requires minimum effort but tastes amazing for you.
This chickpea, bulgur wheat and tomato pilaf takes no time and is full of flavour. There is no shame in using chickpeas from a can and tomatoes from a can either.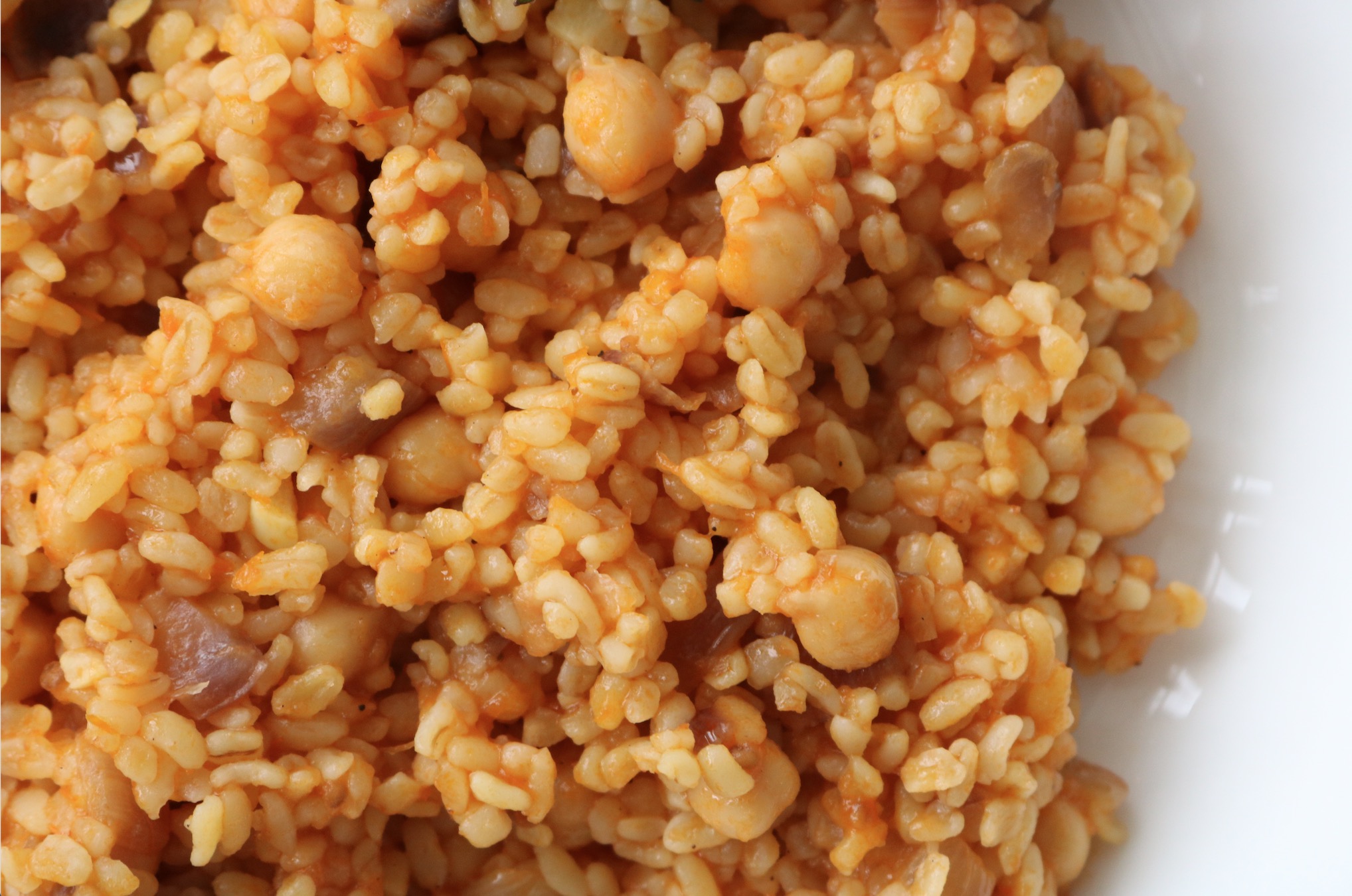 What bulgur wheat should I use?
I've used Turkish bulgur wheat which is coarser than your regular Lebanese Bulgur wheat, but by all means use standard coarse bulgur wheat if you have it.
Fine bulgur wheat renders the texture too mushy though of course these days we can hardly be picky.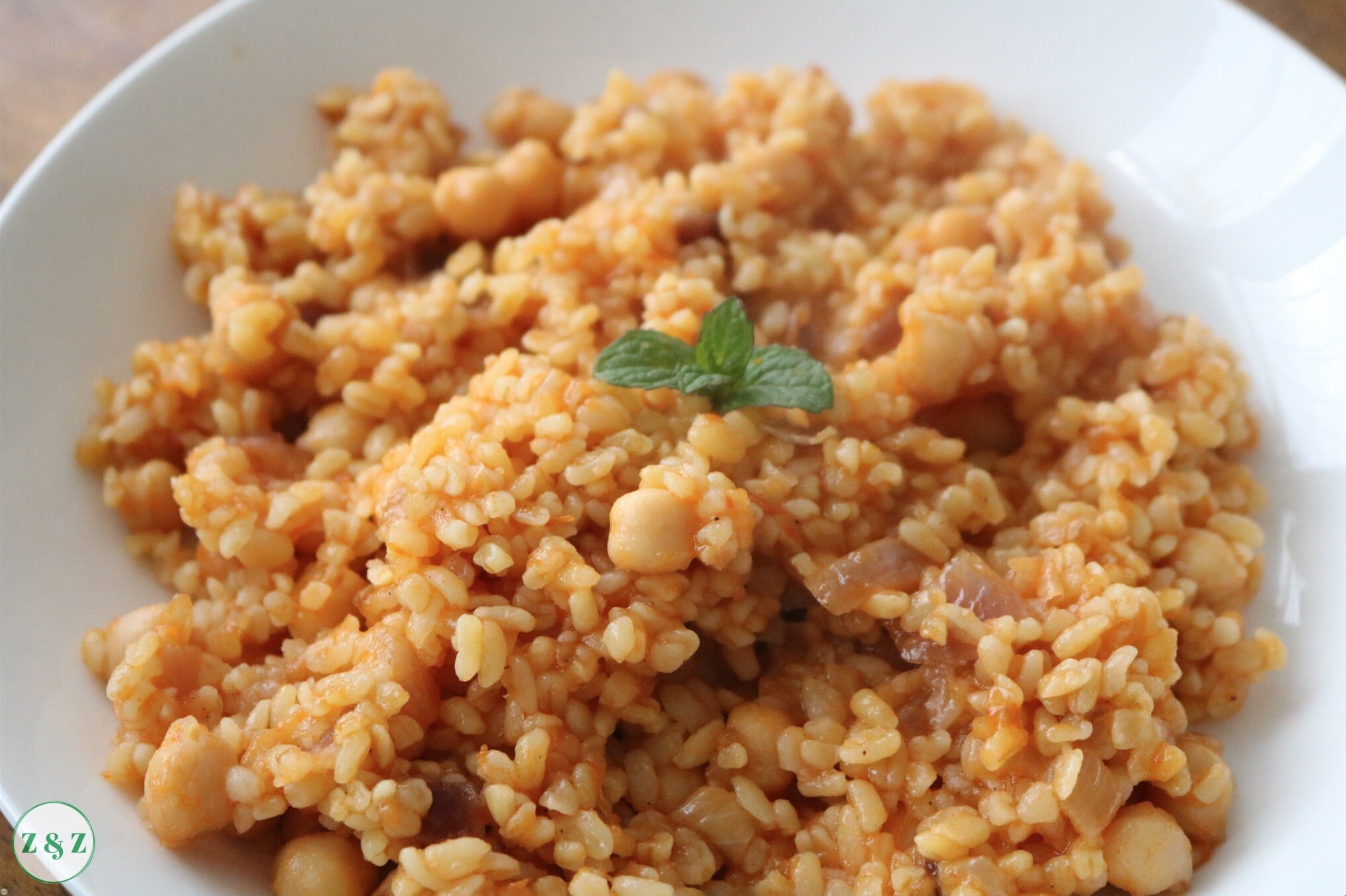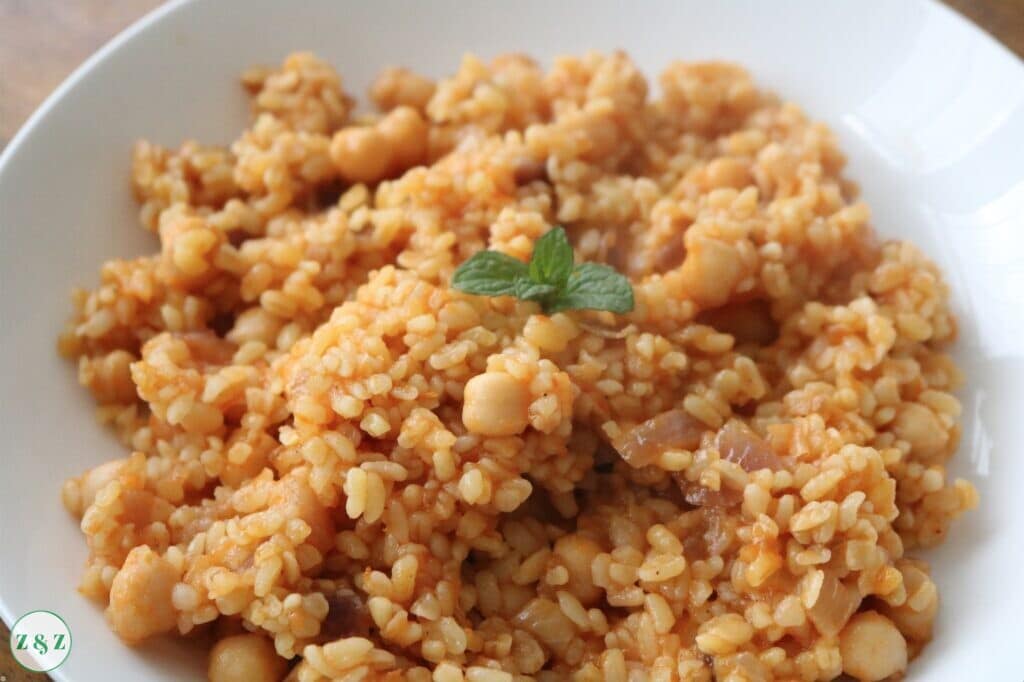 Tips for making the best chickpea pilaf
You start by sautéing an onion till golden and adding a clove of garlic or two.
I blitz the can of tomatoes to get a smooth texture and sometimes also make it using fresh tomatoes too, whereby I add a tablespoon of tomato concentrate to give it extra tomato flavour.
The main spice I use here is ground black pepper but if you like you can add a bit of red chilli powder to turn up the heat.
How to eat the chickpea pilaf
This classic chickpea pilaf is best eaten with a side plate of pickles, herbs and radishes. My husband also likes to have some raw onion with it but that's too strong for me.
You can also serve it with a green salad or plain yoghurt. You can even have it cold the next day as it contains no protein.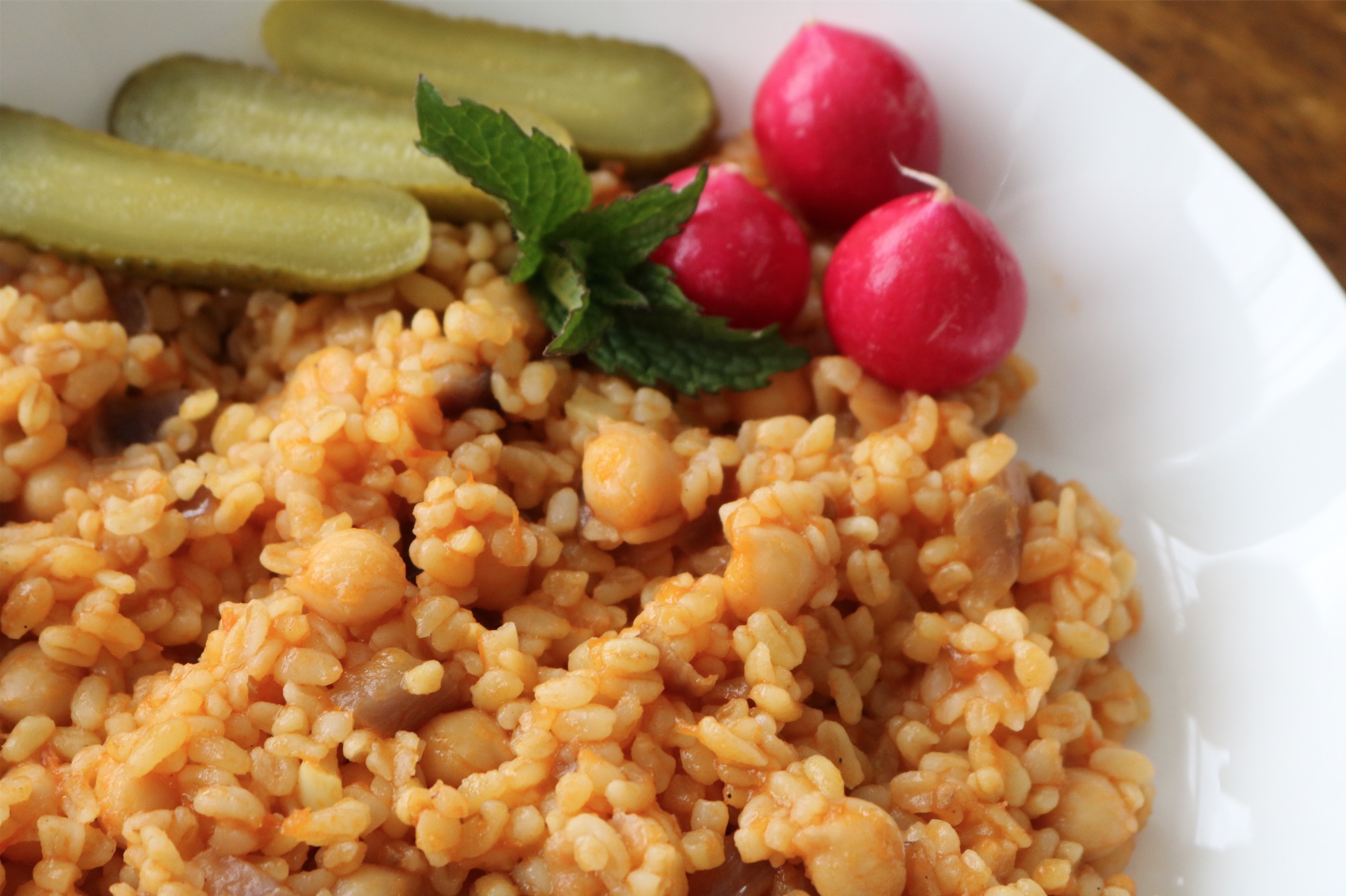 It will last up to three or even four days in the fridge, so why not make a big batch and have some the next day and a little left over the day after that.
I like to think that this is how the Lebanese Mezze evolved, a collection of little leftovers that people brought together in the most delicious way.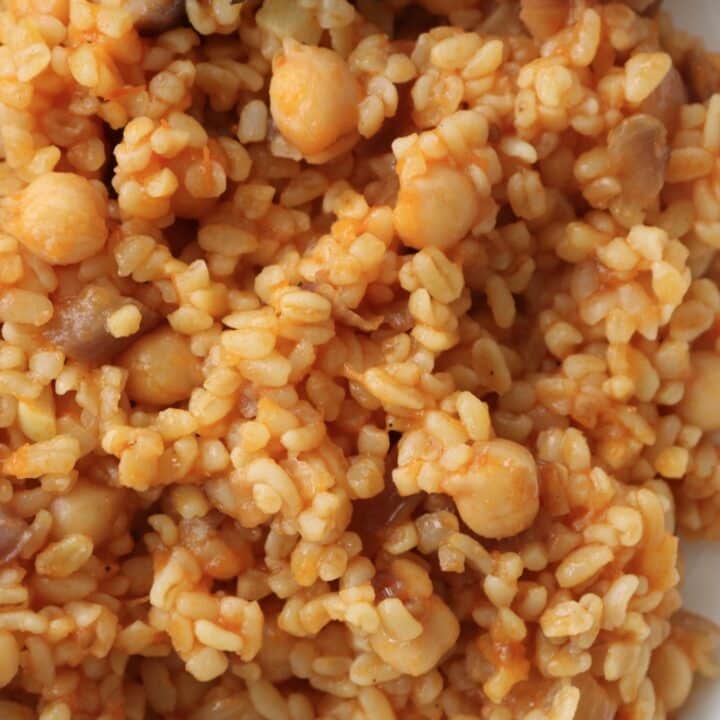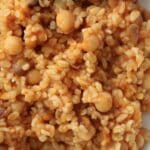 Vegan Chickpea and Bulgur Pilaf
Chickpeas and bulgur wheat cooked in a tomato sauce
Ingredients
1

onion

chopped

2

tablespoon

regular cooking olive oil

2

cloves

of garlic

chopped

1

can of tomato

blended

1

can of chickpeas

1

cup

coarse bulgur wheat

½

teaspoon

black pepper

¼

teaspoon

paprika

¼

teaspoon

turmeric

Salt to taste (approx ¾ tbsp)

Boiling water to cover
Instructions
In a pot, sauté the chopped onion in a drizzle of regular cooking olive oil until golden

Add the garlic and simmer on a low heat for a few extra minutes

Blend the can of tomatoes with a hand blender and add to the onion garlic mix.

Add the salt and spices and bring to the boil

Drain and wash the chickpeas and add to the tomato mixture

Wash and drain the bulgur wheat in a fine sieve and add to the pot

Cover the mixture with enough boiling water. Bring to the boil then cover with a lid and reduce to a simmer for approximately 20 minutes until the bulgur wheat is cooked.

Taste and adjust the salt if necessary just before turning off the heat

Serve with a side plate of radishes, pickles and herbs.
Recipe Notes
You can replace the can of tomato with 4 fresh tomatoes and a tablespoon of tomato concentrate
You might also like our zucchini and bulgur wheat recipe or our Eggplant Moussaka recipe.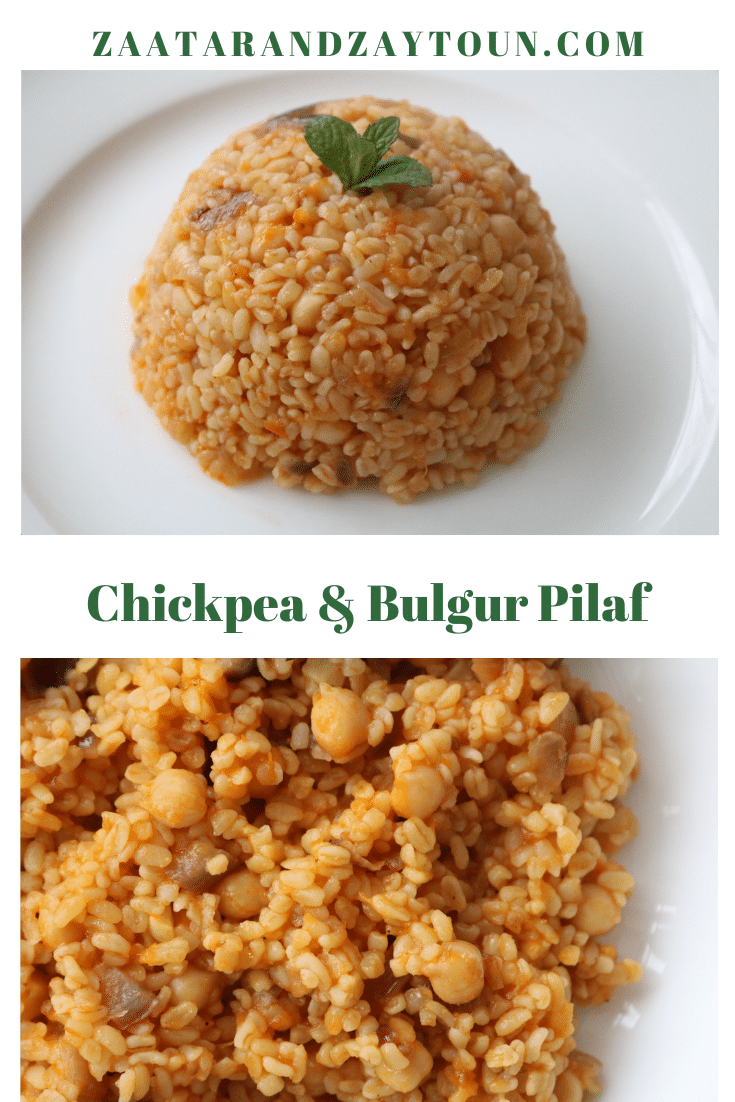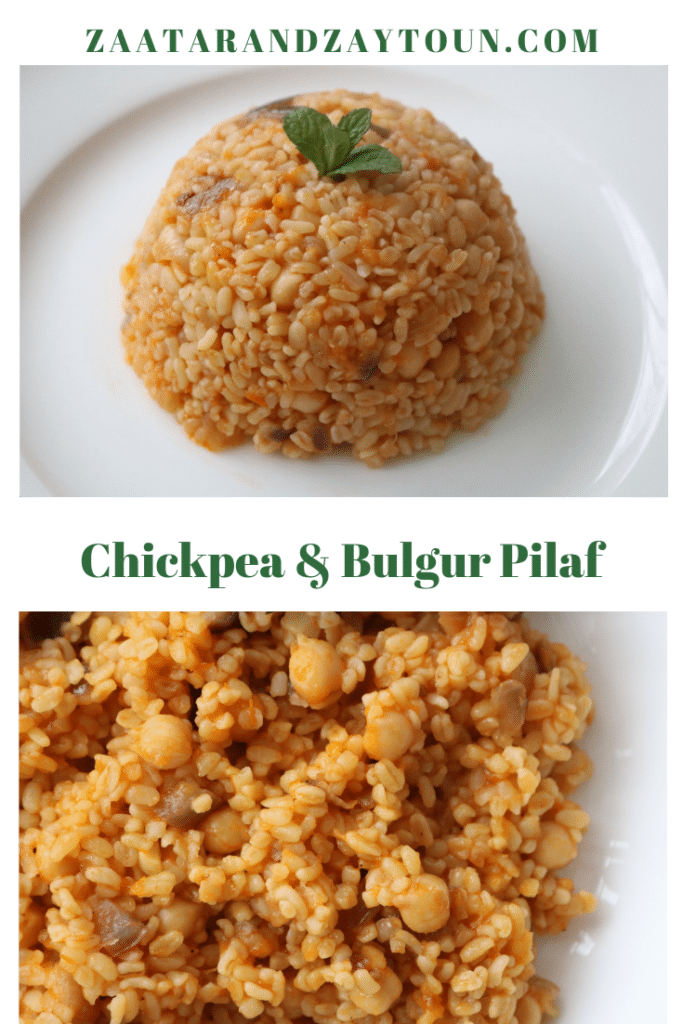 If you make any of our recipes let us know how it went by giving us a star rating below.
We have a lively Facebook group where we post frequent recipes and discuss Lebanese cooking in general, as well as a handy Pinterest page where you can save all of your favourite Zaatar and Zaytoun recipes.
You might also like these other recipes from the Zaatar and Zaytoun collection: