The importance of bread
This might sound weird but one of my favourite things about travelling is discovering the local bread. There's something special about traditional bread that is made in each country that you can't easily find in other places.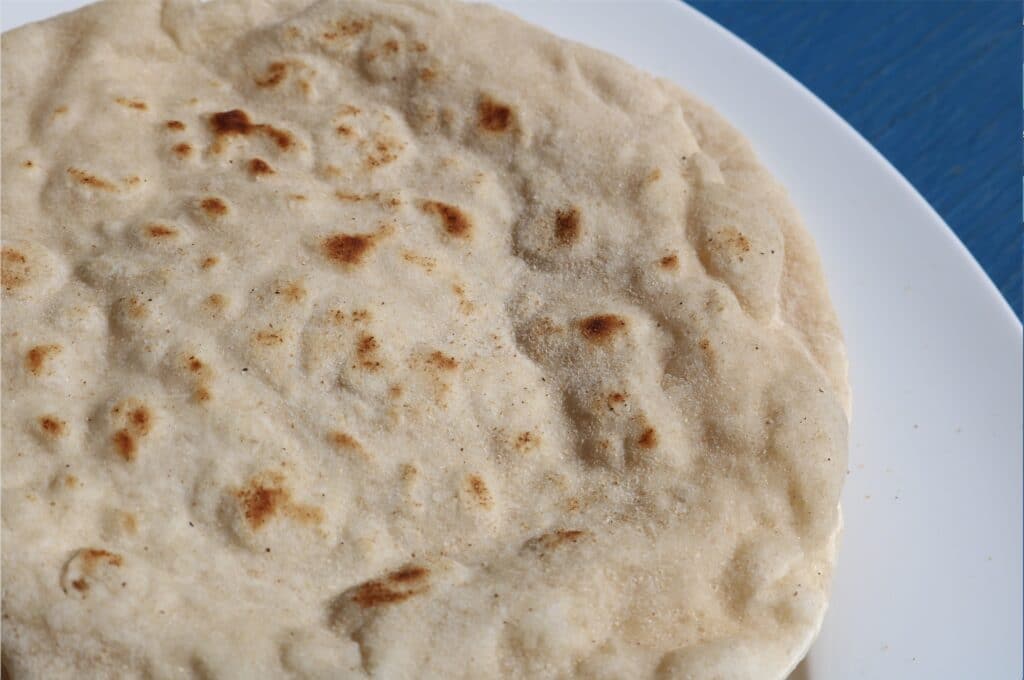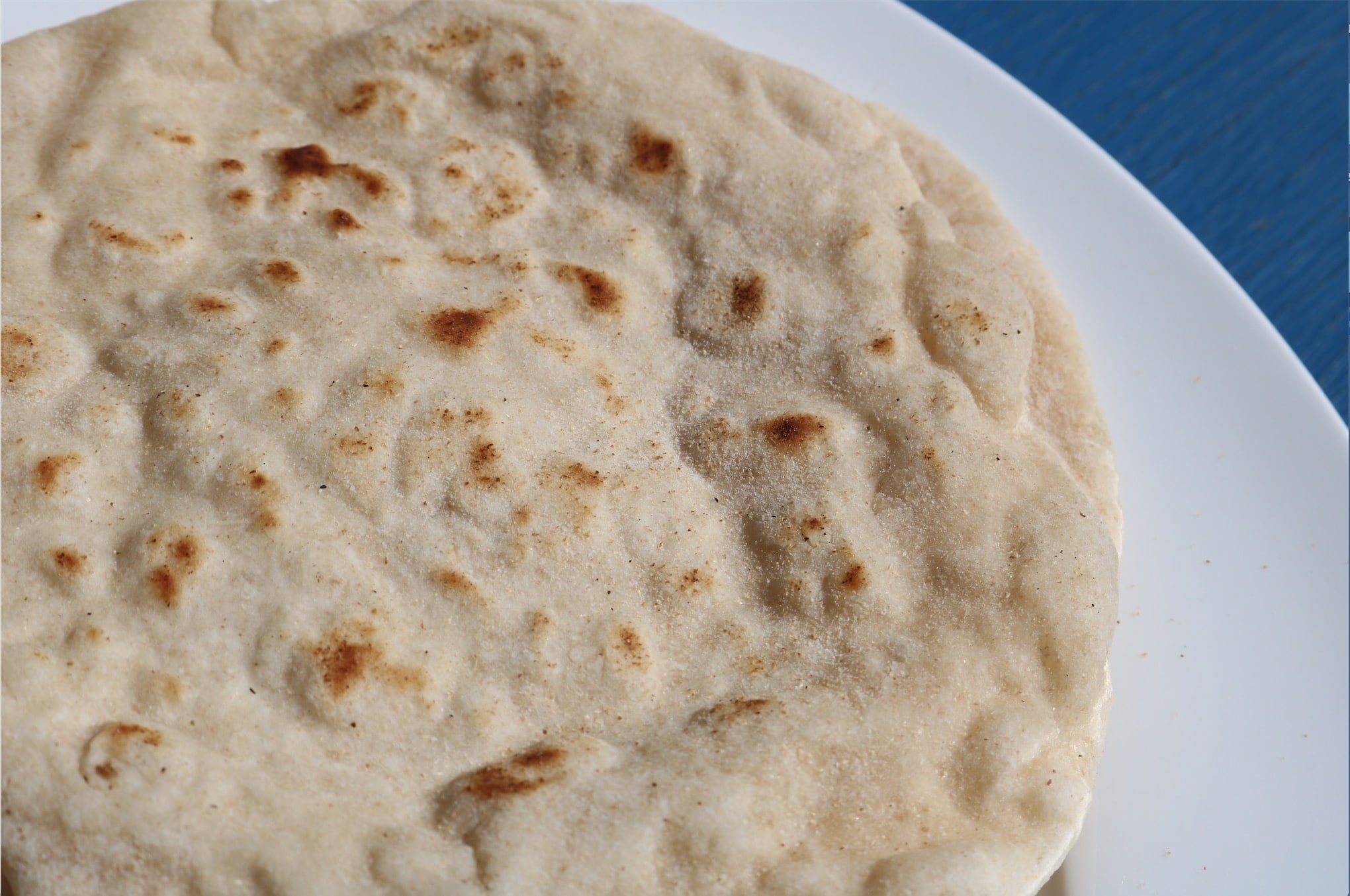 The excellent baguettes in France, the thick round khobz in Morrocco, the bread baked on little hot stones in Iran, and even the soft white loaf found here in the UK, they're just not the same in other places.
Once I had some Algerian neighbours who used to make me their version of flatbreads and not forgetting my Indian neighbours who send me freshly made rotis hashtag happy place.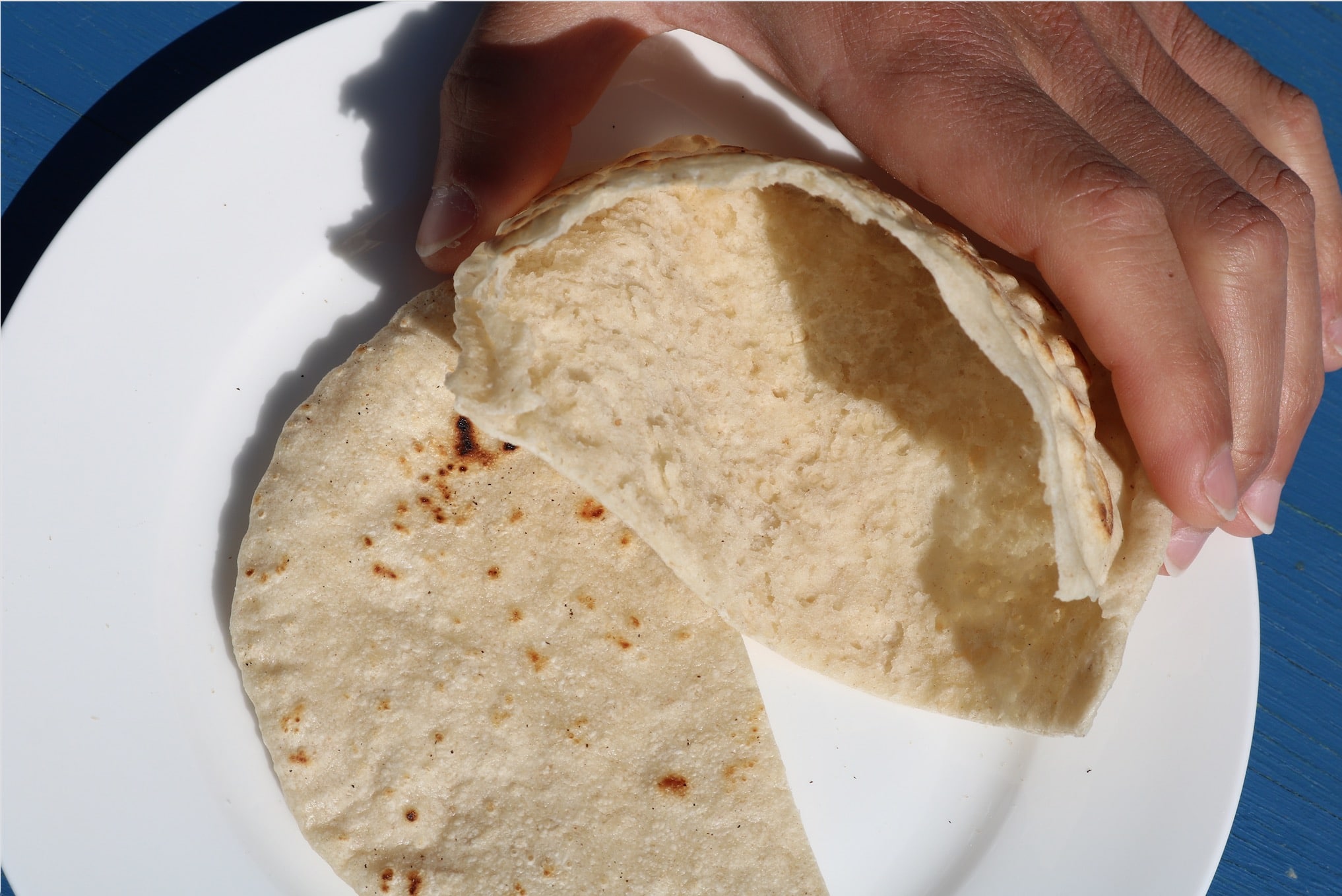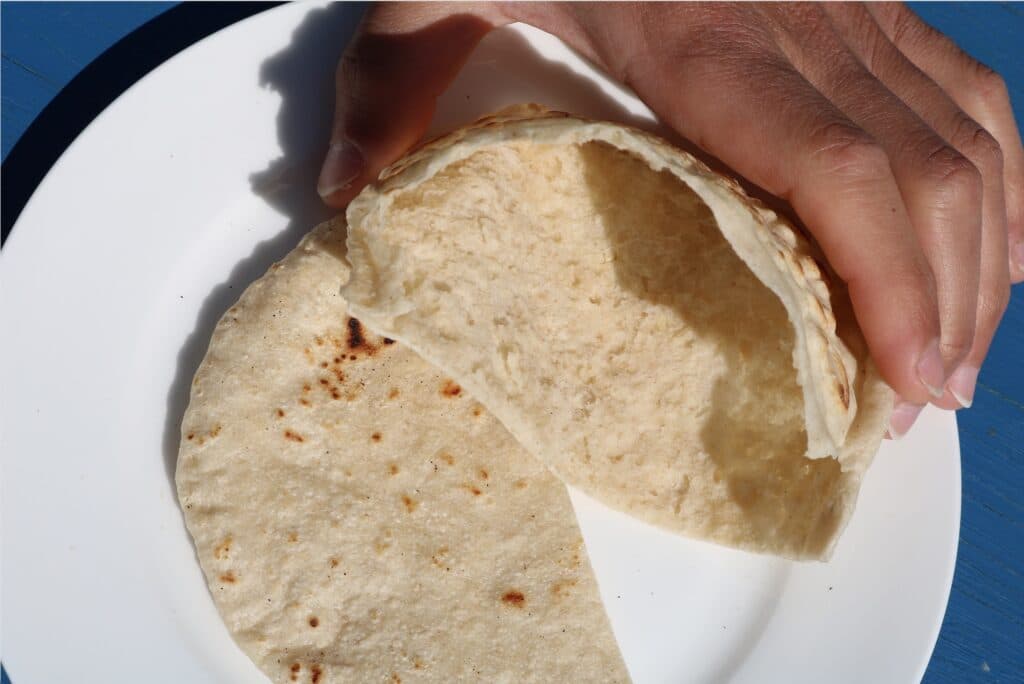 Did I mention that i'm a bread obsessive. I shun people who think bread comes under bad carbs and judge them for their bad judgement of the most important staple in the history of human cooking.
Bread is good for you and fills you up so you don't go round eating other junk.
The Lebanese diet relies on bread more than other carbs such as rice or pasta. The flatbread varieties you find will vary from one diaspora community to another. Here in London we get the very thin flatbread perfect for wraps as well as the thicker pita pockets.
So let's make some easy stovetop pitas that you can fill with lots of lovely things like our falafel recipe, or mop up our loubia b'zeit green bean stew, or even have with our best hummus recipe. Have you tried out our smokey baba ganoush recently?
The filling options are endless and that's why everyone needs a good bread recipe that they can make in less than 2 hours including proving time. The actual bread takes minutes to cook and fresh bread really is the basis of life not even exaggerating here.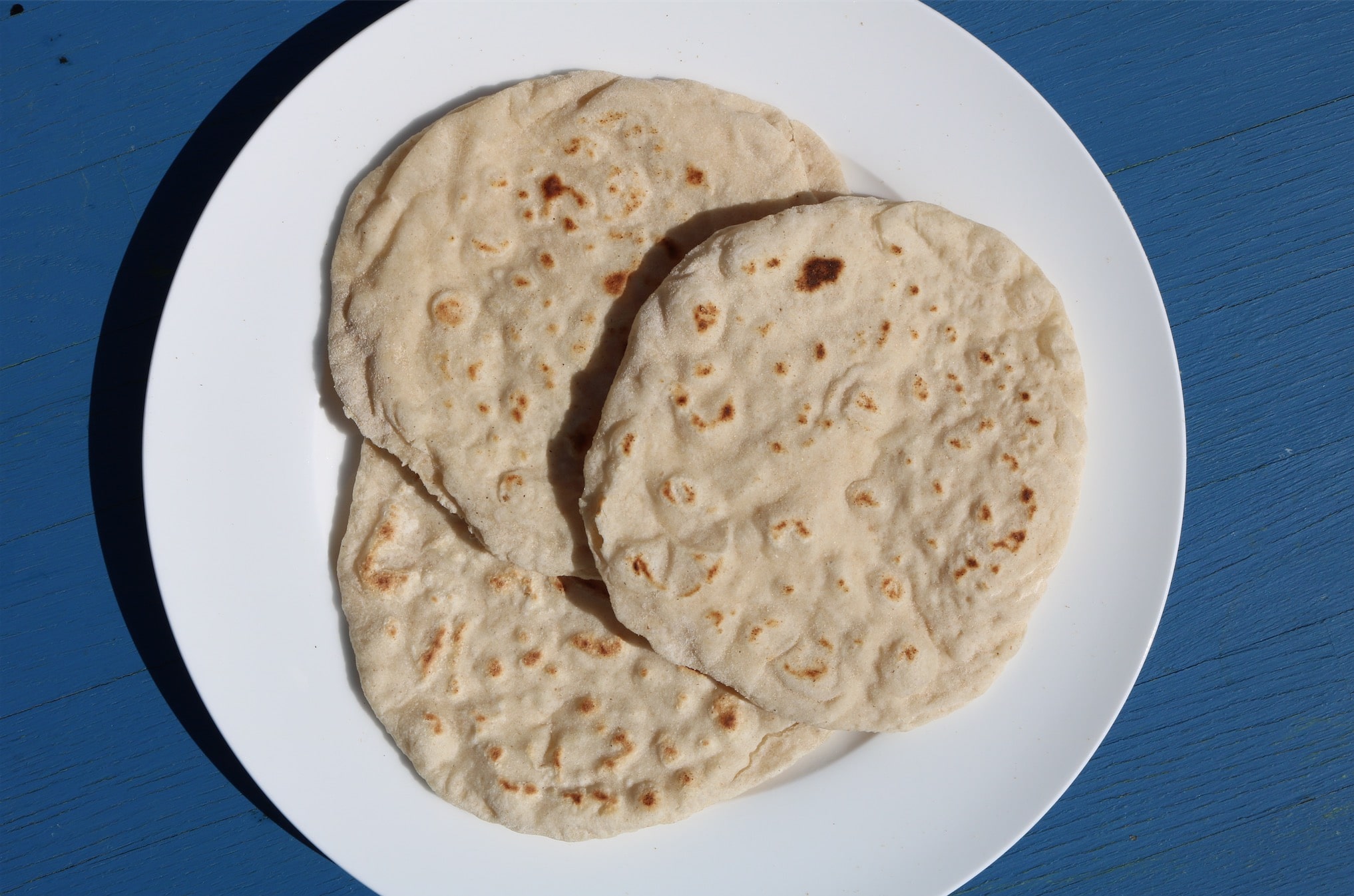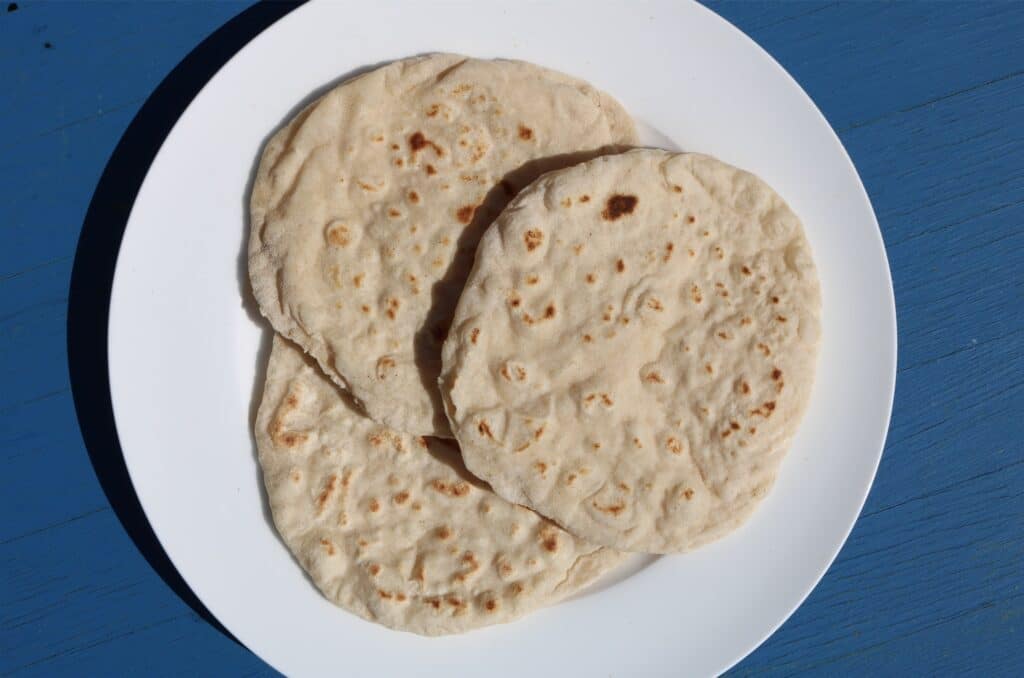 Tips for making the best stovetop pitas
It's all in the pan baby. Choose a heavy bottomed non stick pan that can handle very high temperatures. Any heavy skillet or cast iron pan will work too. You need to get the pan really really hot so when you hover your hand (safely) above it you can feel the heat.
Common problems with dough
Below are some fixes for some common dough problems you may encounter:
Your yeast is too old
Always check the sell by date on your yeast as lots of people are surprised when their dough doesn't rise.
I like using dried active yeast as its easier to control but you can also use instant bake that you add directly to the dry ingredients or fresh yeast. Adjust the type of yeast as per packet instructions
Your water is too hot
Most first time bread makers overestimate how hot the water should be. If it is too hot it will annihilate the yeast.
The water should be just slightly warm. You should be happy giving it to a small child to drink. I add approximately a fifth of a cup of boiling water and fill the rest with cold water.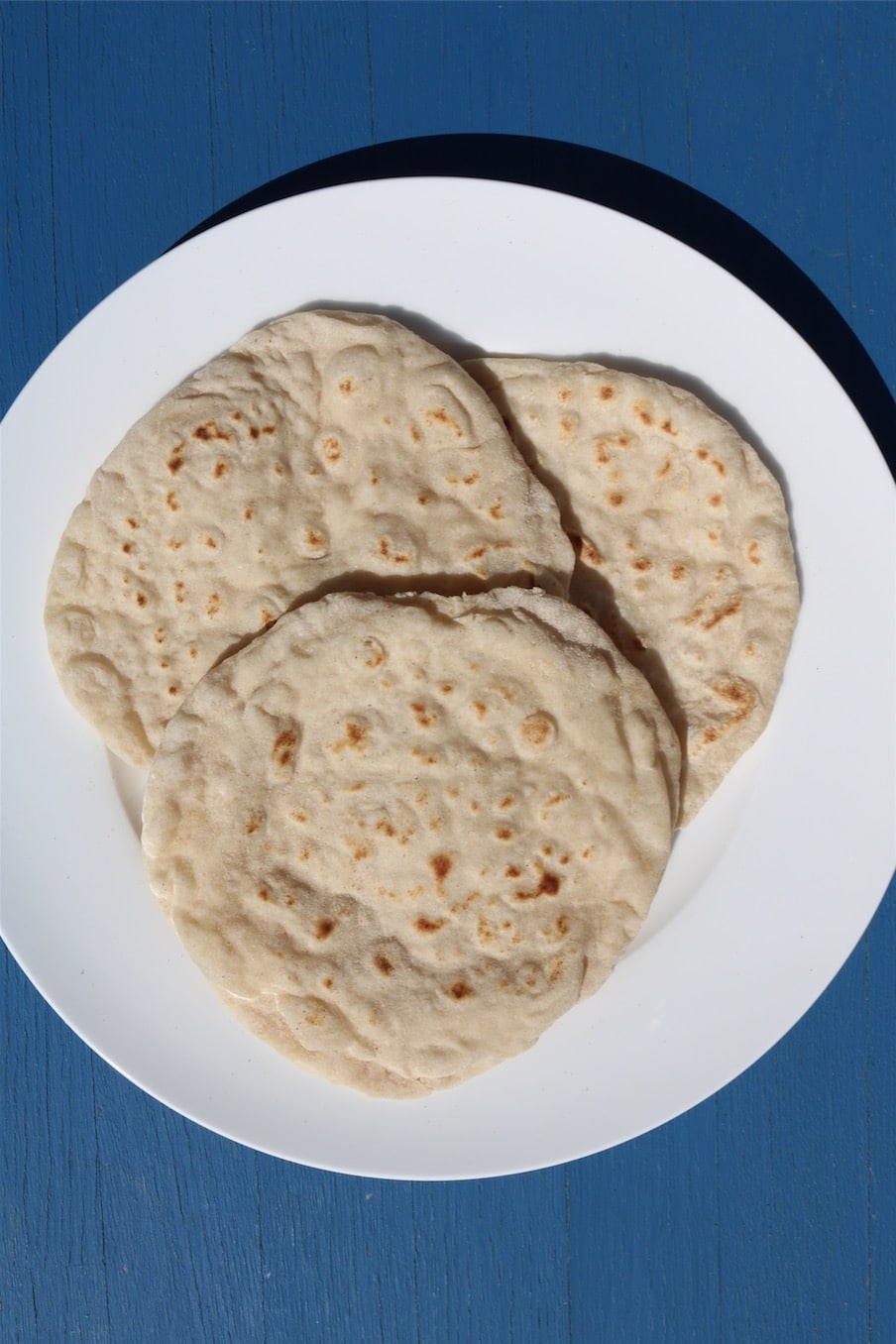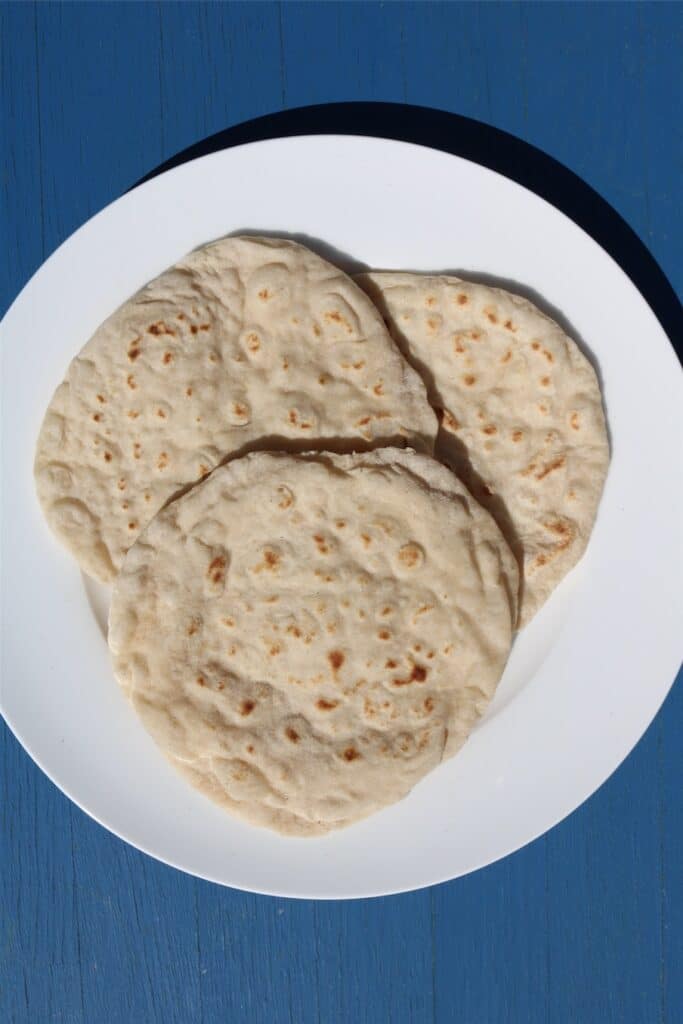 You haven't kneaded the dough enough
If you don't have a stand mixer or food processor you will need to put your back in it and knead the dough very well. Choose a sturdy surface that you can apply pressure to and really knead it for ten minutes like a mini workout.
Test the dough by poking it and it should spring back a little.
Your kitchen is too cold
Baking in colder months gives you the extra problem of creating a perfect environment for your dough to prove if you don't have a proving draw (but who does though?)
Remedy this cold problem by switching on your oven for ten mnuntes or so at the lowest setting. You could also speed things up by placing a shallow dish of boiling water in the oven if it is not rising enough.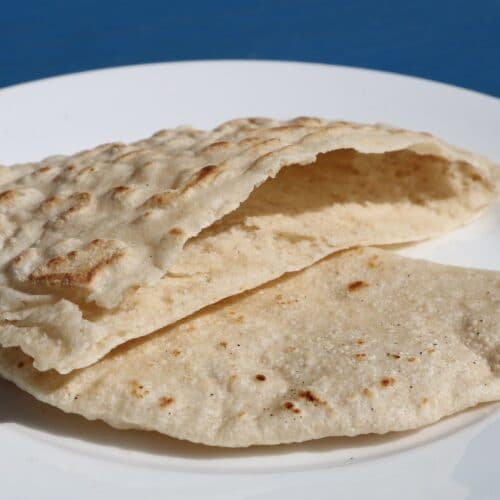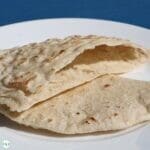 Homemade Pita Bread
Easy stovetop Middle Eastern pita pockets
Ingredients
3

cups

all purpose flour

1

cup

lukewarm water

2

teaspoon

dried active yeast

¼

teaspoon

of sugar

2

tablespoon

regular olive oil

1

teaspoon

salt
Instructions
Test the water with your finger making sure it is not too hot and adjusting with cold water if necessary

Add the yeast and sugar to the lukewarm water and stir well until dissolved. Allow to ferment for around ten minutes

In a mixing bowl add the flour, salt, regular olive oil and stir together. Then add the yeast water and knead for about ten minutes until the dough springs back when poked

If you are using a stand mixer, knead for approx 8 minutes until you have a smooth ball

Cover with a damp cloth and leave to rise for two hours or until doubled in size

Divide into 16 balls and lay on a floured surface. Cover with a muslin cloth

Heat your heavy non stick pan on medium high heat for 5-10 minutes

Roll out one ball of dough to about half a centimetre thick and transfer to the hot pan

Allow the bread to puff up and encourage the bubbles to join together by by gently pushing the air around with a flat spatula. Flip over after 30-40 seconds

Heat the other side for 10-20 seconds until done

Layer the pitas on top of eachother and cover with a muslin cloth to avoid drying out

Serve immediately or store in an airtight bag for up to 3 days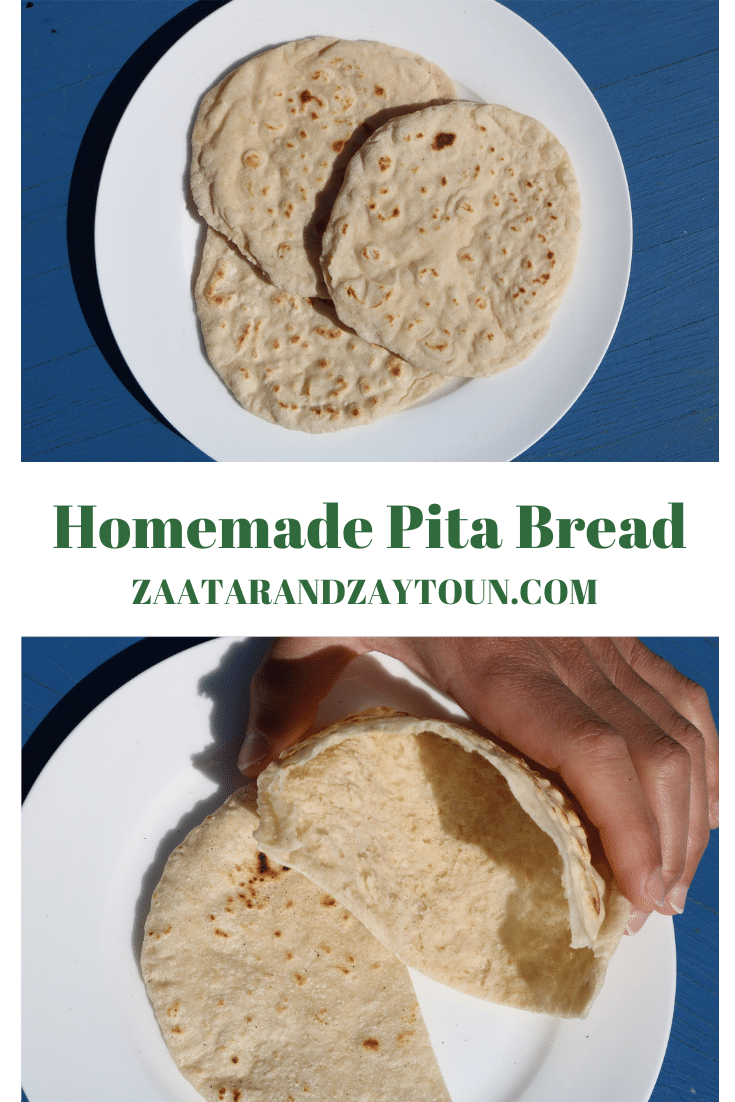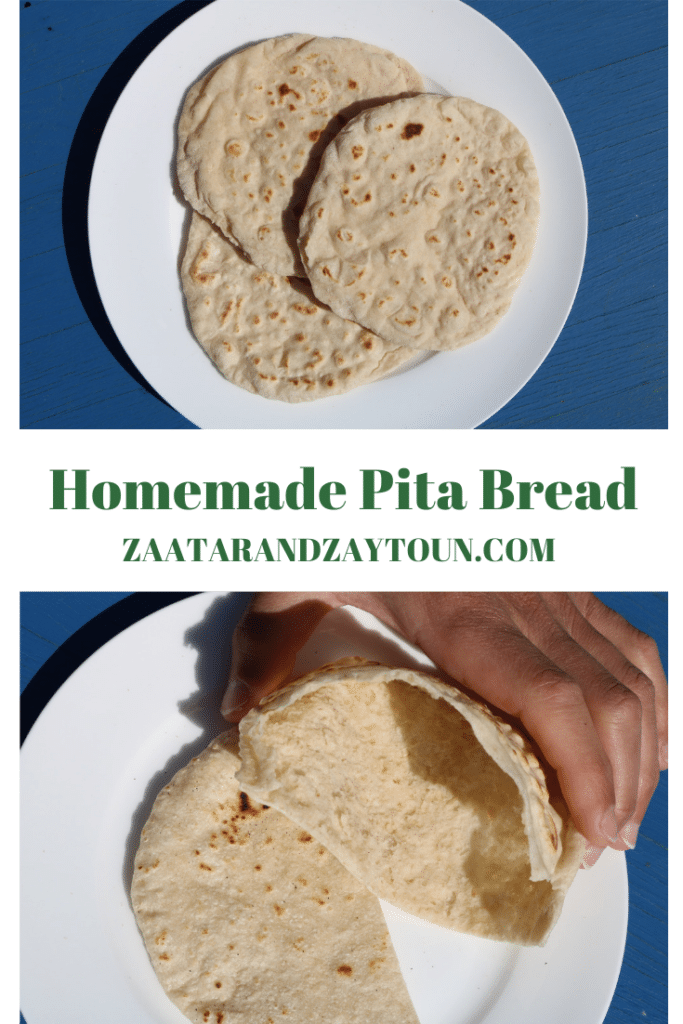 If you make any of our recipes let us know how it went by giving us a star rating below.
We have a lively Facebook group where we post frequent recipes and discuss Lebanese cooking in general, as well as a handy Pinterest page where you can save all of your favourite Zaatar and Zaytoun recipes.
You might also like these other recipes from our Zaatar and Zaytoun collection: