Lebanese people love raw kibbeh so much they have made several versions of it. Frakeh is traditionally shaped by hand into little ridged croquettes.
Traditionally, raw kibbeh was made using a large stone mortar with which the meat was continuously pounded to a fine consistency.
Rarely anyone makes it that way anymore, so make sure you find a good butcher to do the hard work for you.
Frakeh is often served in feasts on a charcuterie board with lots of fresh onion, radish, herbs and chilli.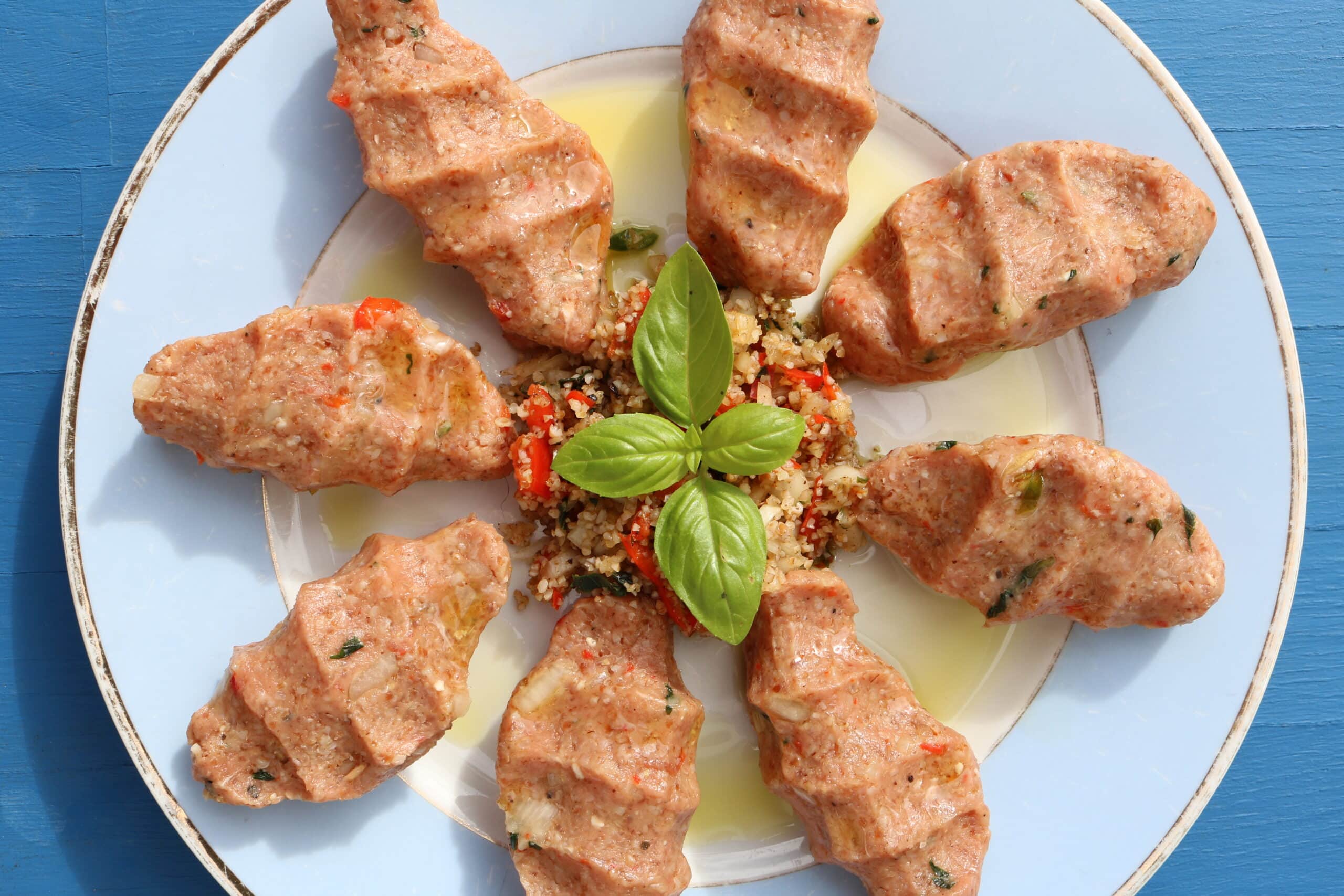 Jump to:
Ingredients
The ingredients are not many in number but have to be of the highest quality. Especially the meat, there can be no compromise on this. You will need:
Raw meat - lamb or veal- trimmed of all visible fat

Kamouneh

- a herb and spice mix with fine bulgur wheat, onion and chilli
Fine bulgur wheat - this can be found in your local Middle Eastern store or online
Good extra virgin olive oil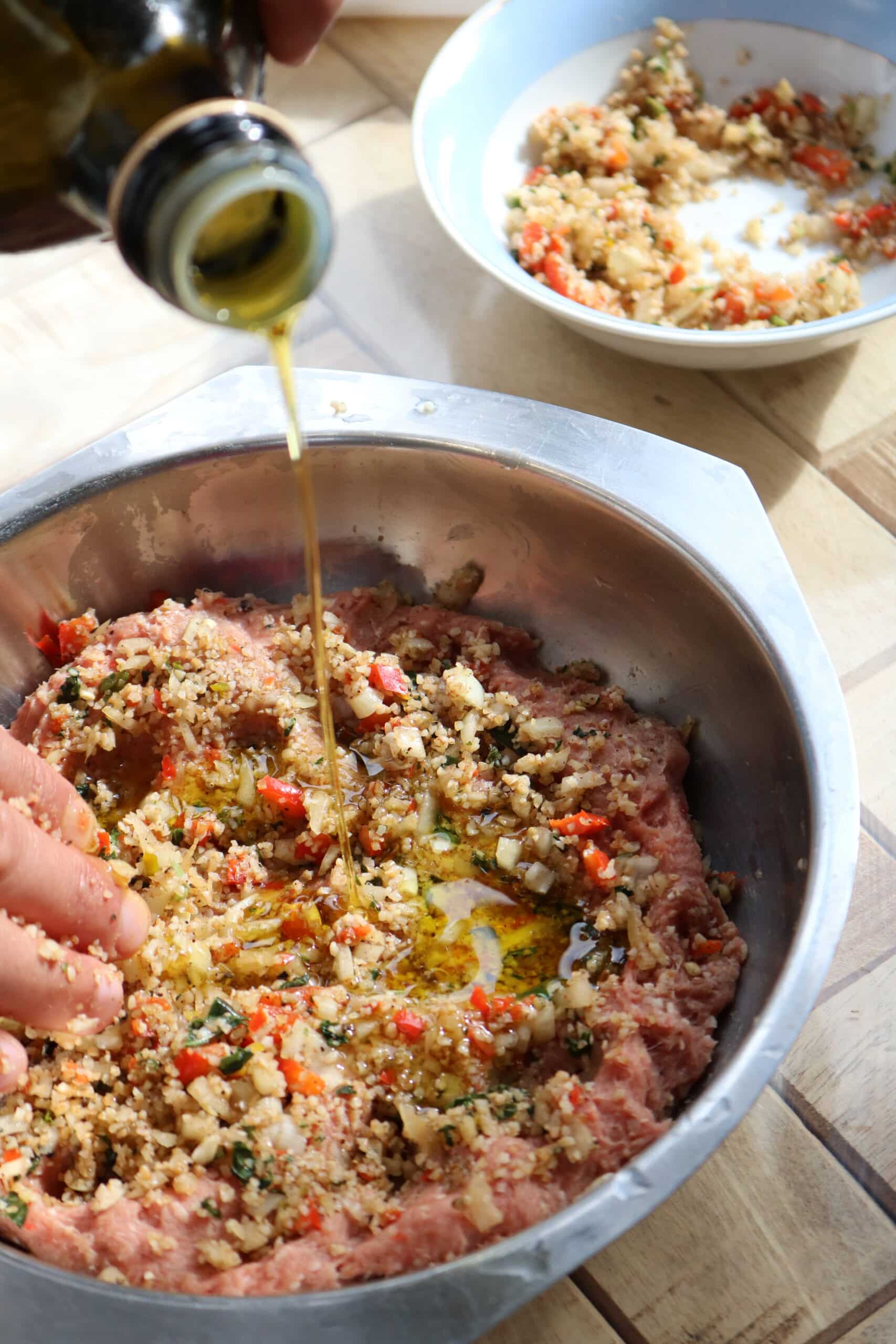 The meat is made from lean lamb or veal, trimmed of all fat. I usually buy fillet of lamb which is the most expensive section making this a very indulgent dish.
Ask your butcher to run it through the fine grinder several times. This means you won't have to redo it in the food processor again at home.
I already have a recipe for kamouneh mix, and have simplified it slightly for this recipe. I also have another recipe for kamouneh spice blend which you also need for the recipe.
Instructions
You have to work quickly with raw kibbeh as you don't want it out in the sunlight too long.
Prepare all the ingredients for the kamouneh mix first, by chopping the onion, red pepper and green chilli and herbs.
Then rinse the fine bulgur wheat and drain well in a fine sieve. Add the spices and chopped vegetables to make a coarse kamouneh mix.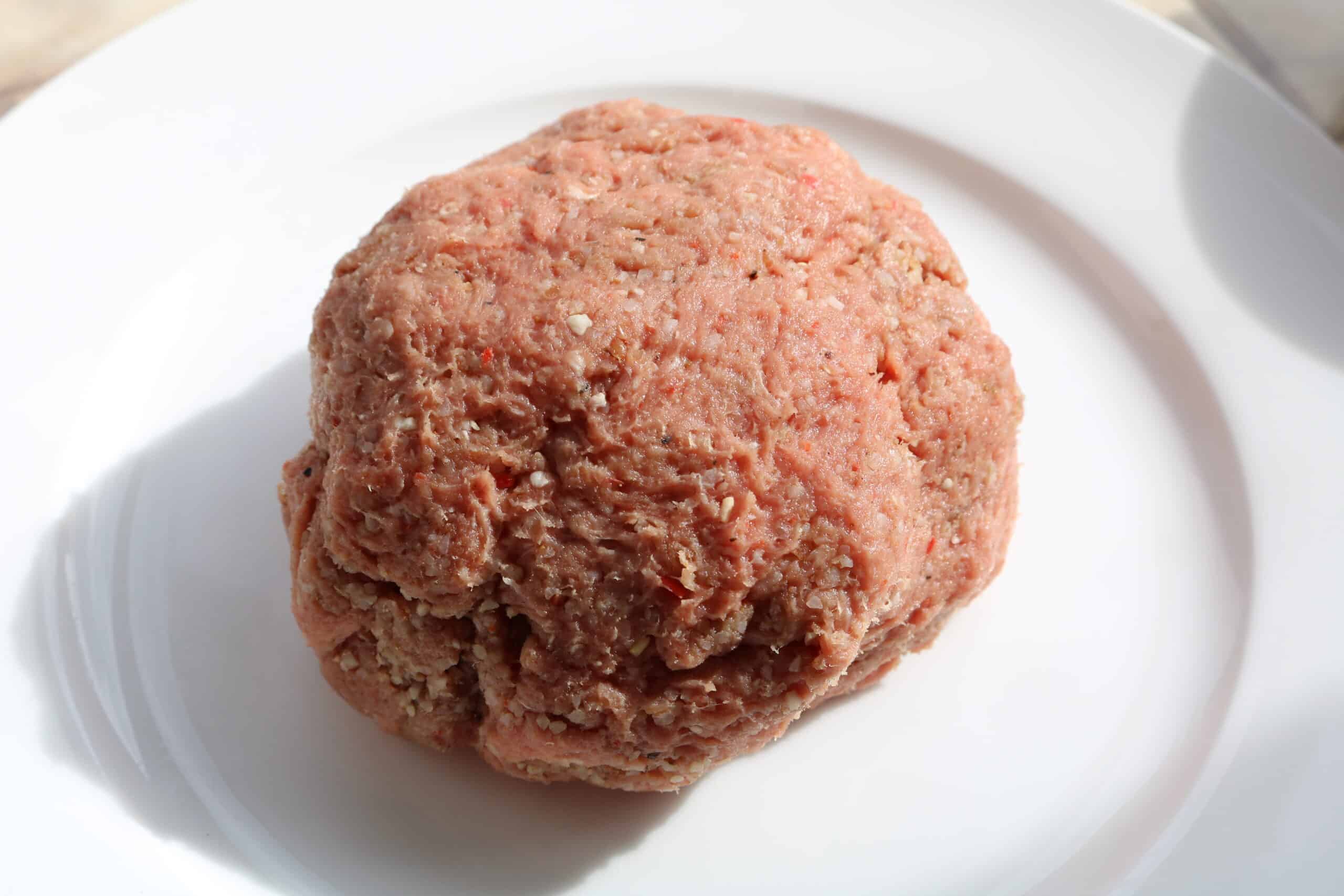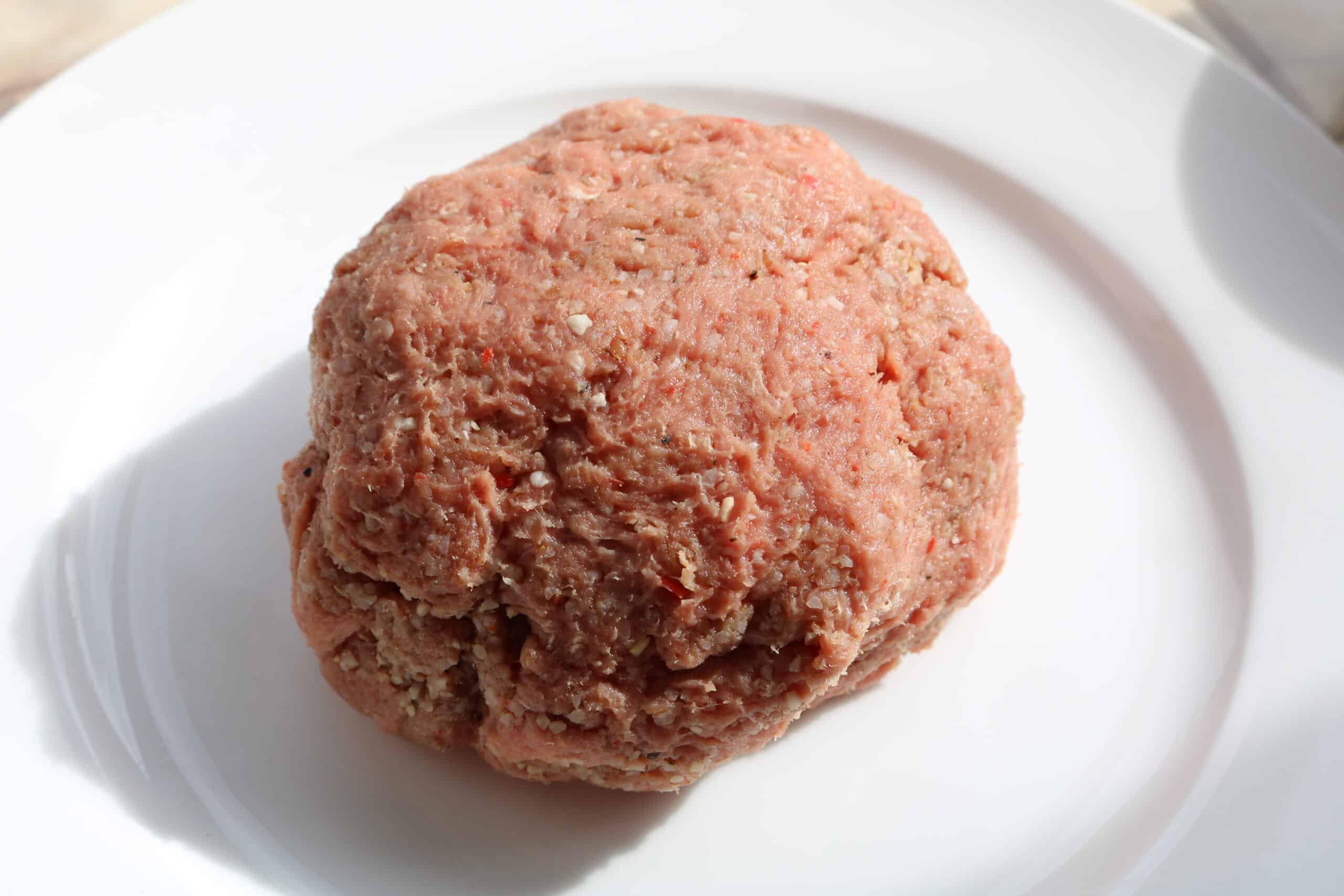 Ask you butcher to finely grind a lean cut of lamb several times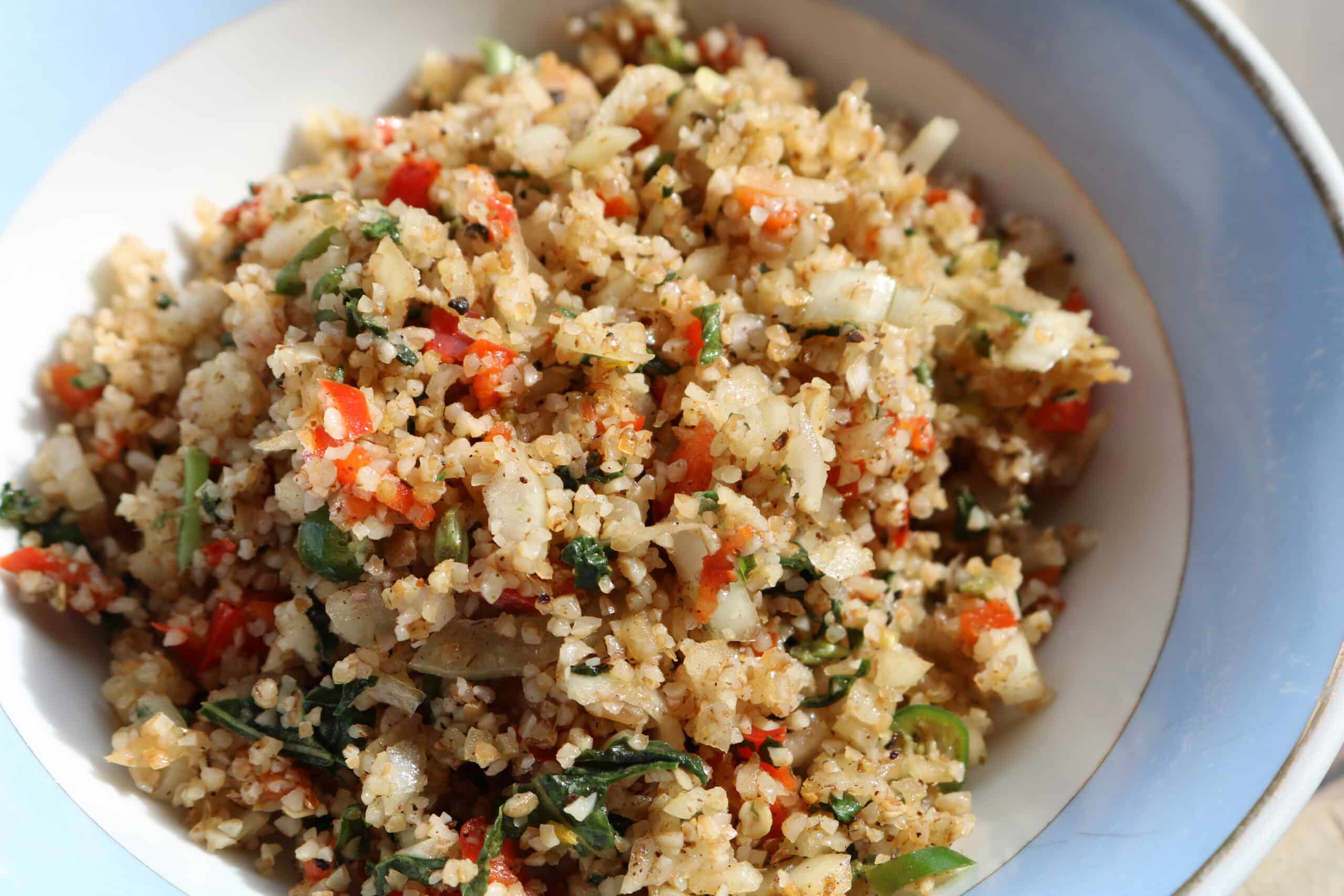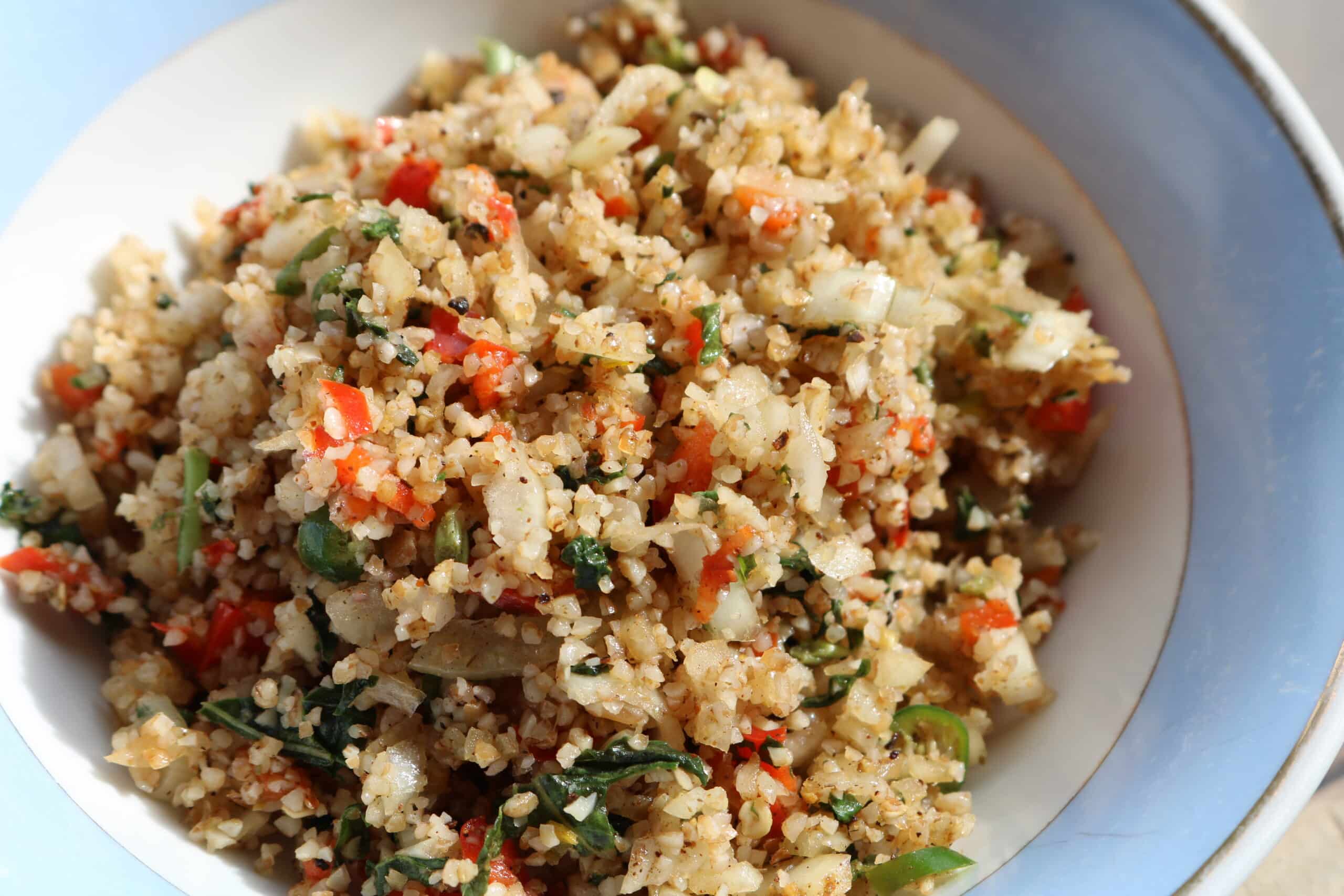 Make a coarse kamouneh mix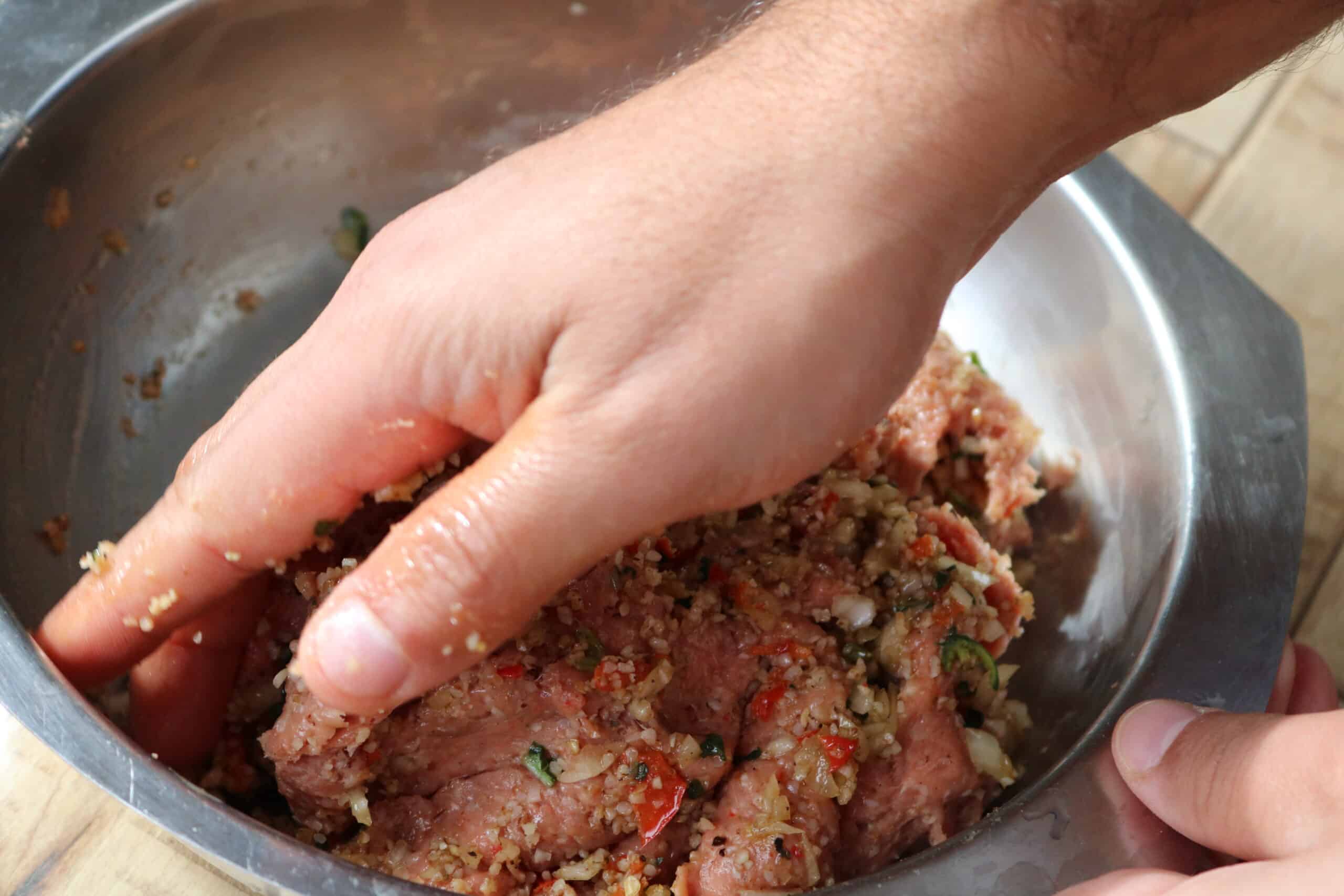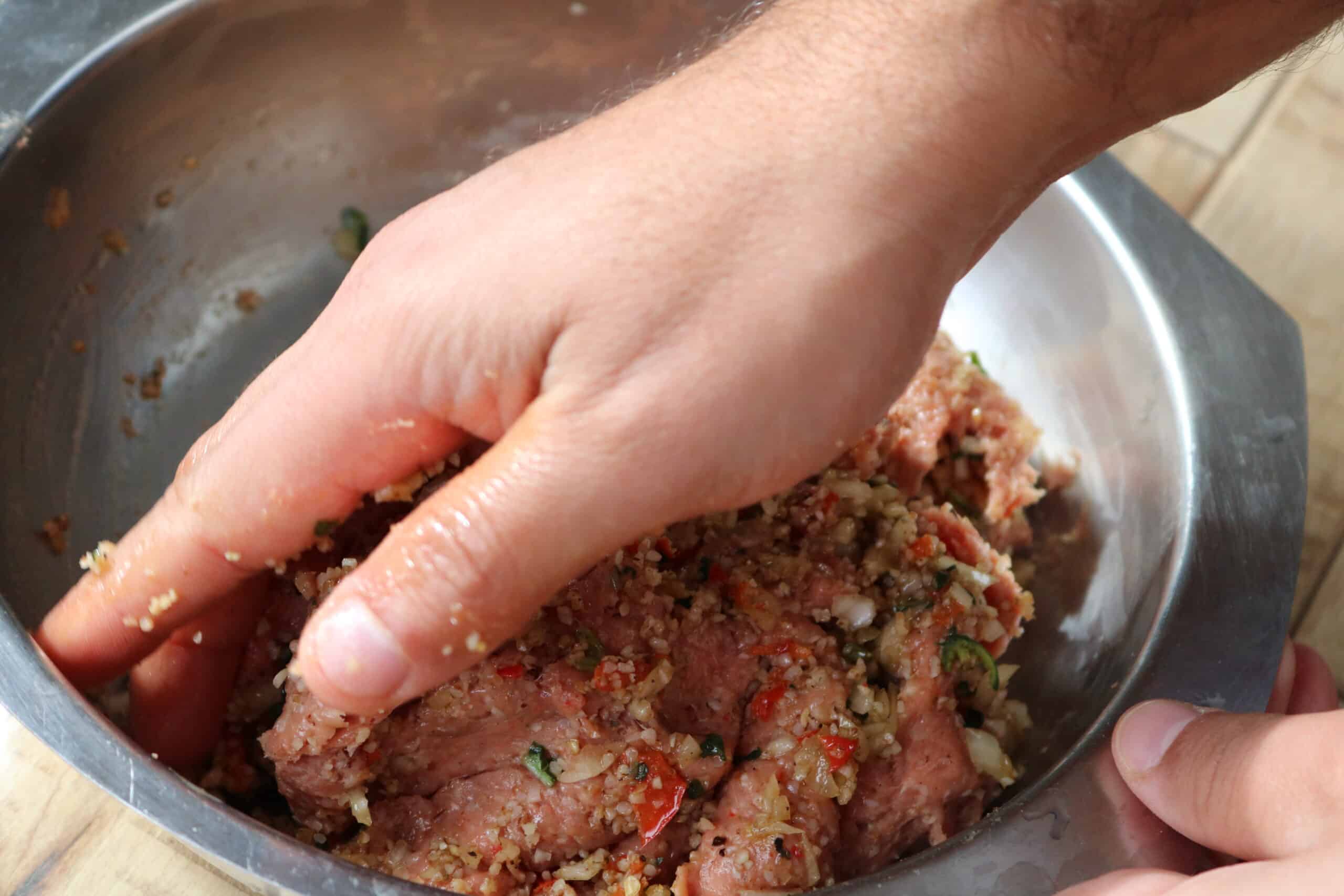 Combine the meat and kamouneh well using your hands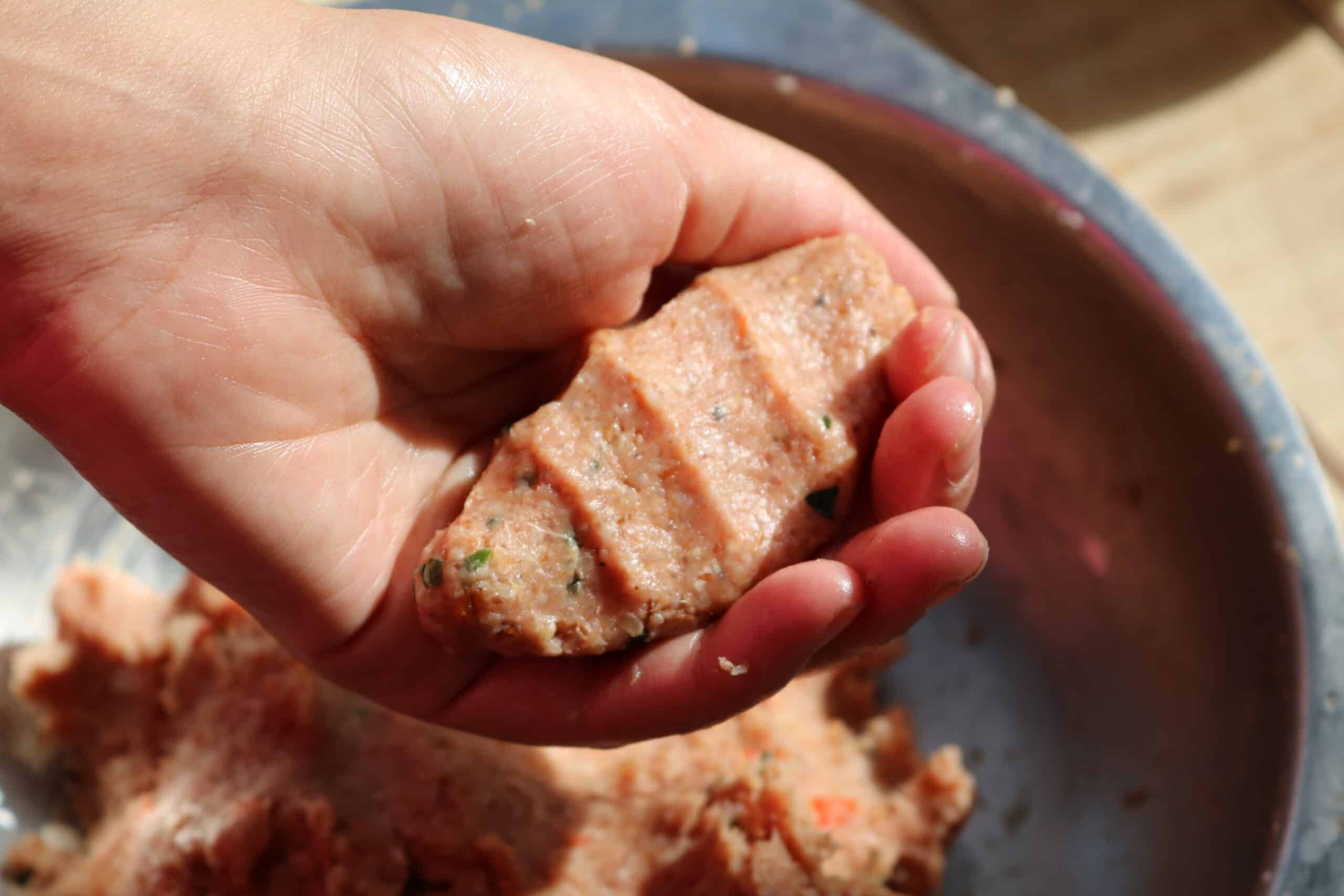 Shape into ridged croquettes
Once you combine the ingredients together, shape the frakeh by making a small croquette in your hand and then gently squeezing so as to make ridges with your fingers.
Variations
In addition to frakeh, there is kibbeh nayeh, melsen and raw kafta, which have different ratios of spices, bulgur wheat and herbs in them.
Kibbeh Nayeh - This usually has slightly less bulgur wheat than frakeh.
Melsen - This has very little or no bulgur wheat.
Raw Kafta

- This has parsley, onion and no bulgur wheat.
For a real dinner party moment, you can serve a selection of these raw kibbehs on a board with some fresh vegetables and herbs.
Storage
The frakeh should be eaten immediately upon serving. Any remainders should be refrigerated or frozen.
You can fry remaining frakeh for a quick spicy kibbeh.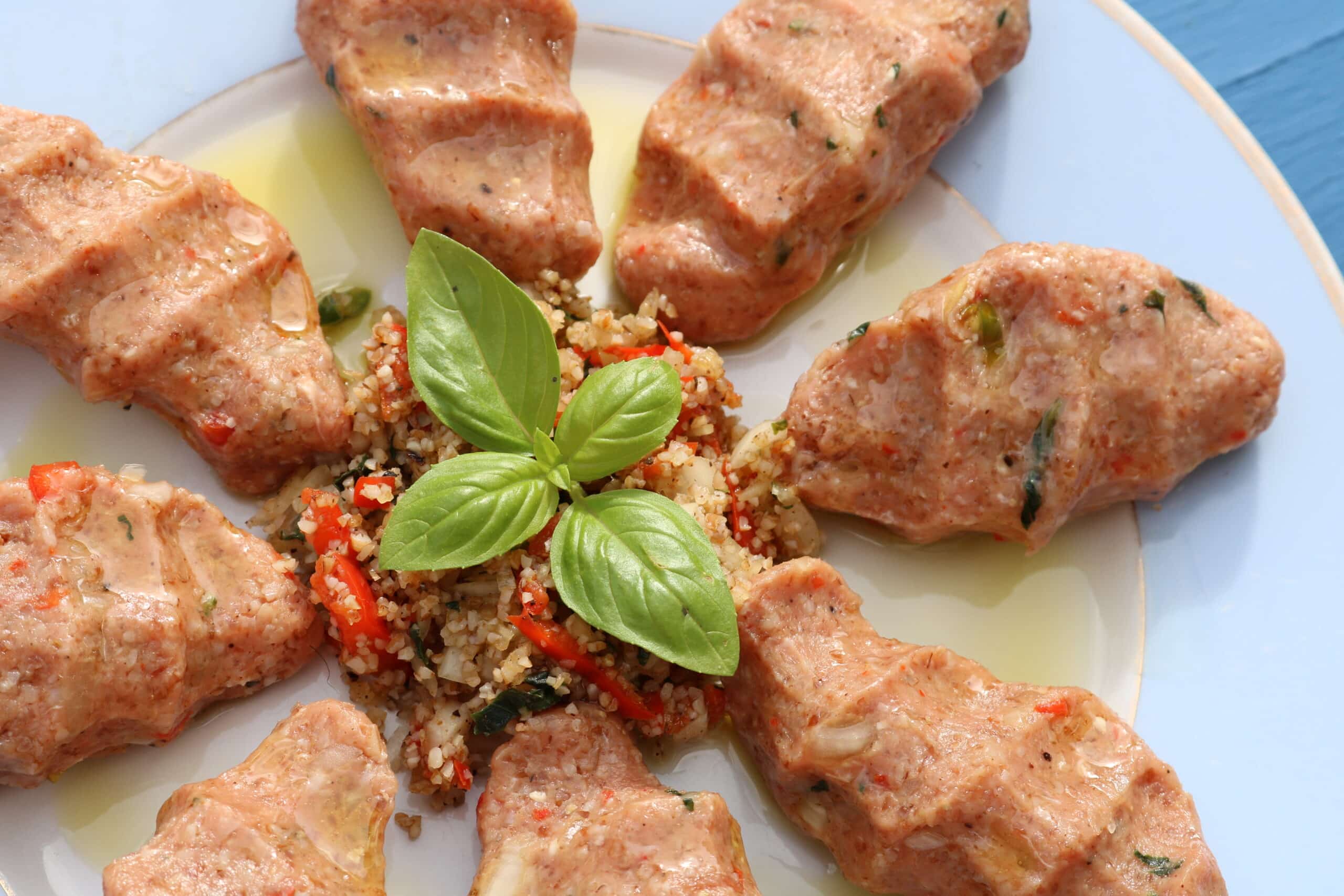 📖 Recipe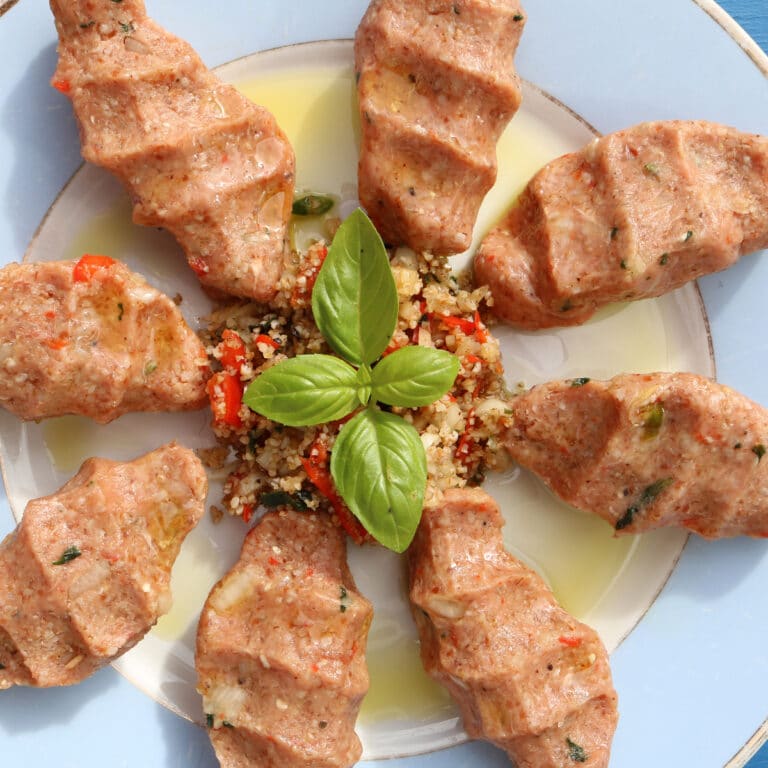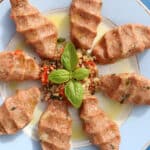 Frakeh (Raw Kibbeh)
Raw meat kibbeh croquettes with herbs, spices, onion and chilli
Ingredients
500

g

finely ground lean lamb

trimmed of all fat

1

cup

fine bulgur wheat

½

small onion

finely chopped

¼

red bell pepper

finely chopped

½

green chilli

finely chopped
Herbs
5-10

leaves

fresh mint

chopped

¼

cup

fresh basil

chopped

1

teaspoon

dried marjoram

1

teaspoon

dried mint
Spices
1

tablespoon

kamouneh spices

1

teaspoon

7 spice

1

teaspoon

salt

Extra virgin olive oil for drizzling
Instructions
In a fine sieve, rinse the bulgur wheat and drain well. Add the spices, salt, chopped green chilli, red pepper, onion and herbs.

In a wide bowl, combine the finely ground meat and ¾ of the kamouneh mix using your hands

Add a drizzle of extra virgin olive oil and continue to combine until you have smooth ball

Dip your fingers in a little extra virgin olive oil and make a little croquette that fits snugly into your palm, gently squeeze to make ridges

Arrange the croquettes onto a platter and serve with the remainder kamouneh mix, another drizzle of extra virgin olive oil and fresh onions, radishes and herbs.
Recipe Video
Recipe Notes
If you do't have kamouneh spices, substitute for ¼ teaspoon cumin, ¼ teaspoon black pepper, ¼ teaspoon cinnamon.
FAQ
Is it safe to eat raw meat?
This definitely depends on the quality of the meat. Ask your butcher for extremely fresh cut of meat and make sure it is well refrigerated until you are ready to use. Try not to use any meat older than 1-2 days.

Can I use coarse bulgur wheat?
Though it won't impact the flavour too much, coarse bulgur wheat fluffs up too much when it absorbs moisture and the frakeh won't hold together as well.
What can I substitute kamouneh spices with?
If you do't have kamouneh spices, substitute it for for ¼ teaspoon cumin + ¼ teaspoon black pepper + ¼ teaspoon cinnamon.
If you make any of our recipes let us know how it went by giving us a star rating below.
We have a lively Facebook group where we post frequent recipes and discuss Lebanese cooking in general, as well as a tiktok page.
You may also like these recipes from the collection: