Of all the fancy things I make, this is one of my husband's favourite things to eat. It's simple, humble and unfussy. A bit like him really 😂
The success of this recipe relies on very good tomatoes and some very fine chopping skills.
Only add the bulgur wheat in 5 minutes before serving as if you leave it too long it will become too soaked and you want it slightly on the crunchy side.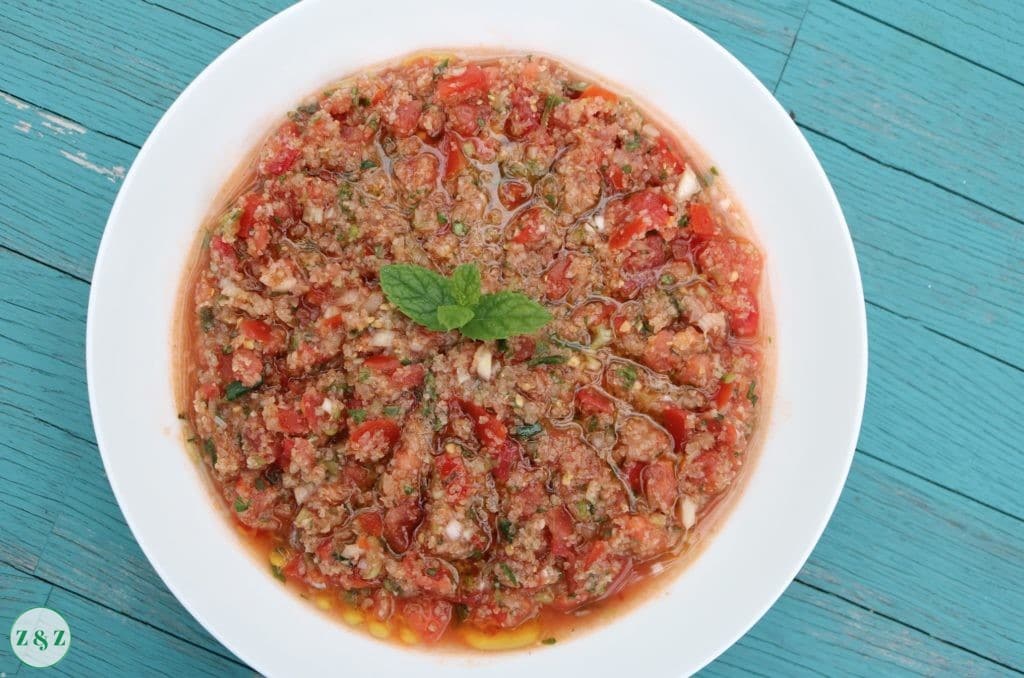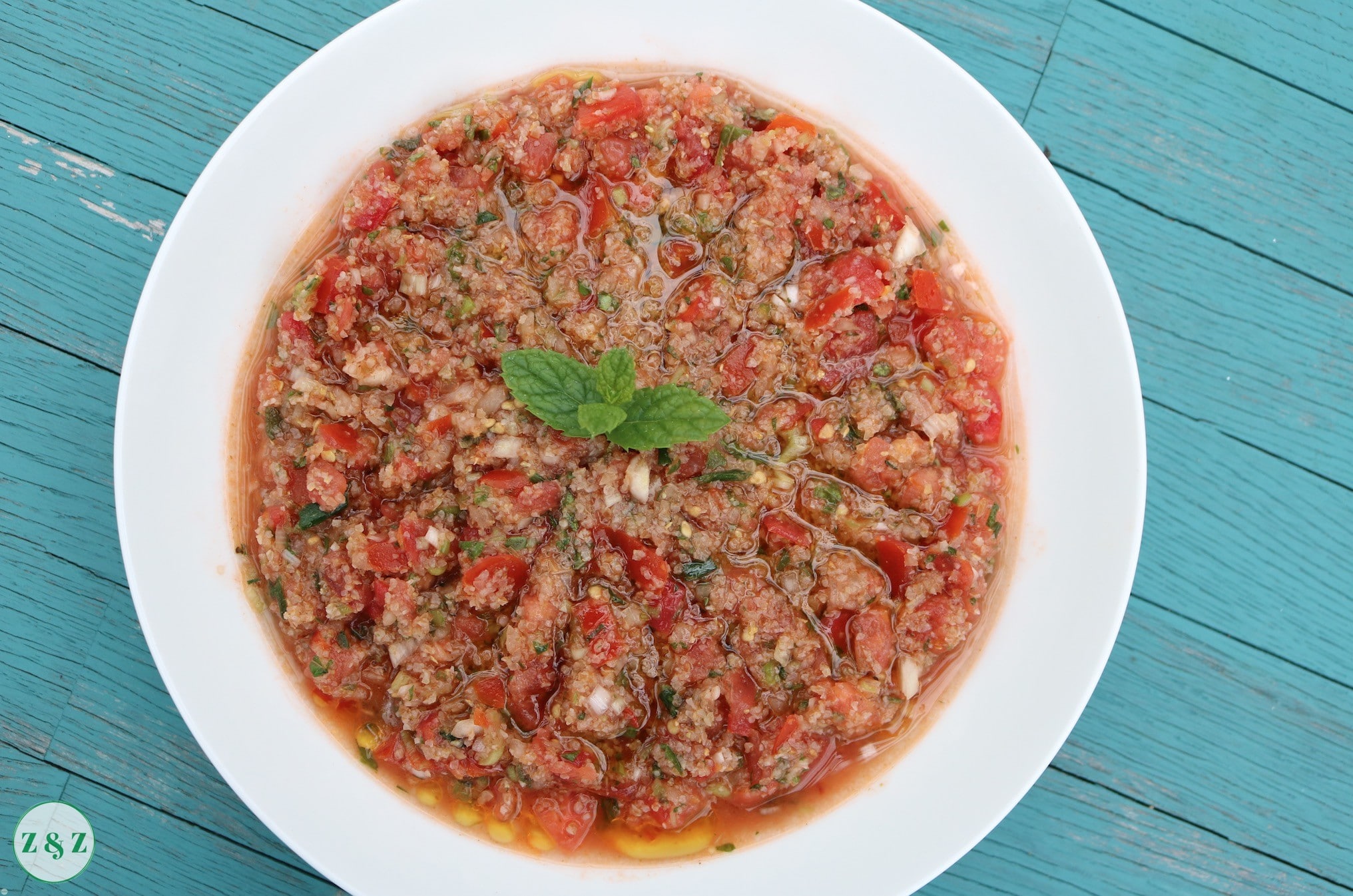 The herbs
The core herbs are basil and mint and a few supplementary ones including chives and oregano in smaller quantities.
I would not add some of the stronger herbs like thyme, parsley, coriander or rosemary which can be too overpowering especially when uncooked.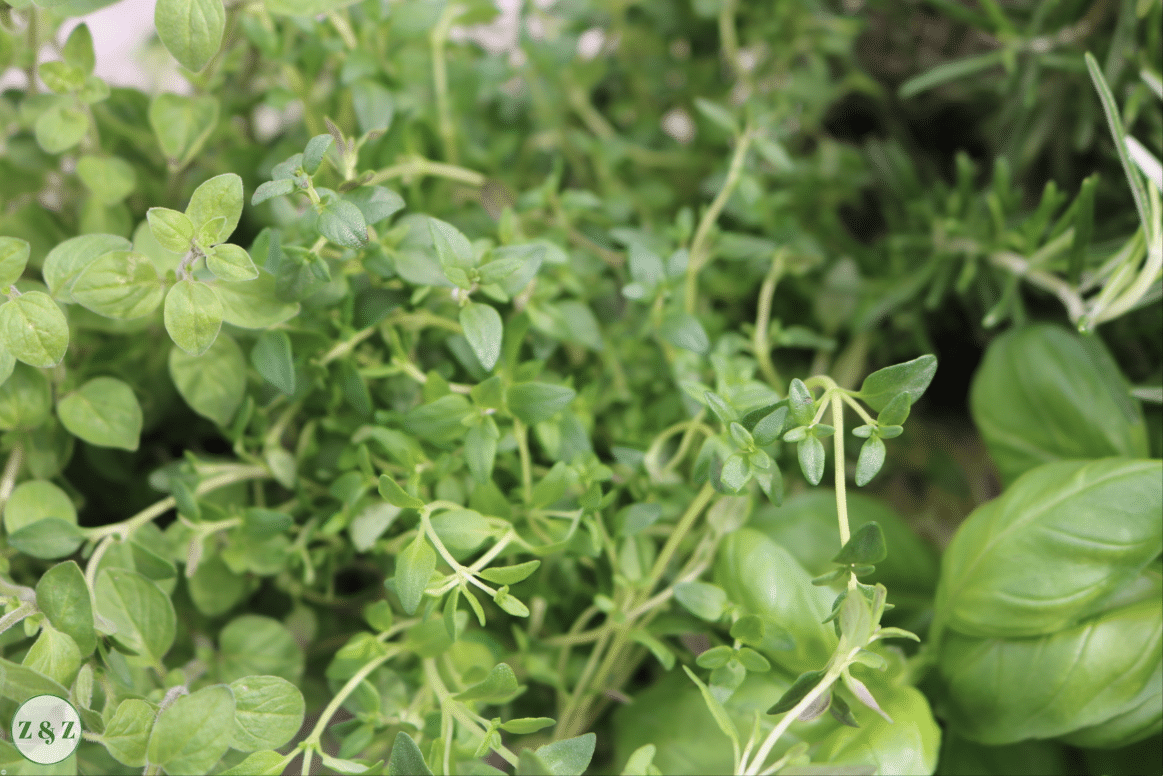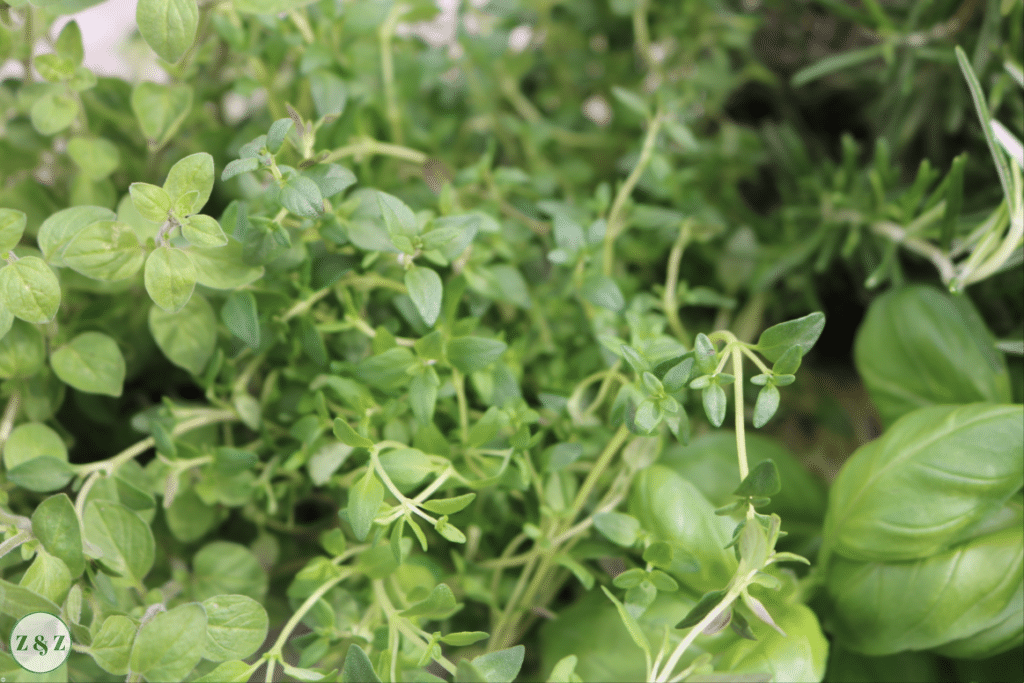 The spices
'Kamouneh' refers to the spice herb mix that is added to kibbeh and you can find my full recipe for this here.
The Kamouneh spice mix includes the following spices:
2 tbsp cumin seeds
1 tbsp dried rose petals
1 tbsp black peppercorns
2 tsp dried marjoram
2 tsp dried basil
1 tsp dried mint
½ tsp cinnamon
1 tbsp 7 spice
1 tsp salt
I prefer to use fresh chilli rather than the powdered spice because I like the kick at the back of your throat as opposed to the earthiness from cayenne pepper or chilli powder.
As always, adjust the spice level to your liking but I think half a green birds eye chilli is adequate.
Sometimes I even add a tiny spoon of harissa but only when i'm feeling Outrageous.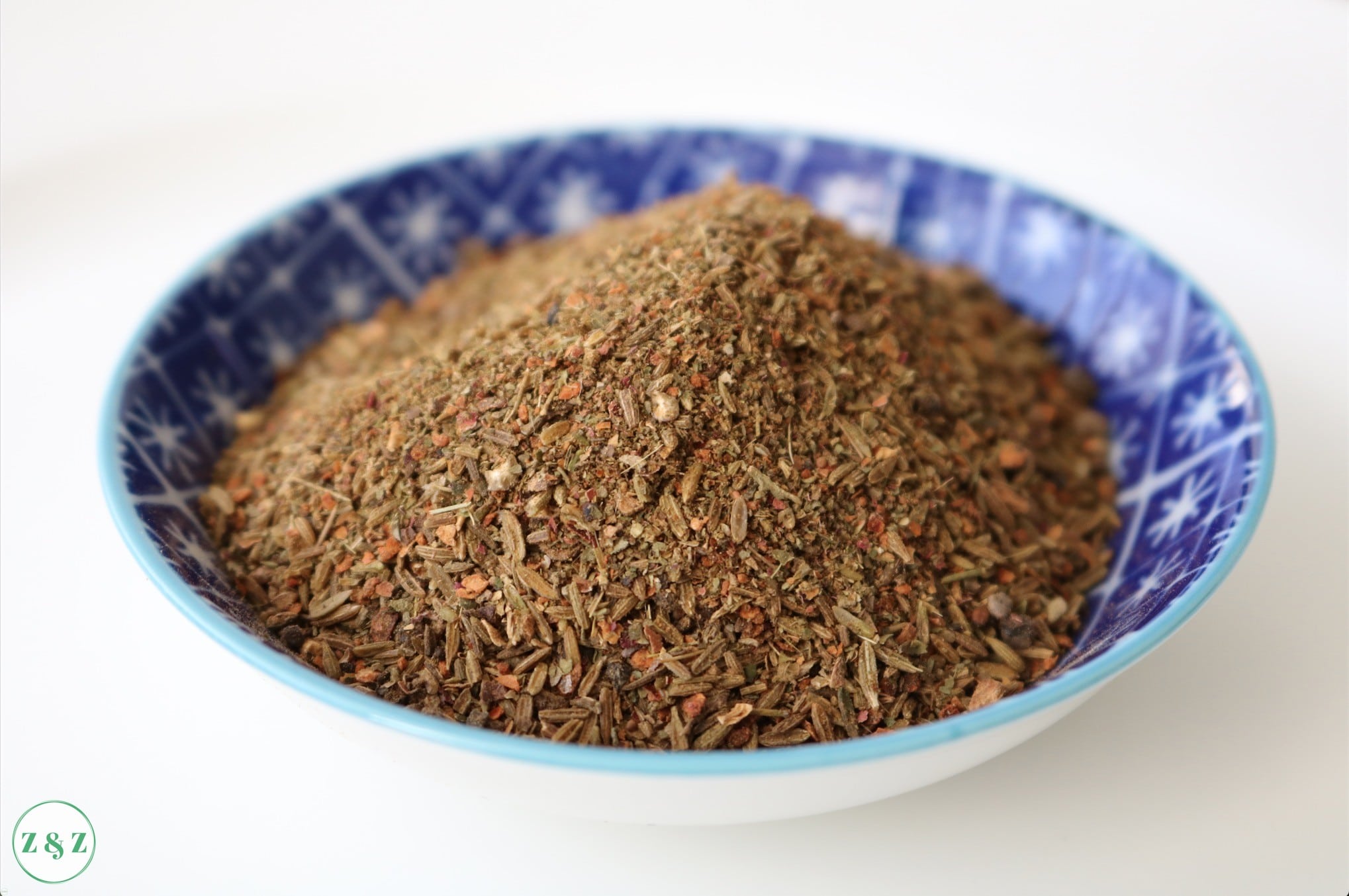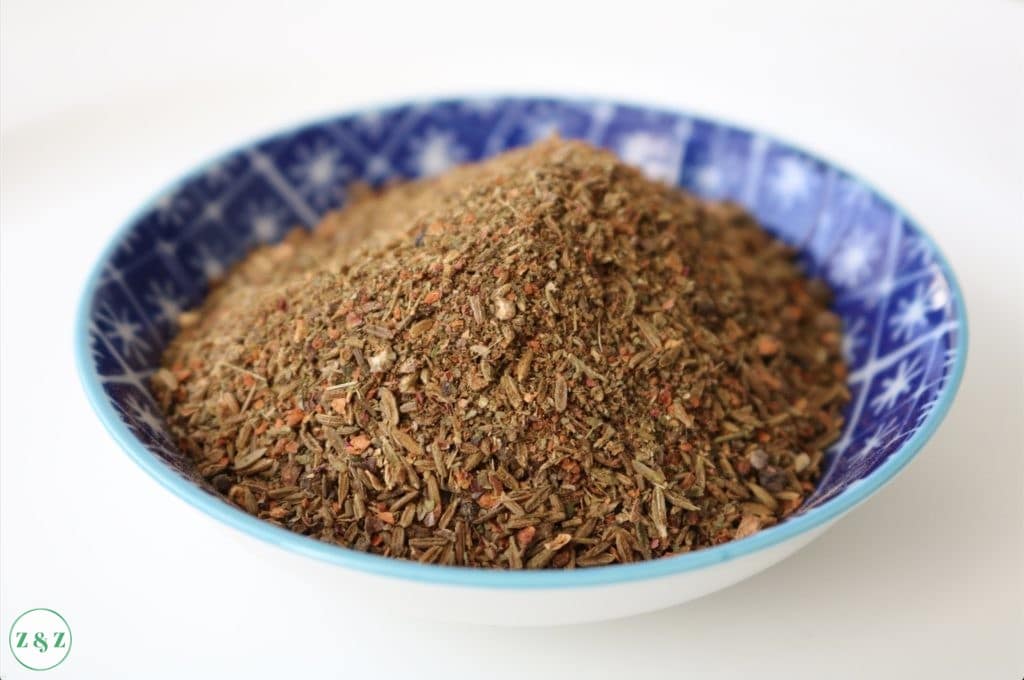 Serving suggestions
Many people like to eat it with some nice red radishes and spring onions. Any olives and pickles will also offset the tangy tomato flavour.
A good drizzle of extra virgin olive oil on the top of the final plate is just as important as the ingredients inside.
The whole point of this dish is to refresh you and is can even be eaten alone with some flat bread, but because i'm fancy I also like a side of some hand cut chips 😋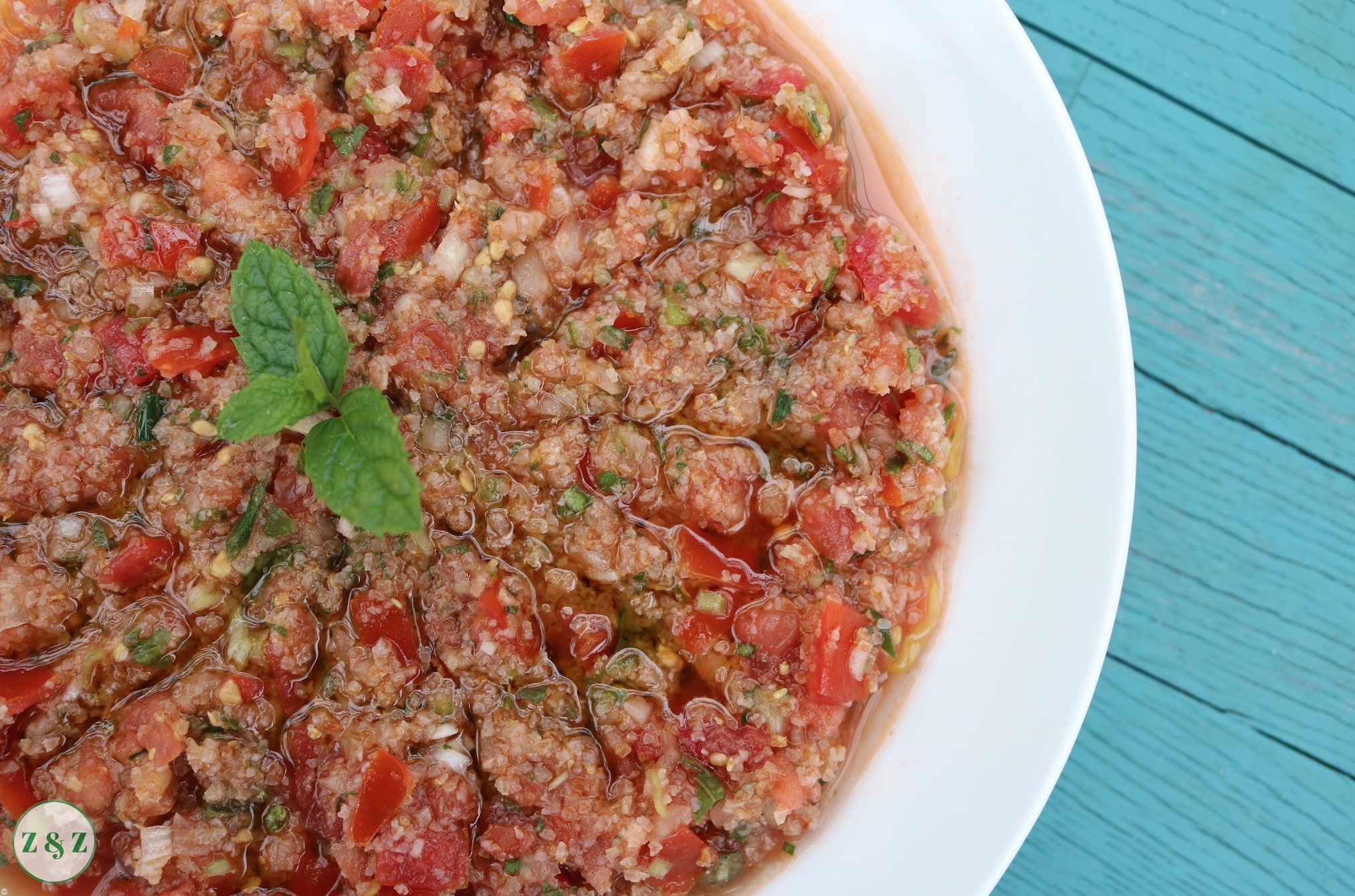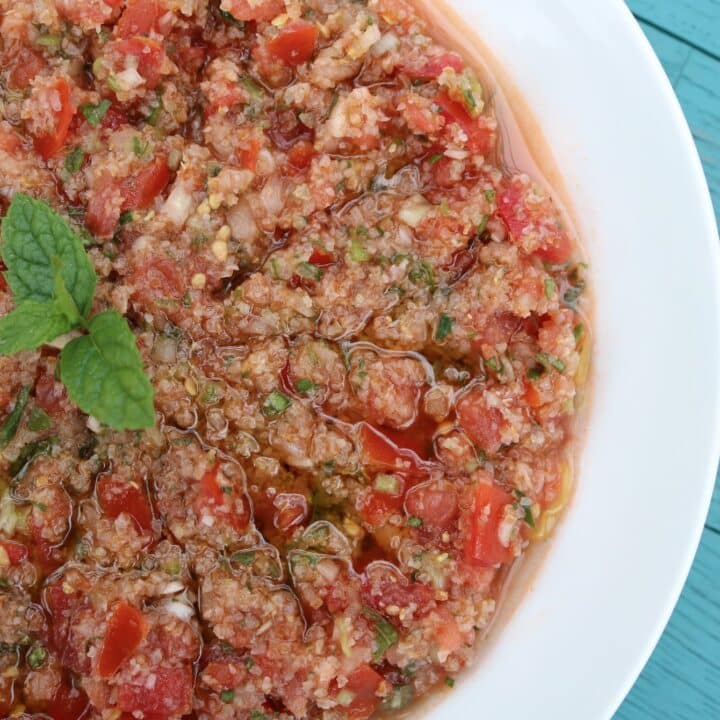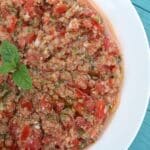 Kamounet Banadoura
Tomato kibbeh with bulgur whet, herbs and spices
Ingredients
2-3

tomatoes

2

spring onion

⅓

a small onion

½

tspn Kamouneh spice mix

½

cup

fine bulgur wheat

½

chilli

1

teaspoon

salt

Good drizzle of extra virgin olive oil.

Approx 2 tbsp
Herbs
15-20

basil leaves

10-15

mint leaves

1-2

chives

1

sprig of oregano

¼

teaspoon

dried Mediterranean herbs

Optional
Instructions
Finely chop the tomatoes and add to a bowl

Add the salt, bulgur wheat and cumin. Beat everything using a pestle or the bottom of a sturdy cup

Finely chop the spring onion, onion, herbs, chilli and add to the mixture

Serve in a shallow bowl and add a good drizzle of the extra virgin olive oil on top

Eat with flat breads
Recipe Notes
If you do't have kamouneh spices, substitute it for for ¼ teaspoon cumin + ¼ teaspoon black pepper + ¼ teaspoon cinnamon.
If you make any of our recipes let us know how it went via our Social Media platforms.
We have a lively Facebook group where we post frequent recipes and discuss Lebanese cooking in general, as well as a handy tiktok page where you can save all of your favourite Zaatar and Zaytoun recipes!
You might also like these other recipes from the Zaatar and Zaytoun collection: