Kibbeh, baked in a tray (bil sanieh), is the healthier alternative to my fried kibbeh balls recipe, and is much quicker to make.
The mixture is made in exactly the same way except it is layered in an oven proof dish with the filling encased by the two layers of casing.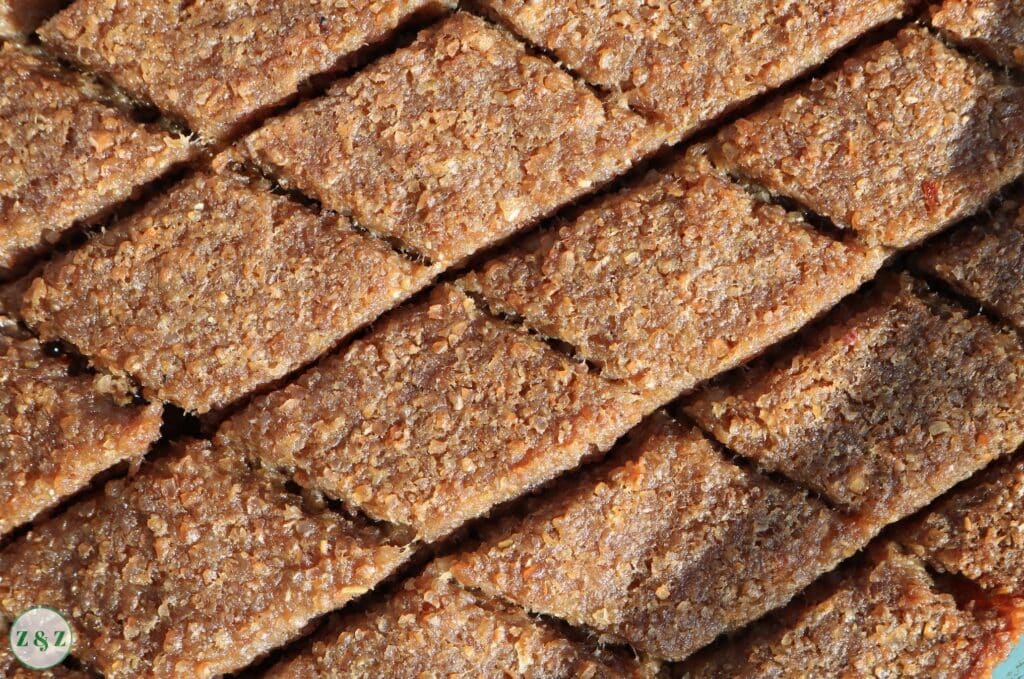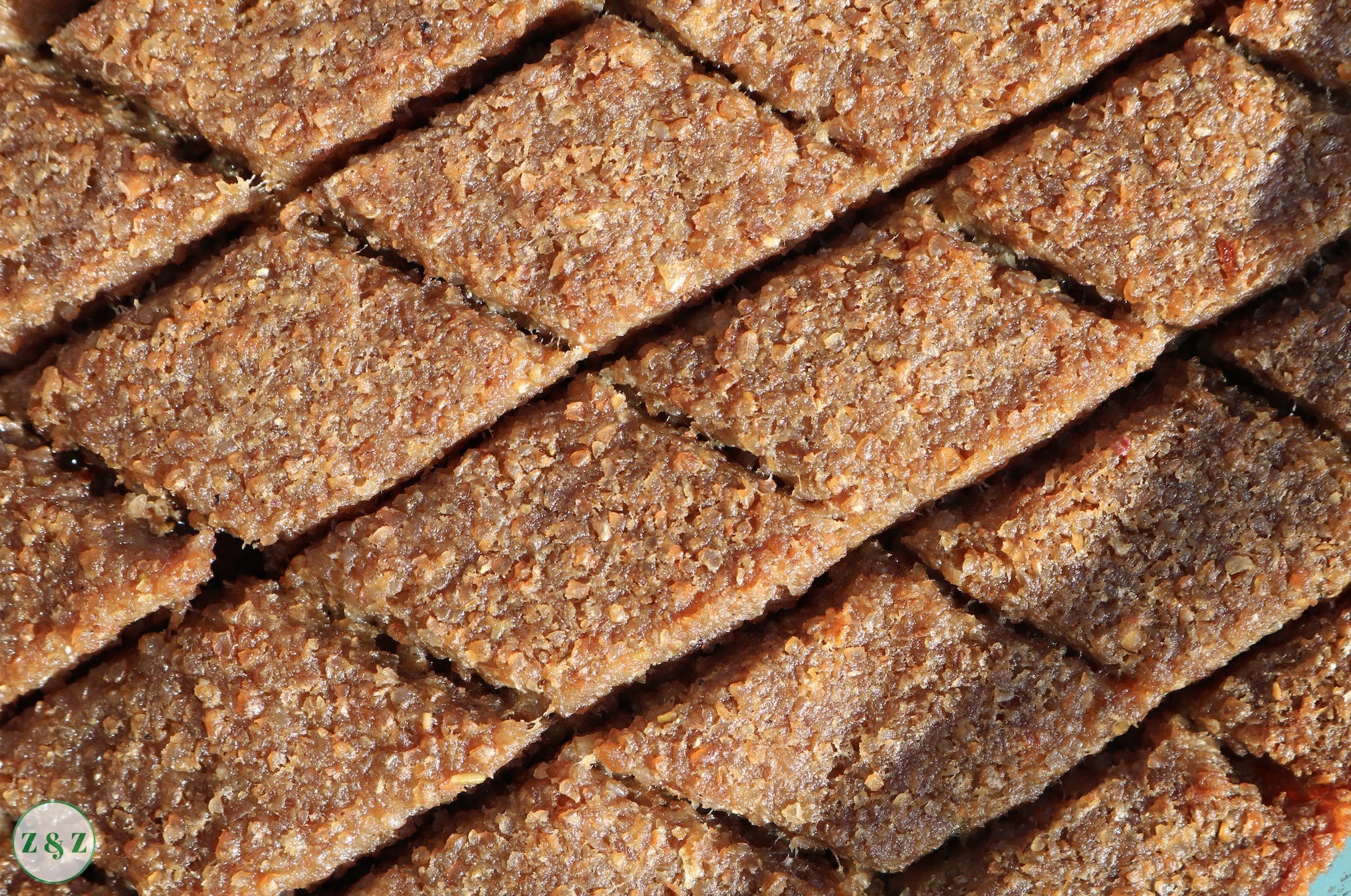 The bulgur wheat
Both fried kibbeh and baked kibbeh require fine bulgur wheat to get a nice texture. If you use coarse bulgur wheat the overall texture won't be as smooth and it won't look as pretty, which is reason enough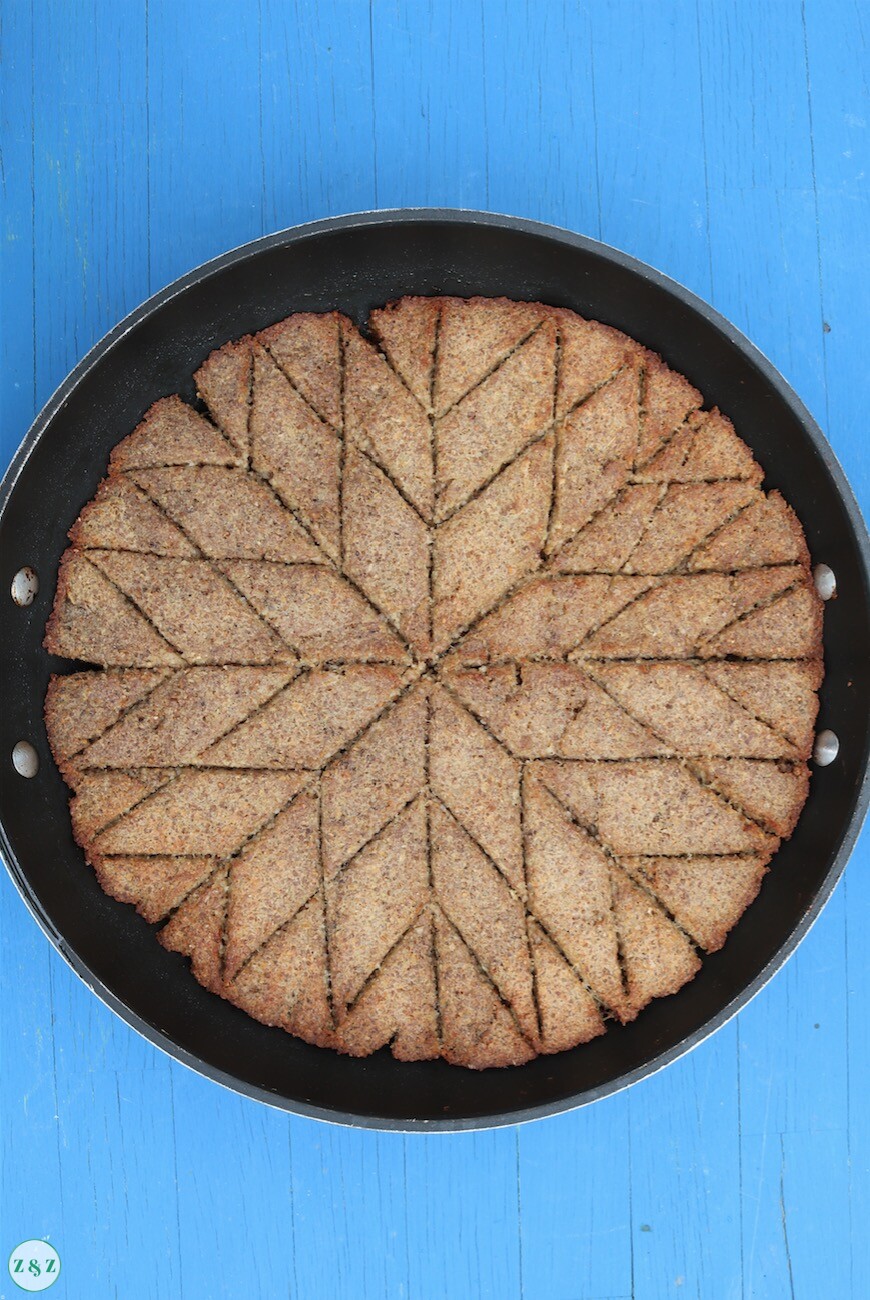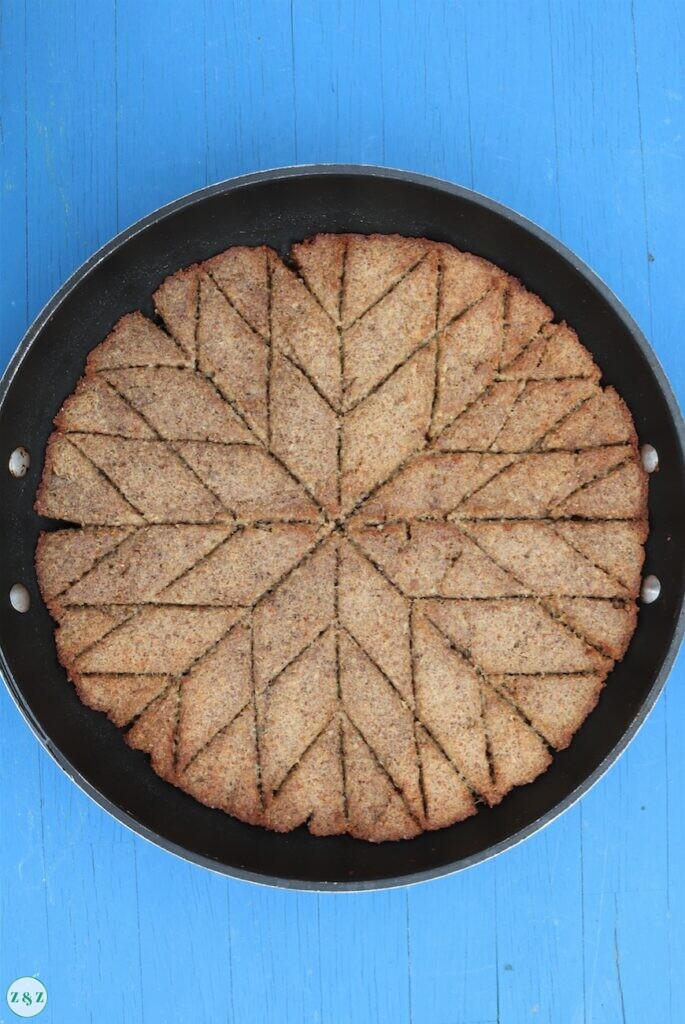 The spices
You will need both traditional Lebanese seven spice and also kamouneh, known as kibbeh spices. I have full recipes in other posts but the ingredients can be summarised below:
For the Lebanese 7 spice
5 tbsp garam masala or allspice
2 tbsp turmeric
2 tbsp black pepper
2 tbsp cinnamon
1 tbsp paprika
1 tbsp coriander
1 tbsp cumin
1 tbsp cayenne pepper
For the kamouneh kibbeh spice mix you will need
2 tbsp cumin seeds
1 tbsp dried rose petals
1 tbsp black peppercorns
2 tsp dried marjoram
2 tsp dried basil
1 tsp dried mint
½ tsp cinnamon
1 tbsp 7 spice
1 tsp salt
The filling
You will need to sauté onions in some regular olive oil and then add the spices, meat and walnuts or pine nuts.
You can use both type of nuts if you like. You also need to source some good quality sumac which give it a nice tang.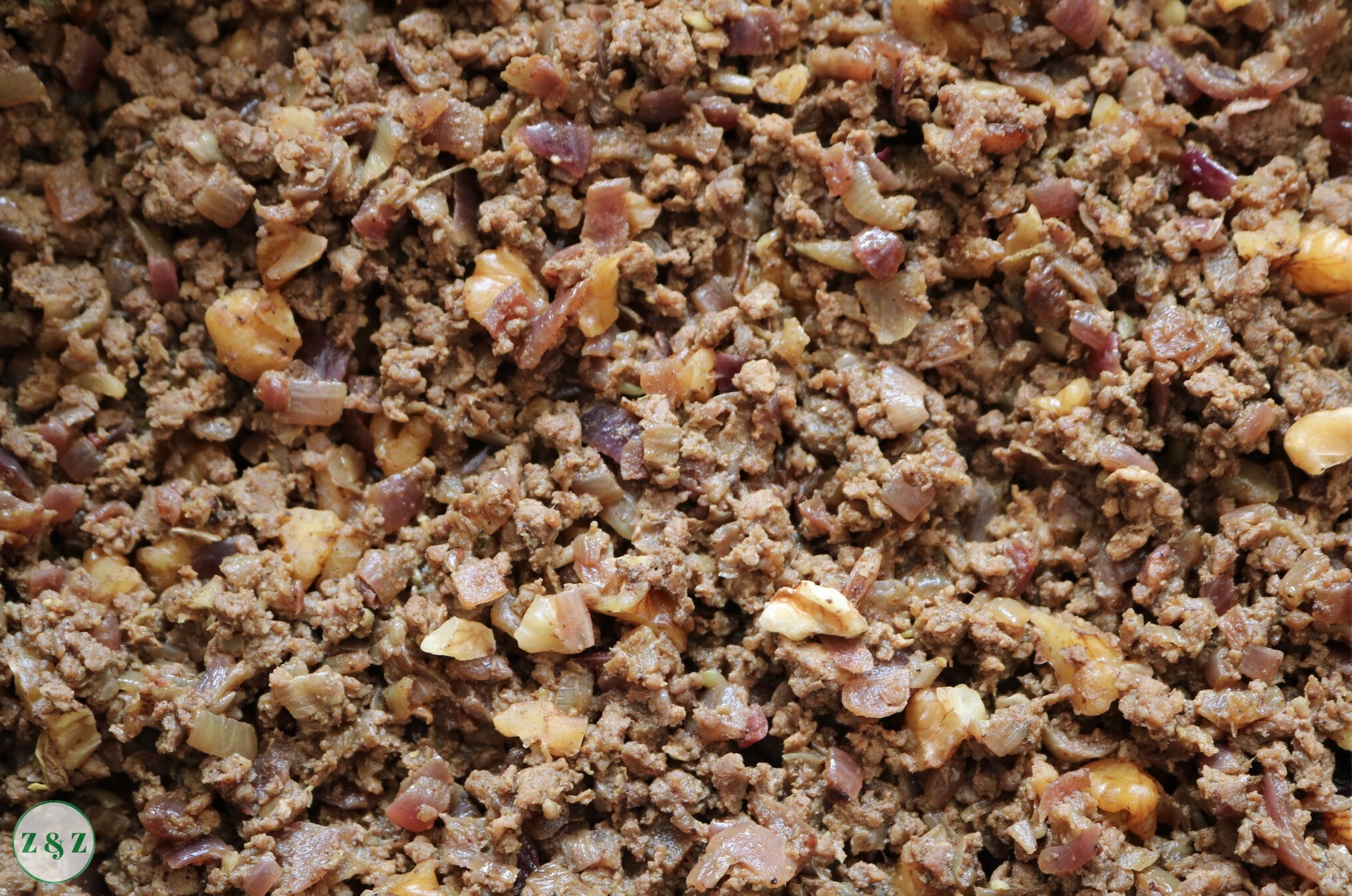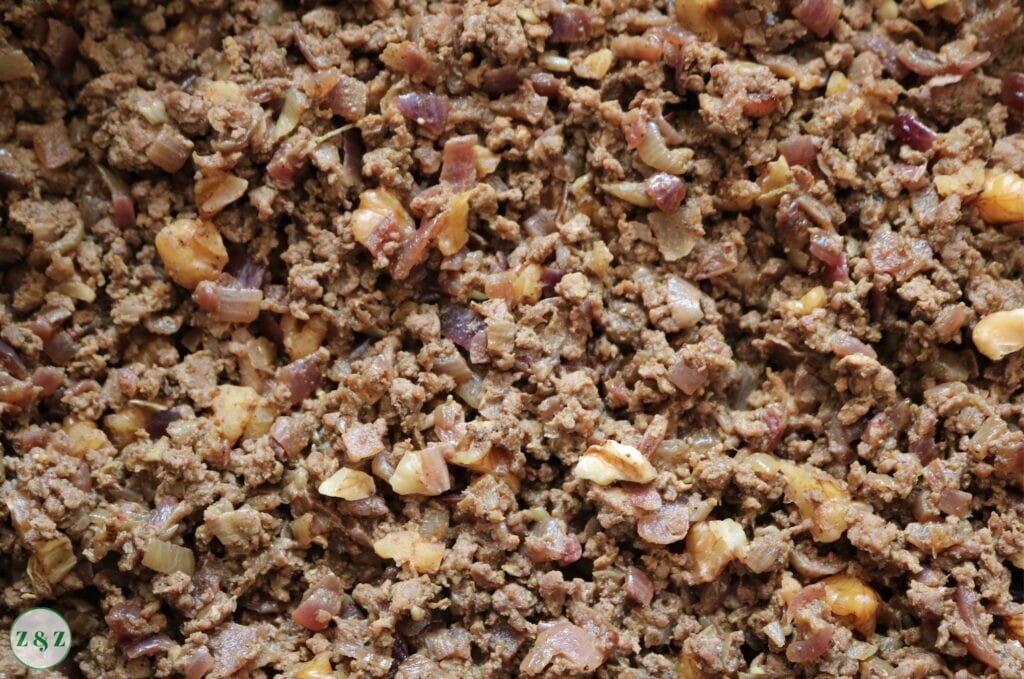 The casing
It is best to use a powerful food processor to mix the bulgur wheat and meat together until they form a ball. the food processor will take out a lot of the work for you and blend the kibbeh casing to a nice consistency
You don't have to roll anything out to make the layers, just patch together thin segments of kibbeh casing and smooth them out at the end. If you make it too thick it becomes too stodgy so aim for 1cm thick layers.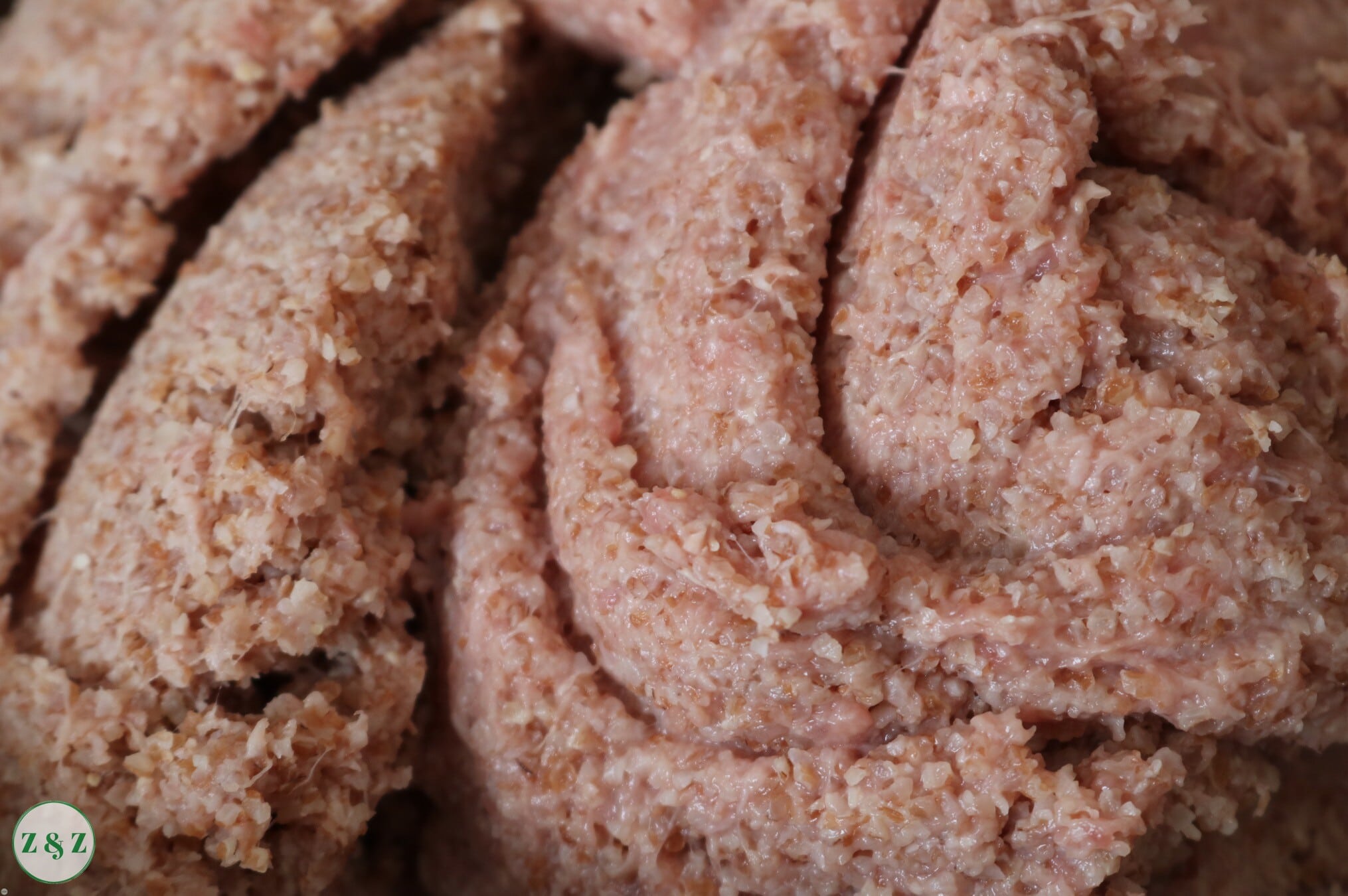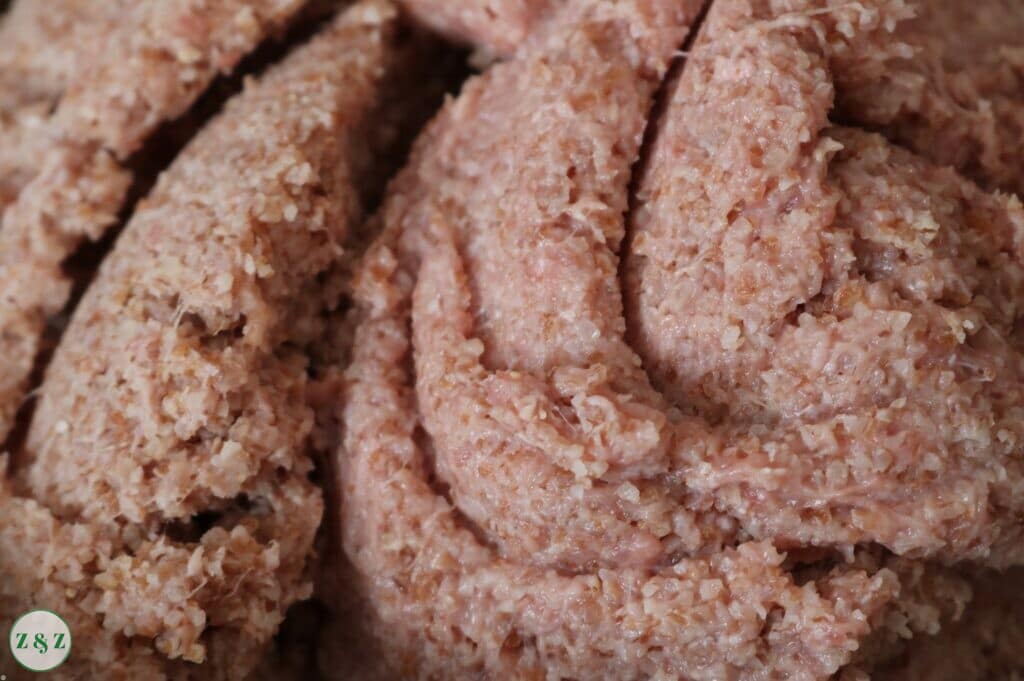 Storage
My mother often freezes kibbeh bil sanieh for guest emergencies and there is nothing better than remembering you have a nice kibbeh tray bake stashed away in the freezer when you are too sick or tired to make anything homely.
When you get it out of the freezer add a liberal amount of regular vegetable or sunflower oil so the crust thickens and becomes crunchy.
The meat
I like to use mince meat with a 50:50 ratio of lamb to beef as if you use just beef it doesn't have as much flavour and if you use just lamb it can be fatty.
The 50:50 ratio gives you the best of both meats and is a great secret to making delicious kibbeh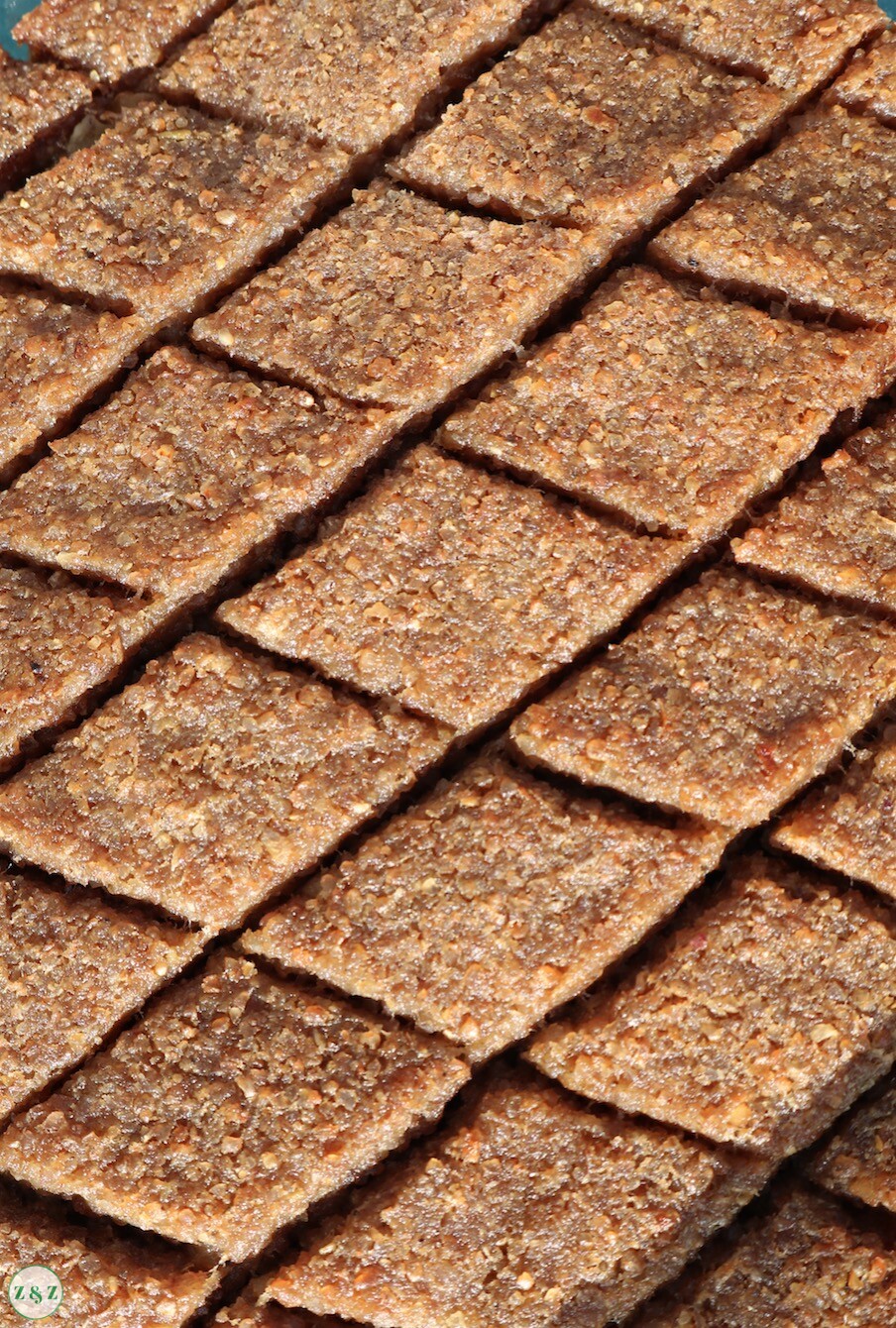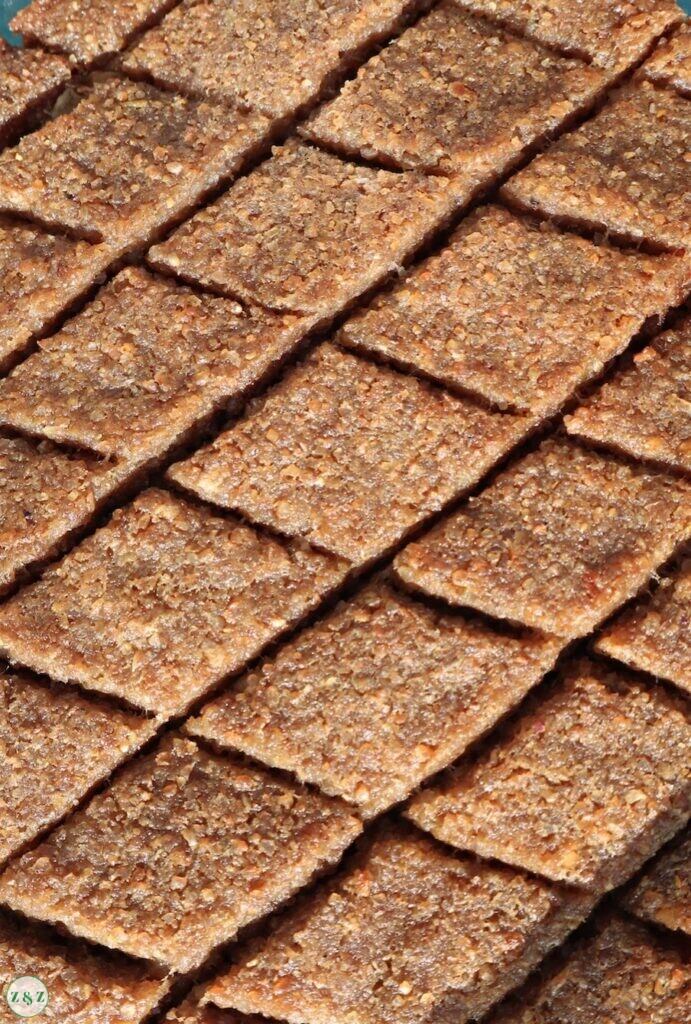 Top tips
You need to add a thin layer of oil just before baking to get the top nice and crunchy.
Obviously it will depend on the size of your tray but I would say adding enough oil to form a thin layer is suffice, which for the one pictured involved 4-5 tablespoons.
It might sound like a lot of oil but it is much healthier than frying and there isn't too much oil in the kibbeh mixture itself so it evens out.
People much more bothered than I make lovely patterns when they cut the kibbeh into sections.
If you google you can find examples of these but I just go for the regular diamond pattern. Just make sure you use a sharp knife to cut the kibbeh before baking?
Preheat your oven to 180C fan (350 F) and bake for around half an hour. You might need to turn it half way through depending on your oven to get an even bake.
You are aiming for a nice crunchy golden top that is dark brown in colour.
A yoghurt cucumber relish or green tomato salad is the traditional way to accompany this dish.
I always try to have Kibbeh bil sanieh at dinner parties, it is a Lebanese classic that everyone adores and always comes back for more.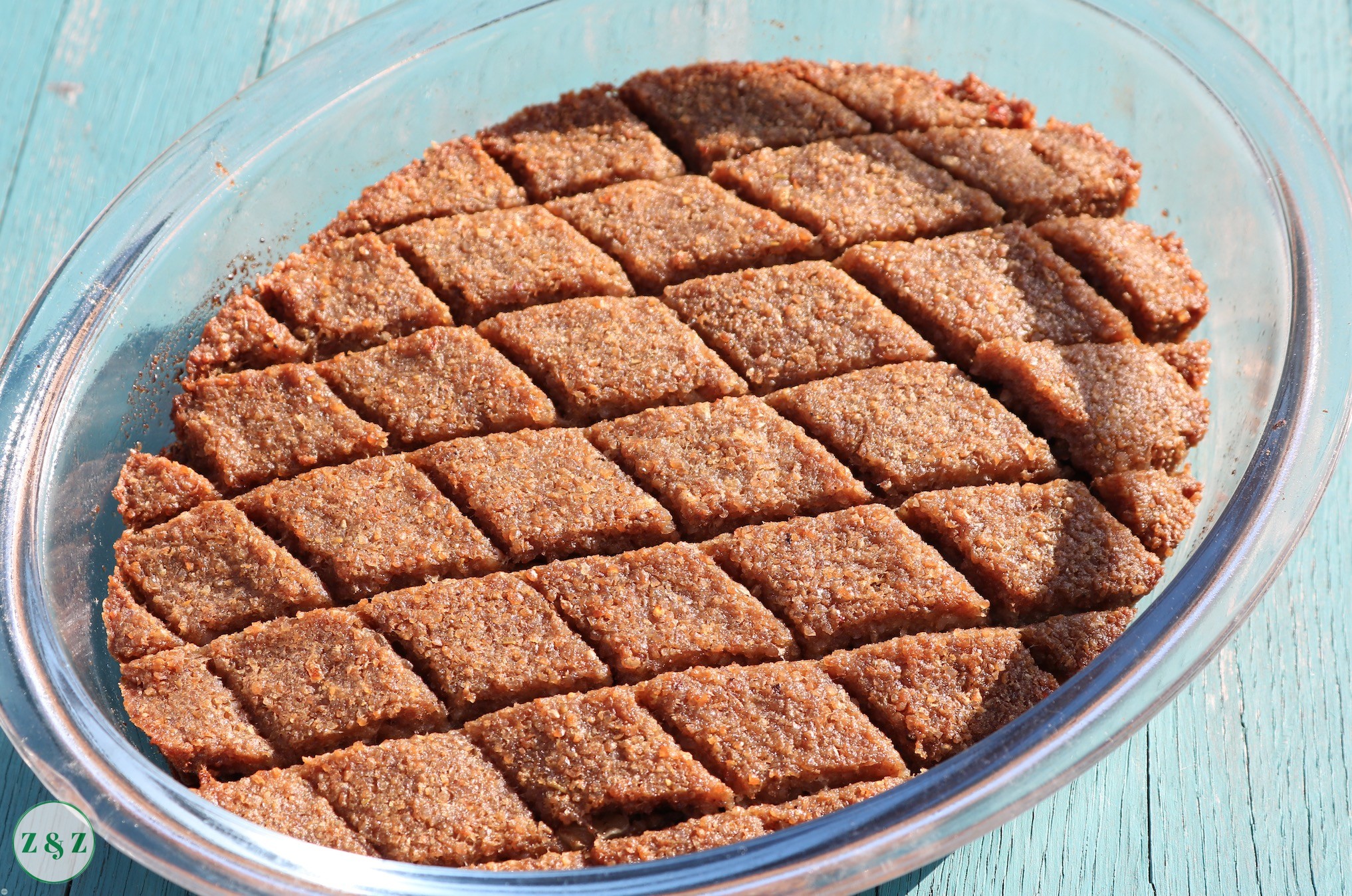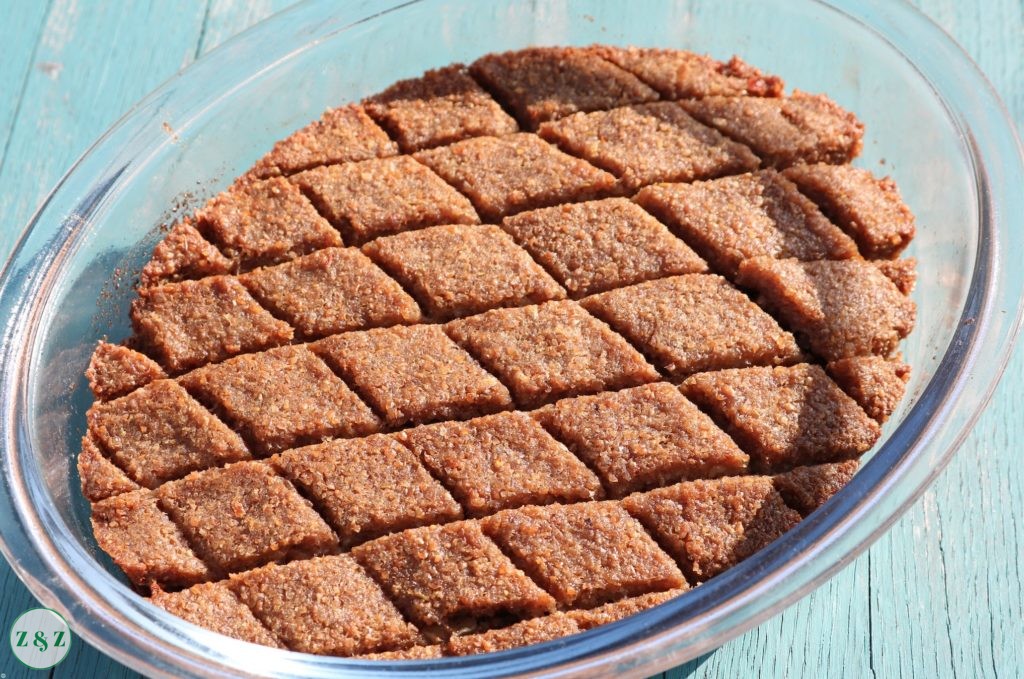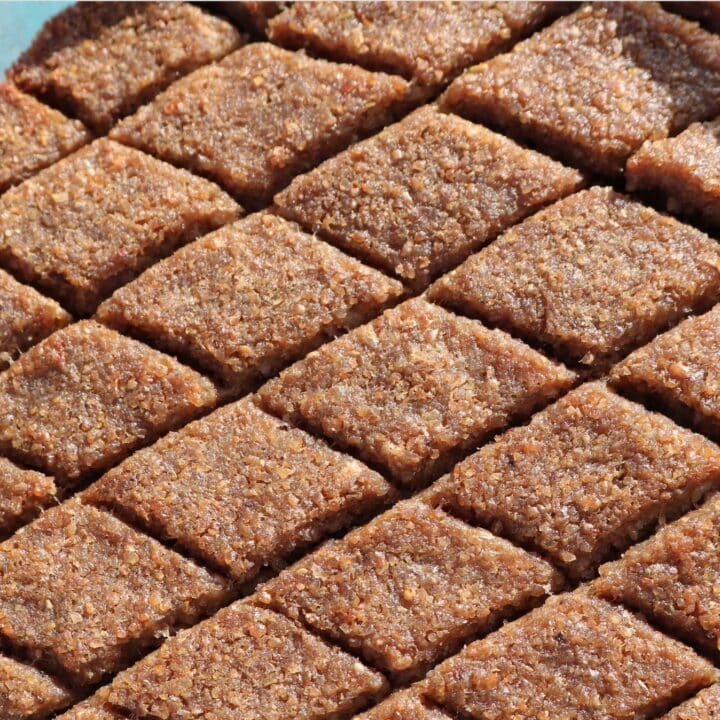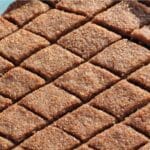 Kibbeh bil Sanieh (Kibbeh Traybake)
Baked kibbeh in a tray with a walnut and sumac meat filling
Total Time
1
hour
30
minutes
Ingredients
For the kibbeh filling:
250

g

minced meat

2

onions

chopped

½

teaspoon

7 spice

1

tablespoon

Kibbeh (Kamouneh) Spices

¼

teaspoon

black pepper

½

tablespoon

salt

½

cup

chopped walnuts or pine nuts

1

tablespoon

sumac
For the Kibbeh casing:
½

kilo fine bulgur wheat

½

kilo mince meat

1

onion

1

tablespoon

Kibbeh (Kamouneh) Spices

1

tablespoon

cornflour

½

teaspoon

7 spice

¼

teaspoon

black pepper

½

tablespoon

salt

4-5

tablespoon

of Sunflower or vegetable oil
Instructions
Soak the bulgur wheat in enough water to cover and set aside
To make the Kibbeh filling:
Sauté the chopped onions in regular olive oil until golden on medium low heat

Add 250g of minced meat to the onions and cook out the meat on medium high heat

Add the 7 spice, kamouneh spices, black pepper and salt and use the back of your wooden spoon to break up the meat

When it is cooked turn off the heat and add the sumac and chopped walnuts. Taste to make any adjustments then cover and set aside
To make the casing
Drain the bulgur wheat and add to a large bowl. Take out the half kilo of meat and prepare the food processor

In several batches, add the bulgur wheat and equal amounts of meat to the food processor and process until it clumps together and starts to roll in the processor bowl.

Roughly chop 1 onion to go in the food processor along with the 7 spices, kamouneh spices, black pepper and salt. Blitz well

When you have combined all the meat and bulgur wheat in a bowl, add the blitzed onion spice mix and the cornflour, then bring everything together preferably with your hands

If it is too dry add a bit of water, you don't want it too loose, sticky or crumbly but so it holds together nicely. If you don't mind tasting a bit of raw meat check a tiny bit for saltiness and adjust as necessary
To assemble the Kibbeh bil Sanieh
In small batches make 1cm thick layers of casing and line the bottom of an oven proof dish (See video)

Smooth out the layer with your hand making sure you blend any cracks together

Add a good layer of kibbeh mixture and lay out flat making sure you go to the edges

Make another thin 1cm layer of kibbeh casing and apply on top, smoothing out as you go along

If you are baking right away add a thin layer of vegetable oil then cut out a diamond pattern making sure you slice all the way to the bottom

Bake for half an hour so at 180°C fan (350 F) until the top is nice and crunchy, turning half way if you have to get an even bake

Serve with yoghurt and cucumber or a green salad
Recipe Video
Recipe Notes
This should make 2 large tray bakes or several small ones. If you are freezing, you can add the layer of oil just before baking.
If you make any of our recipes, give us a star rating at the bottom of the page.
We have a lively Facebook group where we post frequent recipes and discuss Lebanese cooking in general, as well as a handy Pinterest page where you can save all of your favourite Zaatar and Zaytoun recipes.
You might also like these other recipes from the Zaatar and Zaytoun collection: