This Kibbeh is an unfilled version of the traditional Lebanese kibbeh, hence the 'cheat', and i've ramped up the spice level to make it more interesting.
You can eat them on their own or with plain yoghurt, or even drop them into a warm yoghurt sauce (labanieh) or a tomato soup.
I also freeze several batches to fry a few for my son's pack lunch (Lebanese kids and their gourmet pack lunches 😂)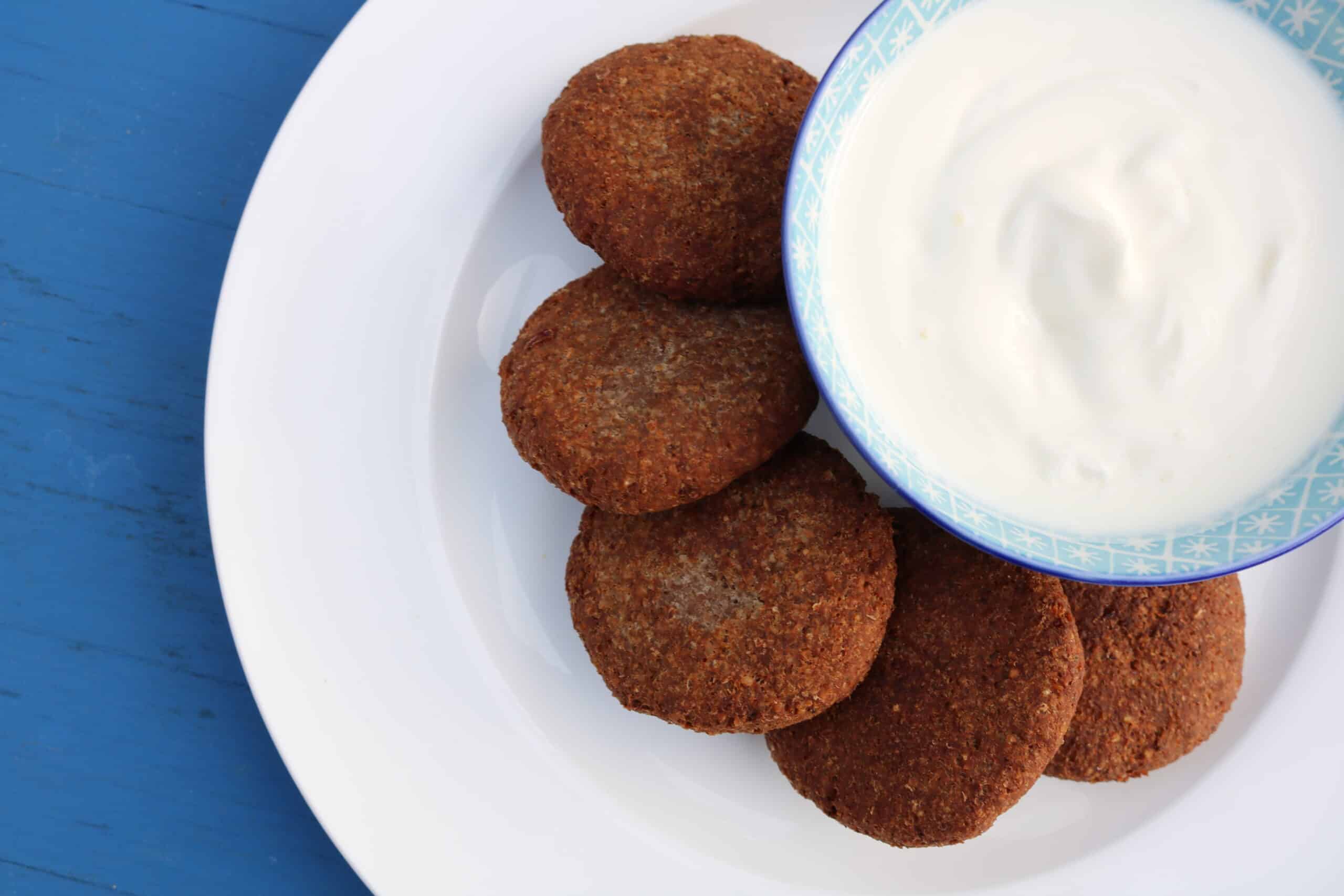 Jump to:
Ingredients
Getting the spices right is key to making these cheat's kibbeh delicious. You will need 7 spice, kamouneh (also known as kibbeh spices) and black pepper.
I have all the recipes for these spice blends on the blog but below is a quick summary: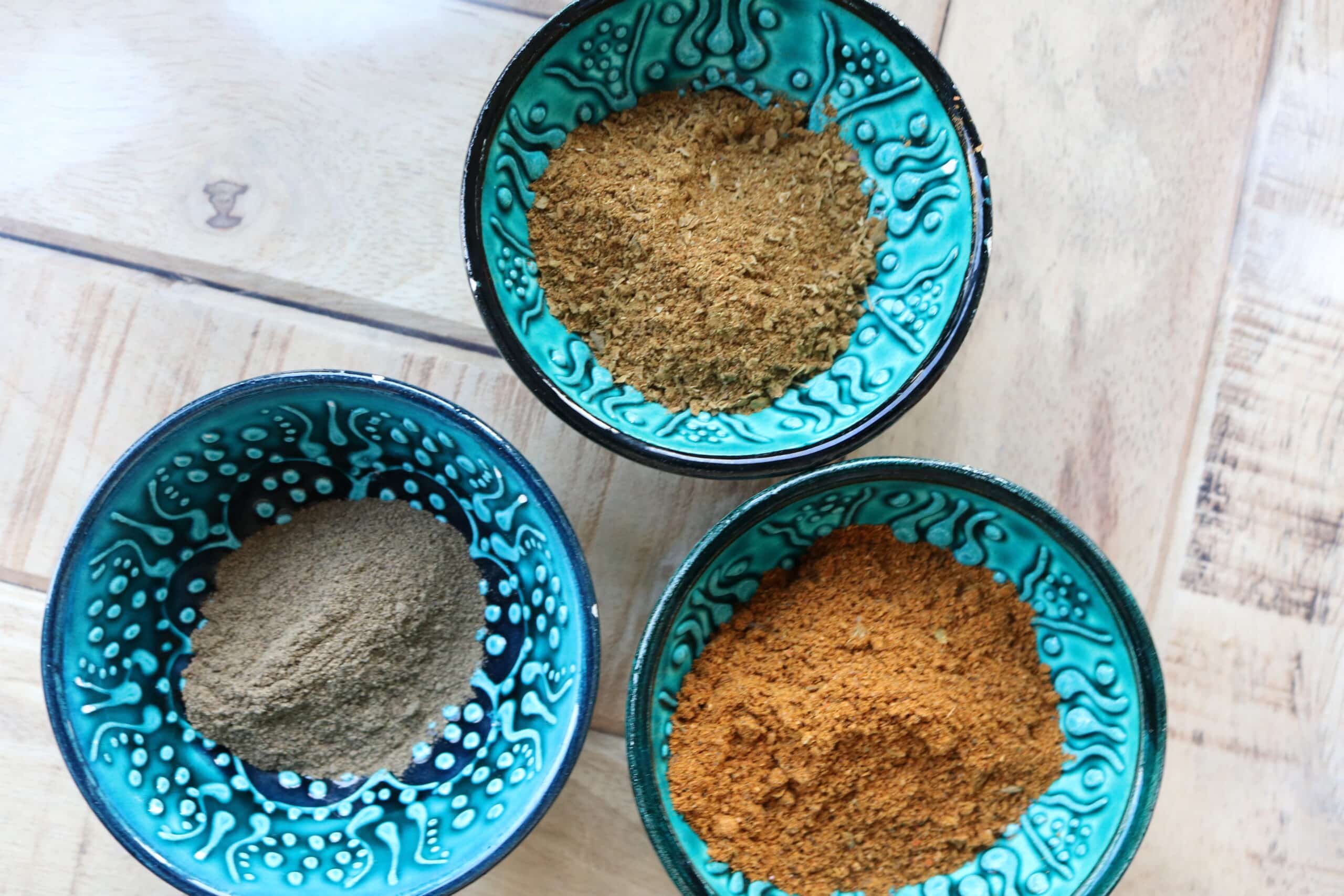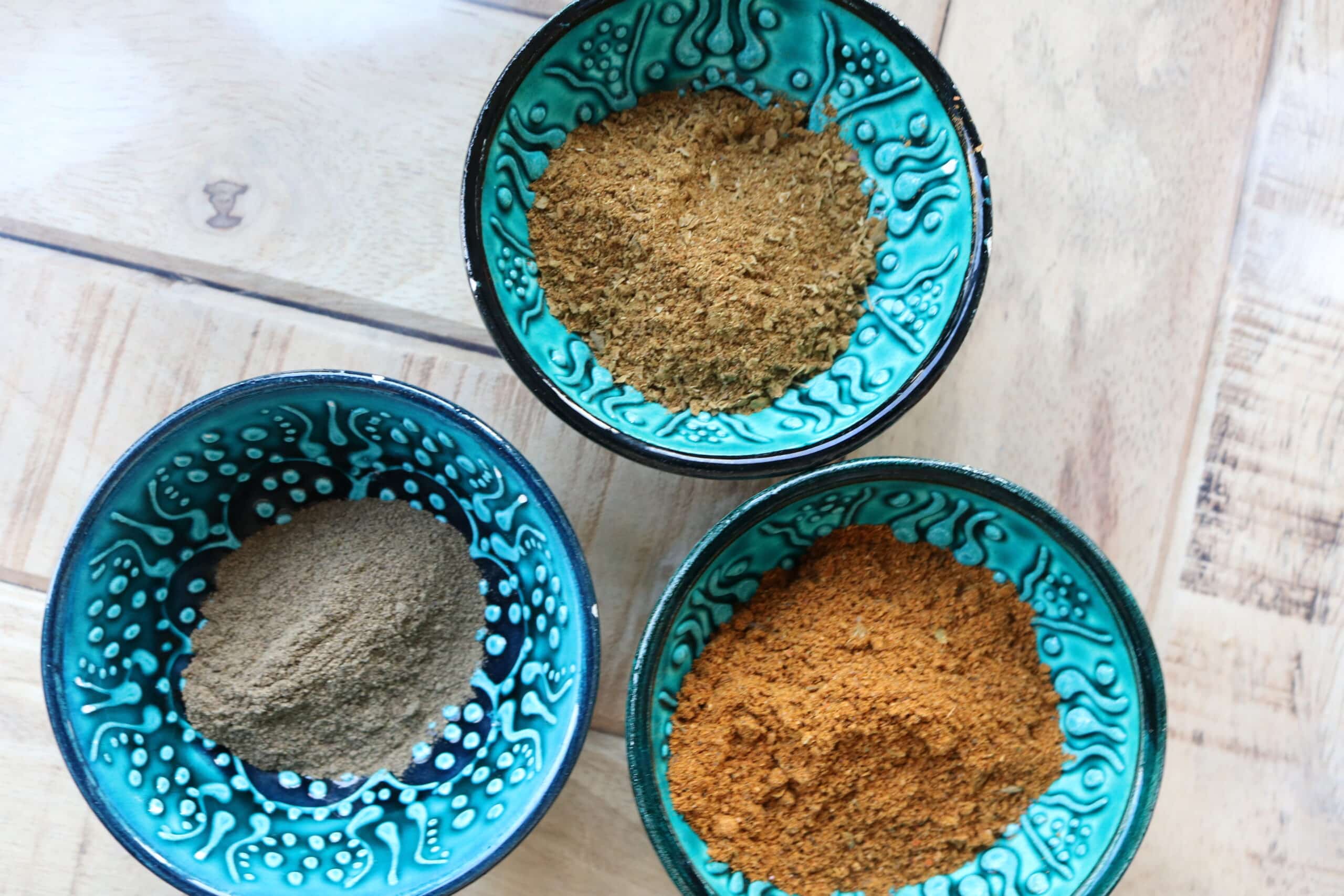 7 spice:

2 tbsp turmeric
2 tbsp black pepper
2 tbsp cinnamon
2 tbsp paprika
1 tbsp coriander
1 tbsp cumin
1 tbsp cayenne pepper
5 tbsp garam masala or allspice
Kamouneh (Kibbeh spices)

:

2 tbsp cumin seeds
1 tbsp dried rose petals
1 tbsp black peppercorns
2 tsp dried marjoram
2 tsp dried basil
1 tsp dried mint
½ tsp cinnamon
1 tbsp 7 spice
1 tsp salt
You can now buy 7 spice in many supermarkets (sometimes called baharat) but I always try to make my own as you can control the different elements.
Sometimes they add too much of the cheap spices in these ready made ones such as cloves and it doesn't taste or small that good.
Instructions
The tricky bit is getting all the ingredients into the food processor.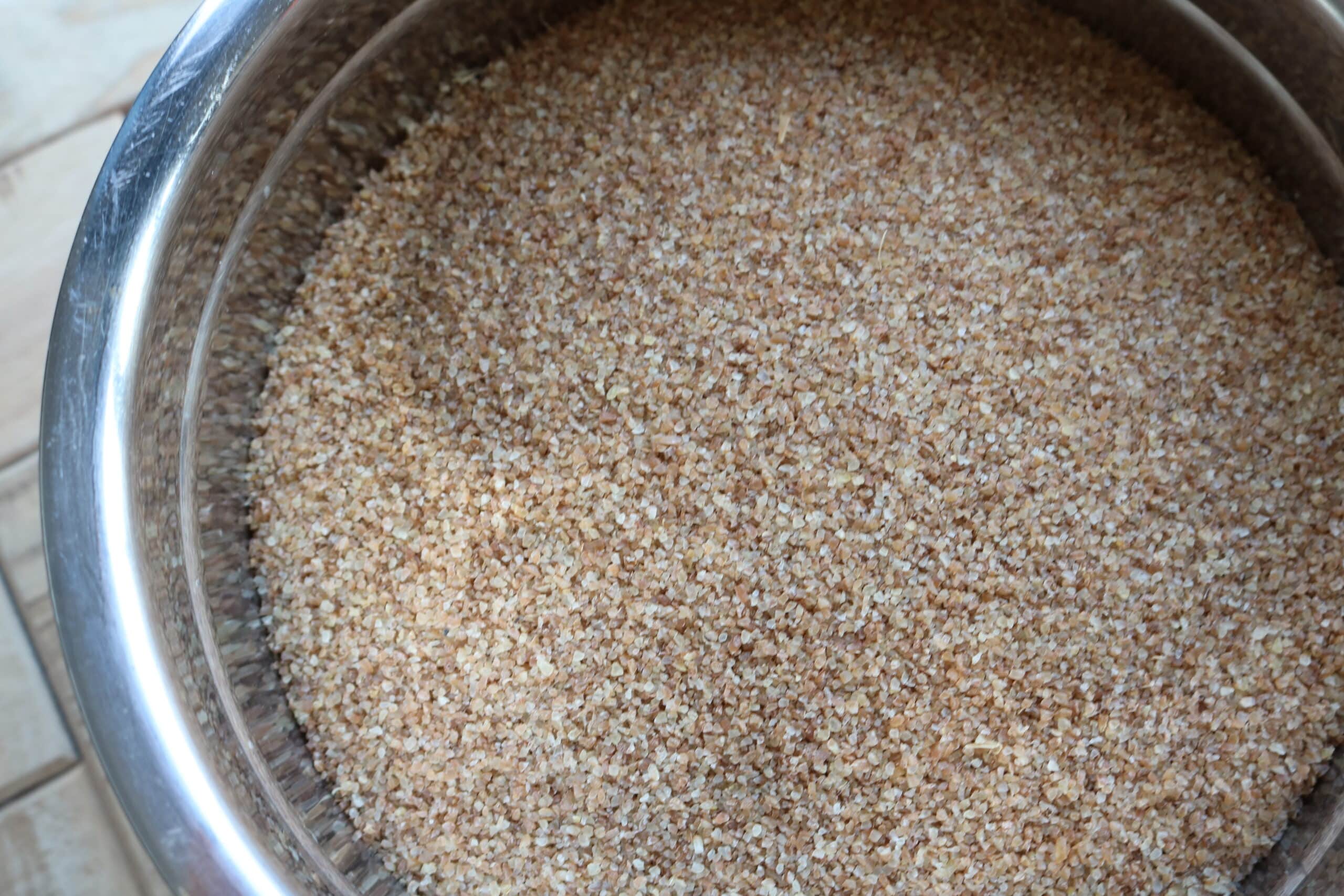 Wash and drain the bulgur wheat, add the spices and meat and run through the food processor in batches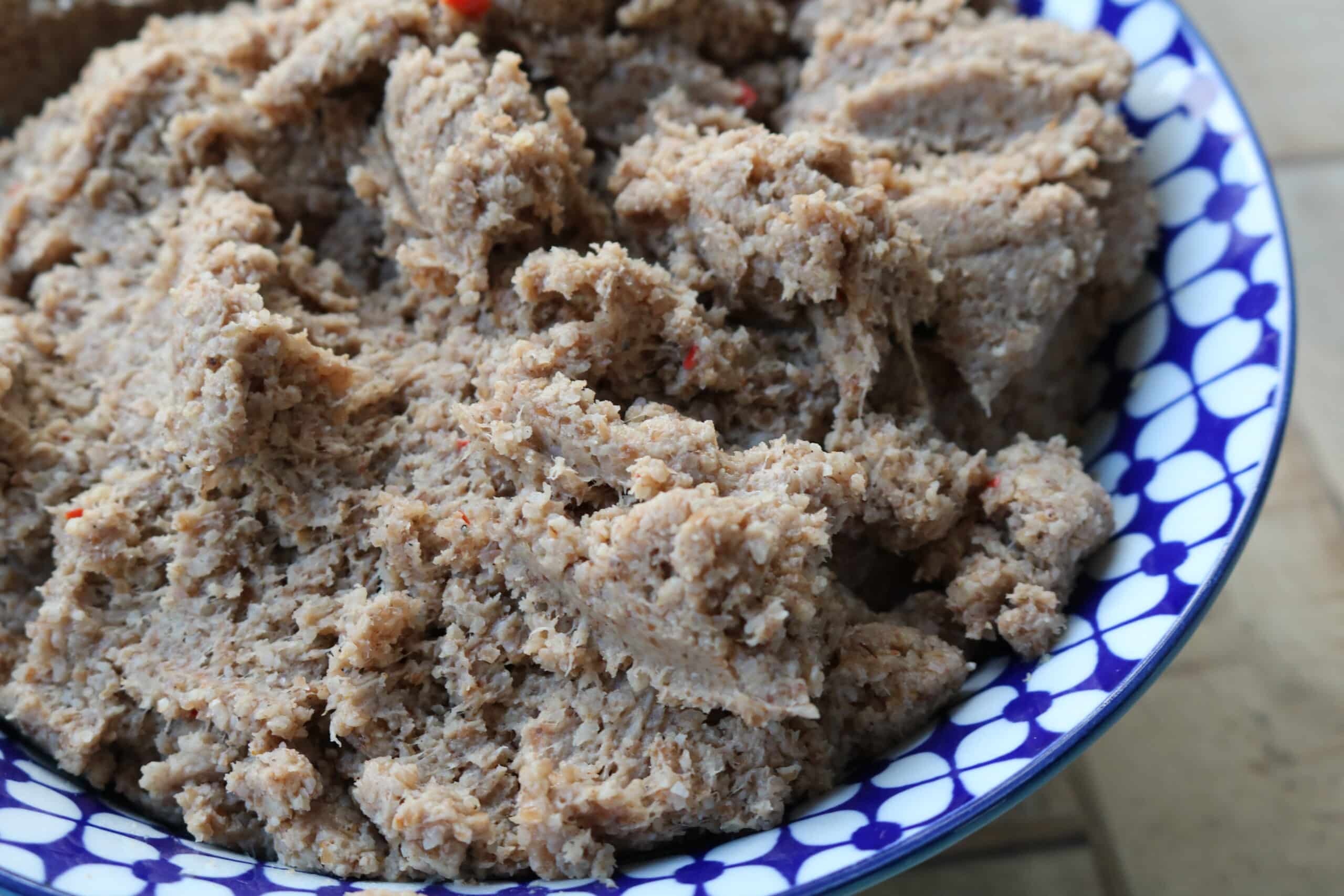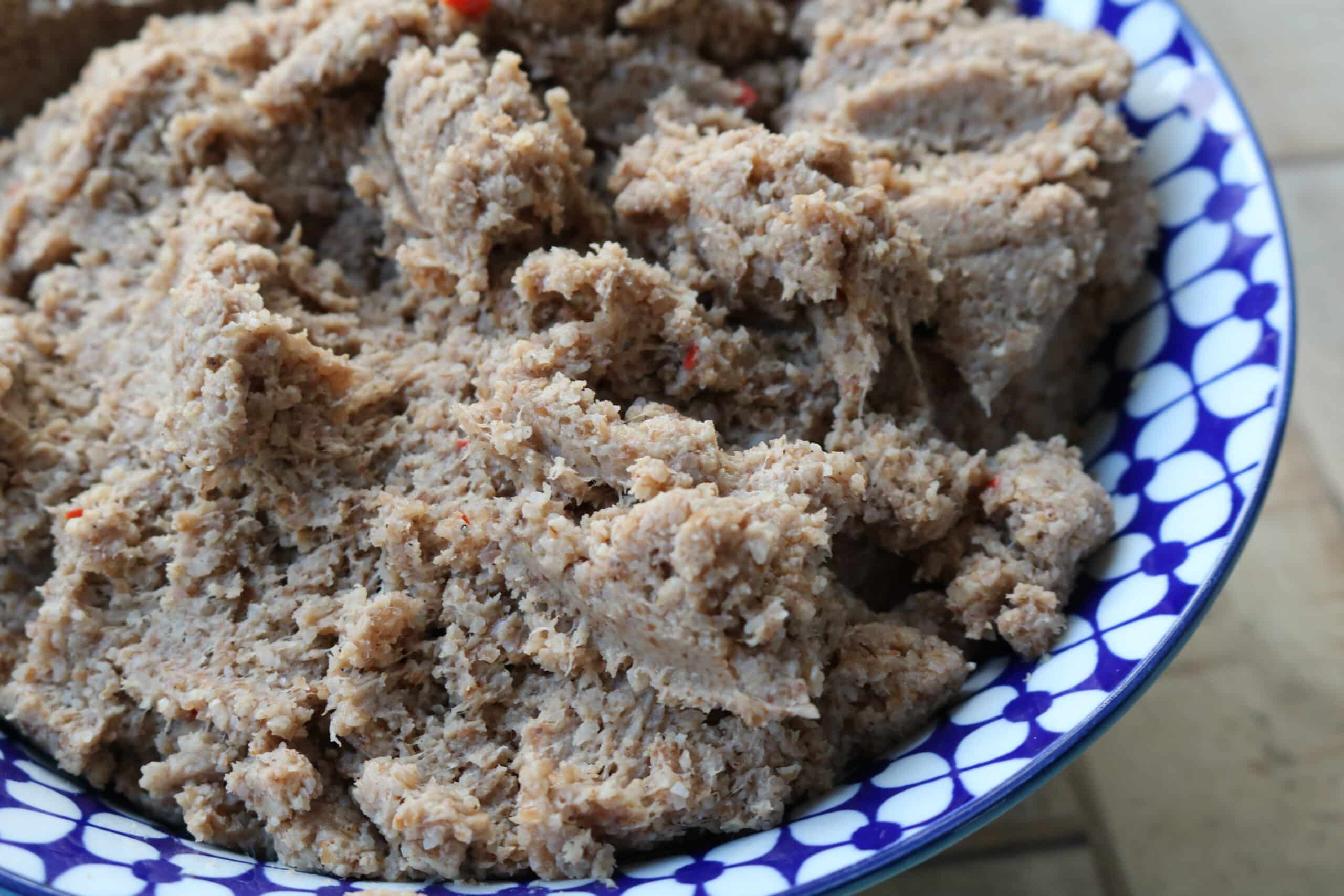 Form the mixture into a small ball with your hands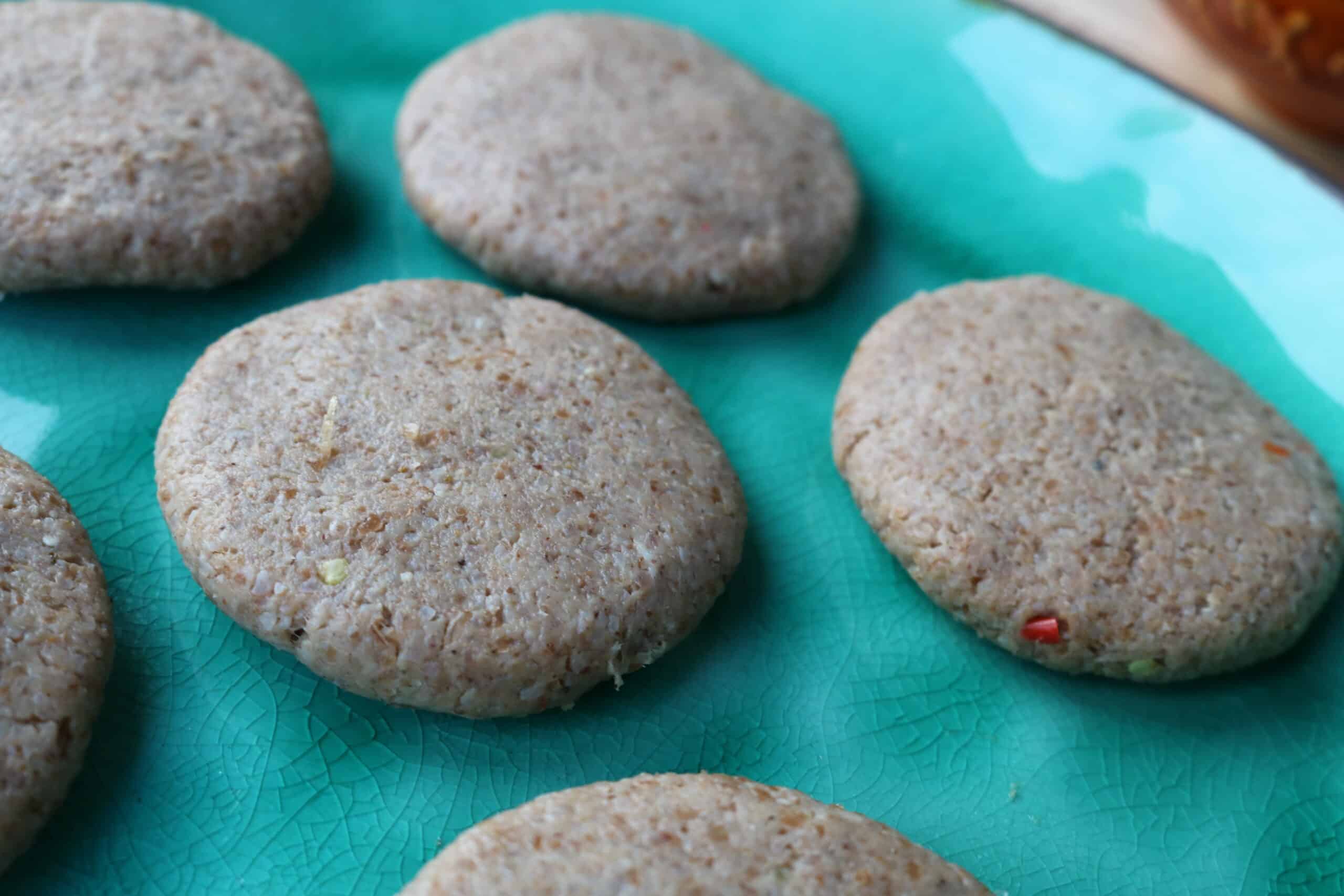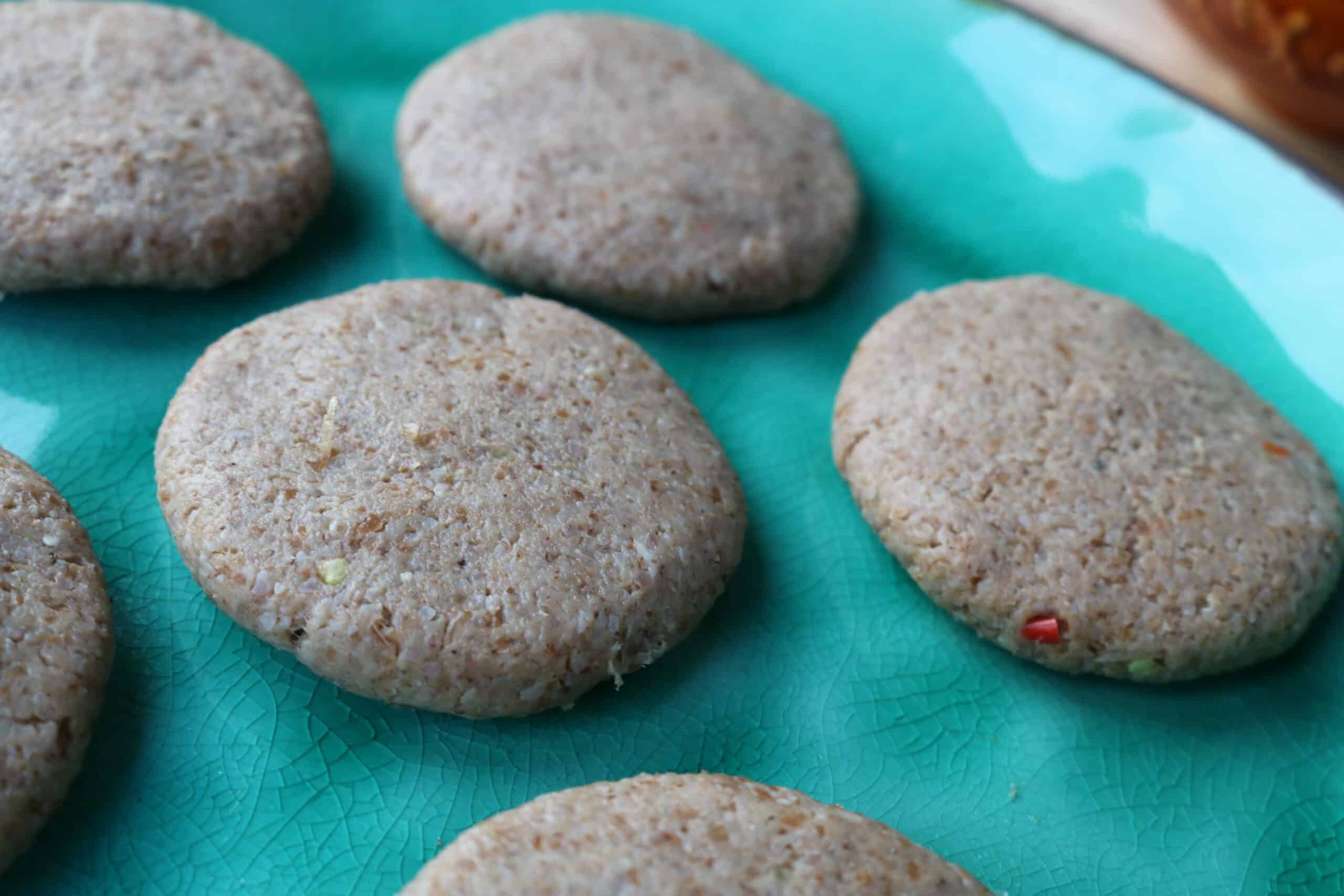 Press into round patties and lay out onto a tray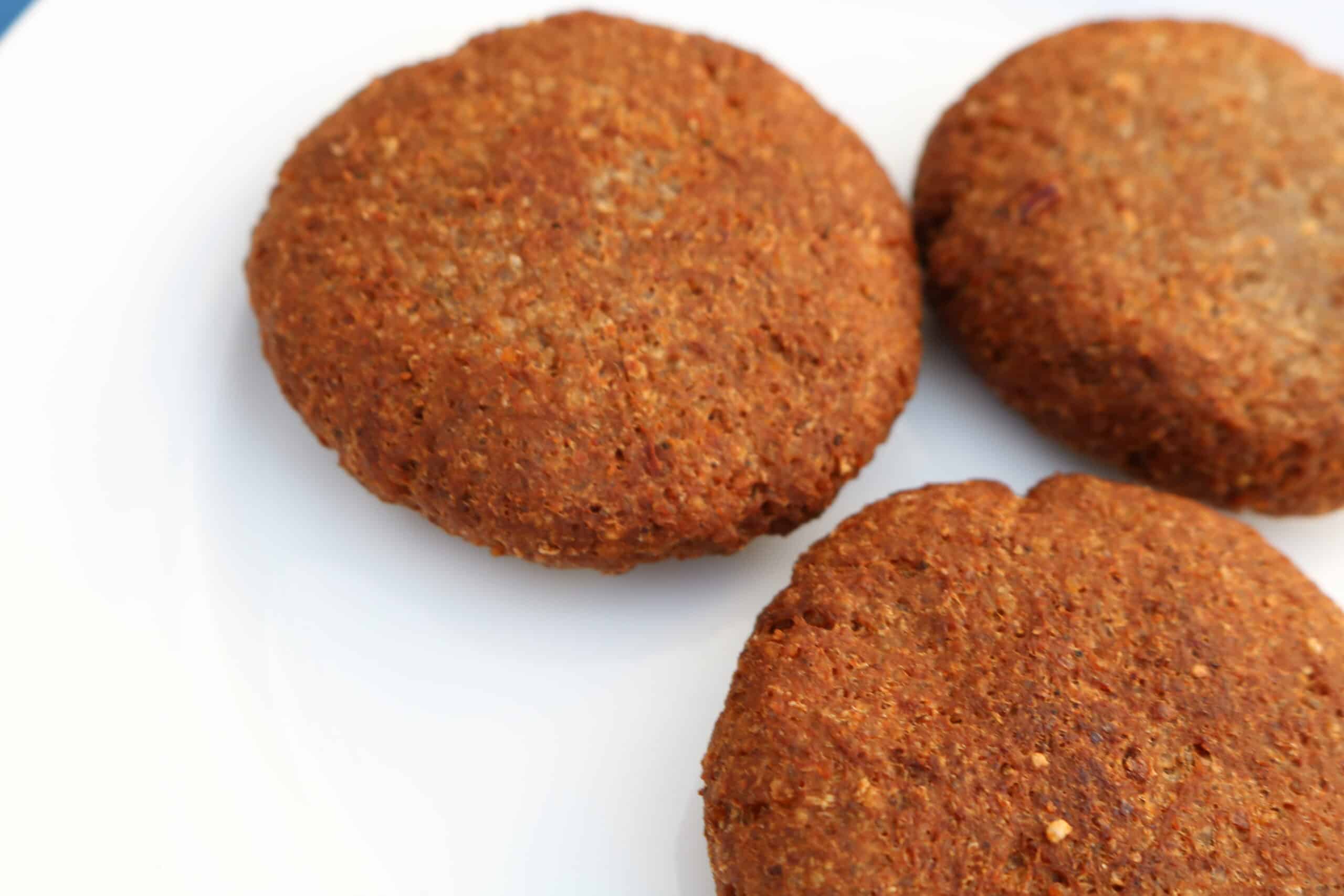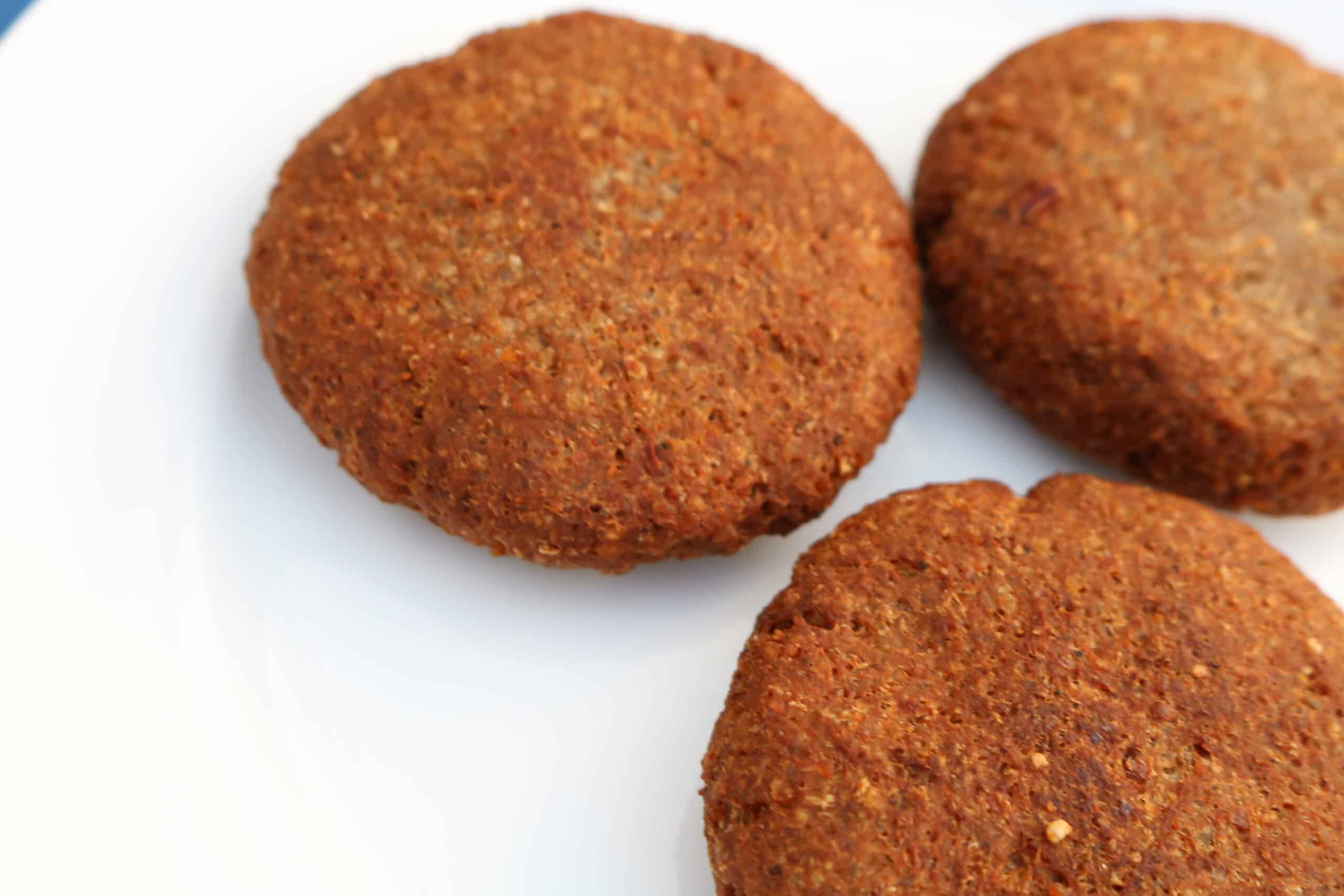 Deep fry in vegetable oil until golden and crunchy
Substitutions
You can make substitute the meat with pumpkin or squash. Just take the casing recipe from my pumpkin kibbeh page and shape in the same way.
Another good substitute is potato kibbeh, but you have to make sure these veggie options don't have too much moisture if you are going to fry them.
Equipment
You will need a deep pan for frying in vegetable oil. I use a stainless steel 24cm deep pan.
Prepare a wide plate lined with kitchen towels to drain the fried kibbeh on.
Storage
Be warned, this recipe makes a lot of kibbeh and I usually freeze the extra ones by laying them out inside freeze bag making sure they don't touch, so half the recipe if necessary.
You can keep them in the fridge for about a day, but longer than that the bulgur wheat will become too fluffy and they will lose their smooth texture.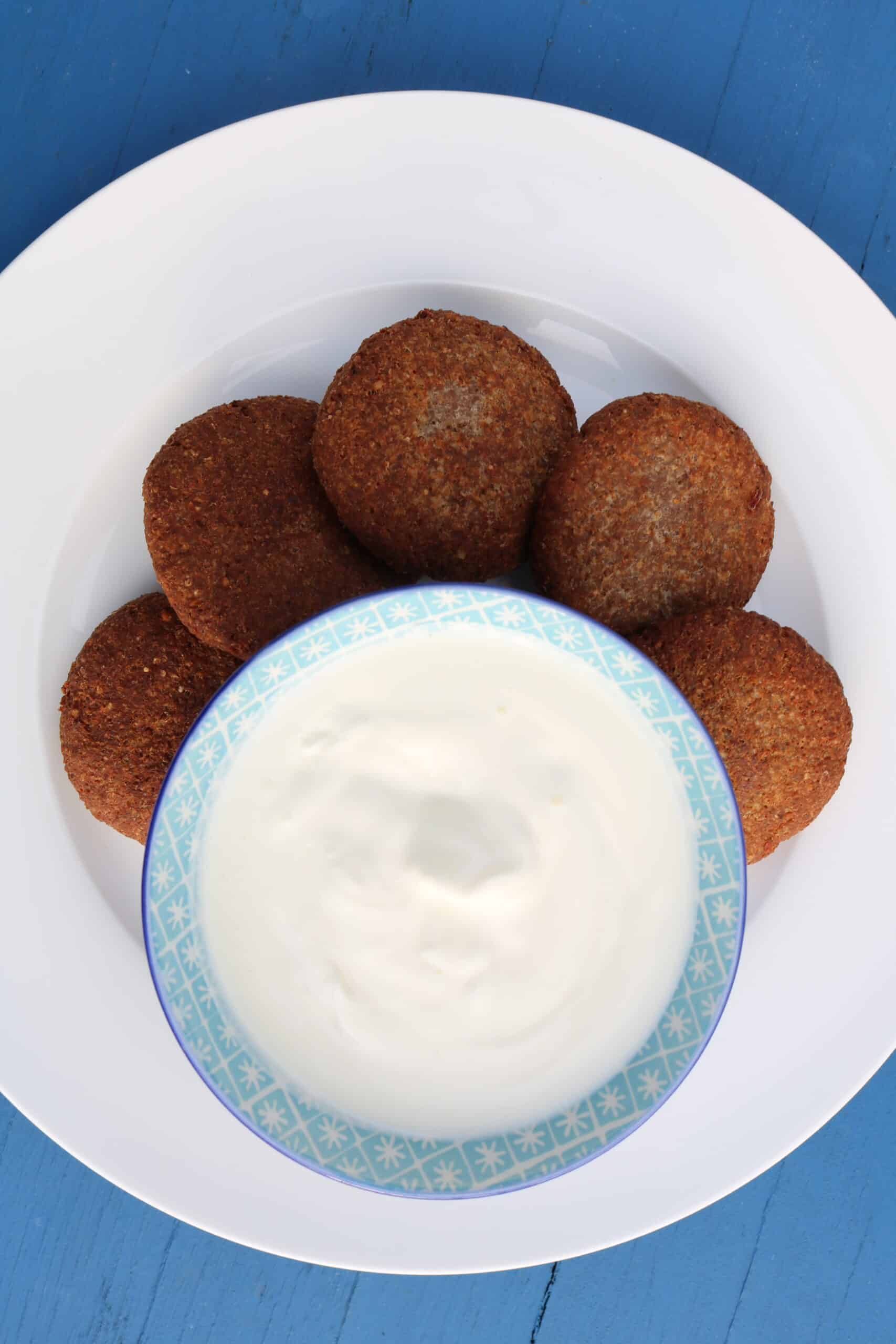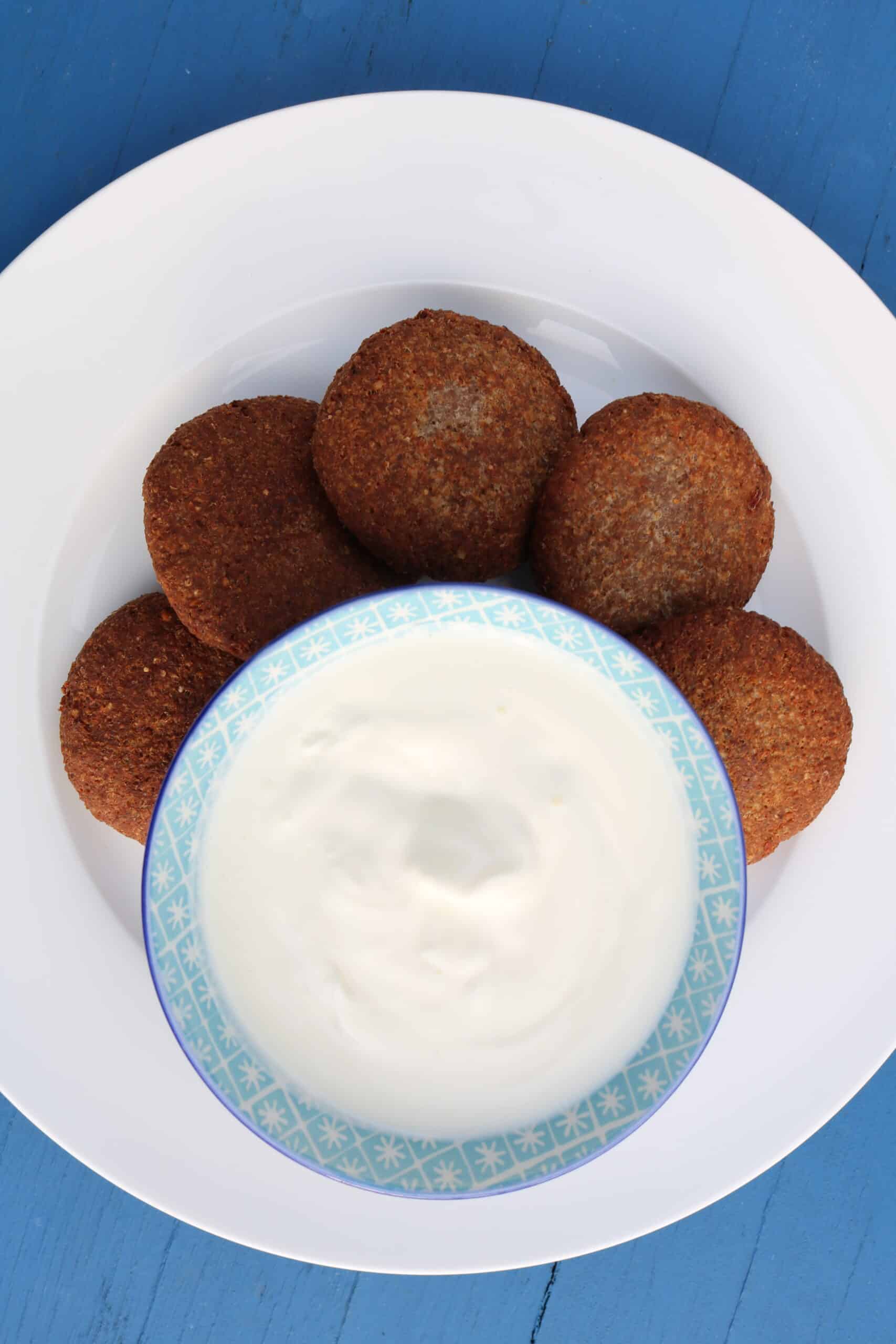 Top tips
When frying, make sure the oil is hot and you can know by putting a tiny bit of kibbeh mixture or even stale bread into the oil and if it sizzles and floats then the oil is ready.
Don't overheat the oil or anything dangerous so it becomes smokey, but you should train yourself to know when the oil is hot enough. Never leave unattended or go on tiktok as you wait for the oil to heat up!
The other thing to deep frying things well is not to move things about every minute or the kibbeh will crumble.
When you drop the kibbeh gently into the oil, let them sit for a few minutes before attempting to flip them over.
You will know when it's ready to flip over as the edges start to go golden and then usually you can nudge them with a spatula and the kibbeh will move easily.
Also, don't put too many kibbeh in the pan at once as this will lower the temperature and crowd them, so for a 24cm pan I put in around five at a time.
I change my frying oil after every 3 uses which is much healthier.
📖 Recipe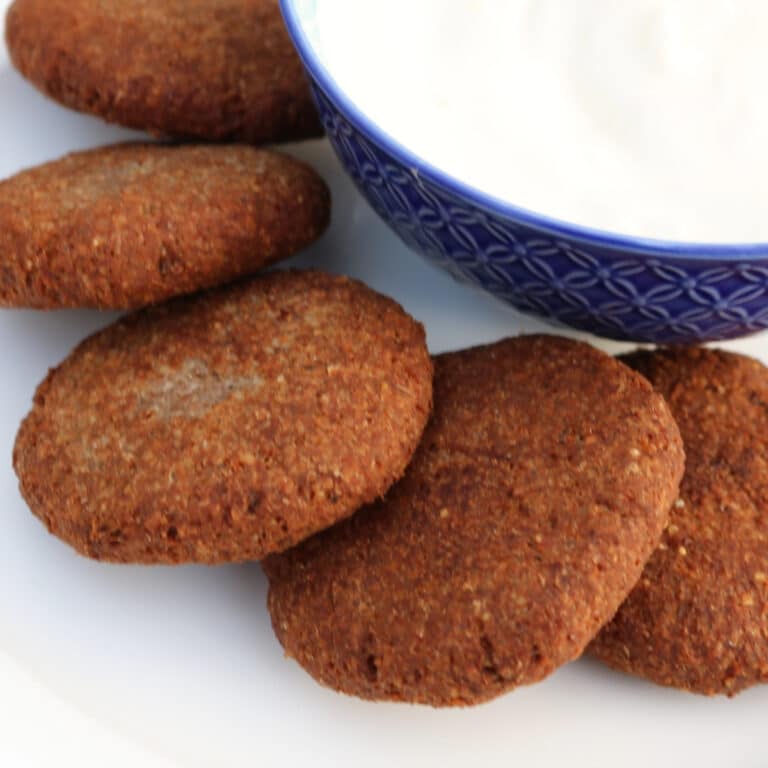 Cheat's Kibbeh (Kibbe Kazabieh)
Subtly spiced bulgur wheat and ground meat patties
Ingredients
1

kg

ground meat

1

kg

fine bulgur wheat

1

large

onion

½

birds eye chilli

1.5

tablespoon

kibbeh spices

1

tablespoon

7 spice

1

teaspoon

black pepper

1.5

tablespoon

salt

1.5

tablespoon

sumac

1.5

tablespoon

cornflour
Instructions
Take out the meat from the fridge and prepare the food processor

Wash the bulgur wheat in a fine sieve and set aside to drain

In a very large bowl, add the spices, salt, sumac, cornflour and meat, along with the drained bulgur wheat

Roughly chop the onion to go in the food processor along with the half a birds eye chilli. Blitz well and add to the bowl, roughly mixing everything together

Take batches of the mixture and run through the food processor until it starts to roll together after about 2 minutes, then return to the large bowl.

If the mixture is too dry, add a bit of water, you don't want it too loose, sticky or crumbly but so it holds together nicely. If you don't mind tasting a bit of raw meat check a tiny bit for saltiness and adjust as necessary

Add approx half a cup of sunflower to a small bowl which you can dip your fingers into when shaping the kibbeh to avoid sticking. Clean your table and arrange a workflow with a large clean tray, the sunflower oil, the filling and the kibbeh casing mix

Roll a small ball of mixture in your hand, then flatten gently into a thick patties, smoothing the edges with your palm. Lay on a tray ready for frying

Heat up vegetable oil in a deep stainless steel pan, add a few kibbehs into the oil making sure you don't crowd them, and fry until golden. Avoid moving them until the edges become golden and they easily turn with a spatula.

Drain on kitchen paper and serve with yoghurt or salad.
If you make any of our recipes let us know how it went by giving us a star rating below.
Check out our Youtube page for full video tutorials, our Facebook group to discuss Lebanese cooking, as well as our tiktok page for quick tips.
You may also like these recipes from the collection: