Pumpkin Kibbeh is another Lebanese speciality that everyone looks forward to, usually because you can only have it at certain times of the year.
It follows a similar method to the standard kibbeh bil sanieh, one of our most popular recipes, so if you have attempted that I would definitely give this one a go.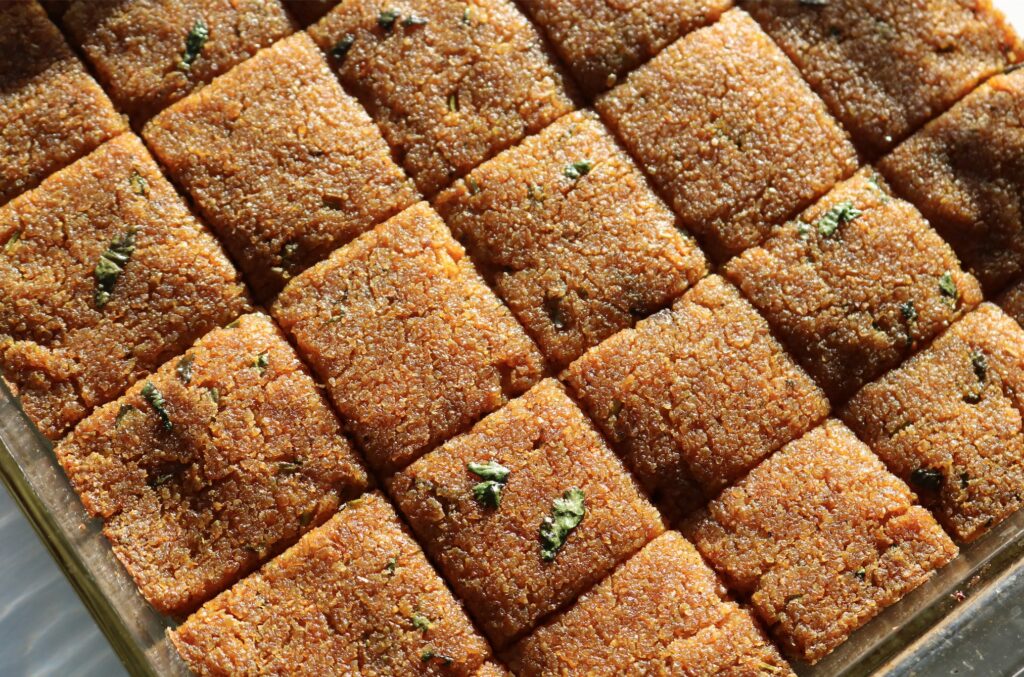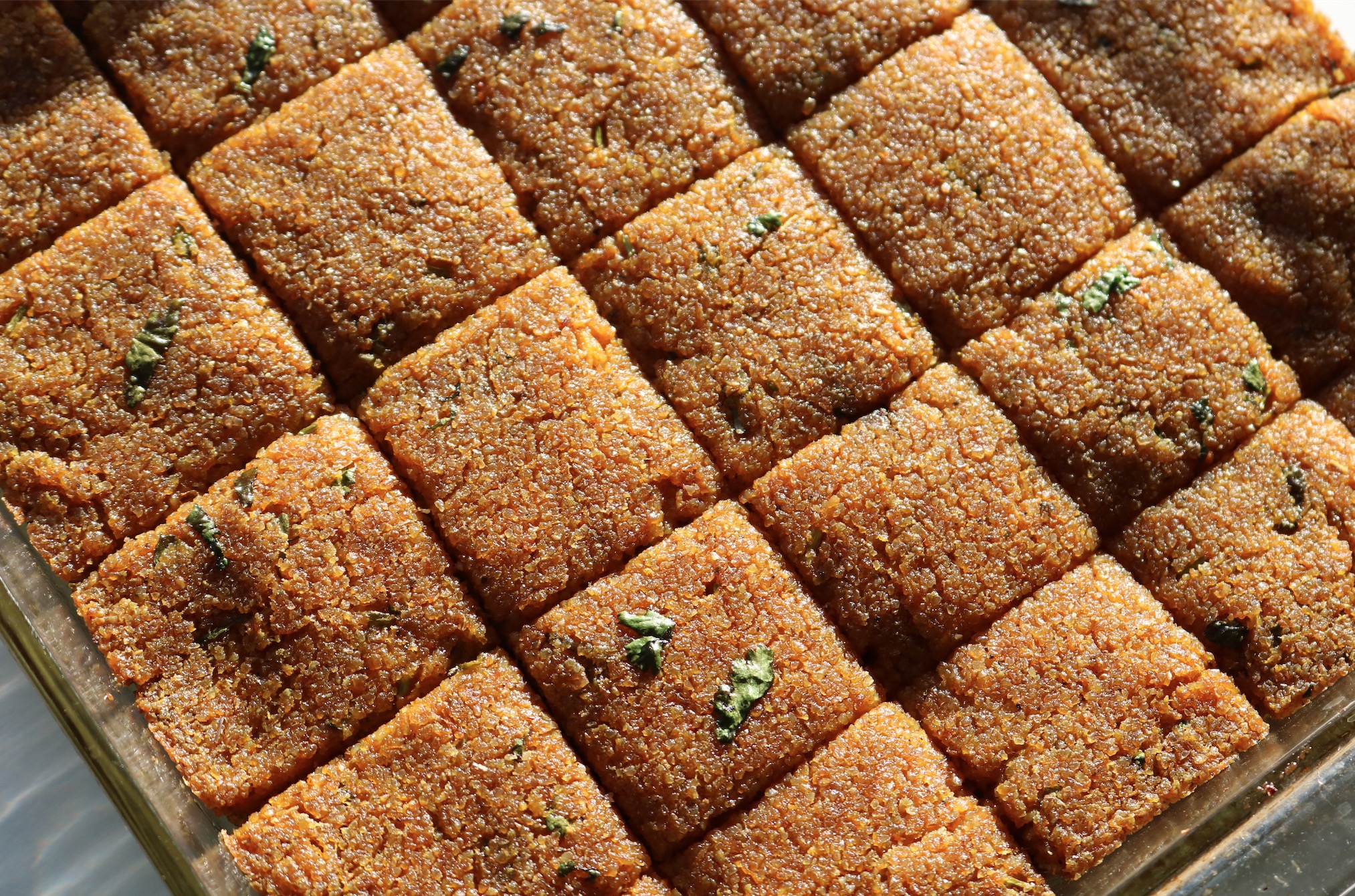 The other great thing about this pumpkin kibbeh recipe is that it is completely vegan before it became a thing, making it a great centrepiece for a vegan feast at Thanksgiving or Christmas.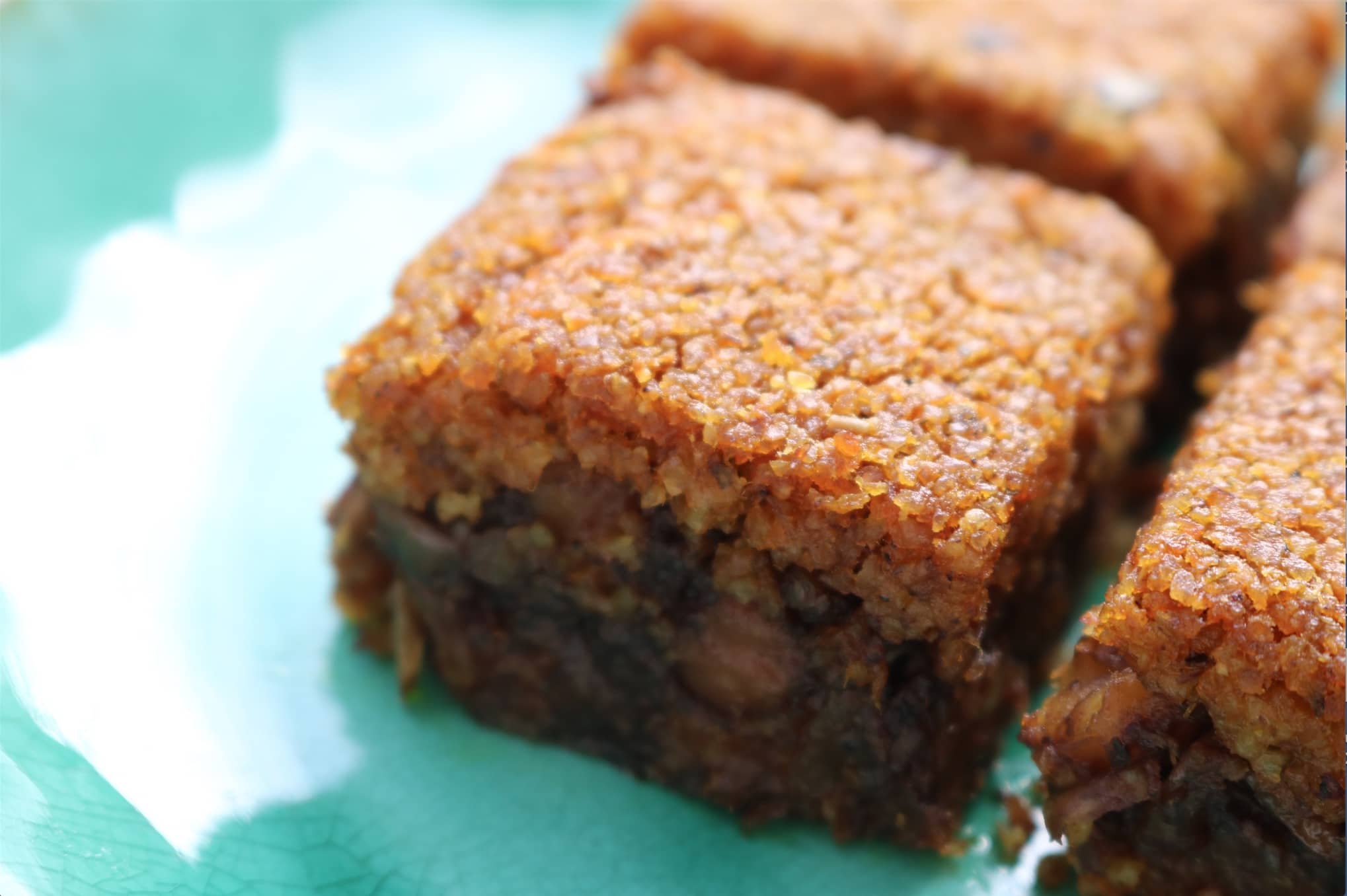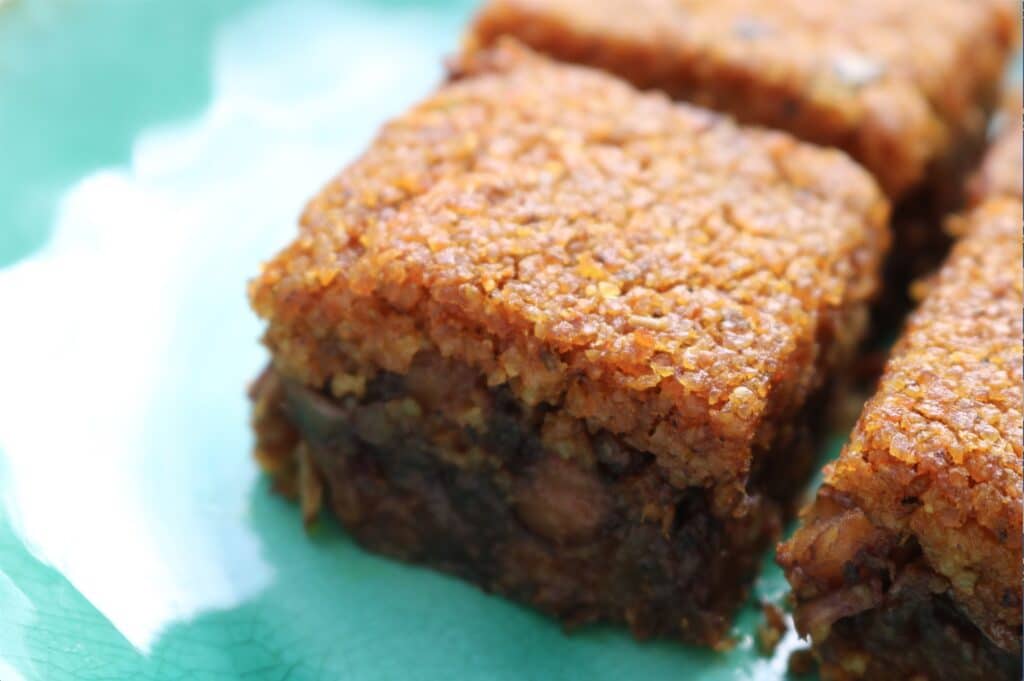 The pumpkin
My mum's recipe uses more pumpkin than other ones you might find, as it gives it more flavour and turns out less dry.
Pumpkins are in season from October to December. Go for pumpkins that have smooth firm skin and feel dense when you pick them up.
Although Halloween pumpkins are popular, it is best to buy ones that are more suitable for cooking.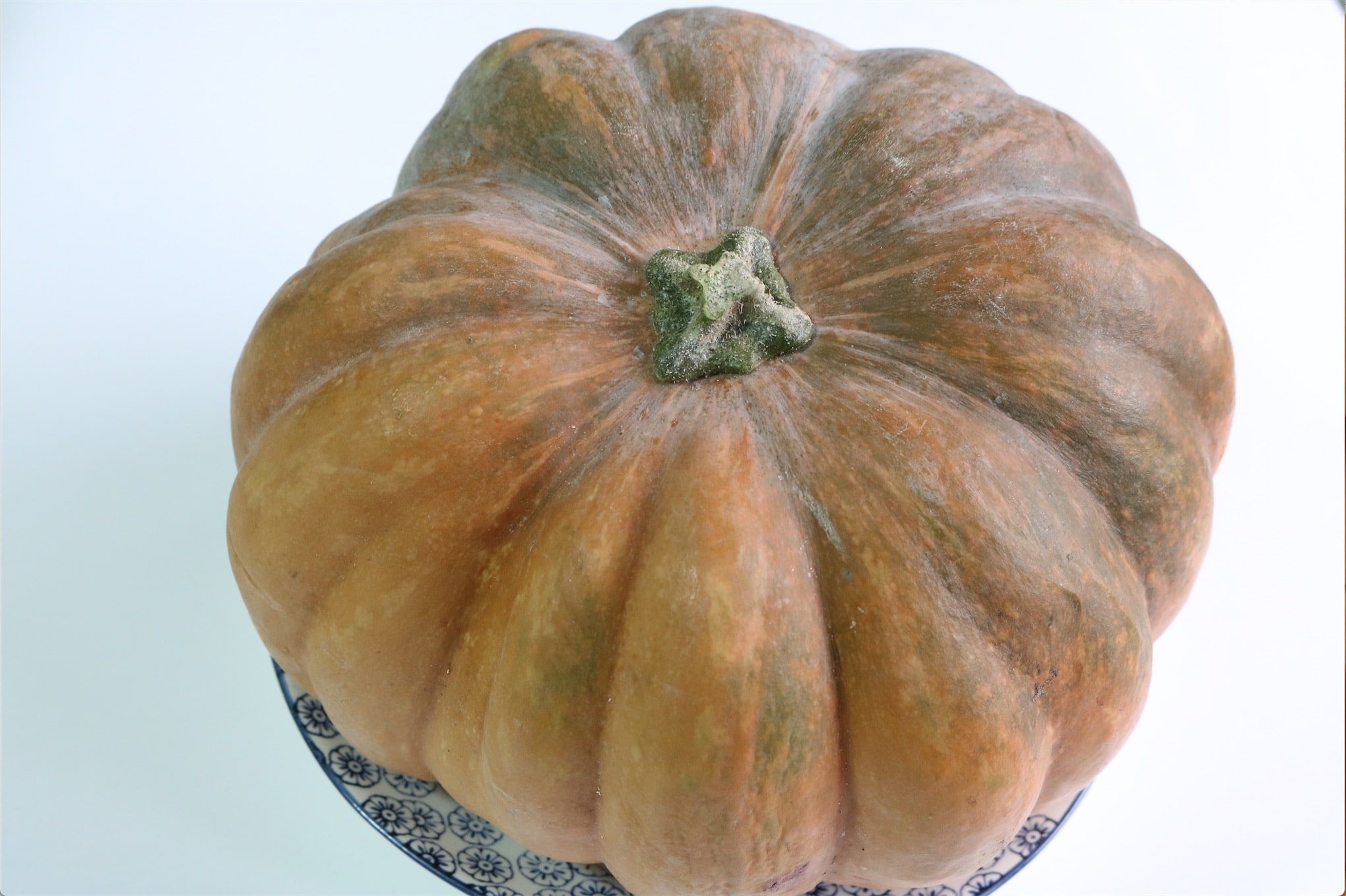 You will need a very sturdy sharp knife to cut into it. Start by carving it in half and then big wedges, which you can peel and chop into chunks.
You will need around 1.5kg of pumpkin for 1 tray of kibbeh. If your pumpkin is larger, you can always still cook the rest for use in soups or stews or put it in an airtight container in the fridge for around a week.
Another good storage option is to freeze them for use later in the year.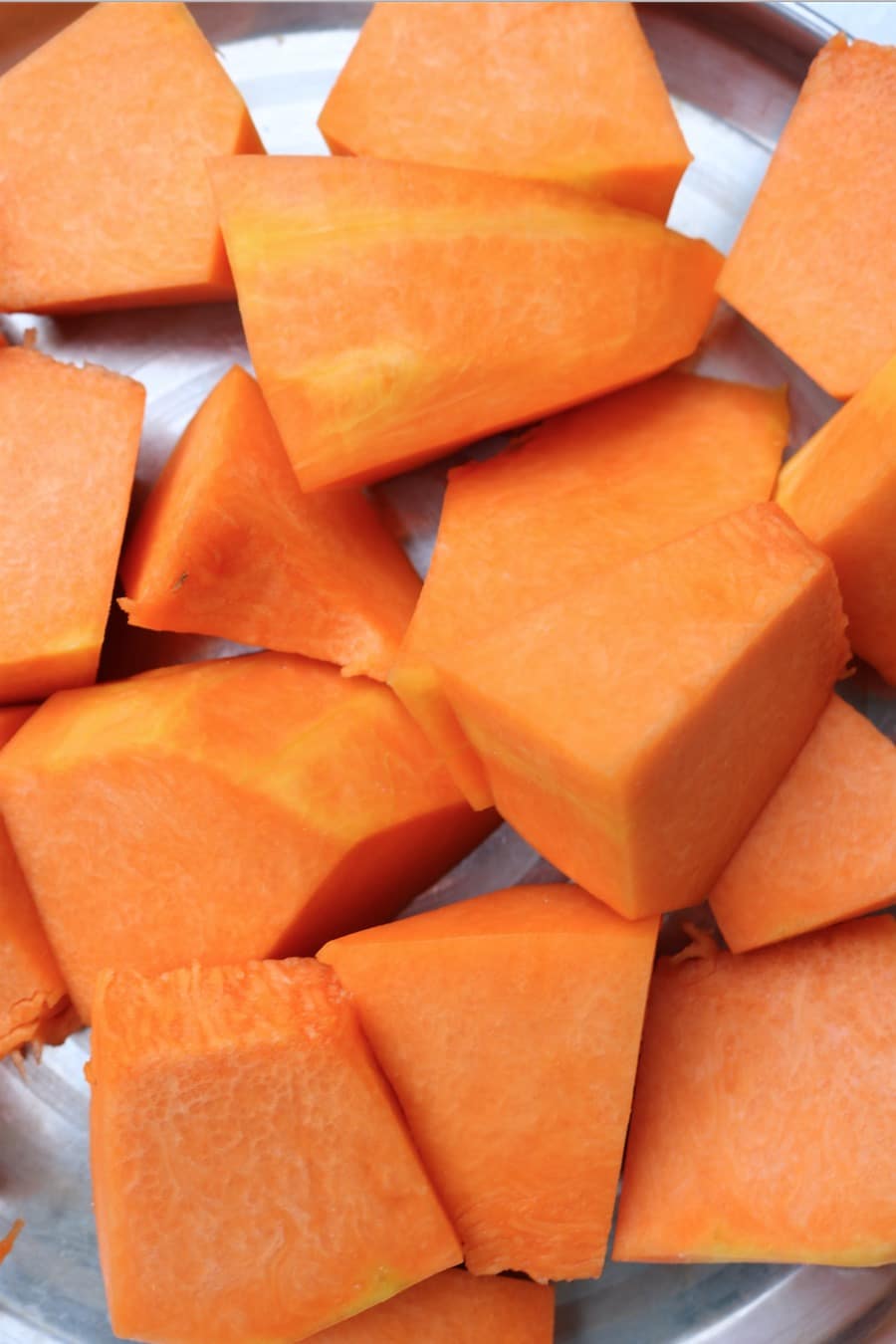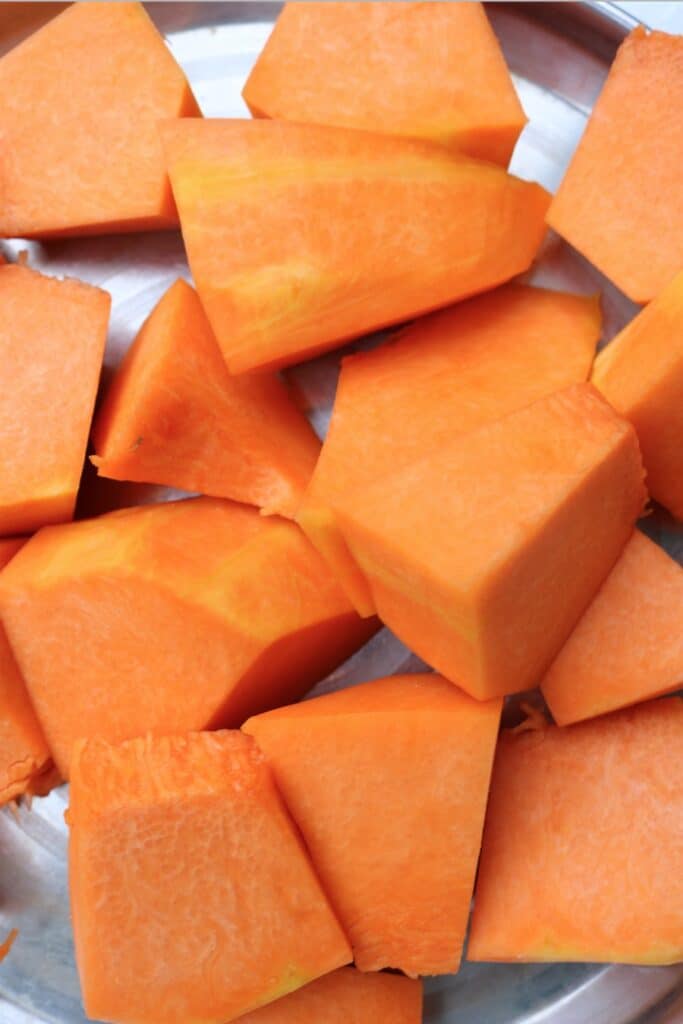 The filling
The filling for pumpkin kibbeh is sour and savoury to balance out the sweetness of the pumpkin and has lots of sumac and pomegranate molasses in it along with earthy spices.
Start the filling by sautéing a couple of onions until golden, before adding chickpeas and walnuts.
The walnuts are crushed to a coarse consistency to give a nice contrast in texture. You can do this either by and or pulsing using a food processor.
Some people add spinach to the filling or make a meat based one but I think this chickpea walnut one is the best.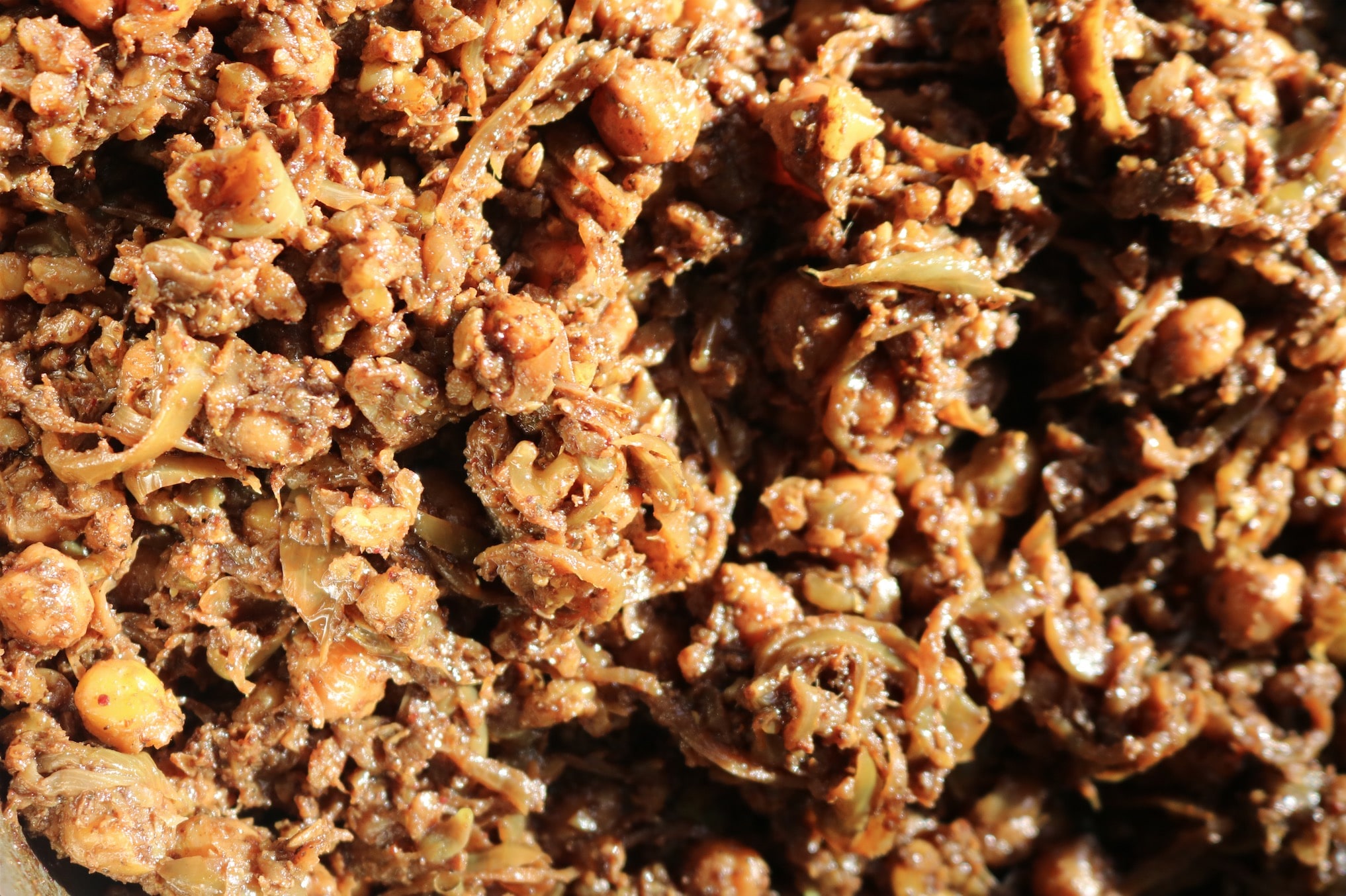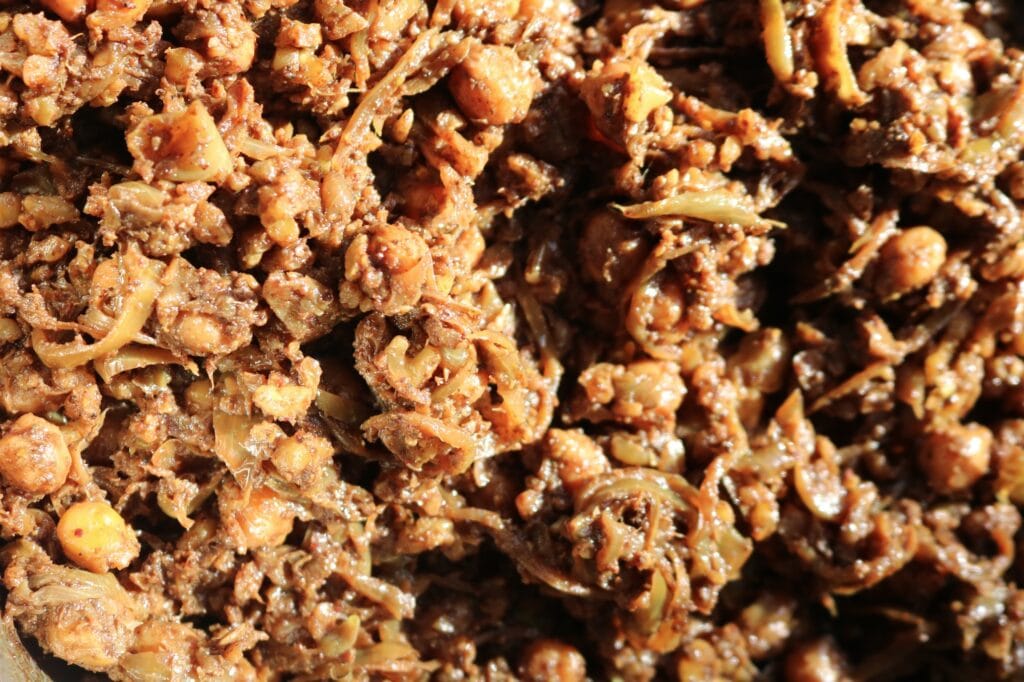 The Spices
Kibbeh spices are very important in making a successful kibbeh. You might want to prepare the various spice mixes the day before to save you some time.
In addition to Lebanese seven spice mix, full recipe which can be found here on the blog, you will also need to have a kamouneh spice blend (made just using ground spices) and also kamouneh mix for kibbeh (which is combined with herbs, onions and bulgur wheat).
I have written all of these spice blends on the blog for you in full but as a summary, kamouneh mix can be made as below: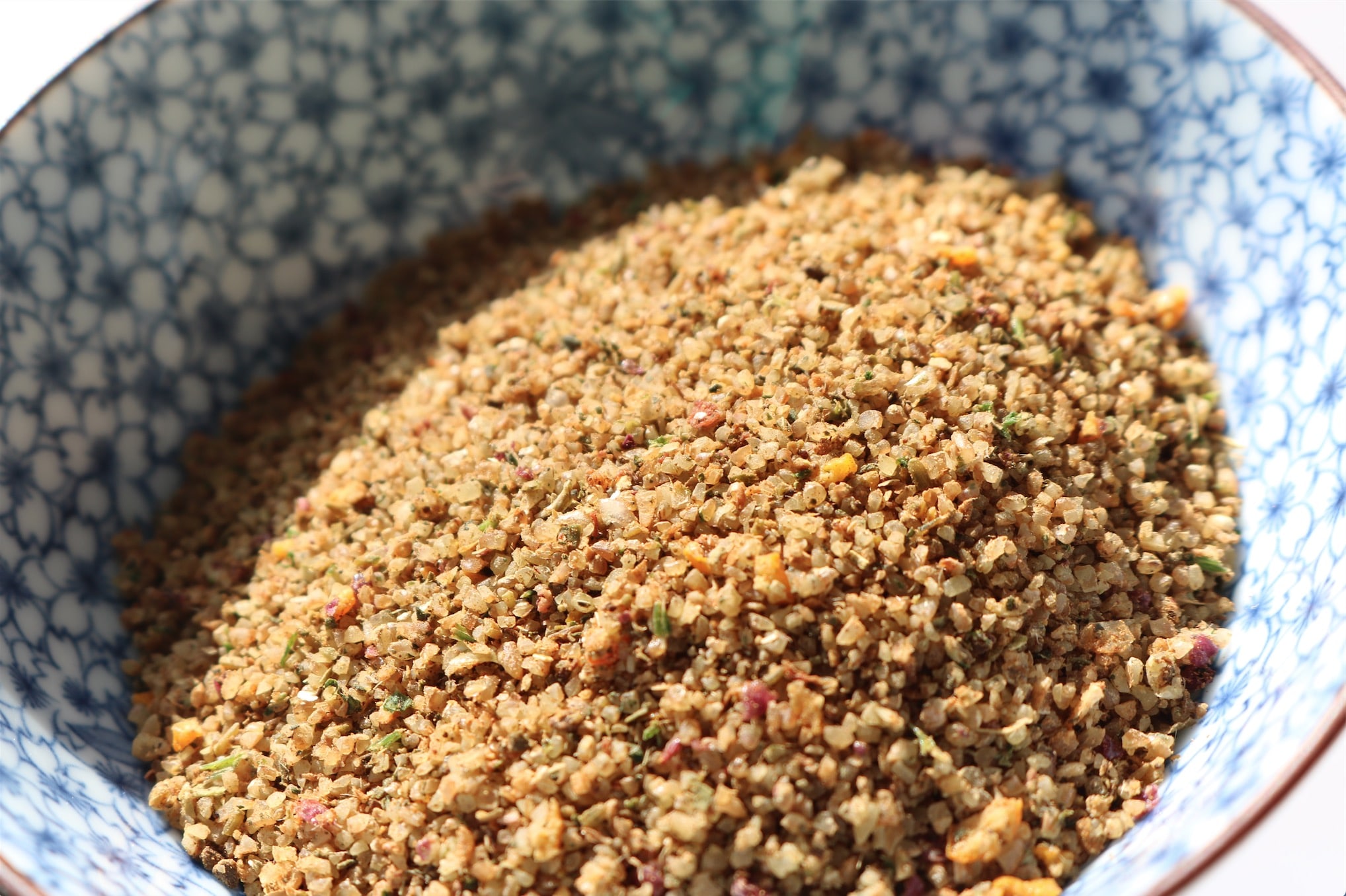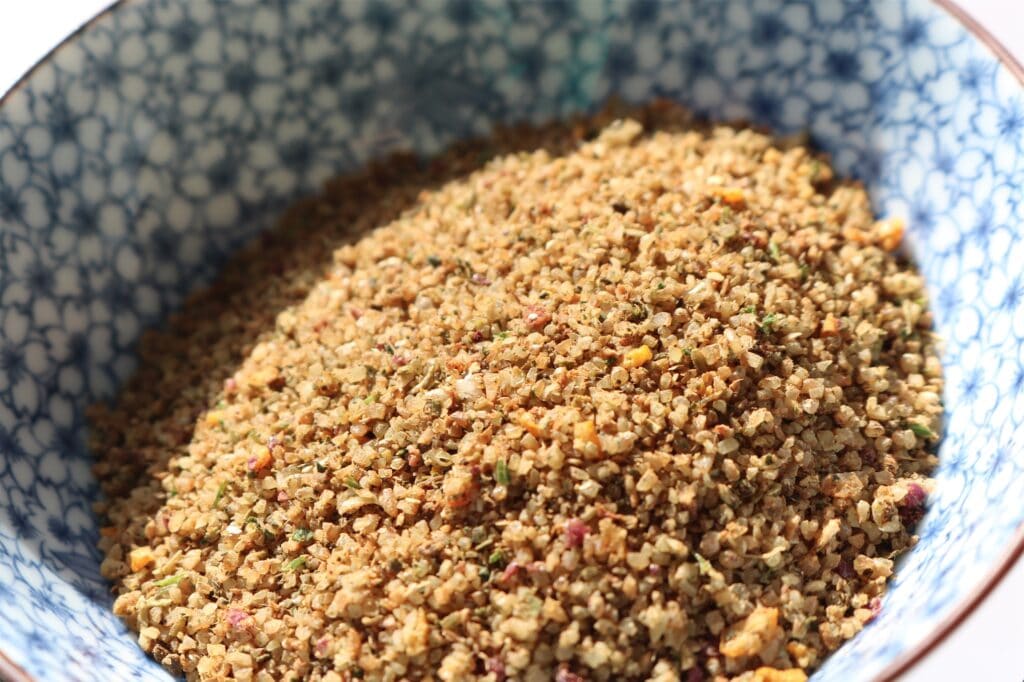 Kamouneh mix for kibbeh:
Peel of 1 orange
1 small red onion
½ white onion
¼ cup of fresh mint
¼ cup fresh parsley
¼ cup fresh basil
1 tbsp dried marjoram
1 tbsp dried mint
3 tbsp kamouneh spices
1 tbsp 7 spice
2 tsp salt
2 tsp ground cinnamon
1 tsp black pepper
1 tsp white pepper
½ birds eye chilli
1 cup fine bulgur wheat
The casing
Kibbeh casings always use fine bulgur wheat. These are readily available in Middle Eastern grocery shops.
Never use coarse bulgur wheat or your kibbeh will come out chunky and fluffy as opposed to refined and elegant.
The casing is pretty straightforward to make. Once you boil the pumpkin and drain it, simply add it to the bulgur wheat with a few spices and cilantro (fresh coriander).
The art of the kibbeh is to get a good ratio of casing to filling. The kibbeh casing layers shouldn't be much more than approximately ½ cm thick which means your kibbeh won't be too dense.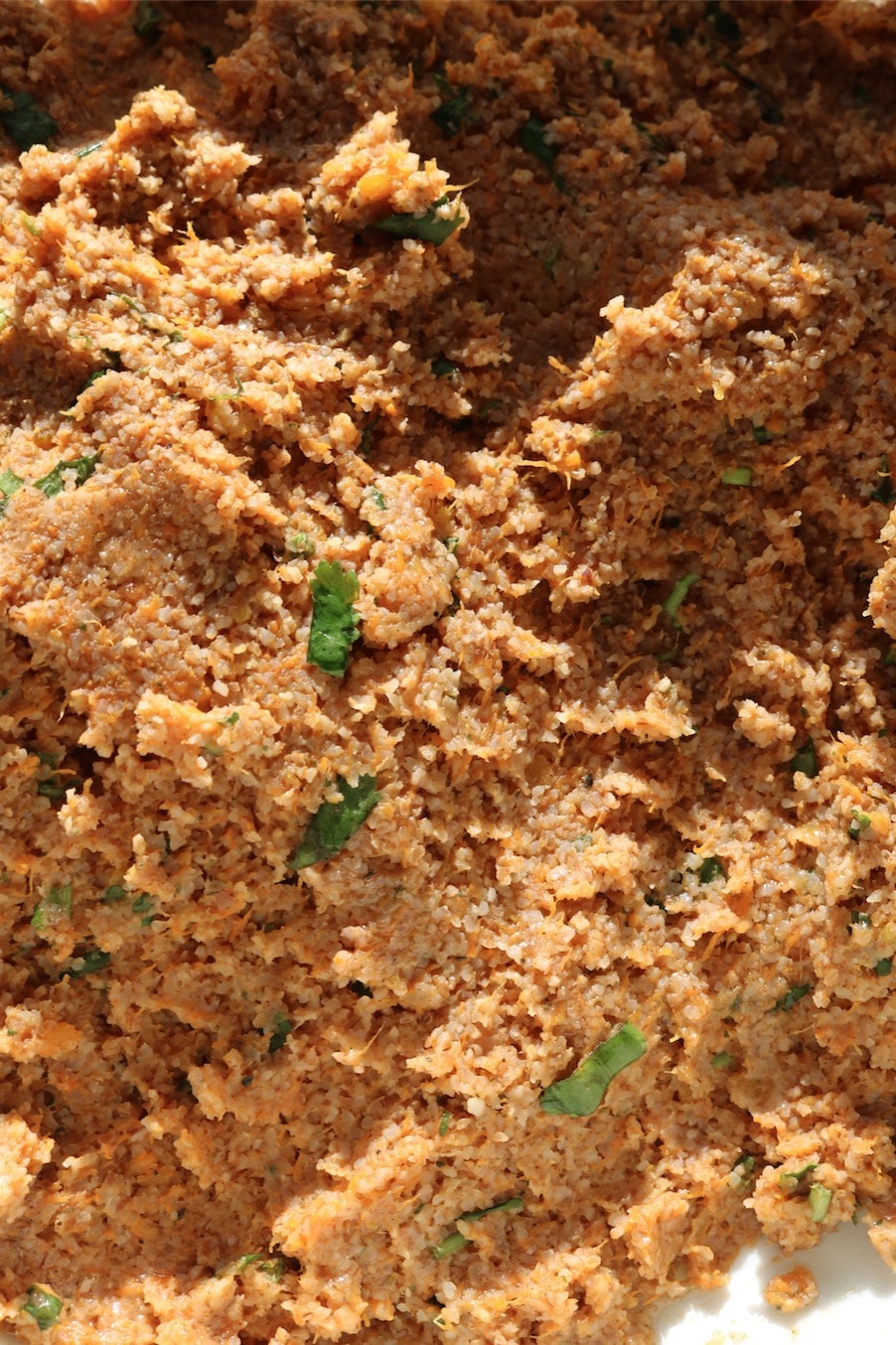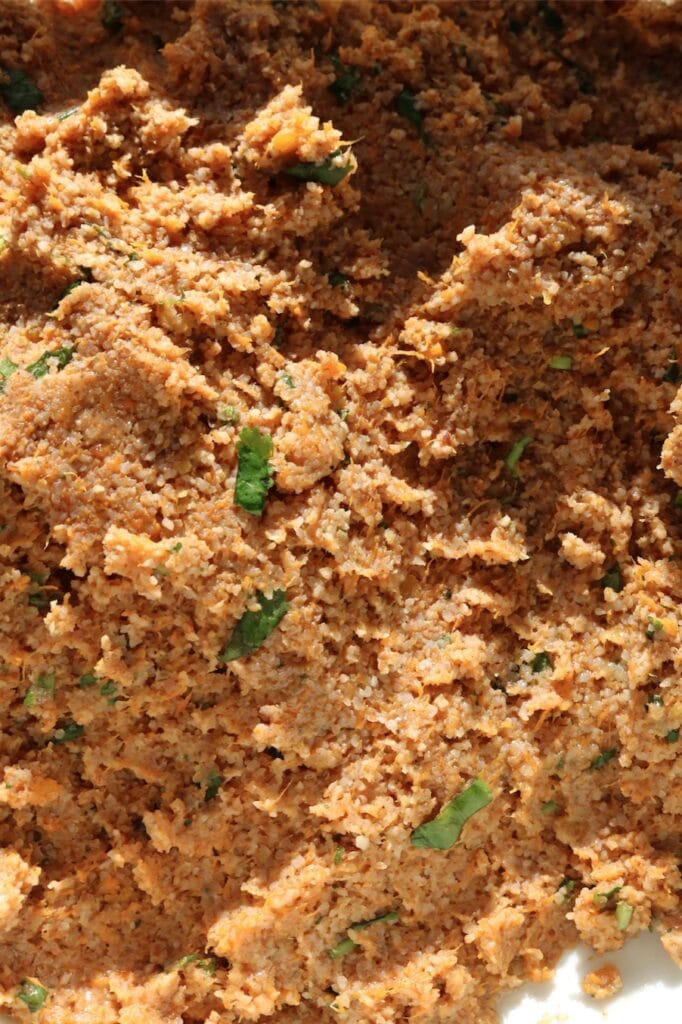 Top tips for making pumpkin kibbeh
Pumpkin kibbeh needs time and patience to get right. You can't rush the process so make sure you have a few hours to spare.
You can use the seeds to make a salty snack by drying them out and roasting them later.
The spicing is vital so make sure you prepare all your spice blends prepared beforehand or it might get overwhelming.
Always cut up the kibbeh before you add the thin film of oil. If you are going to freeze an extra tray of kibbeh, you can add the oil before it goes into the oven.
Actually, it's a good idea to make a double batch of kibbeh as it's a little messy and you can have an instant gourmet meal for later.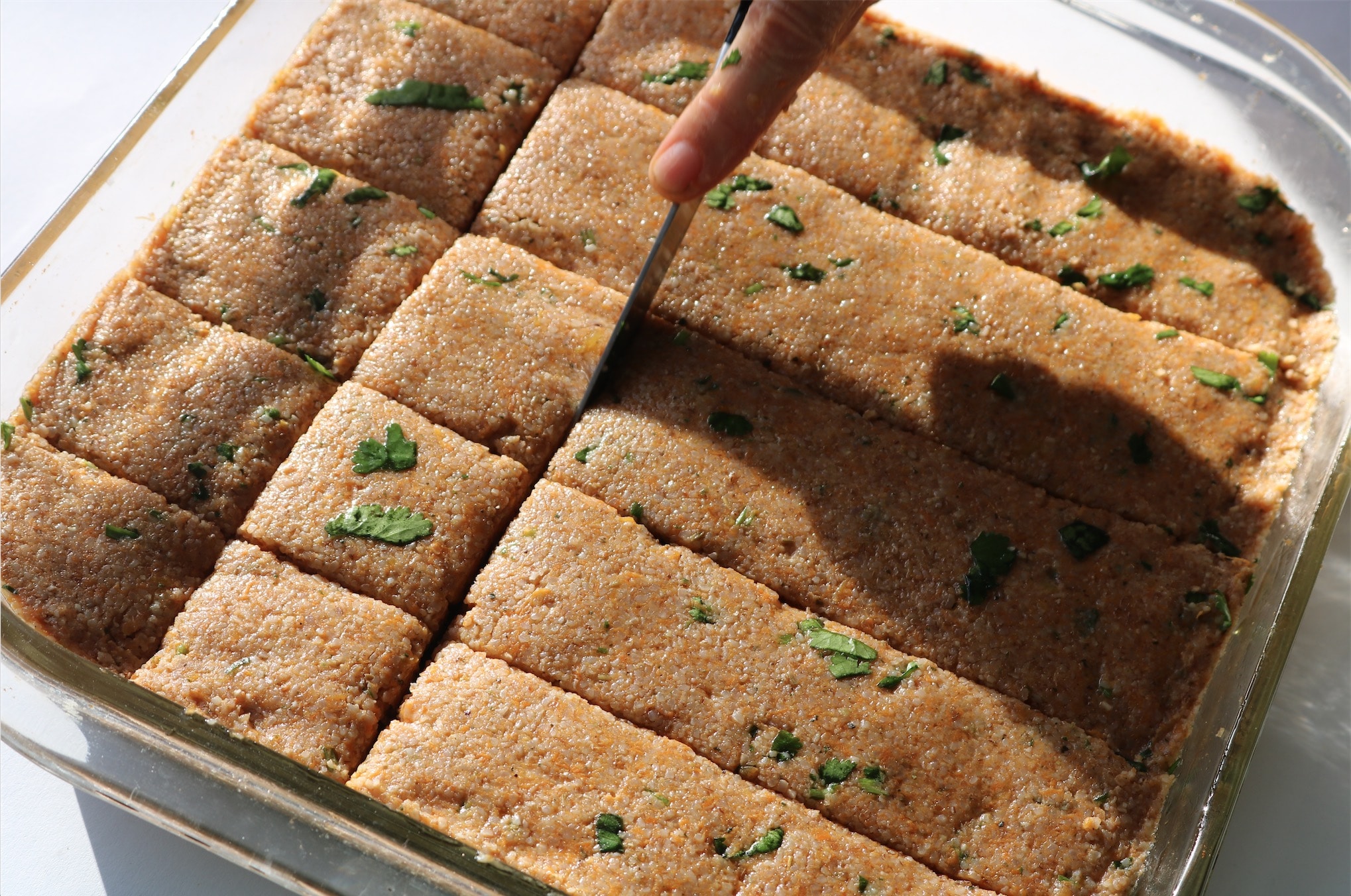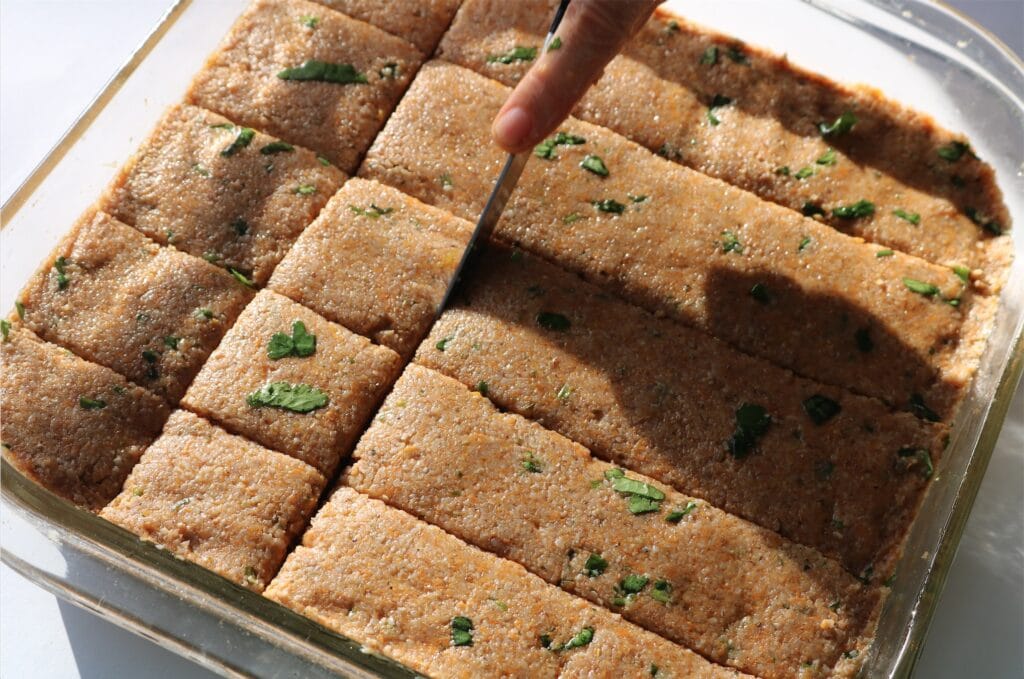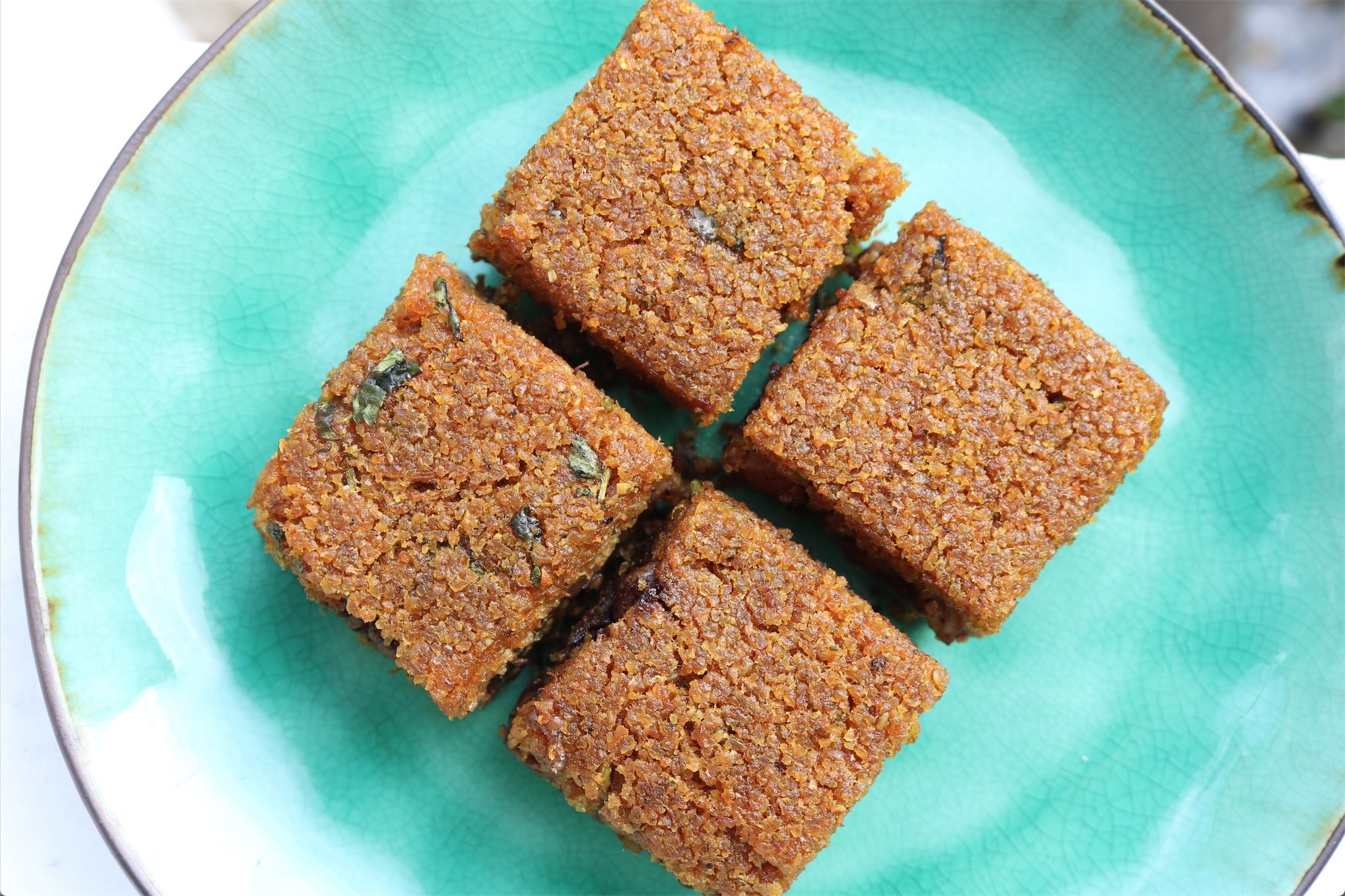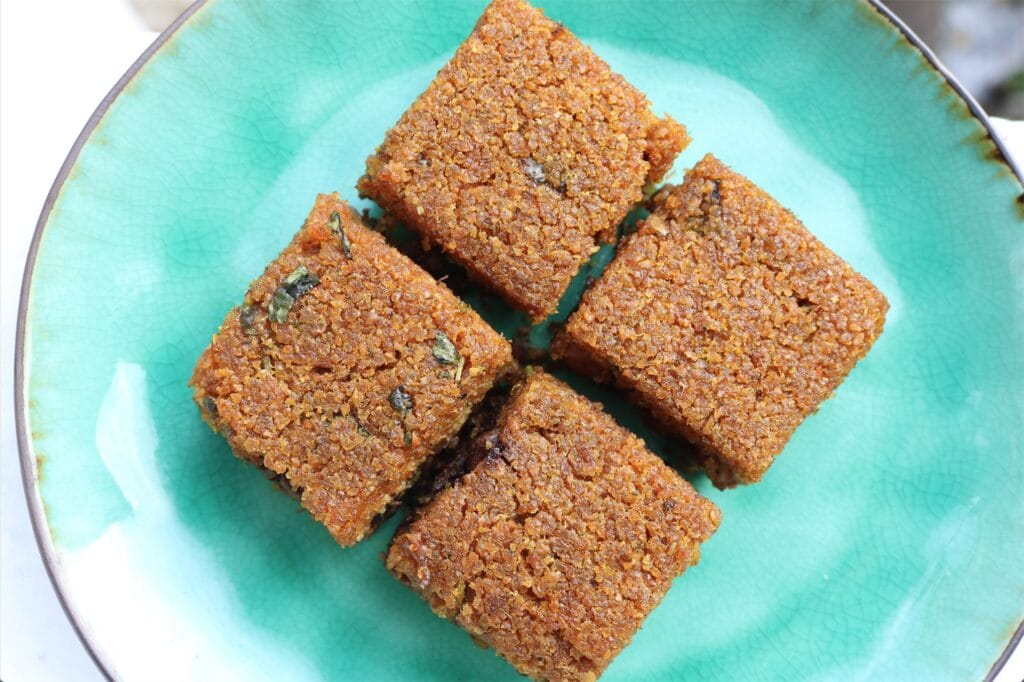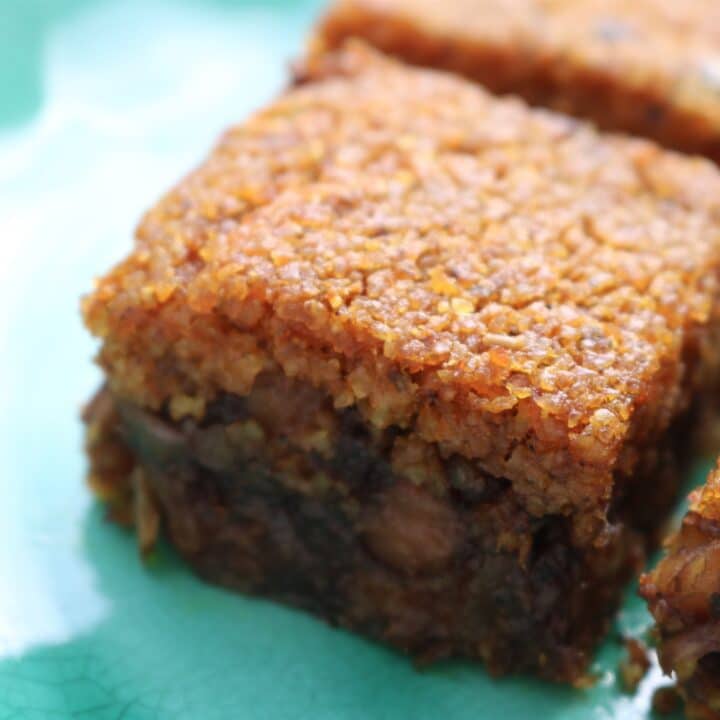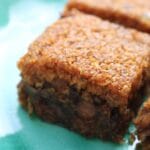 Pumpkin Kibbeh
Vegan Pumpkin kibbeh with a chickpea walnut filling
Ingredients
For the pumpkin filling
4

onions

sliced into strips

¼

cup

regular olive oil

250

g

cooked chickpeas

drained

1

teaspoon

dried coriander

½

teaspoon

turmeric

½

teaspoon

black pepper

1

teaspoon

kamouneh spice blend

1

teaspoon

7 spice

½

teaspoon

ground cinnamon

2

tablespoon

sumac

3

tablespoon

pomegranate molasses

100

g

walnuts

coarsely crushed

½

cup

of kamouneh mix

see full recipe on blog

½

tablespoon

salt

approx
For the pumpkin casing
1.5

kg

of pumpkin

peeled into chunks

2.5

cups

of fine bulgur wheat

½

cup

chopped cilantro

fresh coriander

2

tablespoon

plain all purpose flour

1

cup

kamouneh mix

1

tablespoon

salt approx

Small bowl of vegetable oil
Instructions
To make the filling
Cut the onion in half, then slice into thin strips. In a wide deep pan, add ¼ cup of regular olive oil and sauté until golden for at least 20 minutes, stirring every so often to avoid sticking to the bottom of the pan

Add the drained cooked chickpeas, dried coriander, turmeric, black pepper, 7 spice, and ½ tablespoon of salt and sauté for another 10 minutes or so on low heat

Add the walnuts, sumac, pomegranate molasses and ½ cup of kamouneh mix. Sauté for another few minutes then taste and adjust the seasoning if necessary before turning off the heat. Cover and set aside
To make the pumpkin casing
Peel the pumpkin and chop roughly into 2 inch chunks. Transfer to a large pot and cover with water. Bring to the boil, then reduce the heat to medium and boil for around 45 minutes

Drain the pumpkin in a colander and transfer to a large bowl with the bulgur wheat, along with a cup of the kamouneh mix, chopped cilantro (fresh coriander) and just under a tablespoon of salt

Mash all the ingredients together using a potato masher until there are no large pumpkin lumps. Taste a bit and adjust the seasoning if necessary
To assemble the pumpkin kibbeh
Add some vegetable oil to a small bowl (for dipping your hands into to avoid sticking) and position on the table. Preheat the oven to 200C (390F)

Brush the bottom of a wide baking dish with some vegetable oil, then take a good handful of pumpkin casing and using your hands flatten into approximately ½ cm layer and add to the bottom of the dish

When you finish the first layer of pumpkin casing, use your hands to compress it down firmly but gently and smooth it out

Then add a layer of filling and smooth out using a spoon as much as possible

Repeat the layer of pumpkin casing, dipping your hand occasionally into the oil to avoid sticking and smooth out the top layer

Using a sharp knife cut into squares. Then drizzle a thin film of vegetable oil on top and tilt to make sure all is coated

Bake for around 40 minutes until golden, turning if you have to ¾ of the way to get an even bake.

Serve with a green salad or yoghurt and cucumber .
Recipe Notes
For the kamouneh mix and kamouneh spice blend, see the full recipe on the Zaatar and Zaytoun blog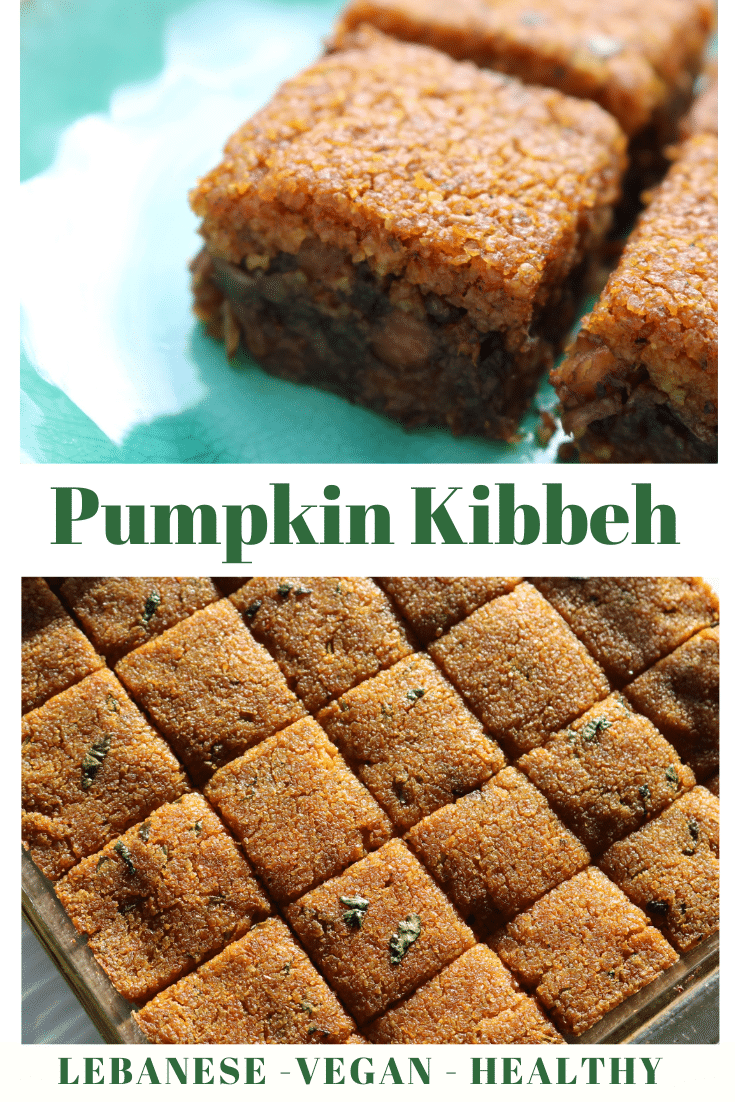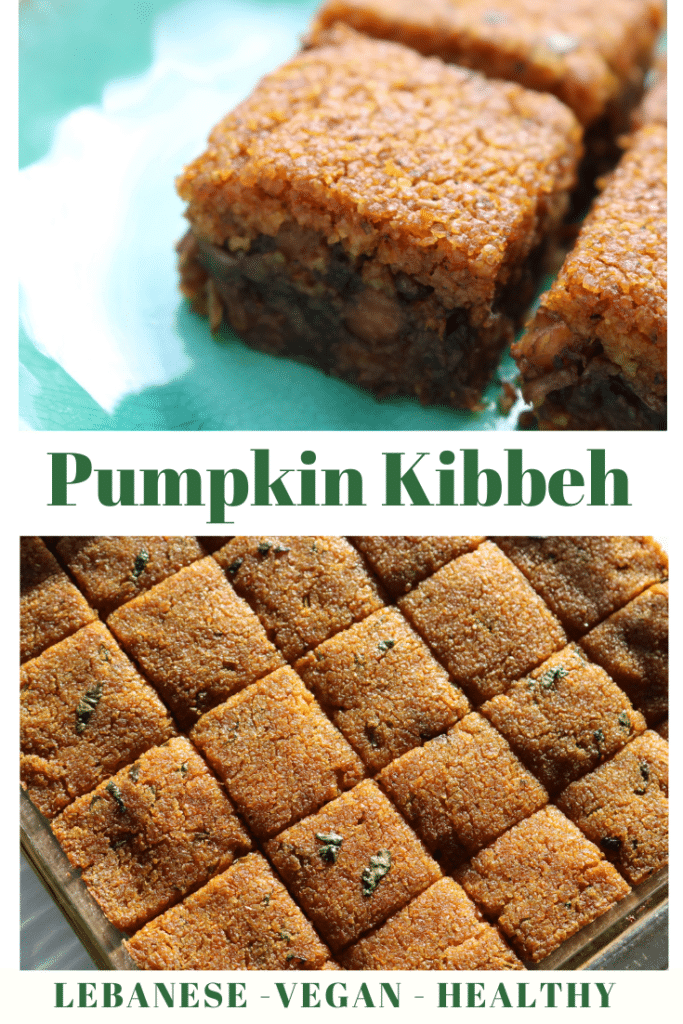 If you make any of our recipes let us know how it went by giving us a star rating below.
We have a lively Facebook group where we post frequent recipes and discuss Lebanese cooking in general, as well as a handy Pinterest page where you can save all of your favourite Zaatar and Zaytoun recipes.
You might also like these recipes from the Zaatar and Zaytoun collection: