This vegan potato kibbeh recipe is so delicious it might rival any meat kibbeh you've tried before. Yes I am that confident in it's deliciousness.
Like seriously it is addictive and although I usually let the food do the talking, I have to hype up this recipe because people might try and underestimate it because it's vegan.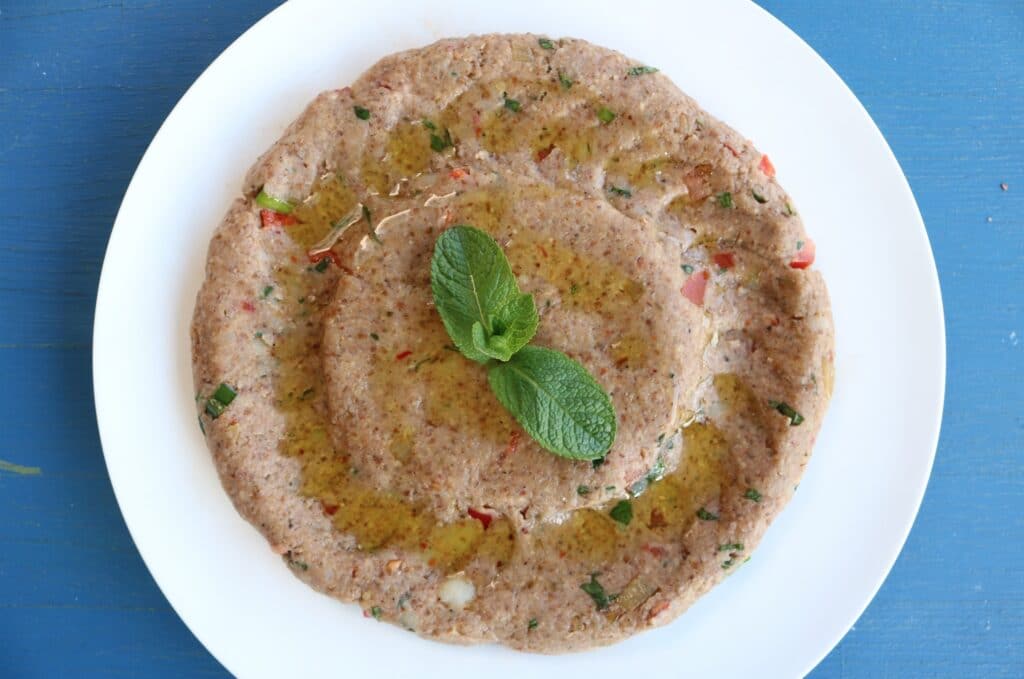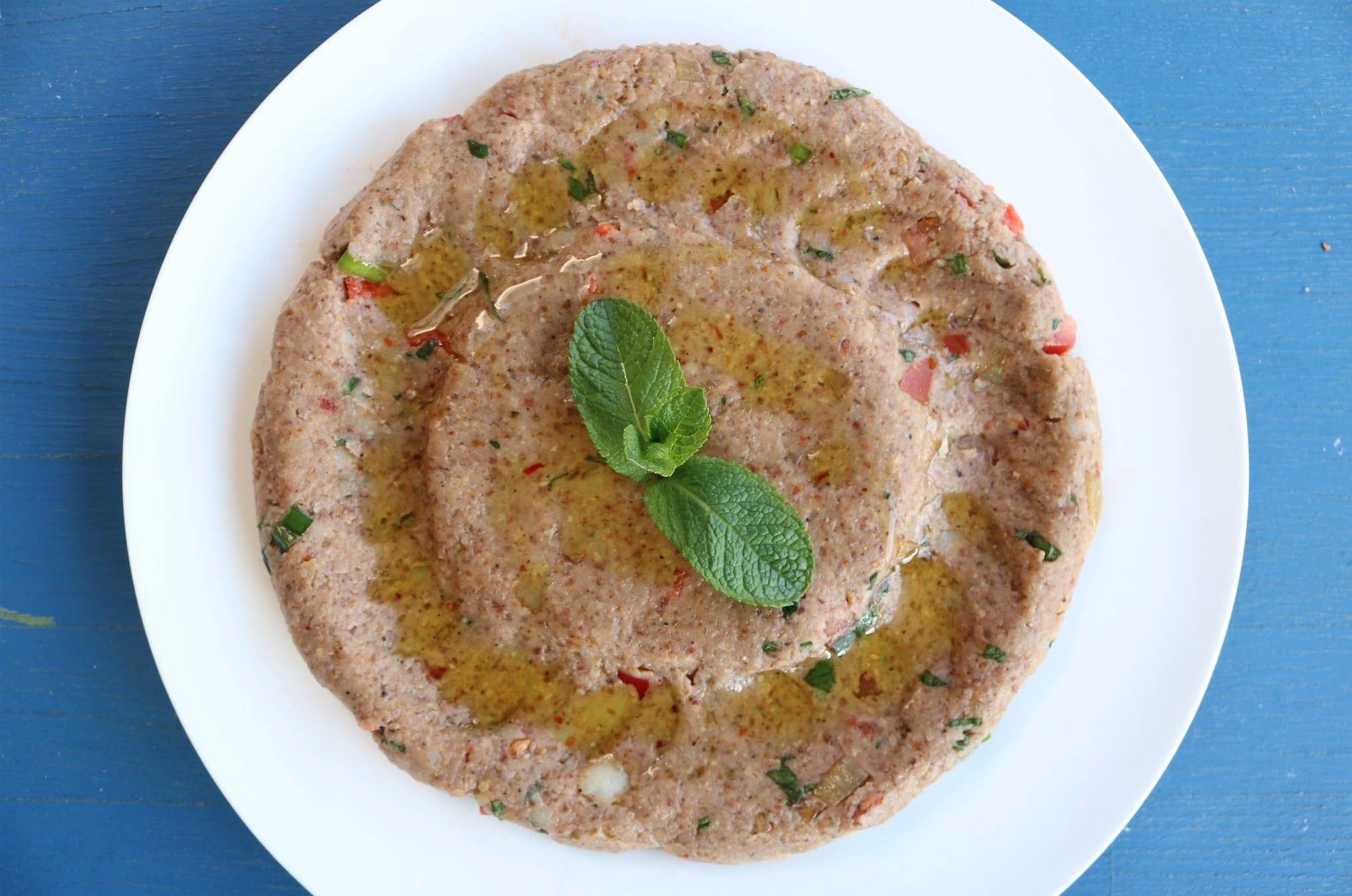 The other thing is it's really easy to make. Sauté an onion, boil some potatoes, add some herbs and spices and squish it all together, preferably by hand.
I have another version of kibbet batata on the blog which is sometimes known as kamounet batata, even though the addition of bulghur wheat technically makes them both kibbehs.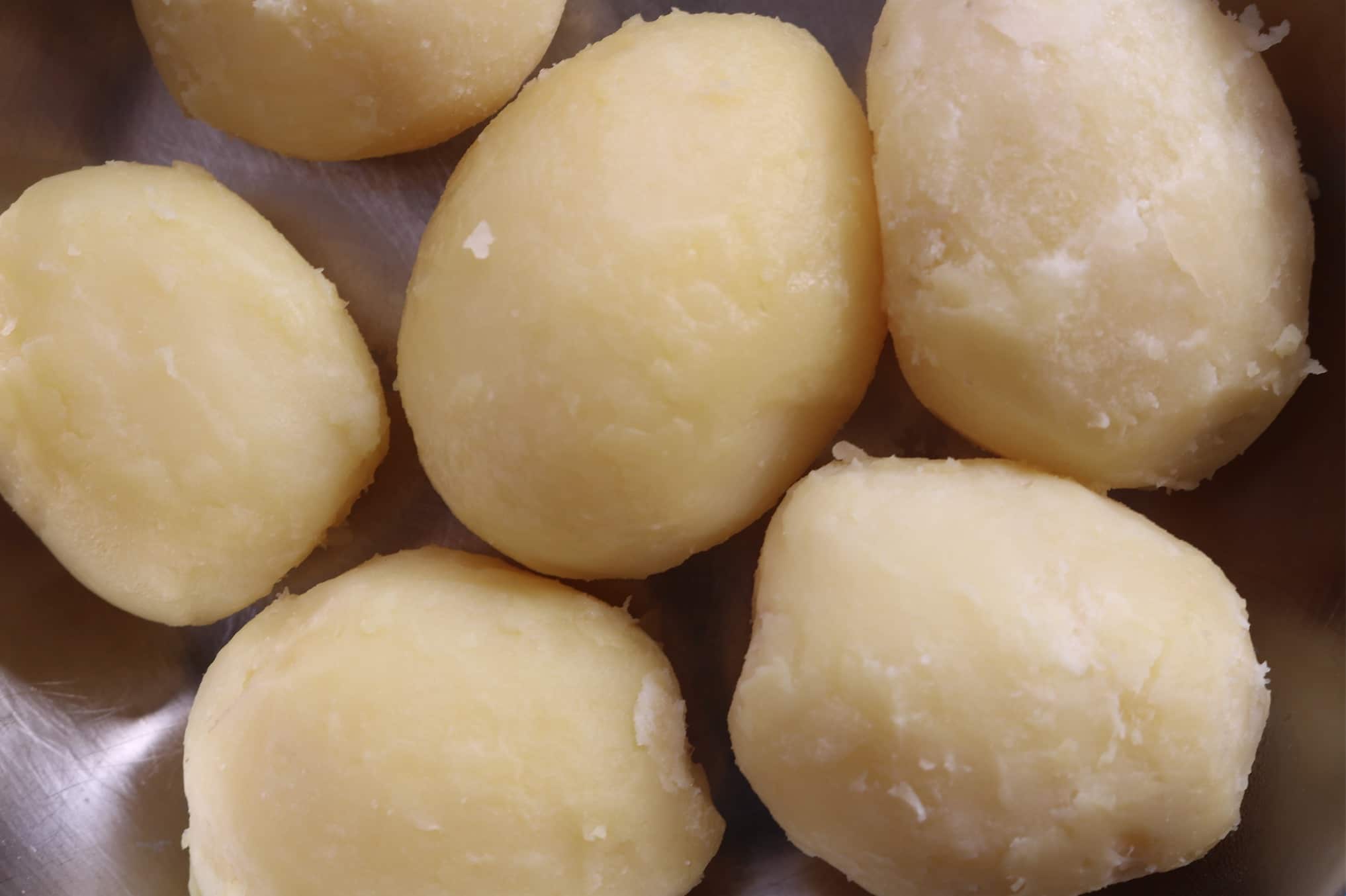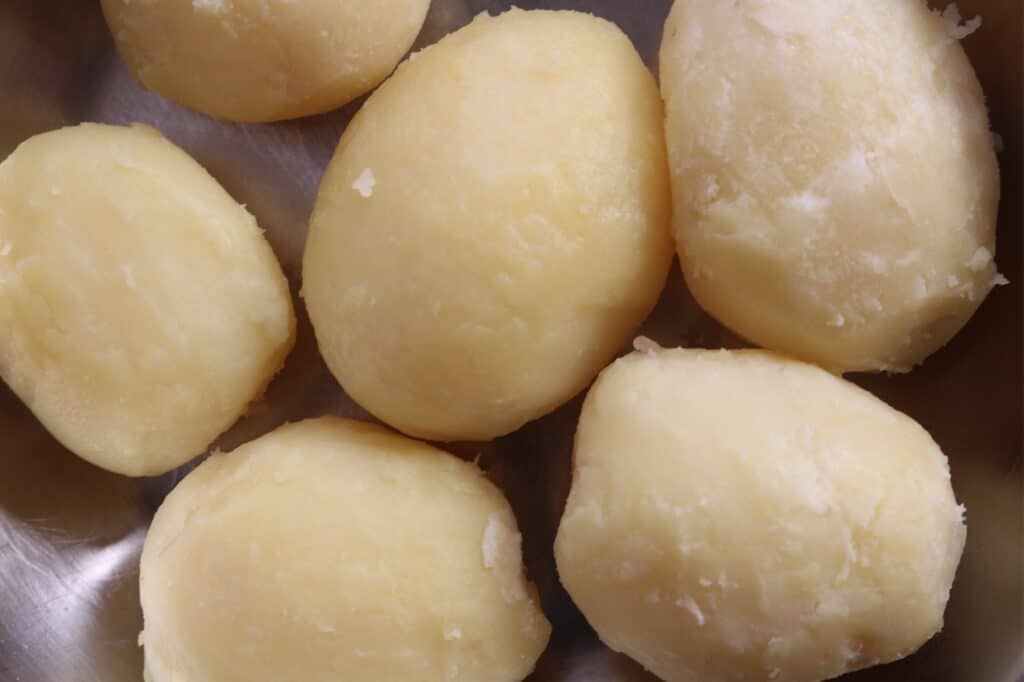 The potato
Getting the potato right is really important to making the perfect kibbet batata. You want a creamy fluffy variety like Maris Piper or Russets. Many of the red varieties will also do.
When you mash the potato you don't want it to object and keep it's shape. These potatoes are better for other things so make sure your potato has a good mashing quality.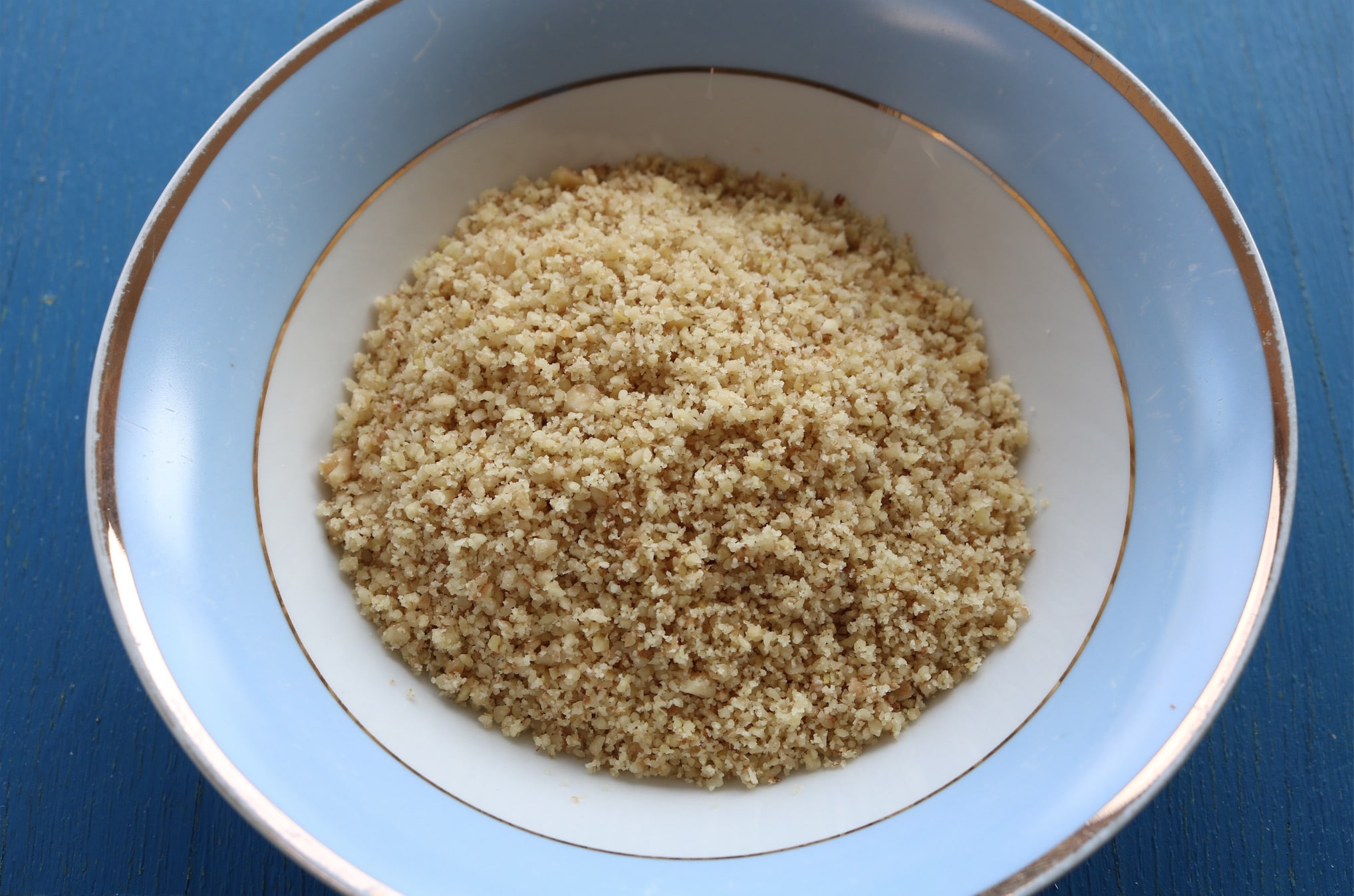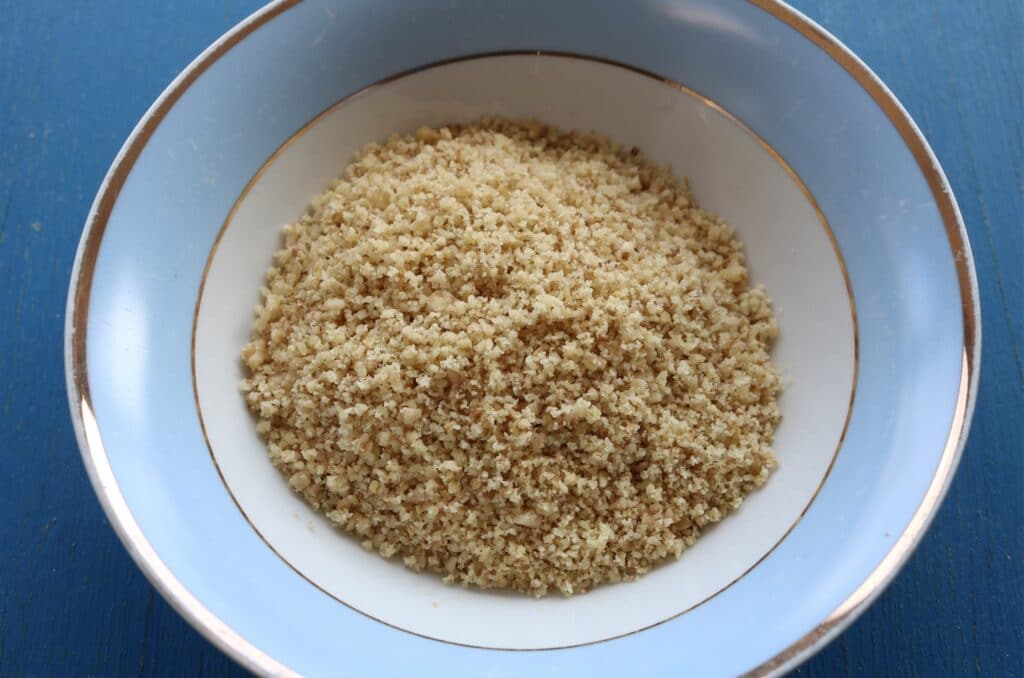 The bulgur wheat
You will need fine bulgur wheat for this kibbeh. I use fine bulgur wheat in all my kibbeh recipes (more can be found on the link) as it gives them a nice smooth texture.
If you use coarse bulgur wheat it will be too fluffy when it soaks up any liquids.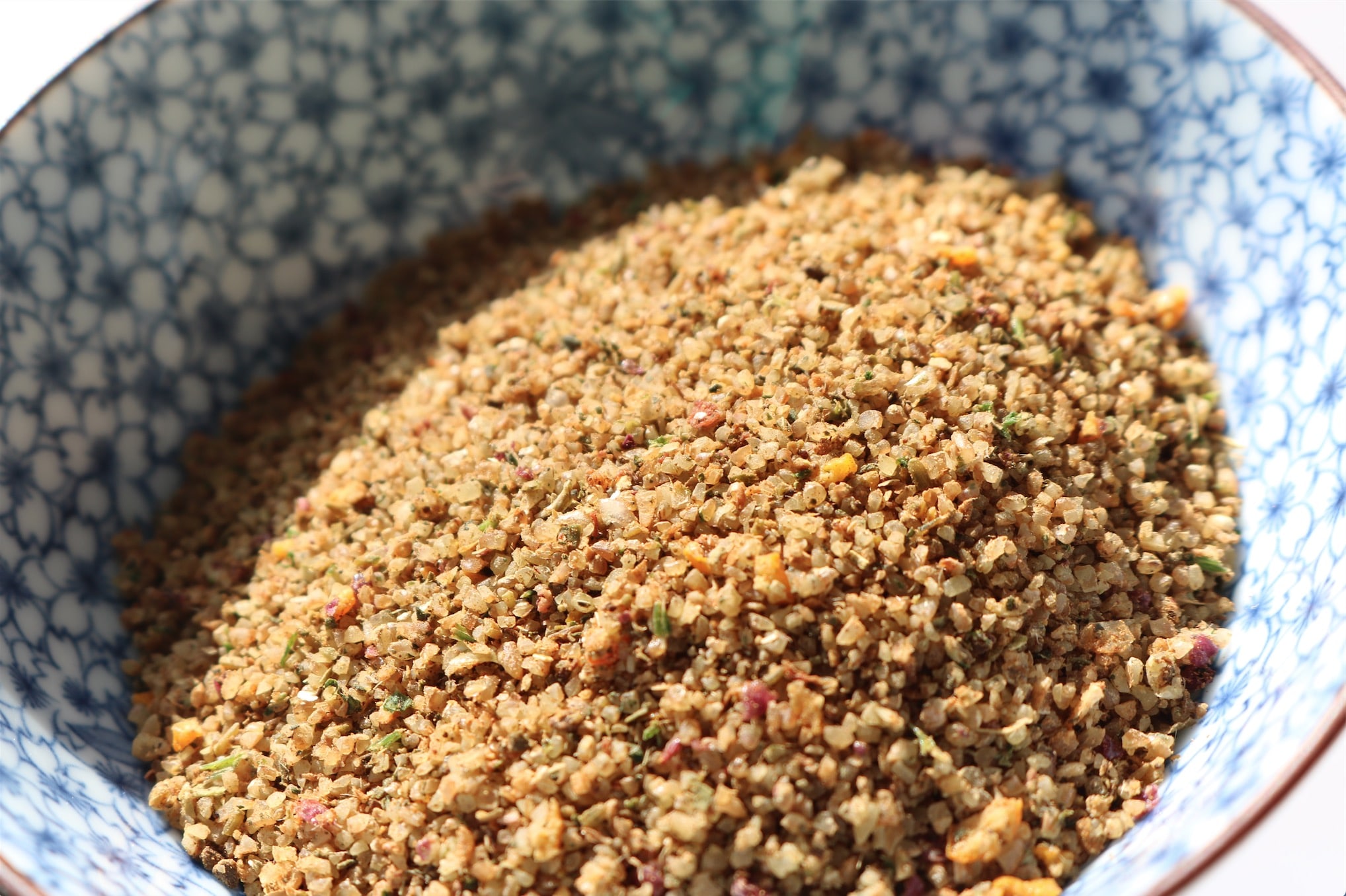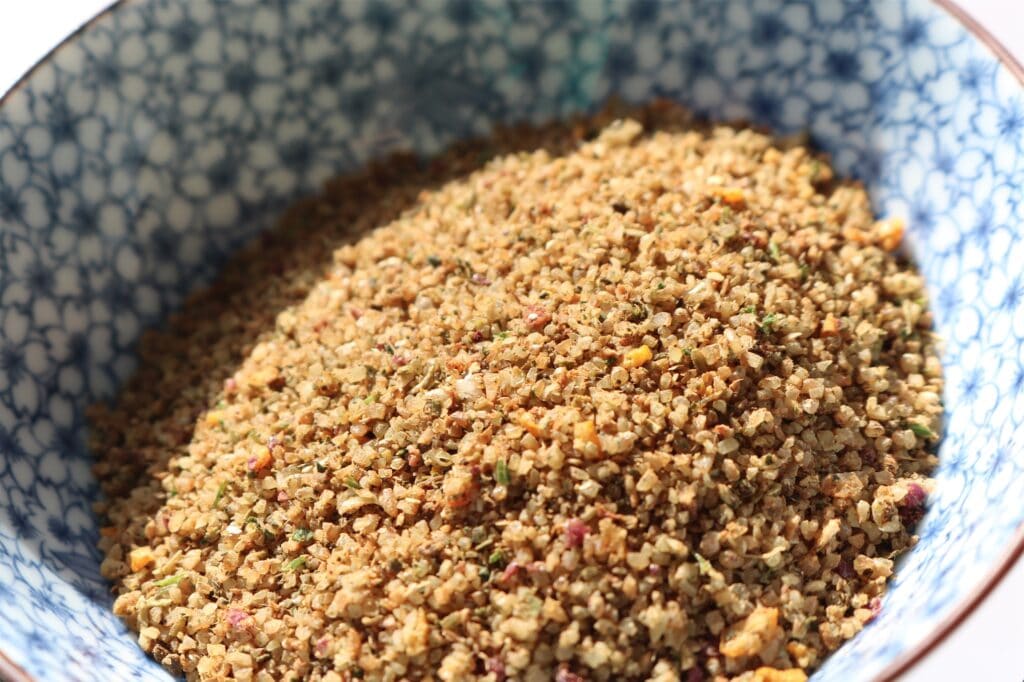 The kamouneh mix
The kamouneh mix is a special blend of herbs and spices that is usually pre-prepared to save time. I have written a separate special blog post about how to make kamouneh mix.
The kamouneh mix has kamouneh spices which I have also written up in yet another blog post, these are sometimes known as kibbeh spices.
Kamouneh mix for kibbeh summarised below:
Peel of 1 orange
1 small red onion
½ white onion
¼ cup of fresh mint
¼ cup fresh parsley
¼ cup fresh basil
1 tbsp dried marjoram
1 tbsp dried mint
3 tbsp kamouneh spices
1 tbsp 7 spice
2 tsp salt
2 tsp ground cinnamon
1 tsp black pepper
1 tsp white pepper
½ birds eye chilli
1 cup fine bulgur wheat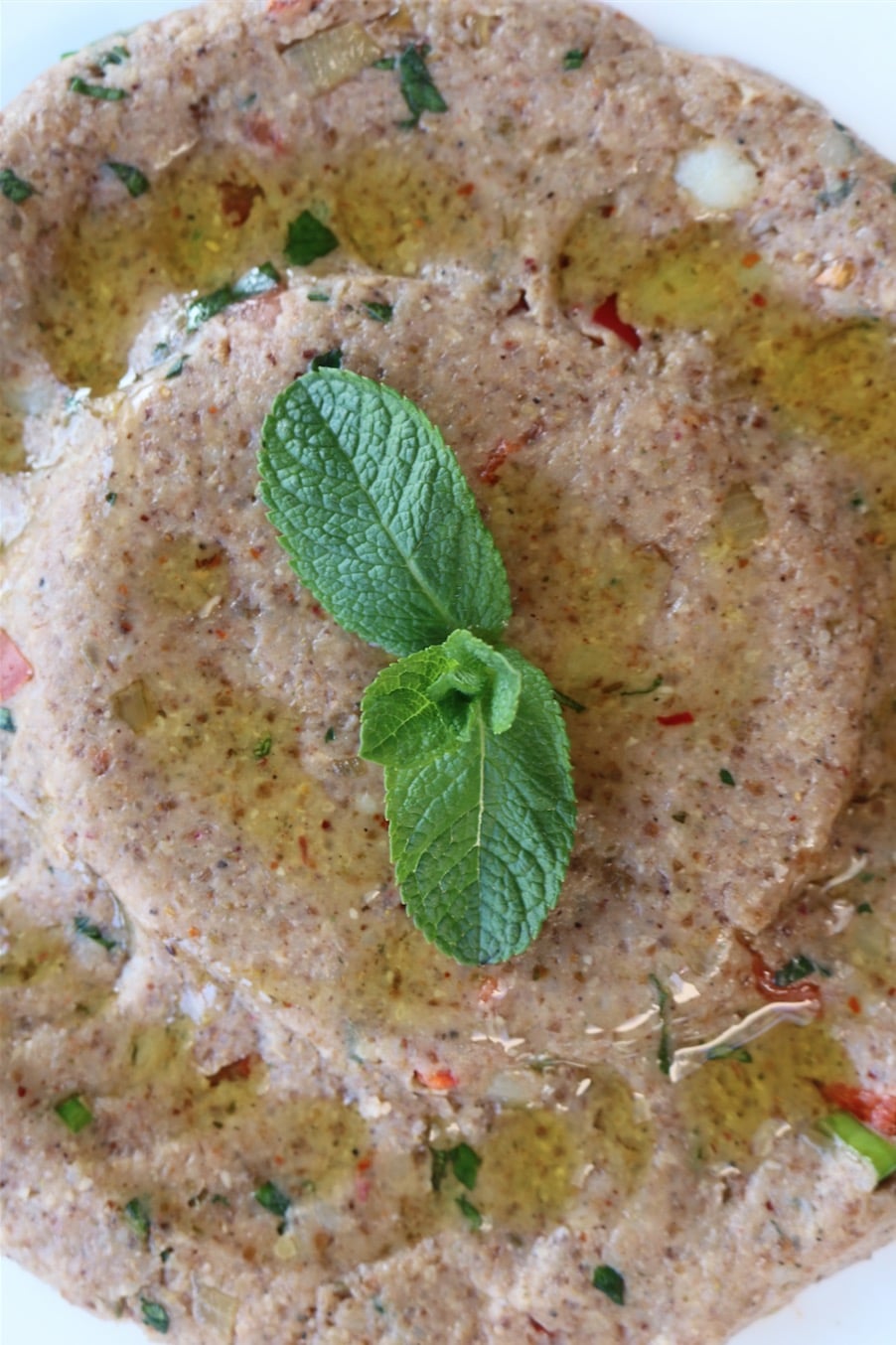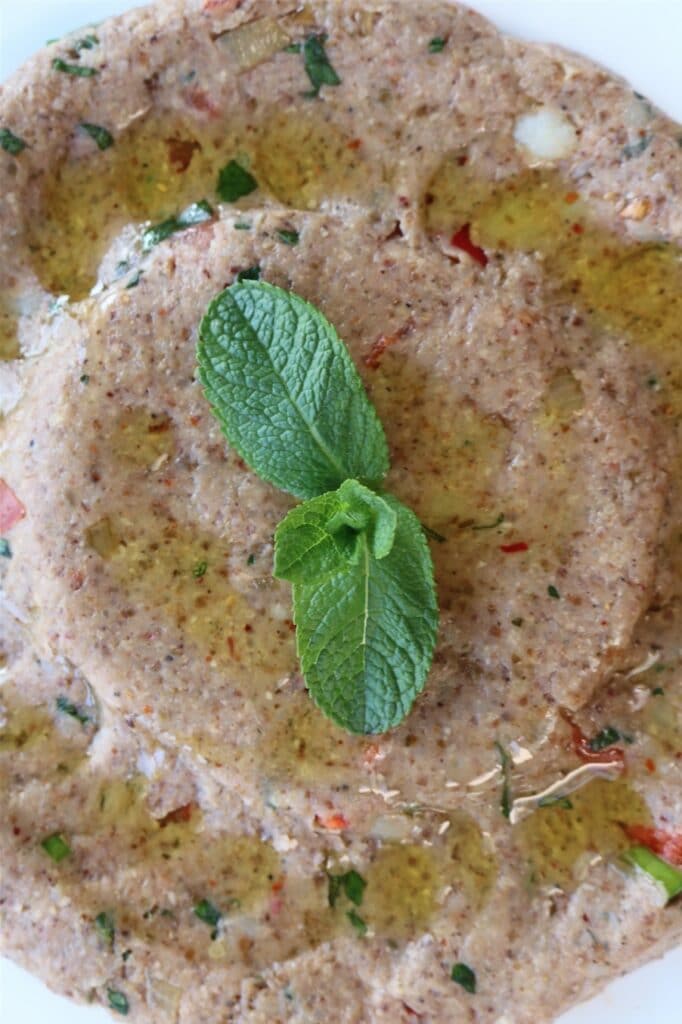 The secret ingredient
Ooo so you want to know what elevates this kibbet batata above all others. Well I believe adding pomegranate molasses gives it that yummy sour kick.
Actually there's another secret ingredient - walnuts. I ground walnuts down and add them to the mix which gives the kibbeh extra nutty texture.
I give away my secret ingredients way too easily for real 😂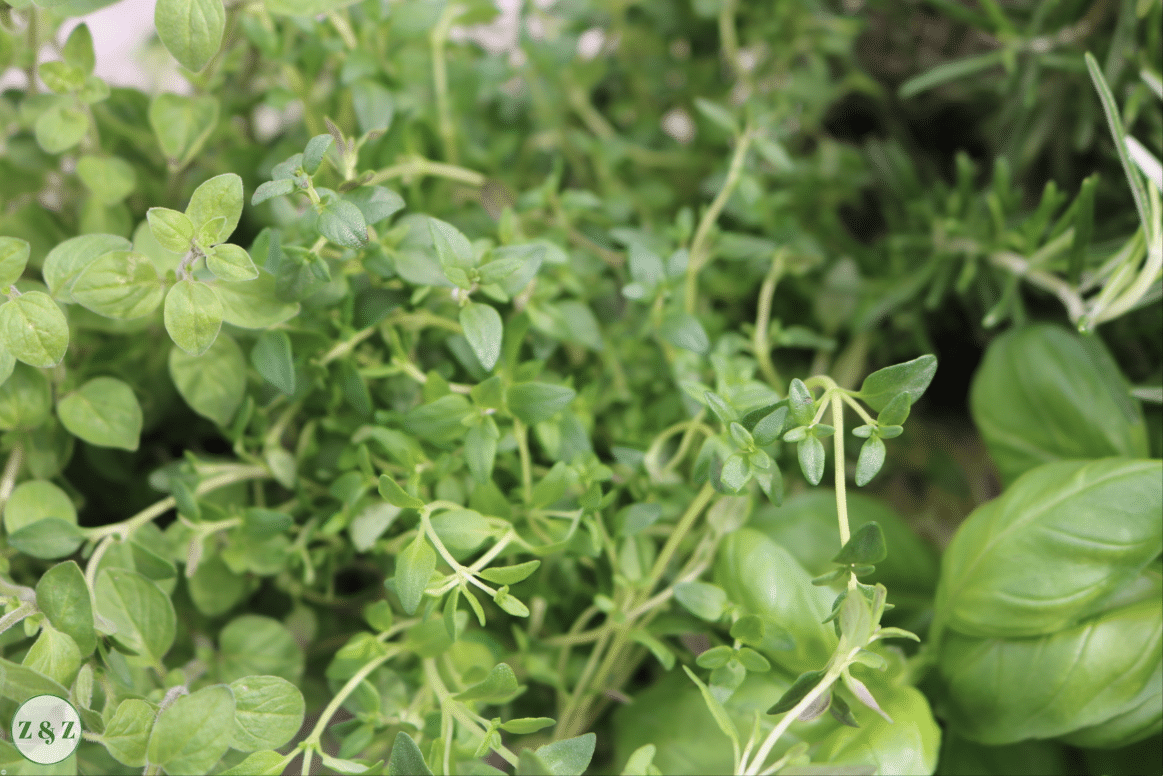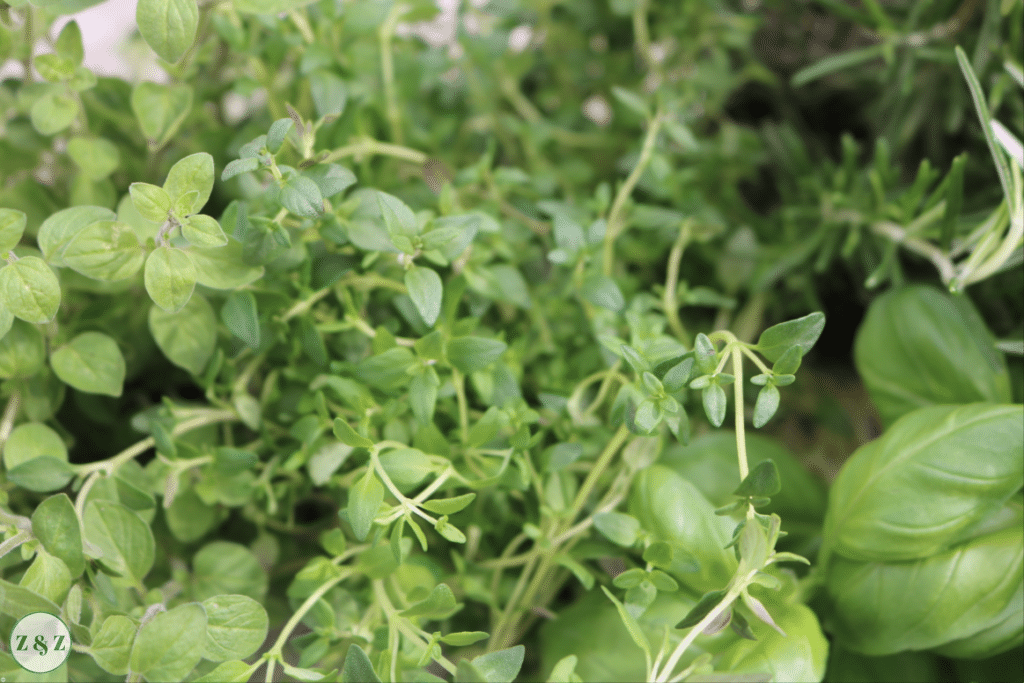 Spices and herbs
Even though there are lots of spices in the kamouneh mix, I like to top up with some paprika and black pepper.
You can even add a spoon of harissa if you like it extra spicy.
Lebanese food is generally mildly spiced, so add in little pinches rather than in teaspoons.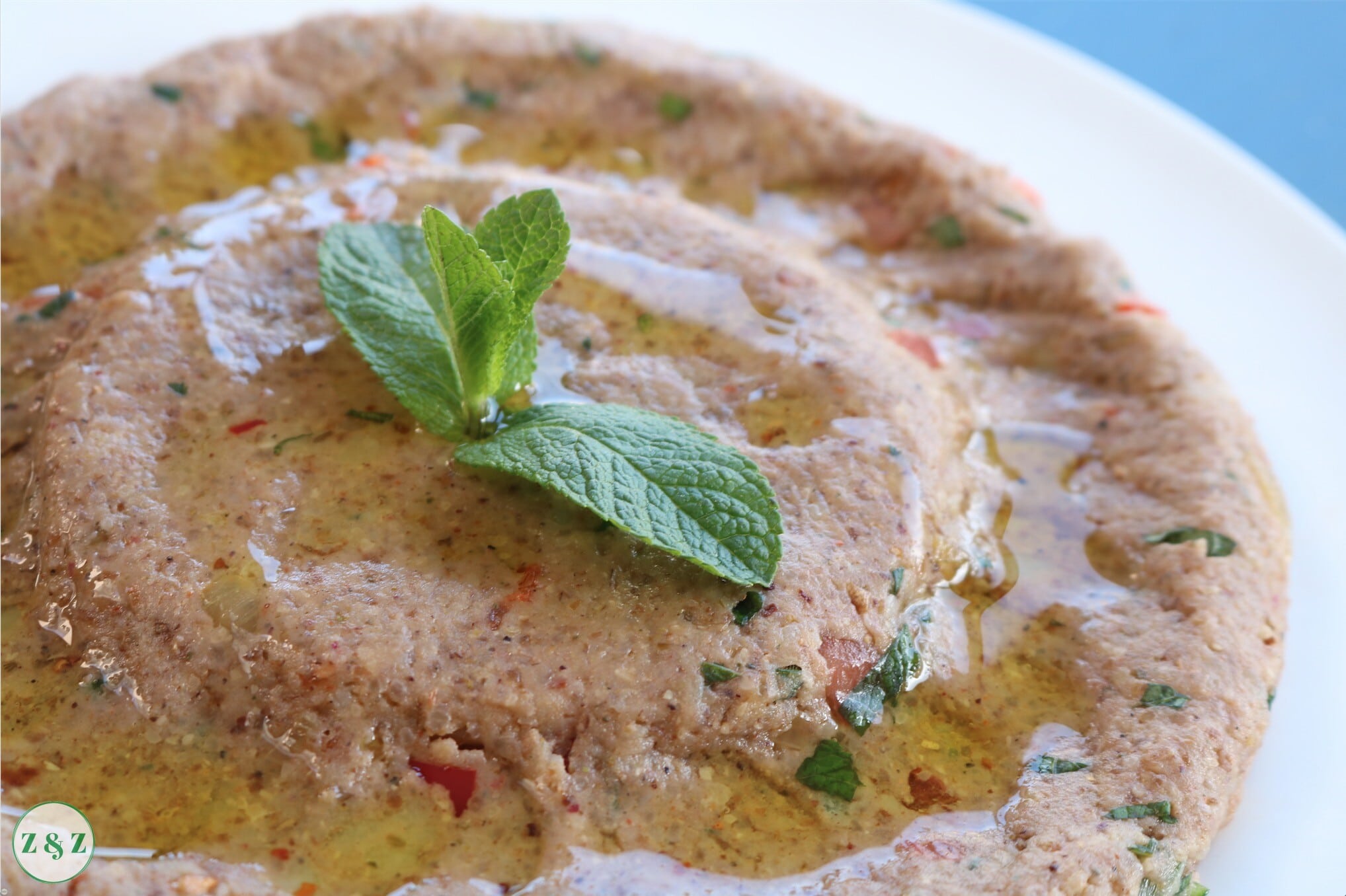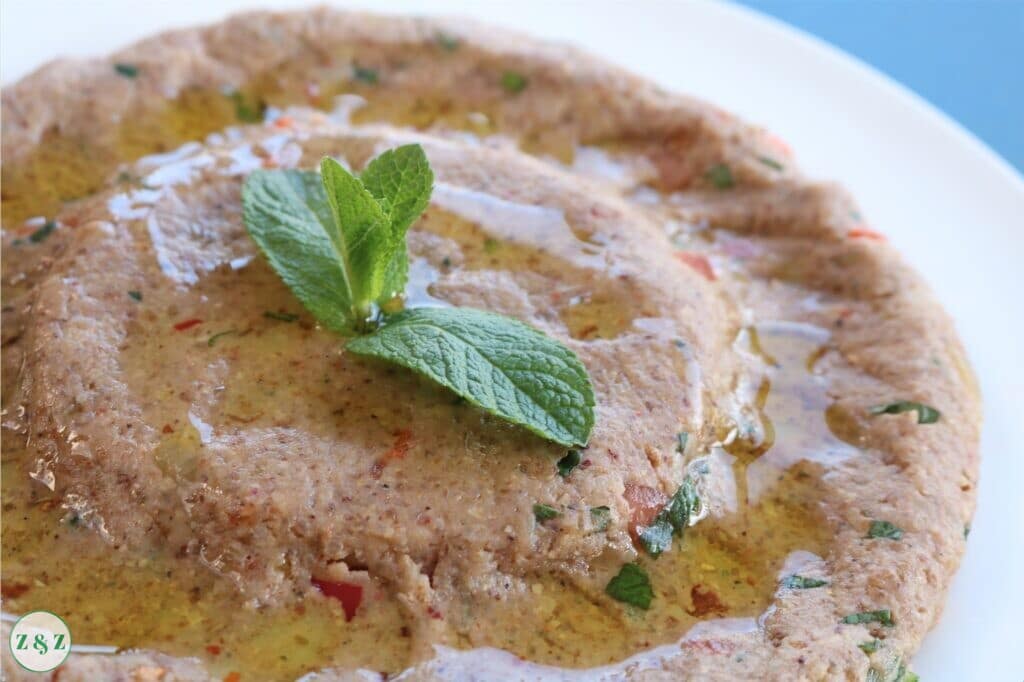 How to eat kibbet batata
Kibbet batata can be flattened out in a plate with a nice pattern indented using a spoon. This is to help the extra virgin olive oil settle evenly, rather than just flow down the side or in a pool in the middle.
I love to eat kibbet batata with a side pate of fresh vegetables such as radishes, pickles and mint.
My husband the carb fan will eat it with flatbreads, and you can also have it as a side dish to meat, chicken or fish.
Kibbeh doesn't have to always be a meat feast, sometimes it can be using the most humble ingredients that are transformed into memorable flavours that will leave you wanting more.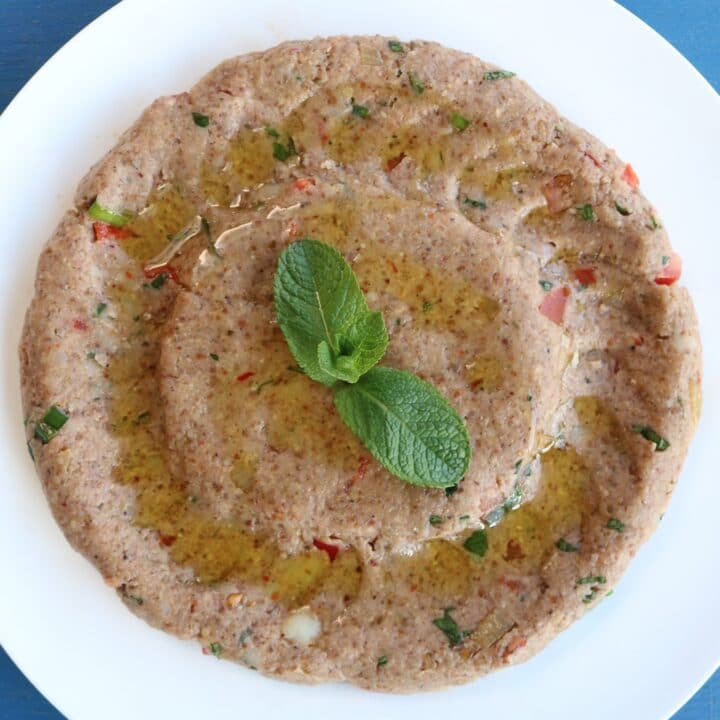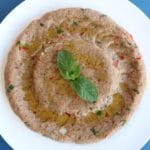 Kibbet Batata (Vegan Potato Kibbeh)
Potato based Kibbeh that combines bulgur wheat with herbs and spices
Ingredients
5

medium potatoes

boiled

1

large onion

½

teaspoon

paprika

¼

teaspoon

cayenne

¼

teaspoon

black pepper

2-3

tablespoon

regular olive oil

1

cup

fine bulgur wheat

1

tomato

finely chopped

½

bell pepper

finely chopped

few leaves mint

few leaves of basil

1

stalk

spring onion

½

cup

walnuts

ground

2

tablespoon

kamouneh mix

2

tablespoon

pomegranate molasses

1

tablespoon

lemon juice

⅕

teaspoon

sumac

1

teaspoon

salt

approx

1

teaspoon

harissa

optional

extra virgin olive oil for drizzling
Instructions
Boil the potatoes until well done. Peel, mash and set aside

Sauté the chopped onion in some regular olive oil with the paprika, cayenne and black pepper for 5-10 minutes

Soak the bulgur wheat in a bowl for around 5 minutes then drain in a fine sieve before adding to the potato mix

Ground the walnuts to a fine consistency.

Finely chop the tomatoes, bell pepper mint, basil and spring onion

Add the onions, mint, tomatoes, spring onion, walnuts to the potatoes along with the salt, harissa, kamouneh mix, sumac, pomegranate molasses and lemon juice

Mix everything together, preferably by hand until well combined

Taste and adjust the seasoning if necessary

Transfer to shallow bowl and make indents with a spoon before drizzling on extra virgin olive oil on top
If you make any of our recipes let us know how it went by giving us a star rating below.
We have a lively Facebook group where we post frequent recipes and discuss Lebanese cooking in general, as well as a handy Pinterest page where you can save all of your favourite Zaatar and Zaytoun recipes.
You might also like these recipes from the Zaatar and Zaytoun collection: