Loubia bi lahme is another easy dish you should add to your dinner repertoire.
It takes around half an hour from start to finish and you can even make the rice in that time when the green beans are simmering.
This is the meat version of loubia b'zeit, and it is usually served with rice rather than with bread.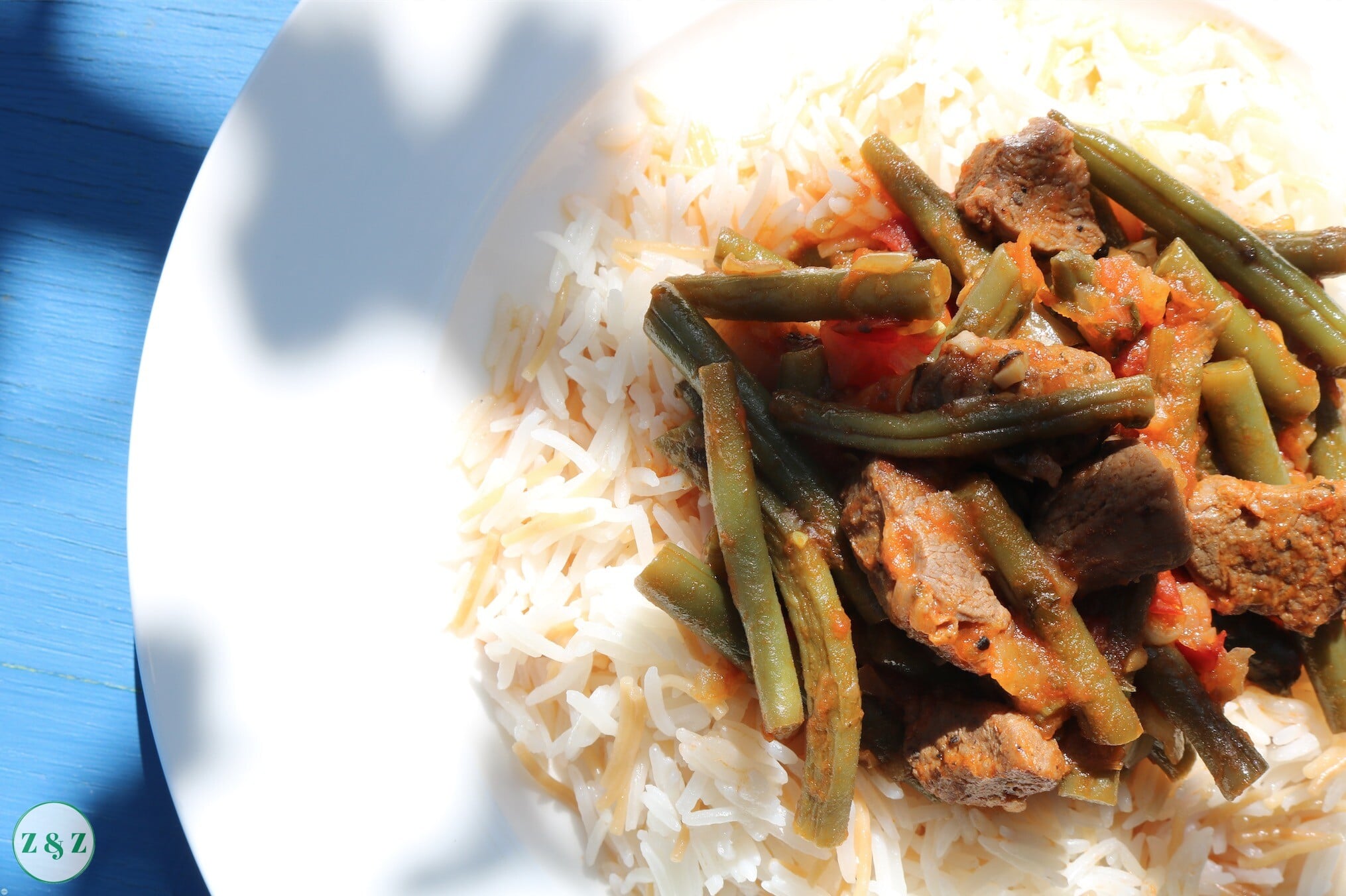 The green beans
The wonderful thing about this dish is that you make it using either frozen or fresh green beans. As it's a stew, the flavour difference is not that great between frozen and fresh.
Just trim the stalky bit of the green beans and chop them in half if they are really long. You can even buy ones that are trimmed and cut if you are really pressing for time.
I don't really like using canned vegetables as freezing is the next best thing to fresh.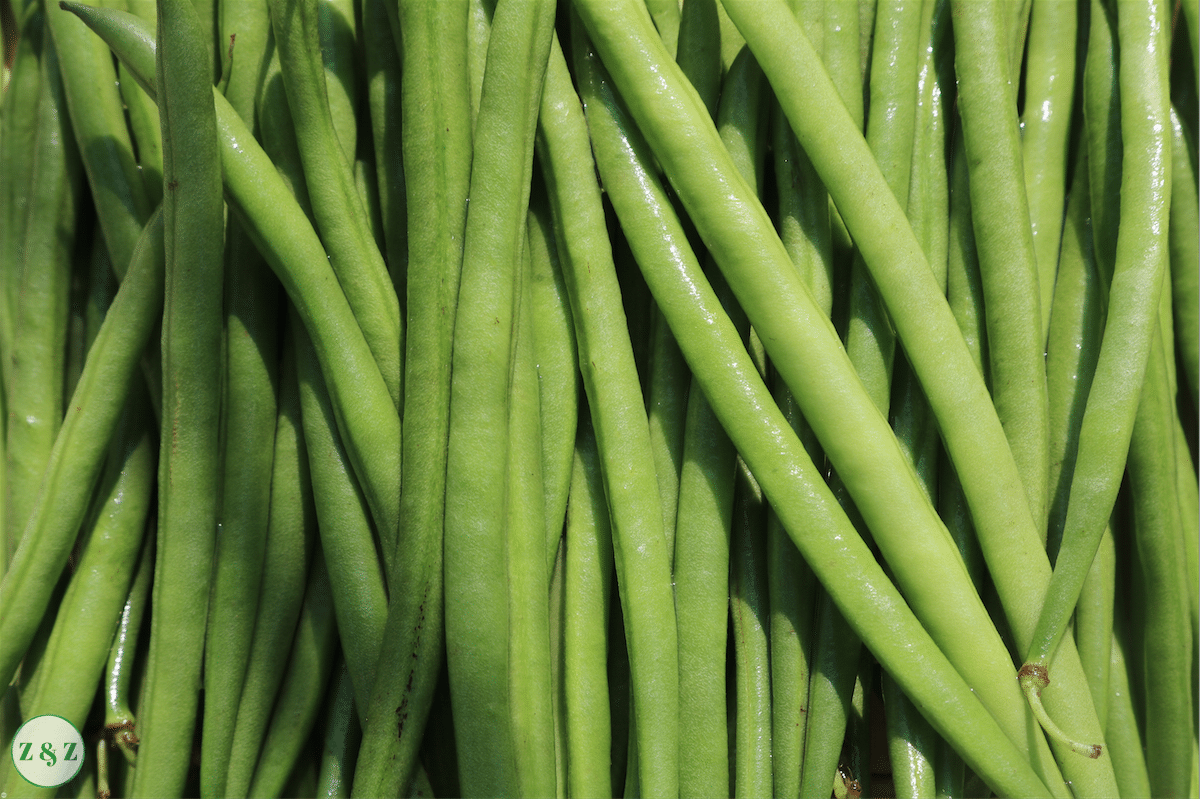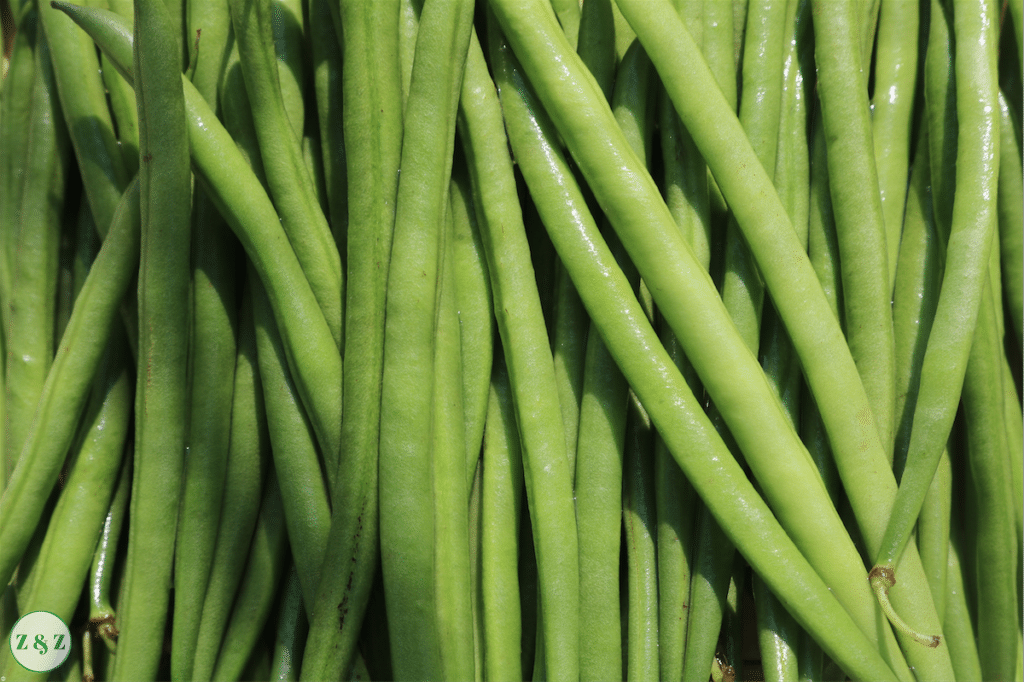 The onions and garlic
If you have time, don't rush browning the onions as this will give you an added flavour boost.
Sauteé them in some olive oil suitable for cooking on high heat for a minute or two then reduce the heat to medium low so they caramelise.
I always reduce the heat when I add the garlic as I don't want them to burn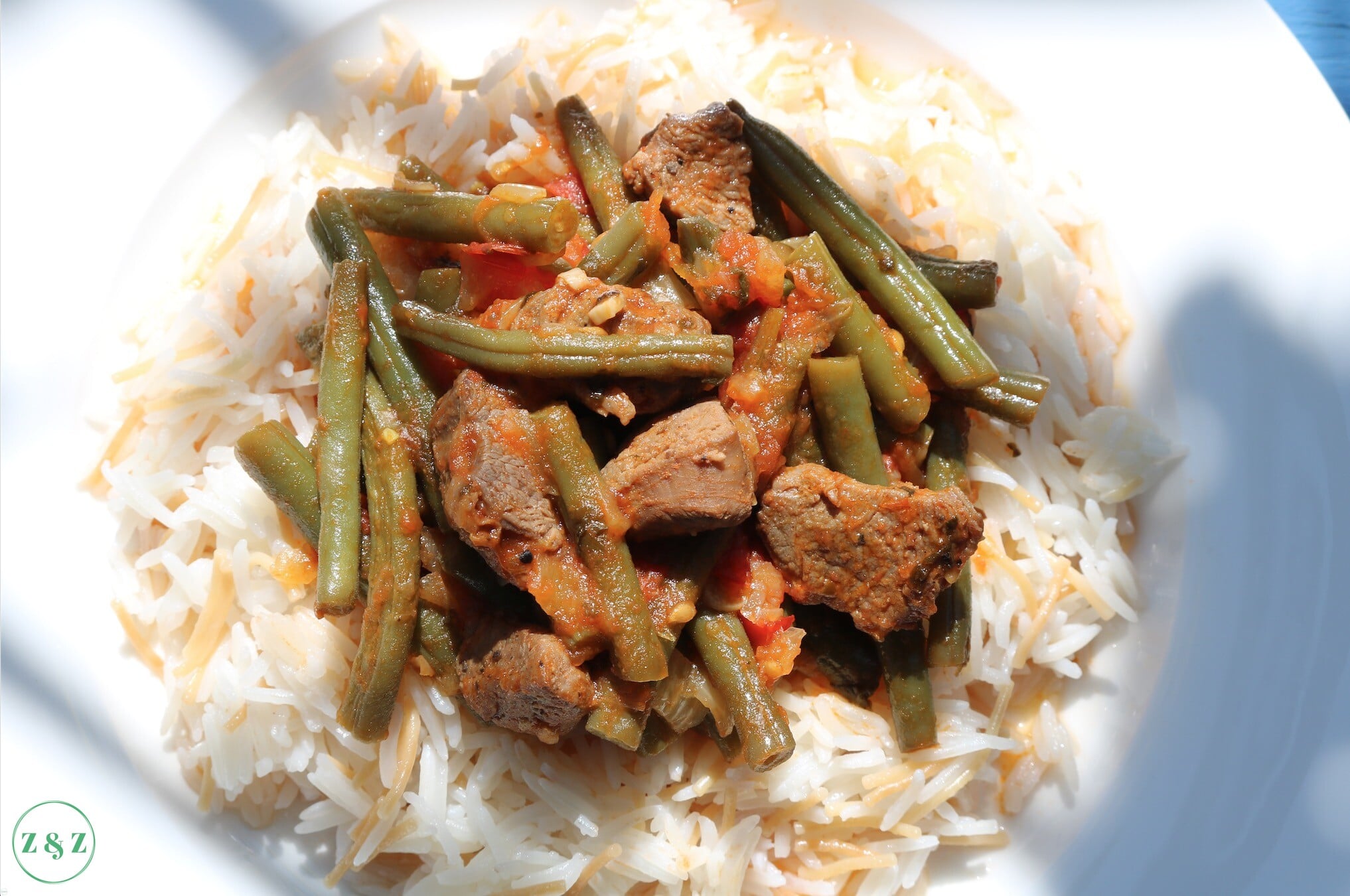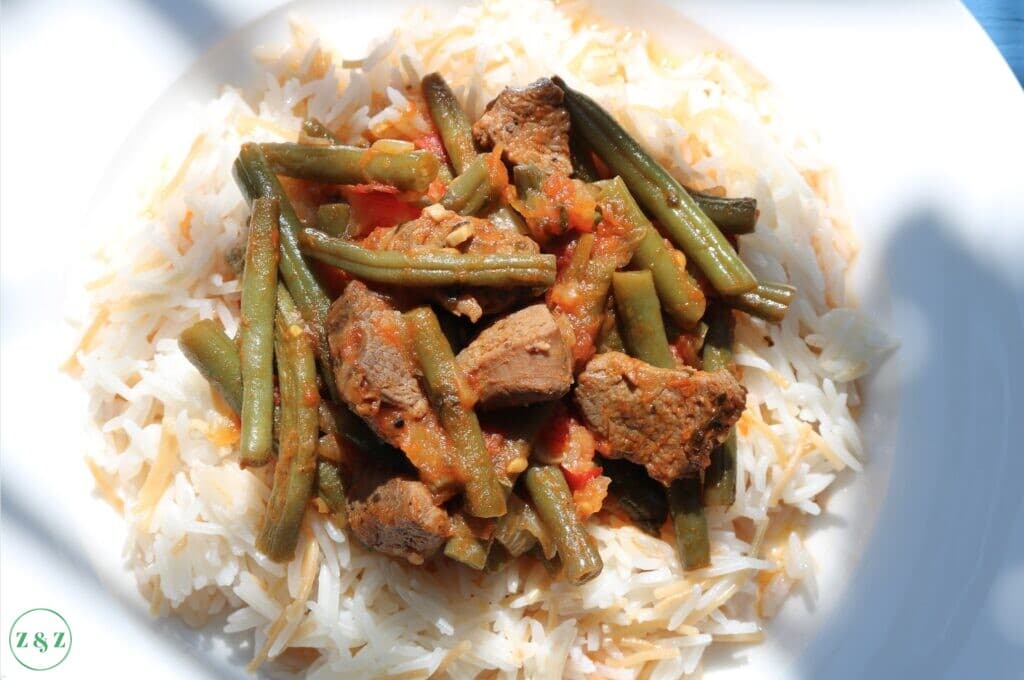 The meat
Loubia bi lahme is usually made with tiny bitesize pieces of fillet meat. Though if you have some left over ground meat you can use that too. Home cooking is all about using what you have and adapting.
Most people use diced beef as it is not as fatty as lamb, and many Lebanese stews are traditionally made with it for this reason.
However, some people just love lamb and the flavour it brings. If you use lamb I would suggest frying off the lamb fillet pieces in a separate pan before adding to the onions and garlic.
This way you won't get that scummy 'zenkha' taste that lamb juices sometimes make.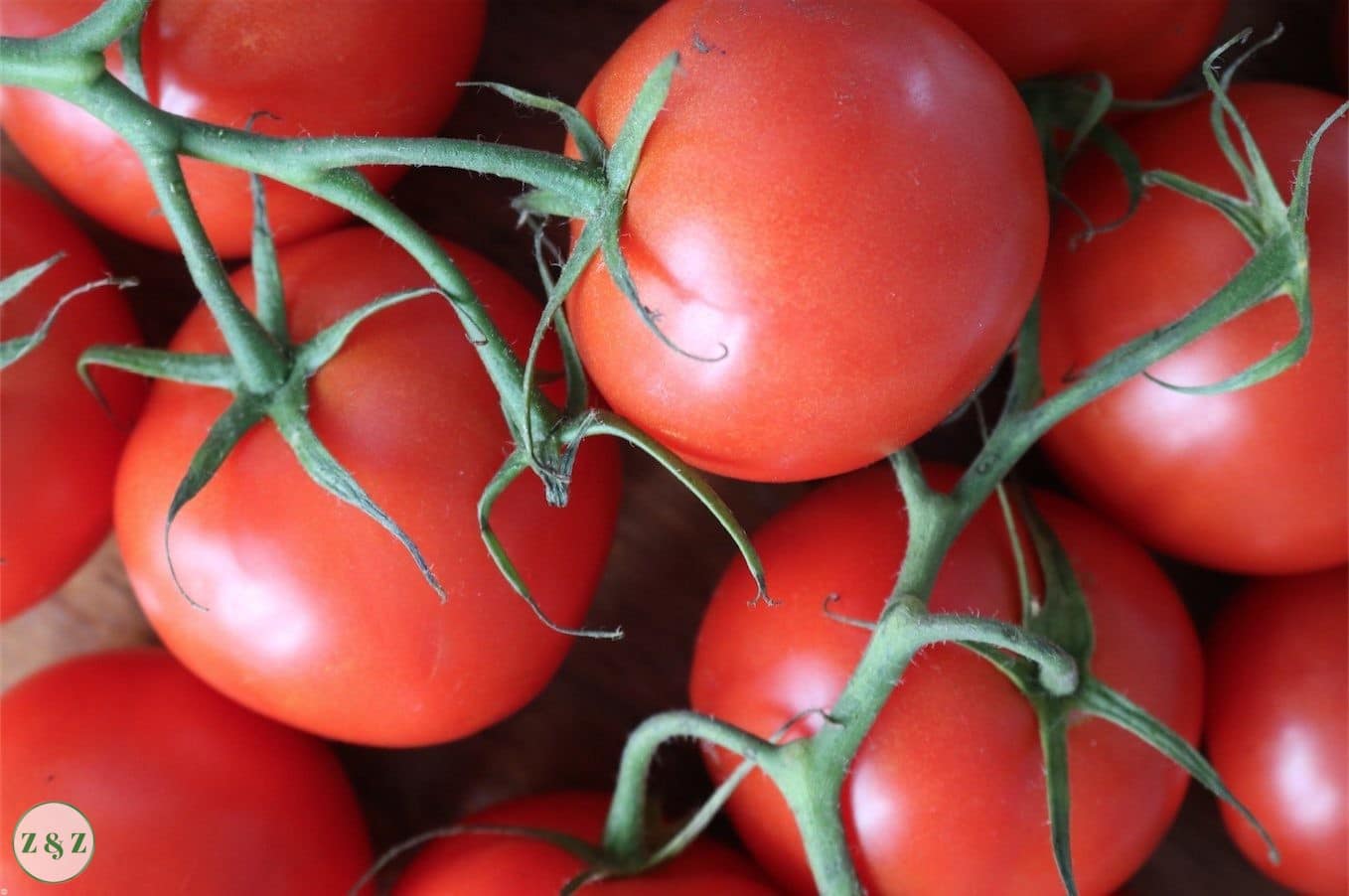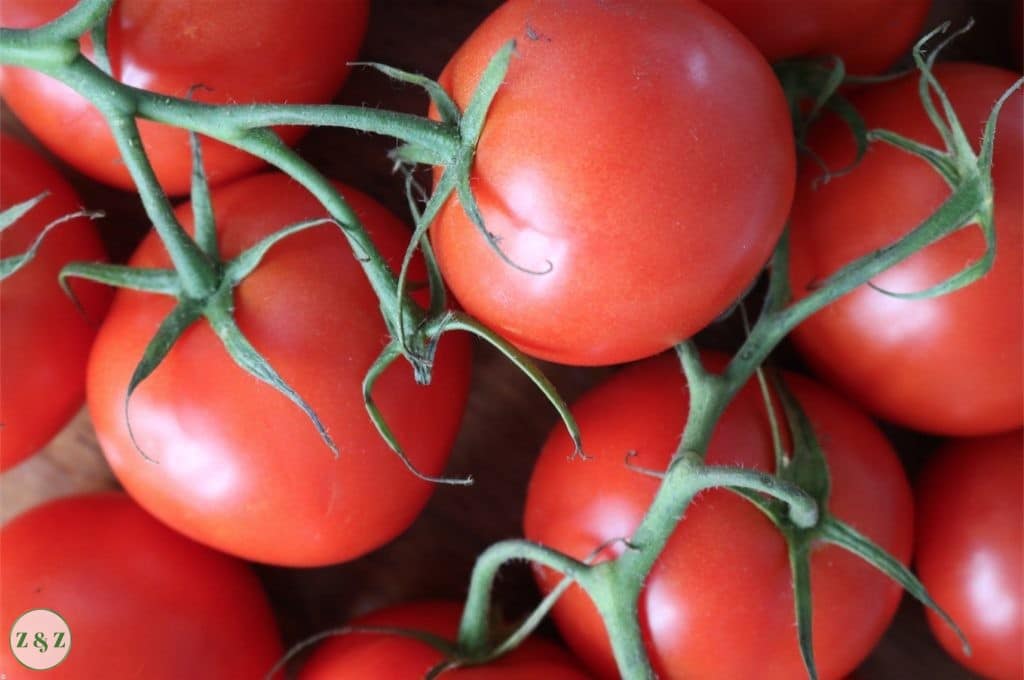 The tomatoes
There's nothing like using fresh tomatoes when they are at their best in the summer. You can blitz the tomatoes to make a wonderfully smooth sauce or just throw them in chopped for some texture.
Again you can use fresh or canned tomatoes depending on the season. Chopped tomatoes or even passata will create some nice sauce for the green beans and meat to stew in.
Herbs and spices
Lebanese stews are not very spicy and most don't add anything other than a little seven spice and perhaps one or two additional spices to complement the main ingredient.
A little fresh cilantro (fresh coriander) will add the final depth of flavour near the end.
Always remember to taste your dish before you turn the heat off and adjust the seasoning as necessary.
One final tip is to add a little pomegranate molasses right at the end to lift all the flavours.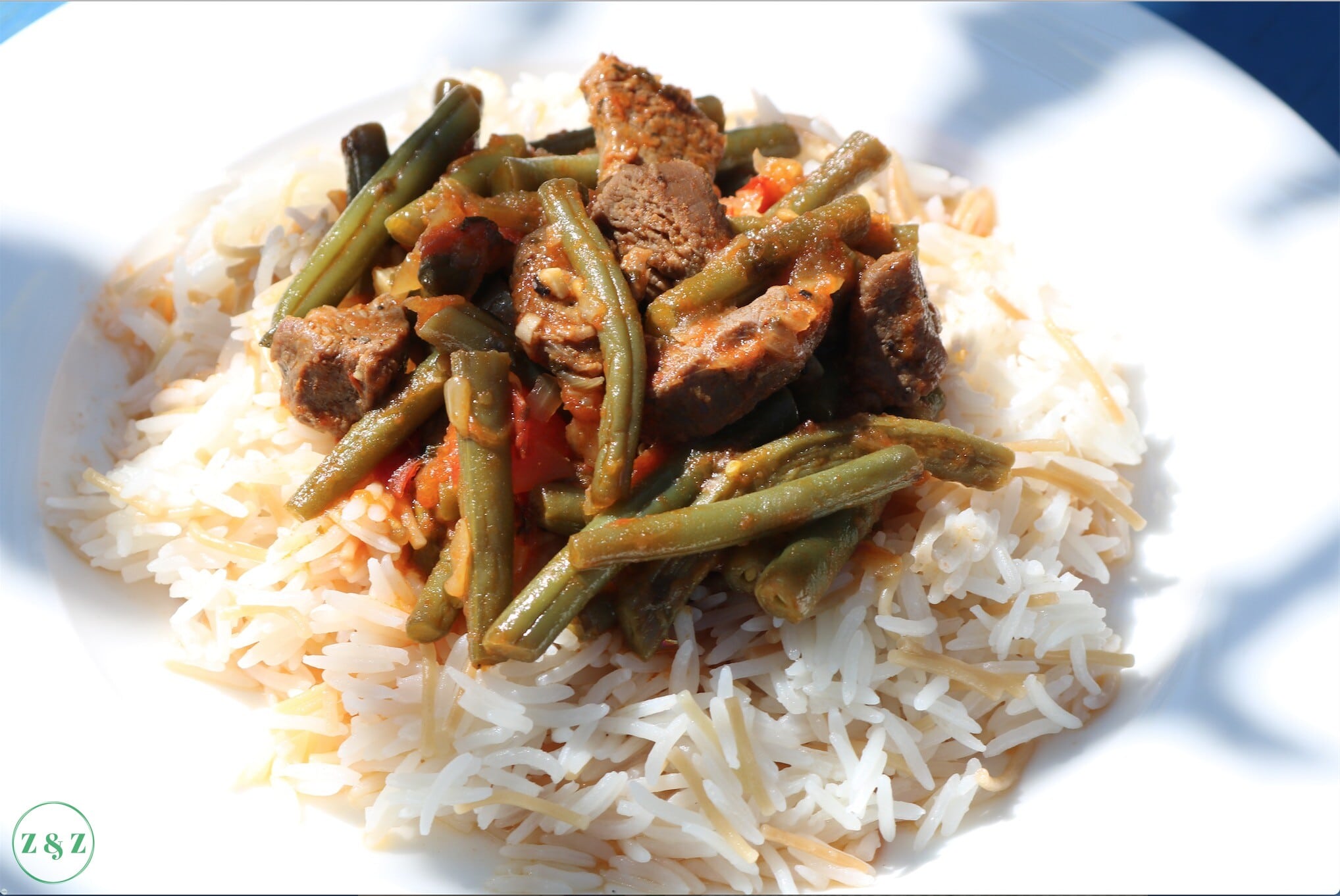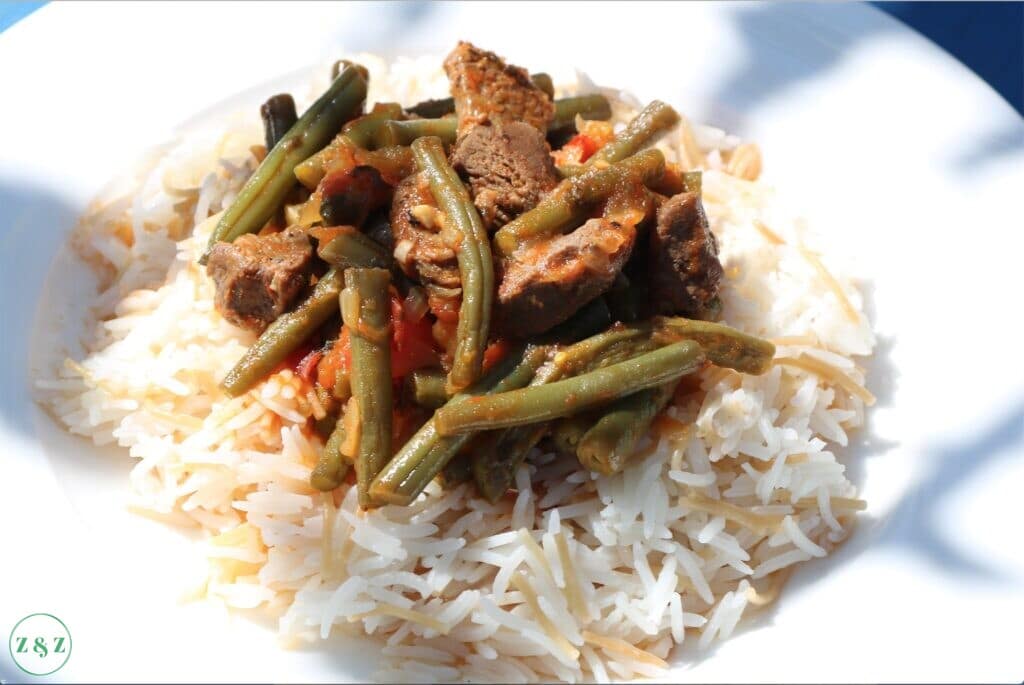 Serving
The best way to serve loubia bi lahme is with some vermicelli rice (full recipe on the blog). Ideally it should be served warm.
If there's any left the next day it will taste even better and if you've finished the rice then you can scoop it up with some flatbreads.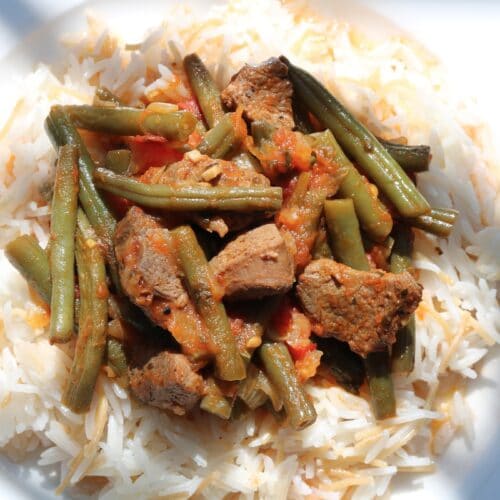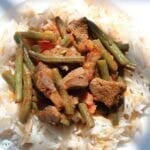 Loubia bi Lahme
Lebanese green bean stew with meat in a tomato sauce
Ingredients
600

g

of green beans

fresh or frozen

200

g

of beef

diced into bitesize pieces

Handful of cilantro

fresh coriander, chopped

2

onions

chopped

3

garlic cloves

chopped

4

tomatoes

chopped

1

tablespoon

tomato concentrate

1

cup

boiling water

¼

teaspoon

seven spice

Salt to taste

approx ½ tbsp

2

tablespoon

of pomegranate molasses
Instructions
Sauté the onions in some regular olive oil until golden. Reduce the heat and add the garlic for another minute or so

Add the cilantro and bitesize beef pieces and fry off over high heat until the meat is sealed for around five minutes

Then add the green beans and stir everything together for another five minutes so the beans turn a vibrant green

Add the chopped tomatoes, tomato concentrate, seven spice, salt and boiling water

Bring everything to a boil then reduce the heat to low and simmer for around fifteen minutes

Taste the tomato sauce and adjust the seasoning as necessary. Drizzle on the pomegranate molasses just before you turn off the heat.
Recipe Notes
If you want to use lamb, fry off the lamb pieces in a separate pan then add to the stew when you add the tomatoes
If you make any of our recipes let us know how it went by giving us a star rating below.
We have a lively Facebook group where we post frequent recipes and discuss Lebanese cooking in general, as well as a handy Pinterest page where you can save all of your favourite Zaatar and Zaytoun recipes!
You might also like these recipe from the Zaatar and Zaytoun collection: