Kabsa is a spiced riced dish served with either chicken or meat, and is a speciality of the gulf region in the Middle East.
It is usually served on a bed of rice adorned with the protein of choice and assorted toasted nuts including cashews, almonds, pine nuts and pistachios.
The essence of kabsa is an earthy warm tones as can be seen in kabsa spice mixes which usually contain cardamom, fennel and cumin.
Jump to:
Ingredients
Sourcing high quality meat is the most important job where it is the star of the show. I have used fillet on this ocassion, though admittedly it is a bit pricey.
Some cheaper cuts also work well.
Ask your butcher which cuts will work nice in a rice dish and they will also give you advice on how long to cook it.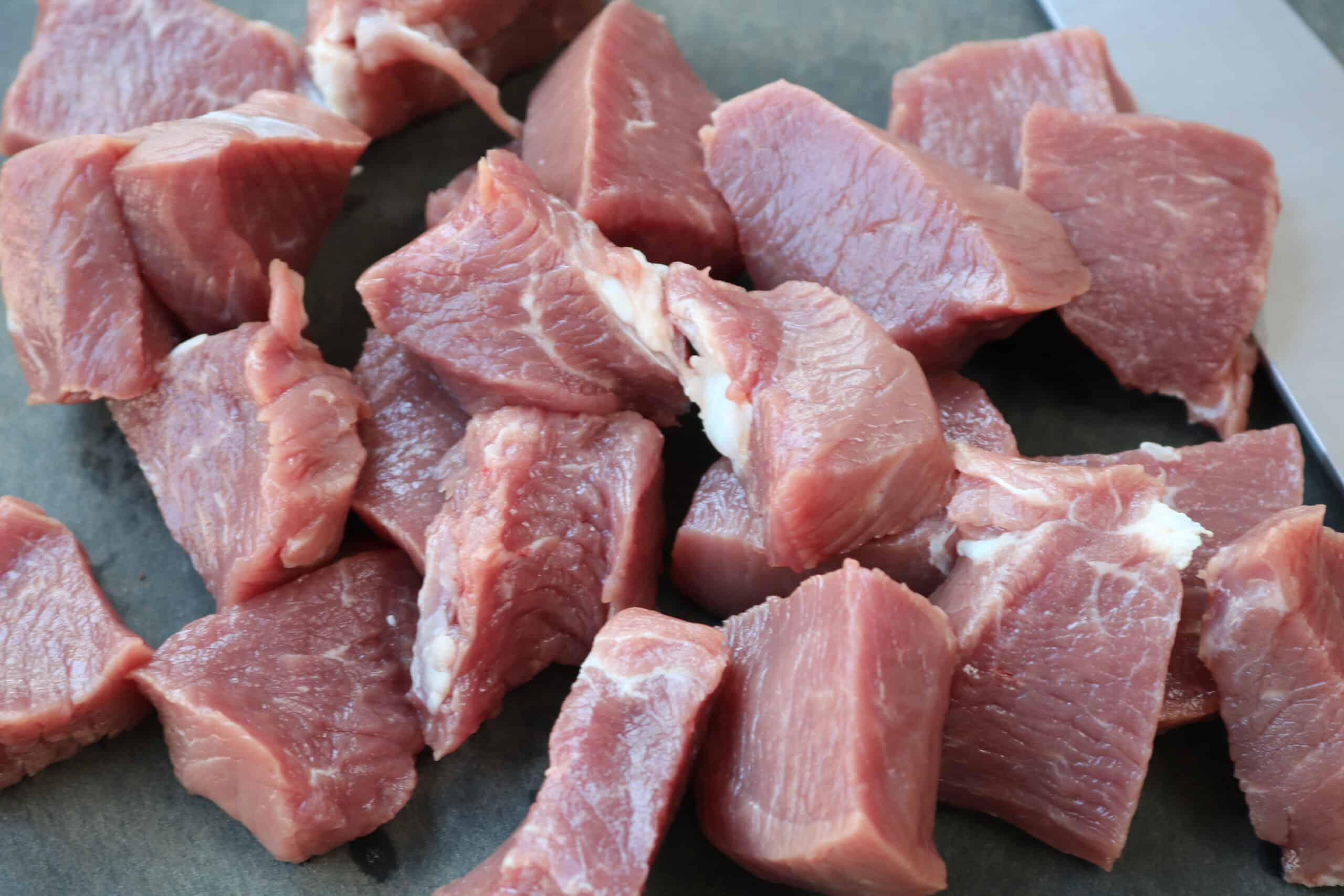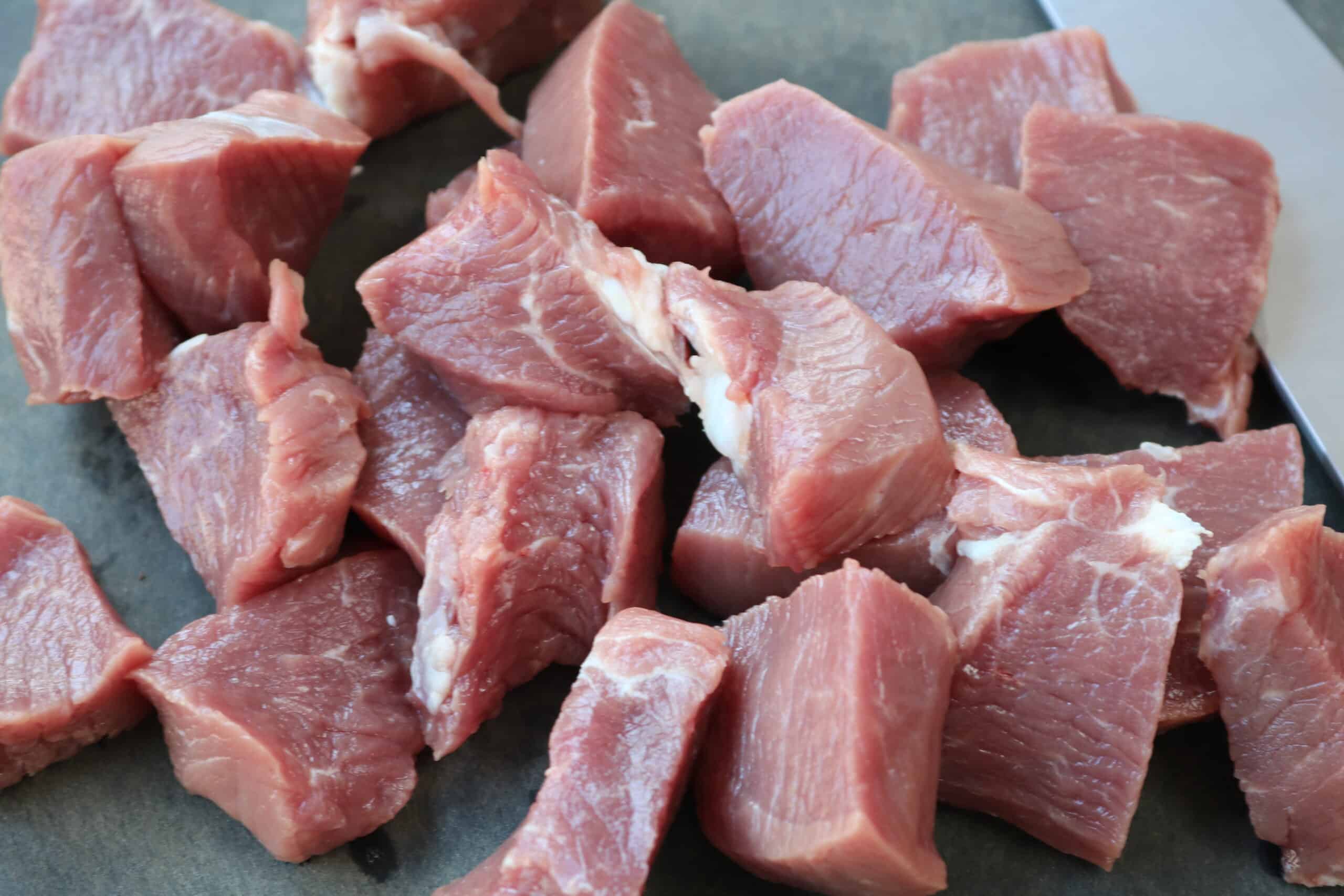 The next most important bit is to get the spicing right. Not too much not too little.
I make my own 7 spice and I also get a good quality kabsa spice mix from my Saudi friend. Find someone local to that regional speciality dish and they will probably have a good spice mix up their sleeve.
Using ready made spice mixes is ok if you know the brand well and they haven't filled it with the cheaper spices like cloves. You will know from the smell.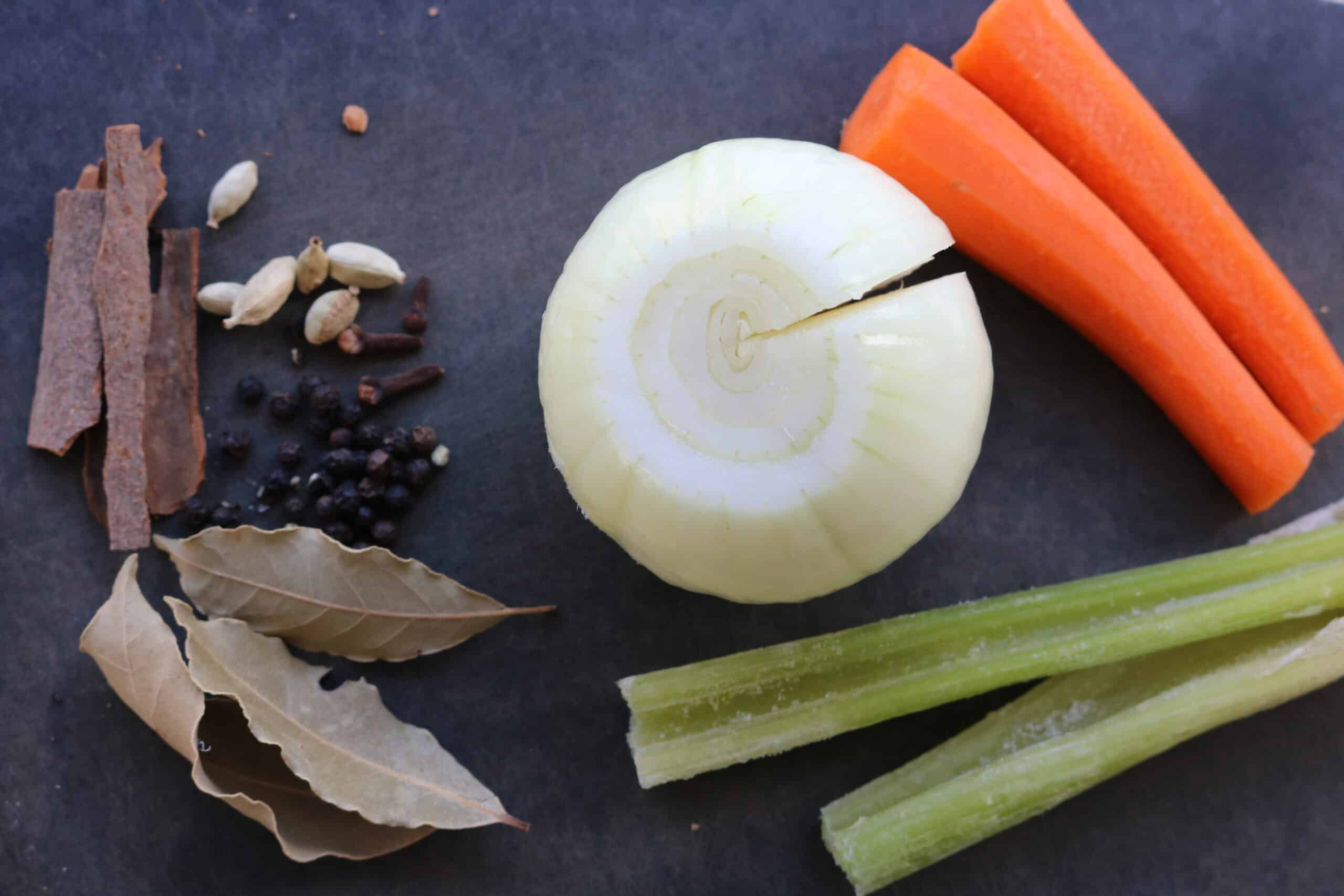 Top Tips
Creating a beautiful meat broth will determine how delicious the kabsa is. You can either make it in a pressure cooker or stock pot.
Adding aromatics like cinnamon, peppercorns, black and green cardamom will really give it that depth of flavour.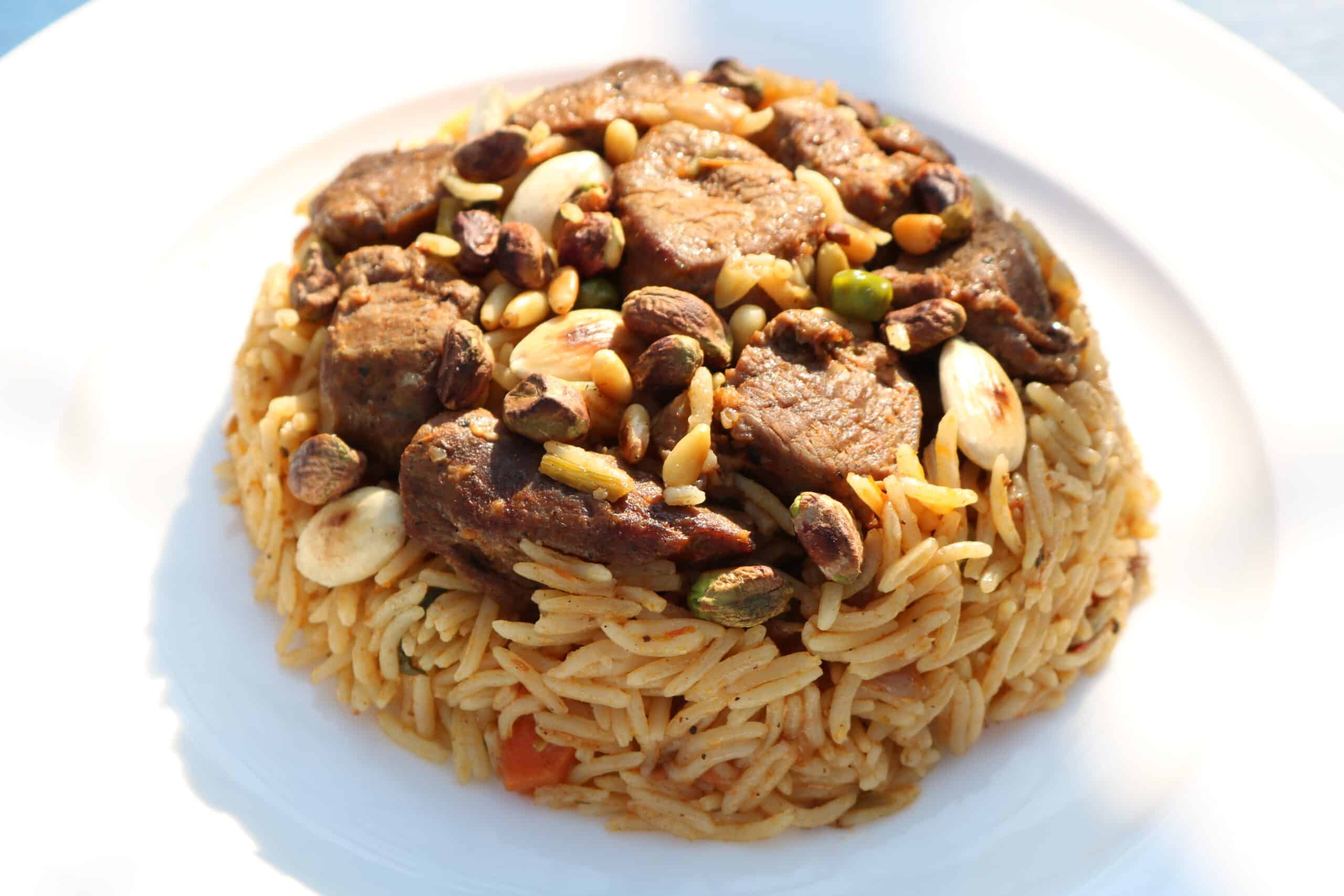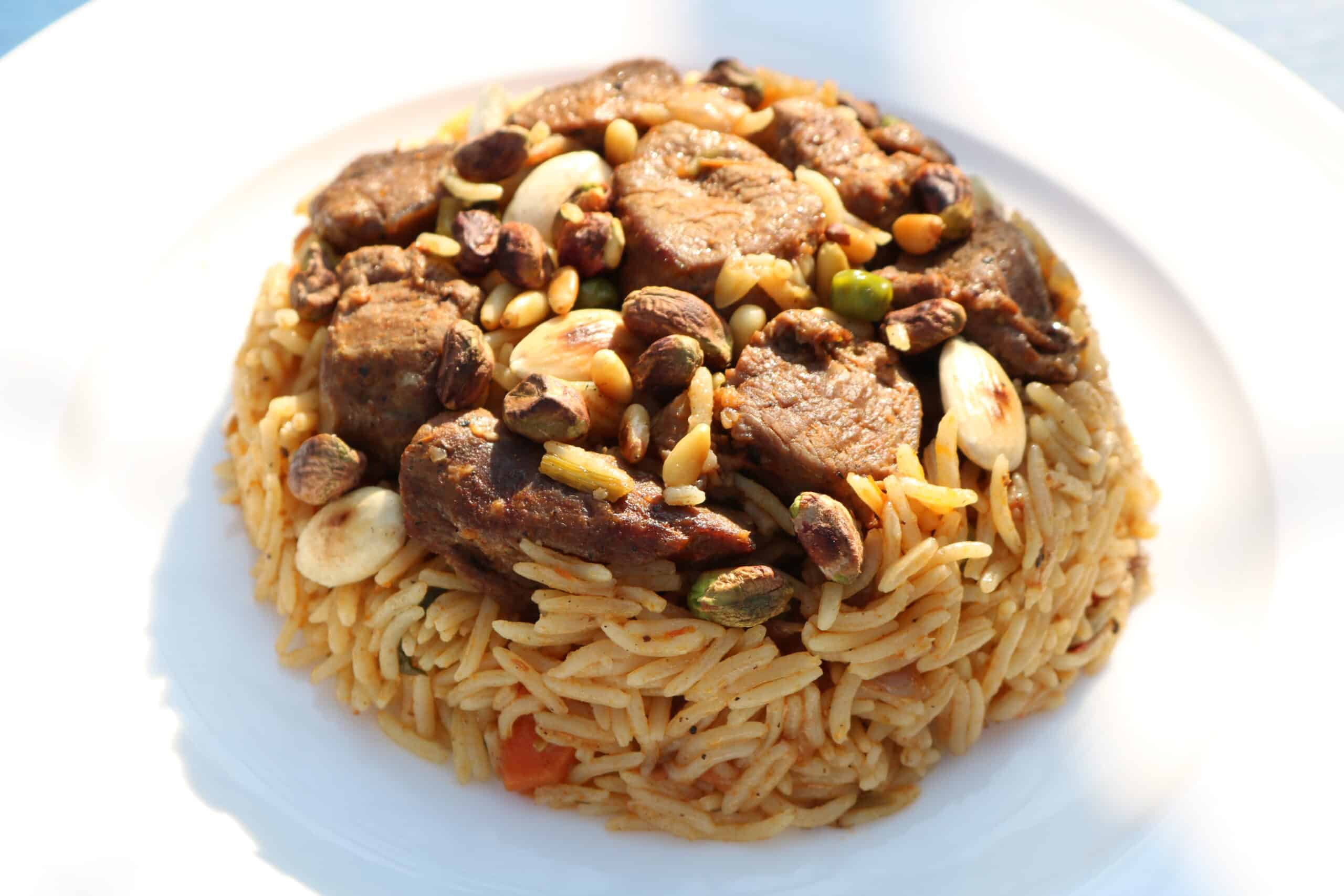 Always make sure you fry off the lamb or beaf on high heat for about five minutes first before you add the boiling water
Make sure you skim off any fat that develops on the surface so that doesn't go back into the main dish.
Kabsa is a quintessential feast dish that is usually made for a crowd. If you take care with each step it can really be a showstopper.
You can freeze any extra broth when it has cooled down or use it for soups or stews the next day.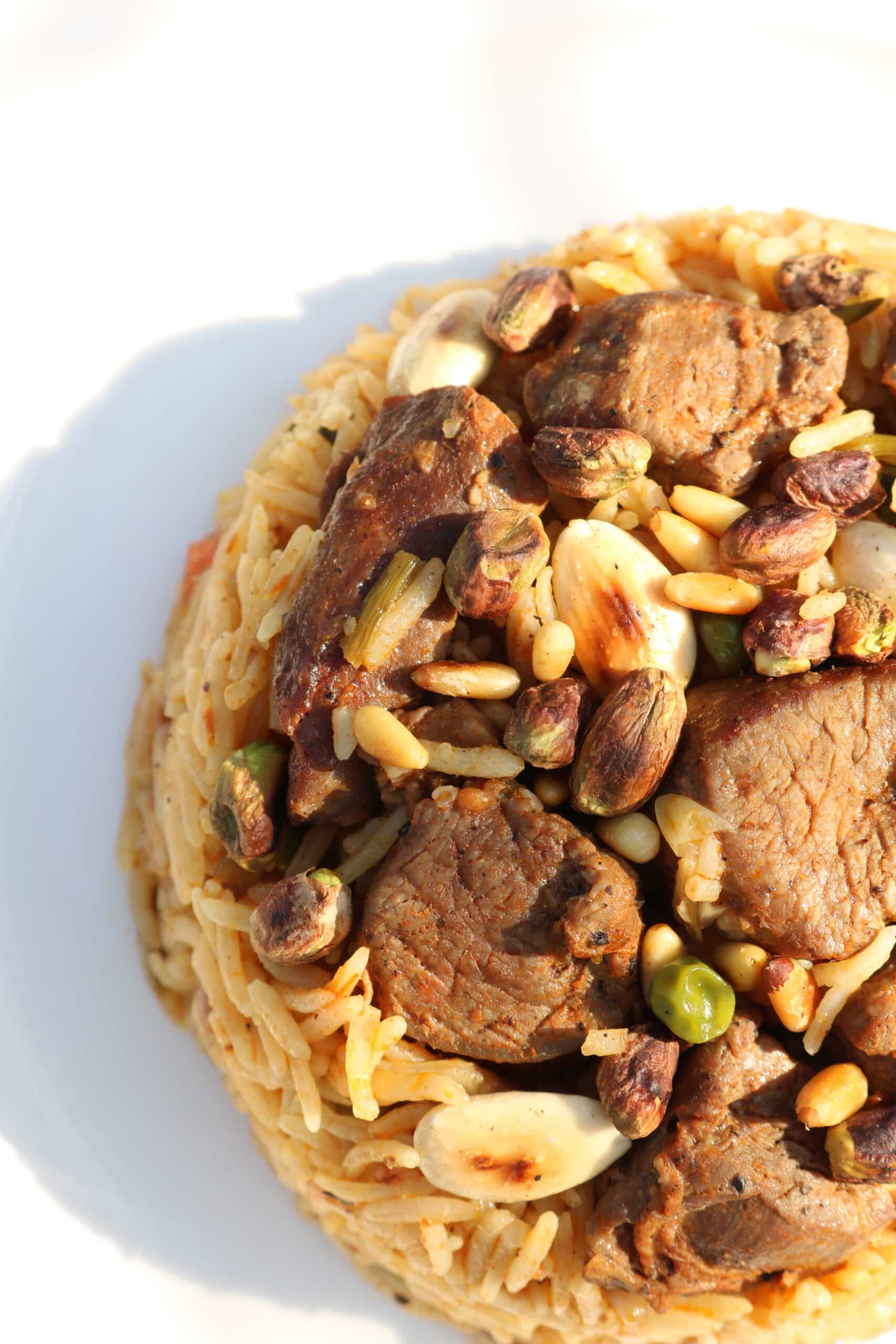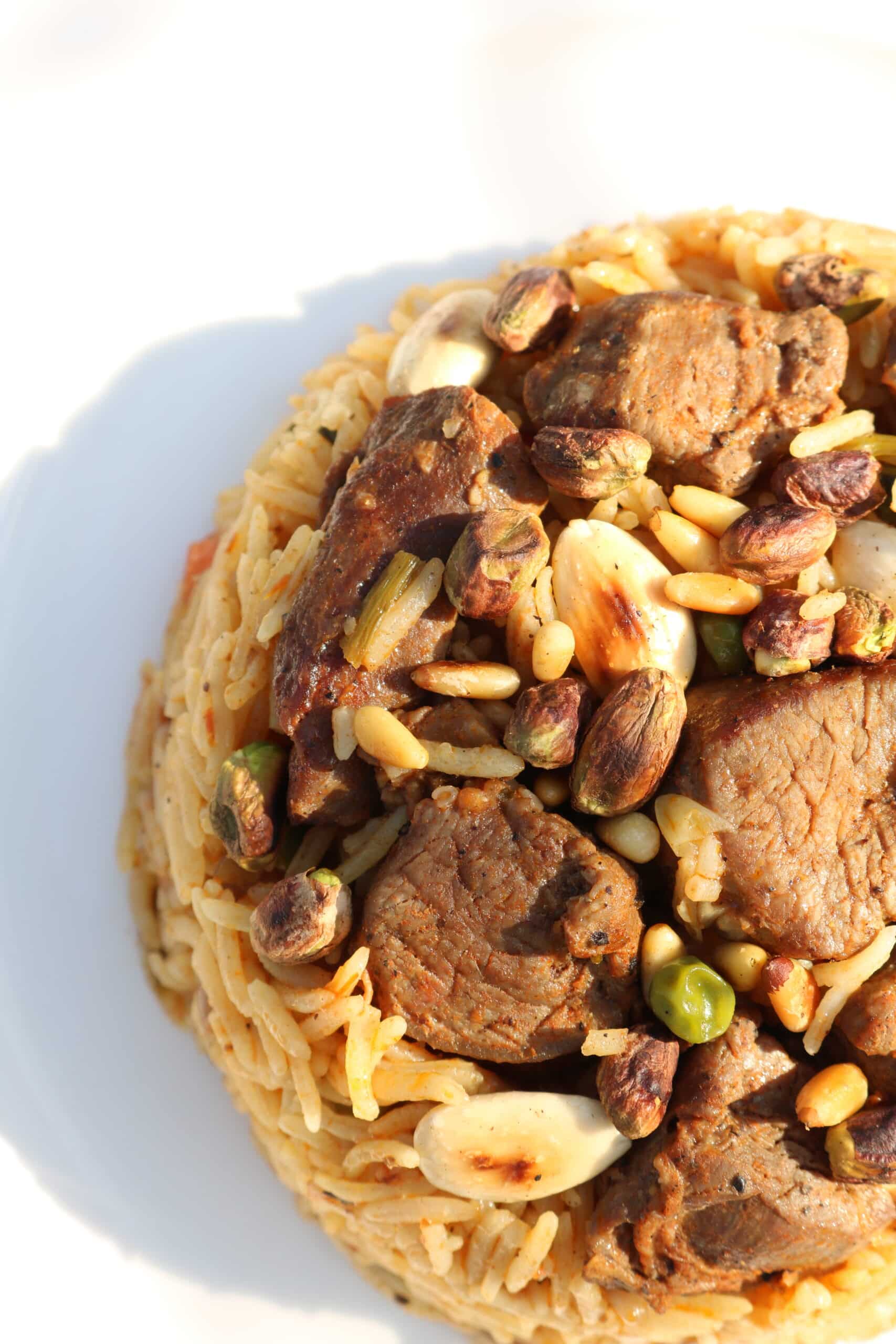 Variations
Kabsa is a concept dish meaning it can be also made with other proteins using the same process. Try it with:
Chicken -make the chicken stock using my homemade chicken stock.
Beef - use tender cuts of beef such as filet mignon or tenderloin.
Spicy - add ¼ teaspoon cayenne or red chilli powder for an extra kick along with a finely chopped chilli.
Equipment
You will need a large stockpot or pressure cooker for the broth.
You will also need a deep casserole dish to bring the kabsa together.
📖 Recipe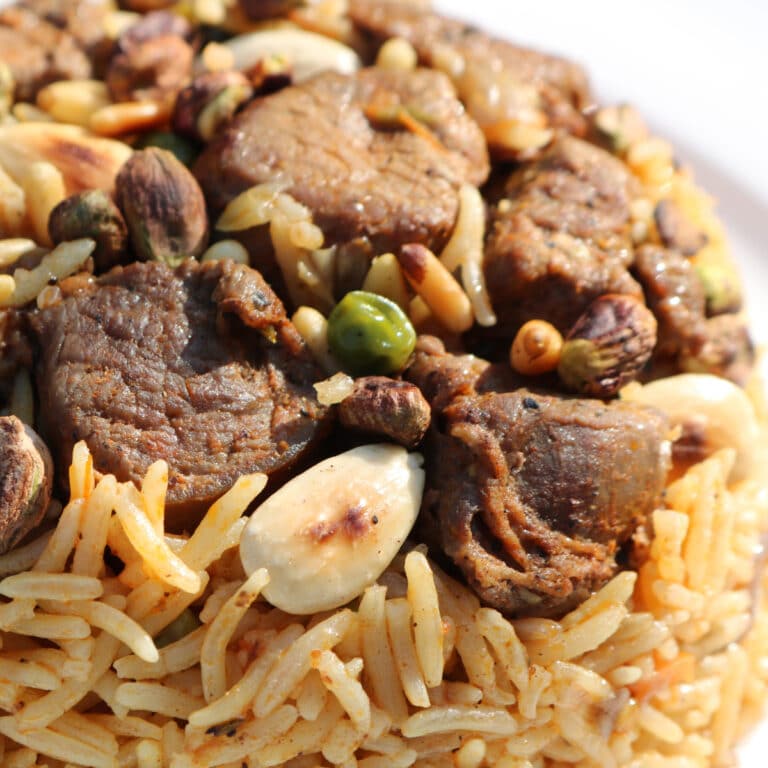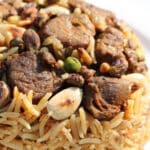 Kabsa (Meat and rice)
Spiced rice dish cooked in a meat broth
Total Time
1
hour
40
minutes
Ingredients
For the meat broth
700

g

lamb or beef fillet

chopped into cubes

Drizzle mild olive oil

approx 2 tablespoons

1

onion

peeled

1

carrot

peeled

1

celery stick

1

cinnamon stick

3

black cardamom pods

3

green cardamom pods

10-15

black peppercorns

5

cloves

3

bay leaves

1

tablespoon

salt

2

litres boiling water
For the rice
2

cups

rice

1

large onion

finely chopped

1

carrot

finely chopped

2

garlic cloves

finely chopped

½

teaspoon

ginger

finely chopped

2

tablespoon

tomato concentrate
Spices
1

teaspoon

kabsa spice

¼

teaspoon

paprika

½

teaspoon

7 spice

½

teaspoon

ground coriander

¼

teaspoon

cumin

¼

teaspoon

ground dried lime
Other
½

cup

petit pois

2

cups

meat broth

1.5

cups

boiling water

approx 2.5 cups

1

cup

assorted nuts

lightly toasted

small handful fresh coriander

cilantro
Instructions
In a non stick pan, lightly toast the assorted nuts until slightly golden. Careful not to burn, remove and set aside.
To make the meat broth
In the same pan, flash fry the meat cubes on high heat for bout five minutes to seal the outsides.

Transfer the meat to the stockpot, along with the whole onion, carrot, stick of celery, cinnamon stick, peppercorns, black and green cardamom pods, cloves bay leaves and salt

Bring to the boil then simmer for an hour., skimming off any fat that develops on the surface

Remove the meat and set aside and pass the liquid through a fine sieve to produce a clear broth
To make the rice
Wash the rice until the water runs mostly clear and soak in a bowl covered with water

In a casserole dish, sauté the finely chopped onion in a drizzle of mild olive oil until golden (approx 10 mins)

Then add the carrots, ginger and garlic and sauté for another five minutes before adding the spices (kabsa, 7 spice, cumin, coriander, turmeric, paprika) and the tomato concentrate

Add the cooked meat to the onion spice mix and sauté for a few minutes before draining the rice and adding to the meat

Sauté for another few minutes then add 2 cups of the meat broth and approximately 1.5 cups of boiling water making sure the rice is covered by around 2.5 cm

Add the dried lime, cilantro (fresh coriander), petit pois and approximately a teaspoon of salt depending on how salty the broth is. (Taste to adjust as necessary)

Bring to the boil then reduce the heat to a simmer. Cover with a lid and cook for another 25 minutes until the rice is cooked and mostly free from moisture

Assemble with the rice on a platter and meat on top and garnish with the assorted nuts.
Recipe Notes
If using a pressure cooker to make the broth, set for 20 minutes.
If you make any of our recipes let us know how it went by giving us a star rating below.
Check out our Youtube page for full video tutorials, our Facebook group to discuss Lebanese cooking, as well as our tiktok page for quick tips.
You may also like these recipes from the collection: