Lebanese green bean stew (Loubia b'zeit) is a really great dish to learn when you start out learning to cook. It is not only a classic Lebanese dish but it's also one of the simplest.
Green beans are cooked in olive oil, hence the title 'b'zeit' and stewed in a basic tomato sauce.
As it's a stew you should leave it to simmer on low heat so all the flavours melt together, but be careful not to overdo it as you don't want mushy beans.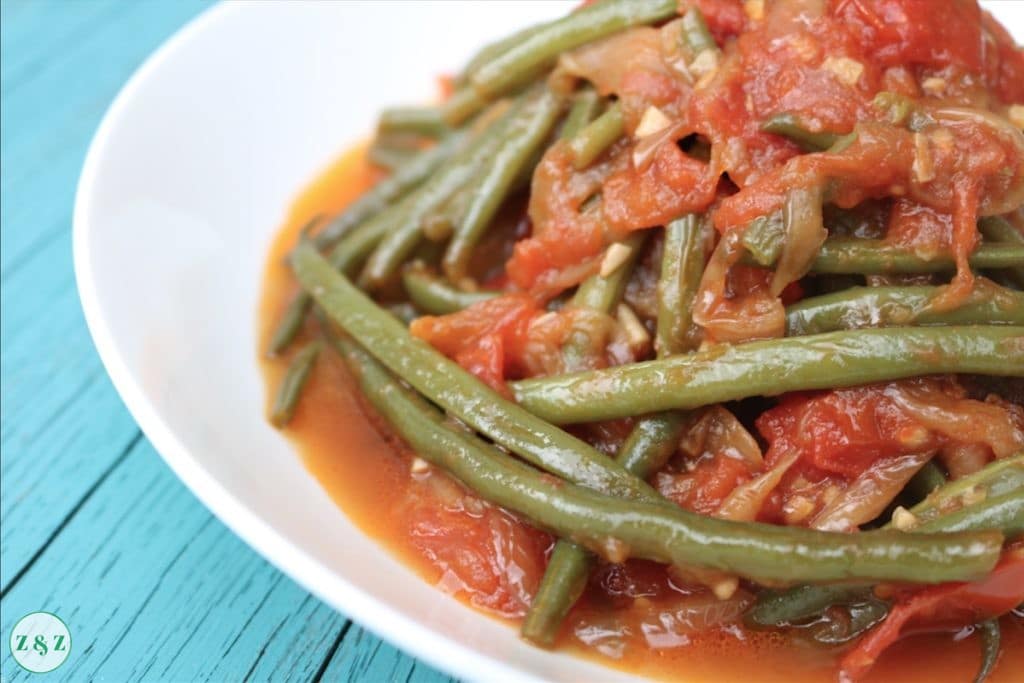 Middle Eastern food doesn't tend to favour leaving vegetables crunchy and I am forever telling my mum not to totally annihilate her veggies, but in this case you don't want to keep 'the crunch' as it doesn't do well when scooped up with flat bread.
Most recipes add black or cayenne pepper but I substitute half a green chilli which isn't traditional but I think it works.
I love the burning sensation that hits the back of your throat a moment after you take the first bite.
My recipe also uses two onions instead of the usual one which I caramelise to enhance that umami flavour.
When you have enough patience to properly cook onions, that's when your cooking will take off and people will ask you 'what's the secret to your good cooking?' and then don't believe me when I tell them that I cooked the onions properly.

Seriously, if you know how to manipulate the base of any recipe (i.e the onions etc) then you will establish a good foundation for your cooking.
The other wonderful thing about this recipe is that you can use frozen or store cupboard ingredients and it will taste almost as good.
It is perfectly acceptable to use frozen green beans or canned tomatoes when out of season, and this starter can be eaten both hot and cold. It tastes even better the next day too.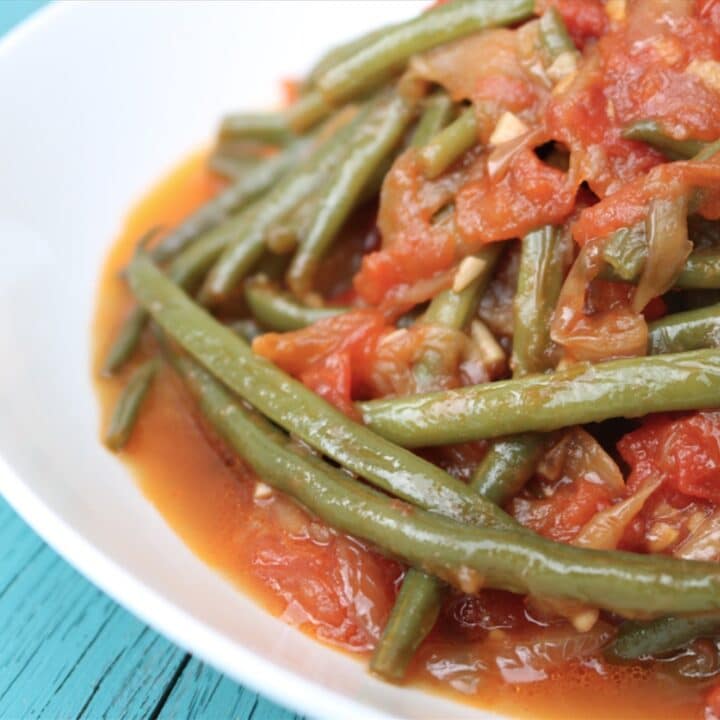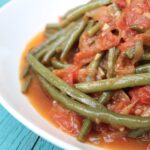 Lebanese Green Bean Stew (Loubia b'zeit)
Ingredients
300

g

green beans fresh or frozen

3

good size tomatoes or 1 tinned can of tomatoes

2

onions

3

garlic cloves

½

a birds eye chilli

½

teaspoon

salt

3

tablespoon

olive oil

½

cup

of water
Instructions
Peel and chop the onion into strips and the garlic finely, keeping them separate.

Heat 2 tablespoon of olive oil in a wide sauté pan and sauté the onions until caramalised on a low heat. This may take twenty minutes plus but is worth the effort.

Follow by adding the chopped garlic to the onions. Saute for 1-2 minutes and take care not to burn the garlic.

Wash and trim the ends of the green beans and sauté with the garlic and onion mix for ten minutes.

Add the chopped tomatoes, salt, chilli and water.

Bring to a boil and cover with a lid.

Reduce the heat to a simmer, cooking for 30-40 mins until the beans are well done, taking care the sauce doesn't run dry.

Serve with warm pitta bread.
If you make any of our recipes let us know how it went by giving us a star rating below.
We have a lively Facebook group where we post frequent recipes and discuss Lebanese cooking in general, as well as a handy Pinterest page where you can save all of your favourite Zaatar and Zaytoun recipes!
You might also like these other recipe from the Zaatar and Zaytoun collection: