Cheese fatayer are traditionally filled with mild cheeses such as feta with a hint of parsley. They are not usually made with lots of ingredients to keep them simple.
What cheese is best for fatayer?
Feta cheese or something similar is popular when making cheese fatayer as it is mild and crumbly, and also doesn't seep out alot of liquid.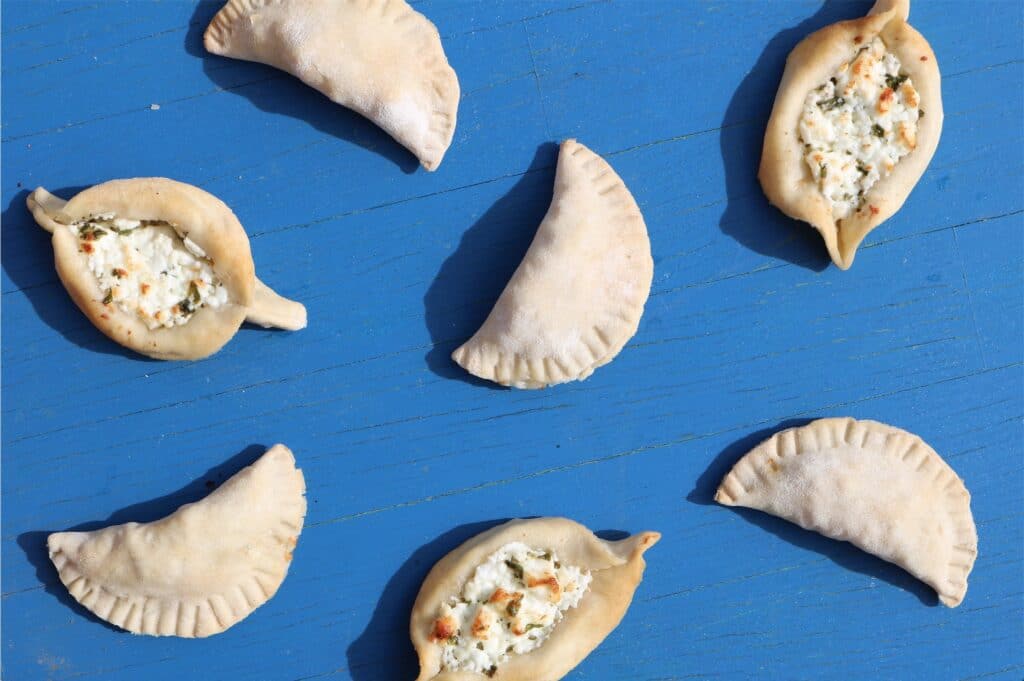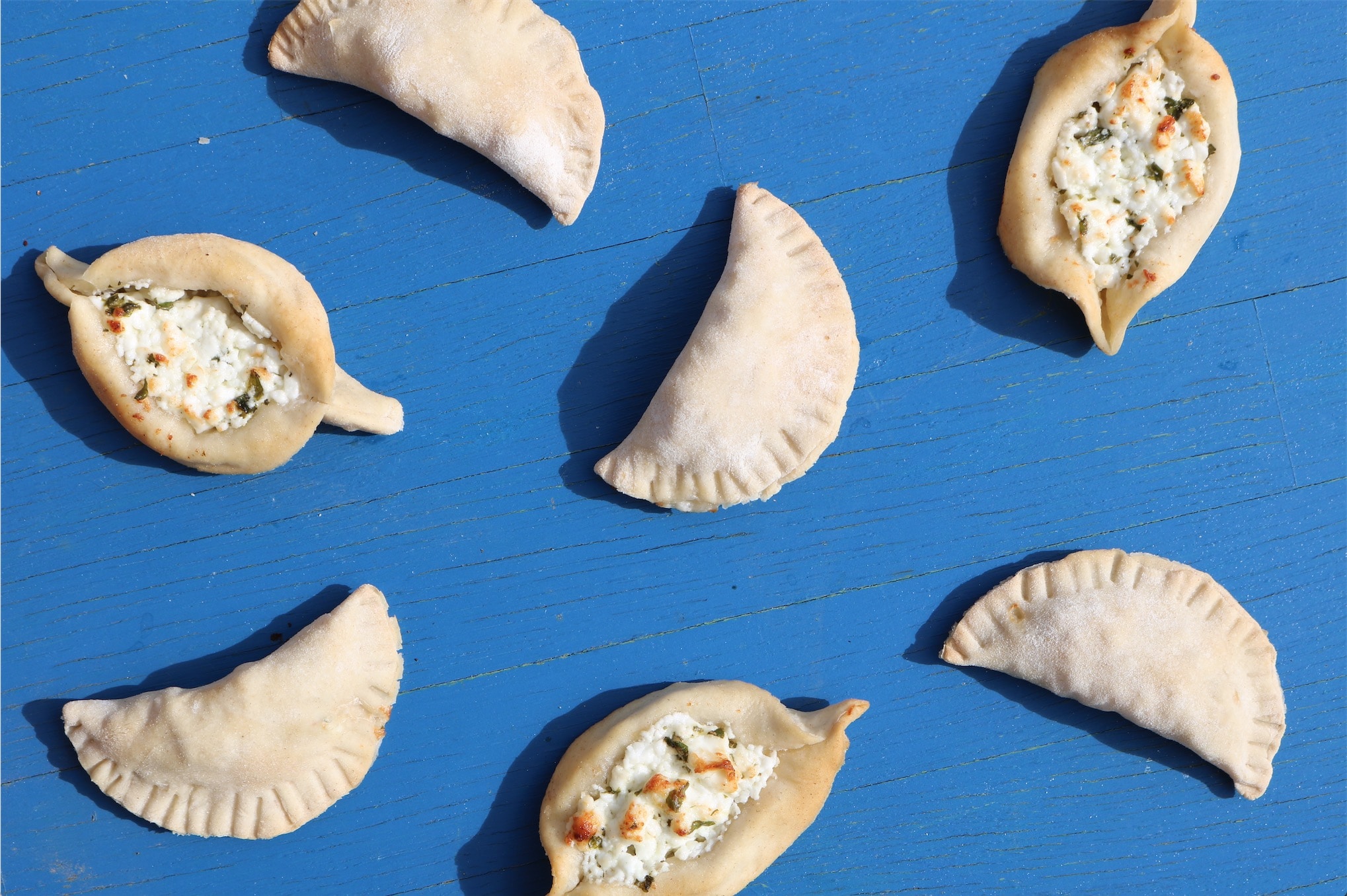 You could also substitute with ricotta, halloumi, queso or mozzarella. Cheese fatayer are a great way to used any left over cheeses in your fridge.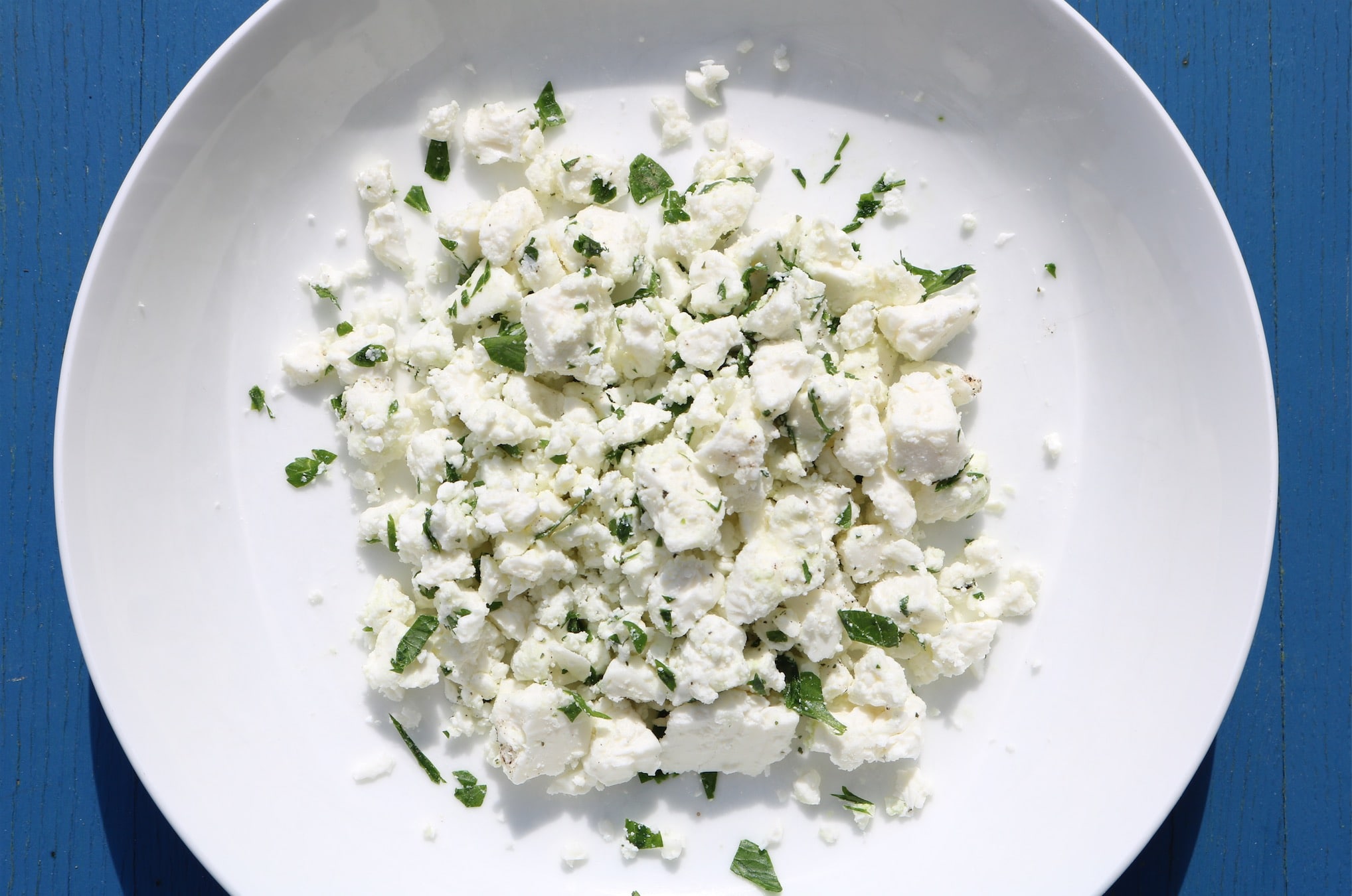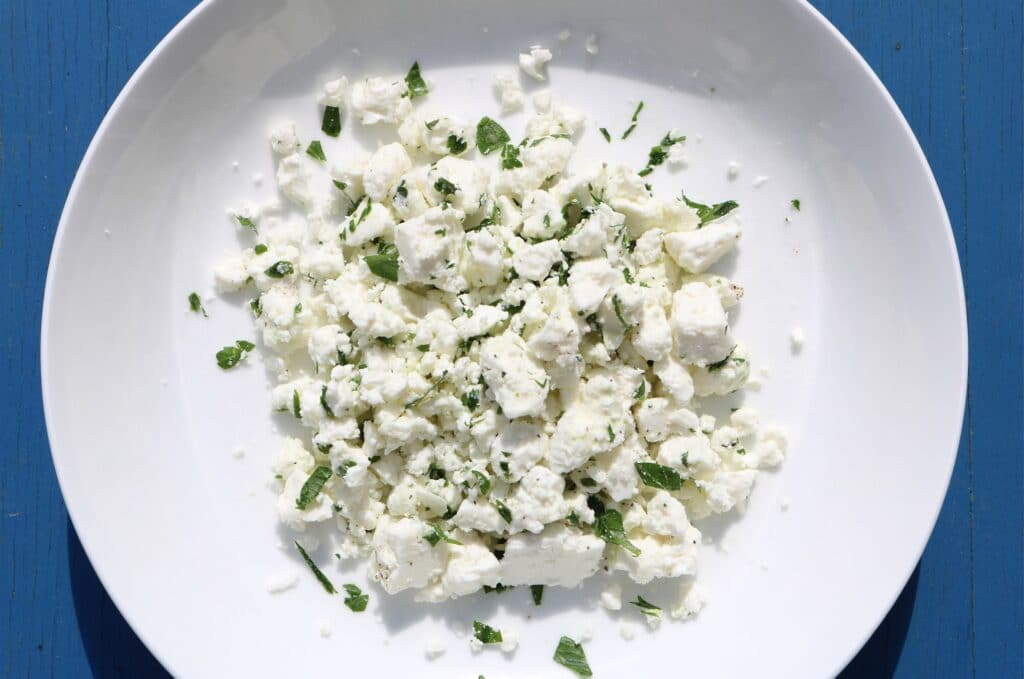 The most important thing about the cheese is that it can handle heat well in the oven.
Types of fatayer
You can make either open or closed fatayer. You can shape them any way you want though for some reason cheese open fatayer are usually almond shaped ad closed ones are semi circle shaped.
They are basically the same except that the cheese dries out a little more in the open version and you can see the filling, which might be handy if you have lots of different fillings going on.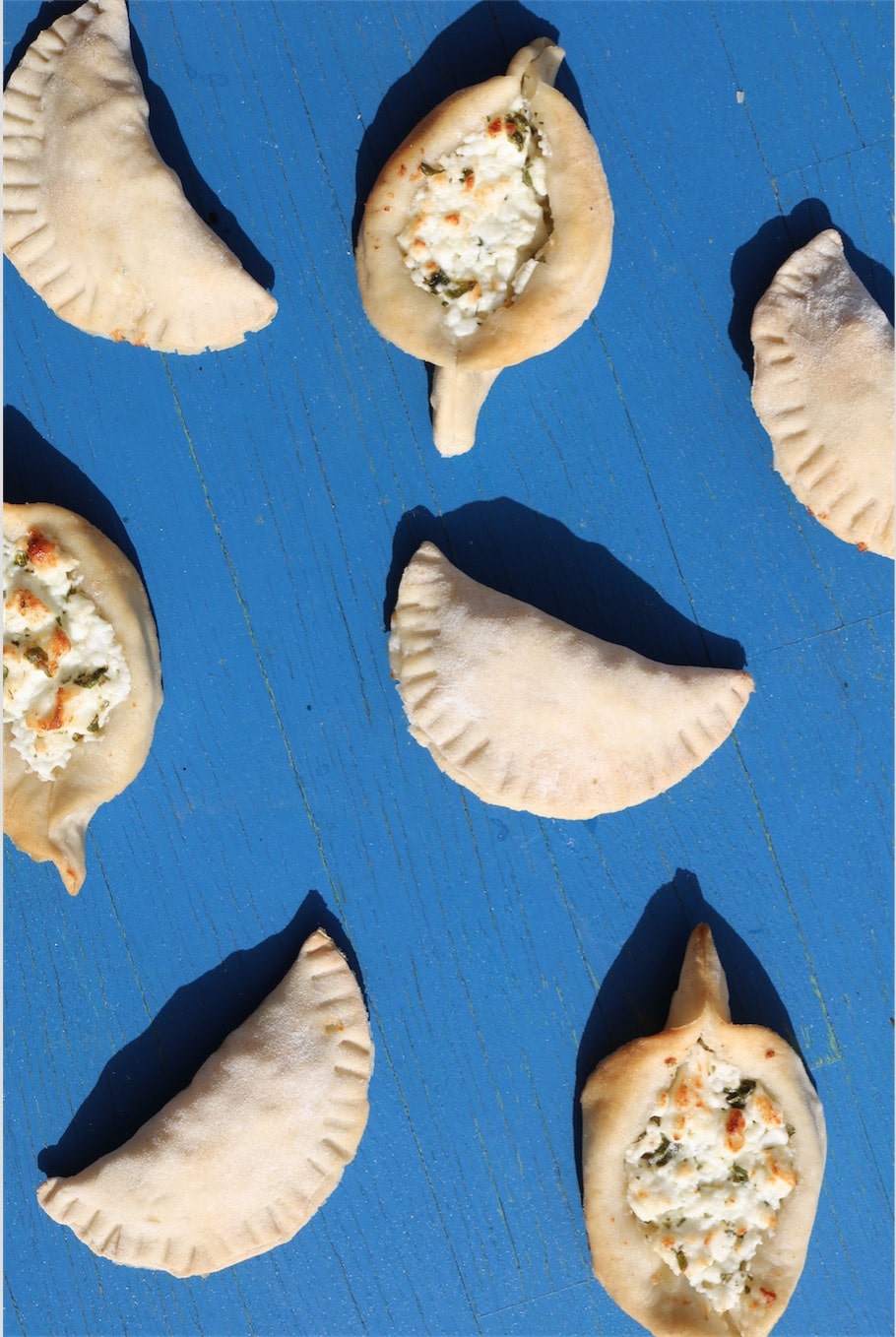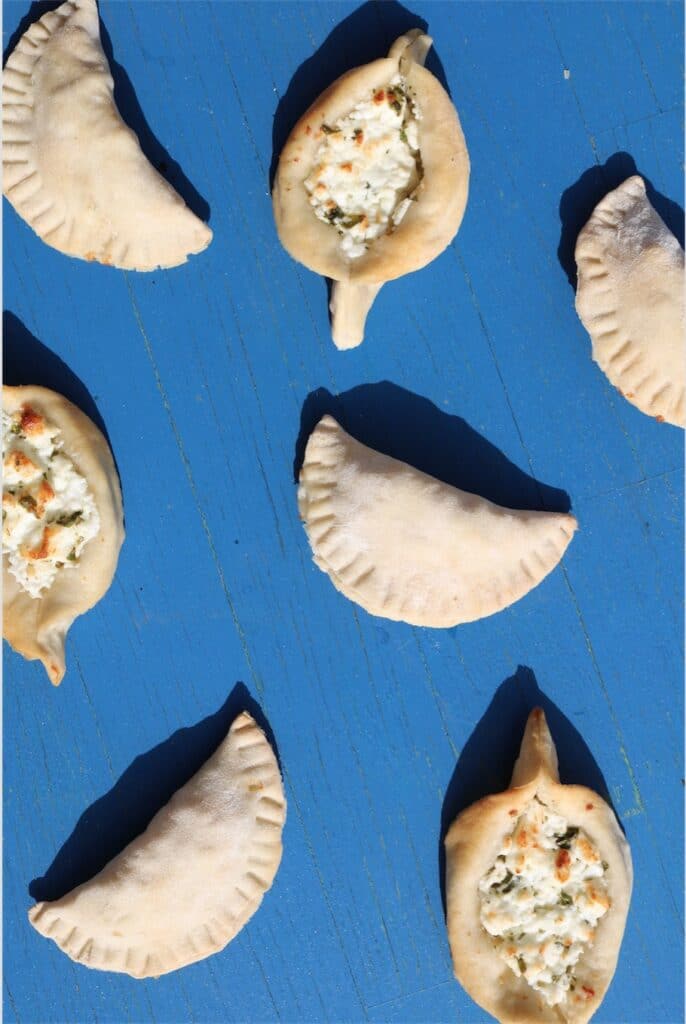 There's nothing to prevent you making triangle shaped cheese fatayer except they are a little more fiddly and for some reason they are associated with spinach fatayer.
I think people shaped pastries in trademark shapes to help recognise them quickly.
The herbs
Parsley is the standard herb to use here as it is also mild and doesn't fight with the cheese. Chop the parsley very finely so it integrates well with the cheese.
Cilantro (coriander) is much too strong and will overpower the cheese. This would suit meat or chicken pastry fillings better.
You could also add some chives and a little bit of mint to the cheese but in smaller quantities than the parsley as they would be complementary herbs rather than the main one.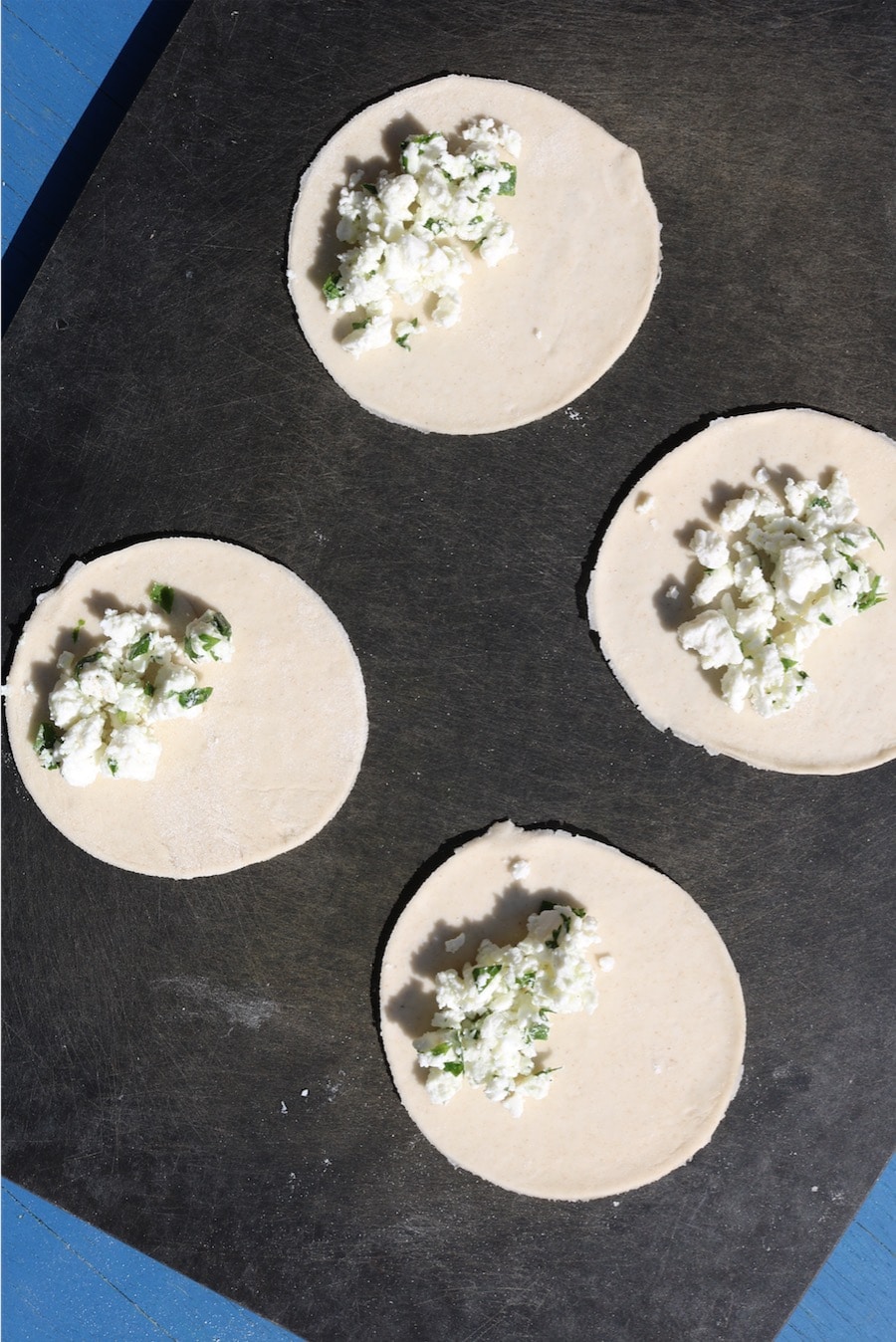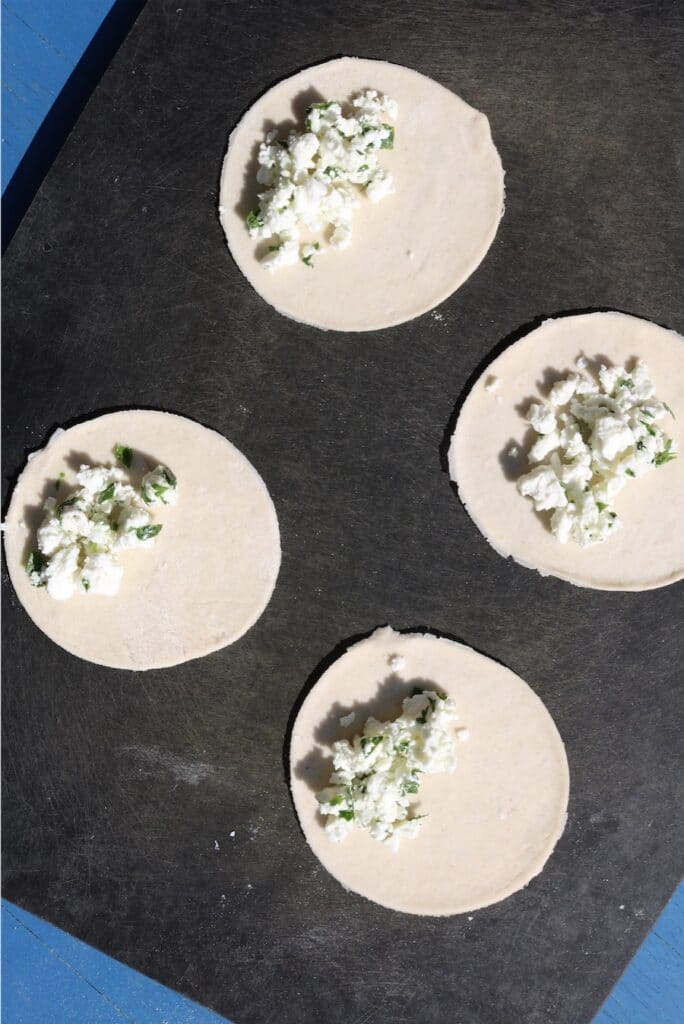 The seasoning
As the cheese is already salty I don't add anymore salt to the mix. But I do find adding a teeny tiny sprinkle of black pepper brings out the cheese that little bit.
It's these little tiny additions that can make the difference between an ok cheese fatayer and a special one.
Can you fry cheese fatayer?
If you close them you can fry them to make cheese sambousek. Fatayer are usually baked and sambousek are fried.
Sambousek need to be fried in very hot oil to avoid them becoming greasy. You can test the oil by dropping a little piece of dough and if it floats and sizzles to the surface then it's ready.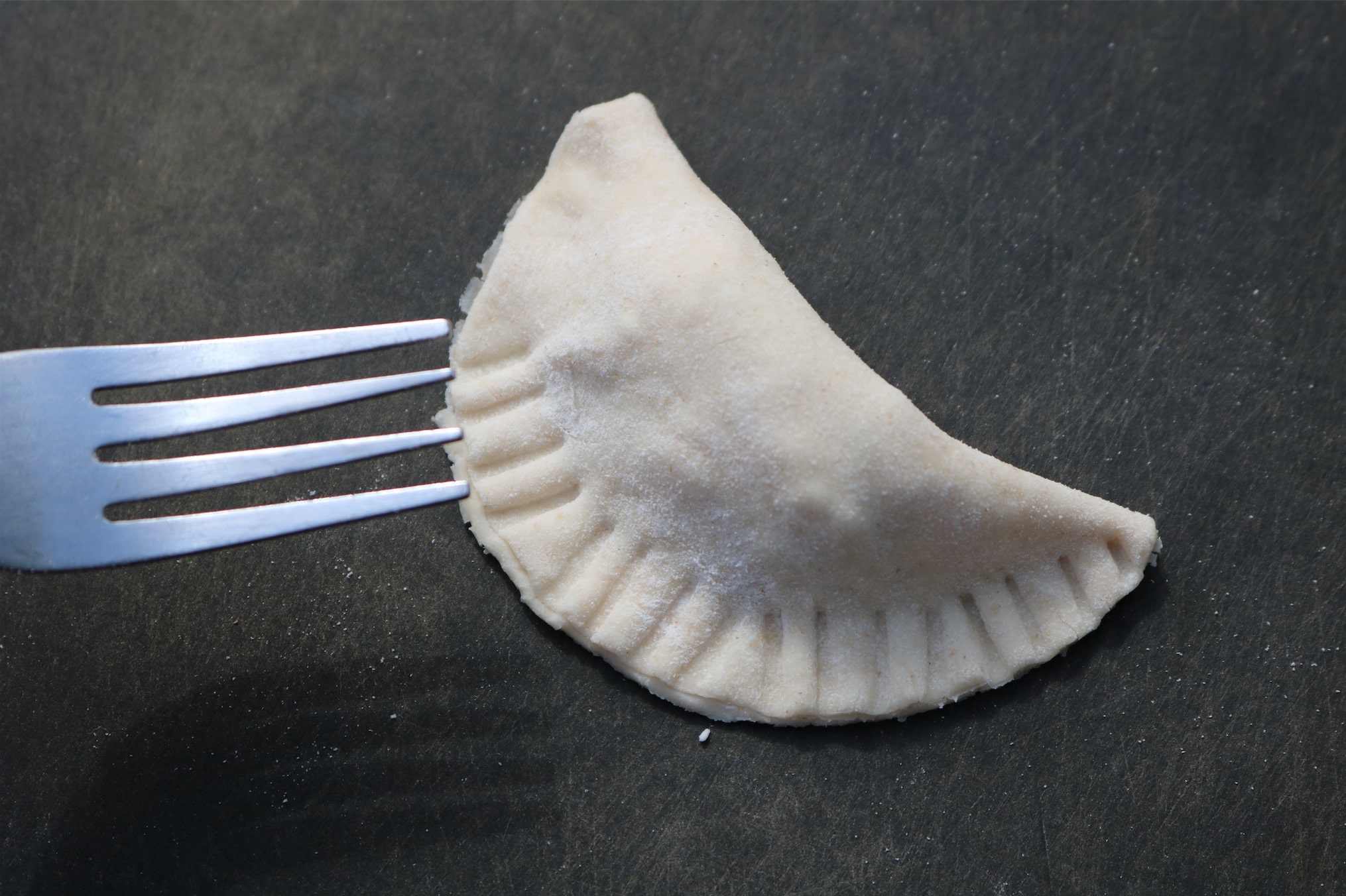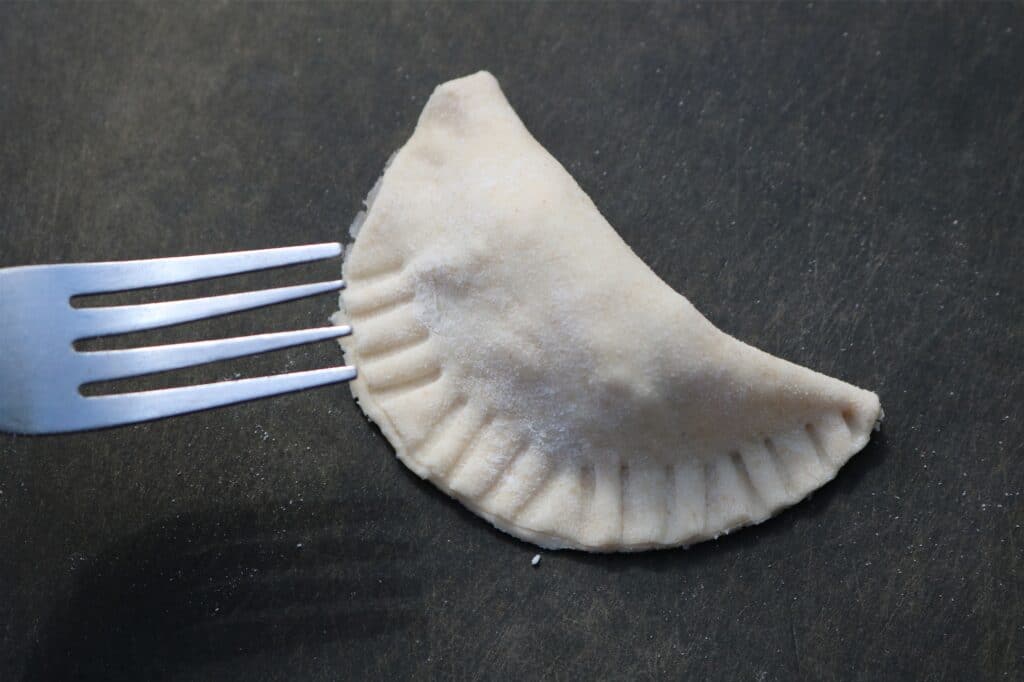 Tips for making the best cheese fatayer
If you are making open fatayer then add a little drizzle of either vegetable oil or regular olive oil to stop them becoming too dry.
If you are making closed fatayer, don't press them down with the fork too hard or they will stick to the board. Add just enough pressure to close them but not too much.
Just before you put them in the oven, brush them with a little milk to give them a nice golden colour. I always forget to do this and then pinch myself.
Cheese fatayer are a perfect side dish or snack. You can have them for breakfast or pack them in your picnics.
They are popular with kids and adults alike so you won't have to worry about storing them too much, but if you make extra, keep them in an airtight container for up to 3 days in the fridge.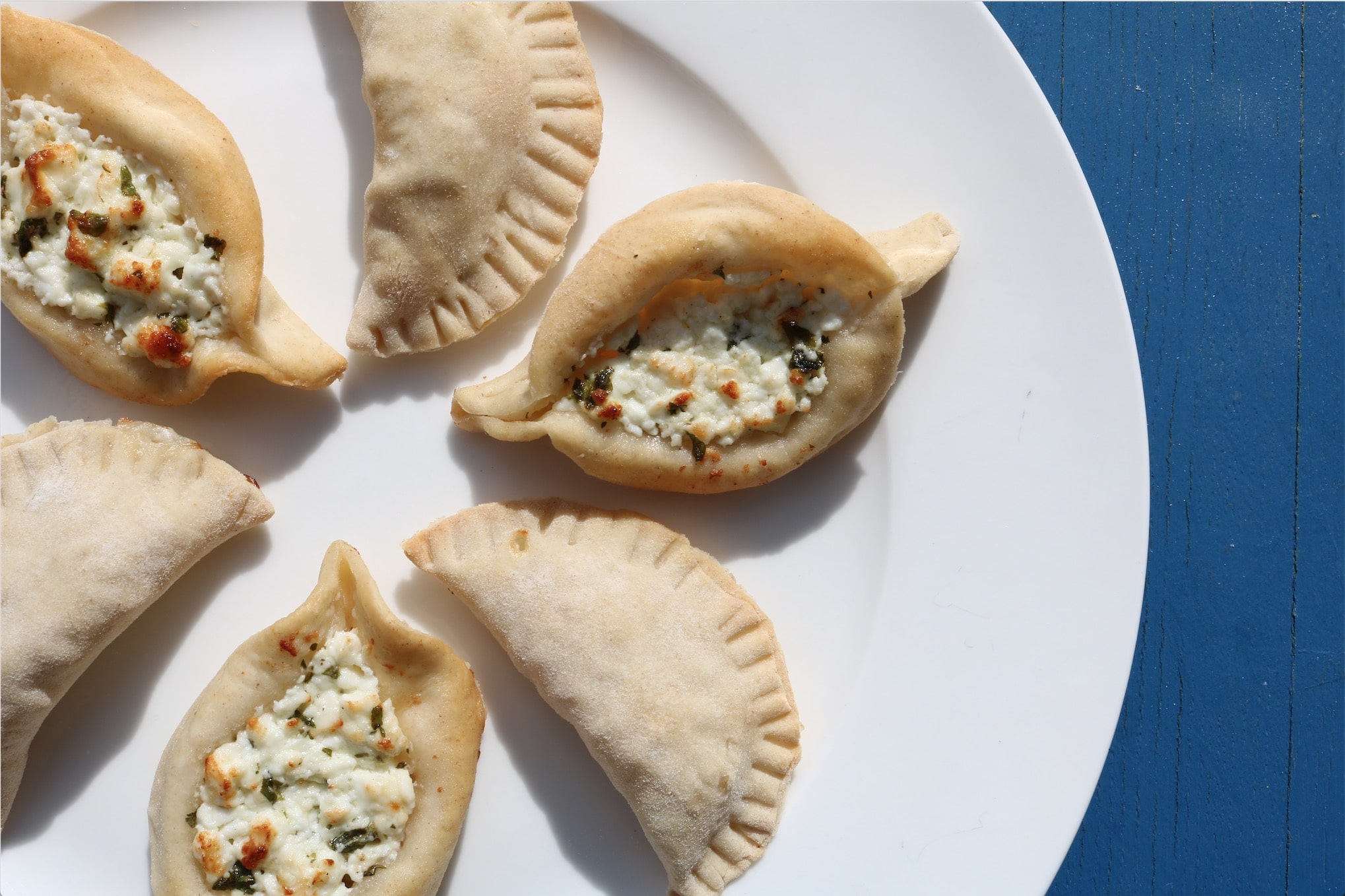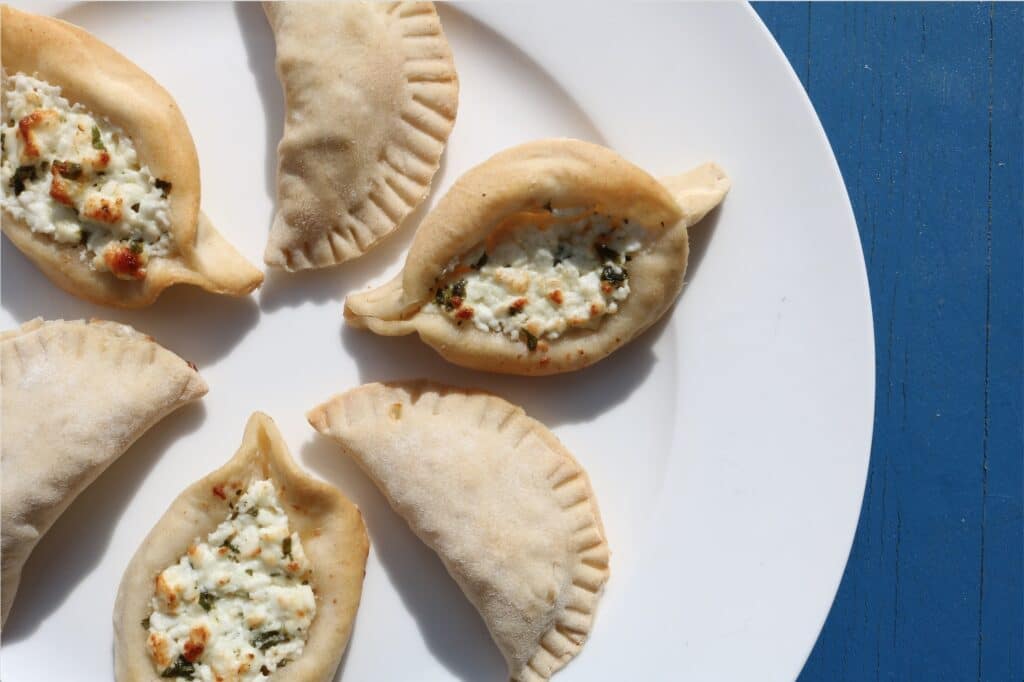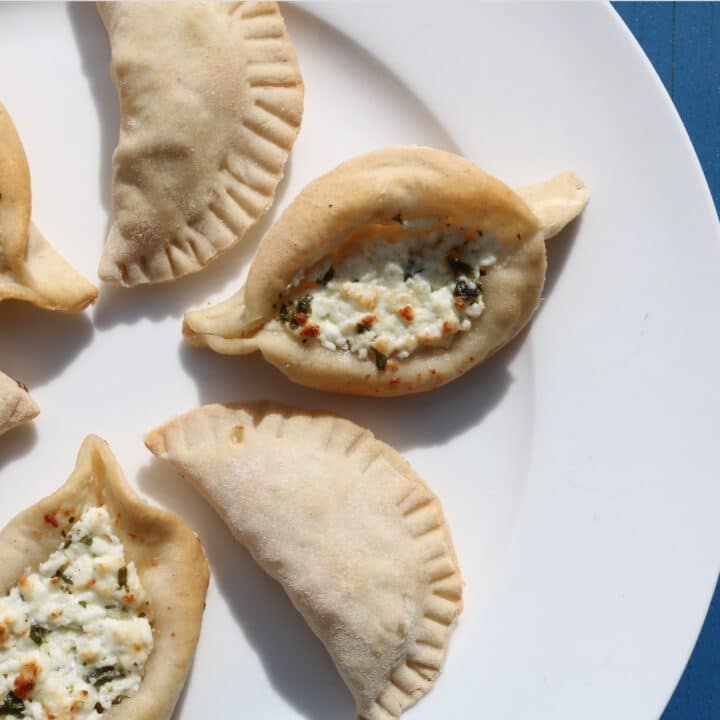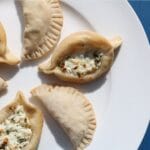 Cheese fatayer (Fatayer jibneh)
Cheese and herb filled mini pastries
Ingredients
For the dough
3

cups

bread flour

½

cup

of lukewarm water

½

cup

of lukewarm milk

1

tablespoon

of dried active yeast

1

teaspoon

of salt

½

teaspoon

of sugar

3

tablespoon

 regular olive oil or vegetable oil

¼

cup

Milk for brushing
For the filling
2

cups

feta cheese

crumbled

¼

cup

parsley

finely chopped

Tiny pinch of black pepper

approx ⅛ tsp
Instructions
To make the dough
In a bowl, combine the milk and water together and test the temperature with your finger, it should be only slightly warm

Add the sugar to the water milk mixture along with the yeast and stir well until it dissolves Leave for 15 minutes allowing the yeast to ferment and bubble

In a large bowl, add the salt and flour, oil and yeast liquid and bring together until you have a smooth ball. Add a tablespoon of water at a time if dry until it comes together

Then turn out into a floured surface and knead for 5-10 minutes so the dough springs back when you poke it

Place the kneaded dough ball into a large mixing bowl and cover with cling film or damp cloth, leave to rise in a warm place for at least 2 hours or until doubled in size

With floured hands knock back the dough and shape into a ball. Divide into small golf sized balls. Cover and leave to rest as you make the filling
To make the cheese fatayer
As the dough proves for the second time prepare your cheese filling by crumbling the cheese, chopping the parsley finely and adding a tiny pinch of black pepper (approx ⅛ tsp)

Turn on the oven on the highest setting (usually 230°C/450F)

Roll the small dough balls into very thin rounds (approx 3 mm) adding a little flour to avoid sticking

To make the closed fatayer, spoon on some cheese filling on half of the circle and close by crimping with a fork.

To make the open fatayer, add ¼ teaspoon of vegetable or regular olive oil to the filling, mix well then spoon a tablespoon of mixture in the middle and pinch the edges, turning the flaps outwards.

Transfer to a non stick tray and brush sparingly with a little milk.

Bake for around 10 minutes until golden, turning half way if necessary to get an even bake
Recipe Notes
You can knead the dough in a stand mixer for about 8 minutes or in a food processor using the dough blade for 1 minute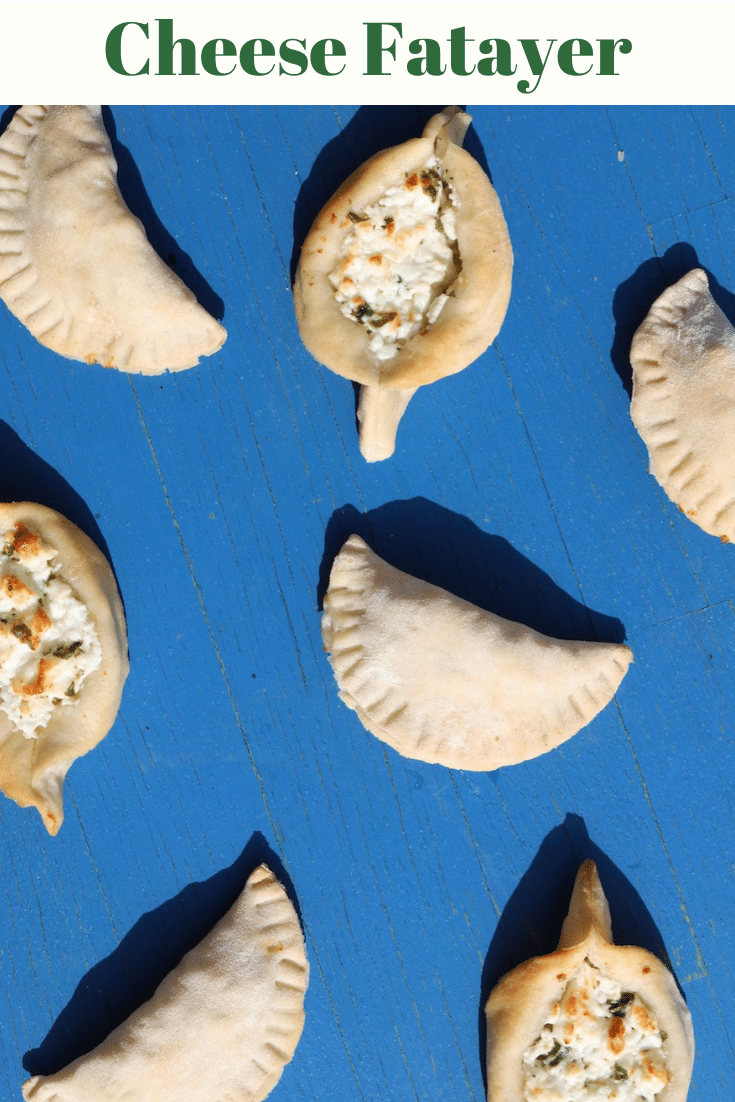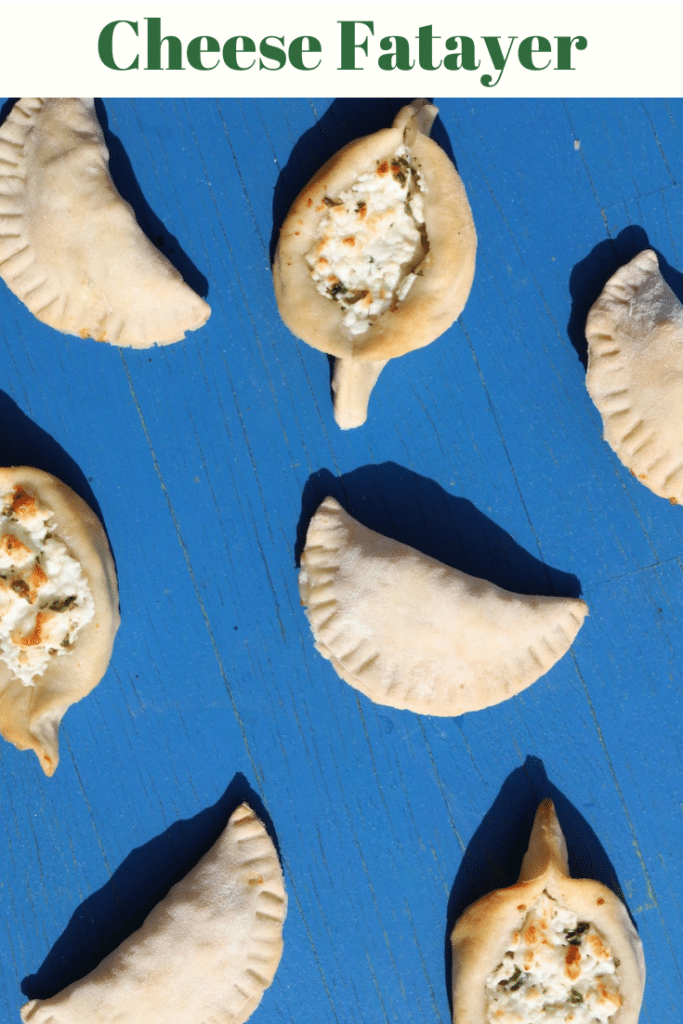 We have a lively Facebook group where we post frequent recipes and discuss Lebanese cooking in general, as well as a handy Pinterest page where you can save all of your favourite Zaatar and Zaytoun recipes.
You might also like these recipe from the Zaatar and Zaytoun collection: